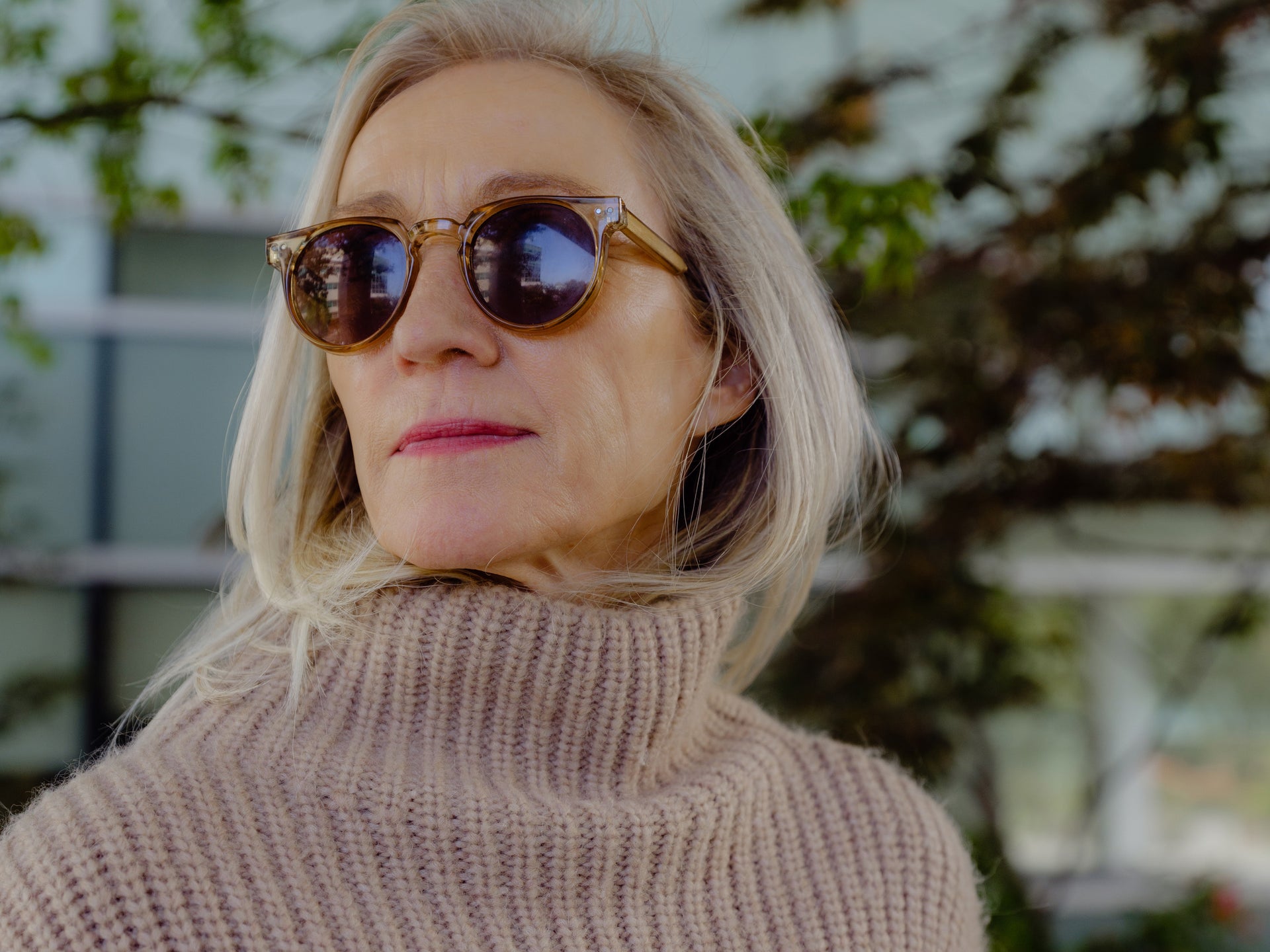 Meet Caroline Hadfield, Rose Inc's CEO & President
Profile
As a seasoned beauty executive, Caroline Hadfield was looking for a way to innovate in clean beauty back in 2014. She'd already been on the inaugural team that launched Sephora in the US, Japan and Canada, and spent years as an SVP at both The Body Shop and LVMH when she met John Melo, CEO of a company called Amyris. 
"It was all a bit of an experiment," Caroline recalls about her first meeting with the San Francisco-based exec. "At the time, Amyris' core focus was biotechnology and sustainable, renewable delivery of key ingredients in the flavors, fragrance and cosmetic industries. John had a vision of building a brand around one of the key ingredients that they had managed to develop and scale: a new, vegan alternative to squalene, called squalane."
Caroline was already very familiar with the ingredient: The number of sharks killed every year to produce the popular oil was a dark secret in the beauty industry, so her former Body Shop team had used a version of squalene made from olives instead. A more sustainable version, this time made using fermented sugarcane, sounded a lot like the future of clean beauty she wanted to channel her efforts into.
"Having that engagement actually lifts you up from feeling a bit overwhelmed [by work]..."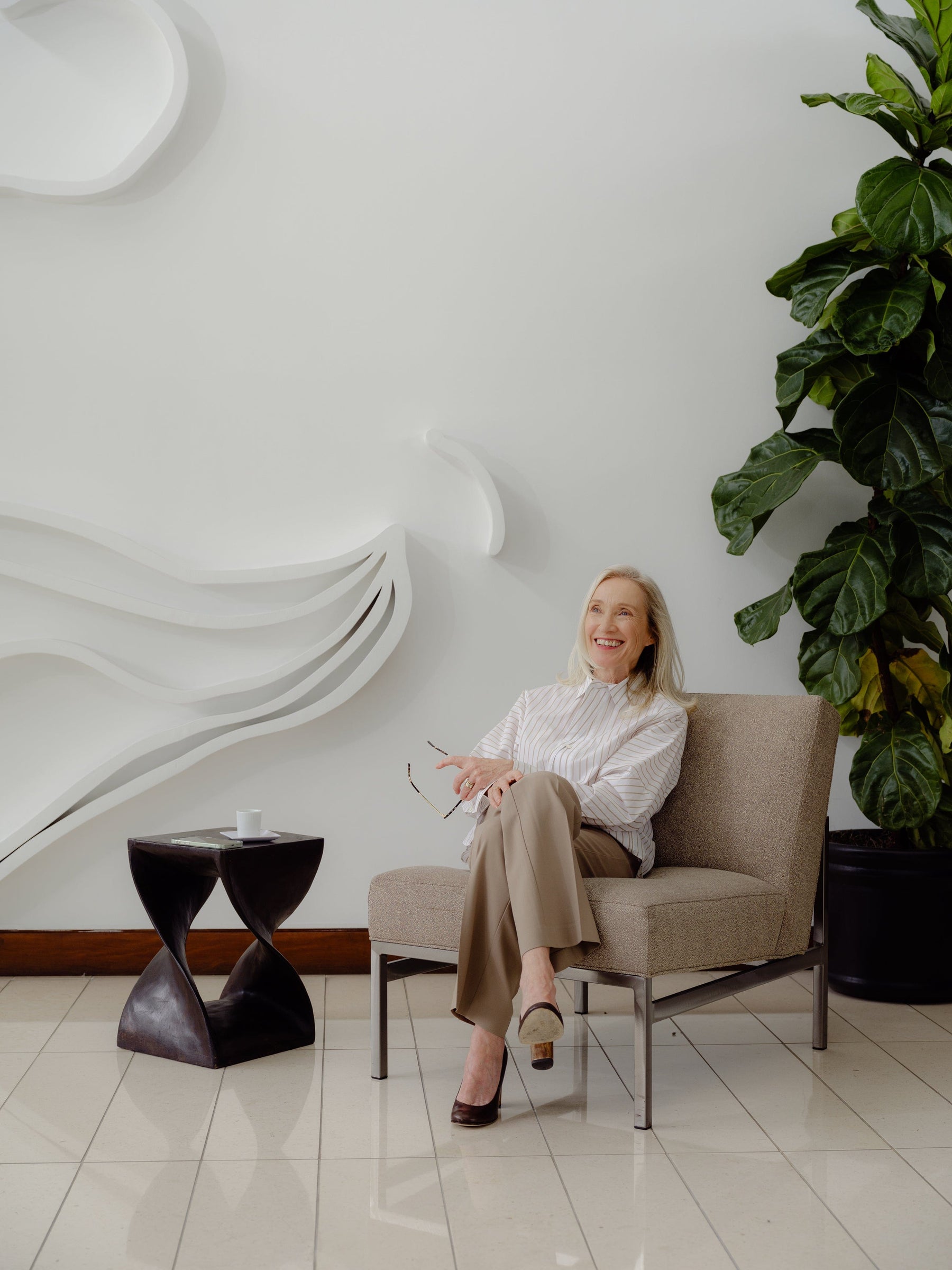 By Ulysses Ortega
"It was such an exciting sort of entrepreneurial opportunity within a public company,  looking to see what would happen if we developed our own brand [with squalane]," she recalls. It also fit into her life: Caroline and her husband had just moved with their two daughters from the UK to San Francisco. "And that's when we started really building out Biossance."

Biossance (and its cult products Squalane + Vitamin C Rose Oil and Squalane + Peptide Eye Gel) struck like clean beauty lightning, as did a concurrent business selling this new vegan squalane to the whole cosmetic industry. Pipette Baby and JVN Hair launched in the coming years, then Costa Brazil came aboard, but launching clean color with Rose Inc in 2021 was different.

"It's been fun working with Rosie [Huntington-Whiteley], building on her content platform and having her experience of being in the hair and makeup chair," says Caroline. "This category has been a lot more difficult than others, getting ingredients that perform at that quality level within the high benchmark we set, but still ensuring high-quality color payoffs and pigments." But it's also made success even sweeter: On the one-year anniversary of the Rose Inc line, the brand is thriving across the globe. Learn why by spending a Day in the Life of its CEO and president in its California headquarters, ahead.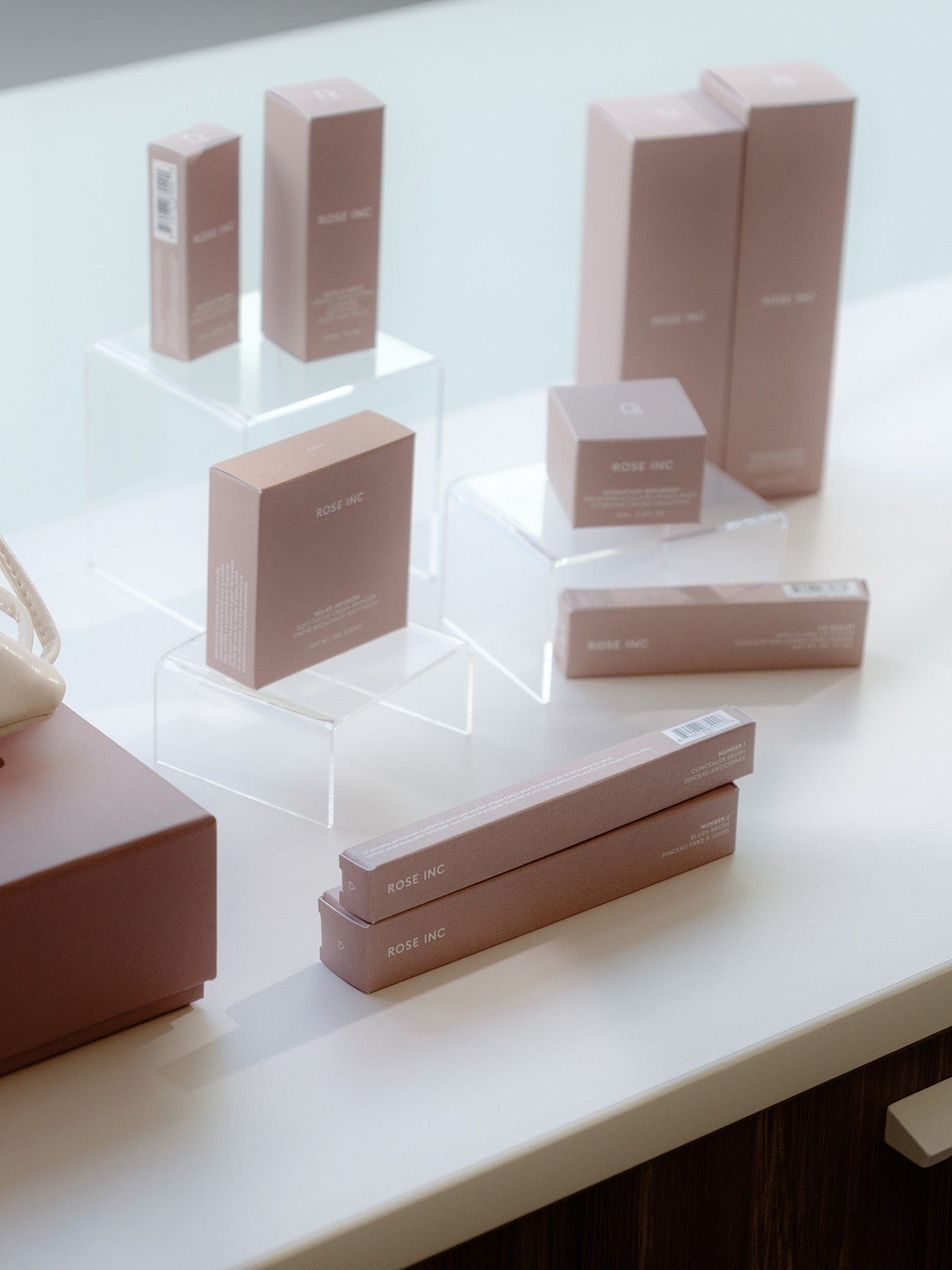 By Ulysses Ortega
6:00 a.m.: I have my first espresso and head to SoulCycle. My normal exercise regime went a bit by the wayside during COVID, but I'm getting back into that now. It's just a balance, because there's always so much to do. 



7:25 a.m.: Shower and a quick 10-minute beauty routine is next. I use the Brightening Eye Cream, Brightening Serum and sunscreen, then Tinted Serum, which I apply with our Number 3 Foundation Brush. Rosie taught me to use the Number 1 Concealer Brush to apply our Softlight Luminous Hydrating Concealer; she designed it to specifically fit in the undereye area and it's very effective. I use a few colors of our Cream Blush: Foxglove, Ophelia and a new shade today, Camellia. I'm still putting on a lab sample of our new mascara when my first call starts. 



7:47 a.m.: I have a call with Rosie from London and send a few emails, then a quick check-in call to my daughter Sophie who lives in New York. Neil [my husband] made me a smoothie and I have a touch-base call with my SVP of marketing and creative, Lauren, on my way into the office. 



8:50 a.m: I add a quick swipe of Satin Lip Color in Besotted before heading into our headquarters across the bay in Emeryville. Today is going to be a busy one.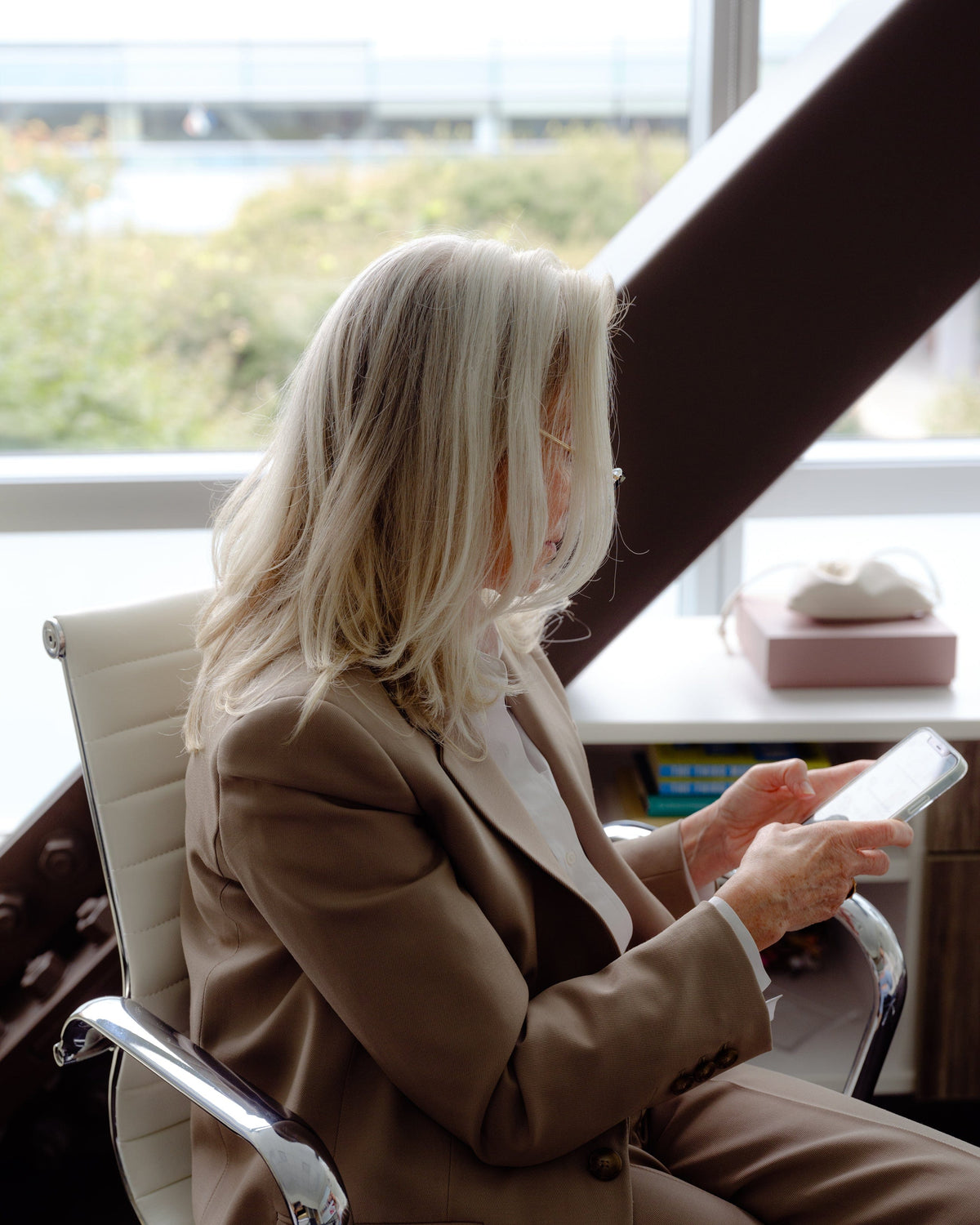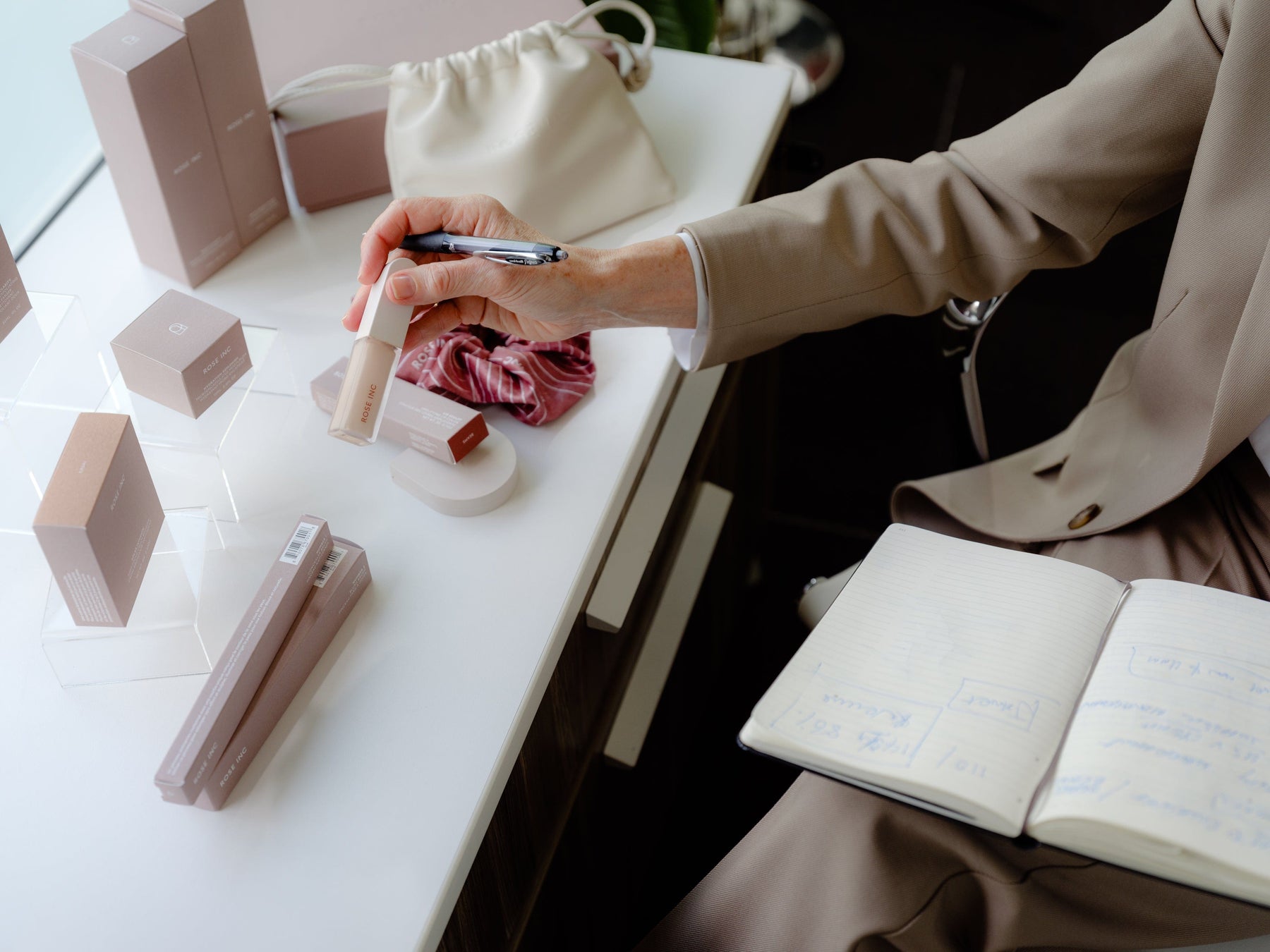 By Ulysses Ortega
9:30 a.m.: A video call with creative is next to review assets for holiday and our next big launch this year. One of the most impressive things about Rose Inc is that we developed and built a team and a brand, all through COVID. We literally started in November of 2019 and by the middle of March, we were all on Zoom. It's given us the ability to take talent across the globe, and we've got a team in London, New York, San Francisco and L.A., which, of course, brings its own challenges. 

10:55 a.m.: The creative assets the team presented are absolutely stunning and the 360-degree launch plan is really coming together beautifully. [My executive assistant] Allie [Tracy] brings me more espresso between meetings. 

11:00 a.m.: Another video meeting. As a leader, if you come in intense [on a video call] it means probably everyone else is feeling [the same] intensity. The only way to get people engaged is to create openness and have some humor. Going into meetings with more of that levity and asking individuals how they are, about their children going back to school, things like that, because that's actually so gratifying. Having that engagement actually lifts you up from feeling a bit overwhelmed [by work].
"Proving our products are effective is just the beginning."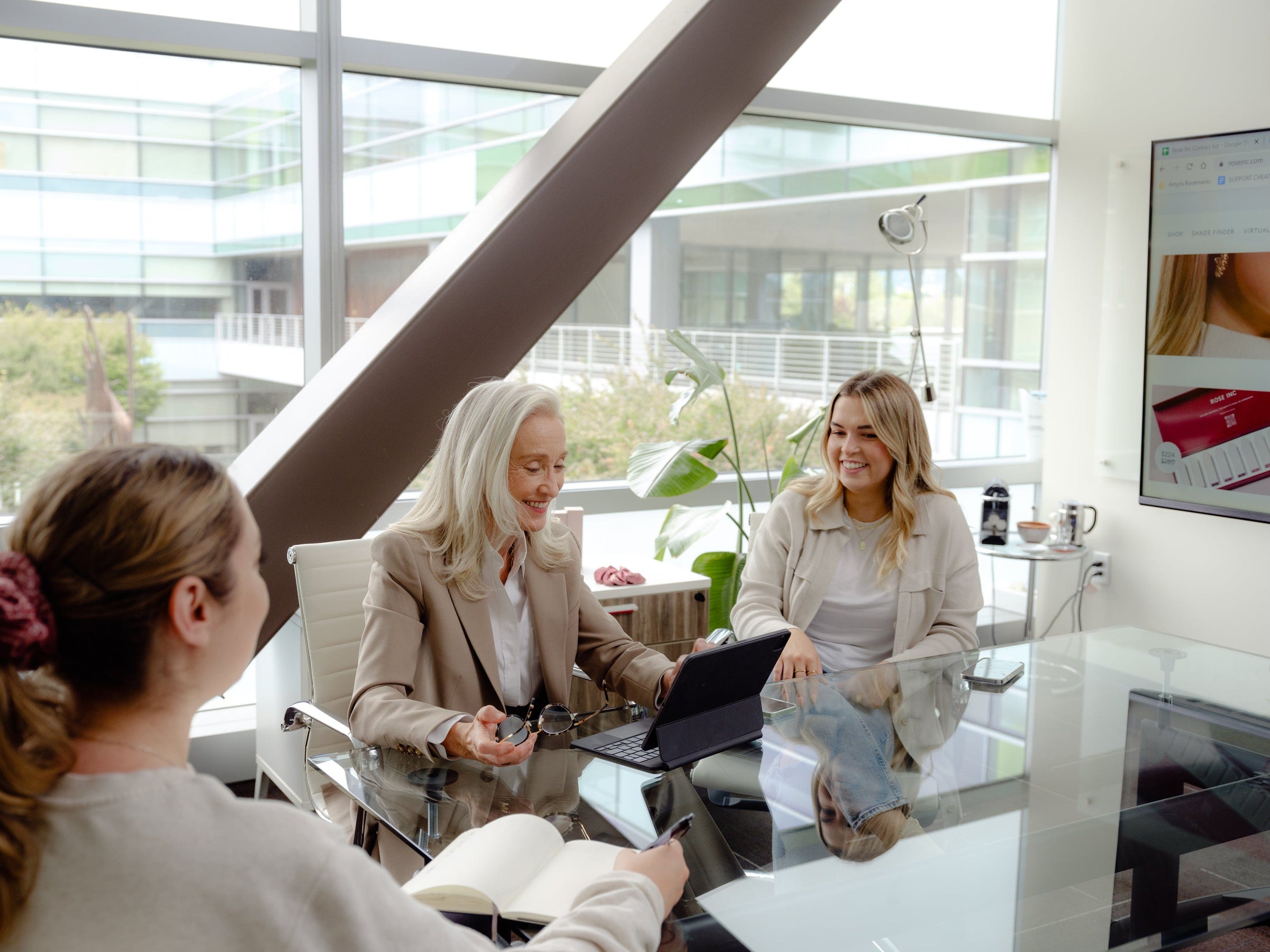 By Ulysses Ortega
12: 00 p.m.: I tend to have one-on-one meetings with my direct reports, like Mimi Lu. Today we're focused on some clinicals she just got back on our eye cream and I am really getting very excited to see the results. Proving our products are effective is just the beginning: Now we must put the results into a framework that can be marketed, amplified on the site and through PR and build out a plan. 


12:45 p.m.: I quickly meet with our PR team to discuss a few recent beauty awards. We're up to 15 awards in one year: Cream Blush was awarded in Elle; Concealer won in Cosmo; Glamour gave one for the Eye Cream; Bazaar picked the Tinted Serum for a win. …The recognition from the publications is just the most fulfilling thing, because there's so many things for them to choose from, and also just our community, voting and buying and now seeing people repeat purchase on shades and colors. 


1:35 p.m.: Allie and I have a working lunch to review some travel plans. We're in the office today, but because we work from home and remote quite often, it's also important to actually have that travel so that you can go in and work with the team. As a leader I've committed to making that time and giving my energy to travel. We've got a big partnership with Space NK and a new office in London, so the UK has taken a lot of my travel time.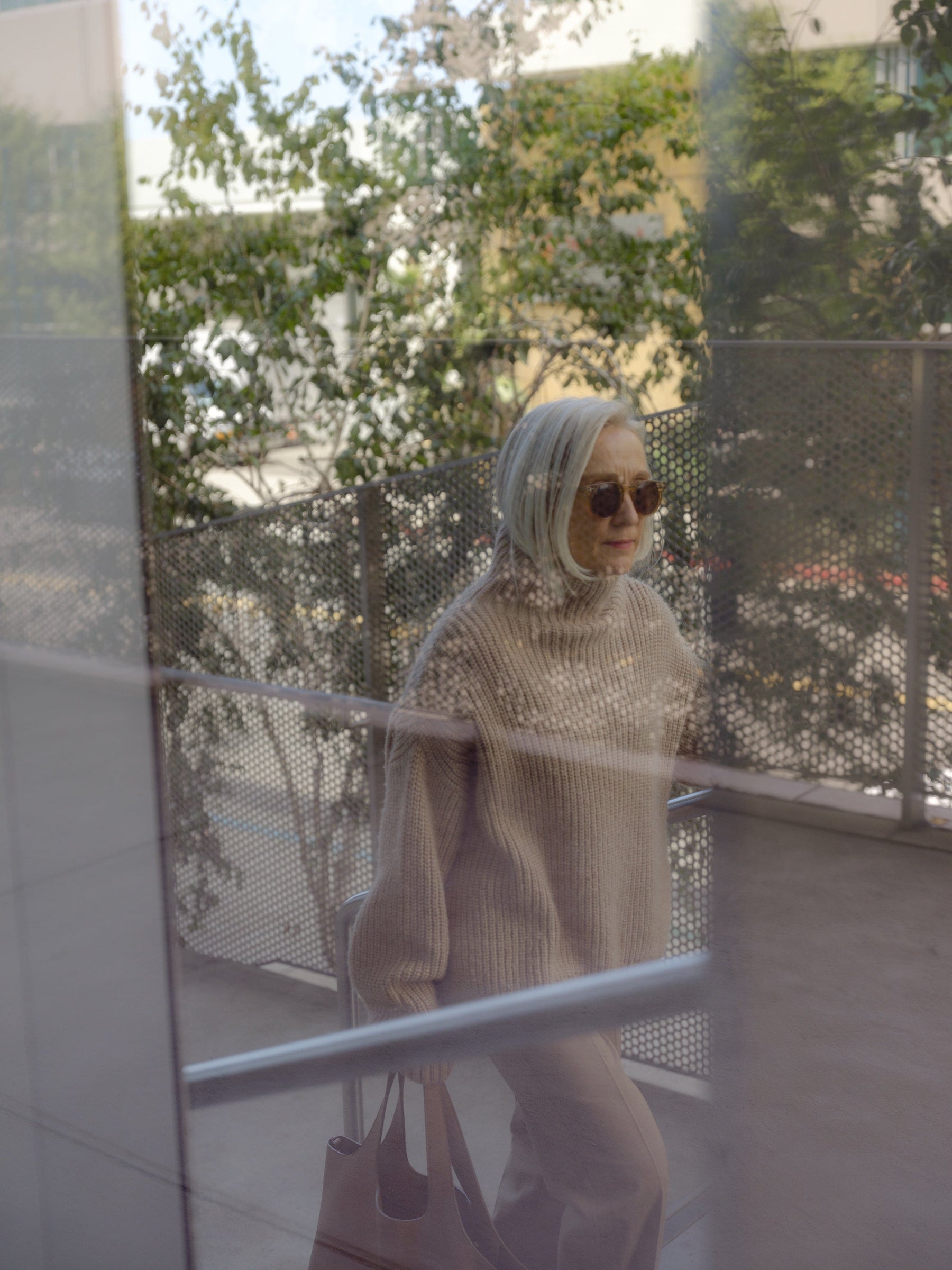 By Ulysses Ortega
3:00 p.m.: We've currently got five global retailers — Sephora, SpaceNK, Mecca, Net-A-Porter, and Liberty of London —  which require a lot of communication, so my next meeting is with Monica, our VP of global business development and sales. It's very exciting; you learn so much from what's happening in store, and with color, it's so important. 

3:45 p.m.: Allie brings me another espresso and we walk through some outstanding creative approvals.

4:30 p.m.: I'm reviewing our holiday gift sets with Kiana Basu next. With e-comm, you're trying to bring people to the site, so it's really a lot of data in our meetings; duration, conversion and daily learning.

5:49 p.m.: More catching up on outstanding asks with Allie before jumping on one last call from the car on my way back into San Francisco.

6:17 p.m.: I head home to meet Neil, change my shoes and we go on a walk through our neighborhood. We always try and do one around 6 p.m. to get exercise. I suppose I'm the kind of person who needs to be told to log off for a bit for my own good! [laughs]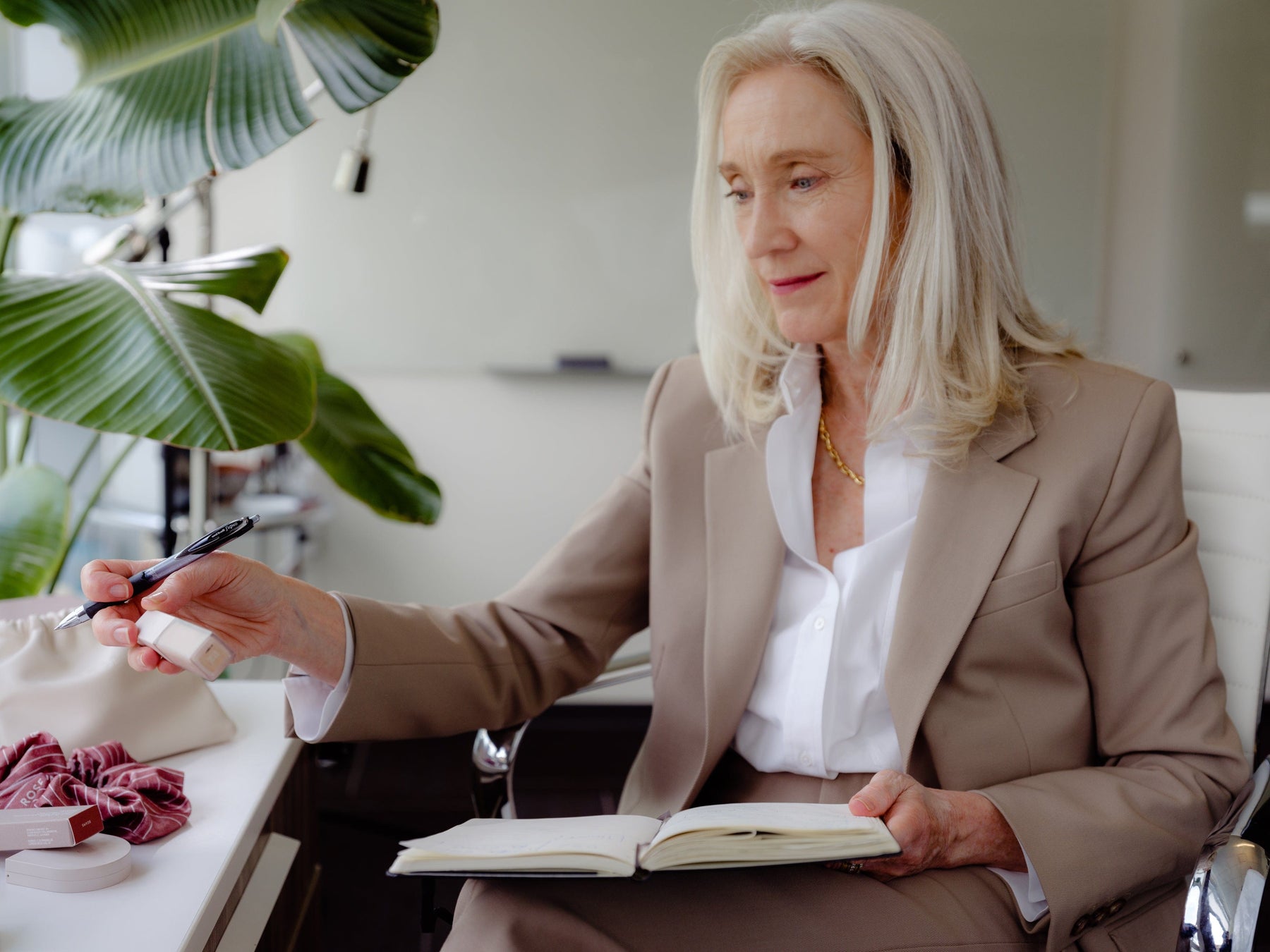 By Ulysses Ortega
7:30 p.m.: We're a family of foodies, so we enjoy both buying good food and cooking and cheese and things like that, but also discovering new local restaurants in the Bay Area. Tonight we're trying a small, local restaurant in San Francisco.

9:00 p.m.: Back at home and ready for comfortable clothing. I cleanse my face with a lab sample of our new Micellar Makeup Remover — I've been using it for weeks and I'm so pleased with the team for this one — and then it's my go-to, nightly trio: Brightening Serum, Brightening Eye Cream, and Microencapsulated Moisturizer. My skin feels completely refreshed and hydrated.

9:35 p.m.: Neil and I jump on a quick FaceTime with our younger daughter, Chloe. Everyone's sharing what they've done for the day. It's probably one of the greatest tools to decompress after a long day and really look at the most important job I've got in the world, which is being a parent.


Motivate with Caroline Hadfield
The soundtrack to a day in the life of the esteemed clean beauty CEO.
Shop Caroline's Everyday Essentials
---
---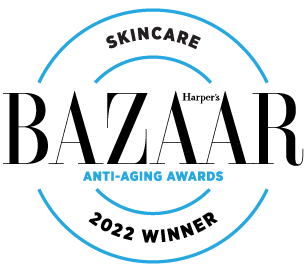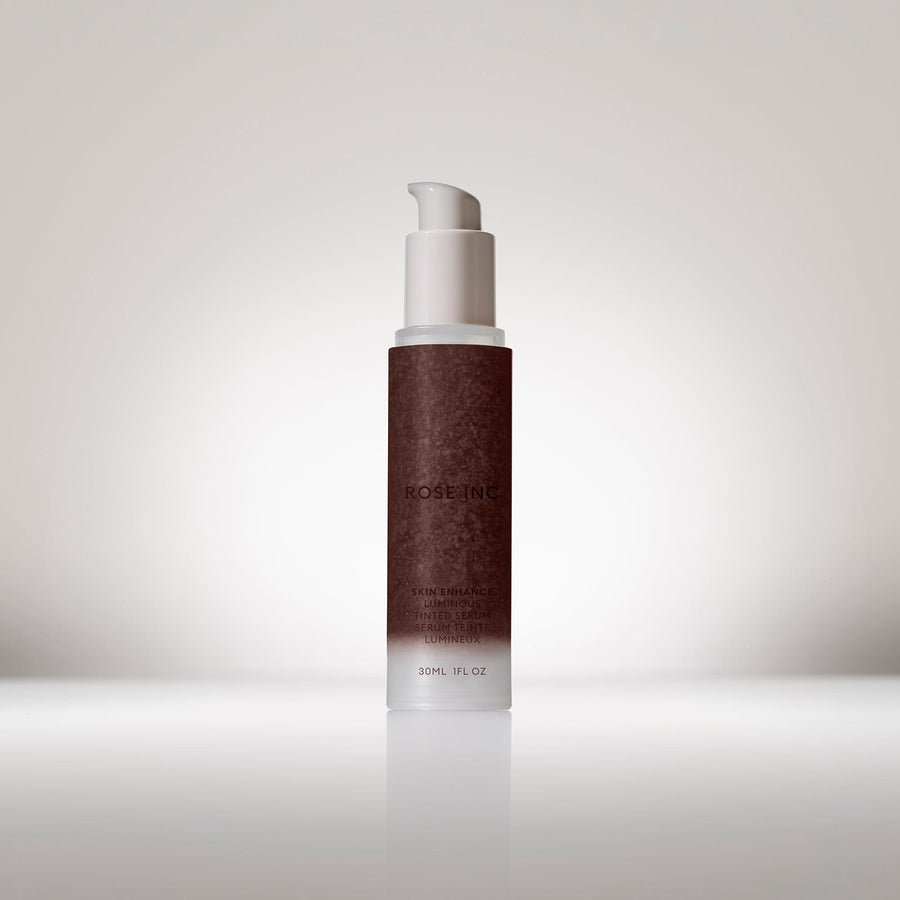 140
Very Deep Skin Tone/Red Undertone
130
Deep Skin Tone/Neutral Undertone
120
Deep Skin Tone/Red Undertone
110
Deep Skin Tone/Golden Undertone
100
Medium Deep Skin Tone/Golden Undertone
090
Medium Deep Skin Tone/Olive Undertone
080
Medium Tan Skin Tone/ Peach Undertone
070
Medium Skin Tone/Peach Undertone
060
Medium Skin Tone/ Neutral Undertone
050
Medium Skin Tone/ Pink Undertone
040
Light to Medium Skin Tone/ Neutral Undertone
030
Light Skin Tone/ Warm Golden Undertone
020
Light Skin Tone/Warm Peach Undertone
010
Fair Skin Tone/ Cool Pink Undertone
140
Very Deep Skin Tone/Red Undertone
Skin Enhance Luminous Tinted Serum
Sheer Coverage, illuminating, hydrating
Current price: $49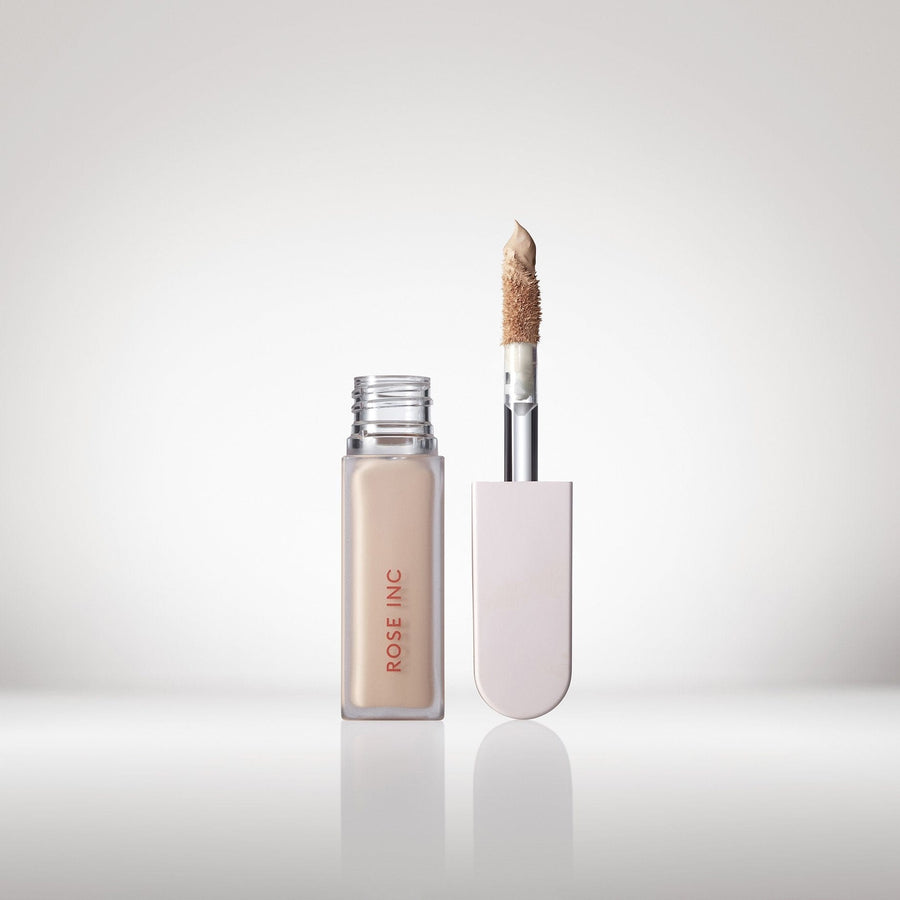 LX 200
Very Deep Skin Tone, Neutral Undertone
LX 190
Very Deep Skin Tone, Cool Red Undertone
LX 180
Deep Skin Tone, Warm Neutral Undertone
LX 170
Deep Skin Tone, Golden Undertone
LX 160
Deep Skin Tone, Red Undertone
LX 150
Deep Skin Tone, Neutral Undertone
LX 140
Medium/Deep Skin Tone, Neutral Undertone
LX 130
Medium/Deep Skin Tone, Warm Golden Undertone
LX 120
Medium/Deep Skin Tone, Pink Undertone
LX 110
Medium/Deep Skin Tone, Golden Undertone
LX 100
Medium/Deep Skin Tone, Peach Undertone
LX 090
Medium Skin Tone, Olive Undertone
LX 080
Medium Skin Tone, Pink Undertone
LX 070
Medium Skin Tone, Golden Undertone
LX 060
Medium Skin Tone, Peach Undertone
LX 050
Light/Medium Skin Tone, Neutral Undertone
LX 040
Light/Medium Skin Tone, Golden Neutral Undertone
LX 030
Light Skin Tone, Pink Undertone
LX 020
Light Skin Tone, Peach Undertone
LX 010
Fair Skin Tone, Neutral Undertone
LX 200
Very Deep Skin Tone, Neutral Undertone
Softlight Luminous Hydrating Concealer
Medium coverage, brightening, blurring
Current price: $30