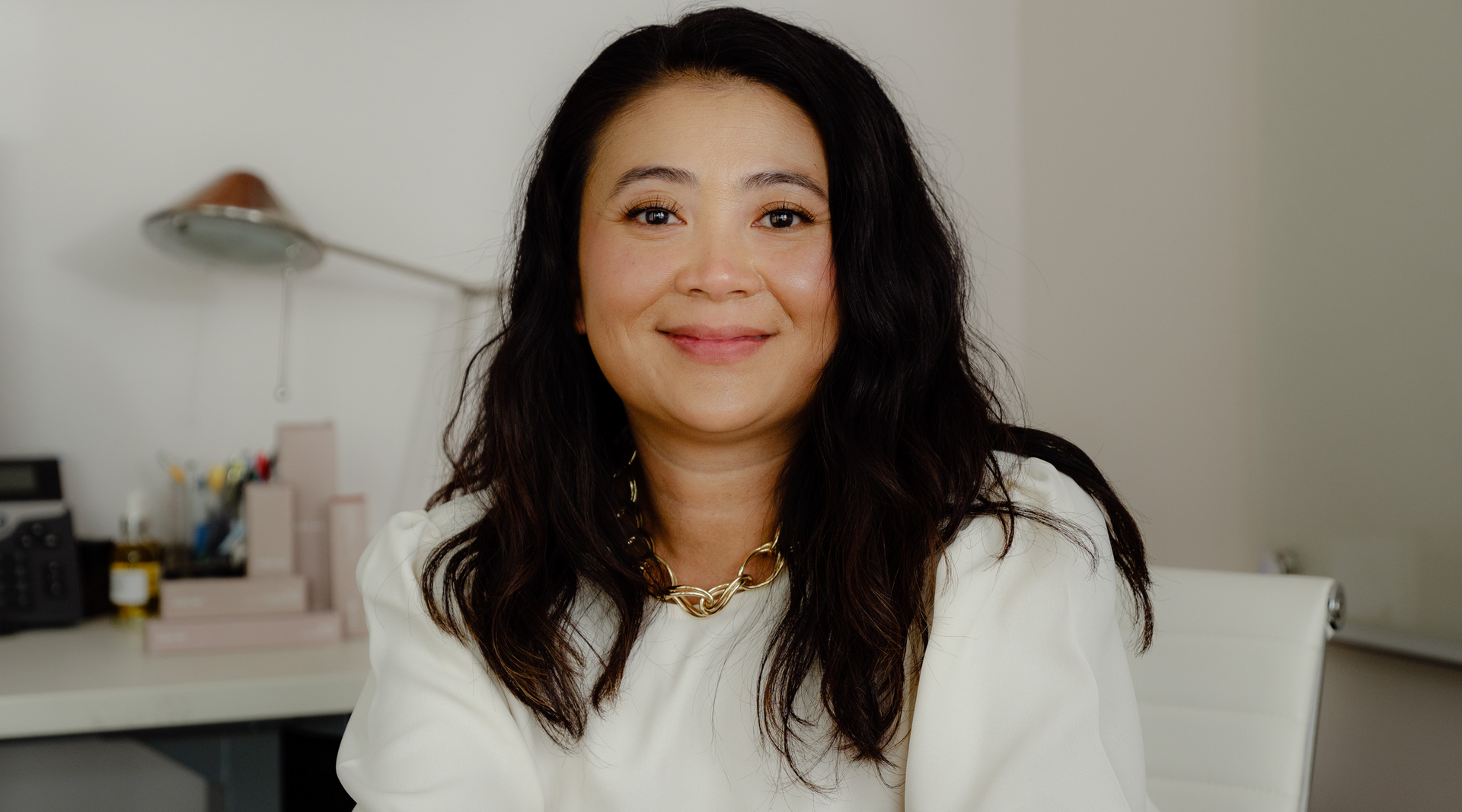 Meet Mimi, The VP Who Oversees Rose Inc's Products & Packaging
Profile
For Mimi Lu, working at Rose Inc is both an art and a science. "We don't want to just create another product," she says. "Our approach is to take a different spin by leveraging our science to create something that's really uniquely different." But Mimi's more than just the brand's Vice President of New Product Development and Marketing; she was the scientist who brought founder Rosie Huntington-Whiteley's vision to life from day one by leading product formulation, packaging innovation, and industry-leading sustainability — all thanks to her unique background. 
"I actually fell into beauty purely by coincidence," Mimi explains. While studying chemical engineering at Cornell, the Chicago native earned an internship at L'Oreal, landed a job after graduating, and spent five years becoming a formulation chemist across many of its brands. USC Business School came next, then eight years at Juice Beauty (Fun fact: Mimi worked on Goop's early products) followed by jobs with Biossance and Pipette. Now, she's right where she wants to be in product development. "I get to merge my background in research and development with the consumer knowledge I focused on in grad school," she says about the job that straddles technology, science, and efficacy. 
Mimi is a leading pillar of the Rose Inc brand, making her the perfect person to lead our newest series, Day in the Life. Keep scrolling for an insider's look at how she spends an average day behind the beauty scenes.
Mimi Lu
Emeryville, California
Vice President of New Product Development & Marketing, Rose Inc

06:30 a.m.: Mornings are a bit chaotic. I get up 30 minutes before our two girls to get myself ready and prep our breakfasts. 

06:45 a.m.: My morning beauty routine is fast! Our Heliotrope Blush Divine is my usual go-to, but I also do love Dahlia for that pinch-and-flush of color. I like a neutral lip, so Beam works the best for me.

08:05 a.m.: My husband and I tag team drop-off depending on our meeting schedules. Half the time I take the first call as they are jumping out of the car…they are very used to mommy's car meetings!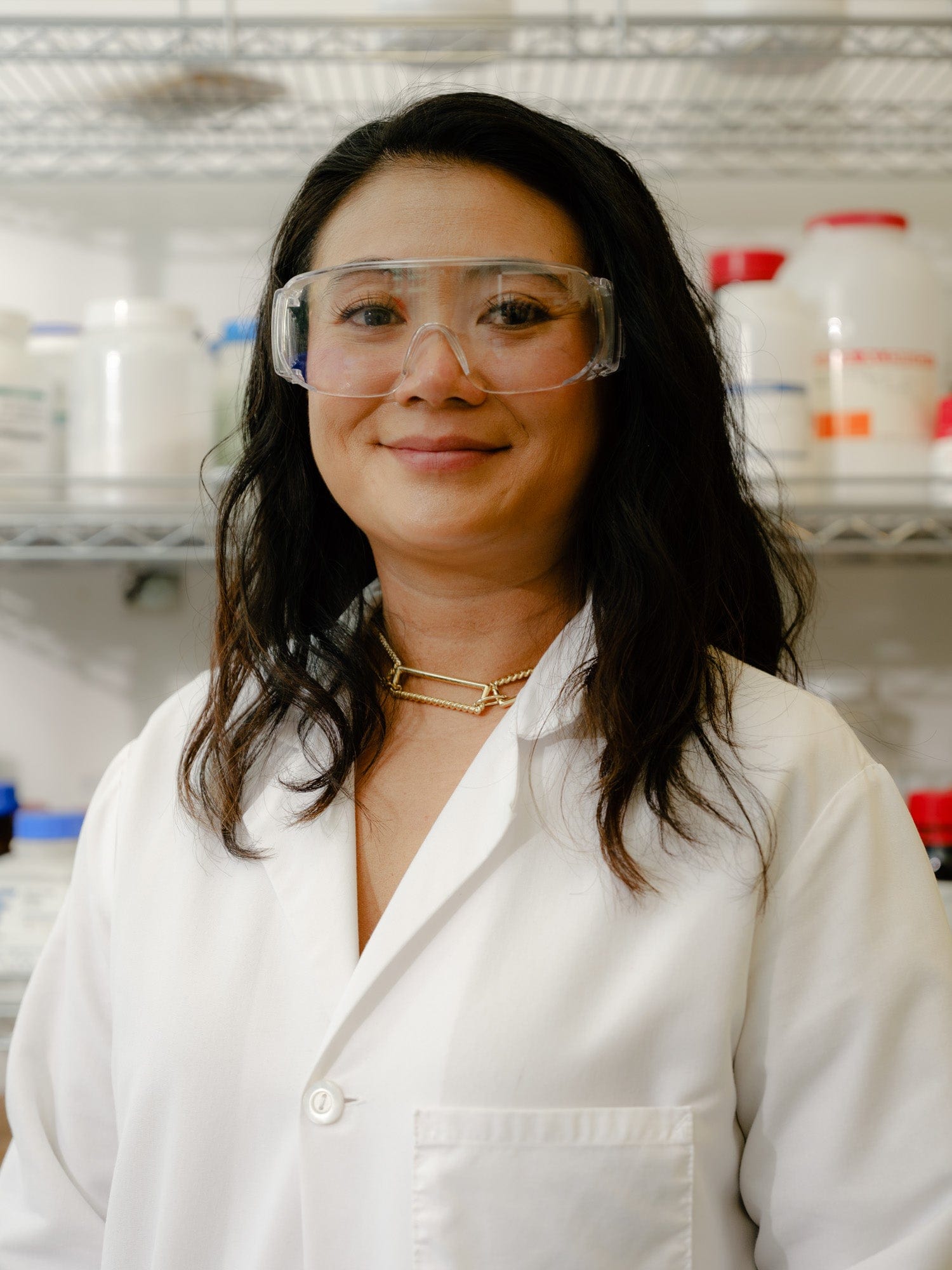 8:39 a.m.: I go into the office twice a week and work from home the rest. You can imagine the number of packages I have received since the pandemic began. The FedEx and UPS drivers know me well now and I have finally managed to get my samples out of our dining room into a more confined area of the house!

09:10 a.m.: Every day in the office is different: going over new concepts, discussing team timelines with project managers, meeting with contract manufacturers to discuss feedback on lab samples, researching ingredients, and so much more. 

09:30 a.m.: Creating a new product with Rosie and the team starts with a concept, then we identify how we can make it unique, decide on the different benefits that we're looking for and start looking at ingredients. 
10:15 a.m.: I grab a quick coffee from the Rose Inc kitchen before jumping on a video call. Today I have a meeting with our Ingredient Innovation Team to discuss new ingredient opportunities we would like to explore for the brand in the future so they can develop new proprietary molecules to support us.

11:17 a.m.: I meet with a lot of different ingredient suppliers that we partner with for our raw materials. Any ingredient that we pick must already have clinical data to show that it works! 

"Creating a new product with Rosie and the team starts with a concept, then we identify how we can make it unique…"
12:05 p.m.: A big part of my job is evaluating the samples that we receive for performance, then my colleague Vanessa and I have meetings with Rosie to get her feedback before incorporating feedback from many different team members. The more feedback, the better.

01:15 p.m.: Our days are busy! Normally I'm scrambling to grab lunch while catching up on emails. 

02:00 p.m.: Reviewing customer feedback is crucial. Seeing a product finally launch and reading all the positive reviews is my favorite part. The Concealer and Blush Divine, for example, really resonate with people. It feels great to read about the impact a product has had on their life, but negative ones help us make improvements, too. 
"Reviewing customer feedback is crucial."
03:17 p.m.: When it comes to packaging, it's exciting for our team to see our work come to life with beauty, form, function and sustainability all rolled together. Sure, we could create an amazing lipstick formula, but if that bullet doesn't fit well into the packaging, you're going to start seeing problems!

04:12 p.m.: Working with refillable, sustainable materials is more expensive and challenging than disposable ones. We use glass and PCR plastic as much as possible, which means it's made from recycled resins.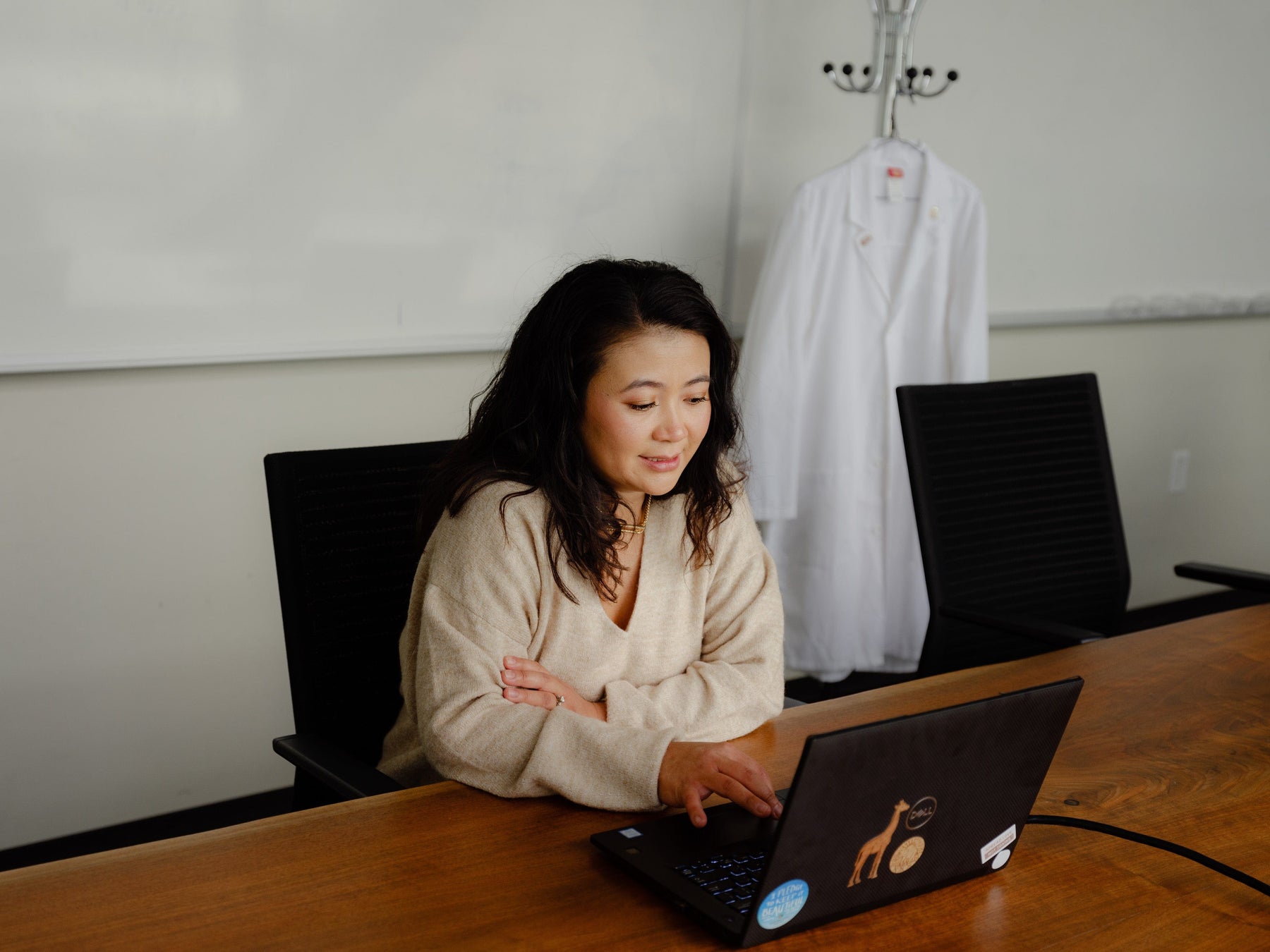 04:35 p.m.: It was a lot of fun to see how all of our cross functional teams really brought the Tinted Serum and Moisturizer to life. They've been some of my favorites because of the amazing microencapsulation technology; using it is such a transformative experience.

05:10 p.m.: A few products we've been working on are ready to be revealed. Luckily, we can create a product prototype in our lab, then we send it to a manufacturer to scale it up — then the approval process starts. 

05:45 p.m.: I just saw how late it's gotten and have to head out! My end of the day is mixed with dropping my kids off to their gymnastics classes and doing a HIIT class with my husband before a family dinner. 
"Any ingredient that we pick must already have clinical data to show that it works!"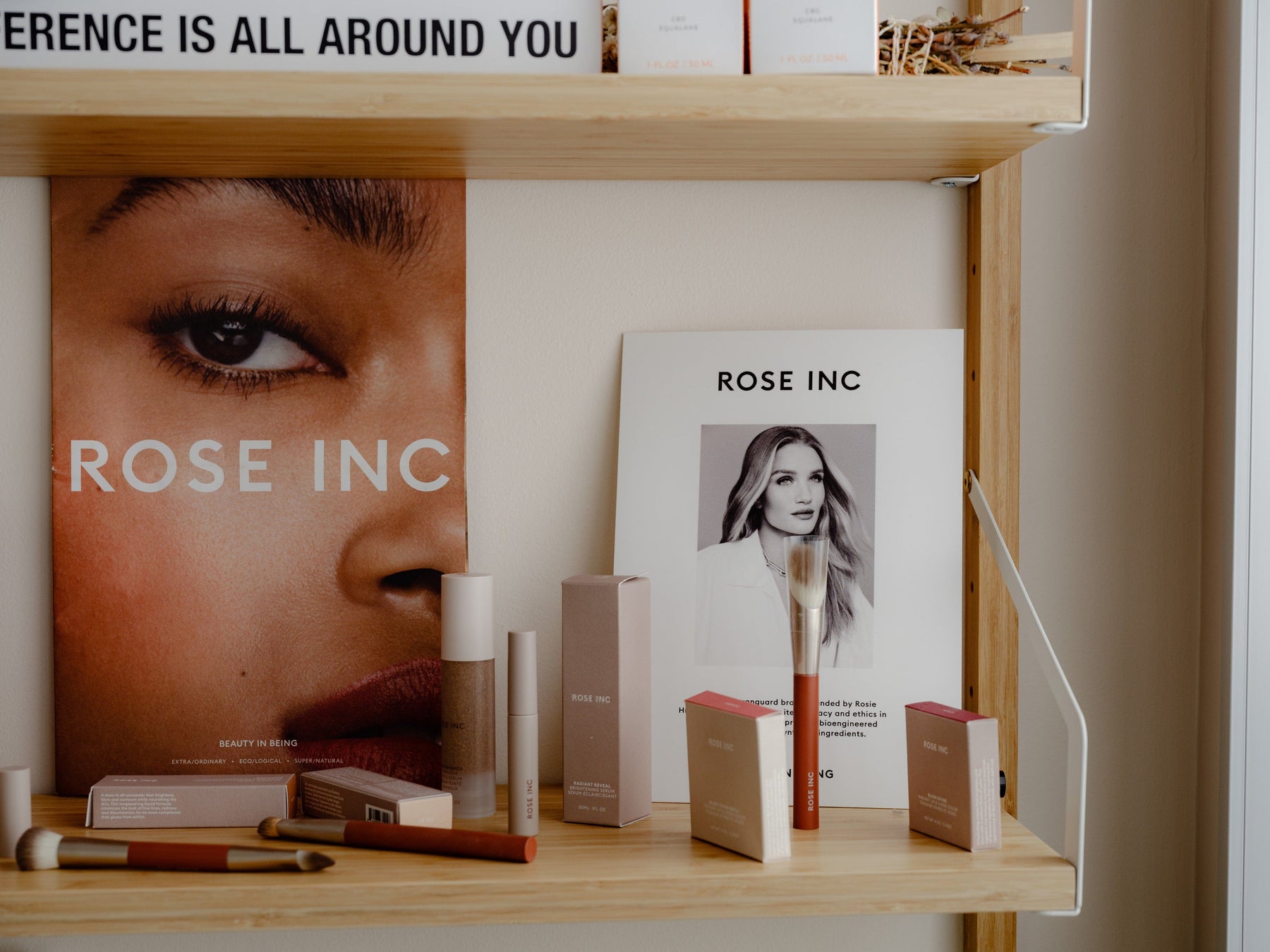 By Ulysses Ortega
08:55 p.m.: Once we finally get the kids to bed, we might watch a Netflix show or two together. 

11:25 p.m.: I traded physical books for audiobooks so I could multitask when I had my first daughter 9 years ago and I am finally making it a habit this year to read at least 30 minutes before I go to bed. 

11:57 p.m.: I'm also making myself go to bed before midnight now, which I never used to do either, so that's it for me! 


Mimi Lu's Productivity Mix
Inspire creativity and focus with the familiar instrumentals and soothing deep cuts loved by Rose Inc's VP of New Product Development & Marketing, Mimi Lu.