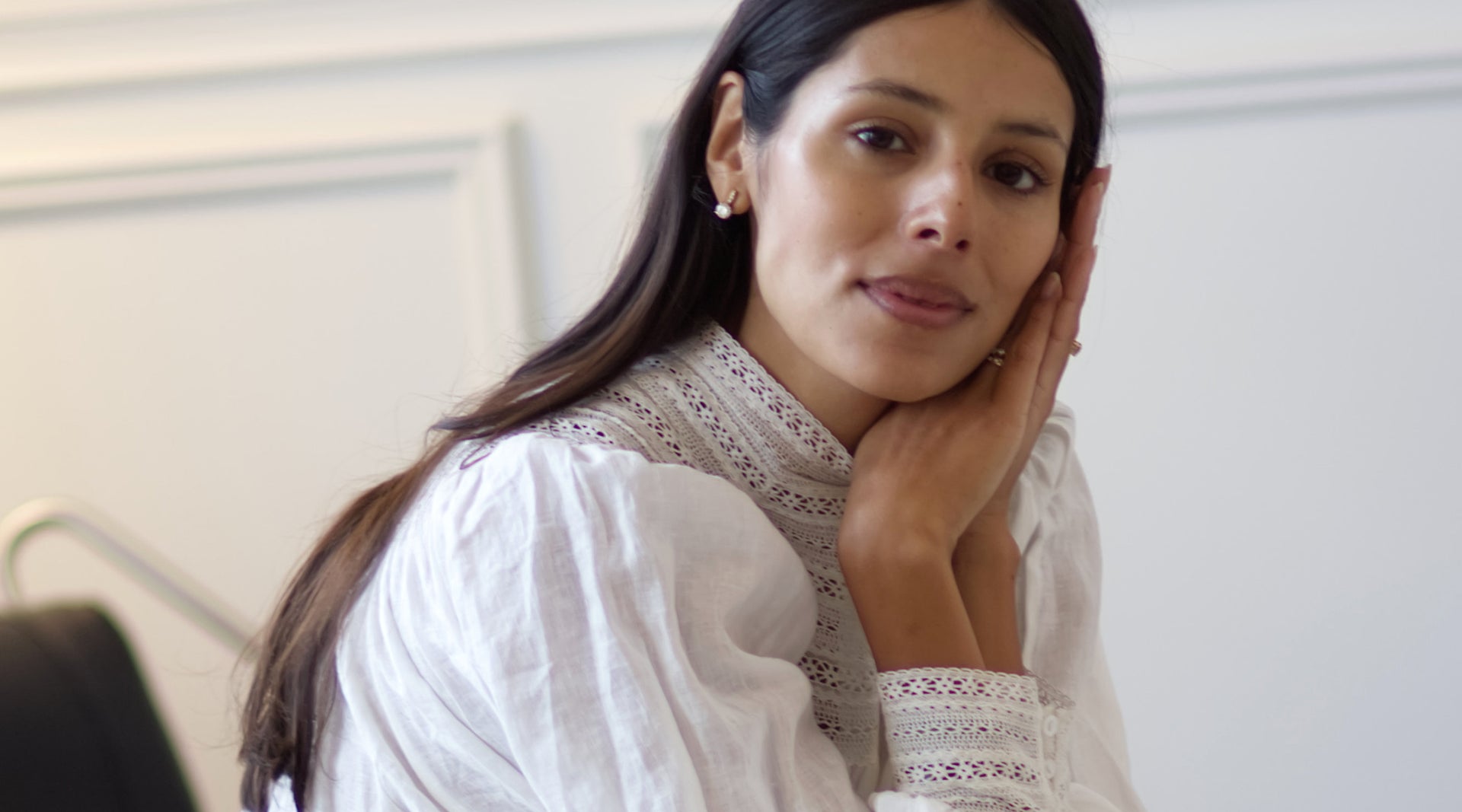 Ceremonia's Babba Rivera Shares Her Sacred Hair-and-Scalp Ritual
Profile
"I felt like I was able to completely transform my skin by using clean products. I wanted to do the same thing with my hair, but I couldn't find anything that worked," says Babba Rivera, an entrepreneur and brand marketing agency founder who pivoted from her career at Uber and Away to launch clean, high-performance hair care brand Ceremonia in 2020. Alongside her journey to clean up her beauty routines and overall lifestyle, Rivera was also on a quest to further embrace her Chilean heritage. "I was reflecting on how much shame I faced growing up and how it caused me to feel like I needed to assimilate," says New York-based Rivera who was born and raised in Sweden. "I was constantly told that being Latina was a disadvantage, but creating Ceremonia is my way of rewriting that narrative and showing my pride in my culture." 
Today Ceremonia is thriving, thanks to products like its best-selling scalp scrub filled with papaya, Bolivian pink salt and guava leaf. Rivera also has her hands full with a 2-year-old and another baby on the way, which makes self-care a top priority for her right now. "I listen to the same 30-minute uplifting hypnobirthing audio every morning. I repeat the affirmations out loud. I really attribute a lot of my current calmness to this," she says. "But in all honesty, spending time with my daughter has been the best stress reducer for me. Kids put so much into perspective. They force you to be present and playful."
Below, Rivera shares more of her beauty and wellness rituals, including the sacred hair-and-scalp ritual that keep her grounded and inspired.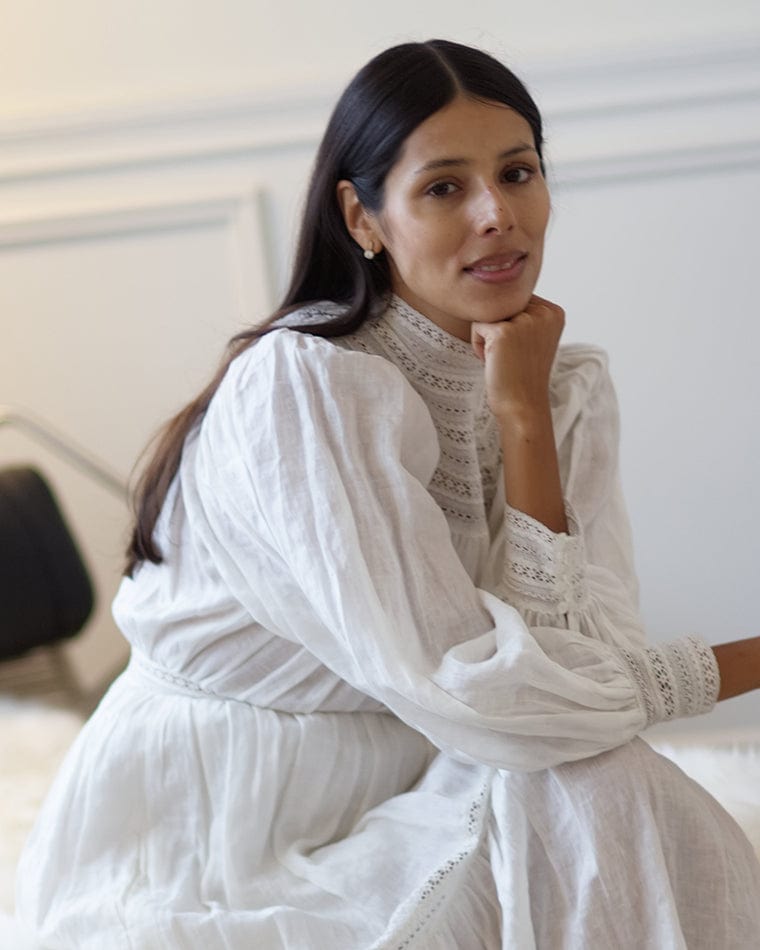 RI:

You've made a big impact in the beauty space over the past few years. Describe your earliest beauty memory. 

BR:

My mom and dad were definitely my first beauty role models. My dad [who was a hairdresser in Chile] spent so much of his time with me practicing beauty rituals. He would braid my hair for hours. It was a moment for us to bond. My mom also taught me from an early age how beauty practices can be a form of self love. She would carve out two hours to take a bath without guilt. I think moms in particular suffer from so much mom guilt, but my mom was just never a victim of that. We learned we couldn't disturb her during that sacred time. I think that has definitely played a huge role for me today in being a mother and not feeling guilty for practicing self-care. 

RI:

Who is inspiring you today beauty-wise?

BR:

Deepica Mutyala, founder of Live Tinted, really inspires me. Her entire family is made up of doctors and lawyers but she decided to do her own thing and try something different. I also love how she celebrates her culture in her brand. 

RI:

What's your skincare routine like?

BR:

When I was growing up I used to spend a lot of money on makeup and now I realized investing in quality skincare products is better. I'm a huge advocate for layering serums. I am the serum queen because I have very dry skin. When I come out of the bathroom my skin is glistening and I like to let it all soak in while I'm having breakfast, then I apply my makeup after. 
RI:

What do you do for makeup?

BR:

I'm pretty minimal with makeup. I love makeup products that have a highlighter effect; a thin, tinted moisturizer is my go-to, like Rose Inc's tinted serum. I also love to do my brows with a pencil and brow gel and then finish off with a nourishing, tinted lip gloss. If I want to spice things up, I love a good red lip, a creamy blush and some eyeshadow. 

RI:

What about your haircare routine?

BR:

My approach to hair is very similar. I have a weekly sacred ritual where I really care for my scalp. The reality is that good hair really begins from the scalp and that's something that we push a lot with Ceremonia. I use our scalp oil and I give myself a massage with our scalp massager. I also love to use our scalp scrub in place of a shampoo once a week. Then I follow with a deep conditioning hair mask. 
"I was constantly told that being Latina was a disadvantage, but Ceremonia is my way of rewriting that narrative and showing pride in my culture."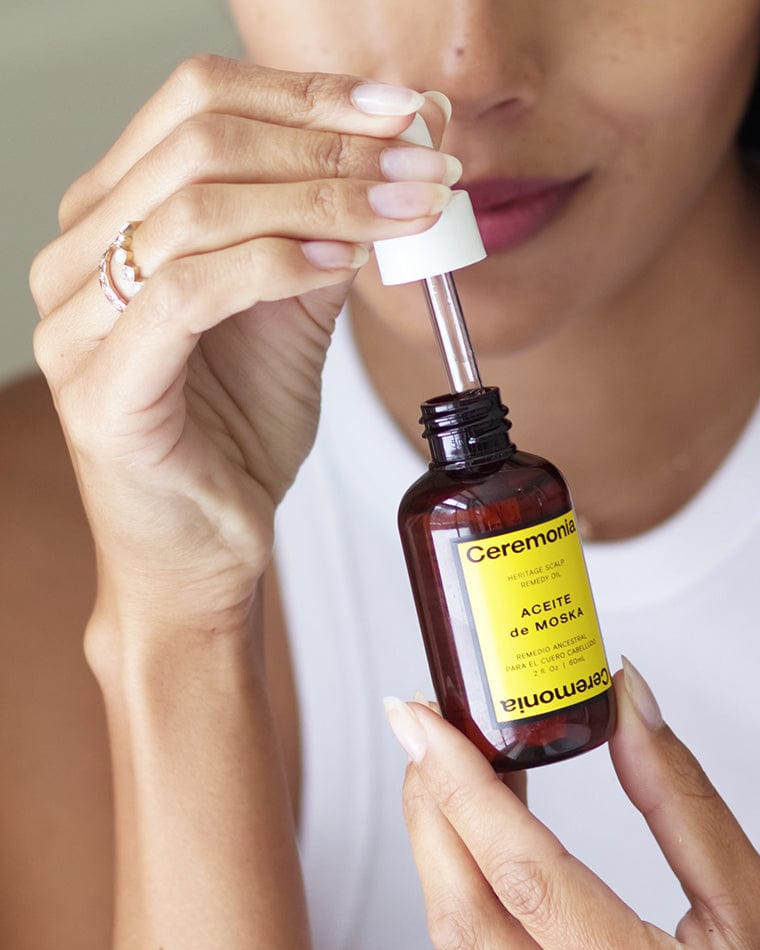 RI:

In addition to your hypnobirthing meditation, what does your wellness routine look like?

BR:

I love to moisturize my belly. I use an oil that I keep on my nightstand. I do it every night before I go to bed. I also try to move my body as much as possible. That's very therapeutic for me. 

RI:

What's the biggest beauty risk you've ever taken?

BR:

Definitely when I cut my bangs and chopped off my hair before launching Ceremonia. My hair was so dry and damaged from coloring it so much. It needed a reset. 

RI:

Is there anything beauty-wise that you've always wanted to try?

BR:

I've done microneedling before but I'm curious about trying it for the scalp. I've heard it helps with hair growth and thickening. Having two kids back to back, I'm anticipating that I'll have a lot of hair loss, so that's also why I'm curious.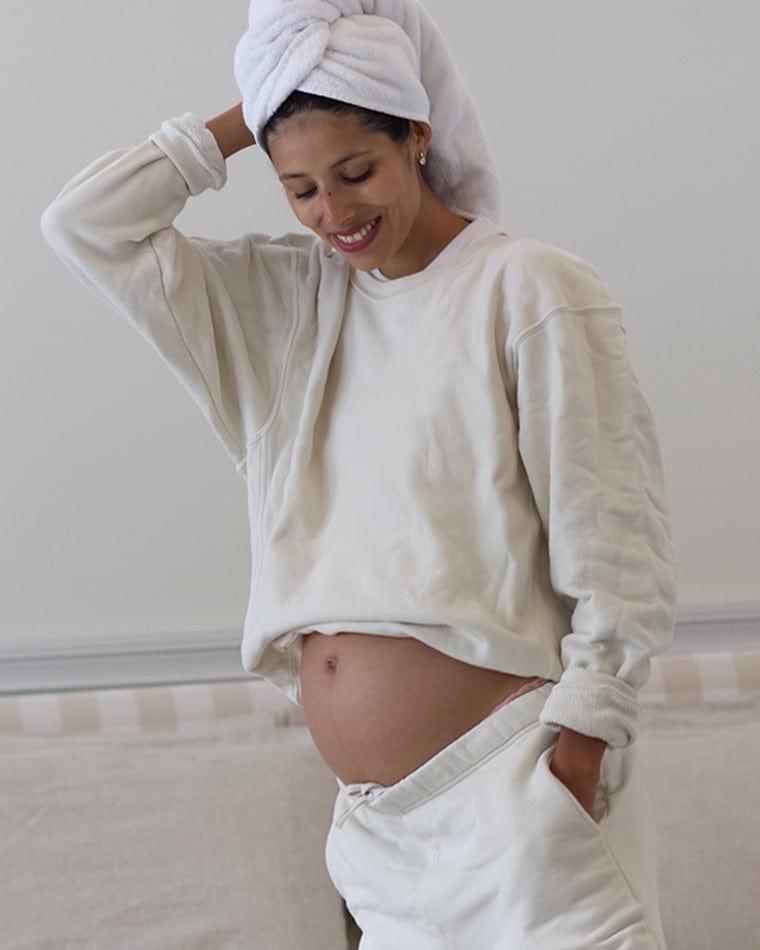 RI:

What beauty industry changes would you like to see happen?

BR:

I want to see more founders of color. I feel like a lot of brands have gotten the memo to include more diverse models in their campaigns, but I still want to see more founders behind the scenes. 

RI:

How do you define beauty?

BR:

I think of beauty as an act of love for yourself. Beauty is made up of the things that bring you the most joy. 

RI:

When do you feel most beautiful?

BR:

I feel very beautiful pregnant. It's very empowering. Sometimes I just find myself sitting with my daughter in my lap with this huge belly that has appeared now at six months. And I'm just in awe. My body did this. That's incredible. 
Self-Care Listening For Babba Rivera's Sacred Hair & Scalp Ritual
Wellness rituals have always been a part of Ceremonia haircare founder Babba Rivera's  life, from her father braiding her hair growing up to creating her own line of bespoke hair care products. Now, as a pregnant mother and businesswoman, Rivera's self-care practices are more important than ever. She shares all her secrets — hypnobirthing meditations and sacred scalp rituals included.