04 / 18
INTERVIEWS
Pritika Swarup Shares her DIY Ayurvedic Beauty Secrets
Everybody has a story about beauty. In Rose Inc.'s The Profile, some of the world's most intriguing people share theirs. In this intimate interview series, we get (virtually) up close and personal to explore their definitions of beauty and path to self-confidence. Featuring imagery shot through their own lens, The Profile presents these compelling personalities in a new light—one that illuminates their own journey, dreams, and desires while highlighting their unique relationship with beauty.
As a model, Ivy League student, entrepreneur, and global ambassador for Operation Smile, it's safe to say that Pritika Swarup is busy. "I only get involved in what I believe in and am deeply passionate about," she explains. "I try not to spread myself too thin...[but] to be quite honest, I police myself to hold myself fully accountable to fulfill my commitments." That's meant scheduling time to study between modeling gigs, advocacy projects, and work as an investment analyst in New York, all while balancing a robust self-care routine she learned from her mother, whom she describes as a yogi and wellness guru.
It was in her daily meditation, stretching, exfoliation, and other Ayurvedic practices she learned from her parents—who immigrated to Virginia Beach from India before Swarup was born—that inspired the latest line on her growing CV: beauty brand founder. "I appreciated the power of South Asian beauty from a very young age," she explains. "I always felt the absence of my culture in mainstream media and the beauty industry growing up, especially when I started working in fashion at the age of 17. It was then that I realized how much Indian beauty and holistic wellness were significantly underrepresented in the market."
Balancing her upbringing with a focus on financial economics from Columbia University and a thriving modeling career—which includes campaigns for MAC, Clinique, and Fenty Beauty as well as appearances in Vogue, Elle, and L'Officiel—gave Swarup the drive necessary to take on what could be her most important project yet. "The ultimate goal is to pull the curtain back on modern India to reveal the holistic beauty and rituals of the East," she says about Prakti, which is set to launch later this year. Rose Inc. caught up with Swarup to discuss her forthcoming line, how she manages her time across projects, and the beauty secrets she's learned along the way.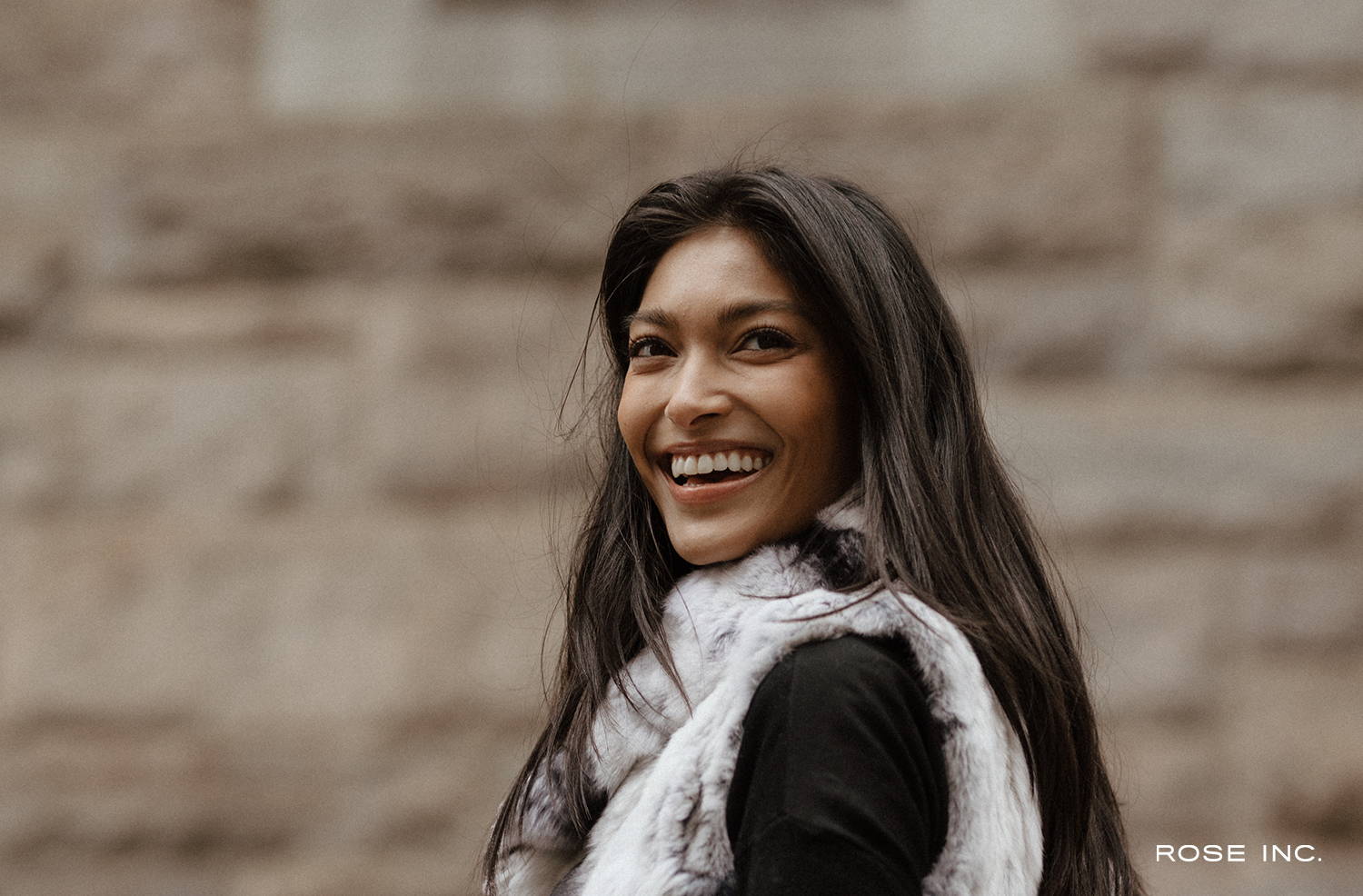 RI:
The past year has been life-changing for most of the world. What have you learned about yourself over the past year?
PS:
There's no place like home. Before the pandemic, I was constantly traveling for work and living a very fast paced lifestyle. I never thought I would enjoy being at home so much. I really appreciate "home" in its broadest sense: home-cooked meals, cozy nights on the sofa, and a calm work atmosphere.
RI:
You have a lot going on. Do you have any tips for balancing school and work?
PS:
Absolutely. There have been so many moments when I look at all of the work in front of me from my various involvements and I'm like, 'where do I start?' One of the best pieces of advice I was given by my father was to look at everything all at once, but to focus on the most important, immediate items. I also find that prioritizing and staying super organized helps me manage it all.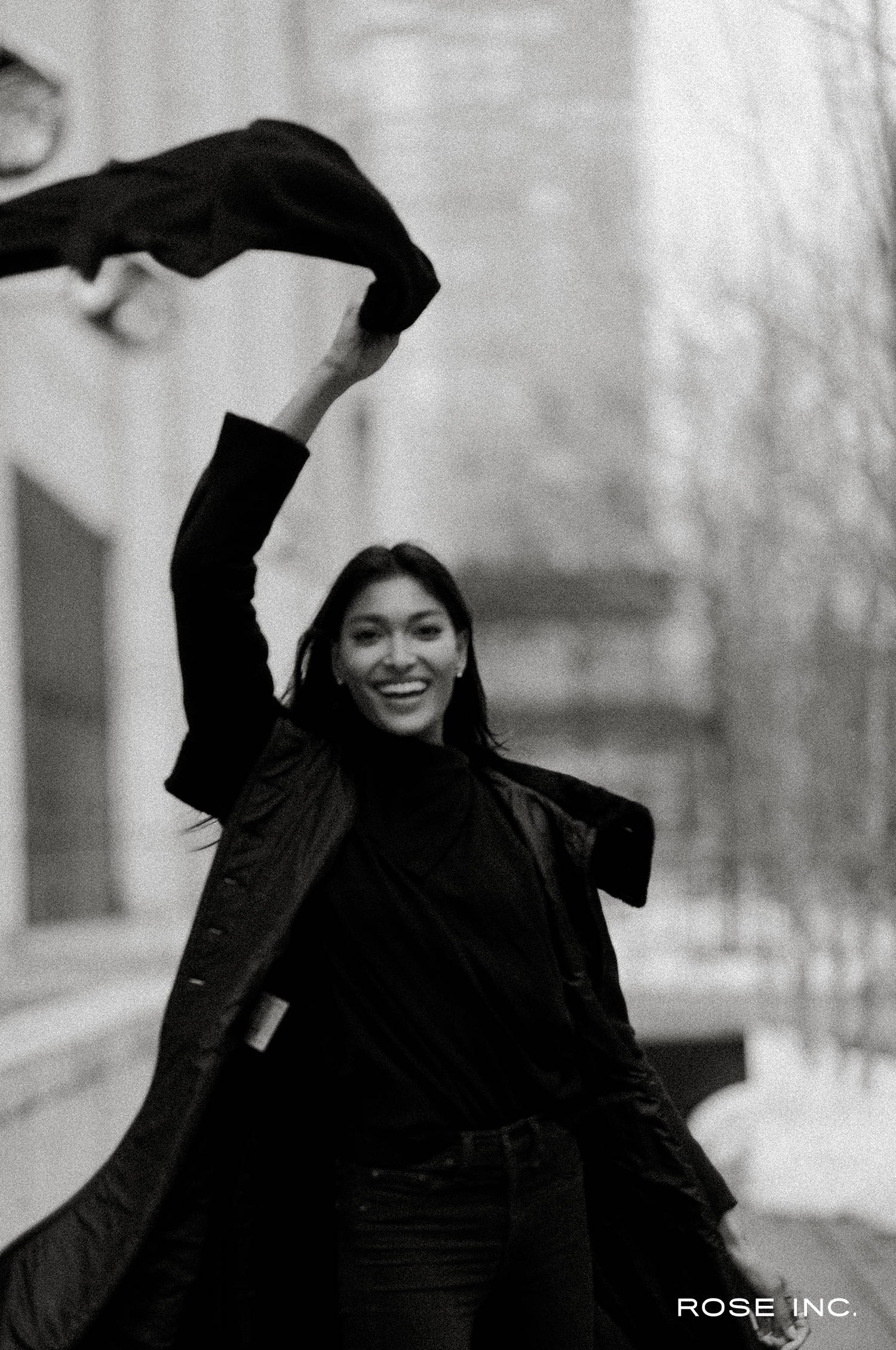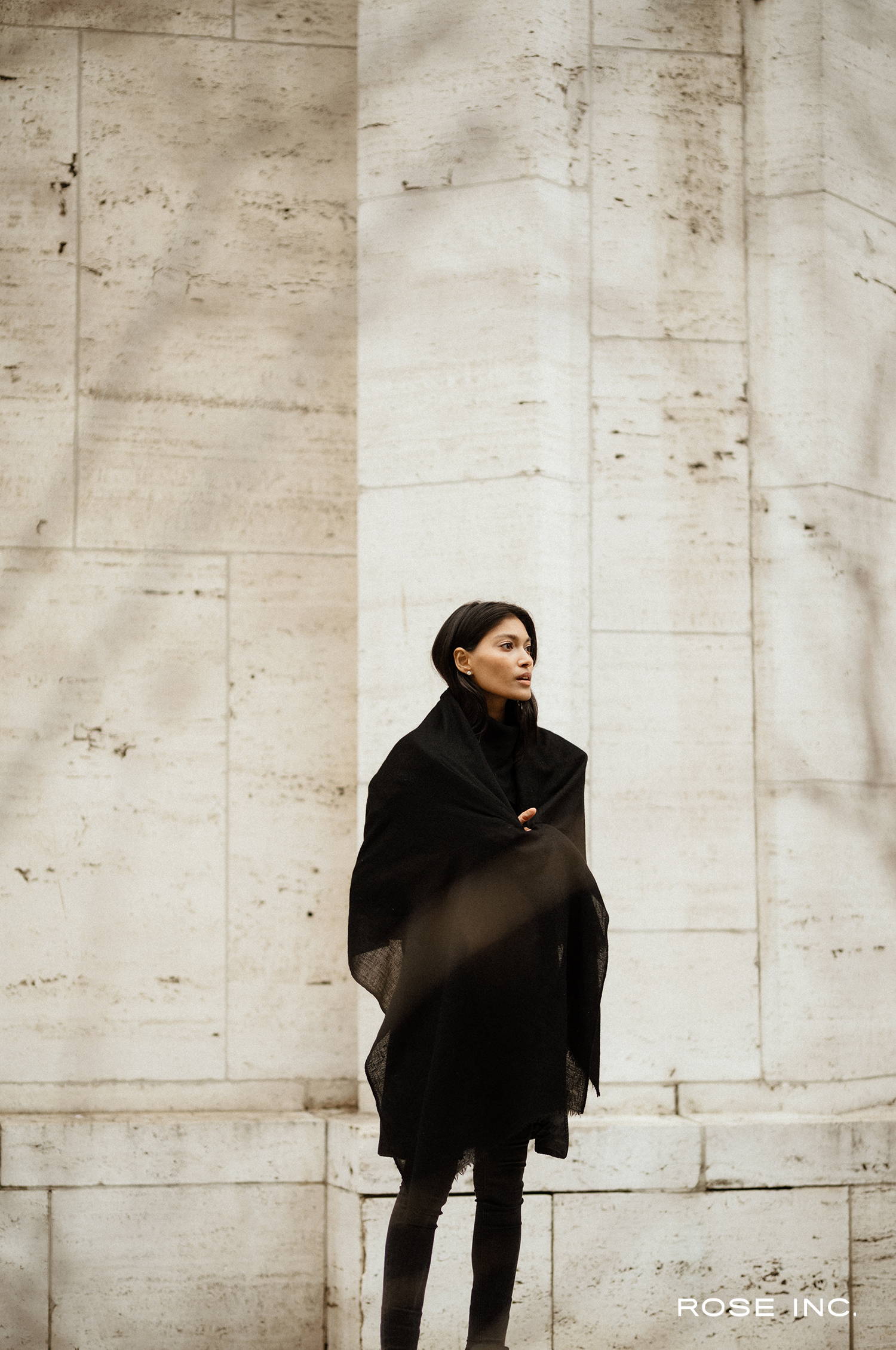 I also used to wear makeup to look more 'put together', and now I wear makeup to amplify my unique beauty.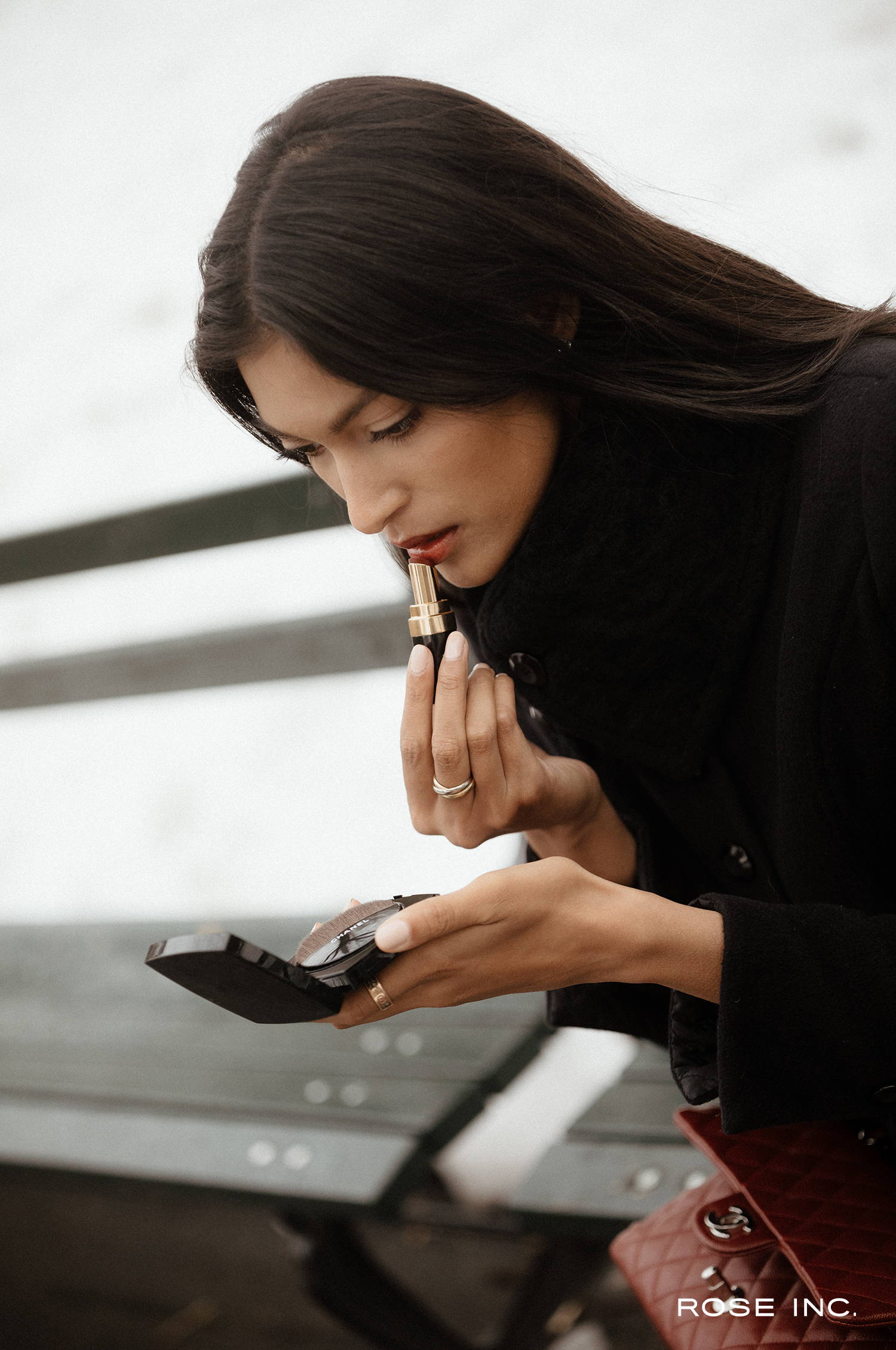 RI:
Do you recall what attracted you to makeup originally?
PS:
The ability to express myself to an even greater extent attracted me to makeup. I was so into the cat-eye throughout high school and wore much more makeup than I currently do.
RI:
How has your relationship to makeup changed?
PS:
Now I don't really wear heavy makeup on the eyes, [just] natural eyeshadow and mascara. I also used to wear makeup to look more 'put together', and now I wear makeup to amplify my unique beauty. I don't wear makeup every day, but for my minimal makeup look I use tinted eyebrow gel, concealer, and a light coat of mascara. And if I am going out, I'll pop on a fun lip color.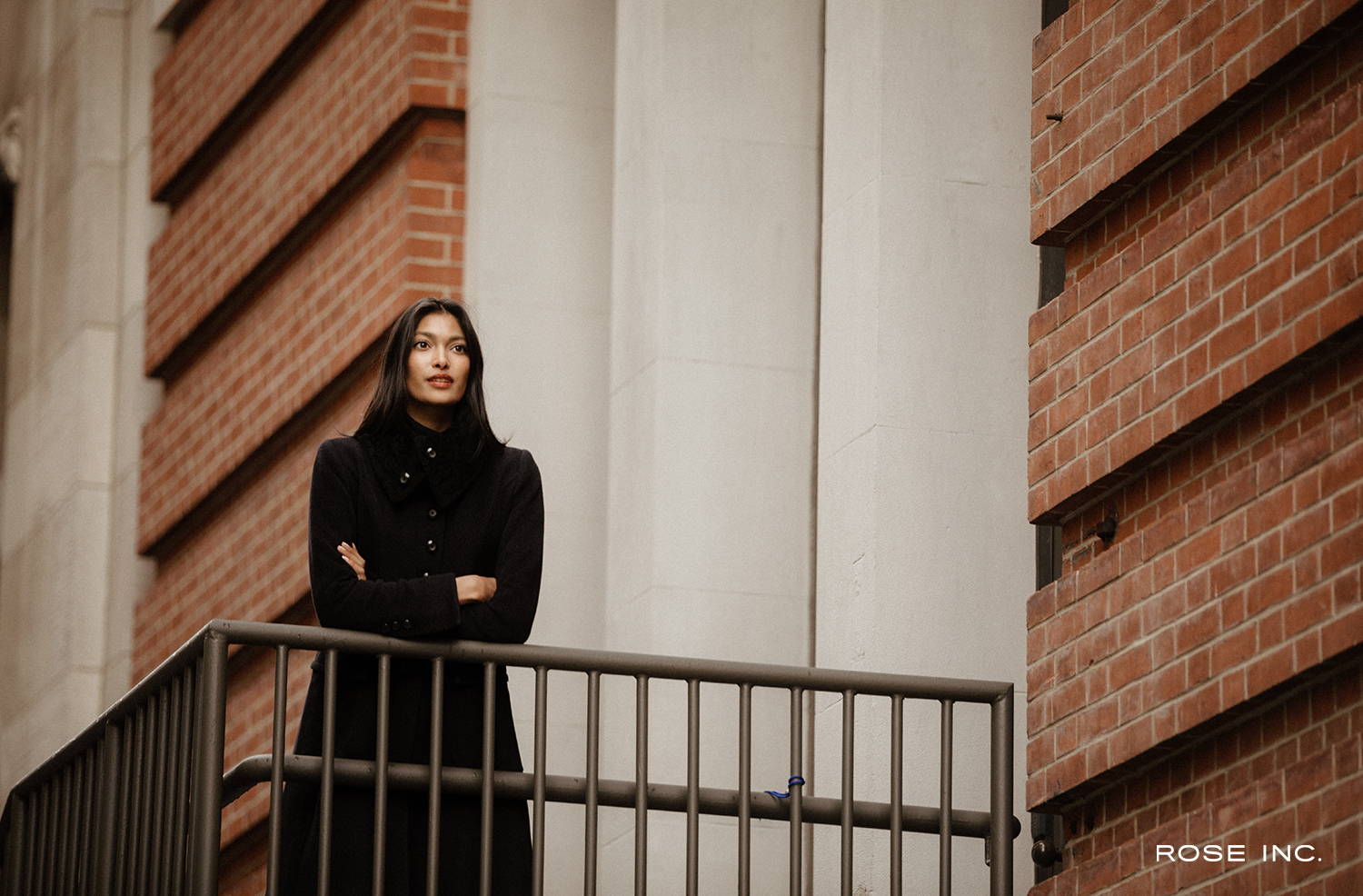 RI:
What are a few makeup techniques you've learned on set?
PS:
I've learned that products such as bronzer or lipstick can be used for multiple purposes. For example, I use a bronzer as eyeshadow, as well… Working as a model opened me up to the insanely detailed creativity that goes into the creation of a makeup look. I love to do my own makeup and play around depending on how I feel that day.
RI:
What are your top five beauty essentials?
PS:
Moisturizer, cleanser, exfoliator, moisture mask, and lip balm.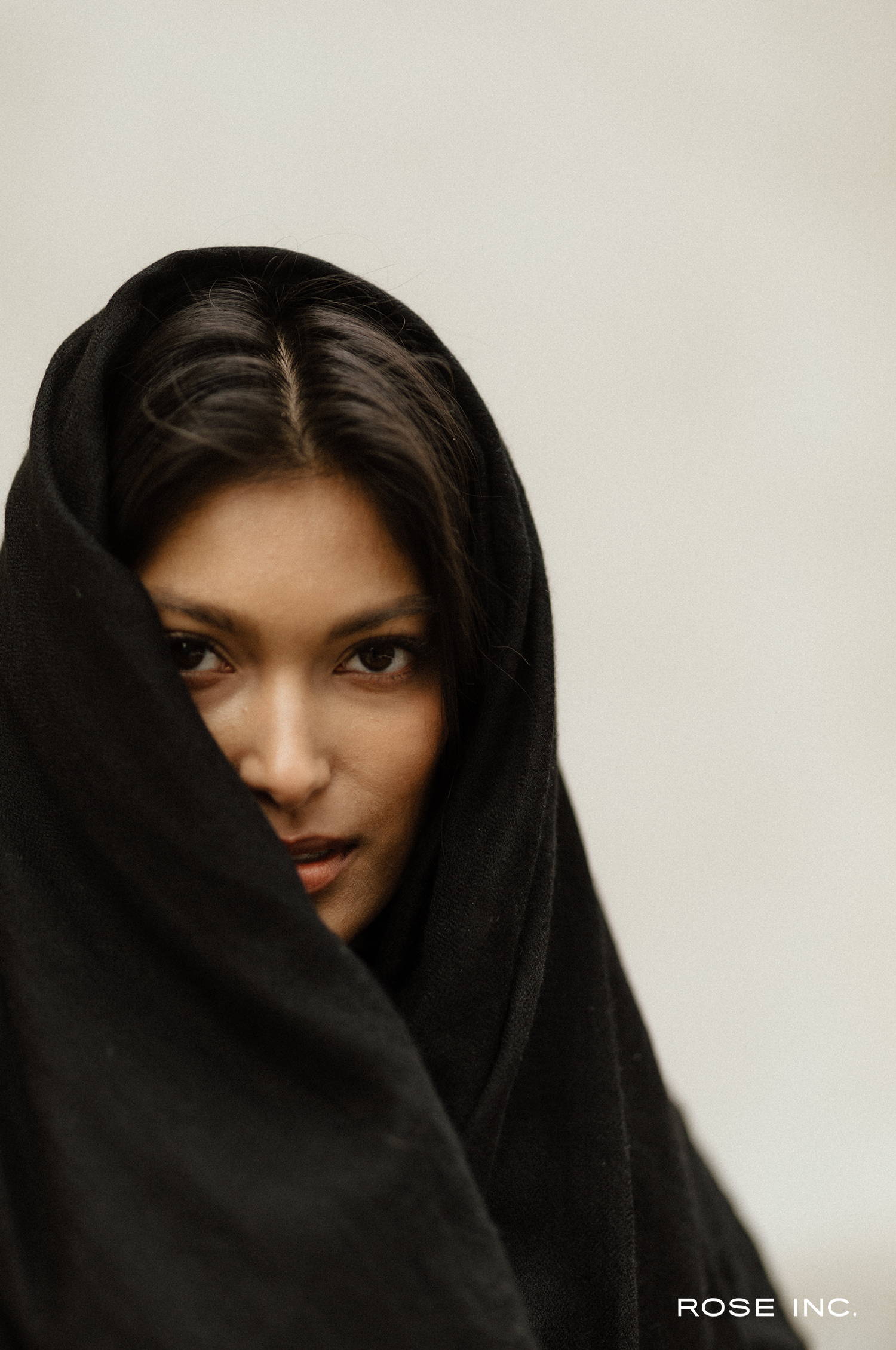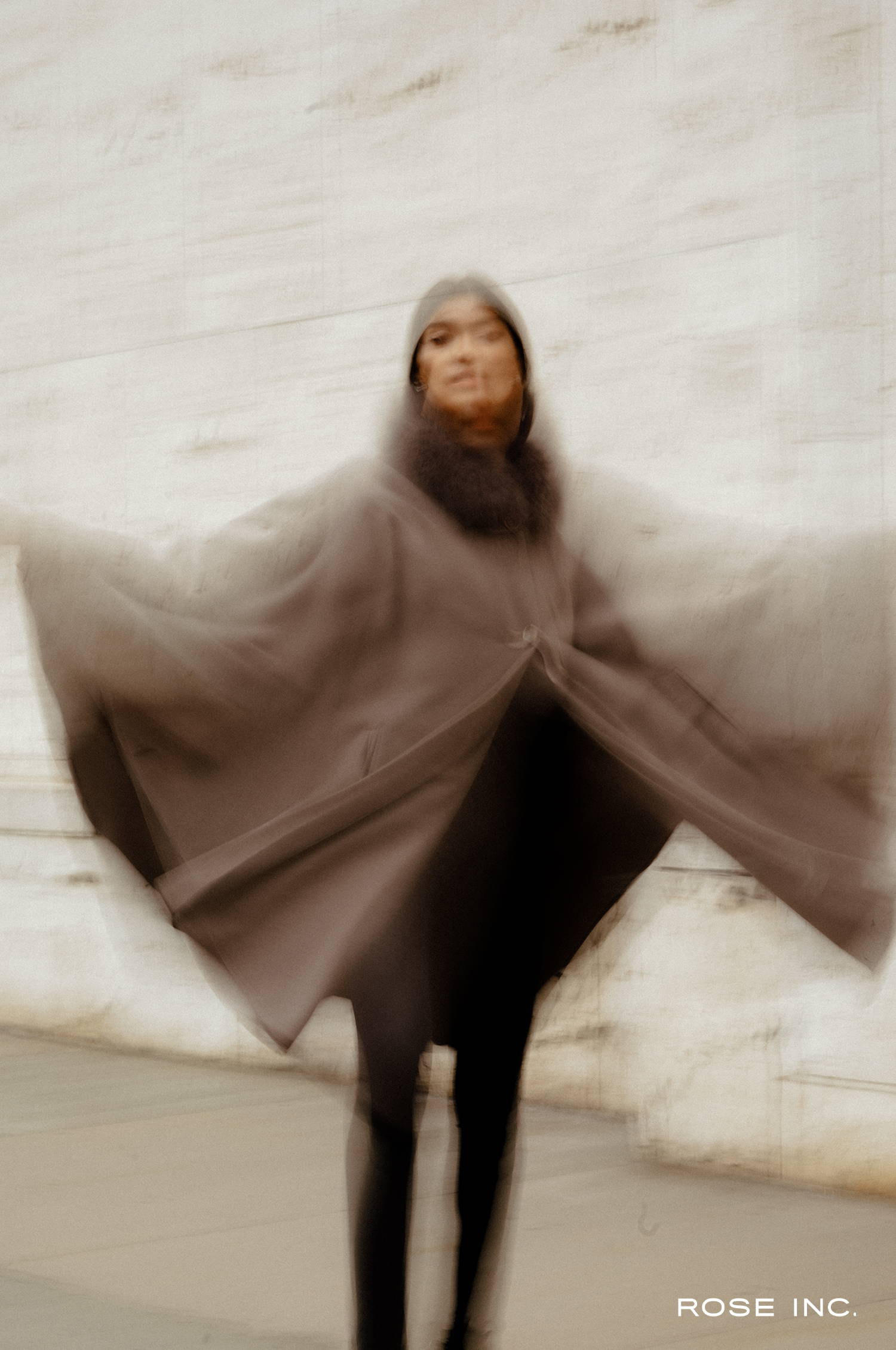 RI:
What is your skin care regimen like today?
PS:
I love taking time for my skin-care regimen. In the morning, a light, cream cleanser and moisturizer are the two key products and, if I have more time, I use a cold jade roller all around my face to stimulate blood flow and circulation.  
Before bed, I'm very careful about removing any makeup, and then I cleanse my skin. I usually apply a mask a couple of times a week; either a detox mask or something more pampering and hydrating. 
To exfoliate, I'll mix ground-up orange peel, glycerin, honey, lemon, and sugar. I use these same masks and peels on my face and body. I do love using oil in my hair and body: sesame oil in winter and coconut oil in the summer. I don't believe in just putting something on your face because someone says it does this or that, but rather look at what your skin needs that day and understand your body.
RI:
What beauty practices did you grow up with?
PS:
My mother, a yogi and wellness guru, instilled the principles of Ayurveda into my life since childhood, emphasizing holistic beauty with clean, natural rituals and remedies. This included a lot of homemade masking, stretching, and meditation. I feel really lucky to have been brought up with these values as they have helped me a lot with my own self-care (beauty routine, mental health and clarity, and physical condition).
My practice includes everything from taking time for myself in the morning by meditating and stretching to nourishing my body with an antioxidant and anti-inflammatory elixir of turmeric, clarified butter, and black pepper. I also incorporate yoga into my daily routine, which keeps me mentally, spiritually, and physically fit. This was also an inspiration in creating my own brand, where I'm able to share these wonderful practices and not well known Ayurvedic ingredients with others.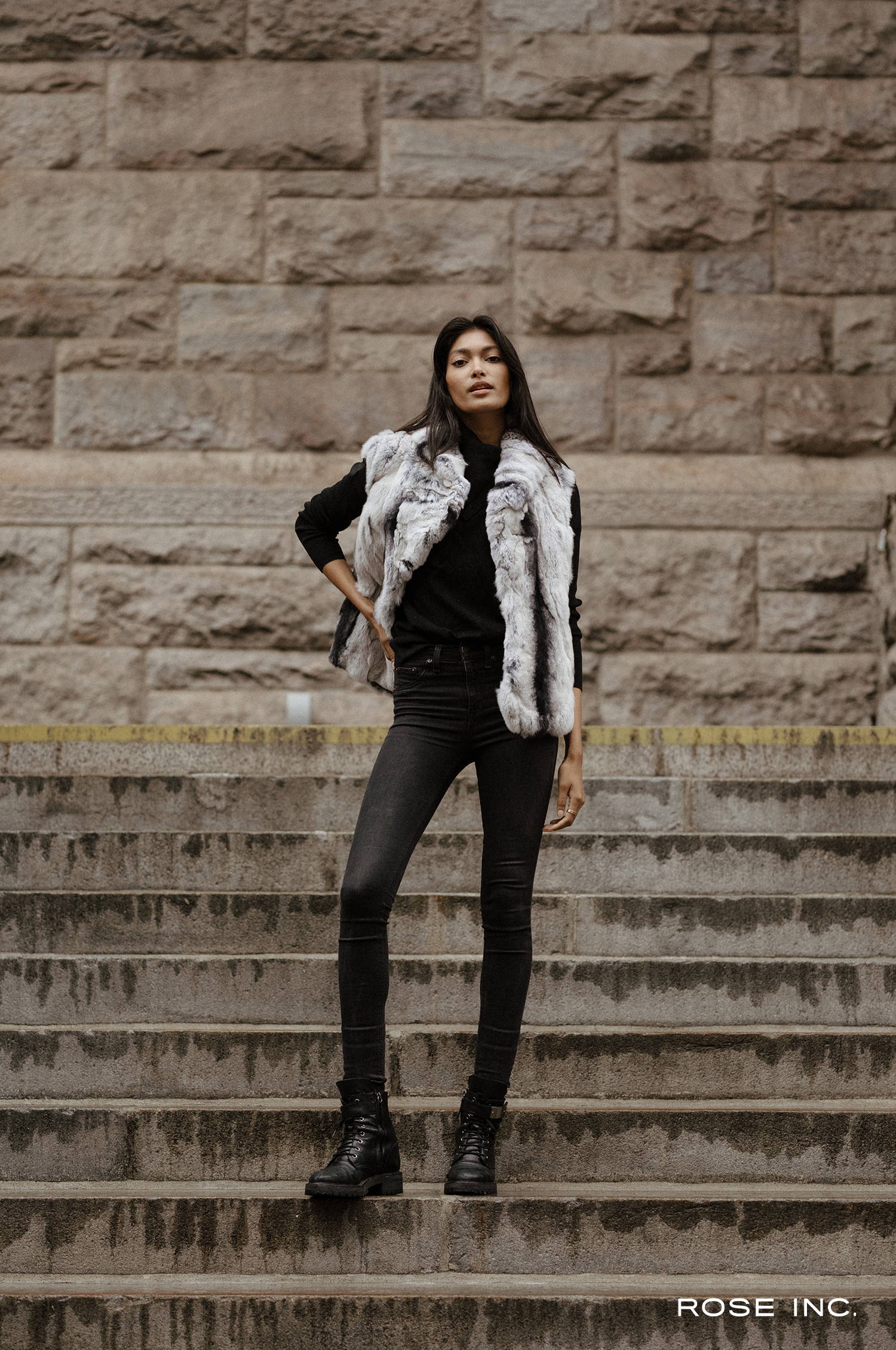 RI:
Your brand, Prakti, is scheduled to be released later this year. What inspired you to create it?
PS:
The clear lack of inclusivity and true representation of global beauty, not only Indian beauty practices, but the beauty of Indian women and all women, disturbed me to my very core. Over the years, I could not understand why there had never been an Indian-inspired brand to truly reach global scale. A culture that is so rich in beauty rituals, known for healing, proven wellness remedies... What was it on the product side that couldn't resonate with the Western consumer? That's when I discovered a white space in the market between traditional Ayurvedic Indian brands and Western brands. There was no brand that bridged the gap and had the ability to appeal to global consumers. That's how Prakti was born.
RI:
Are there any beauty looks or styles you've been wanting to try but aren't yet ready to take on?
PS:
I've always wanted to try short hair but haven't been able to because it would be hard to style for work. Hopefully I'll be able to experiment in the next few years. I love playing with new styles and makeup, so hair is next!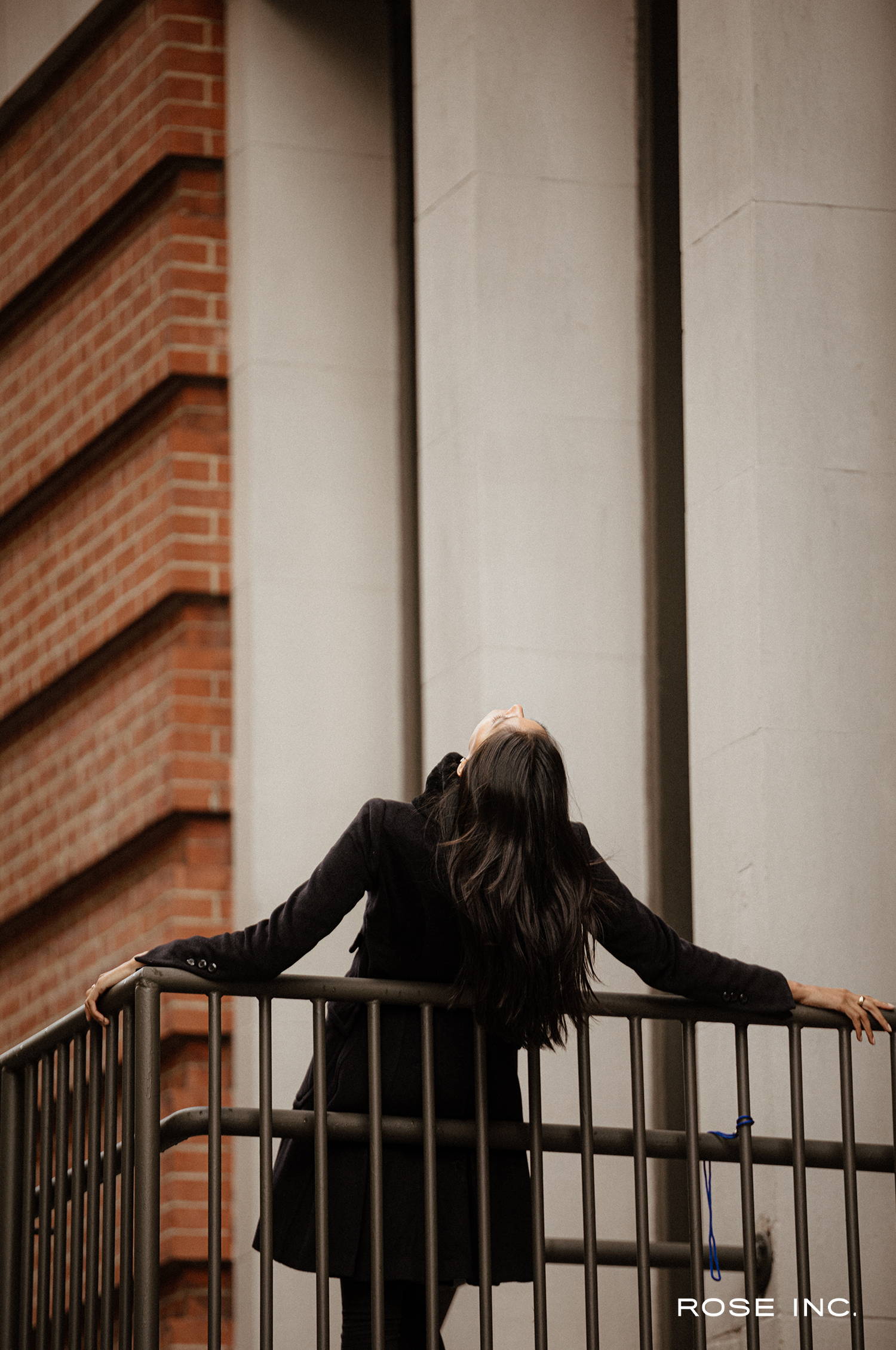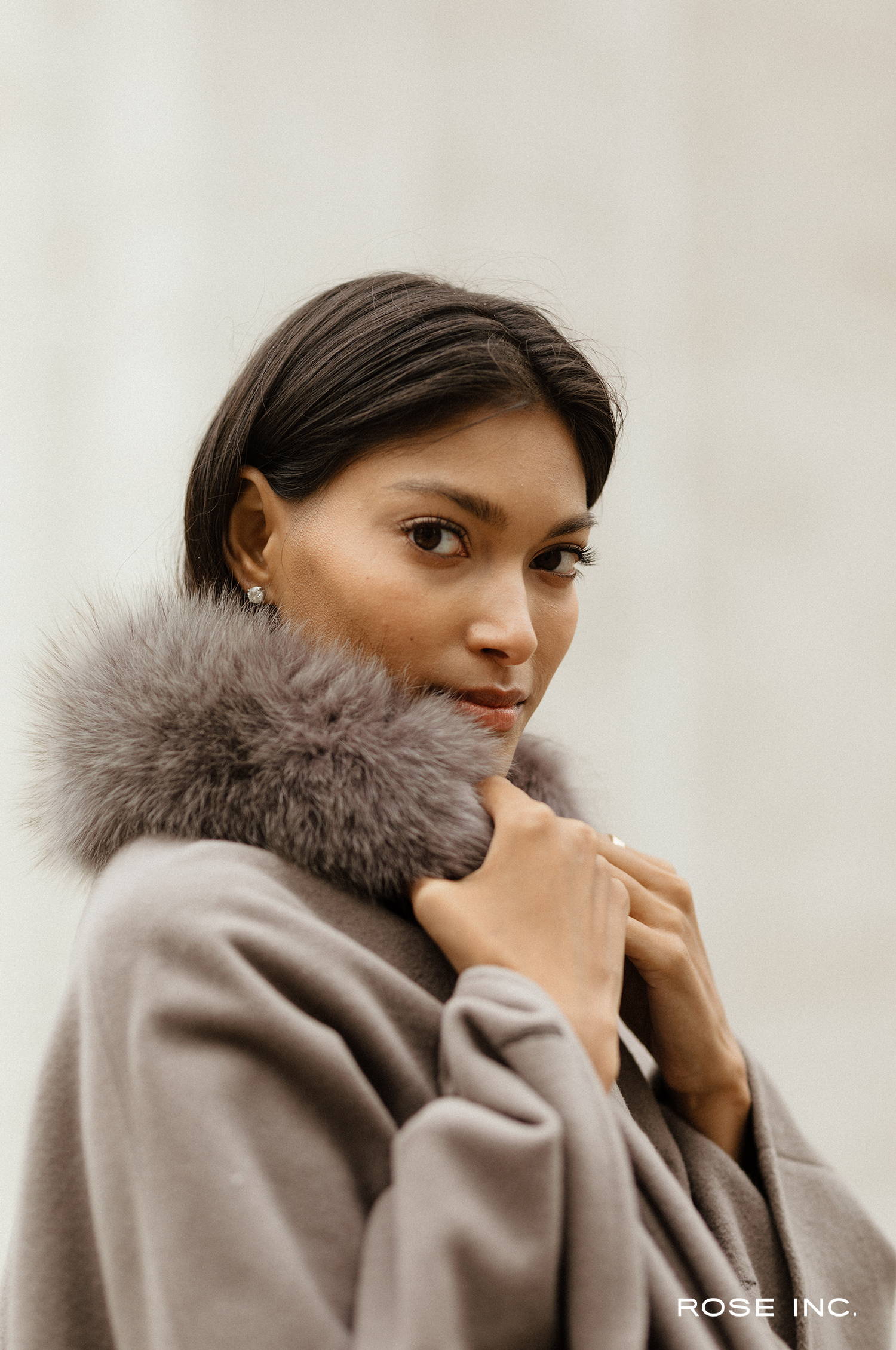 RI:
When do you feel most confident?
PS:
I feel most confident when I am able to be and express myself. At the very beginning of my career, the industry wanted me to mold to its standards "don't be too giggly, drop school to focus on modeling, keep an air of mystery, only wear what we want you to wear." I was a teenager just figuring myself out, so trying to be what I was told the industry favored really had a negative impact and made me unsure of myself. I was able to give off an air of confidence, but I was definitely not confident. Shortly after, I realized that I just need to be who I am, and confidence radiates from within. Now I embrace my unique beauty and identity every day and feel so positive and happy.
RI:
Which beauty rules do you adhere to, and why?
PS:
I keep my skin clean and hydrated at all times because that eliminates the risk of breaking out and helps keep my skin healthy. I also exfoliate two times a week because it helps remove any buildup of dead skin cells and brightens up my complexion. Lastly, I never leave the house without sunscreen.
RI:
When do you feel most confident in your beauty?
PS:
I feel most confident in my beauty when I'm natural—little to no makeup and messy, natural hair. Comfortable and empowered to go out and conquer my day.
RI:
What would someone never guess about you?
PS:
I have a tattoo behind my left ear—it's my parents' names written in Hindi.
RI:
Where do you see yourself in five years?
PS:
I feel like I'm just getting started and there is so much more I would like to accomplish. In five years, I see myself expanding Prakti internationally, completing Columbia Business School, growing my modeling career, being involved in more television opportunities, expanding Operation Smile's reach, and starting a family.