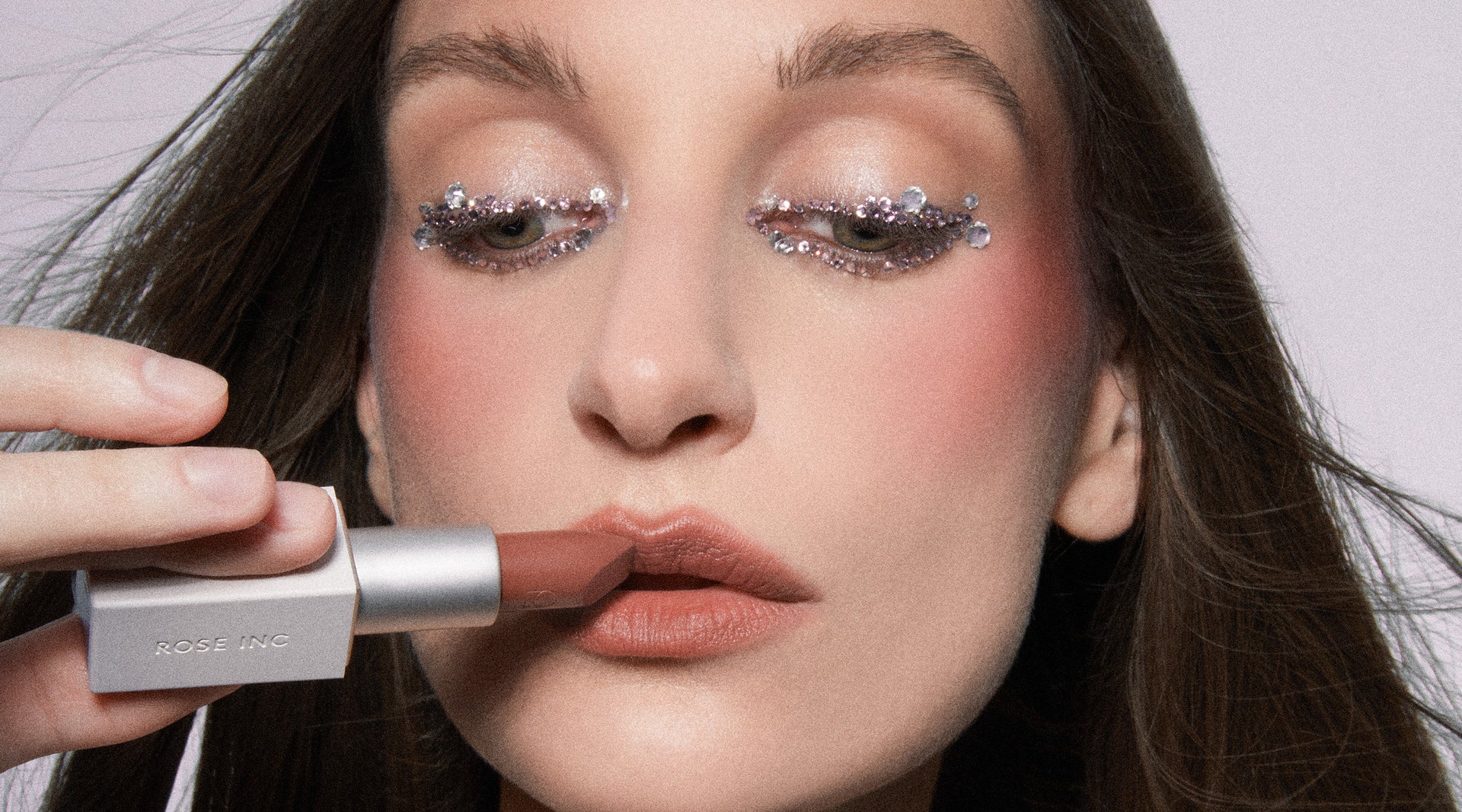 Artist in Residency: Anete Salinieka's Artistic Take on Rosy Makeup
Tutorials
Welcome back to Artist in Residency, our series that brings the industry's most innovative makeup artists to Rose Inc for a month of creativity and inspiration. Each season, you'll discover an original tutorial series — and the story behind it — created by an artist we love.
In a first for this series, London-based makeup artist Anete Salinieka is returning to Rose Inc for another month of inspiration. You may recall her 2021 tutorial series — a can't-look-away reimagining of retro makeup — but kicking off our seasonal AiR reboot, she's flexing a different creative muscle. Subtle and sophisticated, but not without striking details she's known for, the looks she created are a high/low vision just in time for summertime garden parties, nights out, and everything in-between.
Primarily inspired by '60s and '80s makeup, the burgeoning artist sources inspiration from all mediums. "Aside from drawing inspiration or referencing already existing beauty moments, I often look at other types of art, such as painting or sculpture or even music," Anete says. "These sources can transform into new ideas, whether it's a color combo or simply a feeling, that then transform into a beauty look." 
An expert at shade selection and blending, each step of Anete's tutorials is given the reverence it deserves, which allows small artistic secrets she's learned through the years to become your everyday protocols through her detailed explanations. But beyond makeup, Anete also independently photographed, styled and modeled through the forthcoming editorials, a small taste at her artistic prowess. It's for these reasons and more we are delighted to welcome Anete back to Rose Inc for her second Artist in Residency.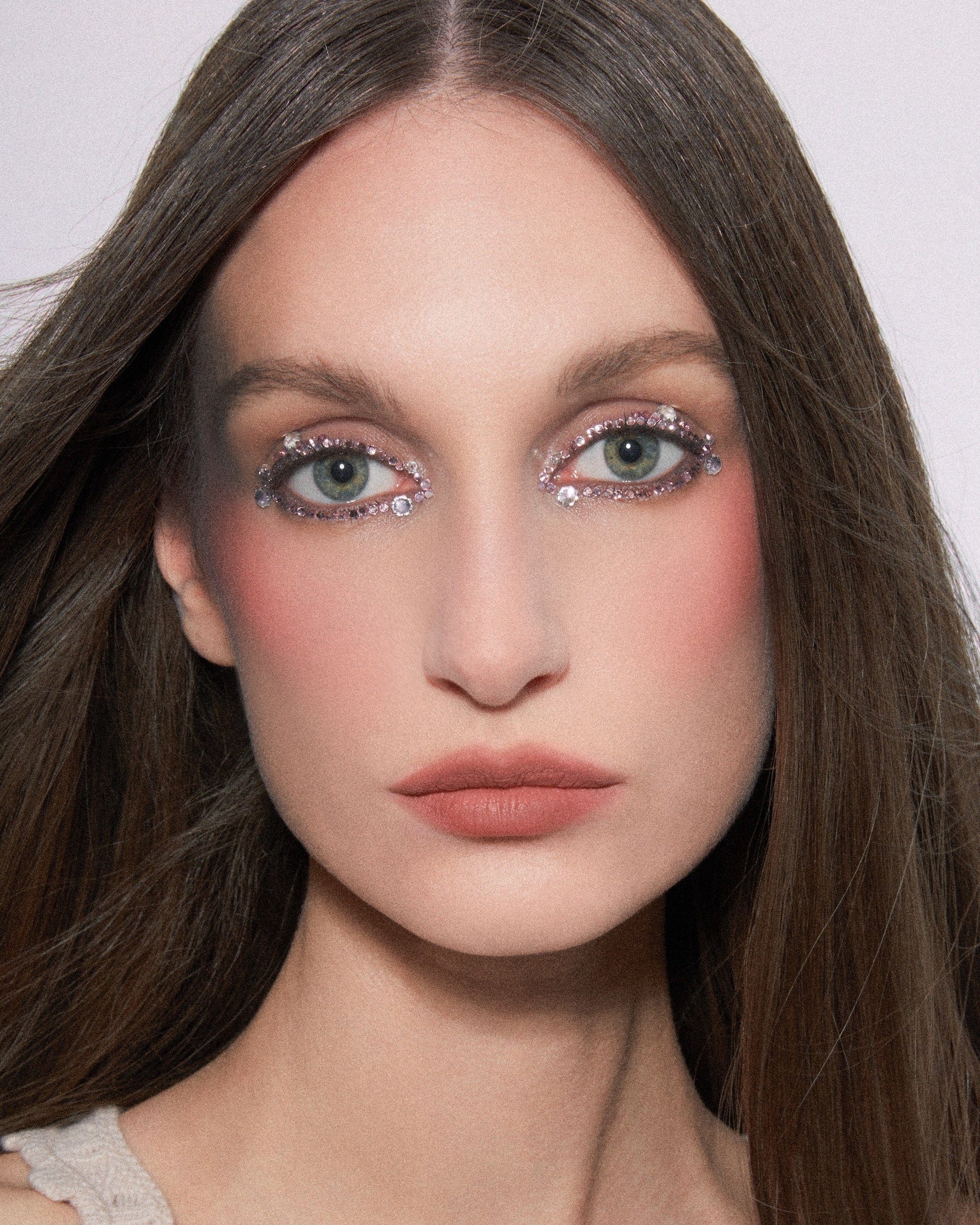 HER RESIDENCY INSPIRATION:

German model Veruschka von Lehndorff, who rose to fame in the early '60s, provided endless reference images for Anete's first week in Residency. "I love all Veruschka's makeup moments, especially the ones with crystals stuck on her face," she says. "They almost feel like a piece of face jewelry that I felt would complement the tender makeup look I was going for here."



BEHIND THE LOOK:

Proper skin prep is of paramount importance when creating any makeup look. "I always start my day by gently exfoliating my skin in the shower," Anete says. "I do it religiously every single morning." On her shoot day, she started with Rose Inc Skin Clarity Gentle Exfoliating Cleanser then added a hit of hydration by pressing COSRX Hyaluronic Acid Hydra Power Essence into her skin, followed by a layer of lightweight moisturizer.

Anete allowed her skincare to fully set, then used a two-step strategy for applying Rose Inc Skin Enhance Luminous Serum. "First, I pumped out a pea-size amount in shade 040 directly onto the Number 3 Foundation Brush and applied it all over my face," she says, noting that a quick application like this creates the perfect sheer base. "Once the serum was blended into my skin, I added one more pump [to the brush] and applied the serum only in the areas that needed extra glow and hydration." A little goes a long way, she adds: "Start with a smaller pump and you will see how smoothly and easily this hydrating serum blends into the skin."
"I prefer a high blush as it visually lifts my face up..."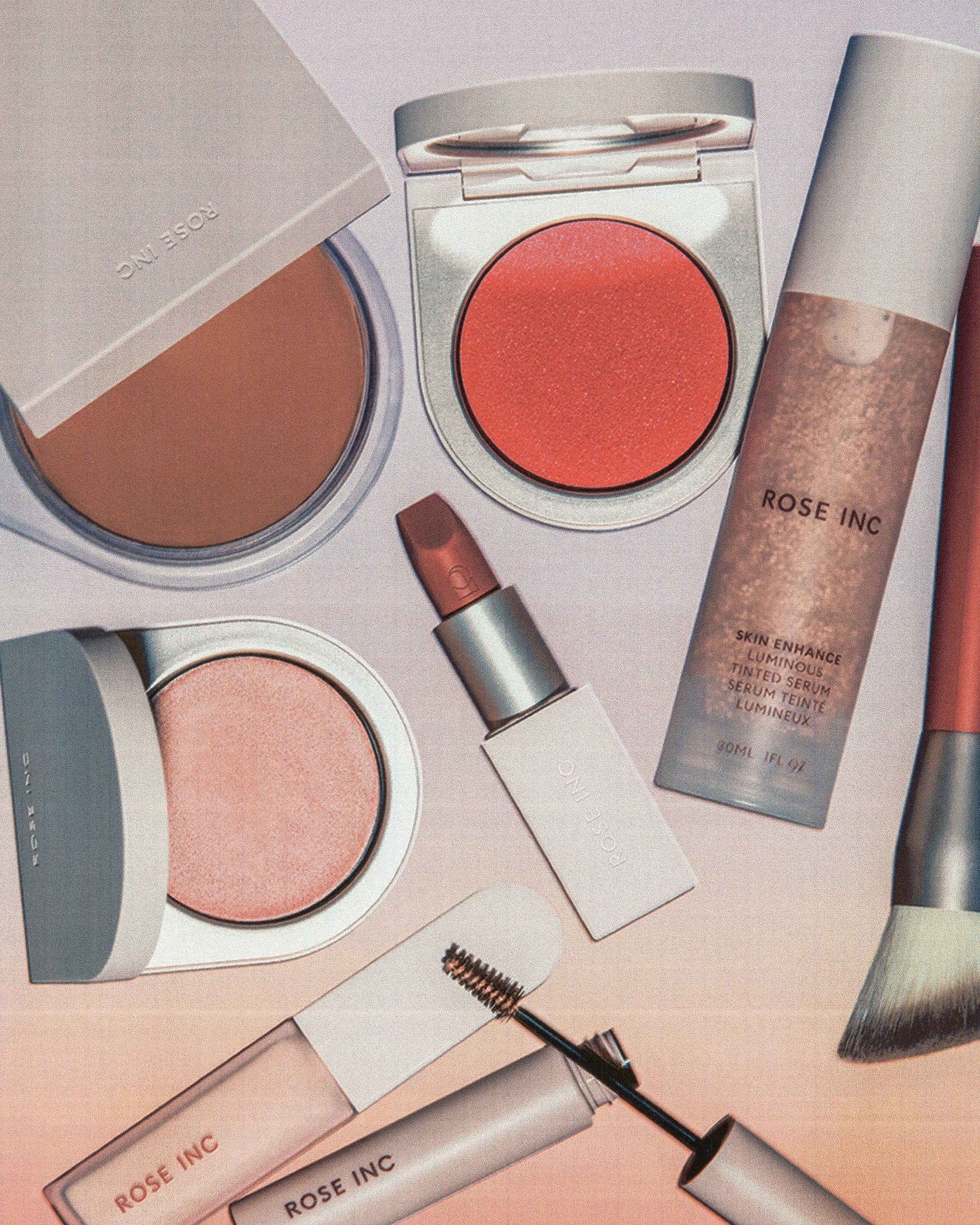 For strategic coverage — plus a subtle contour — Anete reached for Rose Inc Softlight Luminous Hydrating Concealer next. "I used a shade that matches my exact skin tone (080) to cover any blemishes and redness," she explains. "Then I took a lighter shade (030) and concealed my under eyes and used this shade on the high points of my face." A dab of the lightest shade in her kit (020), brightened the inner corners of her eyes and under her brow bone, an easy everyday trick that instantly wakes up the face. 

A crystal-encrusted eye requires a strong frame: "To make the brows appear fuller, brush them forward towards the nose, and then backward so they are in place again using the Rose Inc Brow Renew Enriched Tinted Shaping Gel," she explains, noting that this distributes product throughout to volumize while defining arches. (She used shade Fill 02.) 

"Apply a generous amount of Blush Divine Radiant Lip & Cheek Color in Ophelia on the cheeks and blend it up towards the temples using the Number 2 Blush Brush," Anete says, adding that bold blush is surprisingly wearable when applied using her go-to technique. "I prefer a high blush as it visually lifts my face up, so I always blend it in an upward motion." 


"...like a piece of face jewelry that I felt would complement the tender makeup look…"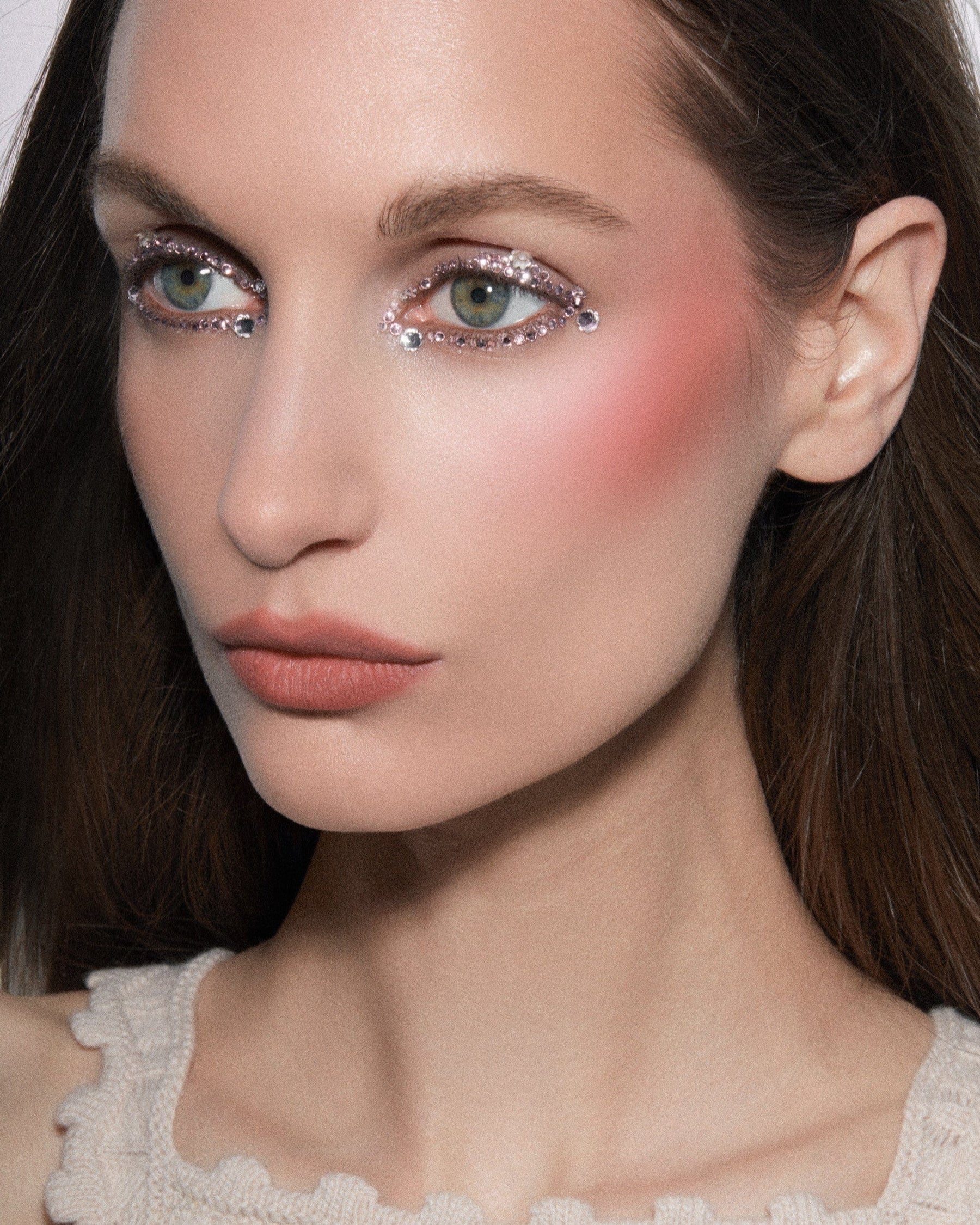 Blush and bronzer should melt together on the skin, so work quickly: She then applied Rose Inc Solar Infusion Soft-Focus Cream Bronzer under her cheekbones, along her hairline, and on the sides of her nose with the Number 5 Bronzer Brush. "I mainly used [the shade] Parrot Cay, however I also added a touch of Seychelles on the cheekbone, right under the blush, to add a stronger shadow there," she says. 

Wearable and chic, Anete created a blotted effect on her lips. "Apply three layers of Satin Lip Color Rich Refillable Lipstick in Besotted on the lips by blotting it down with a tissue in-between the layers to create a more matte effect," she instructs. 

Finally, she prepped for the pièce de résistance: "I used a concealer with a pink undertone (shade 030) to prep my eyelids before I applied the Rose Inc Solar Radiance Hydrating Cream Highlighter in Glancing with my fingers to add a velvety radiance to my eyelids," she says. "Then I applied Swarovski crystals along the top and bottom lash lines." 

Using four different sizes, she worked slowly. "I used Duo Brush-On Striplash Adhesive to add little dots of the glue in the areas where I wanted to adhere the crystals, then I picked up the crystals with some tweezers and placed them onto the skin around my eyes," she says. "I started with the smallest crystals that I placed close to the lash line." Her final thoughts? Let this step inspire you to create a look that works for you: Apply a few crystals, step back, and add more as needed until you feel confident and polished. 
Get Creative with Makeup Artist Anete