03 / 12
AIR EDITORIALS TUTORIALS
Artist in Residency: Pati Dubroff's Fiery Eye
March Artist in Residence: Pati Dubroff
Welcome to Artist in Residency, our new series that brings the industry's most innovative makeup artists to Rose Inc. for a month of creativity and inspiration. Each week, you'll discover an original look—and the story behind it—created by an artist we love.
The chances of maintaining a career in Hollywood—as an actress, director, makeup artist, or the like—increases exponentially when both feet are planted firmly on the ground. For Pati Dubroff, being 'down to earth' isn't a passing platitude, it's a lifestyle of yoga and meditation that's grounded her through 34 years as a professional makeup artist, a feat reserved for only a select few who balance refined talent with emotional perseverance and mental flexibility.
"I'm really lucky that I found it and it found me," Dubroff says. "There's no way that I could do what I do without the centeredness." With a storied background working under greats like Francois Nars; a star-studded client roster that includes Margot Robbie, Priyanka Chopra, and Laura Dern; and a gig as a Chanel Makeup Artist, Dubroff is one of the most prolific artists of the time. For these reasons and more, Rose Inc. is delighted to feature Dubroff as this month's Artist in Residency.
This month, things are personal. Dubroff found inspiration for her residency in a tattoo inked on her wrist: Shapes that form a daily reminder of the elements that keep her grounded. With Earth, Water, Air, and Fire in mind, she dreamt up modern looks, then artfully brought them to life on a first-time model she's known for 16 years: her daughter, Bianca.
Her Residency Inspiration:
There's more than one way to smolder, but Dubroff says that for her, the best way to bring the Fire element to life was a no-brainer. "It's all about a punchy, orange-red color on the lips," Dubroff says, but notes that what this look lacks is just as important as its focal points: With minimal foundation and no blush at all, the fiery color on the eyes and mouth could truly radiate. "I wanted the strength to be in the lip and the wing," she says.
When you try too hard to make things perfect, they tend to look less perfect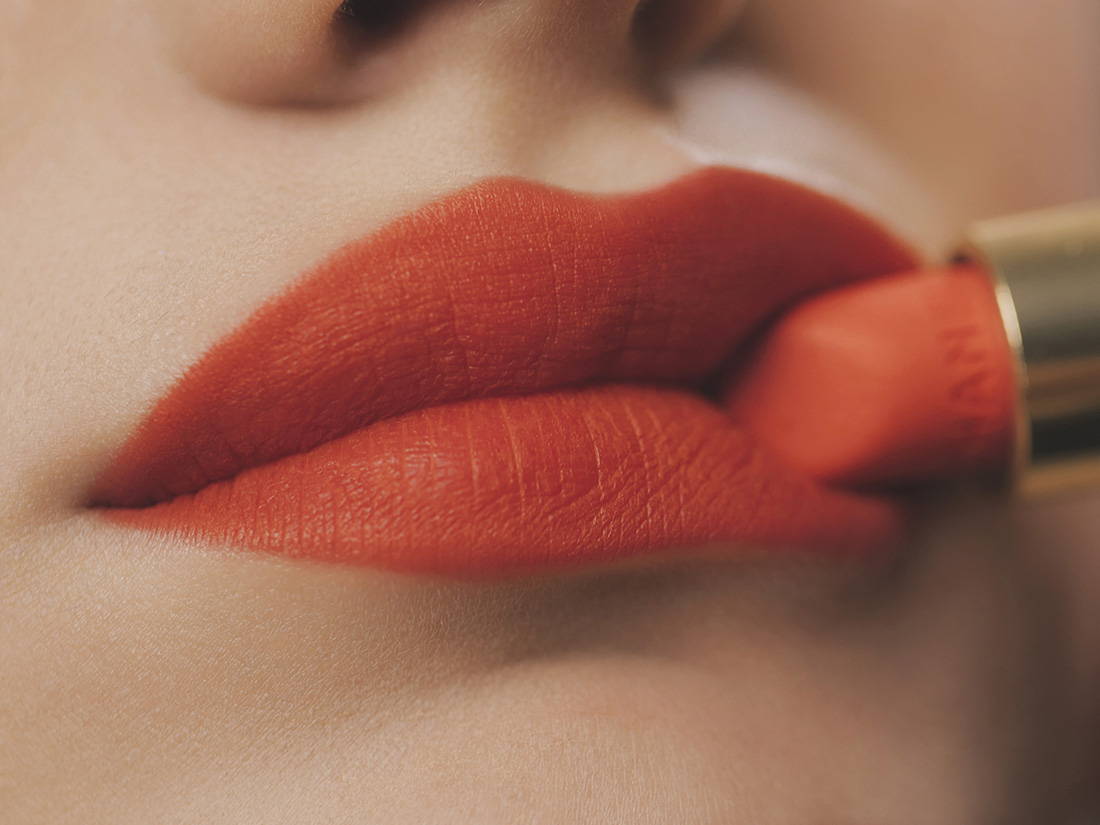 Behind This Look:
Using a small, flat brush and the hot red color from the Chanel Palette Essentielle in Carmel 185, Dubroff first sketched out the cat-eye's border. "I drew the shape into a wing without worrying if it was too perfect or too graphic," she says. She buffed the edges for a softer effect, then added Kosas 10 Second Eyeshadow in Copper Halo starting in the middle of the eye and going inward "to give the wing something to connect to," she says. Synthetic brushes are best with creamy formulas, but even so, liquid and cream shadows can be temperamental, so use the back of your hand as your palette.
Then, using a soft, fluffy dome brush, she set the outer shape with Kevyn Aucoin Neo Blush in Sunset for extra depth and staying power. Few people will notice slight imperfections or asymmetries between the eyes, but if you want to correct the outline, Dubroff suggests cleaning up with a small brush dipped in concealer.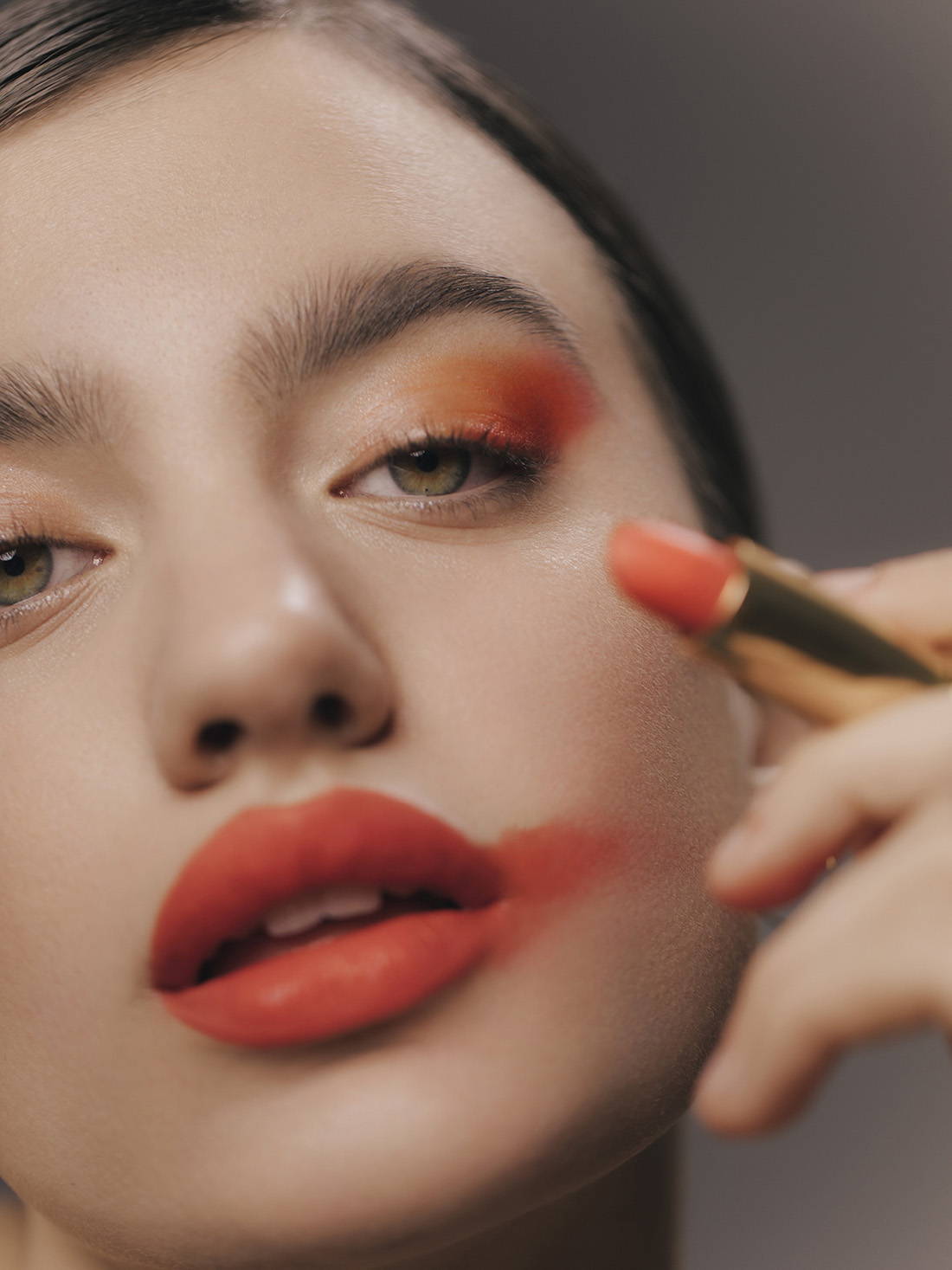 "When you try too hard to make things perfect, they tend to look less perfect," Dubroff says, noting that a first pass without too much thought tends to produce the best results, so don't overthink it.

Next, the pièce de résistance, which Dubroff created using the exact same technique as Margot Robbie's 2020 Oscars lip, but done on Bianca in shades of orange instead of red. An even base, courtesy of Chanel Rouge Allure Liquid Powder in Electric Blossom 962, came first. "It's like a stain, but in a powdery formula," says Dubroff. She then perfected the shape with the brand's Le Crayon Lèvres in Blood Orange. "Once I had my base down, and my shape right, I added the Rouge Allure Velvet," she says. The vibrant orange shade, First Light 64, melded the two colors and finished the look.
Inspired to re-create this look? Tag us on Instagram @roseinc to share.