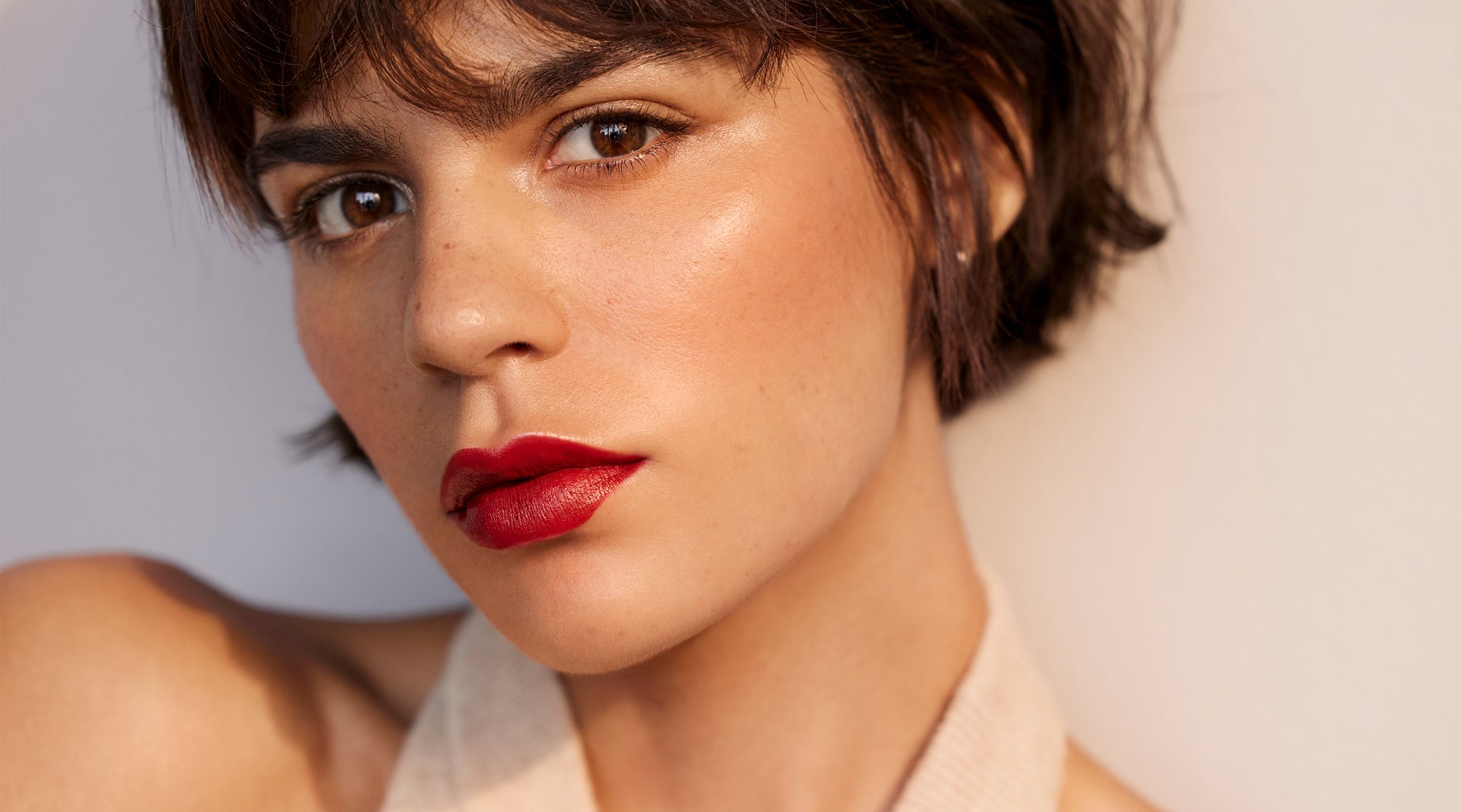 3 Pros Explain How to Prep Acne-Prone Skin for Makeup
Tutorials
Acne is among the most discouraging skin battles to face. Its unpredictability can be frustrating and, at its worst, can even take a jab at our confidence. According to Lily Njoroge, New York–based aesthetician and founder of Brooklyn acne clinic Skin Wins, "Acne-prone skin is often sensitized." This can be exacerbated by product application, so prepping the skin correctly beforehand is pivotal if you chose to wear makeup. 
"Any excessive friction, such as brushes or sponges, rubbing on the skin can further irritate already inflamed skin and also spread bacteria, causing new inflammation elsewhere," Njoroge says. "The biggest key to preparing acne-prone skin for makeup is ensuring that the barrier is healthy and hydrated so that the friction caused by makeup application doesn't result in significant irritation, as well as ensuring that the skin and all tools being used are properly disinfected."
To help you establish a more protected barrier ahead of makeup application, we asked the pros to share their best advice. Keep scrolling for eight can't-skip tips for prepping acne-prone skin for makeup application.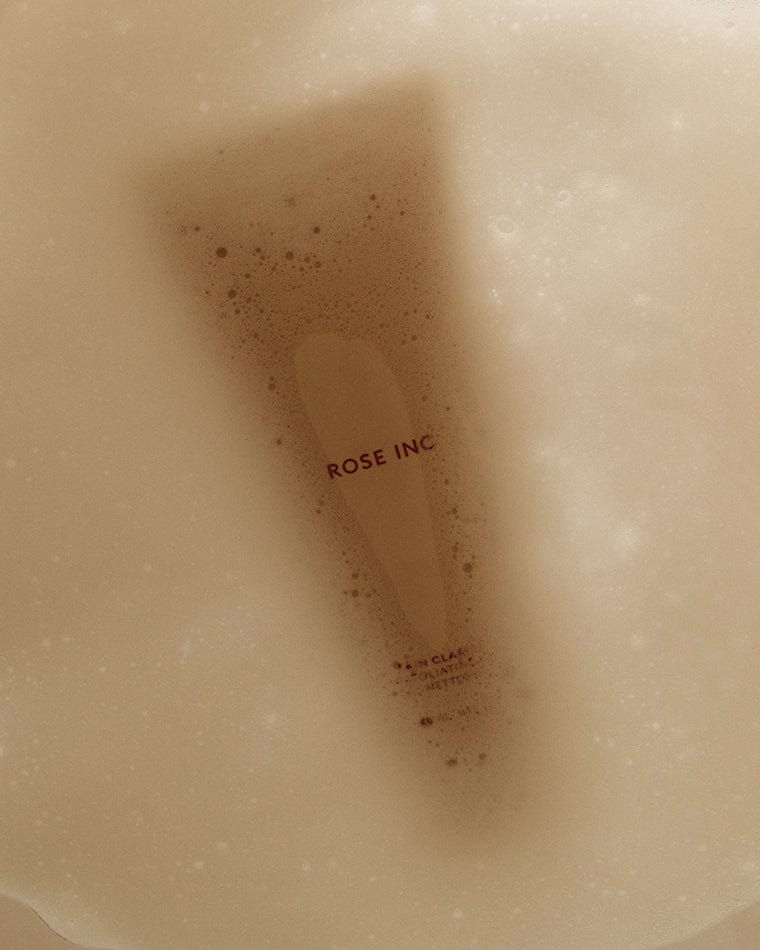 Use a Gentle Cleanser

Cleansing with the right formula is a crucial step for those with acne-prone skin says Rose Inc product development manager Jessica Kizovski. She recommends using products with ingredients that help to clarify skin without being overly dry or irritating in order to remove any excess oil or residual makeup.

Njoroge agrees, and recommends gentle, non-stripping cleansers that double as makeup removers to help create a perfect pre-makeup canvas.

If your skin tolerates gentle exfoliation, then the Rose Inc Skin Clarity Gentle Exfoliating Cleanser is a solid option to reach for. It gently unclogs pores with pomegranate fruit enzymes that dissolve any debris, and jojoba beads that polish the skin.
 

Don't Skip Toner

Njoroge recommends using a calming, hydrating or clarifying toner that purifies, brightens and gently exfoliates skin to cleanse skin of all residue, oil, and makeup.
Moisturizer Is Your Friend
"Makeup applies best on well-moisturized skin," says Njoroge, who likes to apply a thin layer of a soothing and hydrating cream during breakouts. "I like using products with anti-inflammatory ingredients." 

When preparing acne-prone skin, celebrity makeup artist Marcelo Gutierrez (known for his work with stars like Tracee Ellis Ross, Rosalia and more) prioritizes skincare even above actual makeup application itself. "I really focus on relaxing the skin and adding a lot of moisture so that when we apply the makeup or powder, we don't get any dry patches that can tend to happen with picked skin." He usually starts with a super hydrating serum, followed by a calming oil. He seals the skin with a rich moisturizer.

Heavy hydrators can be intimidating, but not moisturizing, according to our pros, simply isn't an option if you're after healthy-looking skin. Kizovski recommends seeking out a moisturizer that is non-comedogenic to avoid further clogging pores, which can result in congestion and breakouts. Need a refresher on this complex term? This non-comedogenic beauty explainer will help.
"I really focus on relaxing the skin and adding a lot of moisture so that when we apply the makeup or powder, we don't get any dry patches..."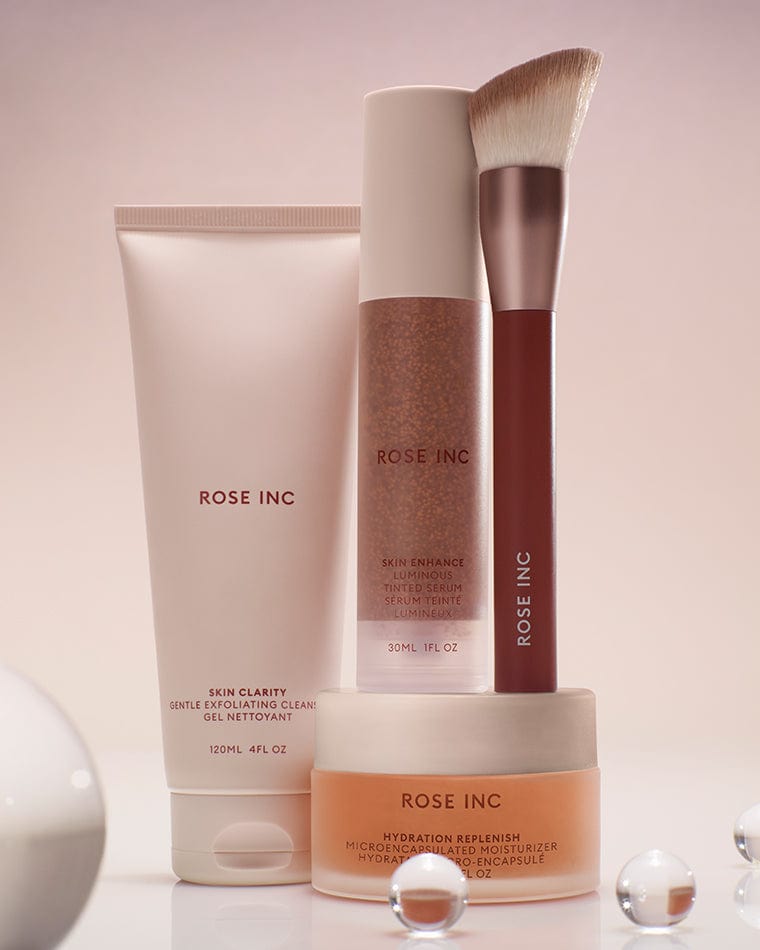 Layer Lightweight skincre under sunscreen

"UV rays are inflammatory, so protecting against them can help make inflamed pimples less angry over time," Njoroge says. She opts for invisible lightweight ones with an SPF 35, so that it layers flawlessly with makeup and other skincare products without pilling, she says. Njoroge also shares that sunscreen helps protect acne from scaring, another reason why it shouldn't be skipped.




Select a tinted base

When it comes to choosing foundation and other complexion products for acne-prone skin, using lightweight, non-comedogenic formulas typically yields the best results. The brand-new Rose Inc Skin Enhance Luminous Tinted Serum is an ideal pick thanks to micro-encapsulated pigment spheres suspended in moisturizers like  hyaluronic acid and squalane. "Avoid heavy oils in foundations like mineral oil and coconut oil, as those can clog pores," Kizovski instructs. 



TRY PINPOINT CONCEALING

As far as the technique? "I try to avoid caking up makeup on areas of clear skin," Gutierrez says. "I'd rather really pinpoint conceal the trouble areas. This way the final product will look much more natural, with a blend of natural and touched-up skin. Use a full coverage concealer and small brush to cover up blemishes.
"...cleanse and spot treat with a mild salicylic or lactic treatment before applying a mineral-based sunscreen."
Strategically Apply Highlighter
Gutierrez points out that while highlighter is a key product in creating a fresh, glowy face, it needs to be placed with care — especially if you're experiencing breakouts. "Don't put any kind of glow or highlight where you have a breakout or texture," he explains. Doing so can draw unnecessary attention to the blemishes.
SANITIZE BRUSHES DAILY
Finally, Kizovski adds that using your fingers for makeup application on acne-prone skin should also be kept to a minimum and wash brushes often to avoid introducing bacteria onto the skin.