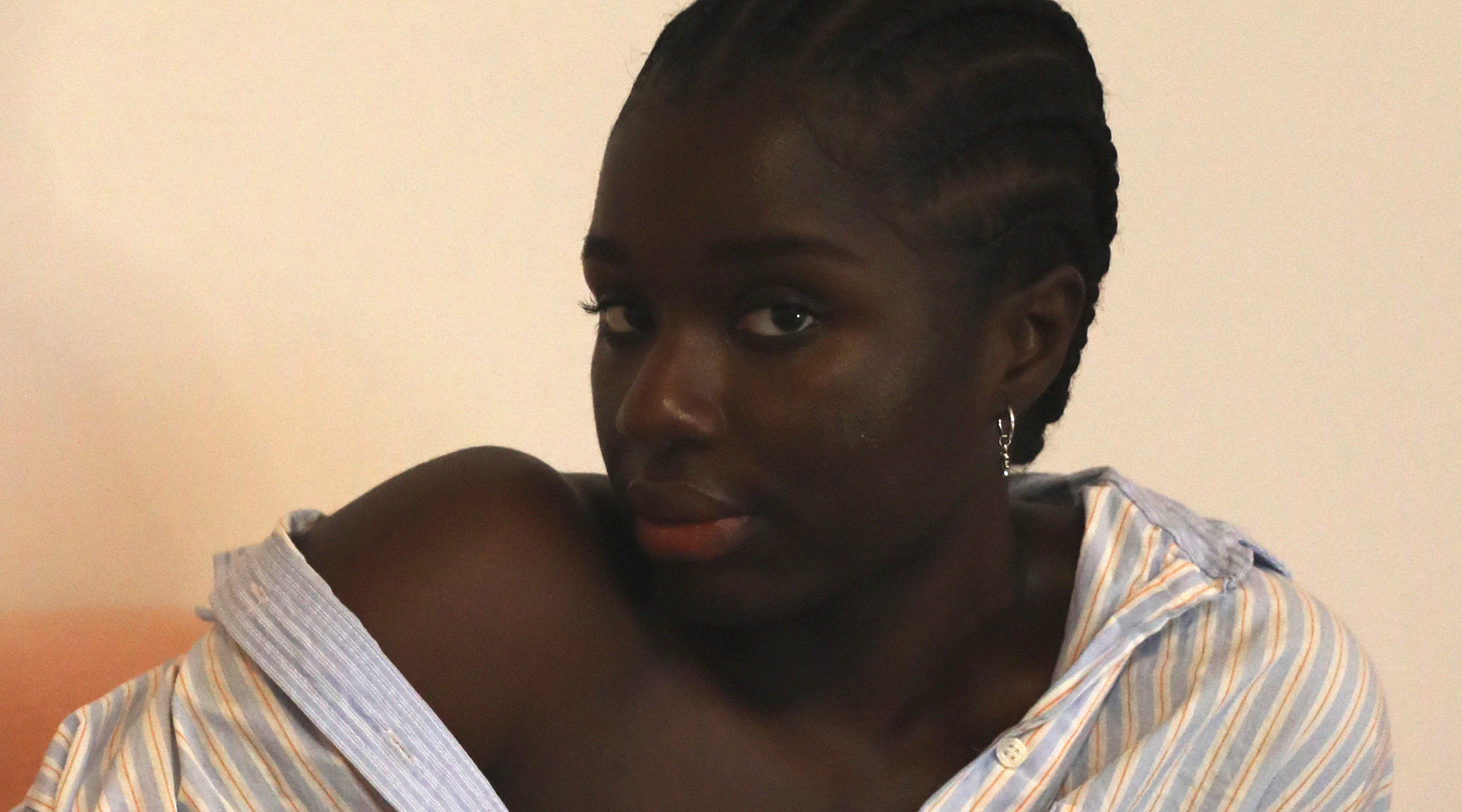 Yoga Retreat Leader Mominatu Boog on the Art of Self-Healing
Profile
Whether she's hosting a yoga retreat in Senegal or teaching a class in her New York City studio, when in the presence of Mominatu Boog, you feel an undeniable sense of calm. "I love the ability to be a facilitator of healing [by] creating a space for people to heal themselves," she says. "Which is what yoga does for me." 

Raised in Chicago, Boog's love of yoga began when she moved to Costa Rica after graduating high school, then later to Dakar, Senegal to connect to her Liberian-Senegalese roots. Her studio, MōmiYoga, started on the beach and opened as the first Black-owned studio in Dakar. Her work has been featured in Elle and Vogue, and most recently, Boog expanded her business to New York. "What I love most about what I do is the flexibility," she says. 

We caught up with the yogi at an important time: Boog's new line of MōmiYoga Activewear launches this month, then she's off to another retreat in Dakar in April. "I want to bring people to Africa to experience the luxury and richness there," she says. A typical retreat includes gorgeous beaches, fresh food and yoga practice two to three times a day. "You're at once immersed in the culture but also have a healing experience." Retreat booking details, as well as a list of her current classes in the Chelsea neighborhood of Manhattan, are available through her site.

When it's time for her own self-care, Boog has a tried-and-true protocol of ancient therapies as healing. She shares this, plus her confidence journey and inspirations, ahead.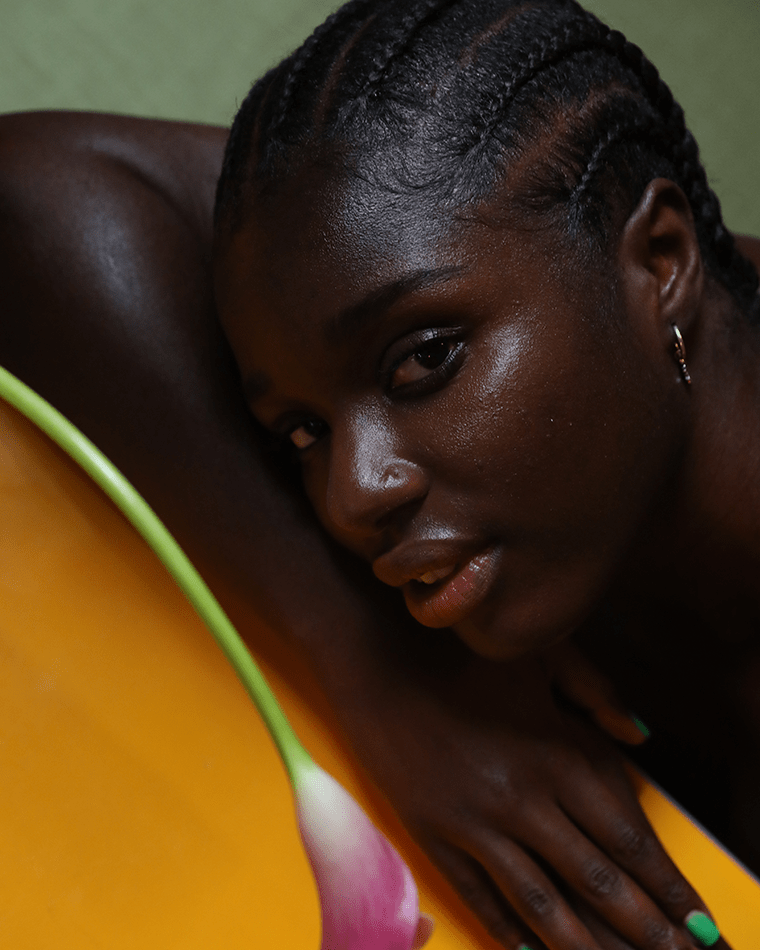 RI:

You inspire so many people, but what has your own personal confidence journey been like? 

MB:

I was bullied for my skin growing up, a story most dark-skinned girls have, unfortunately. In a way this experience made me realize the importance of relying on my intellect rather than my looks. I also learned how to empower myself through mantras since no one else was telling me that I was beautiful. I would say, "I am absolutely drop dead gorgeous." And I would say that to myself as I was walking to school each day. 

There's a moment where it all hits. In high school, I began exploring with my style. Dressing up boosted my confidence. Style was a way that I felt really confident because I dressed really cool, right?! Also seeing people like Solange back in the day rocking her natural hair inspired me to start wearing my hair naturally. And I just started to remind myself: "I'm the baddest out here! My dark skin is worthy of praise."
RI:

Do you have any self-care practices that might surprise readers?

MB:

Some things I always do are tongue scraping to detoxify the body. Every day I work hard to heal my traumas as well.  I do coconut oil pulling. I also take ashwagandha and rhodiola. I'm really into herbs as a form of healing. 

RI:

You mentioned Solange, but are there others who had a big influence on your aesthetic growing up?

MB:

Aaliyah. That was also my first experience of grief, but style-wise and confidence-wise, I would say Lauryn Hill and Kelly Rowland. I think seeing these women with similar skin tones as me affirmed that I was beautiful, too. 
"I love the ability to be a facilitator of healing…"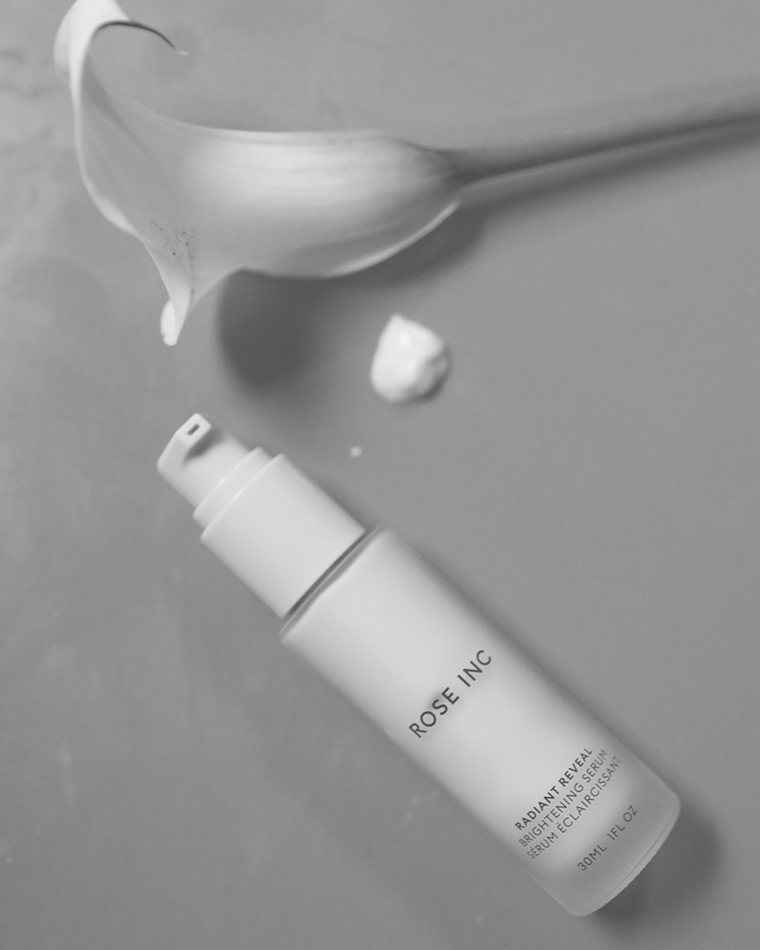 RI:

When it comes to beauty, who or what is currently inspiring you?

MB:

Right now, Zoë Kravitz. She's always comfy and her braids are effortless. And I love her very natural makeup. I don't really like doing my makeup anymore so I love her approach. 

RI:

What was your first memory with makeup?

MB:

I was like 13 and it was the MAC gold highlighter. You know what I'm talking about? Mm-hmm oh yeah. I would just put it on my cheeks and under my brows and I remember everyone being like, "oh my God, your skin is glowing!" So then that sort of fed me up — then I got into doing full beats. 
RI:

What inspired you to transition to a less is more approach to makeup?

MB:

I moved to Puerto Rico in college, after I dropped out. It's so hot there and you're sweating all the time. I would be doing a full face and I quickly learned this didn't work for my skin. Fitness is also a huge aspect of my life so it's difficult to wear a lot of makeup. 

RI:

 What's your winter skincare like?

MB:

 A staple has been Skin Food by Weleda. I've been using the Kiehl's avocado eye cream, too. My skin is also best when drinking a lot of water and when I'm eating really good food…Recently I tried The [Rose Inc] Blush Divine, which is great! 
"...it's fun to come with friends, but there's a magic that happens when you come alone."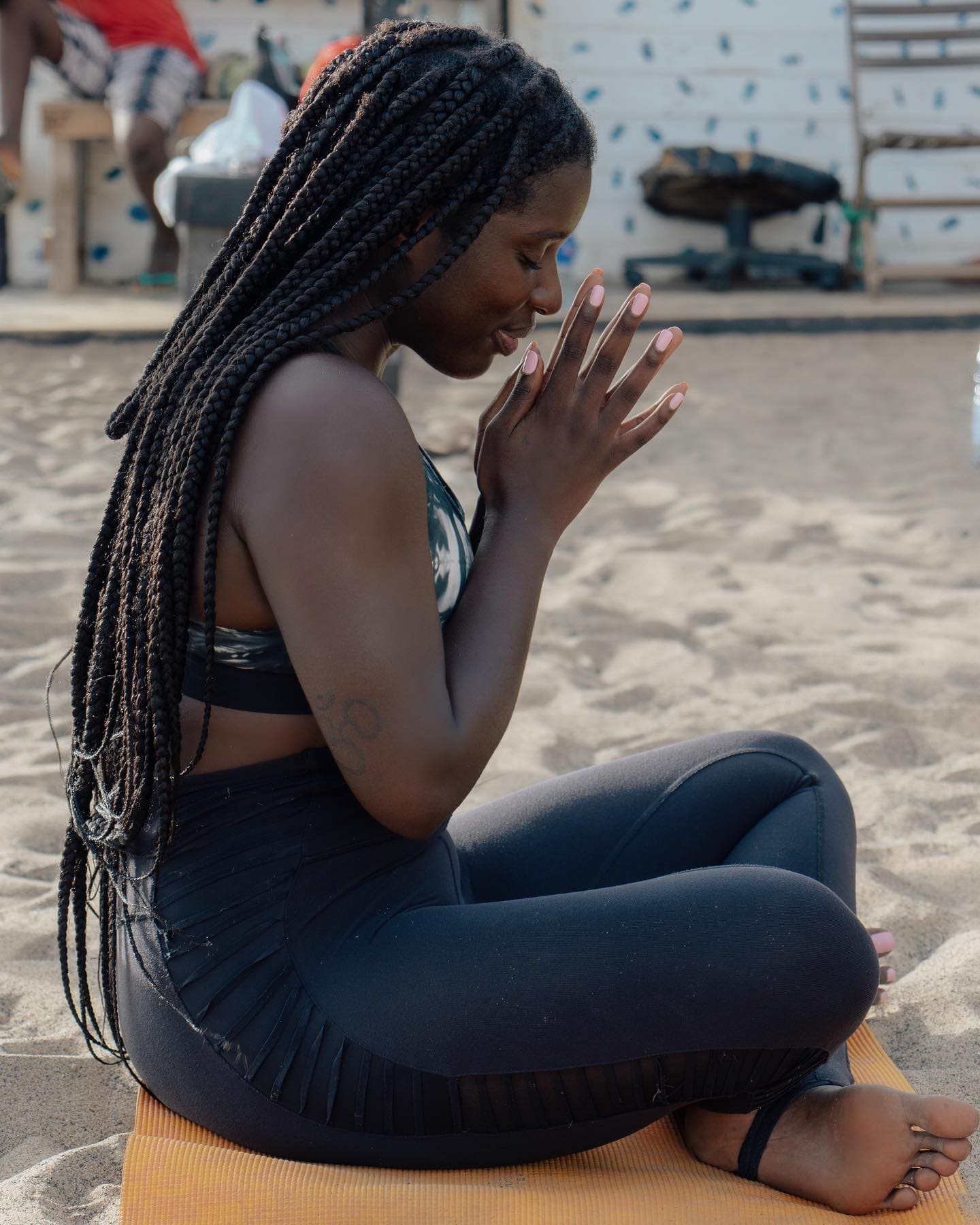 RI:

What about one of your first memories with hair?

MB:

Dealing with my hair was like an Olympic sport. A memory that sticks out though is freshman year when I did the Rihanna pixie cut. When my hair started to grow out, I was playing around with my natural texture. I started twisting my hair and doing braid-outs, then my hair started to grow and flourish. I think that was when I really fully stepped into not only saying the mantra of "I am absolutely gorgeous," but to actually feeling it because I was like, this is how my hair is. This is how I am naturally and love it. Yeah. 

RI:

 What's your hair routine like now?

MB:

I mainly leave it in braids…I love to wash my hair every single week. Keeping my scalp super clean has been key. I think oftentimes, especially in the [natural hair] community, we're always taught like, "don't wash your hair often," but I disagree. Hair also holds so much energy, so cleansing is very key. 

RI:

What are your favorite fragrances?

MB:

I love Indigo by Nest. It's very floral and basic. I also love Jasmine essential oils and also ylang-ylang.
RI:

What does your winter wellness routine consist of?

MB:

It sounds crazy, but I do hot yoga every single day. A minimum of five days a week. 

RI:

Do you have favorite yoga tools that you stick by?

MB:

I like Manduka mats alot. I also practice with the Lululemon slip-free mat. Then when it comes to blocks, I always prefer wooden or cork ones over anything else. 
RI:

You have a yoga retreat coming up. Why are retreats like this so important?

MB:

 I think yoga retreats are important because they allow you the opportunity to sit with yourself to get to the core of who you are in stillness. You're amongst like-minded individuals who simply are there to find stillness, healthy food, and use movement as medicine — so that they can come home as themselves. It quiets the noise, especially when practiced in nature. I always tell students it's fun to come with friends, but there's a magic that happens when you come alone.

RI:

How have you managed stress while transitioning from Dakar to New York City?

MB:

Community is key. Oftentimes our heads make things bigger than what they actually are. Being around people gives perspective, especially because I'm a massive overthinker.

RI:

What's the biggest beauty risk you've ever taken?

MB:

Cutting all my hair off and then dying it platinum blonde.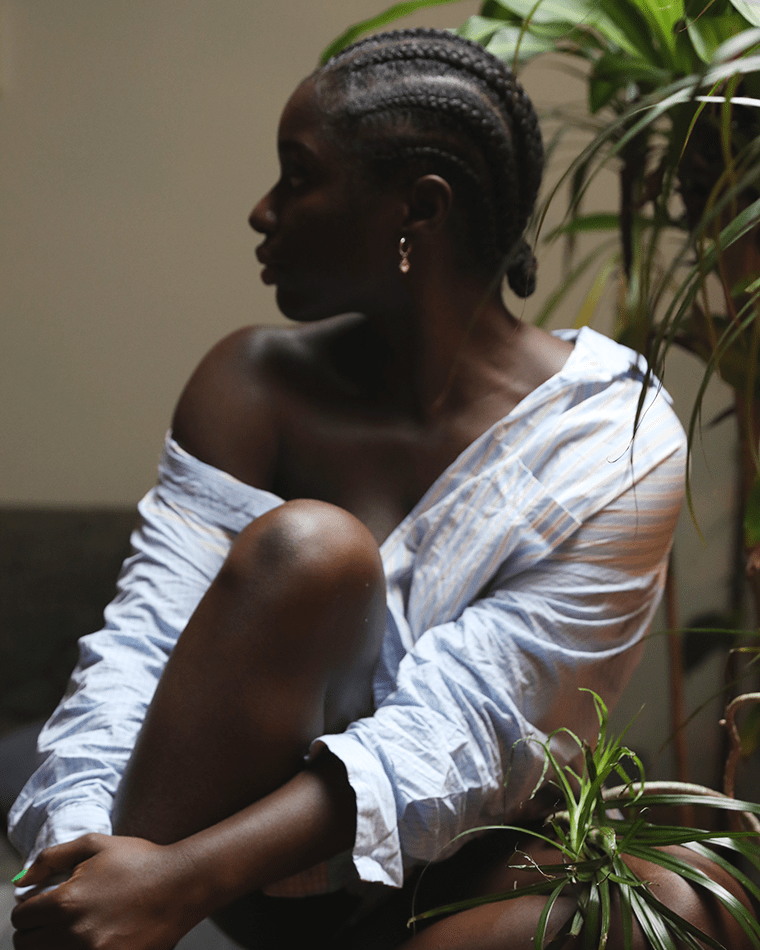 RI:

Is there a beauty trend you'd like to try that you haven't yet?

MB:

Bleaching my brows, but I'm waiting for the right hair look. 

RI:

Is there a beauty industry narrative that you'd like to see change?

MB:

I think the industry is slowly changing. But I wanna see more diversity amongst dark-skinned people. We come in different shapes and sizes, too. 

RI:

How do you define beauty?

MB:

A kind heart and confidence. There are some people that you meet that are literal sunshine and you feel like they're a breath of fresh air. You aren't worried about how they look; you're just thinking that's a beautiful person. When you meet someone really stunning and they're mean, all of a sudden their flaws start to show. But when someone's so confident in themselves, you start to feel that energy, too!

RI:

 When do you feel most beautiful?

MB:

Either after a really sweaty yoga class or when I'm dressed to the nines. 
Getting Centered with Mominatu Boog
As a yoga teacher and leader of wellness workshops, Mominatu Boog knows a thing or two about healing and joy. Listen to the playlist that puts her mind at ease while practicing poses or riding the NYC trains.