08 / 31
INTERVIEWS
The Profile: Rachel Nguyen
Everybody has a story about beauty. And in The Profile, a new evolution of Rose Inc.'s Go-See feature, some of the world's most intriguing people share theirs. In this intimate interview series, we get (virtually) up close and personal to explore their definitions of beauty, path to self-confidence, and the power of femininity. Featuring imagery shot through their own lens, The Profile presents these compelling personalities in a new light—one that illuminates their own journey, dreams, and desires while highlighting their unique relationship with beauty.
Artsy, but approachable. Cool, but honest. Creative, but unexpected. Rachel Nguyen isn't your average fashion blogger, which could be one of the reasons why her reach has stood the test of time. Based in Los Angeles, she started blogging at That's Chic in 2008, launched on Youtube in 2014, and has since amassed hundreds of thousands of fans across social media while also working as a freelance creative director for various brands. Her longtime Twitter bio—"There is a special place in hell for fashion bloggers"—speaks to her off-kilter sense of awareness towards an industry that often takes itself too seriously and has been notoriously slow to adapt to the changing times.
Like the rest of us, Nguyen finds herself in a novel position in 2020. While working from home isn't foreign, she finds social distancing—still very much a reality in Southern California—to be ripe with opportunities for growth and reflection. Rose Inc. caught up with the creative to discuss her latest inspirations, productivity tips, and hopes for the future.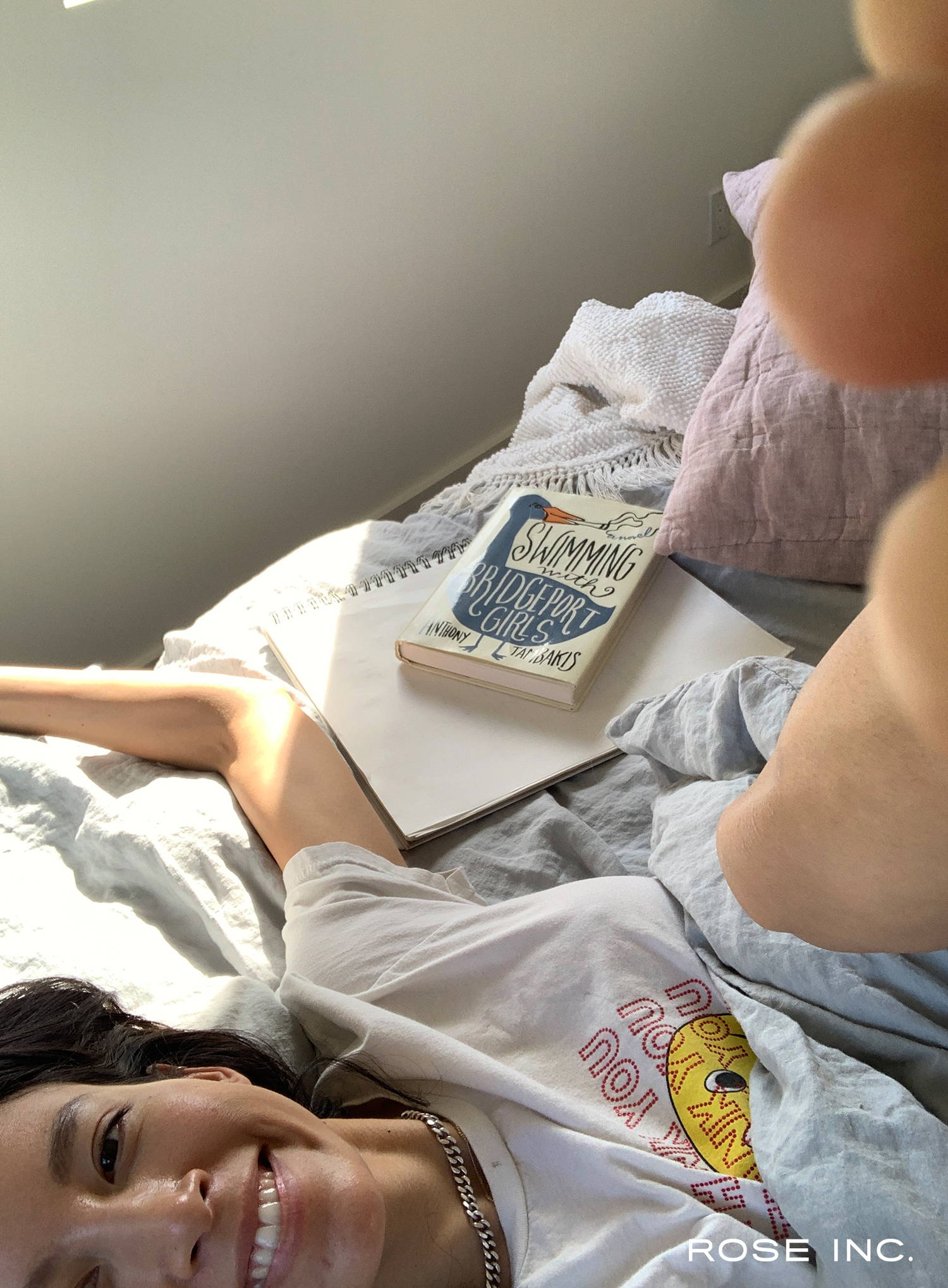 RI:
How are your spirits in this new normal?
RN:
They're actually really good. I feel guilty for saying that, but I do believe that there's a collective consciousness. We can ease a lot of the world's anxiety if we can channel a little bit of positivity. We can't change a whole lot other than our own actions of being responsible and staying home.
RI:
What does your stay-at-home life look like right now?
RN:
I'm solo. I have my German Shepherd pup, Leica, with me. I live in a cool situation: My neighbors and I are quarantined together. We're looking at each other like roommates.
RI:
How are you staying socially connected?
RN:
I've been FaceTiming a lot more. I know people are at home, so I don't think I'm bothering them since we're all glued to our phones right now! I've actually talked with so many people I hadn't talked to in a while. I also have an invite-only Slack group with thousands of members. We have weekly challenges, Netflix parties—that sort of thing. I feel like it's lifted a lot of our spirits to communicate directly.
RI:
What's your best advice for productivity when working from home?
RN:
Having and setting intentions. For me, that means sitting down at the beginning of the day with a coffee and writing down what I want to accomplish that day. The meetings and schedules that have offered structure in the past aren't happening and people are probably really surprised at how time flies. Time blocking really helps. I also try not to stay in my workout clothes. I find moments in the week to get dressed up.
RI:
Where have you found creative inspiration this year?
RN:
I really focus my energy on surrounding myself with people who inspire me by checking in with my fellow creatives to see if I can help out or if I need help with anything. Since lockdown, this Slack community I'm in started thriving… I've connected with so many people through it. I also spend time alone with my phone on 'do not disturb' to consciously consume and spend time ideating via are.na and jotting down ideas and notes in Notion.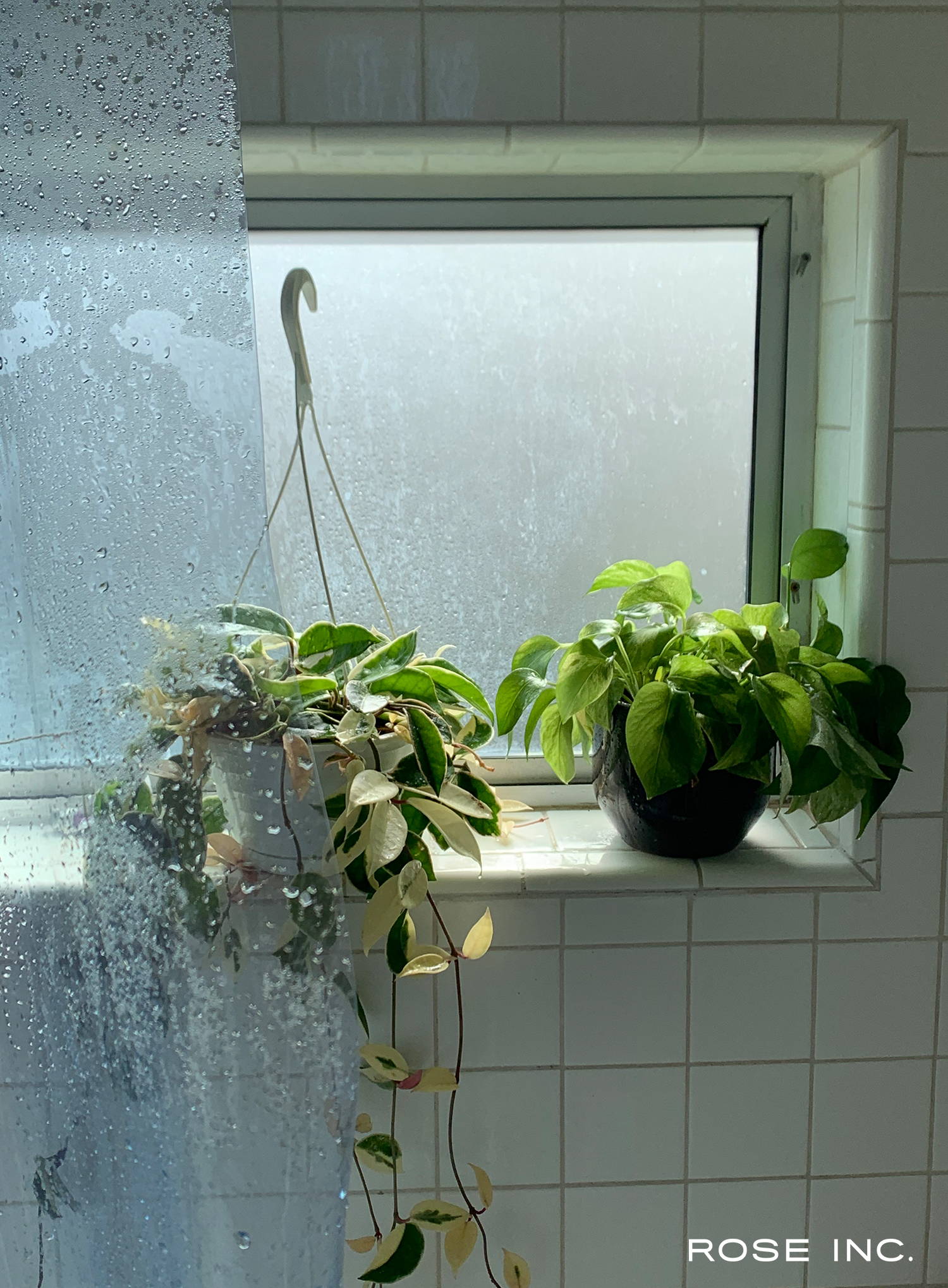 We can ease a lot of the world's anxiety if we can channel a little bit of positivity.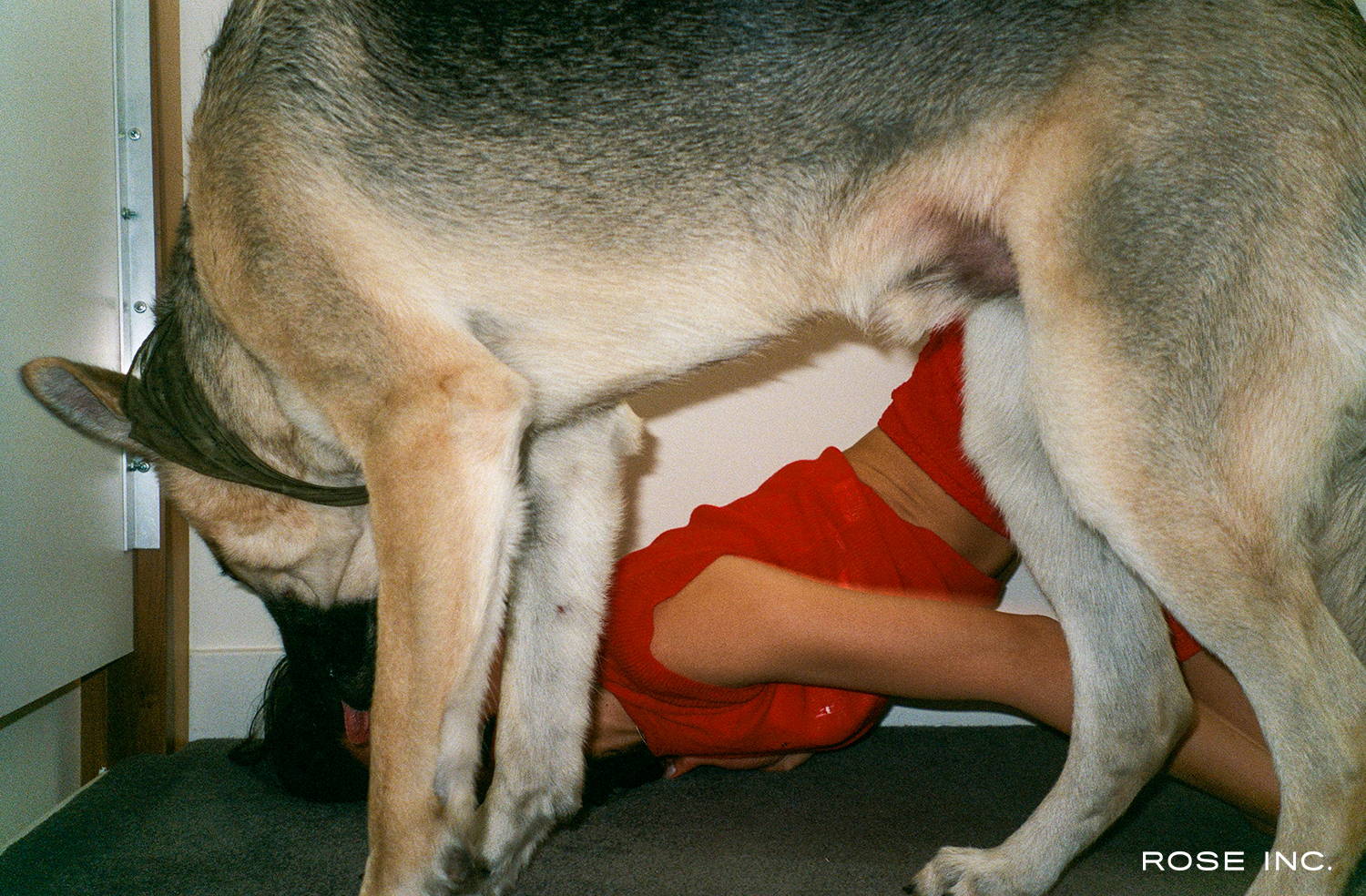 RI:
What do you do when you need a mood boost?
RN:
If I'm not feeling productive, I feel sad. So I'll have something like Kin, which is a non-alcoholic beverage. It has all of these neuropathic adaptogens that help with socializing. When I take that in the morning, it really helps me focus. The Nue Co. Nootro-Focus also really raises your vibration.
RI:
How have you used beauty to alter your mood in the pandemic?
RN:
I've never realized until now how the ritual of putting on makeup actually adds value and purpose to my day. I'm still not wearing makeup every day, I reserve it for when I really need to be productive or wanna catch my reflection and feel cute. But also more time to do a midday skin care retouch. We retouch our makeup throughout the day, why don't we with serums?
RI:
What is your skin-care routine like?
RI:
When do you feel most confident in your beauty?
RN:
When I'm mindful of how I'm taking care of it through eating, mobility, hydrating, and stretching. And also a good hair day. I need more of those so I've made it a point that my bangs are at least blow-dried on my comfy clothing, makeup-free days. A good hair day is the best pimple eraser.
RI:
Who are your beauty icons?
RN:
Tina Chow, Zoë Kravitz, MeLoveMeAlot, Rihanna, Isamaya Ffrench—all for their approach to makeup. I owe my beauty sensibility to my mom.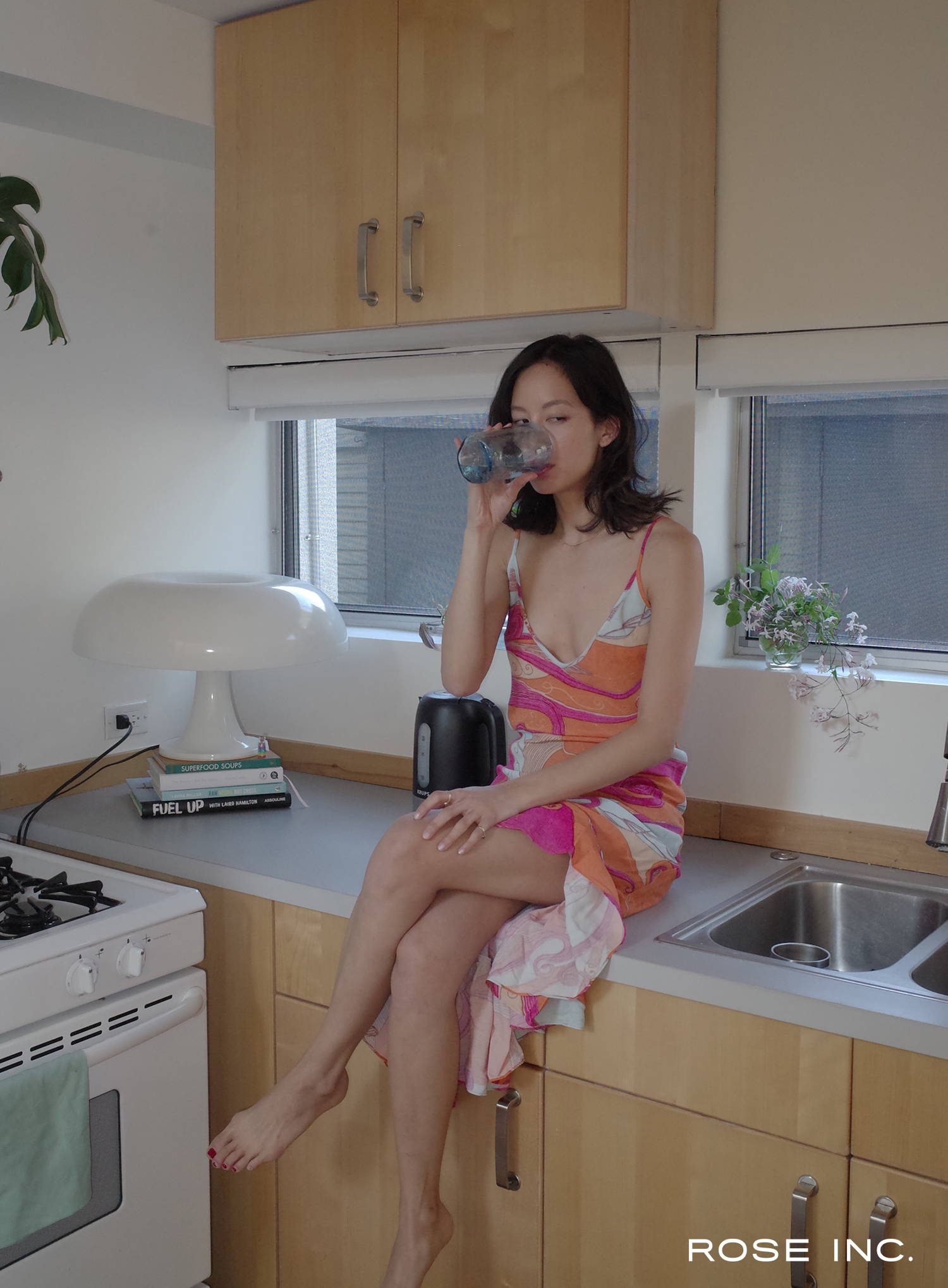 RI:
How has the way you perceive beauty changed over the years?
RN:
It changes so much, but more because it feels like I'm always challenging it. Despite having a strong opinion on preserving my individualism, the spoon-feeding of plumped faces and Facetuned waists still subconsciously affects me. But I've always, and will always, find radical individualism to be the most beautiful.
RI:
What is your hope for the future?
RN:
What a shame it would be if we as a society didn't come out of this having learned lessons. I hope we will be a little more mindful. I think we have a really escapist viewpoint on life and I hope this opportunity to slow down has allowed people to be a little more at peace with themselves. That could make this world a little more beautiful, brighter, and more positive in the future.
RI:
Where do you see yourself in five years?
RN:
Giving up metropolitan living but still connected through a company I've built.