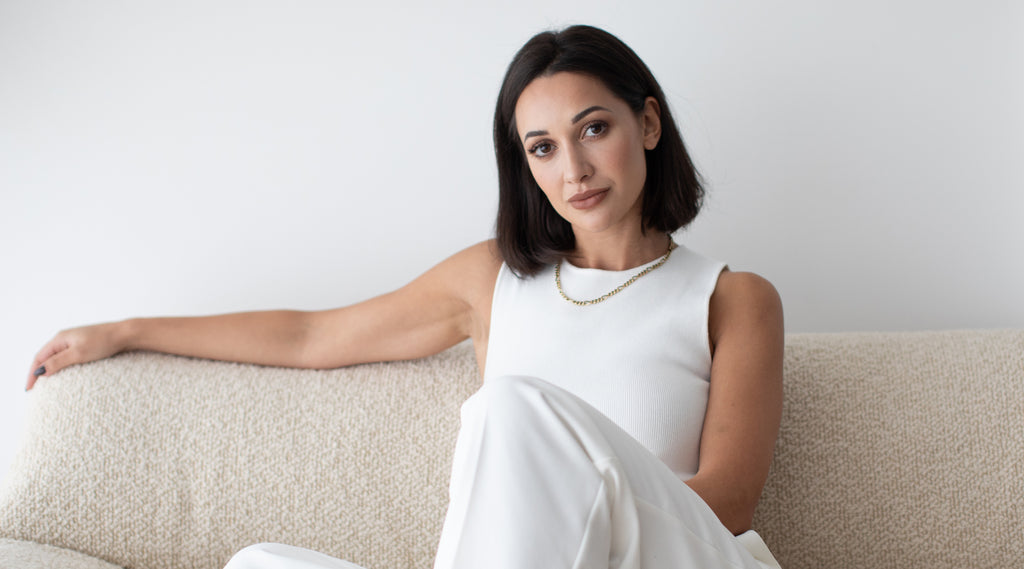 Roxie Nafousi on Mental Health, Manifesting and the Moisturizer She's Used for a Decade
Profile
The mainstream discourse around manifesting is changing. A decade ago, a mention of the term was more likely to engender confused stares (and maybe some eye rolls) than genuine interest. But these days, you can't even scroll TikTok or Instagram for more than a minute or two before stumbling upon a creator sharing an affirmation or endorsement of the practice. If you ask London-based personal development coach and manifesting expert
Roxie Nafousi
, it can actually change your life. By her own account, she's living proof. "I mean this in as humble a way as possible, but the success that I've had is a short space of time and the transformation in my life does feel like a miracle in many ways," she said in a recent interview with Rose Inc. "I know it's all manifesting in action. I'm here to show everyone that a transformation is possible for us all and you really can make your dreams come true."
But Nafousi's journey hasn't always been easy. From the start of her career as a beauty and lifestyle influencer, she's been open with her tens of thousands of Instagram followers about her battles with depression and other mental health struggles. At the end of the day, though, true healing requires self-love and gratitude. She writes about this and more in her forthcoming book,
Manifest: 7 Steps to Living Your Best Life
, which comes out in January of next year. Before and even during her journey to achieve all this success there have been countless lessons in beauty, wellness, mental health and self-love. Ahead, Nafousi shares it all in her own words.
RI:How did you end up on this journey of becoming a manifesting coach and being in the wellness world?
RN:

For a bit of background, in my 20s, I was really, really lost and I was just in a really deep depression. I was in the grips of addiction to drugs and alcohol, I was smoking 20 cigarettes a day and I had crippling low self-worth. I was just trying to constantly escape through all these hedonistic ways. But throughout this time, I would go on health retreats and I would feel really good and this fog of sadness would lift. So I kind of knew there was something there and that my lifestyle and my depression were infecting each other. It seems obvious from the outside, but when you're in it, it's actually hard to decipher. So I did have this kind of affinity for wellness, but I just couldn't seem to sustain it. After many, many rock bottoms, I thought, OK, I'll leave London and do my yoga teacher training. I'd found that throughout this time, yoga had really provided me a very safe space. I would cry on the mat a lot. My sanctuary was yoga. I knew no matter what I wanted to help people—that was non-negotiable. That was always in me.

Not thinking it was ever going to be a career, I just would start writing. I was writing for Marie Claire at the time and I wrote this open letter about my depression and I started talking more about mental health as I was going through it. I wasn't talking about it from a place of, "Oh, I've healed." It was like, I'm just really in this mess, but I'm trying to find my way out. Then I went and did my yoga teacher training and after a month of being away thinking I'm going to do yoga for a living, I heard about something called manifestation. And something clicked in me. It clicked to me that we all had the power to create the life that we want and I really knew that I had been manifesting in the wrong way. So my low self-worth, my depression, my addiction had also been allowing me to keep myself stuck in a really negative space. I was allowing myself to be a victim. So the first step of manifesting was really understanding that I had the power to make a change and all of it lied within me. It was there. So then, Wade, who is my current partner, messaged me on Raya literally one week later. We met and to put it simply, a year to the day that he messaged me, our baby boy Wolf was born.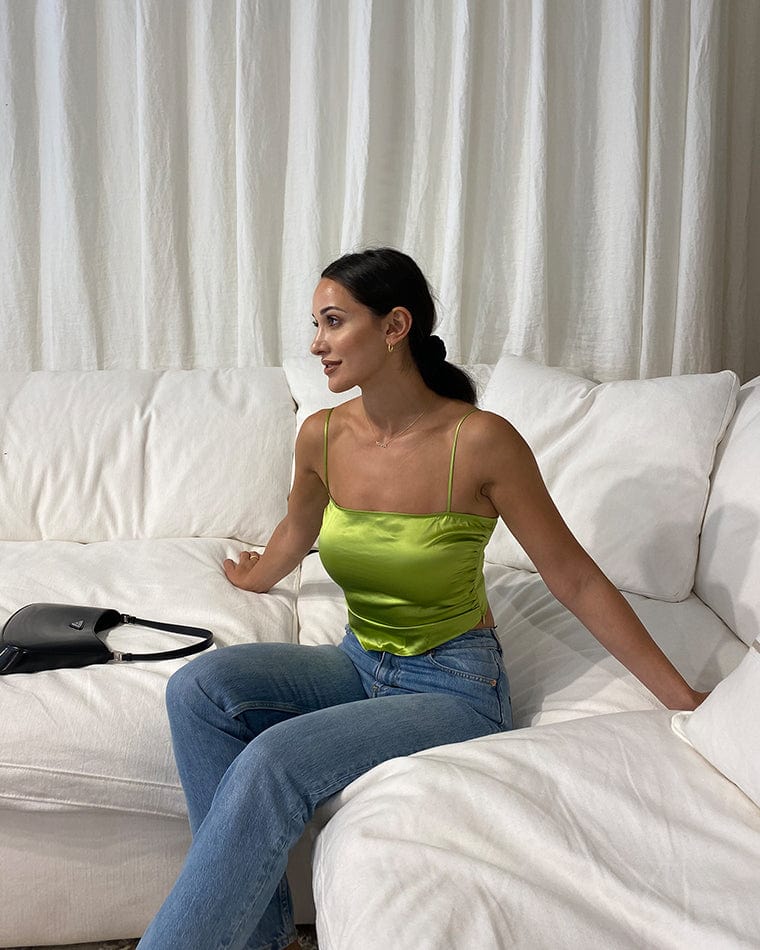 RI:Did your pregnancy play out how you imagined it would?
RN:The reason I found out I was pregnant was actually because I was feeling really low and I thought, well, I'm in a new relationship, this is when I'm supposed to be on that high vibe and in the honeymoon phase. And then my sister suggested I take a test, and I was pregnant. But when the depression wasn't lifting and it was getting worse—I was becoming very hopeless—that's when my midwife told me that this is clearly prenatal depression. With the NHS here, the wait for getting on the list to see a counselor was impossible. I had a really great support system, so I was OK, but it is worrying for a lot of expecting mothers who are suffering from prenatal depression when there isn't that much support or awareness. I was so grateful to be pregnant, but the mental prison that you're in [when you suffer from depression] is not something you can control.

A week before I had found out I was pregnant, I'd started something called Agony Aunt Sundays, where every Sunday on Instagram I would give people advice. At the top of this pregnancy, I didn't work and I was earning absolutely no money. I was just binge eating all the time because that was my way of coping. I gained six stone. But every Sunday, I could help people. And this was the one thread that really held me together. Then while I was pregnant, every day I would visualize myself coming out of pregnancy and being the best version of myself and that hope really kept me going. I held onto those visions and something just happened when Wolf was born. I just went, this is it, I'm going to do it, I'm going make all these dreams come true. And within four months, I had decided to host my first workshop, and it was going to be the self-love workshop. I always knew it would be because self-love is at the core of everything. And it sold out straight away, which shocked me, and it was only because of these Agony Aunt Sundays. It was because I'd taken people on this journey with me and I shared everything. And then the next workshop I did was manifesting.
"I'm here to show everyone that a transformation is possible for us all and you really can make your dreams come true."
RI:Did you establish any rituals or self-care practices during that time that helped you?
RN:Massage was incredible for me. Wade would give me massages, or I would have a massage at home with an app called Urban and get pregnancy massages really regularly. They actually do say that 10 minutes of touch on your skin actually reduces your cortisol, so there really is this kind of anti-stress element to massage. But for me, it was the one thing that really helped me completely escape my pain in a healthier way. So massage, baths, skincare routine, that kind of nighttime ritual with candles and incense—those were really sacred to me.
RI:What is your first beauty memory?
RN:

My first memory was there was this Smash Hits magazine and they had in it free eyeshadows. One time they had blue eyeshadow and Britney Spears was my idol at the time, and she wore blue eyeshadow. I was so excited and that was my first kind of try at makeup or anything beauty-related. I just remember sitting in my mirror, fingers covered with this blue eyeshadow free from my magazine. We've come a long way since then, but it was a fantastic moment.

Since then, I've loved makeup. I must have been 12 or 13 and, I mean the makeup trends were not good, but we were trying to contour in our own way. Even before contouring was a thing, I used to always put concealer down the center of my nose and lighten up under my eyes. By the time I was 19 I had that Tom Ford Illuminating Powder Duo, which I would use to contour. I was always trying to experiment with sculpting my face, but I was terrible with skincare. So I was a bar of soap kind of girl and that was how I was taking off my makeup—I was scrubbing soap into my mascara to get it all off. It was only when I was about 21 I went for a very fancy at Claridge's and they used Sisley products on me and recommended me to get this Sisley skincare and it completely transformed my breakouts, which I had really badly at the time. And from there I was like oh, OK, I need to look after my skin now.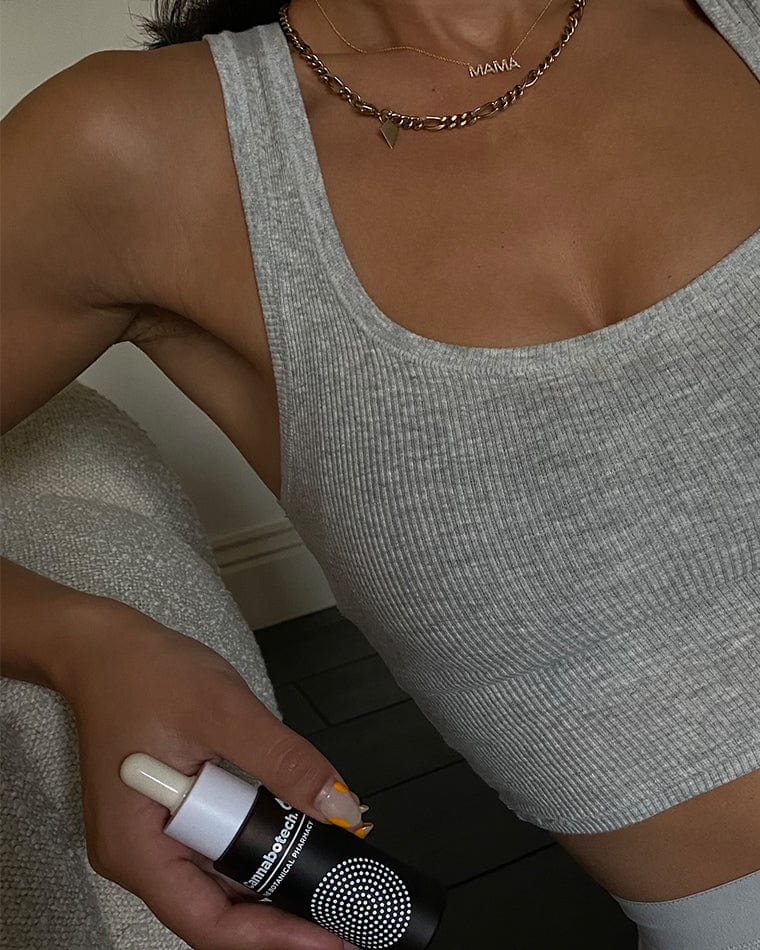 "I knew no matter what I wanted to help people—that was non-negotiable. That was always in me."
RI:What is your skincare regimen like now?
RN:

I got a bit overexcited over lockdown doing lots of at-home facials and I actually took a bit too far. Because I get lots of products to try, I have tried loads and I definitely think I've found my perfect skincare routine. I would start by saying less is more and simplifying things has been amazing for me. I start with a cleanser. At the moment I use Murad AHA Exfoliating Cleanser and I've found that AHA is really good for keeping my breakouts at bay. Then I use a hyaluronic acid serum. I use Organic Pharmacy, but when I started using hyaluronic acid my skin changed. The glow was real and I had found that things like vitamin C and retinol didn't really agree with me. Since I had Wolf, my skin is much more sensitive. So I have my serum and then I use Clinique Moisture Surge religiously. I've been using it for 10 years. I have tried so many moisturizers and every time, I go back to it and I have been through about 25 or 30 pots, easy. It just really works for me. I found out only recently, I don't know why I never even looked at the ingredients, but it does have hyaluronic acid in it. So maybe that's why my skin likes it. And then I use the Malin+Goetz Acne Nighttime Treatment for breakouts. So that's my basic skincare routine. It's so simple. I also love a good sheet mask and using any cooling de-puffers. I put on the sheet mask and rub my cooling cryo things over it and it's heaven. I also get regular facials.

RI:Did your skincare or beauty routines in general change at all after having your baby?
RN:During pregnancy your skin is amazing. It's so glowy. But then afterward, mine got so sensitive and so dry, so I felt really drawn. That's when I started experimenting quite a lot with things like acids, retinol and vitamin C and I think my skin wasn't ready for it yet. People say that vitamin C is amazing and I'm desperate to re-introduce it, but I'm a bit apprehensive. I definitely want to start trying it again.
"I was so grateful to be pregnant, but the mental prison that you're in [when you suffer from depression] is not something you can control."
RI:What are your desert island beauty picks?
RN:

Well, the Moisture Surge is one. The Rose Inc Softlight Luminous Hydrating Concealer is the best concealer of all fucking time. It's incredible! My friend, Lauren, loves makeup more than anyone I know and she got it the day it was released. I was so jealous and she said as well that it's the best concealer ever, so I went around to the different SpaceNK stores to try and find it. You know when you've been wearing concealer all day and it starts to crust? It doesn't do that. I would pick a good SPF for desert island, too. I would also bring Byredo Mixed Emotions. It's the best. My favorite smell.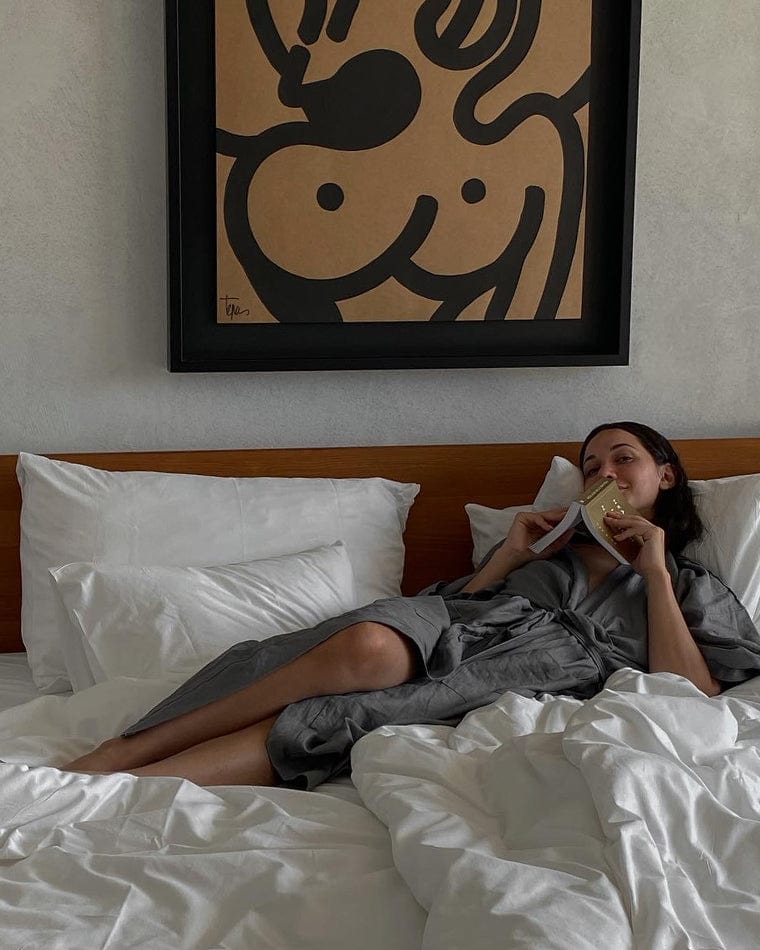 RI:What is something about you that nobody would guess?
RN:I don't feel very mysterious—I tell everyone everything! I'm an open book, but I don't know if people would know that I'm fully Iraqi.
RI:When do you feel most beautiful?
RN:When I am with my son, Wolf. I was talking to this therapist and I was saying that when I'm with Wolf I just feel so at peace and it's because he doesn't care what I look like or anything. He sees my soul and my love - how can you feel more beautiful than that?