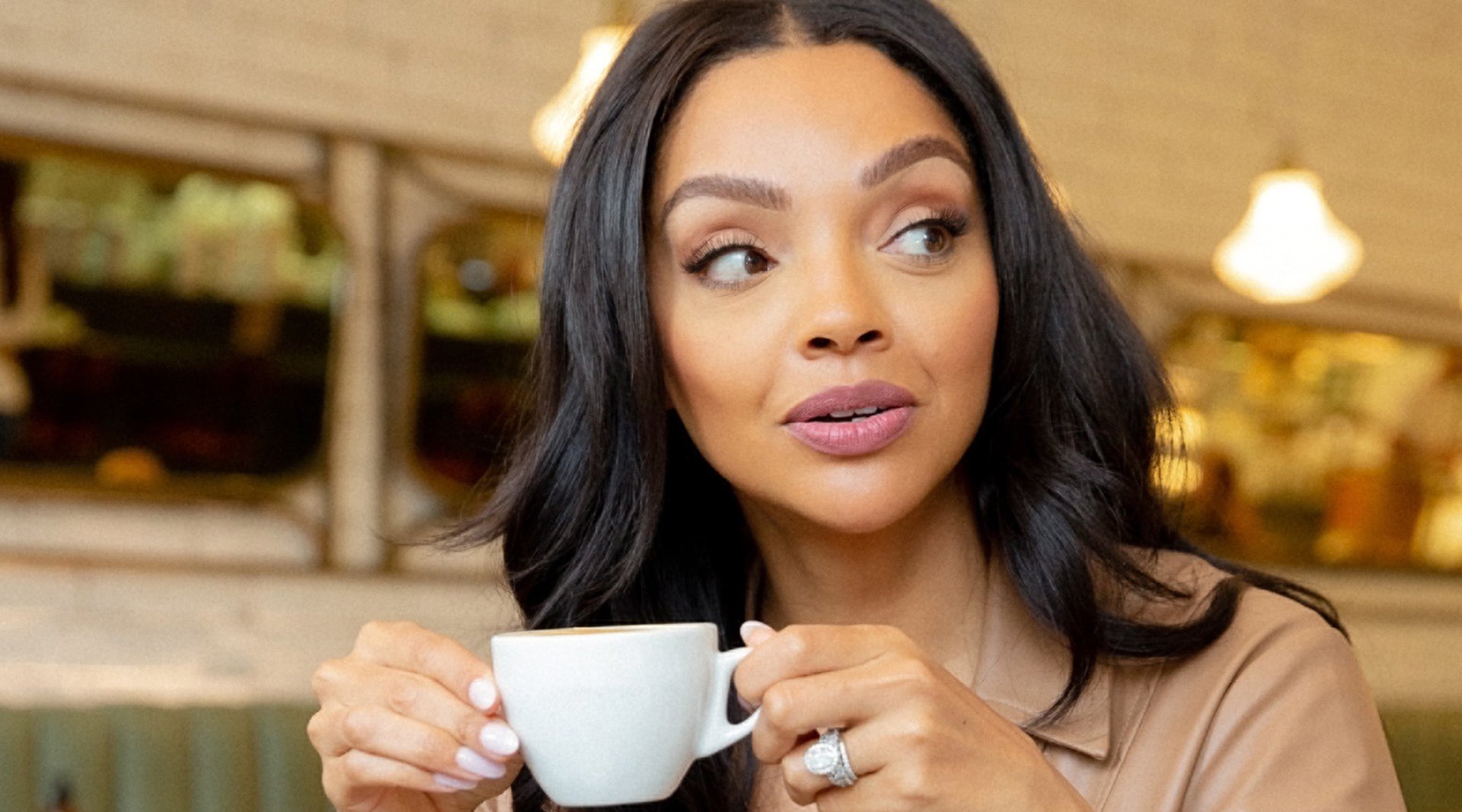 Meet Rhonda Ruf, Rose Inc's Education & Events Manager
Profile
Back in high school, when her teenage classmates were congregating at the mall, Rhonda Ruf was busy getting a head start on her career. She was the beauty-obsessed member of her crew; that friend her peers relied on for product recommendations and to do their makeup for prom. But painting faces in her childhood bedroom in San Francisco was just the start. "I would leave [my high school classes] early and go to beauty school," she shared with Rose Inc. This hustle paid off. By the time she'd graduated high school, Rhonda was already a licensed cosmetologist with a full-time gig working at her local Benefit Cosmetics counter.
As fate would have it, Benefit was gearing up to launch its eponymous BrowBar eyebrow grooming salons in 2001, the same year Rhonda graduated. As a licensed cosmetologist, she helped pilot the first location in San Francisco before expanding throughout the Bay Area, then eventually across the entire country and all over the globe. "I was 18, maybe 19 years old, and in college, but there was a decision to be made," she recalls. "There was this opportunity to travel to do all this education and training opening BrowBars and I was like, 'You know what? I'm going to take the plunge. I'm going to jump in.'"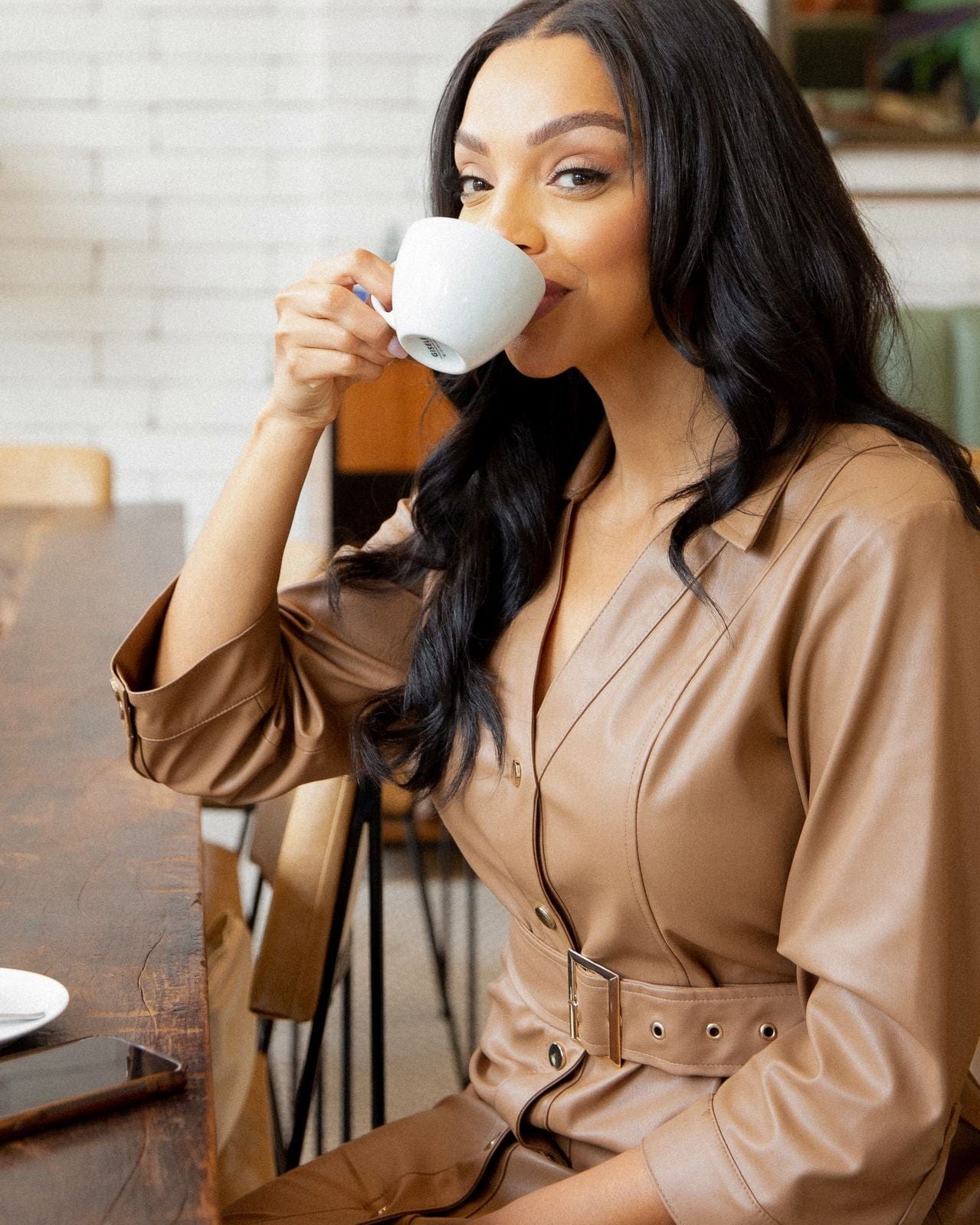 A decade of hard work, long hours and endless travel called for reflection and rest, so she quit her job and set out on a two-year solo travel adventure all over Asia before taking up residence on a remote French farm where she'd go full detox mode, even going so far as getting rid of her smartphone. "At that point, I was really focused on my mental health and also eating clean and working out," she says. "It was really then that I had my epiphany of what I wanted to do. I love beauty and I love this clean, natural way of living, so I really wanted to see if there was a way to bring them together."

Rhonda returned to California and joined the team at Juice Beauty before eventually joining Rose Inc as its Education and Events Manager. Now you'll find her conducting in-person and virtual training sessions from her home in San Diego as well as educational experiences for new company hires, sales associates and retail partners, all to educate them on all things Rose Inc.

For the latest installment of Day in the Life, Rhonda takes us on the road to Brazil to celebrate the brand's South America launch.
"You know what? I'm going to take the plunge. I'm going to jump in."
6:00 a.m.: I wake up early for a busy day in São Paulo where I've been for a couple of days now, and jump right in the shower. We launched in Sephora stores here in Brazil this week, so we're touring a few today before hosting a masterclass and a massive launch party. 

6:25 a.m.: I keep my makeup simple on a normal workday since I'm usually applying Rose Inc products on myself during my virtual store trainings. It feels good to do a bit extra today, so after cleansing with our Gentle Exfoliating Cleanser, I go in with Microencapsulated Moisturizer, sunscreen and then two different shades of my favorite product, Softlight Concealer. I use shade 090 to brighten under my eyes and 110 to spot conceal the rest of my face. I have very sparse eyebrows, so I always fill them in with my Morphe brow pencil, which I love. It's like six bucks and fantastic. I don't always reach for eyeshadow, but I love Inglot eyeliner and Rose Inc Lash Lift Serum Mascara. On my cheeks, it's Cream Blush in Dahlia, which is a shade I feel like people forget about sometimes. It's really pretty on the lips, too.
7:27 a.m.: I check in with Miguel Collado from our sales team who is my travel buddy on this trip. We meet for coffee and breakfast to go over our itinerary for the day before our driver arrives.

9:00 a.m.: We arrive at the first Sephora store to check out our displays and go over our product offerings with cast members (what Sephora calls their sales associates). I don't speak Portuguese, but many Brazilians also speak Spanish, which I can speak a fair amount of and understand fluently. Miguel is fluent in Spanish and proficient in Portuguese, so we're able to make it work!

11:05 a.m.: We arrive at our final Sephora and I jump right into teaching. I work with the sales and education teams for all of our retail partners globally, but it's interesting because our positioning is slightly different here than what you'd see in the U.S. Not only are there totally different brands in Sephora Brazil, but in terms of makeup, Rose Inc is really one of the only clean options!
"We launched in Sephora stores here in Brazil this week, so we're touring a few today before hosting a masterclass and a massive launch party."
12:10 p.m.: I haven't had a chance to check my email since this morning, so I use the car ride to get up to speed on the final details of our London pop-up shop, where I'll be headed tomorrow. In addition to education, pop-up events like this are a huge part of my job and I love getting to collaborate with our PR and marketing teams to bring them to life. I'm really excited to meet the UK team and to see Rosie.

12:25 p.m.: I put my phone away to unplug during lunch. I usually wake up early to work out with my trainer before work, but since this trip is so busy, I try to build other mindful moments into my day to stay grounded and present. It really helps!

1:00 p.m.: I'm five hours ahead of my husband in San Diego, so I use a short coffee break to check in with him. We love traveling the world together and I'm excited for us to come back here together someday.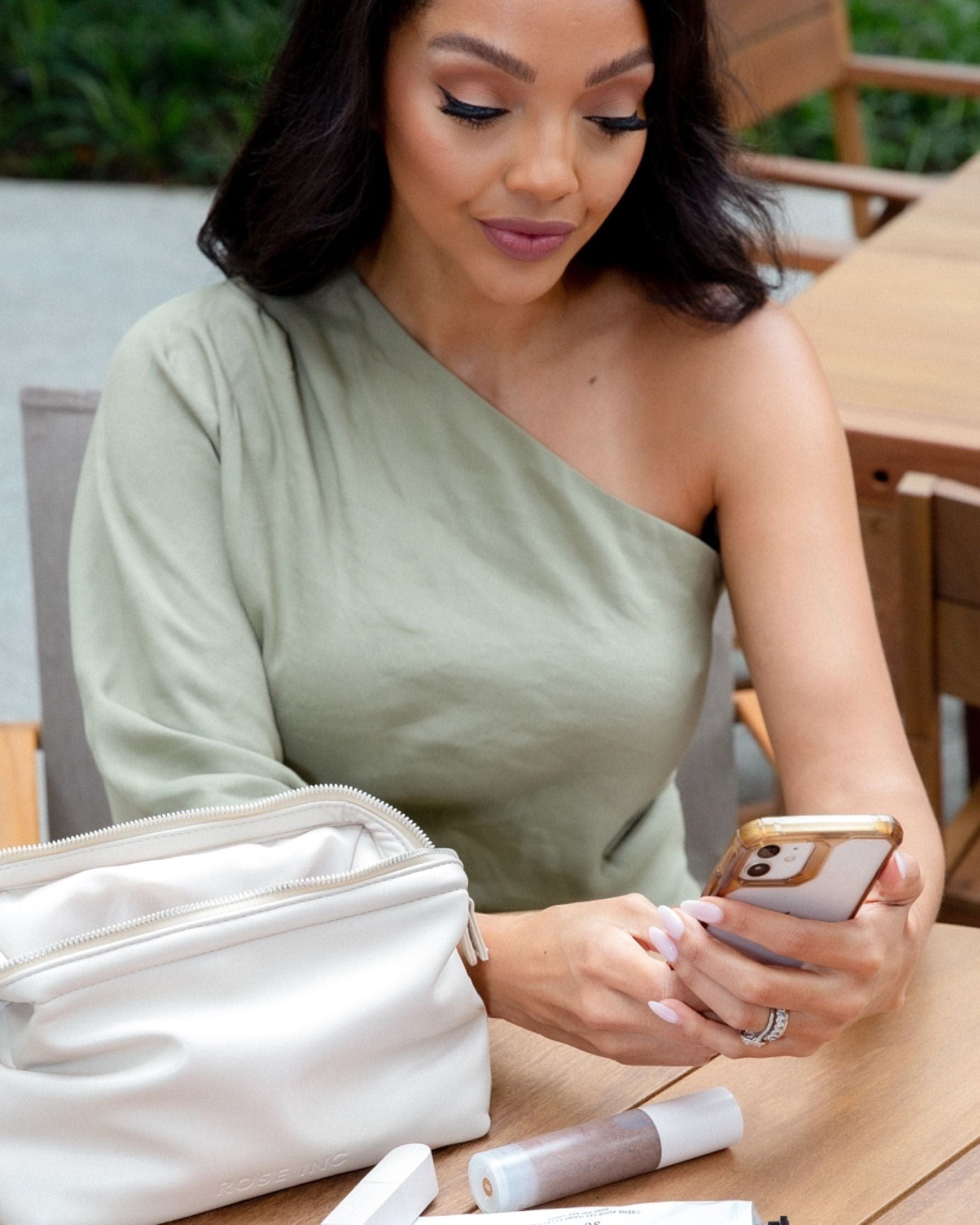 1:35 p.m.: The West Coast is awake and I start to see some emails coming through from the team. Even when I'm on the go, there are some big projects that still require my attention, like a huge company-wide education platform I'm helping with.
 

2:00 p.m.: I've been on the move all day, so now is my chance to do a quick wardrobe change and makeup touchup back at my hotel. Since I'll be on stage and in front of tons of people soon, I put just a little bit of powder blush on top of the cream I applied this morning to add some dimension and really make my cheeks pop. I'm so pleased with the performance of our Serum Mascara — it hasn't budged at all!

3:10 p.m.: I scan emails once more before I go into event mode. I work closely with our Product Development team on new launches because once a product launches, I'm the go-to person for any education questions. I spend lots of time with Mimi Lu and her team, learning what sets our products apart in terms of formulation and performance. I can't say too much, but there's a 2023 launch that I'm very excited about. We've been working so hard on it and it's something I'm really passionate about that I can't wait to share with our customers!
3:40 p.m.: We make our way over to the venue where we'll hold our masterclass today for beauty editors and influencers. It's a stunning private property that will hold our party tonight as well! Our Brazil team selected an amazing event space.

4:00 p.m.: Once we arrive, Miguel and I go over our scripts one last time and ensure we have all the products and tools we'll need for the live demo.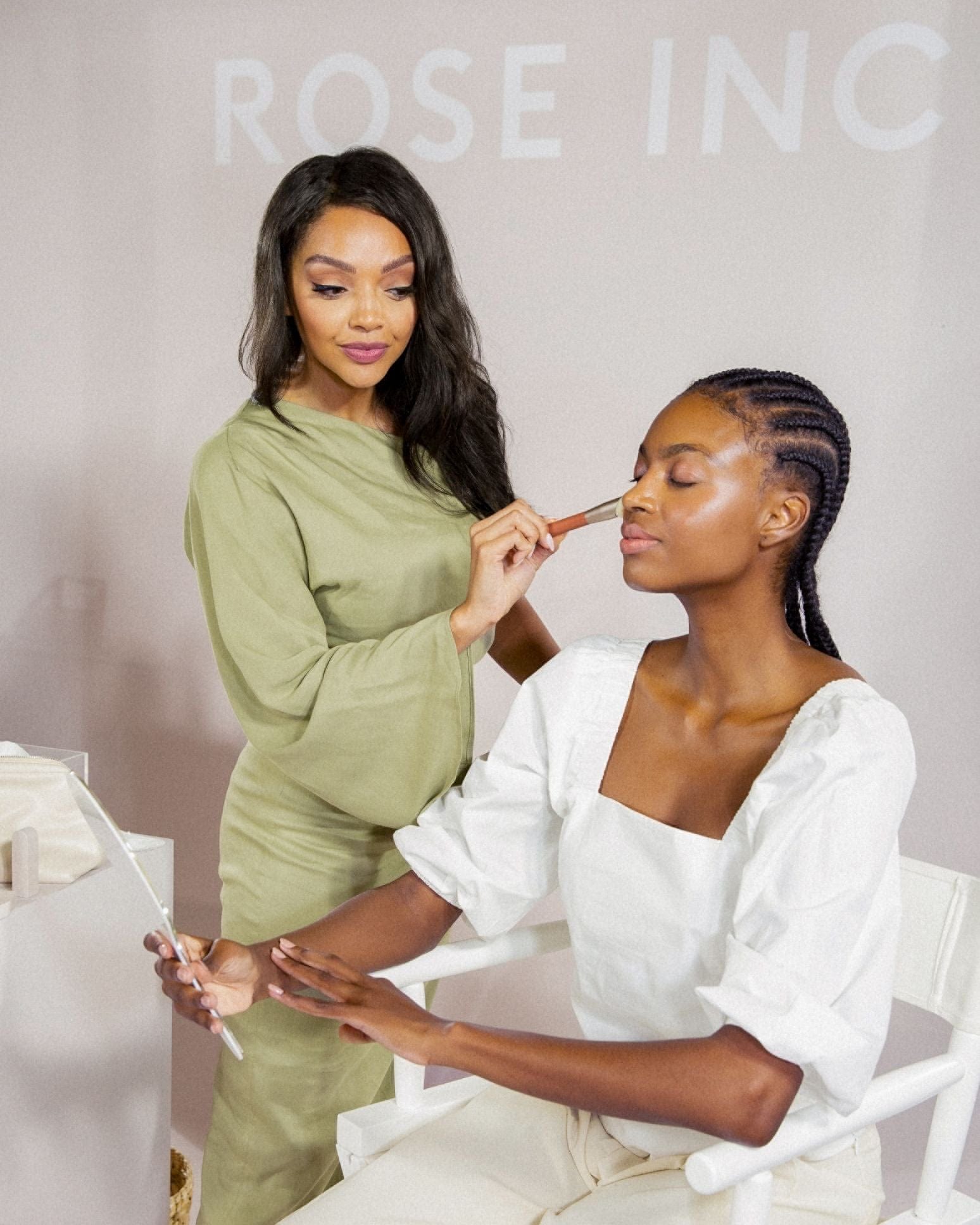 5:00 p.m.: It's showtime! I'm hosting this masterclass alongside Miguel and a few members of our global team. I like to start by introducing who we are and providing background on Rose Inc, our brand pillars and speak to our packaging and sustainability mission.  

5:45 p.m.: Miguel and the Brazil team did most of the talking so everyone could understand. Luckily, I was able to jump in because I could follow what was happening.  

6:05 p.m.: I love our Solar Bronzer and Highlighter so much. The formulas are smooth and the shades are stunning; there's truly a shade that works for every single skin tone. It's fun to demonstrate how to use them, especially in front of a Brazilian audience because there are people of all different skin tones here. It's such a diverse place.  

6:40 p.m.: Now it's time to celebrate the launch! I got to meet the who's who of beauty in São Paulo, from influencers to dermatologists and artists. It was really incredible. I had never, in my career, seen an event like that. It was spectacular and you could feel the energy and excitement for Rose Inc — a true trip highlight!
"I love beauty and I love this clean, natural way of living, so I really wanted to see if there was a way to bring them together."
9:25 p.m.: I'm beyond exhausted and want to go straight to sleep when I make it back to my hotel room, but my nighttime skincare routine is super important. I carefully remove my makeup with cleanser and treat my sensitive skin to a sweep of the Rose Inc Skin Resolution Toner. I'm a jelly donut, glossy-faced sleeper, so I layer serum, eye cream and then a heavier moisturizer like the Tatcha Dewy Skin Cream. I also use face oil after. Finally, I apply my favorite Laneige Lip Sleeping Mask and take a moment to mentally recap the day.
10:05 p.m.: I'm headed to London tomorrow, so it's time to get some rest before a long travel day.