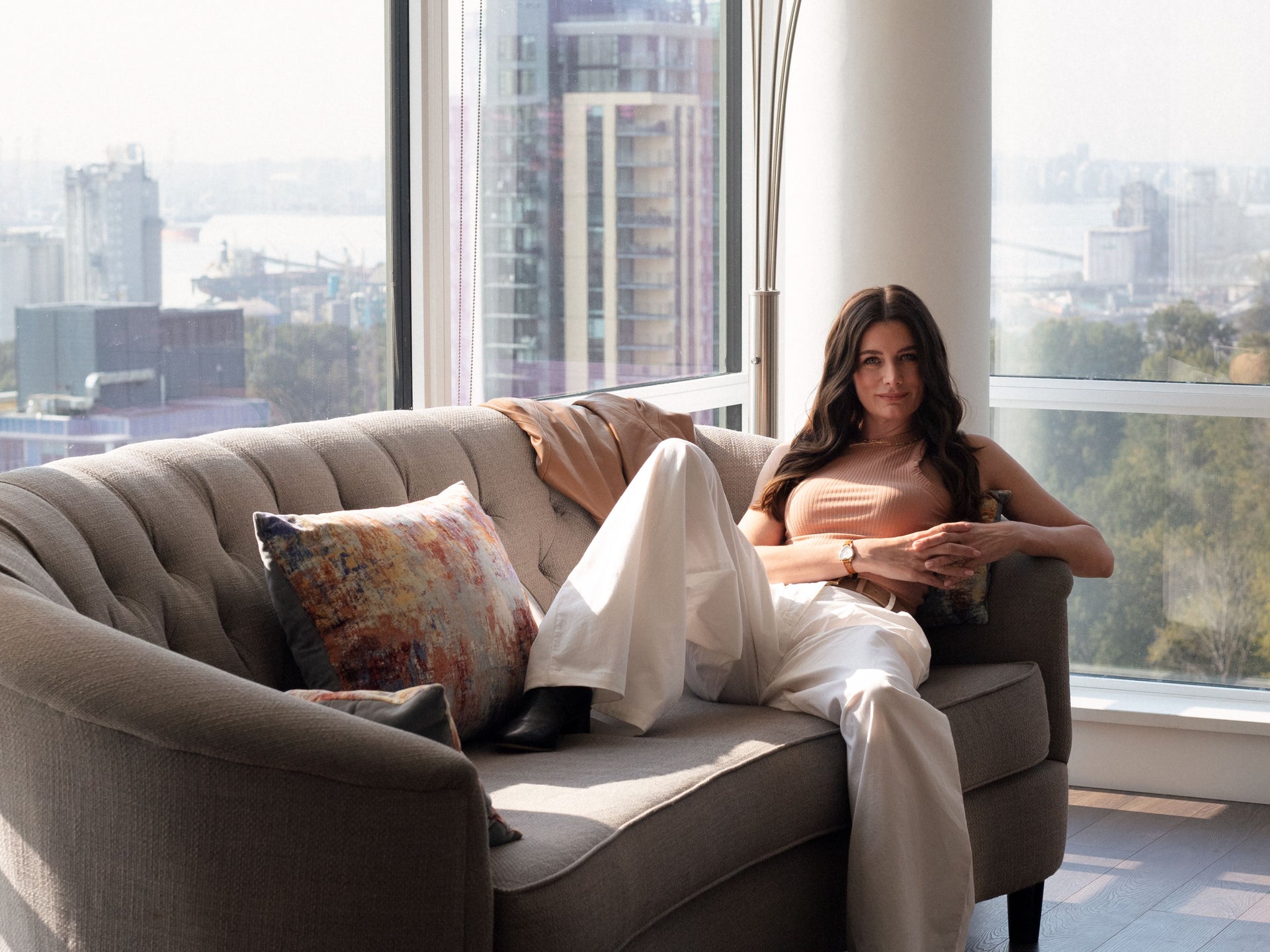 Director Kat Coiro on Superheroes, Sustainability & Self-Care
Profile
Director and exec producer Kat Coiro has an affinity for strong women, whether she's working with Jennifer Lopez on the rom-com Marry Me or bringing a modern-day female superhero to life on screen in the form of the She-Hulk: Attorney at Law for Disney+ and Marvel Studios. But it takes one to know one, and throughout her filmmaking career — which kicked into high gear in 2011 with the Krysten Ritter-starrer Life Happens — Coiro has blazed her own noteworthy trail in Hollywood, not only in the form of empowering and embracing other women, but also as a champion of the environment.
Being a female director in Hollywood comes with its own set of challenges, and despite the positive gains that resulted from the #MeToo movement against sexual abuse and sexual harassment, Coiro has witnessed first-hand the resentment surrounding the empowerment of women — as evidenced by a recent on-set interaction with a man who had fallen short of his own career goals of becoming a director.
"From his perspective, he felt robbed of a more elevated position because I existed," says Coiro, who recently directed the first two episodes of the upcoming Spiderwick Chronicles series for Disney+ and has also been tapped to helm the film adaptation of Liane Moriarty's novel The Husband's Secret. "He mentioned several times how lucky I was to be a woman right now, as if that's the only reason I'm working. And that sentence, 'you're so lucky to be a woman right now'— which I've heard more than once in the last few years — negates years of hard work, sacrifice, hustle, drive, talent." 
But rather than interpreting moments like these as setbacks, Coiro chooses to use them as fuel for the fire. "I think that now is a really critical time for women and people of color and minorities to stand in their power, and know that the fight is far from over," she says.
Meanwhile, on the sustainability front, what started as Coiro's own personal efforts to eliminate single-use plastic from her home and teaching her kids how to make environmentally friendly choices has become a deep-seated passion that has informed into her professional life too. A board member of Habits of Waste, a non-profit that focuses on actionable waste reduction, Coiro is also behind the Lights, Camera, Plastic initiative aimed at changing the way that directors, producers, actors and production designers, among others, treat waste on-screen. 
"I feel great power and responsibility in my job, because the entertainment industry really does play a role in influencing the decisions of the public," says Coiro, citing the example of the anti-smoking movement, which gained momentum with Hollywood's backing. "If we strive to remove single-use plastic from our screens, we have the power to highlight more sustainable choices and make a big difference."
Here, Coiro opens up on everything from beauty standards in Hollywood to the importance of sleep, motherhood (she has two daughters and a son), and how Jennifer Lopez was the catalyst for own her game-changing workout regimen.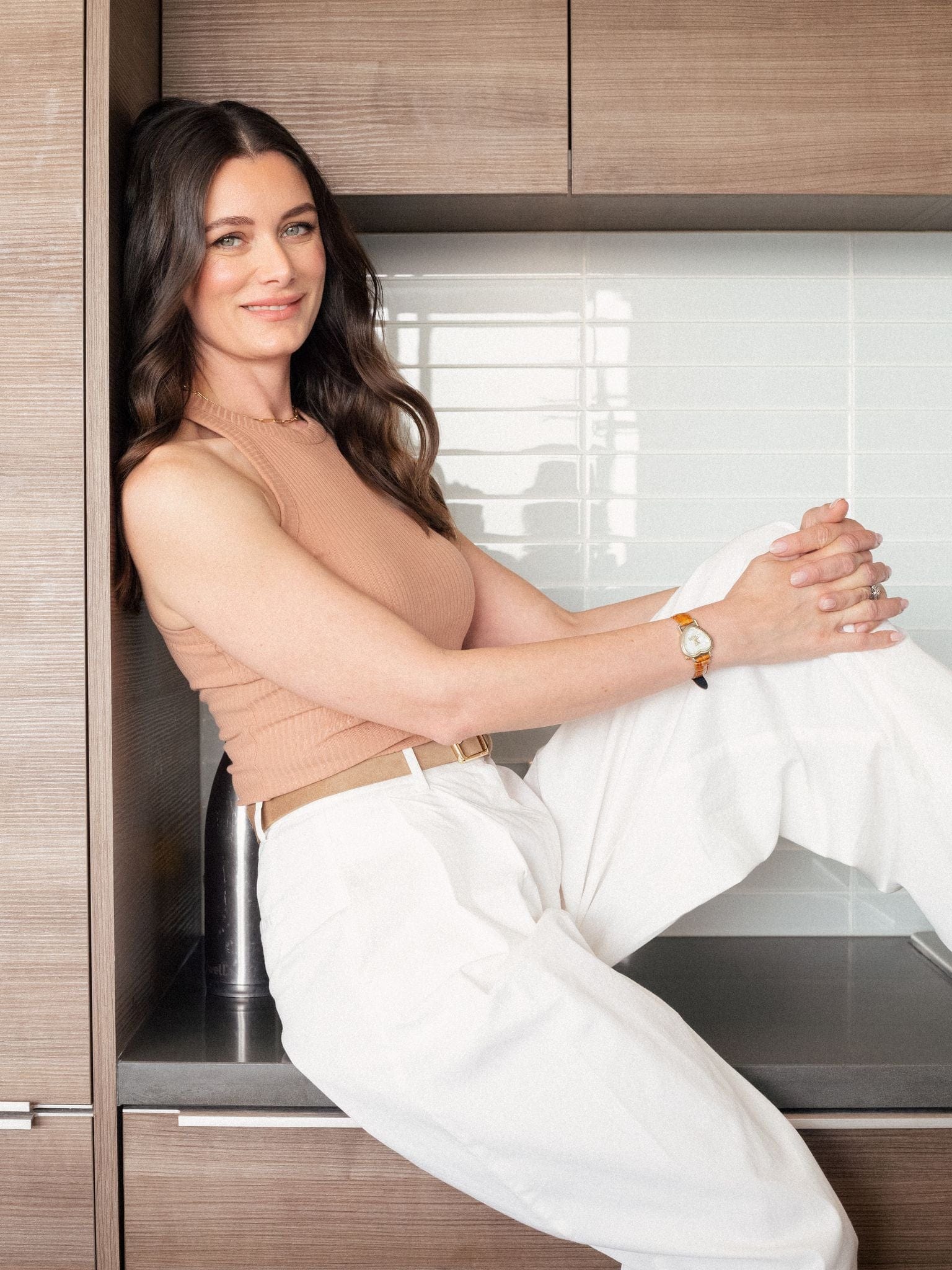 RI:

What was your relationship with beauty growing up?

KC:

I was really lucky to be raised by parents who were always very positive, and so I have a very nice voice in my head that always reminds me that I'm beautiful just the way I am, whether I'm dolled up or shooting for 70 consecutive days and barely have time to brush my hair. And one of the things I remember my mom saying when I was little and stressing out is, "you could wear a burlap sack and shave your head, and you'd still be beautiful." I say that to my daughter now. She rolls her eyes, but someday she'll appreciate it like I do. And for much of my life I took that to heart, and I didn't really pay much attention to the way I looked, or even have a beauty routine.

In some ways, I almost saw beauty as anathema to a position of power. You could not be a woman of substance and beautiful, which I think speaks legions to the way that we are also conditioned that you can't be pretty and powerful. As I'm getting older, I'm actually starting to want to give myself a little more self-care and allowing myself to embrace the idea of beauty and enhancing beauty with makeup and still understanding that I can still be intelligent and powerful.

RI:

What's your earliest memory of beauty?

KC:

My mom would always wear bright red lipstick. She was very minimalist and didn't wear a lot of makeup and that was kind of the sign that she was going out, or we were going out. And so, I remember it being tied to like, ooh, the red lipstick is out, we're going to do something fun, because they took me everywhere with them. So when I was a really little girl, I remember red lipstick being a symbol of we're going to go out and do something awesome. 
"I feel great power and responsibility in my job, because the entertainment industry really does play a role in influencing the decisions of the public."
"When I see a beautiful, empowered — some would say intimidating — intelligent woman, my instinct now, as a mature individual, is to join forces with her."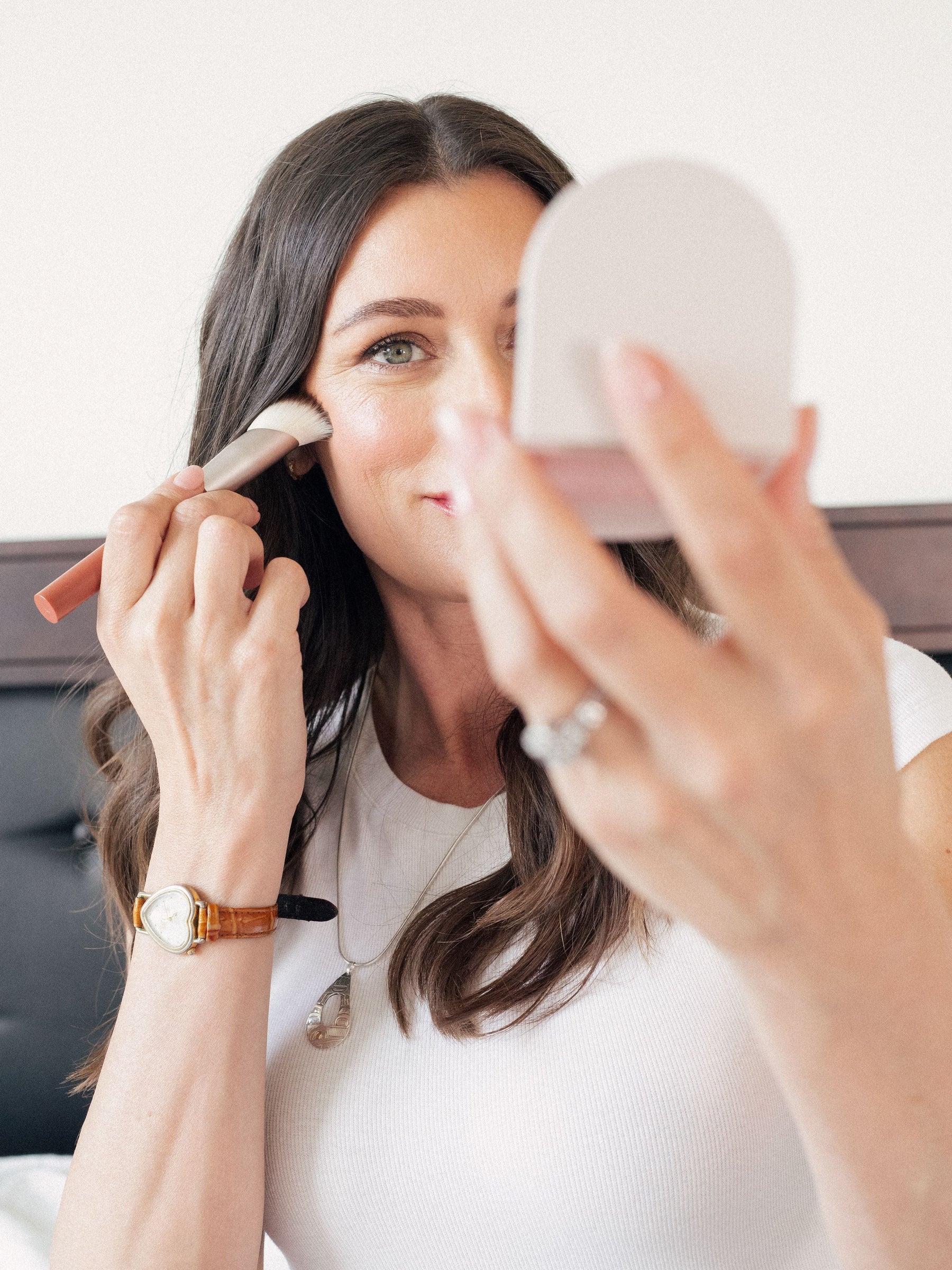 RI:

Has your definition of beauty evolved with motherhood?

KC:

I just never want my children to have a negative voice in their head. I want them to look at themselves and see how beautiful they are. And the idea of comparison — I think women are so conditioned to compare themselves to other women. But the truth is, when you step back, all women are beautiful, and you can find beauty in everybody. And so, I really want my kids to operate from that perspective and celebrate what they find beautiful about themselves and celebrate what they find beautiful in other people as well.

RI:

What are your beauty and self-care routines on set?

KC:

My trick is to do all my prep work very early and very thoroughly so that when I'm actually shooting, I can always get a good night's sleep and always work out, even if it means sacrificing everything else like a social life, family life, personal time — I'll have time for that when I'm done shooting. I really feel that sleep and a healthy body are the key to everything. I consider being well rested an important part of not just doing my job but also my beauty routine. I wake up, I drink 36 oz. of water every morning with electrolytes, a lemon, probiotics and vitamin C.

RI:

Any products you gravitate towards?

KC:

I love the Hydration Replenish Microencapsulated Moisturizer. It's so rich and makes me feel like I'm doing work while I'm sleeping. And I also love the Radiant Reveal Brightening Serum. I use this moisturizer called Booda Butter in the day. It's like this thick coconut oil, and I've been putting the Radiant Reveal underneath it and I feel like it brightens my face. I'm a pretty big minimalist, but I always like to do my eyebrows and curl my lashes and I do love the lip crayons. I feel like I can easily pop them in my fanny pack when I'm working.
RI:

Do you work out regularly?

KC:

When I was doing Marry Me, I was in quite a lot of pain. I had some herniated discs in my neck and when I would go to the doctor it was like, "Oh, you can either get surgery or take Vicodin for the rest of your life." And I was like, that can't be the only way. And I had done yoga, I had always been active, I'd run a half marathon — but I never had a routine. And it was actually watching Jennifer [Lopez], who would have these long, massive days of work, but then go to the gym and do weight training, and she always looked incredible, and she always had energy. I talked to some of her people about what she does, and I ended up working with a weight trainer and doing weights for the first time in my life. It has completely eliminated the pain that I was developing, and I feel better now than I did when I was 20.

RI:

Have you seen your body change as a result as well?

KC:

When I started working with the trainer, he was like, 'this is about strength, not aesthetics.' And it was such a radical change of perspective for me because I'd always exercised for aesthetics. So I went into it with [the attitude] — I'm not even going to think about the way I look. I'm going to think about the way I feel, and I'm going to think about eradicating pain. Then a couple years later, after doing it for two solid years, I realized that I had changed. But it was not because I was looking at myself in the mirror or weighing myself or beating myself up. It was just because it had become a routine doing weights and it's very manageable. I'm a mother of three children, we don't have a nanny and I work this incredibly demanding job. So what I worked out with him was, it's an app and I have 20-minute workouts in it, and I do them four times a week and with weights in my garage. … I also stopped drinking; I stopped eating processed foods. It kind of changed the whole way that I look at my body.
"I want my daughters to grow up in a world where they celebrate and cultivate the badass and beautiful women around them."
RI:

With She-Hulk, was it important for you portray a female superhero?

KC:

My hope is honestly that the terms "female director," "female superhero" become obsolete — that they're just "superheroes" and "directors." I know we're not there yet. That's one of the things that I am really hoping can happen in the next decade, is that I'm just a director and She Hulk is one of the many superheroes in the pantheon who happens to be a kick-ass woman.

RI:

How do you see beauty standards shifting in Hollywood, and what are you doing in your work to help change them?

KC:

When I see a beautiful, empowered — some would say intimidating — intelligent woman, my instinct now, as a mature individual, is to join forces with her, to become her friend, to bask in her light. However, that's not what we are taught as little girls or young women. The media in Hollywood I think has conditioned us to look at bright, shiny, powerful women as threats, which leads to woman-on-woman jealousy, and to women tearing each other down. 

To me, there's definitely a scarcity mentality in Hollywood — as if there's only room at the table for a few of us. But I really think the opposite is true. And when we really start supporting each other, that's when the work of turning the tables really begins. I've seen it with Jennifer Lopez and her partner Elaine Goldsmith-Thomas. They are working to bring more women into the industry. They are examples of women who are going out and finding women and elevating them. And then on the story side, I'm always very keyed into the storytelling to make sure that we don't fall into the tropes of women immediately hitting other women just because they're beautiful or talented or threatening. I want my daughters to grow up in a world where they celebrate and cultivate the badass and beautiful women around them.
"My hope is honestly that the terms 'female director' and 'female superhero' become obsolete — that they're just 'superheroes' and 'directors.'"