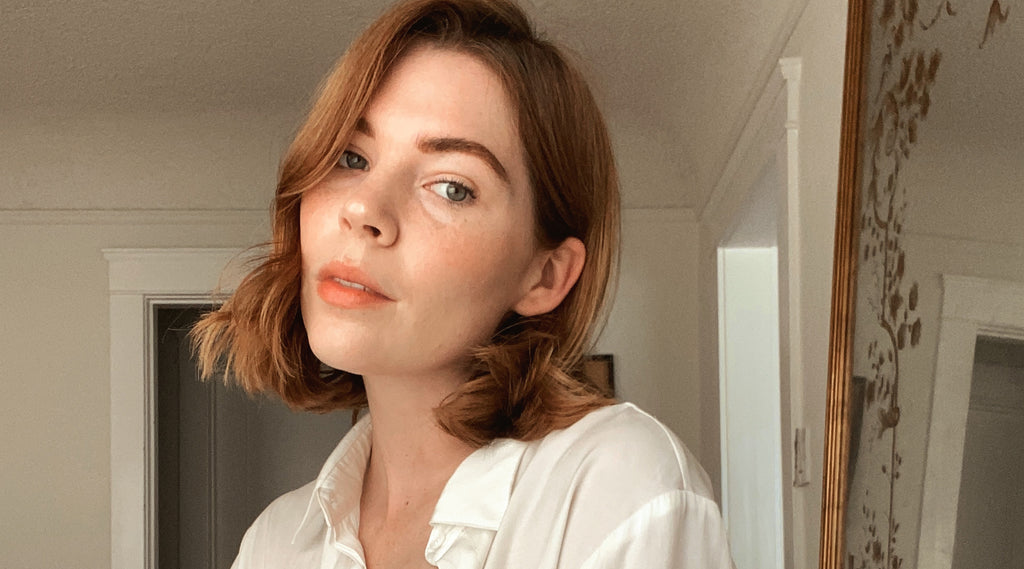 Actress Courtney Halverson Shares Makeup Chair Secrets
Interviews
Everybody has a story about beauty. In Rose Inc.'s The Profile, some of the world's most intriguing people share theirs. In this intimate interview series, we get (virtually) up close and personal to explore their definitions of beauty and path to self-confidence. Featuring imagery shot through their own lens, The Profile presents these compelling personalities in a new light—one that illuminates their own journey, dreams, and desires while highlighting their unique relationship with beauty.
When asked for tips and tricks from the professional makeup chair, actress
Courtney Halverson
first sets the stage. "I've worked on a lot of horror films and thrillers, so oftentimes the makeup my characters' wear is either minimal...or else a bit gory," she explains. "So I may not be the best person to ask!" Still, her professional range — she's also a
blogger with a cinema-inspired eye
— provides a wealth of beauty knowledge. "On the rare occasion I get to play a character who looks their best, I always ask a lot of questions in the makeup chair," she says. Spoiler alert: She shares her tricks for faking fresh makeup and creating a natural flush ahead.
Born and raised in Orange County, California, Halverson has been acting since childhood — you may have seen her in
True Detective, Criminal Minds, or Unfriended
— and blogging for a decade. "My first job-job was working at a secondhand shop," she says. "I was a buyer of vintage and new clothing for a while, and then opened my own Etsy shop of vintage reselling, and that's why I started taking photos of myself." This led to blogging which led to her love of all things beauty and now she balances it all from Los Angeles.
RI:As an actress, what kind of makeup tips and tricks have you learned on set?
CH:

I had a makeup artist on a TV show once tell me that she almost never puts makeup on noses, or else a very thinned version, as that tends to make our faces look overly made up and like a plastic doll. I've stuck with this and try not to make my whole face one tone — and typically skip foundation or concealer on my nose. I also always admire how many products I see makeup artists mix together, and try to do that a bit myself as the colors and tones always seem more lively when they're not one note. For instance I mix my Saie Slip Tint with equal parts sunscreen for a more even, toned look that still reads as skin. I do the same with lip colors and always blend two together. It makes me feel like an artist and it's fun to see the combinations that work best.

RI:What beauty rituals did you create for yourself in the pandemic?
CH:I think the biggest change for me was skipping out on makeup most days. I used to attend a decent amount of events and in-person auditions, so I reached for makeup frequently. Once I was at home and not really seeing others as much, I began to focus more on skincare and taking my time with that rather than covering my skin with makeup. Oils have always been key for me, I really don't use many creams, so I started focusing on taking time to apply face oils and use that as an opportunity for a facial massage, both in the evening and in the morning. I'm finding even now that I don't use makeup in the same way; it's something that is fun and I like for enhancement, but it doesn't feel as needed now that my skin is happier. Bi-weekly masking also became an easy thing for me to do while answering emails and editing photos, as well as taking a long bath and really moisturizing my body afterwards. I used to just towel off after a shower and move on with my day, but now I really spend time bringing the moisture back to my skin after stepping out of the bath.
RI:What do you believe about beauty now that you didn't before?
CH:I used to think of beauty and skincare routines as being something I had to do, like a chore. I didn't believe that my beauty routine could be more than that, but now it's become this slow moment and a chance for me to check in with myself. Not with my physical appearance, but with how I am feeling, in real time. I put my phone away and just take the time to really get lost in the moment.
RI:What is your first beauty memory?
CH:I remember my great-grandmother had this really beautiful face powder, with a little puff inside, and I would watch her put it on after a meal when we were out. I was fascinated by the glamour of it. It had a scent to it, and came in a beautiful floral-printed circular box. She had been using the same powder her whole life, and my mom and I would have to send it to her in the Midwest from California because they stopped carrying it at her local shop. I actually just spotted it recently online and the formula hasn't changed since 1935.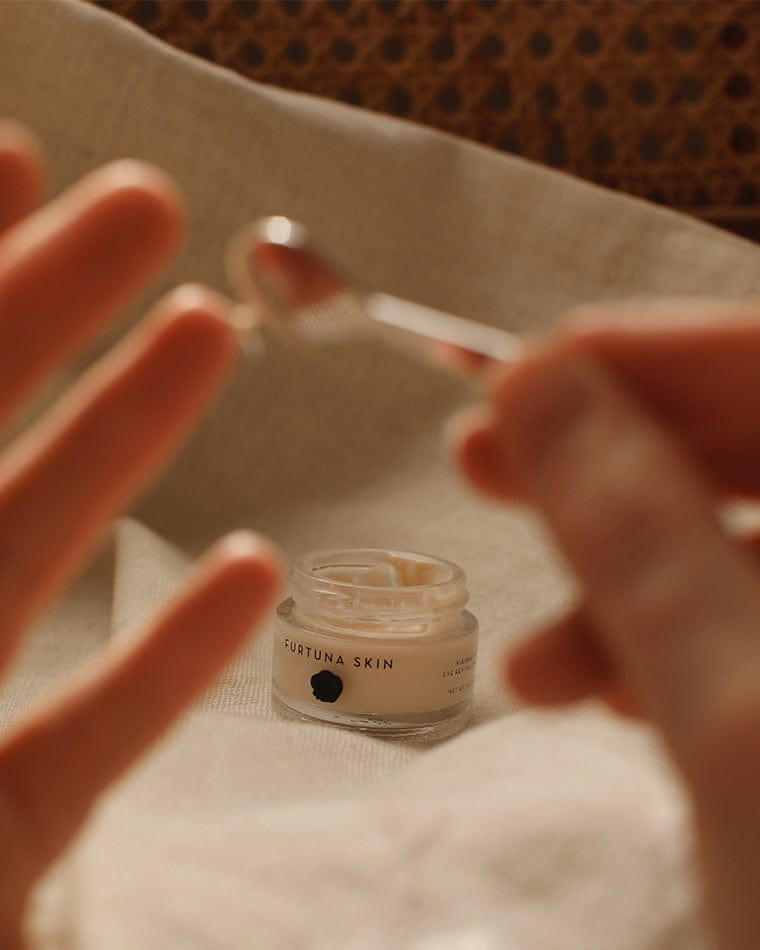 "It wasn't until I was older that I began to embrace all of the things I used to hate…"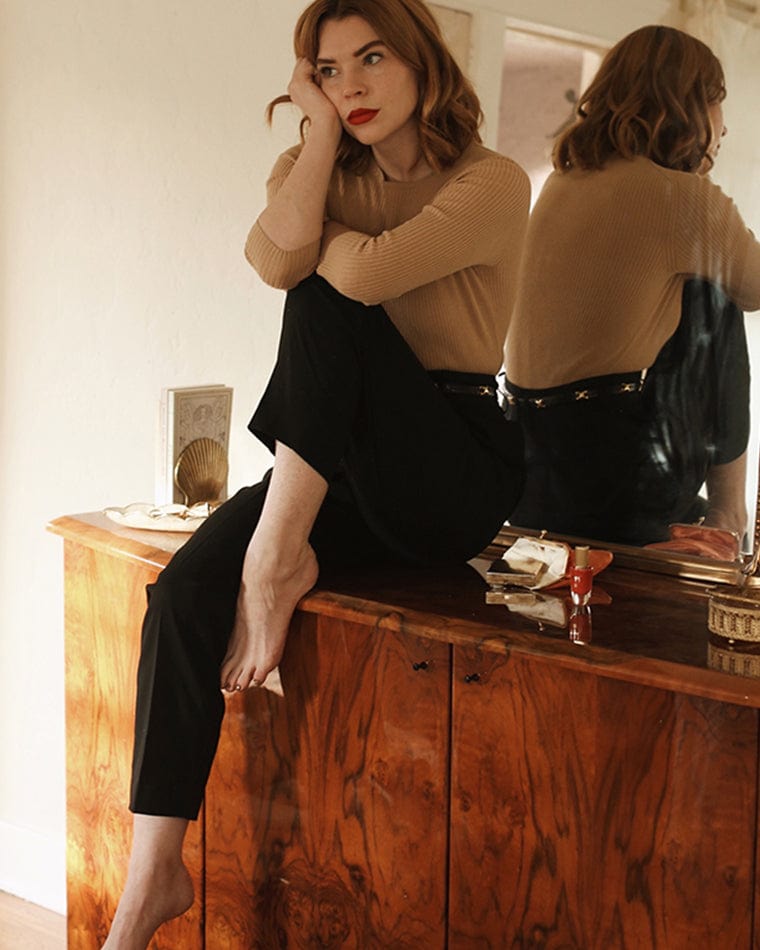 RI:Where do you find your creative inspiration?
CH:I'm a huge fan of magazine editorials and love turning to print for inspiration. There's nothing quite like picking up a few magazines to thumb through; it's just a nice, quiet ritual for me. I also really love period pieces, and watch a lot of costume dramas in general. There is a touch of that in my content, as I always want my work to feel a bit 'out of time', where it's a bit hard to place exactly when, and where, a photo was shot. A bit of romance, maybe a bit of drama, and always a touch of cinema is what I aim for in my work.
RI:What attracted you to makeup originally? Has that changed over time?
CH:I was first attracted to makeup when I was a very young teen because I saw it as a way to change how I look. Everything that I sought out was in an effort to hide the things that I felt made me ugly. I gravitated towards thick concealer to hide my freckles, and chose the wrong shade of foundation because I hated being pale and so desperately wanted to be this idea of a California girl; a beautiful blonde with a bronze glow. I used self-tanner exactly once in my life because I remember hearing someone in grade school say that I had 'librarian legs', whatever that means, and I stained my skin orange. It wasn't until I was older that I began to embrace all of the things I used to hate [like] my freckles, my pale skin, my red hair, and to not use makeup as a way to change any of that.
RI:What are your top five beauty essentials?
CH:

Mara Universal Oil, Furtuna Skin Eye Cream, Saie Beauty Slip Tint, Costa Brazil Body Oil, Summer Fridays R+R Mask

RI:What are some of your go-to tricks for makeup application?
CH:

I like a damp beauty sponge. I use Caudalie Beauty Elixir on my sponge for a really spa-like experience. I also like to thin my makeup out a bit, and mix a bit of Saie Sunscreen into whatever foundation I'm using to allow my skin to show through and to add to my SPF. For blush, I like to put a small amount on the tip of my nose to give a natural flush.

RI:What is your skincare regimen like?
CH:

I have pretty sensitive skin, so I keep my products minimal. In the morning I start by pressing face oil into my skin; I like Mara Universal Oil or their Vitamin C Oil. I use a gua sha tool to help reduce any puffiness and to sort of sculpt my face a bit. I pat Furtuna Skin Eye Cream in and finish with Saie Sunscreen. I'll maybe do a mask if I have a shoot coming up, but I usually just let my skin be on most days.

I wash my face in the evening with Mara Cleansing Oil if I wasn't wearing makeup. If I was wearing makeup, I use Augustinus Bader Cleansing Balm followed by the Cleansing Oil. I use muslin cloths to dry my skin and pat in Mara Retinol Oil. I apply Caudalie Resveratrol Eye Cream, and then use Biologique Recherche p50 on my chest where I have some fine lines forming from the way I sleep. I follow that with Furtuna Skin Oil, which I pat in from my neck all the way down my décolletage.
"I like to put a small amount [of blush] on the tip of my nose to give a natural flush."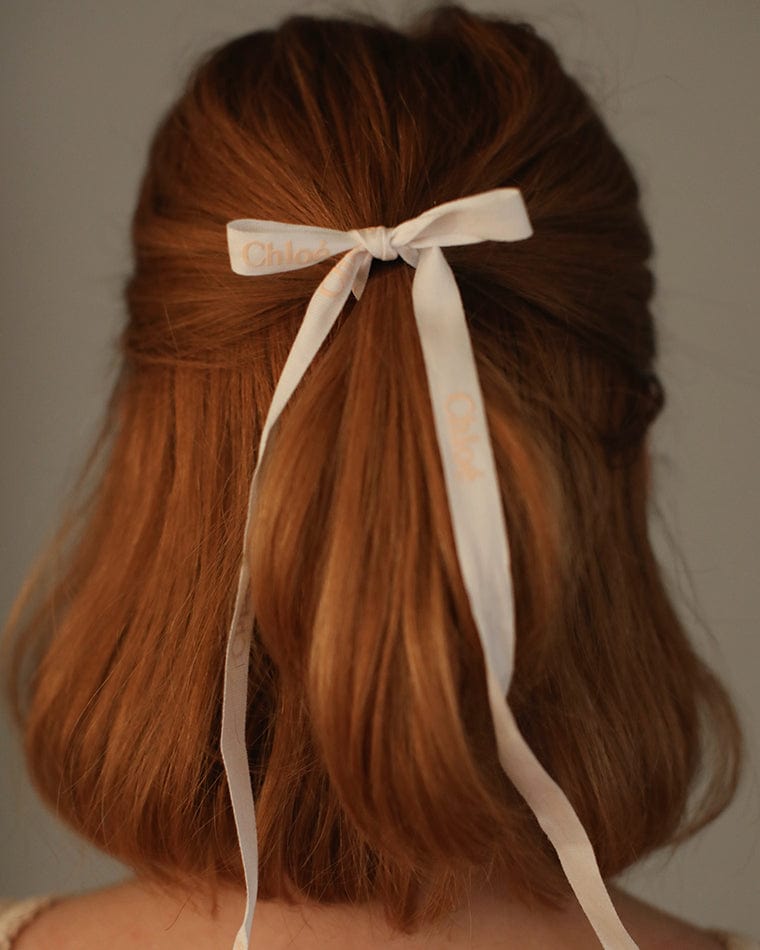 RI:How do you take care of your hair?
CH:

I'm pretty no-frills when it comes to my hair care, and try to wash my hair as infrequently as possible. My natural red hair has turned brown over the years, so I do dye it, and washing it makes the red fade very fast. I rely on a weekly color mask from Christophe Robin to help redeposit the color and I use dry shampoo a lot. My favorite is this brush-on version from Crown Affair. I try to limit aerosols and it just feels so chic to apply it right around my hairline and where I need it.

RI:Any day-to-day hairstyling tips?
CH:

I like to keep my hair short and curled under at the ends. I use a paddle brush and my hair dryer when it's wet to achieve this, and then really just let it do it's own thing for a few days after. I don't brush my hair daily, but do use a wide tooth comb from Crown Affair to keep it presentable. I am so happy that claw clips are back in style because they are perfect for warm summer nights.
RI:When do you feel most confident in your beauty?
CH:I feel most confident when I stick with the basics. Simple, glowy skin and maybe a splash of color and combed brows is what feels most me. I love to play with a bold lip, but truthfully, I feel most myself with a more minimal look. I like the idea that someone can see exactly who I am and that my skin can shine through. And of course a really lovely perfume goes miles and makes me feel especially confident. Scent is so important.
RI:What would someone never guess about you?
CH:I have always joked that my third wave career will be me starting an artisanal homemade butter company. It started out as a joke, but the older I get the more I like the idea.