10 / 28
EDUCATION
The Consult: Queenie Nguyen's Favorite Winter Nail Looks & Product Picks
Welcome to The Consult, your virtual appointment with the world's most in-demand beauty experts.
Stripes, dashes, and polka dots. Classic French tips and modern half dips. Mismatched monochromatic tones. It's never been easier to scan social media for the latest trending nail looks, but for celebrity and editorial nail artist Queenie Nguyen, ideating over her next design includes more than scrolling. "There's something so mysterious about Surrealism that keeps my curiosity going," she says about the artistic movement that inspires much of her work. "I'm slowly growing more interested in contemporary art, too. I'm usually drawn to unique patterns, color palettes, and classic and modern fashion trends as well."
The Los Angeles native grew up in the industry—even working part time in her aunt's salon through high school and college before striking out on her own—which allowed her to master her technical skills early. Using her lengthy salon experience and love of art history, she quickly became the L.A. up-and-comer thanks to her ability to elevate classic designs with expertly-selected colors and artsy details. Paired with a gentle-is-better approach to nail care, she's a go-to for celebrities like Saoirse Ronan, Julia Roberts, Barbie Ferreira, Carey Mulligan, and many more.
Of course, few things have changed the nail industry quite like the past few months, but despite the COVID-19 global pandemic, Nguyen just opened her first solo studio space for celebrity and private clients who want a more luxurious experience than what's traditionally available on a rushed set. Stocked with all things nail health—from scrubs to masks to oils—and the latest color releases, it's a treasure trove for nail lovers. To celebrate her opening, Rose Inc. consulted Nguyen for the three pillars of winter nail care: her favorite nourishing products for cold weather, the best polish shades for the season, and modern nail art inspiration she's loving, which she created on her own nails, ahead.
Nourishing Products
Hand washing and sanitizing is at an all-time high as we enter the colder months in the midst of a global pandemic, so it's vital to keep one's hands and nails hydrated. "In order to have healthy nails, it's also very important to take care of your hands and the skin around the nails in order to promote growth and strength," Nguyen says. "Think of it like a whole treatment experience." Her in-studio protocol includes scrubs, soaks, creams, and oils.
"I love exfoliation to get rid of dead skin so all your moisturizers can penetrate and hydrate better," she says, noting that Aesop Redemption Body Scrub and Nécessaire Eucalyptus Body Scrub are her current favorites. Soaks, she says, are also crucial for adding moisture to parched skin and cuticles, so she recommends Mazz Hanna CBD Bath Fizz and Dr. Hauschka Sage Purifying Bath Essence 
Follow with a hand mask—like Aveeno Repairing Cica Hand Mask or Nails Inc. Thirsty Hand Super Hydrating Hand Mask—for extra moisture, then always coat nails and hands with oil and cream, respectively. "Use an intensive hand cream for nighttime and a lighter lotion with SPF during the day," Nguyen says. She suggests Chanel La Crème Main Hand Cream, Byredo Rose Of No Man's Land Hand Cream, or Odacite Intensive Hand & Heel Therapy for indoors and Supergoop Handscreen with SPF 40 for outdoors.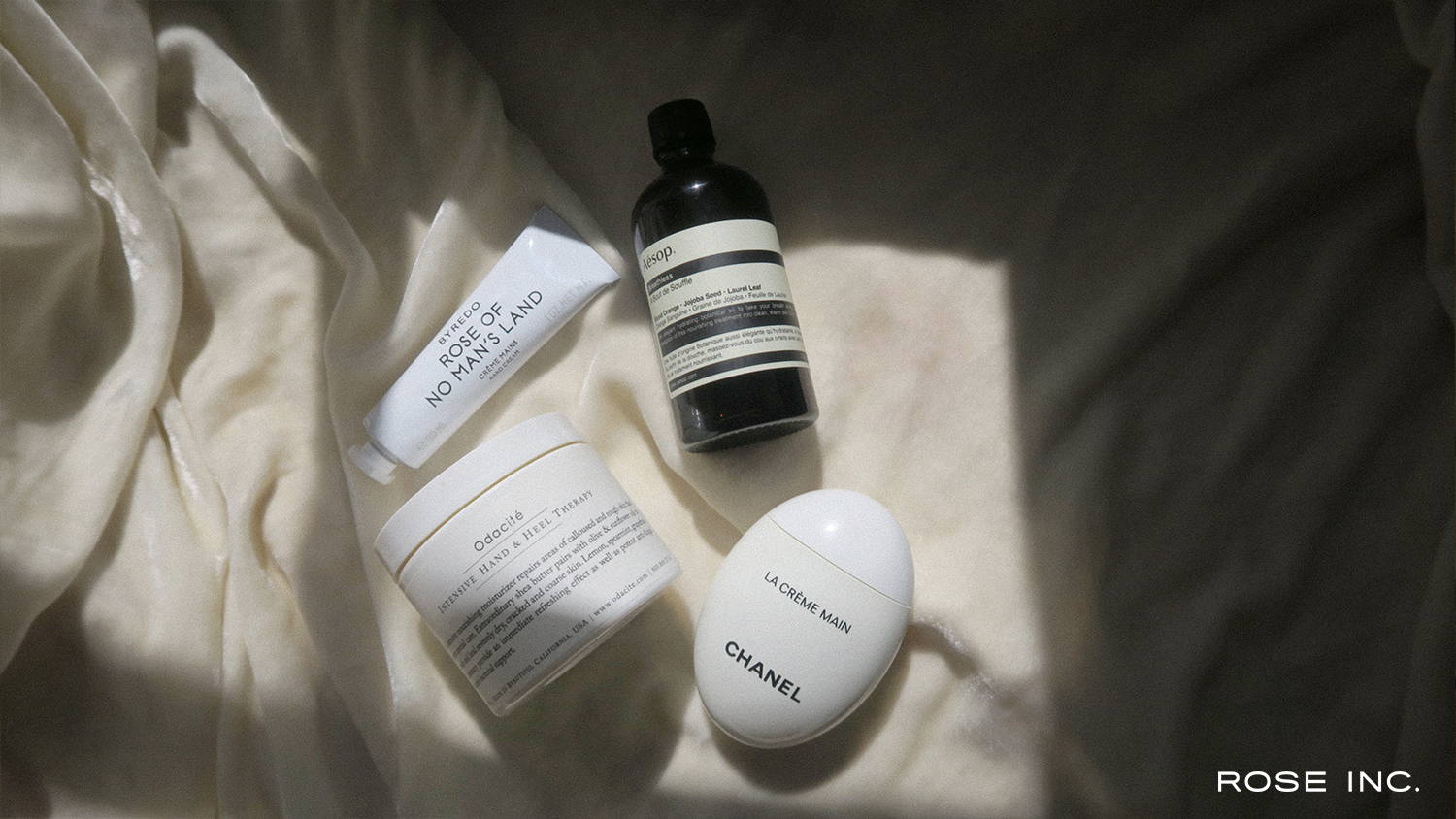 Adding a fine line of brick on top of the burnt orange adds a little pop of contrast and creates an overall monochromatic vibe...
When it comes to oils, Nguyen loves Orly Argan Oil Cuticle Drops and Mazz Hanna Cuticle Oil for fingers and Dr. Hauschka Lemon Lemongrass Body Oil and Aesop Breathless Hydrating Body Treatment for hands and feet. For those who crave even more luxury, Nguyen recommends Breo Wowo S Hand Massager to release hand tension.
Strengthener & Polish
To increase strength, whether going bare in the current climate or looking to speed growth for your next manicure, Nguyen recommends Orly BB Créme, OPI Nail Envy, or Nailtiques Formula 2 Nail Protein. "I've been wearing strengthener on my nails for the past 13 years," she says. "Apply two coats by itself or under nail polish."
When it comes to nail color, Nguyen is gravitating towards the rich and moody. "My favorite colors for this fall and winter are warm tones like burnt orange, mustard yellow, brown, terracotta, olive green, and deep, burgundy red," she says. Currently on her vanity is Chanel Le Vernis Longwear Nail Colour in Emblématique and Rouge Noir, Orly Nail Polish in Canyon Clay, Tom Ford Nail Lacquer in Smoke Red, Dior Vernis Nail Lacquer in Rouge 999, and J.Hannah Nail Polish in Ghost Ranch.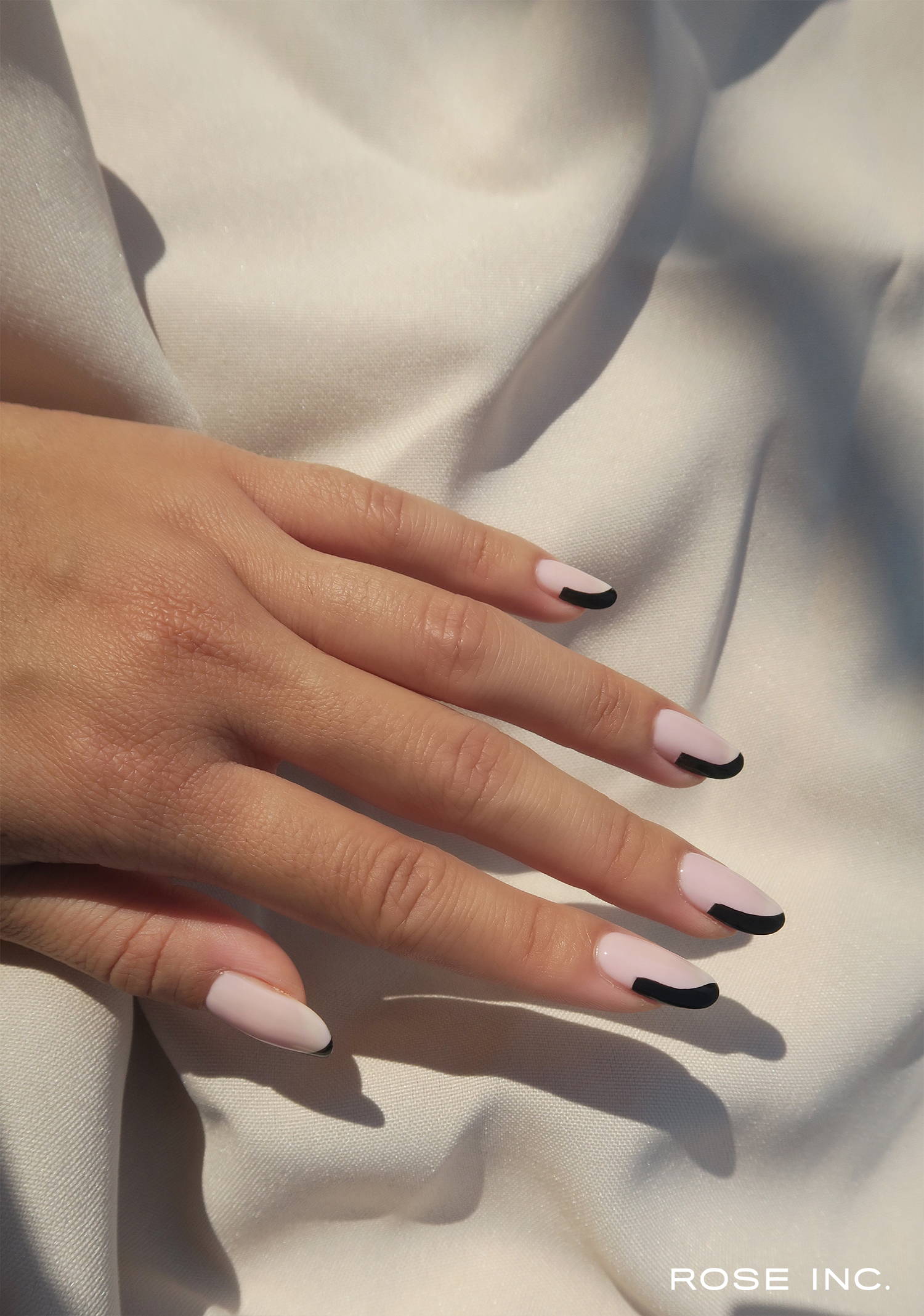 Elevated Nail Art
Nguyen has been keeping an eye on the latest fall trends, including negative space designs grounded in a sheer, nude color. "That way, the overall nail art doesn't look overwhelming with too many colors," she says about the three French-inspired looks she created for Rose Inc.
Her first look, a subtle-contrast French, consists of two rich shades. "Adding a fine line of brick on top of the burnt orange adds a little pop of contrast and creates an overall monochromatic vibe," she says. "Create the classic French look on all the nails, then add a fine line done in a different color across the middle on each nail."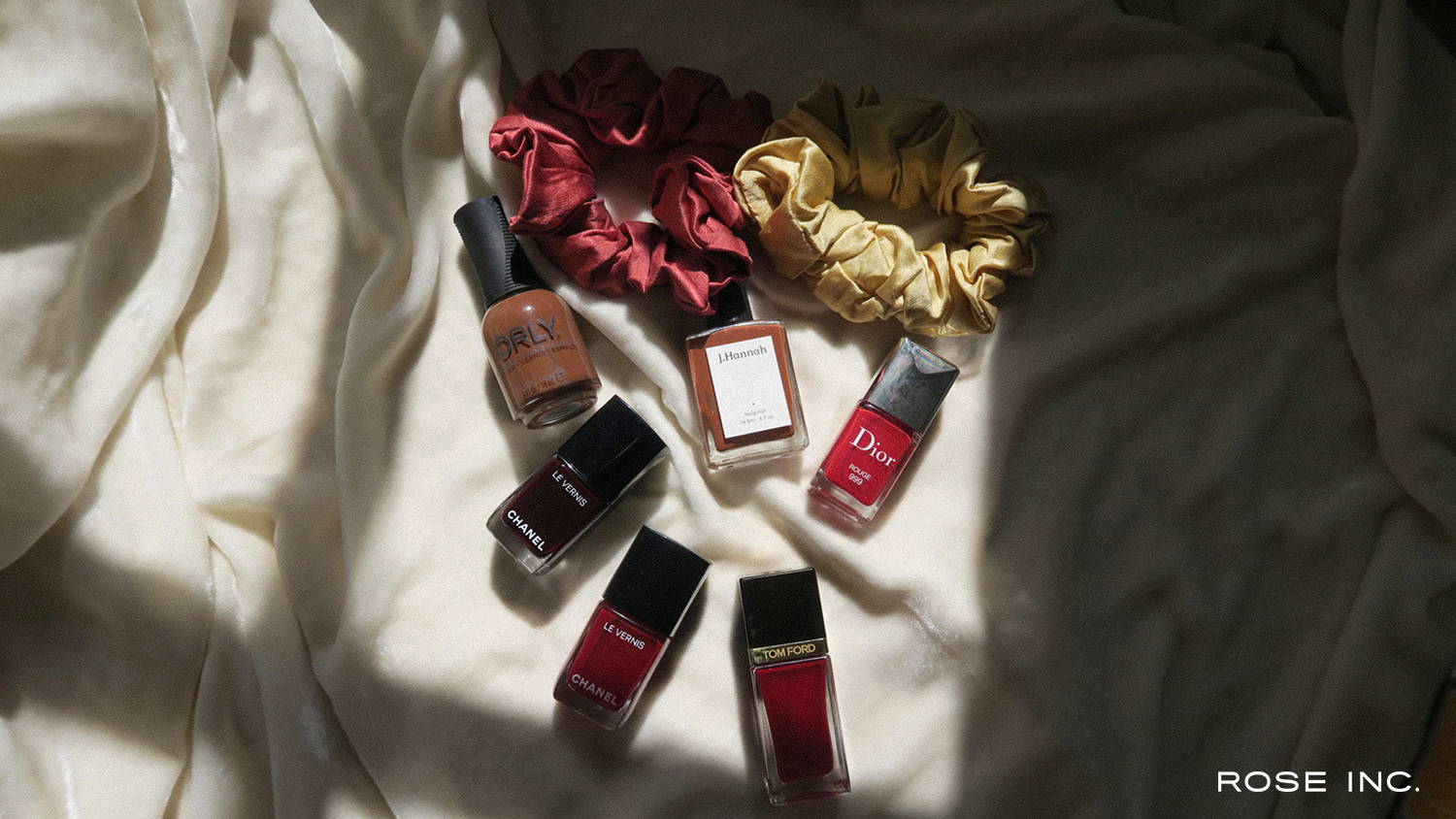 For the boldest look in the trio, Nguyen called upon mod-inspired fashion. "Sometimes, I like to create a more non-traditional French look to change it up," she says. "Map out the bold block of black on one side of the nail starting in the middle and finishing at the free edge, then fill it in to make sure it isn't blotchy."
An unexpected fine-line French came last. "I like to play up a French look by doubling or tripling the fine lines on top of one another," she says. "The key is to have a super-fine striping brush that is long and easy to pull the polish. Pay close attention to each line and work on one nail at a time."
For those attempting these looks themselves while salons are still closed, Nguyen suggests going slow. "Rushing makes the process less enjoyable and the art might not turn out as expected," she says. "Take your time and try to enjoy doing your own nail art."