09 / 13
EDUCATION
How Hairstylist Sunnie Brook Got Through Postpartum Hair Loss
The celeb stylist shares valuable advice for fellow new moms.
"My hair was so full and shiny while I was pregnant, I felt like I had better hair days than not," recalls celebrity hairstylist Sunnie Brook about her pregnancy with daughter Ela. "Three or four months after giving birth, I started losing a significant amount of hair. Areas around my parting looked sparser and the clumps that came out in the shower made me cry a few times...it was pretty devastating to see such a drastic change in my hair."
Referred to as 'excessive hair shedding' by the American Academy of Dermatology, the association reports that the common occurrence "usually peaks about four months after giving birth" and notes that "by their child's first birthday, most women regain their normal hair growth." While upsetting to any new mom going through foreign physical changes, as a professional hairstylist—Brook works with Elisabeth Moss, Jared Leto, Nicole Scherzinger, and many more—it was especially jarring, so Brook began educating herself about all things postpartum hair. "Hair goes through four stages of growth," she says. "In a normal hair growth cycle your hair is either in a resting or growing state, but during pregnancy and after giving birth, your body goes through a significant hormone, diet, and metabolism shift, which affects your growth cycle. During pregnancy, your hair is in a longer growing state due to higher levels of estrogen and other pregnancy hormones, and when pregnancy is over, your body goes through another hormone shift causing all the extra hair to fall out." Because the shedding happens quickly, the hair follicles are not prepared to replace the increased amount of shedding hair, she explains.
With her daughter now 14 months old, Brook can finally share what worked for her, so Rose Inc. tapped the celeb stylist for styling advice, product recommendations, and her best tips and tricks. And while her firsthand advice is no substitute for routine medical care, she hopes sharing her experience will help make styling and care a bit easier for others. Adds the AAD, "If your hair does not regain its normal fullness after one year, you may want to see a dermatologist."
From care to styling, Brook shares what she learned going through postpartum hair shedding, below.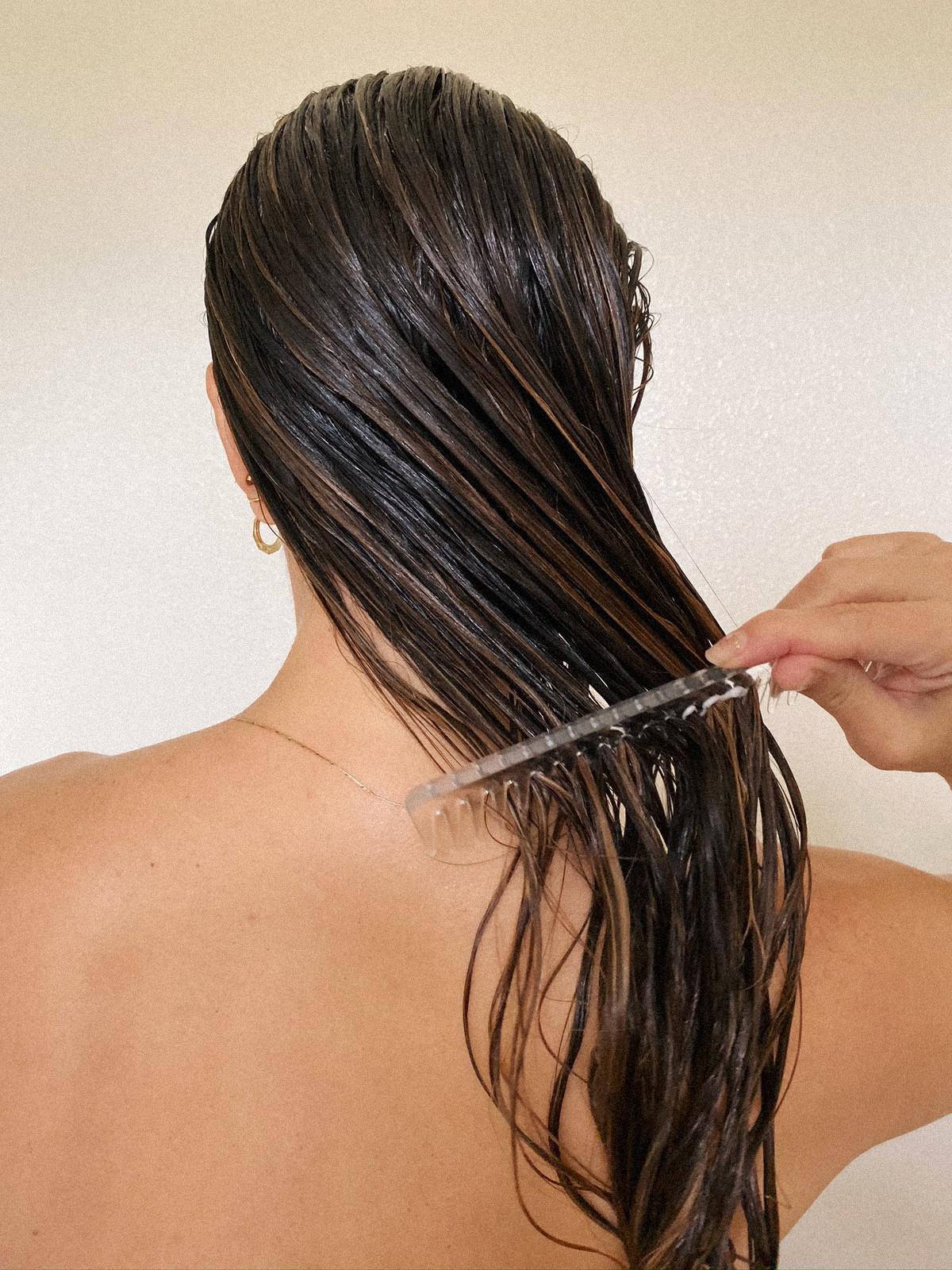 Brush Before Washing
"I found it really helpful to use a boar-bristle paddle brush to collect all the loose hairs before getting in the shower," Brook recalls. "It helped me notice the loss less. It can be so frightening to see clumps in your hand or the drain as you shampoo your hair."
Disguise Hair Loss with Powder
"Use Color Wow Root Cover Up to fill in areas that may leave the scalp more exposed," Brook says, adding that changing your part can also work wonders. "If you're losing hair at the temples, try doing a middle part. If you are losing hair all over and are experiencing a loss of volume, try flipping your hair to the other side. Then, play up your new hair growth with a textured bun or French twist to hide shorter strands."
Invest in Silk
"Put your hair in a loose braid and secure it with a silk scrunchie," Brook says about the nighttime routine that worked for her long hair. "This protects your strands from getting tangled at night or additional friction, which can lead to fragile hair and breakage. A silk scrunchie will keep your ends in place without any added stress—many other hair ties can pinch or easily tear the ends of your hair." A similar sentiment can be applied to those with short hair, simply opt for a silk bonnet, wrap, or pillowcase to reduce friction.
Be Strategic with Products
"During the repairing stage, it's important to protect your scalp and hair strands, especially when styling," Brook says. "I love the Vegamour GRO Hair Foam and GRO Dry Shampoo because the foam not only creates additional volume, but delivers the scalp benefits for growth."
...the clumps that came out in the shower made me cry a few times…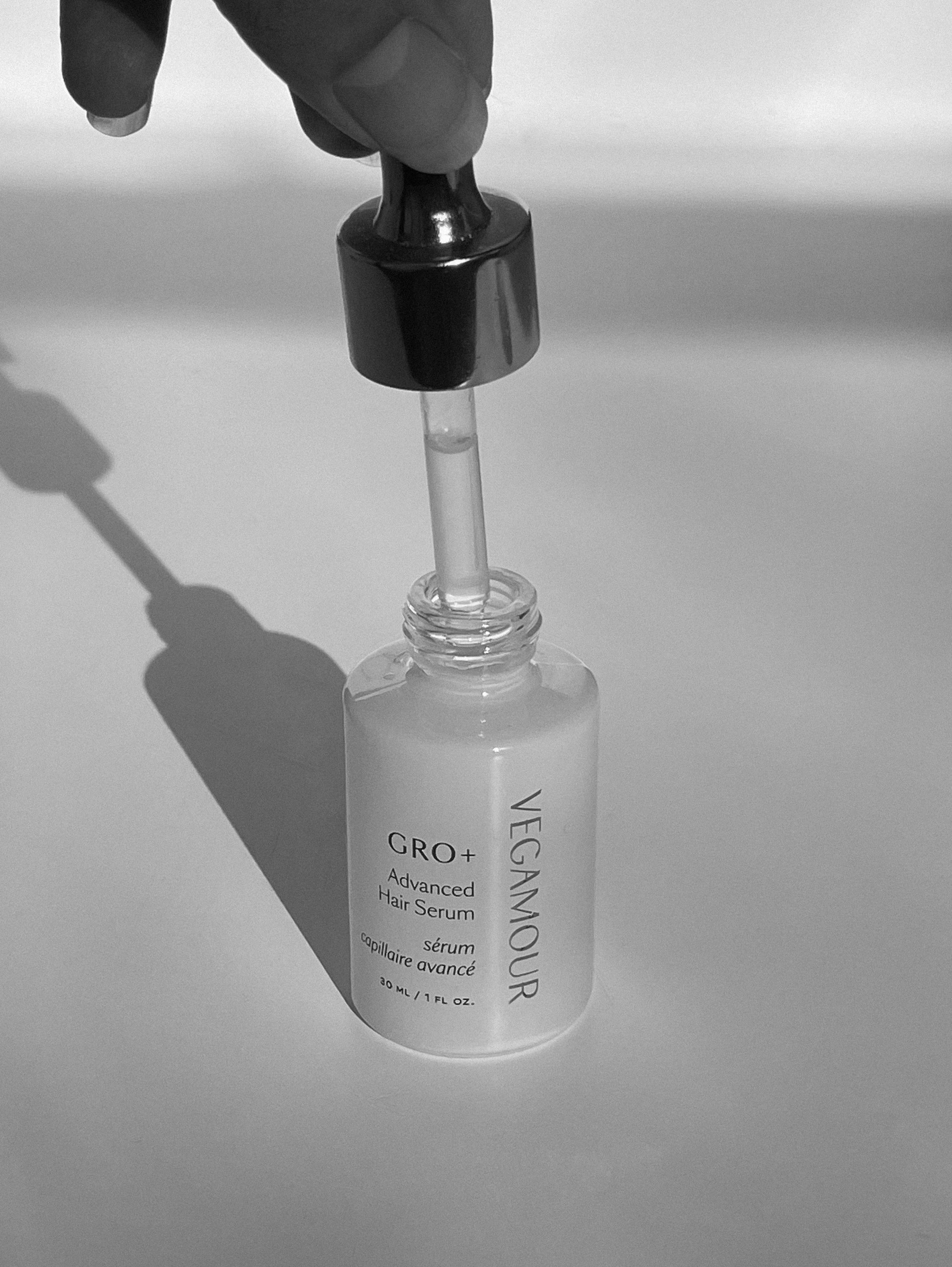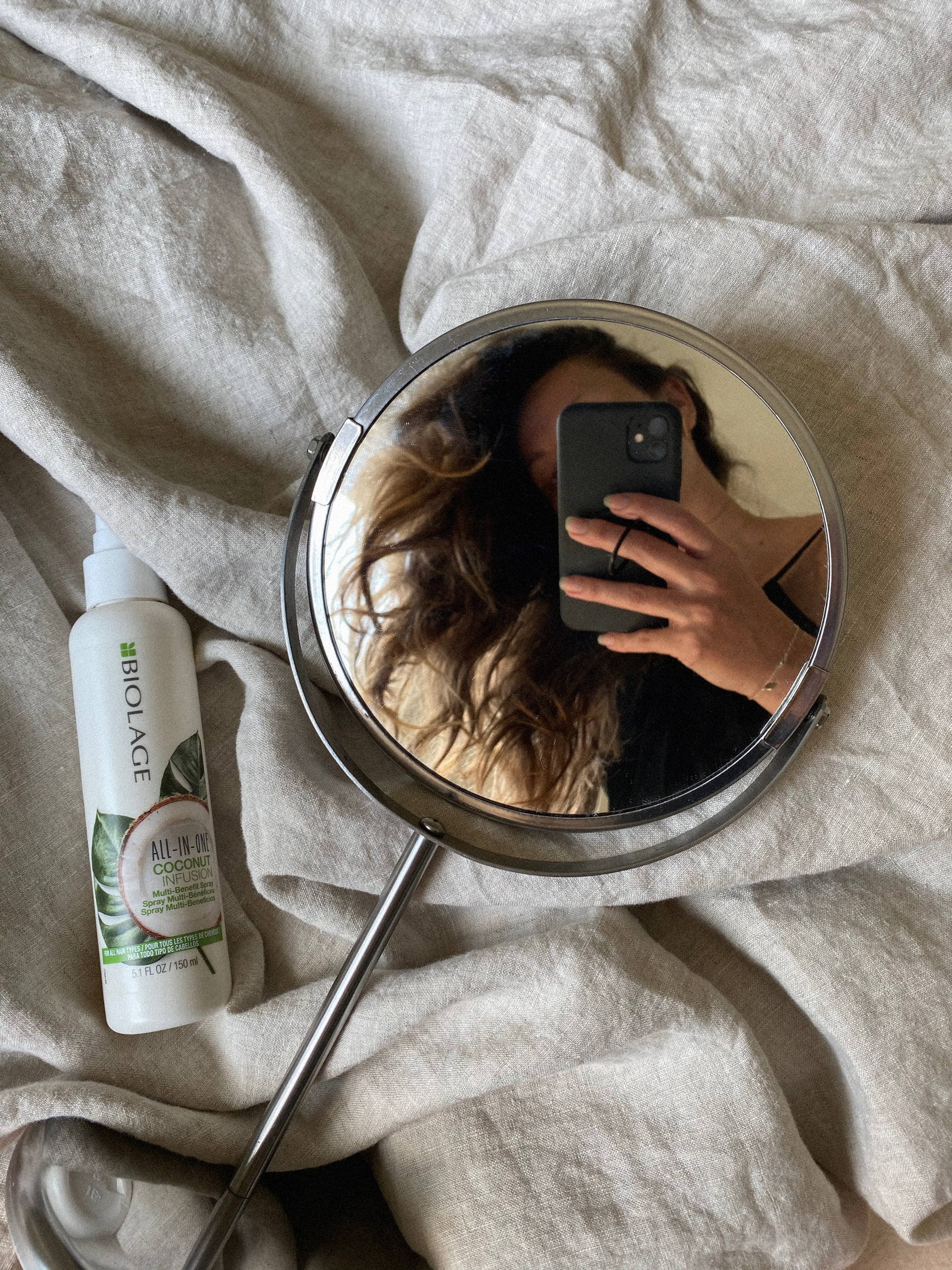 Invest Time in Masks & Treatments
"Use a hair mask once a week in the shower to ensure the hair you do have is getting the nutrients it needs," Brook says. As a spokesperson for Biolage, she recommends the brand's Hydrasource Deep Treatment Pack and Fiberstrong Deep Treatment Pack. "Use this for three minutes in the shower instead of your conditioner." In terms of leave-in treatments, Brook recommends Vegamour's GRO Hair Serum and Biolage R.A.W. Scalp Care Rebalance Scalp Oil.
Avoid Heat Styling
"Opt for air-drying your hair instead," Brook says. "If you do need to blowdry your hair, try using a lower heat setting or letting your hair air-dry about 60-75% before hitting it with the blowdryer."
Ask Your MD About Diet & Supplements
Always follow the advice of your doctor, but for Brook, maximizing key nutrients was helpful. She leaned into eggs, berries, spinach, fatty fish, sweet potatoes, avocados, nuts, and seeds and cut out high-mercury fish, sugar, and high glycaemic foods, she says. "They provide a good source of protein, biotin, omegas 3 and 6, and fatty acids that help to strengthen the hair cuticle and nourish the scalp."
In terms of supplements, Brook recommends talking to your healthcare provider to see if you're a candidate for adding things like biotin, collagen, iron, zinc, and vitamin D. "My favorite is subscription service Perelel because regardless of where you are in your motherhood journey, they pair you with the right subscriptions to match your nutritional needs," she says. Then, for specific supplements, she swears by Shore Magic Hydrolyzed Marine Collagen Protein and The Nue Co Plant Protein. But again, always check with your doctor before adding new supplements to your diet as many can be unregulated and are not well suited, or safe, for every person.