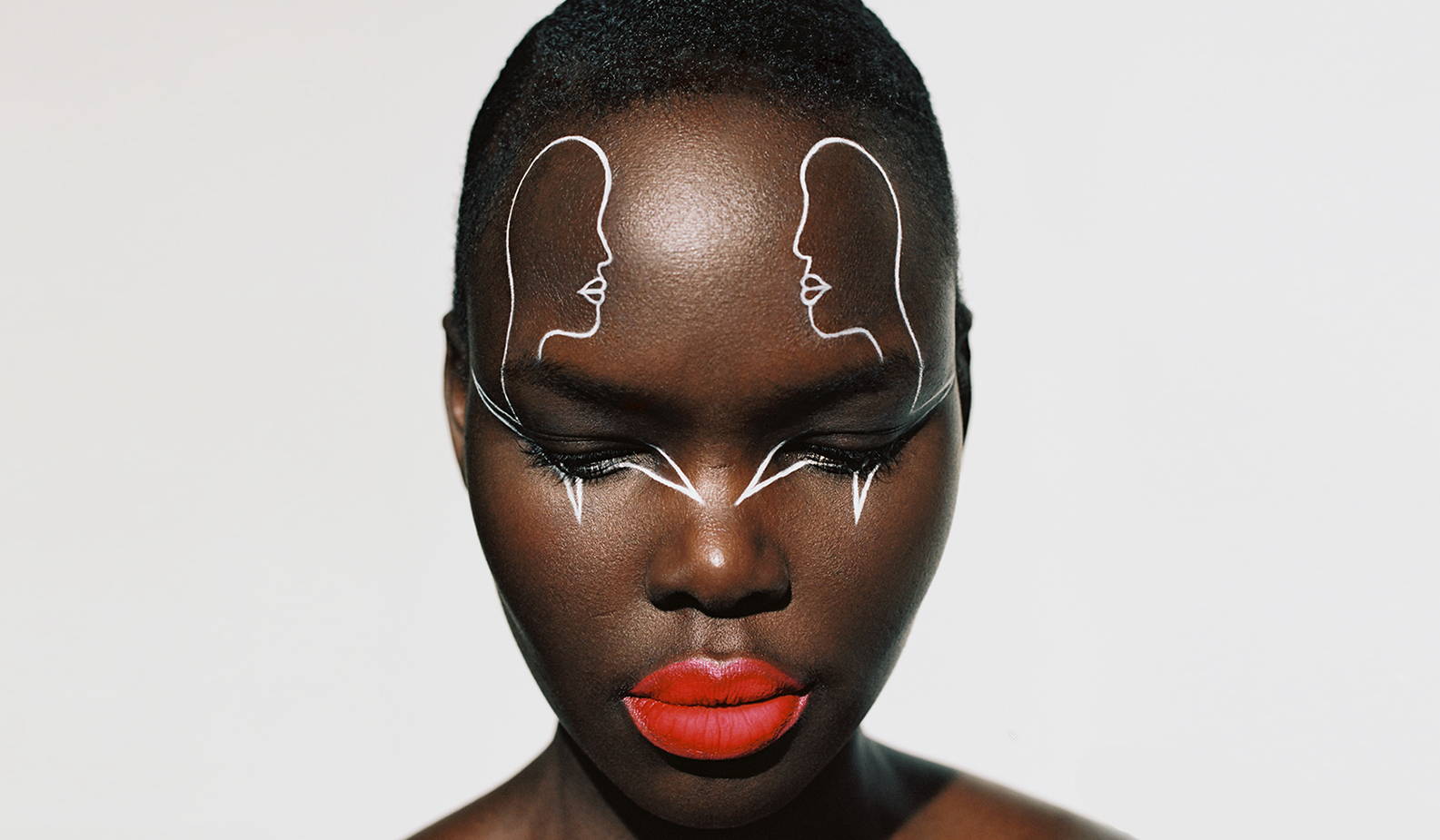 04 / 15
AIR TUTORIALS
Artist in Residency: Chiao Li Hsu's Head-Turning Play on Surrealism
Welcome to Artist in Residency, our series that brings the industry's most innovative makeup artists to Rose Inc. for a month of creativity and inspiration. Each week, you'll discover an original look—and the story behind it—created by an artist we love.
Face painting is a form of artistry that follows us through the decades, from childhood experimentation to expertly-blended cream blush ahead of an important Zoom meeting. For global makeup artist Chiao Li Hsu, the term "face painting" takes on a dual meaning. "I think because of my Chinese heritage and my upbringing in the Netherlands, my style is quite different from a lot of other artists," she explains. "Even though I like to be creative, there is still a minimalistic feel to my makeup."
Hsu's penchant for dreamlike illustrations, including intricate linework and unexpected subject matter, has made her a global phenomenon who travels effortlessly across fashion and beauty editorials, whether she's working with brands like Calvin Klein, Versace, and La Mer or creating living art for publications like Vogue. "I absolutely love both!" Hsu says about toggling between experimental and practical techniques. "I can do creative makeup with a twist, but I can also do classic beauty… My goal is to always enhance the beauty of the person I'm working with."
The London-based artist has always been interested in makeup—even scribbling over magazine models as a child to enhance their blush or eyeliner—but it wasn't until she began an intensive makeup course and moved to New York City years ago that the "half trained, half self-taught" makeup artist began to hone in on her signature style. Today, Hsu's Instagram is flooded with dreamy designs: Blended neons, striking shapes, and playful takes on face paint that blur the lines between provocative and practical. Working on in-demand model Ariish Wol, Hsu's goal was to lend a little inspiration after a tumultuous year for the world. For these reasons and more, Rose Inc. is delighted to feature Hsu as this month's Artist in Residency.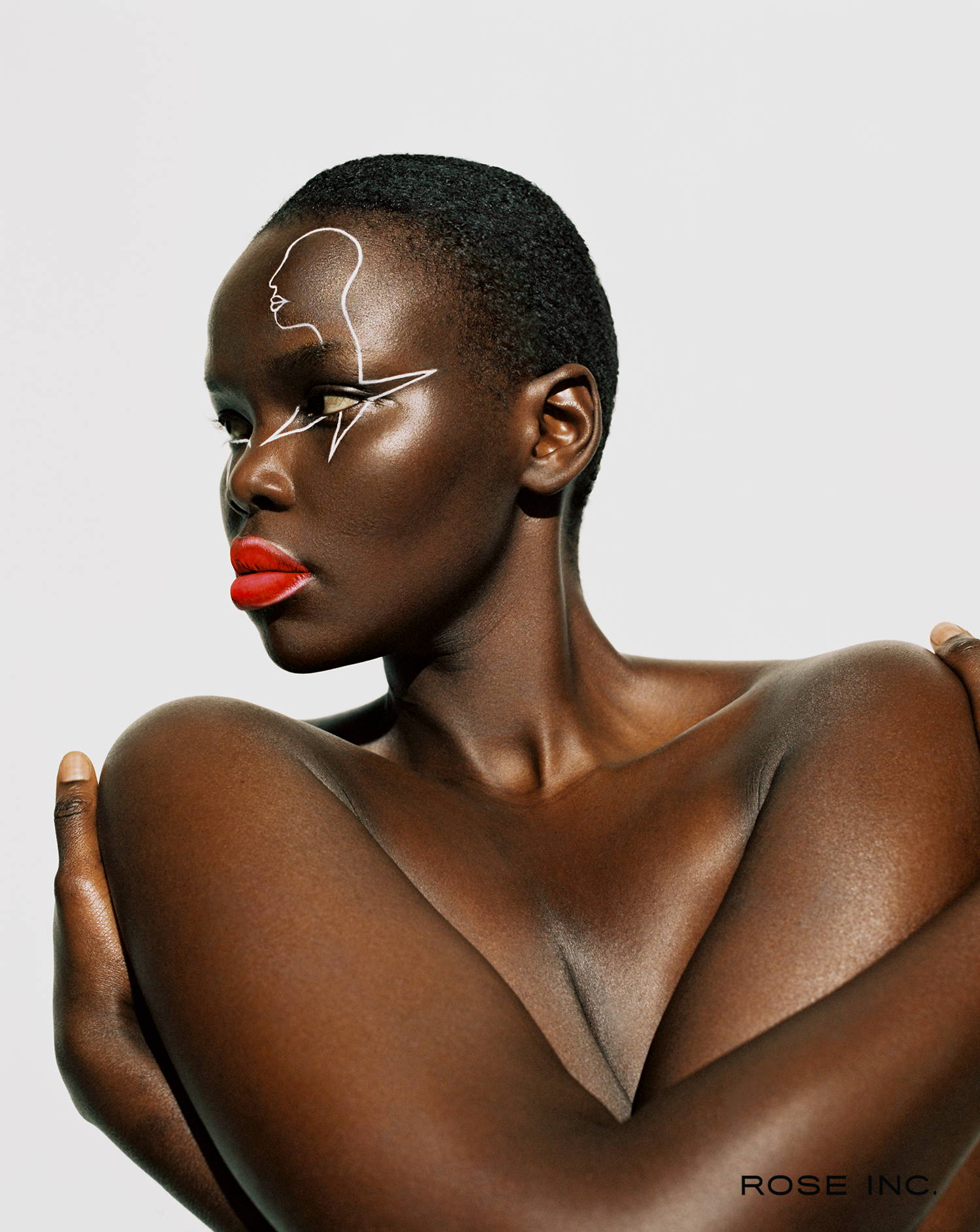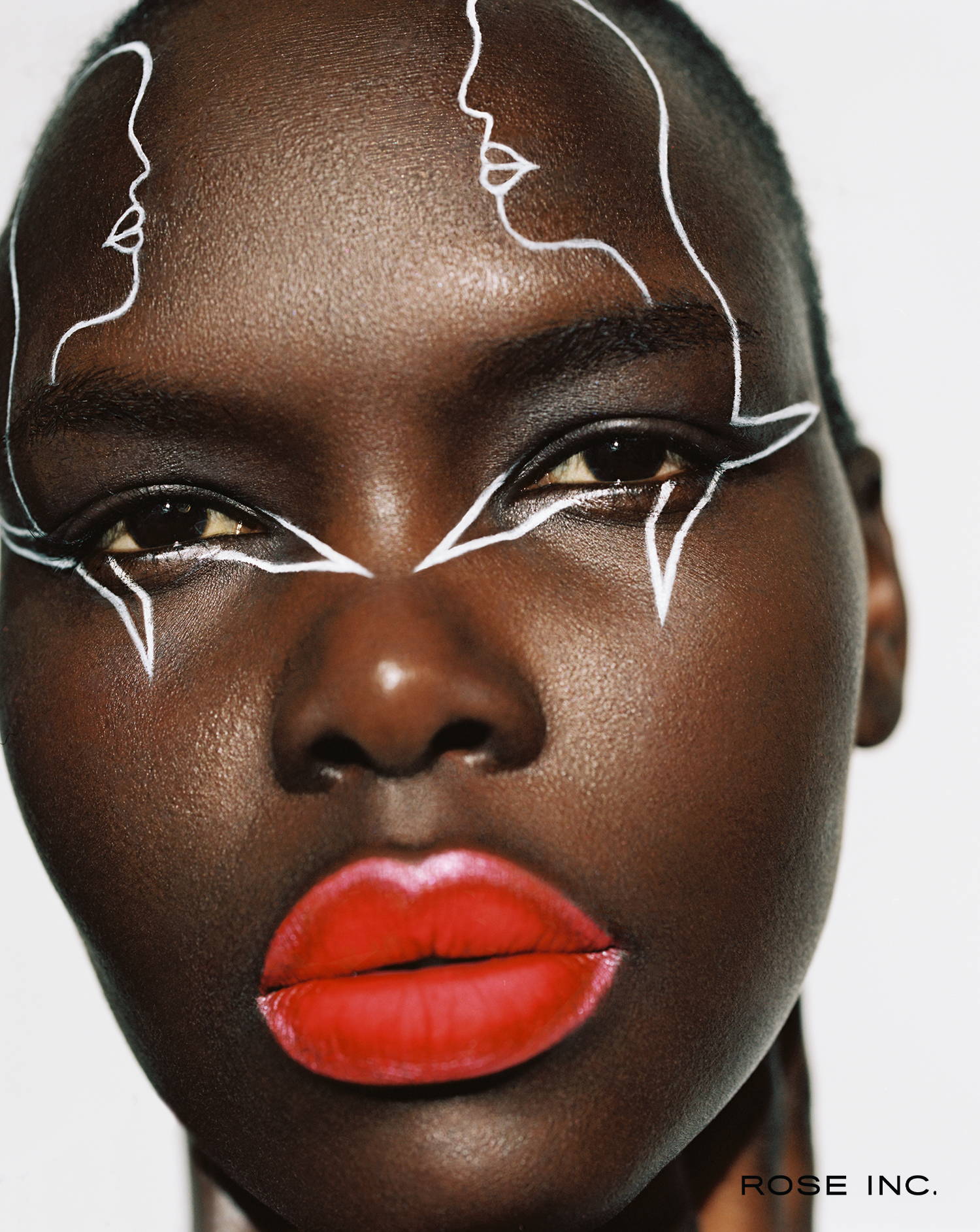 Her Residency Inspiration:
To be familiar with Hsu's work is to know that no line is off limits, whether she's connecting them from all angles for an avant-garde masterpiece or simply applying a gentle swipe of eyeliner. In the case of this simple-meets-Surrealist look—which embodies Hsu's nearly two-decade journey as a makeup artist—it required both. "I sometimes like a touch of Surrealism in my makeup," she says. "The inspiration for this look is actually my own, earlier work, [but] this time I wanted to combine my love for linework with eye makeup, so I designed two faces in profile." Giving new meaning to the term 'facial recognition', she finished the look with a swipe of red lipstick to be at once empowering and inspirational.
Behind This Look:
"I kept the face natural and a bit glowy," explains Hsu about one of the more subtle steps in this head-turning look. Similar to her first look, Hsu prepped Wol's skin with the Franz Skincare Rose Quartz Moisturizing Face Cream, an essential in the MUA's collection, then lightly applied Shiseido Synchro Skin Radiant Lifting Foundation for a dewy, dreamlike finish.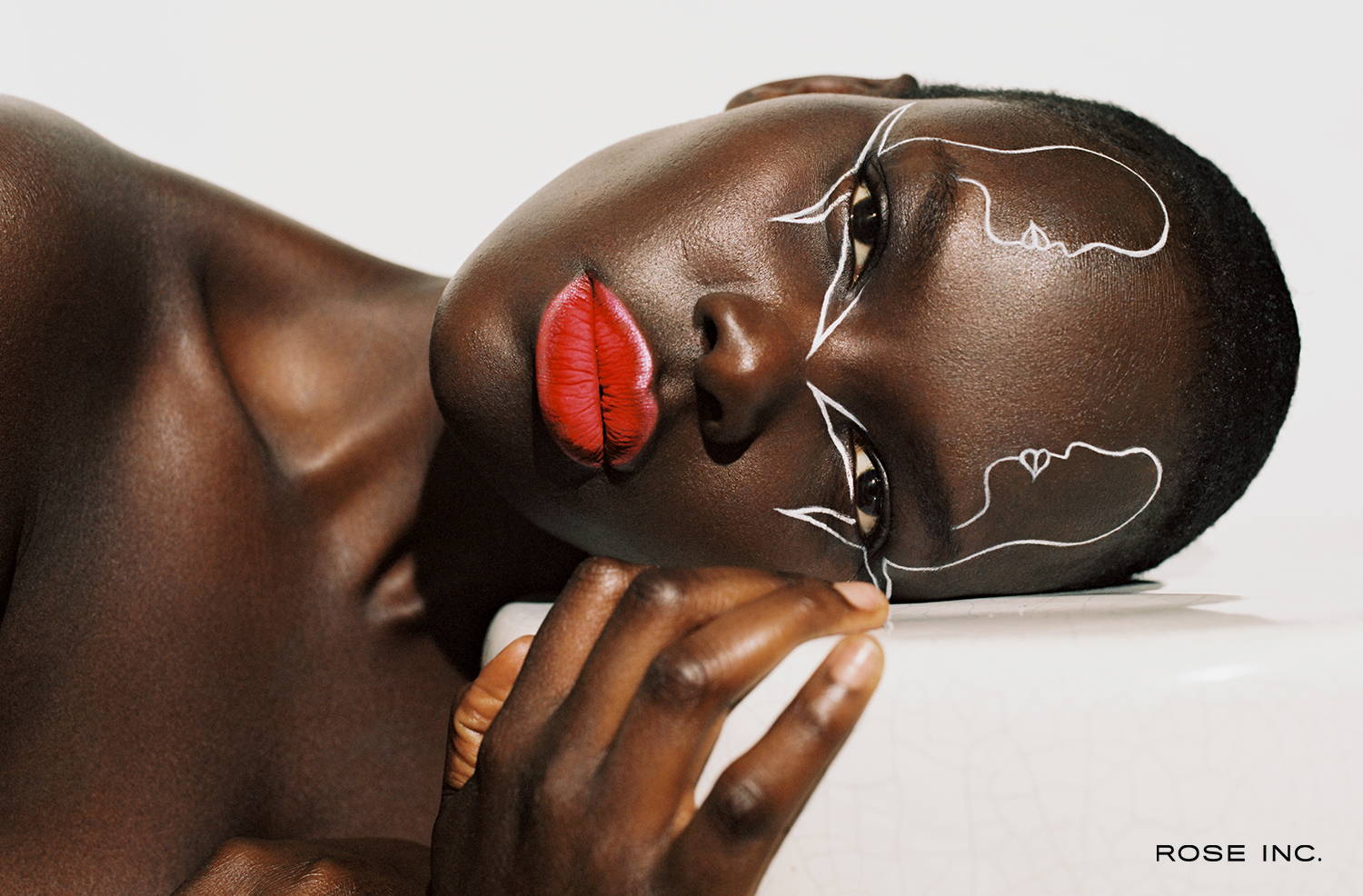 I sometimes like a touch of Surrealism in my makeup…
The second step involves an everyday essential: Shiseido Lash Curler. Hsu's favorite tool curls from corner to corner for an eye-opening look that draws attention sans mascara. Then, for the interconnecting white lines, Hsu used MAC Cosmetics Chromacake in Pure White mixed with Prep + Prime Fix+. "I started out by sketching the faces on her forehead with the Chromacake," Hsu explains. "Then I connected the little faces on the outer corners of the eyes with eyeliner. I decided to get a bit creative with the eyeliner, and added some extra spikes on the inner corners and under the eyes." Don't be intimidated by the intricate linework, as Hsu insists that it's quite easy to fix any eyeliner mistakes with a cotton swab dipped in micellar water.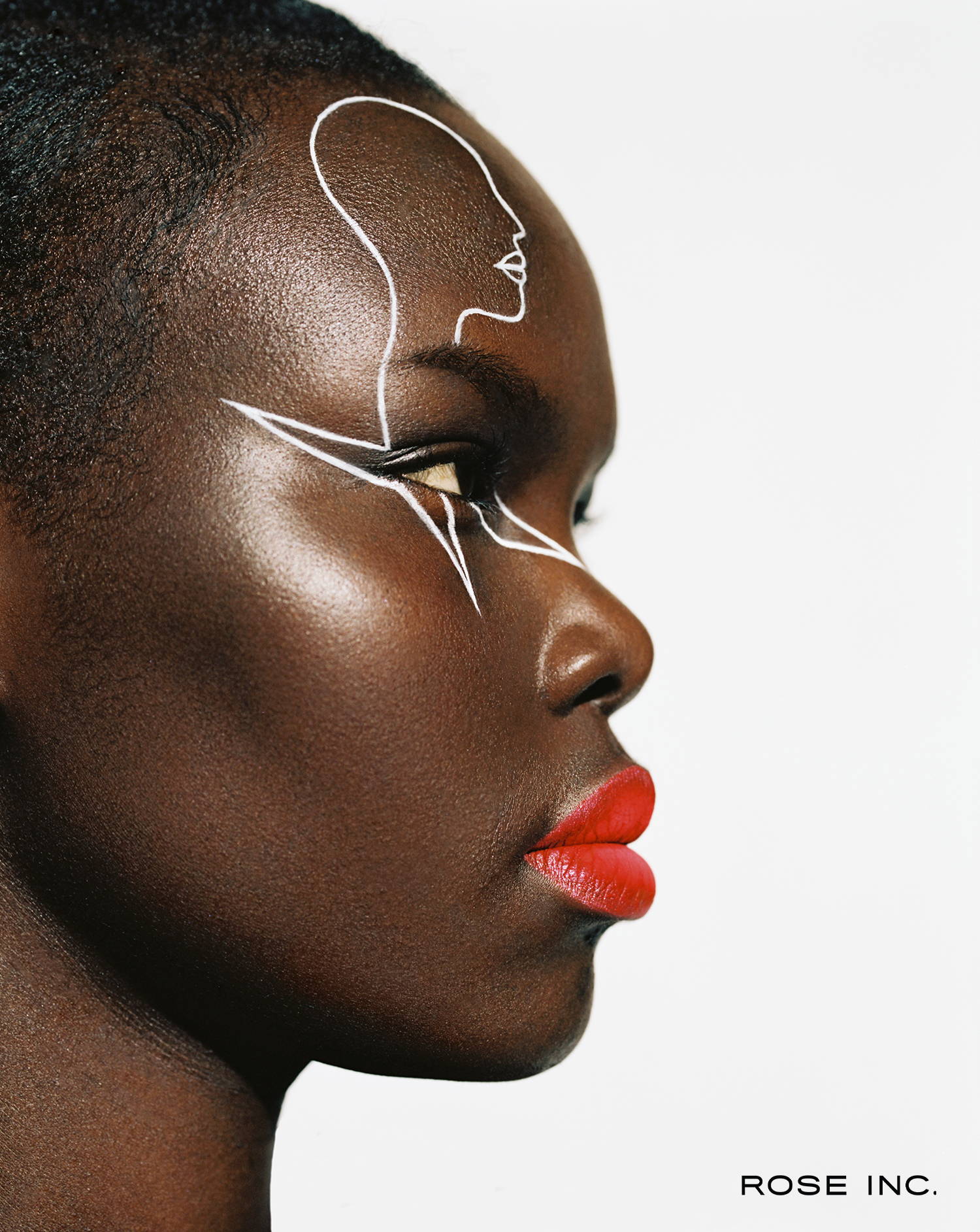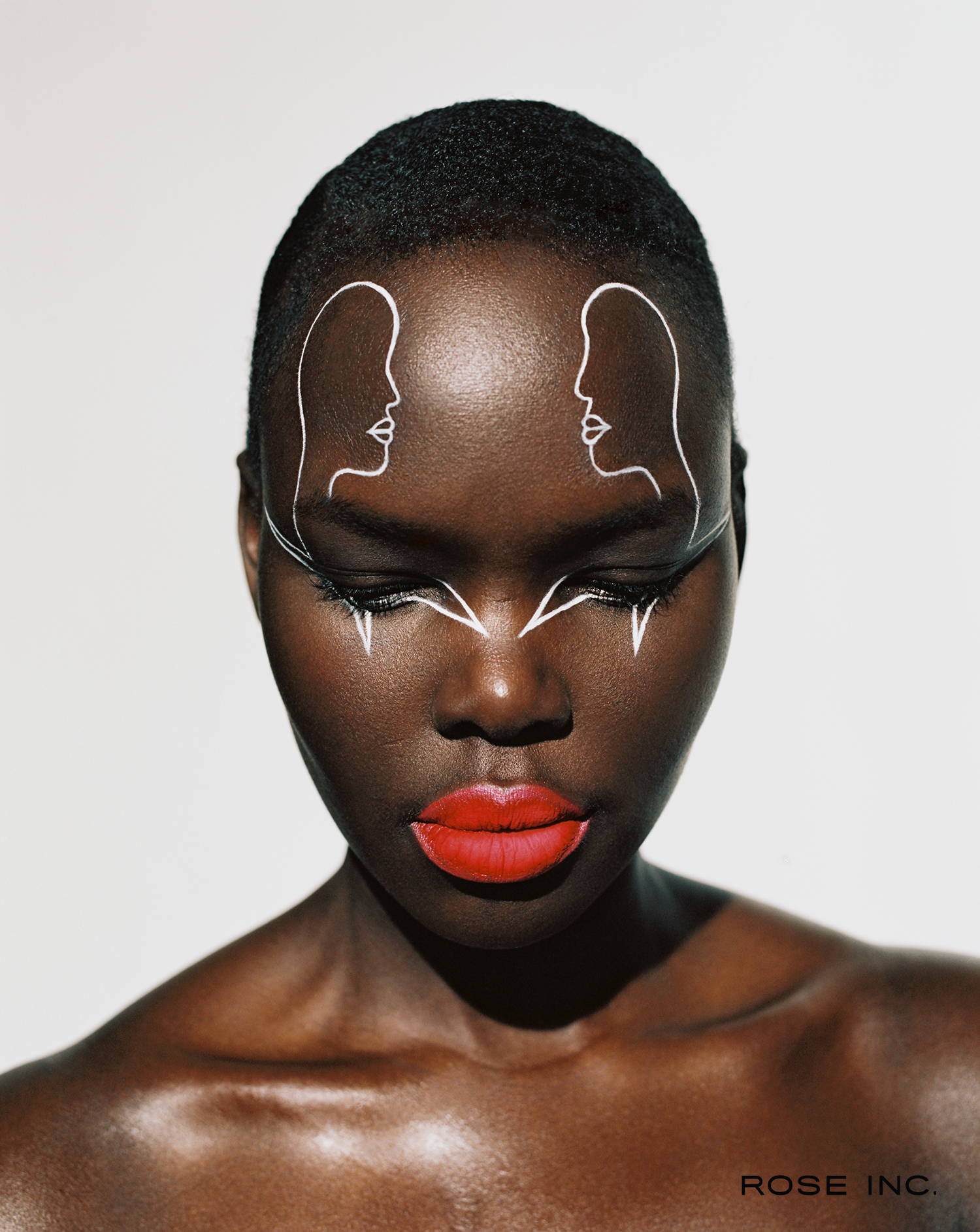 Finally, Hsu used a combination of red lipstick and pink eyeshadow for "reverse ombré" lips. First using Chanel Rouge Allure Velvet in 57 Rouge Feu on the model's entire mouth, Hsu then added a touch of softness by expertly outlining Wol's lips with a shimmery pink eyeshadow from the Byredo Prismic Palette. To finish the look, Hsu applied MAC Cosmetics Pigment in Basic Red over the red lipstick with an eyeshadow brush for a touch of sparkle.