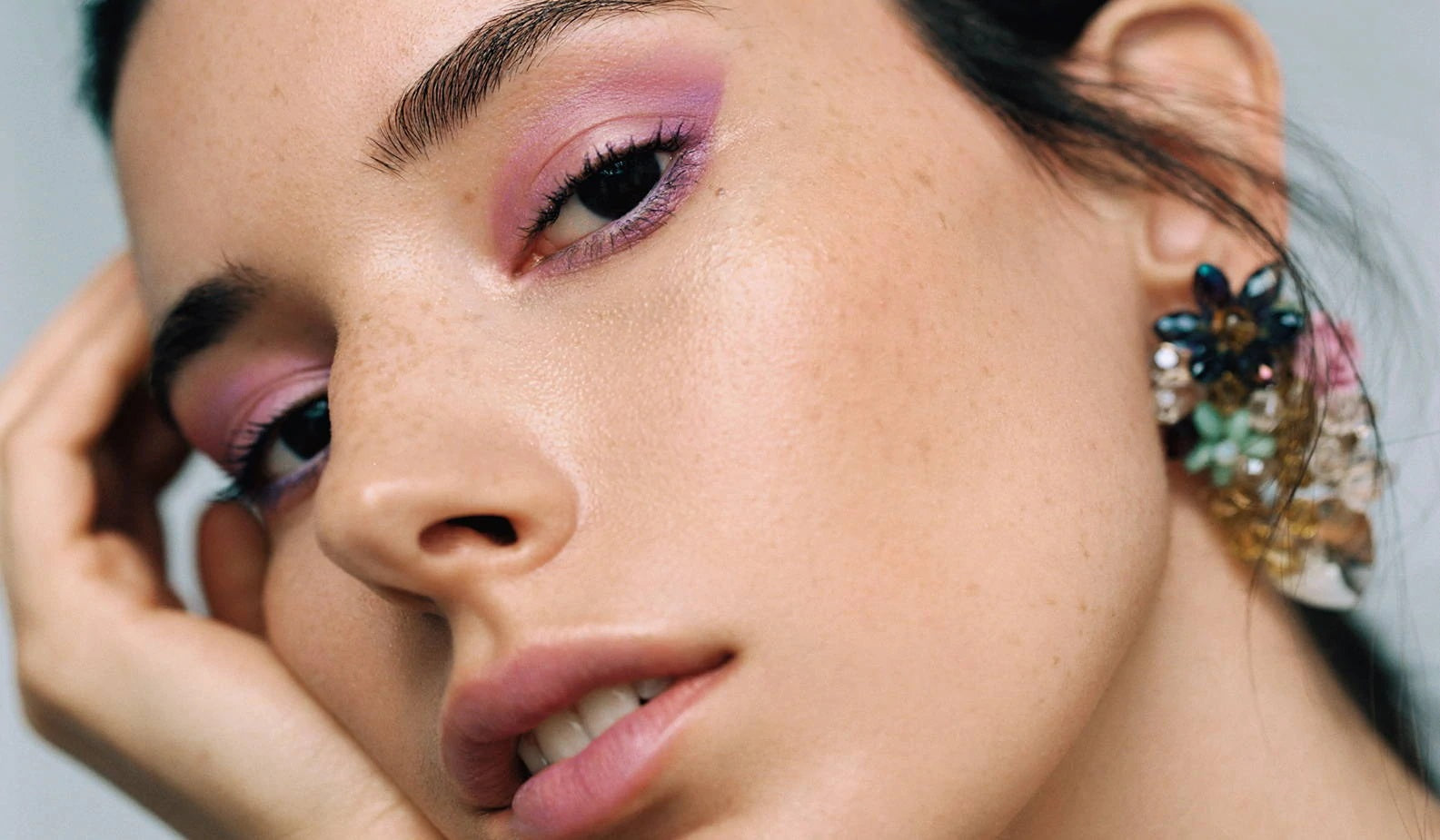 Artist in Residency: Adele Sanderson's Minimalist Approach To Purple
Tutorials
If one is to believe in signs from the heavens, being born on Halloween undoubtedly means you're destined for a life of dress up. Adele Sanderson knew early on she wanted to be a makeup artist thanks to her desire to transform herself—and not just on her birthday. She grew up in Cambridge, England and completed her schooling at London College of Fashion before assisting iconic makeup artist Wendy Rowe. Less than a decade since graduating, the British 20-something has already created an esteemed career for herself as an editorial makeup artist based in London. Now her work can be seen across publications, retailers, and brands like Vogue Spain, Net-a-Porter, and Dolce & Gabbana, respectively.

Call it fate, but despite her range of experience and the eternal allure of the red carpet, Sanderson always gravitates back to the freedom and expression that comes with editorial photoshoots. "I remember going through magazines like Glamour and Marie Claire when I was younger and studying the tutorials," she says. "The path was always going to be editorial for me."

Today, her unique ability to translate mainstream trends and create avant-garde looks, all while utilizing new formulations and delivering her signature glowing skin, has made her in-demand by photographers and brands alike. For these reasons and more, Rose Inc. is delighted to feature Sanderson as this month's Artist in Residency.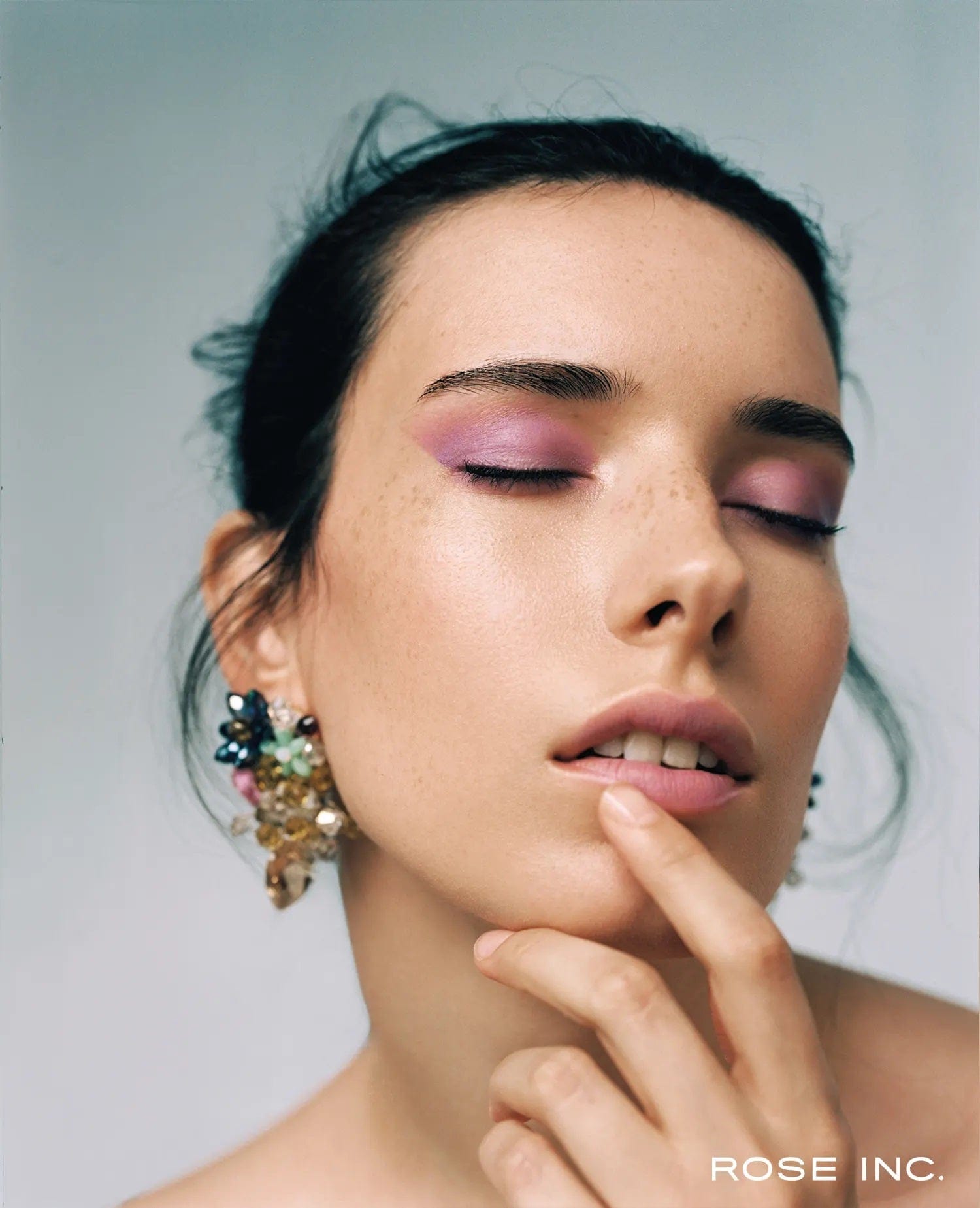 Her Residency Inspiration:

One, two, three, four—that's how many hero colors Sanderson challenged herself to use in each of her four Residency looks, respectively. As you might expect, the looks will become bolder as the weeks go by starting with the perfect daytime take on modern monochromatic makeup. "When I saw this eyeliner I thought, 'how far can I push purple before it's no longer wearable?'" she says. "This color is the perfect middle ground because it has enough pink to be worn all over the face." Using the same lilac gel eyeliner for mode lIsabella Ridolfi's eyes and lips—while maintaining a cool feeling by steering clear of powder and blush—these universally-flattering washes of color are simultaneously fresh, hip, and refined.
Behind this Look:
To temper the precious purple hue she planned to use on Ridolfi's eyes and lips, Sanderson opted for fresh, dewy skin courtesy of Giorgio Armani Luminous Silk Foundation applied with the brand's Blender Brush. Starting with just moisturized skin, she buffed a thin veil over the model's complexion then spot corrected with Glossier Stretch Concealer. Sanderson further grounded the forthcoming pastel pigment by lightly contouring Ridolfi's face with the brand's Maestro Liquid Summer before highlighting with Tom Ford Shade and Illuminate in Intensity One as the final step in the model's complexion protocol. The goal: Juxtaposition between soft and strong.
"This color is the perfect middle ground because it has enough pink to be worn all over the face."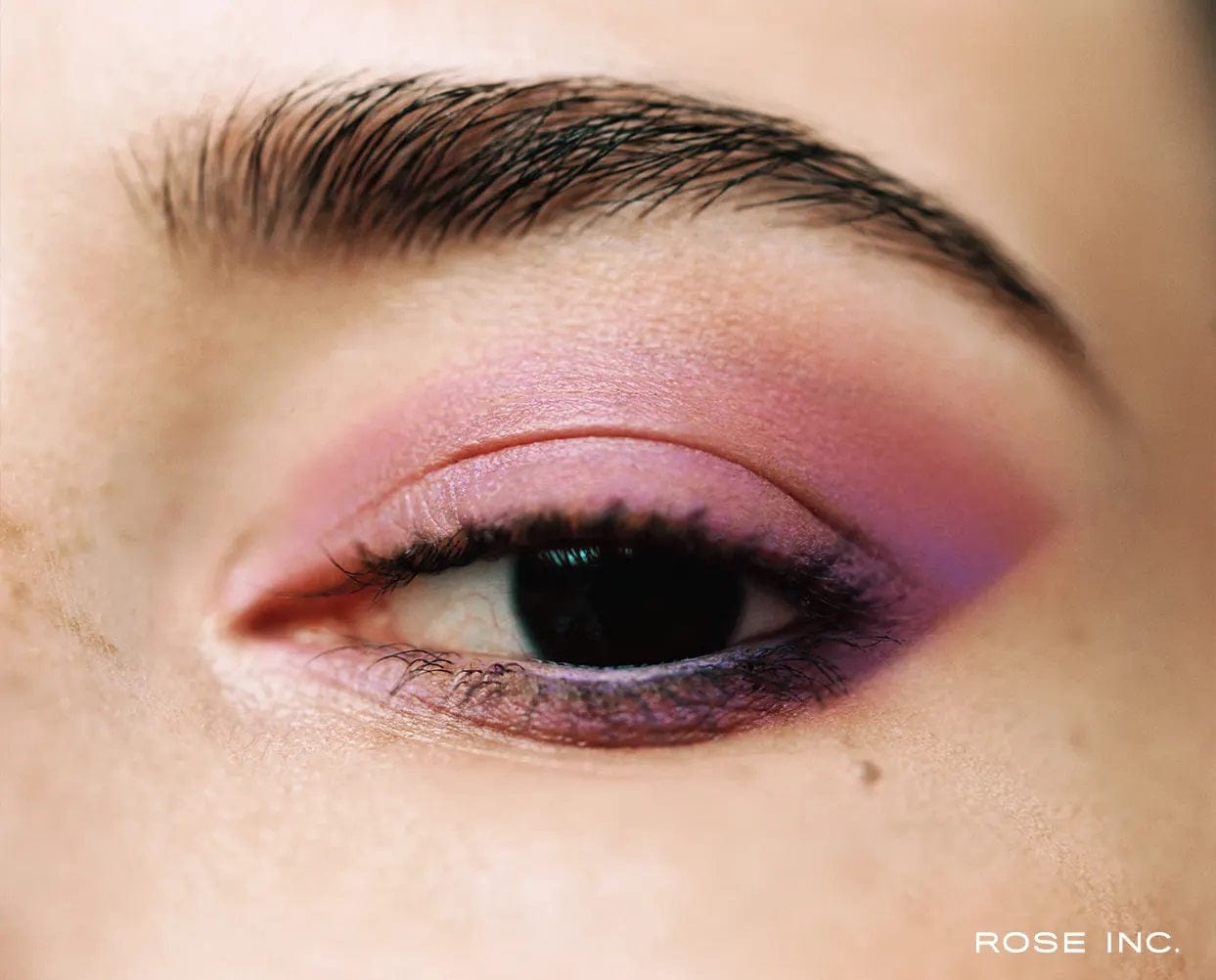 To start the eyes, Sanderson drew a thick line of Marc Jacobs Highliner Matte Gel Eye Crayon Eyeliner in Mist Me? onto Ridolfi's lashline and blended the color with a small brush upwards onto her lid and into her crease. "Keep in mind you want a wash of color, not a thick, opaque block, so step back and check it constantly," Sanderson says. For those that find this technique intimidating, try mapping out your shape first with a thin line, she notes: "Just don't go too high."

Focus on your opacity and don't get too hung up on your shape. "Don't worry about correcting the line as you go—that's what cotton buds and Bioderma are for after you're done," Sanderson says. "It's never going to look good at the start." Once you have the color where you want it, dip a thin, pointy cotton bud in remover and sharpen the line before touching up any complexion products you may have disturbed.
A delicate wash of color is strengthened with a defined frame, so Sanderson deepened Ridolfi's brows with Viseart Brow Palette before setting the model's arches with Glossier Boy Brow in Clear. A few coats of Tom Ford Ultra Length Mascara in Ultra Raven on Ridolfi's curled lashes finished her eyes.

While it might seem subtle, patting the same hue worn on the eyes onto the lips creates a cohesive balance that's pleasing to the eye. Sanderson outlined Ridolfi lips with the same Glossier concealer before pressing small amounts of eyeliner onto her lips with a clean finger. Remember, it should be a wash of color so the edges need not be sharp. "It's not all about perfection," Sanderson adds. "The edges should be a little blurry."

Isabella Ridolfi photographed in London by Anya Holdstock. Hair by Shukeel Murtaza. Written by Lexy Lebsack.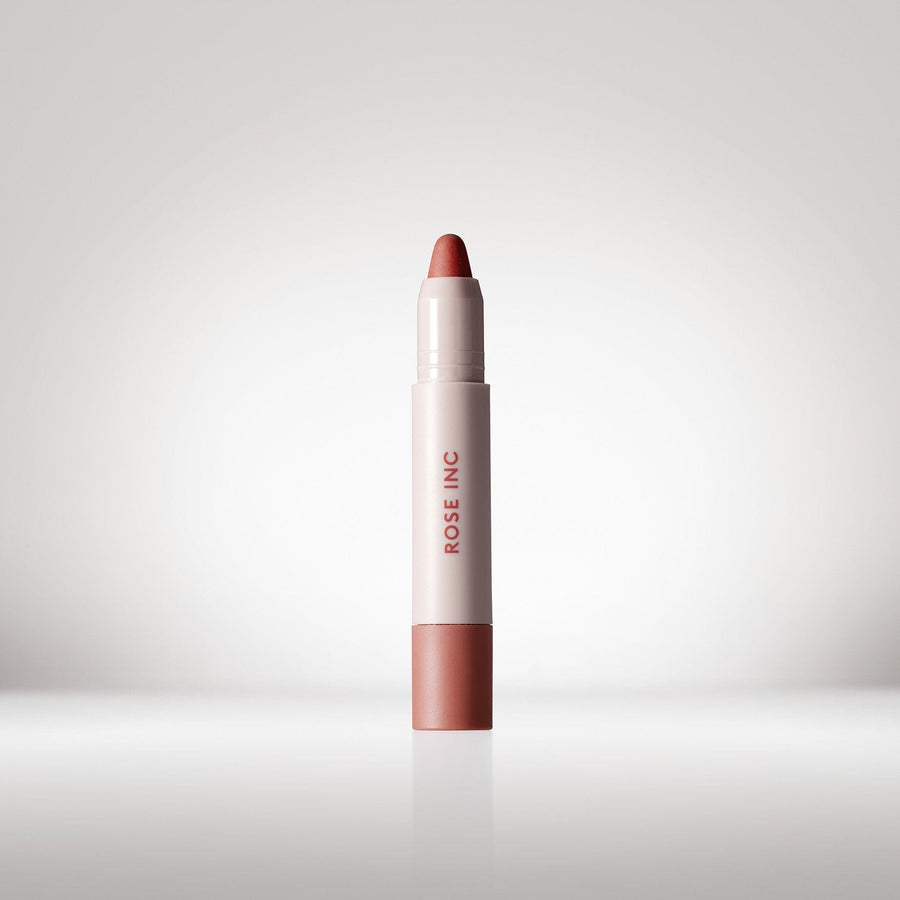 Original price: $18Current price: $9
Lip Sculpt Amplifying Lip Color
Smoothing, plumping and conditioning
Original price: $18Current price: $9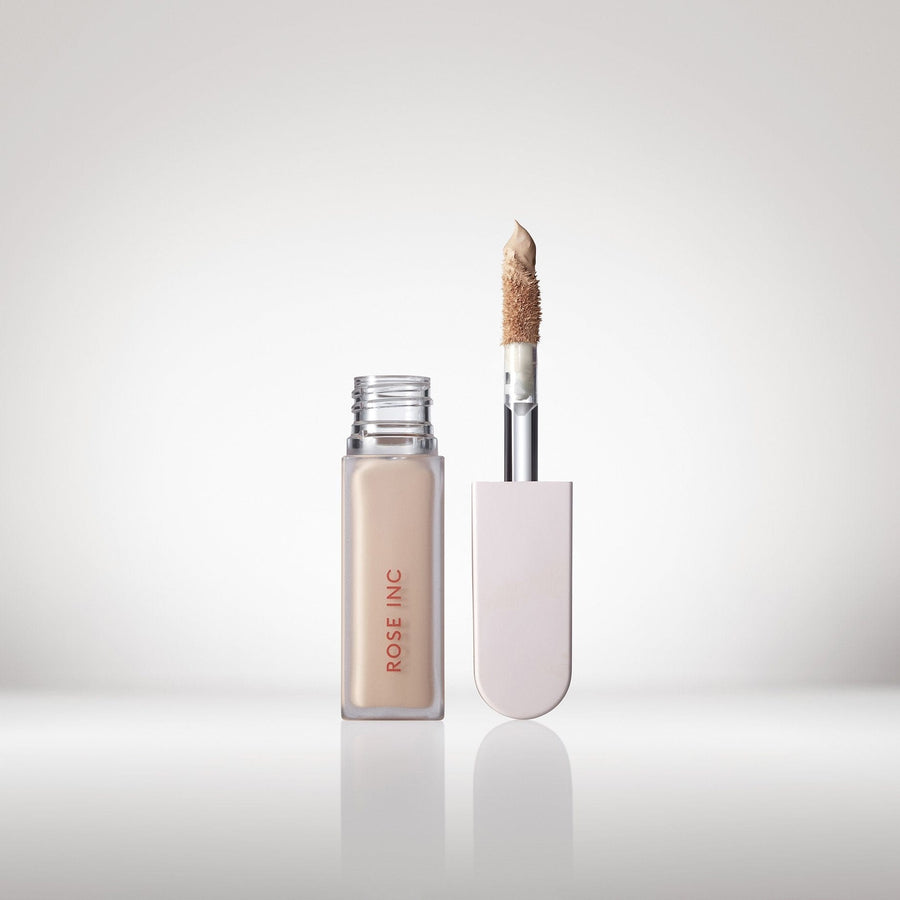 LX 200
Very Deep Skin Tone, Neutral Undertone
LX 190
Very Deep Skin Tone, Cool Red Undertone
LX 180
Deep Skin Tone, Warm Neutral Undertone
LX 170
Deep Skin Tone, Golden Undertone
LX 160
Deep Skin Tone, Red Undertone
LX 150
Deep Skin Tone, Neutral Undertone
LX 140
Medium/Deep Skin Tone, Neutral Undertone
LX 130
Medium/Deep Skin Tone, Warm Golden Undertone
LX 120
Medium/Deep Skin Tone, Pink Undertone
LX 110
Medium/Deep Skin Tone, Golden Undertone
LX 100
Medium/Deep Skin Tone, Peach Undertone
LX 090
Medium Skin Tone, Olive Undertone
LX 080
Medium Skin Tone, Pink Undertone
LX 070
Medium Skin Tone, Golden Undertone
LX 060
Medium Skin Tone, Peach Undertone
LX 050
Light/Medium Skin Tone, Neutral Undertone
LX 040
Light/Medium Skin Tone, Golden Neutral Undertone
LX 030
Light Skin Tone, Pink Undertone
LX 020
Light Skin Tone, Peach Undertone
LX 010
Fair Skin Tone, Neutral Undertone
LX 200
Very Deep Skin Tone, Neutral Undertone
Softlight Luminous Hydrating Concealer
Medium coverage, brightening, blurring
Current price: $30