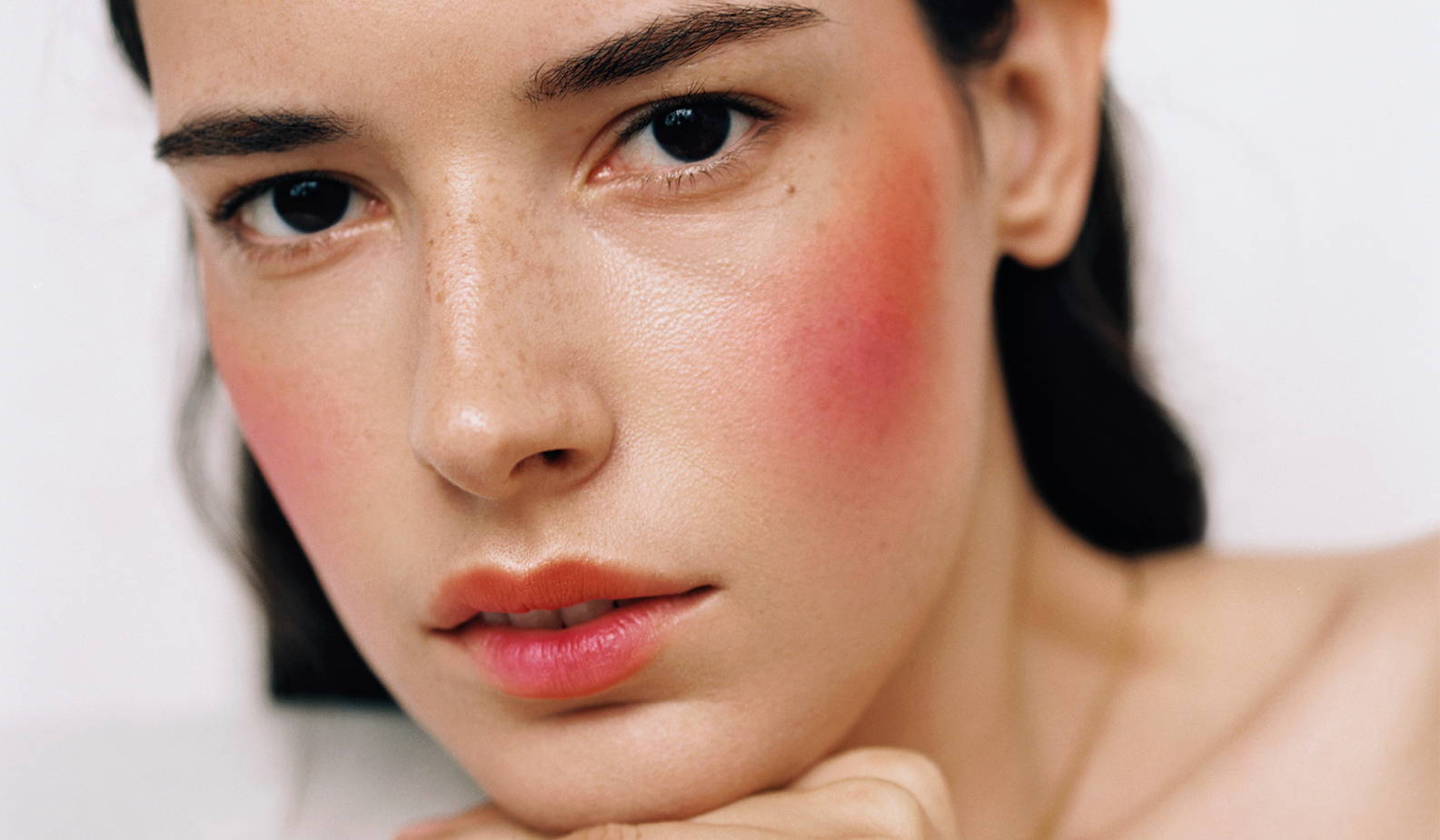 10 / 15
AIR TUTORIALS
Artist in Residency: Adele Sanderson's Modern Ombré Lips & Cheeks
Welcome to Artist in Residency, our series that brings the industry's most innovative makeup artists to Rose Inc. for a month of creativity and inspiration. Each week, you'll discover an original look—and the story behind it—created by an artist we love.
If one is to believe in signs from the heavens, being born on Halloween undoubtedly means you're destined for a life of dress up. Adele Sanderson knew early on she wanted to be a makeup artist thanks to her desire to transform herself—and not just on her birthday. She grew up in Cambridge, England and completed her schooling at London College of Fashion before assisting iconic makeup artist Wendy Rowe. Less than a decade since graduating, the British 20-something has already created an esteemed career for herself as an editorial makeup artist based in London. Now her work can be seen across publications, retailers, and brands like Vogue Spain, Net-a-Porter, and Dolce & Gabbana, respectively.  
Call it fate, but despite her range of experience and the eternal allure of the red carpet, Sanderson always gravitates back to the freedom and expression that comes with editorial photoshoots. "I remember going through magazines like Glamour and Marie Claire when I was younger and studying the tutorials," she says. "The path was always going to be editorial for me."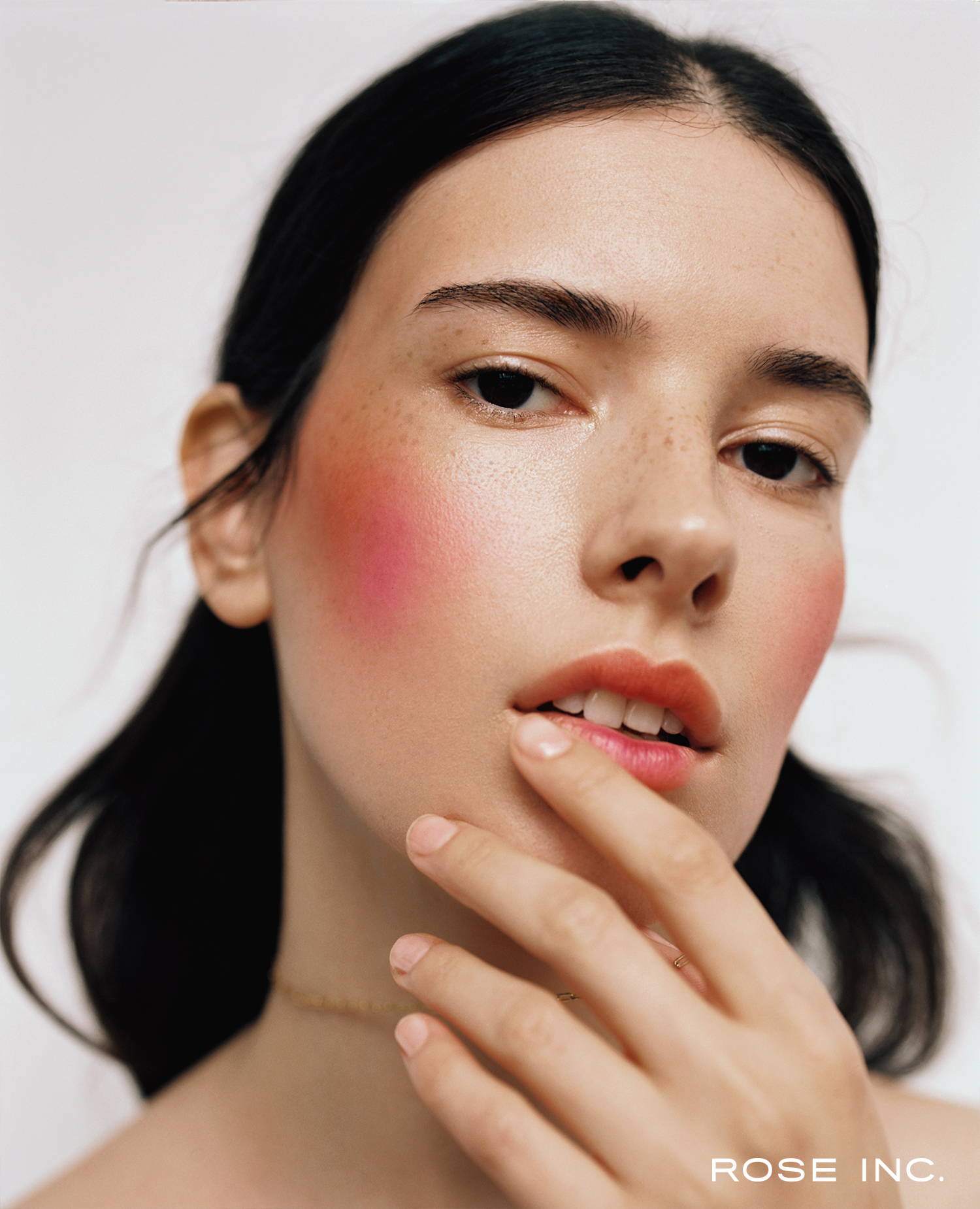 Today, her unique ability to translate mainstream trends and create avant-garde looks, all while utilizing new formulations and delivering her signature glowing skin, has made her in-demand by photographers and brands alike. For these reasons and more, Rose Inc. is delighted to feature Sanderson as this month's Artist in Residency.
Her Residency Inspiration:
For the second look in Sanderson's increasingly-colorful Residency, the makeup artist used two hero colors across model Isabella Ridolfi's lips and cheeks. Gleaning inspiration from K-beauty—and one of its biggest trends—Sanderson created a blotted, two-tone lip and boldly-flushed cheeks in shades of peach and pink. Restraint is imperative, so she defined the model's brows but left her lids and lashes minimal to pay homage to the look many South Korean women love.
Behind this Look:
Sanderson, who normally opts for minimal complexion products, began this look differently. "The cheeks and lips need to be prepped in order to have the colors blend seamlessly," she says, adding that both primer and powder are important to achieve the elevated finish this playful trend requires.
To avoid a patchy finish, she moisturized Ridolfi's skin and added a thick layer of balm to her lips before applying Dior Backstage Face & Body Primer all over her face. Then, using a Beautyblender, Sanderson buffed Tom Ford Traceless Foundation Stick onto Ridolfi's complexion only where she needed coverage before switching to Nars Radiant Creamy Concealer for under the model's eyes. A thin veil of Dior Forever and Ever Control Loose Powder set the stage for color.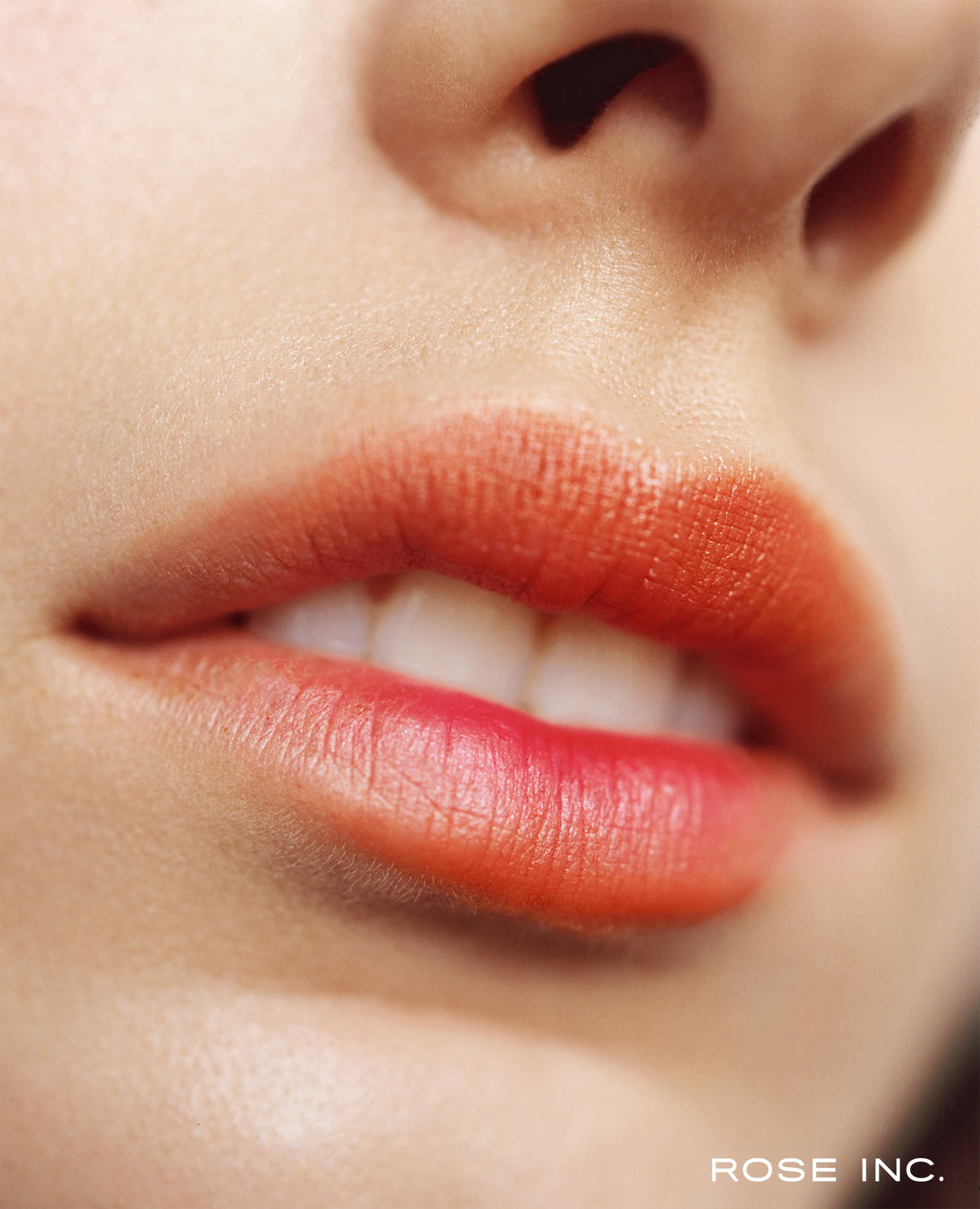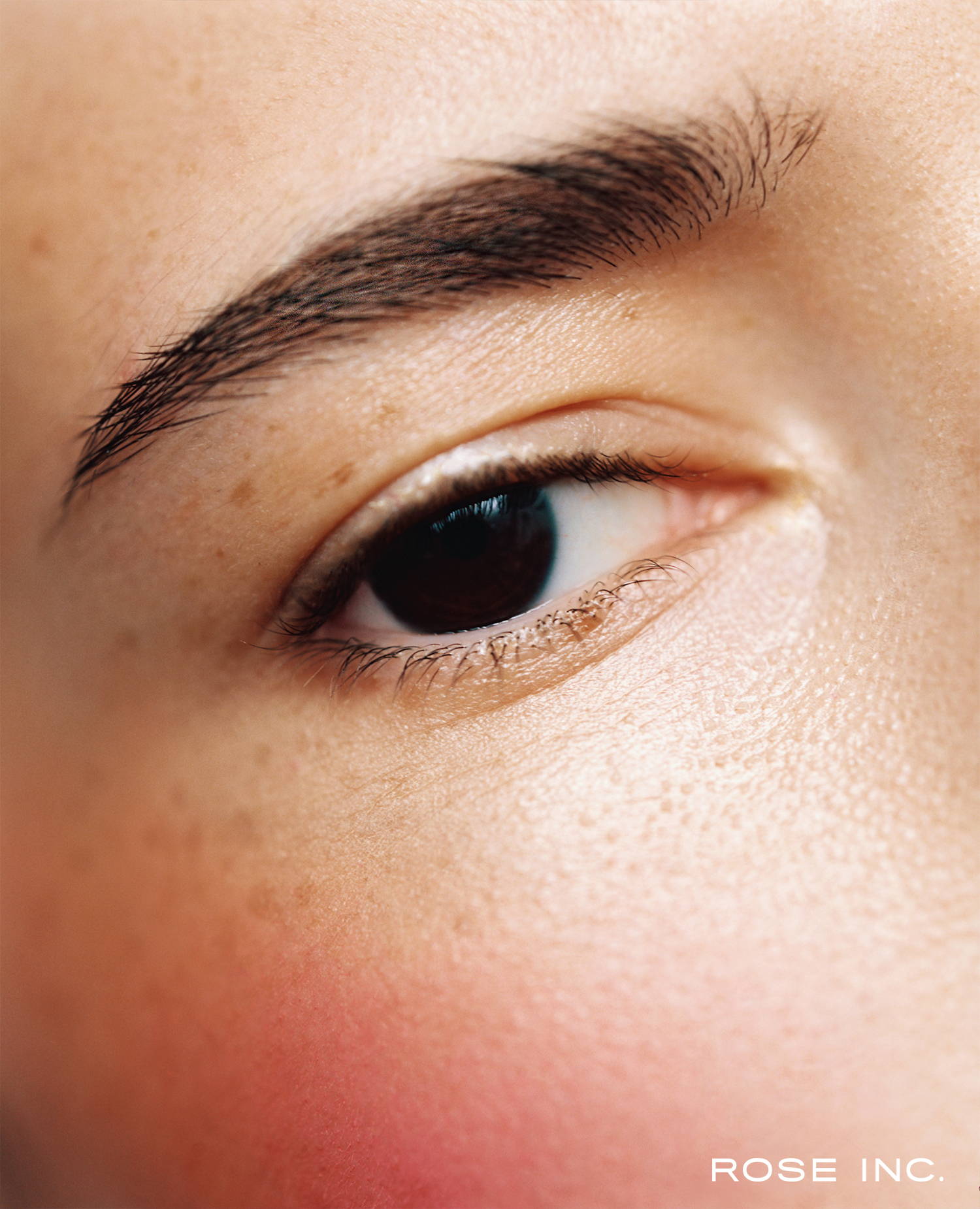 The cheeks and lips need to be prepped in order to have the colors blend seamlessly…
Sanderson skipped eye shadow and mascara to ensure a thoroughly modern finish. Instead, she curled Ridolfi's lashes and pressed highlighter onto the model's eyelids, the tip of her nose, and Cupid's bow using Tom Ford Shade and Illuminate in Intensity One. "There's a hint of gloss on her eyelids so there is something there, but it's wonderfully undone," Sanderson adds. To build out a strong, straight brow, she reached for Viseart Brow Palette for structure and set the model's arches with Glossier Boy Brow in Clear.
For intense color payoff, Sanderson used the same two products to create Ridolfi's flushed cheeks and ombré lips: Suqqu Pure Colour Blush in Tsubomizaki with the bottom right hue from Tom Ford Eye Colour Quad in African Violet. Not only does this technique ensure the perfect color match across lips and cheeks, it yields a soft, comfortable result. Striving for thin, sheer layers, Sanderson dusted the Suqqu blush onto the apples of Ridolfi's cheeks then added the Tom Ford shadow on the upper outskirts of the color using the same blush brush to lightly blend the thin layers together. A second, clean blush brush helps to buff and blend the colors to perfection.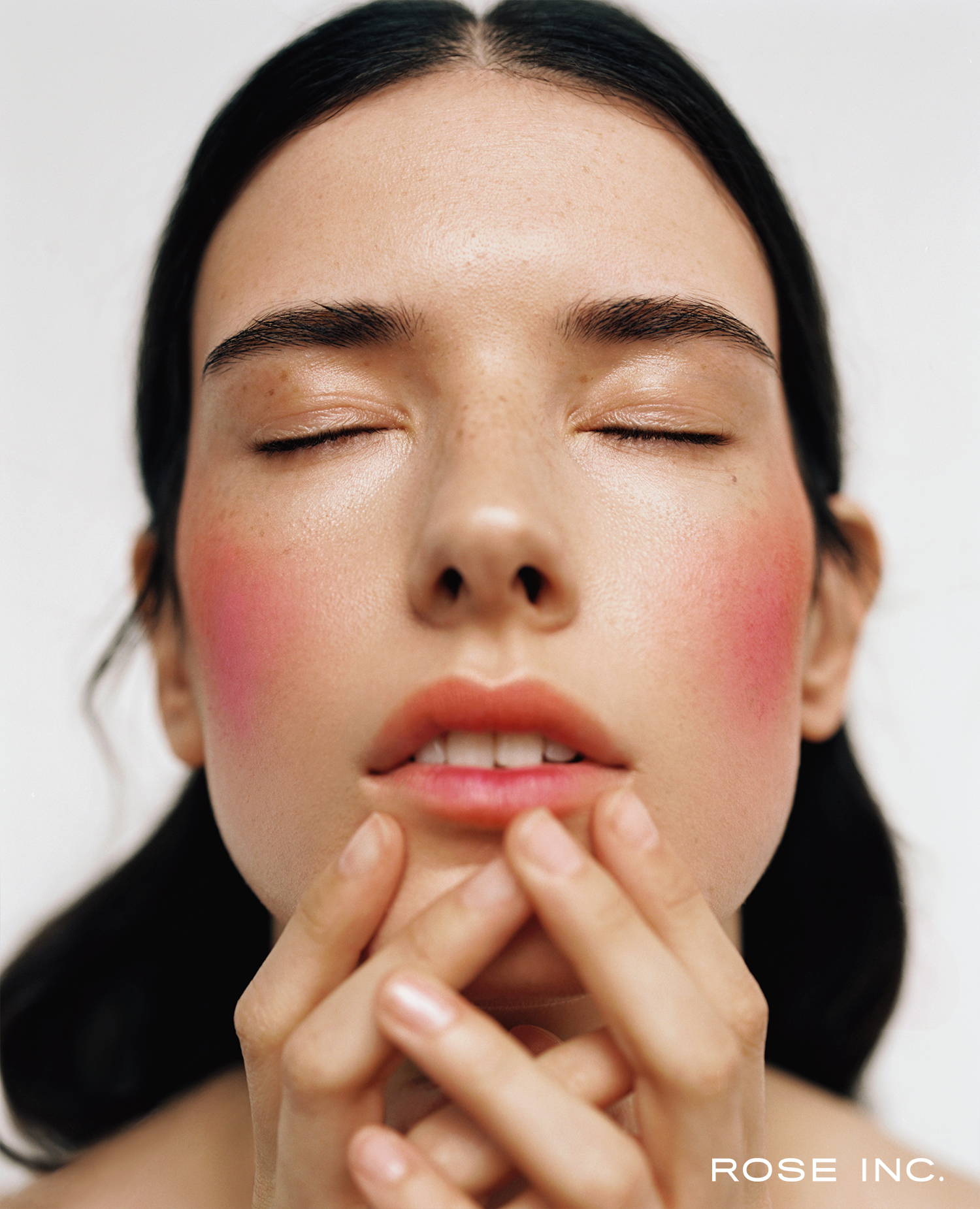 As the last step, Sanderson removed any excess balm on Ridolfi's lips and reached for the same Nars concealer used under her eyes. "For the perfect canvas, buff a little concealer onto your lip line using your Beautyblender," the makeup artist instructs. Then, starting with the pink shade, she added the color to the middle of Ridolfi's lips using a clean finger. "Open your mouth a little and dab it right in the center," Sanderson says. Using the same strategy, pat the orange color around the pink without encroaching on your lip line; the color should look faded at its border, not precise. "This will need to be touched up through the day," she says. "But you can graduate to a K-beauty lip stain once you nail it."