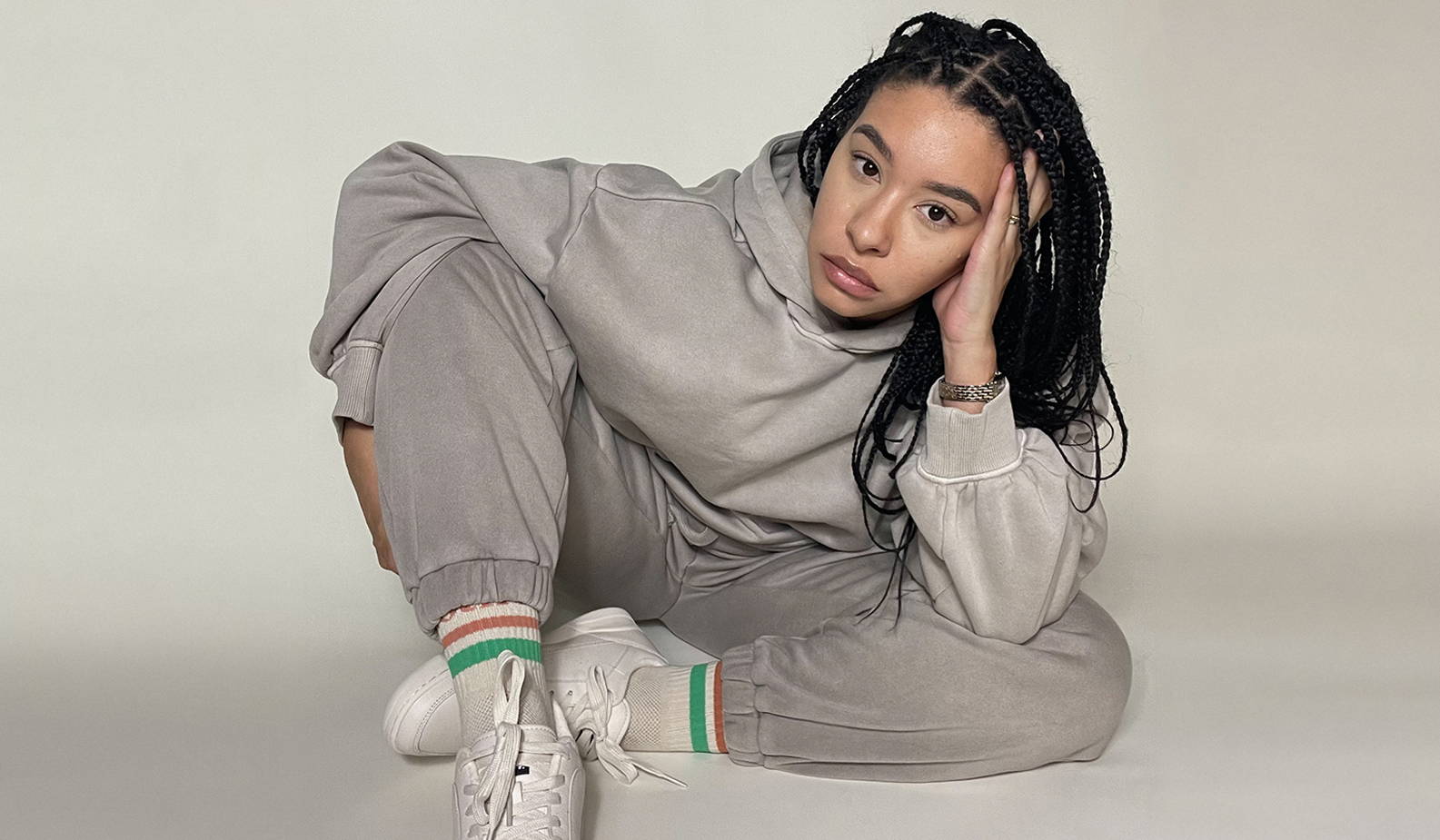 03 / 28
INTERVIEWS
Tanice Samuels on Career Reinvention & Calming Beauty Rituals
Everybody has a story about beauty. In Rose Inc.'s The Profile, some of the world's most intriguing people share theirs. In this intimate interview series, we get (virtually) up close and personal to explore their definitions of beauty and path to self-confidence. Featuring imagery shot through their own lens, The Profile presents these compelling personalities in a new light—one that illuminates their own journey, dreams, and desires while highlighting their unique relationship with beauty.
In 2019, Tanice Samuels was itching for a creative outlet outside the confines of her life as a lawyer. "I had just turned 30 and was spending so many hours in the office, so I started to question if this office life was what I wanted to do forever," she recalls. "I completely broke down and was like, 'I need something for me because all I'm doing is working, coming home, putting my kids to sleep and then going to bed and doing it all over again'." After years of encouragement from her husband and friends, she took the plunge and created a public Instagram to share glimpses of her stylish life in Belfast, Ireland: Warmly-lit outfit snaps, close-up shots of a nubby sweater, candlelit photos of the books she was loving, and so on.
Within months, she had thousands of followers and began working with brands, becoming what you might call an accidental influencer. It was both surprising and utterly natural for Samuels who has always loved experimenting with fashion. "I was always the person in the office that pushed the boundaries," she explains. "People wore suits and I would wear my husband's shirt over skinny trousers and trainers." Today, she works with brands like Net-a-Porter and co-founded Content for Better with stylist Lucy Alston, an online space dedicated to supporting a diverse collective of content creators and artists on social media.
We caught up with Samuels to chat about the rituals getting her through this unprecedented time, the personal and political mission underpinning Content for Better, and the beauty products she swears by.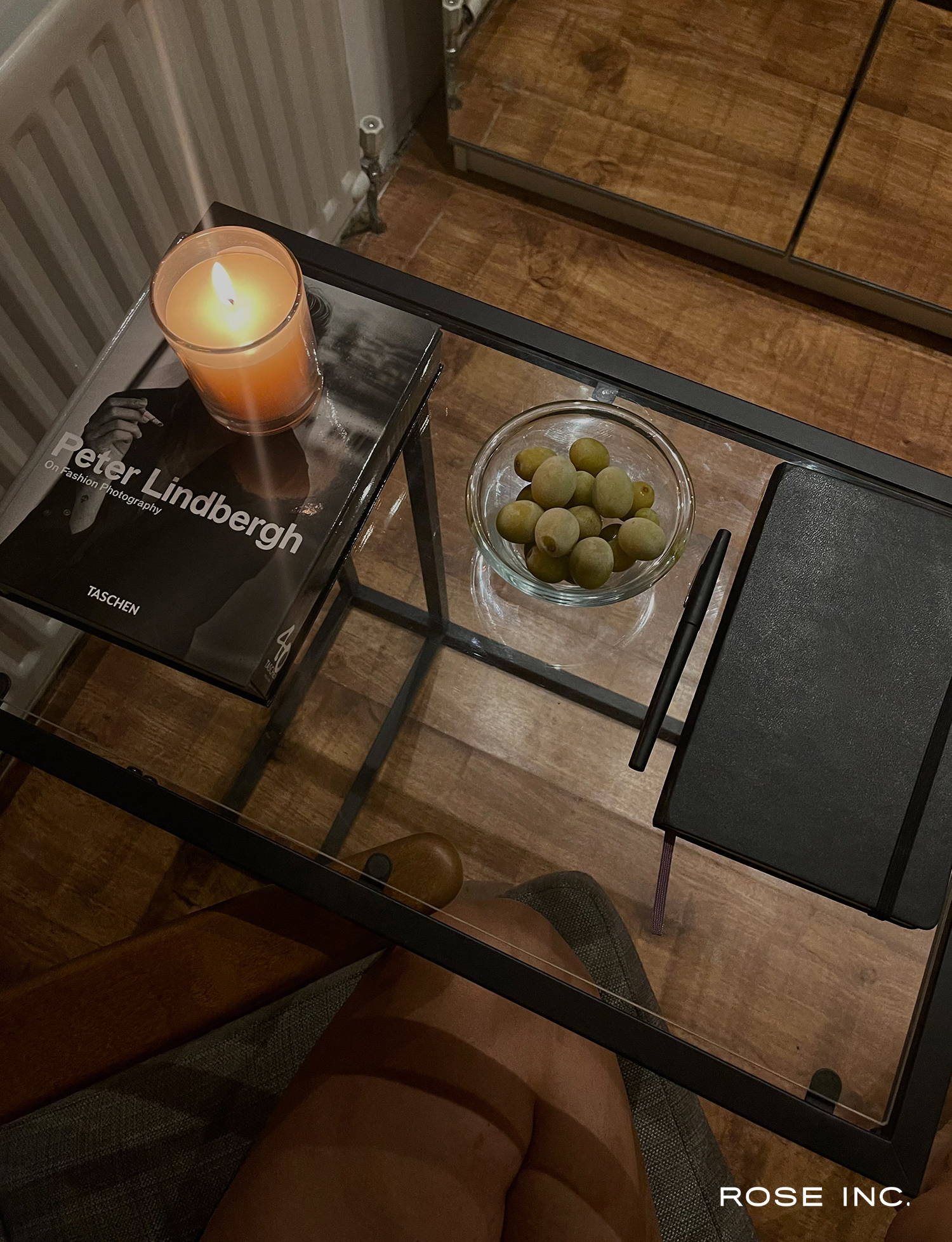 RI:
How have you been holding up throughout this time?
TS:
I've been finding it quite tough. I have two little boys with my husband, and we've been juggling homeschooling with trying to do our own work and take time for ourselves. I think it's been a whirlwind year for everyone and made everyone think about things differently. It certainly changed how I think about what I need and don't need. I've learned that it is actually really nice to not have loads of places to be, and less commitments; we're getting loads of family time instead. But my husband and I both work full-time so it can also be very hard.
RI:
Have there been any rituals or habits you've started that have kept you sane?
TS:
I've started meditating. At night I'll do a quick meditation or listen to sleep stories read by different celebrities off the Calm app, which my little boy loves, too. I find that because I get up quite early in the morning to get work done and always have a busy day, I like to chill at night, so I'll light incense, lie down, meditate, and just take some time for myself.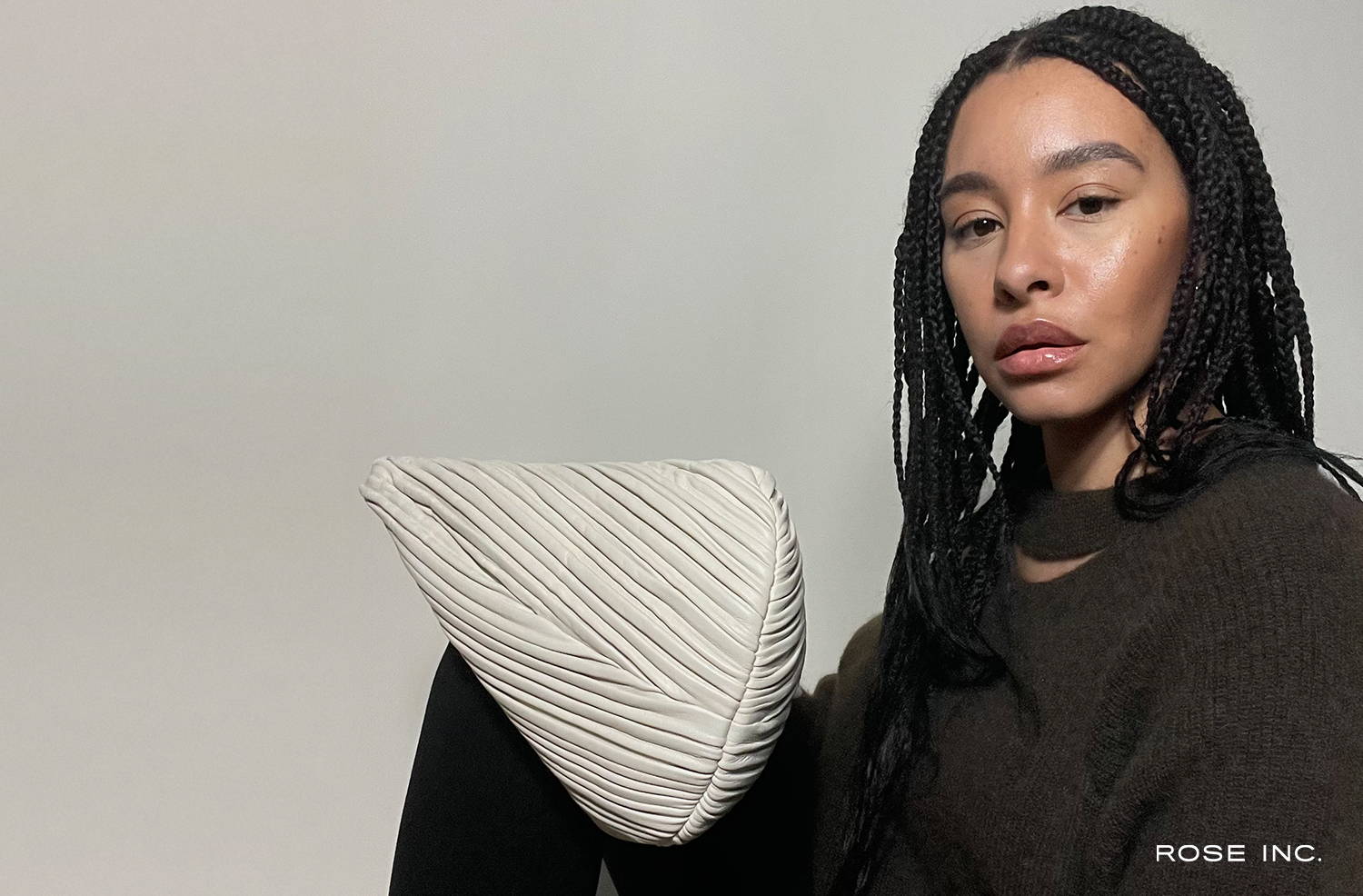 My dad drilled into me that beauty comes from within and that I should embrace my skin and my beauty…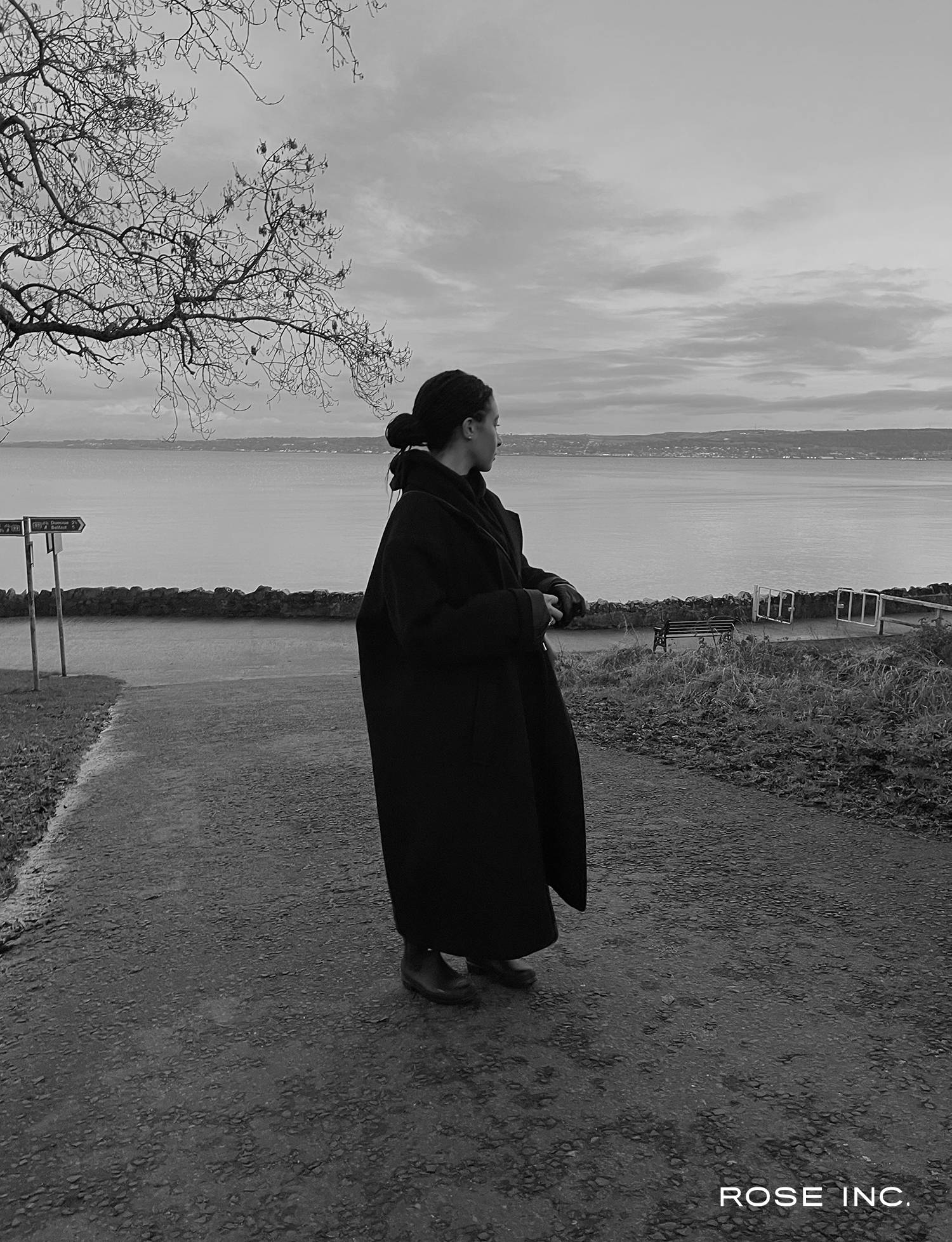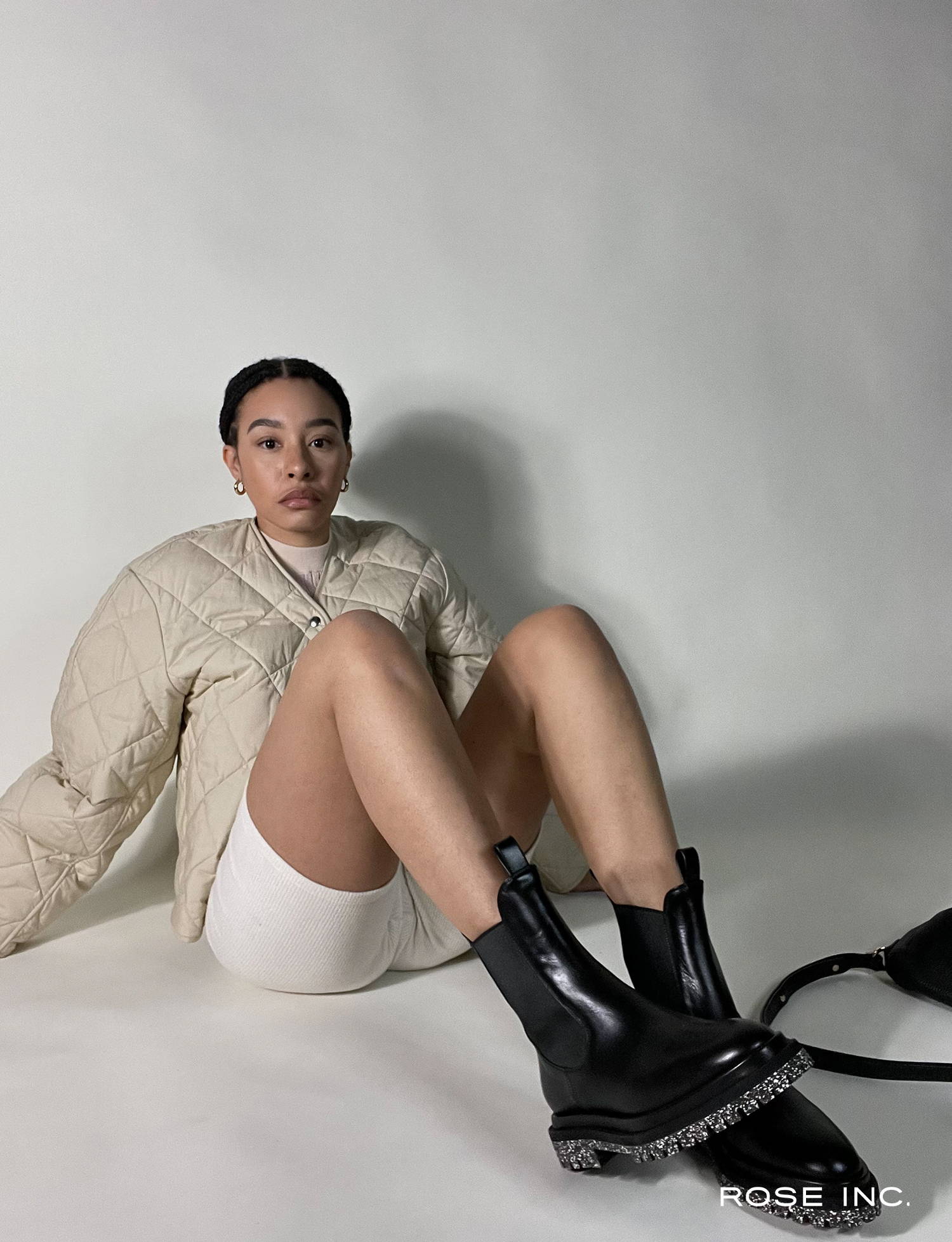 RI:
You were inspired to launch your Instagram account because of frustrations with your office job. Do you think you'll ever move over to focusing on fashion and brand partnerships full-time?
TS:
The thought of it really scares me and I don't think that I could just focus on Instagram full-time but I would love to move into the fashion world more in some capacity. Working with all these fashion brands has really opened my eyes to how everything's done and it's been really interesting. So I think in the next year, I would like to move away from my lawyer role and into something else but I still have a business-y mind so I think that will be involved somehow. I started the account for me and I'm still on this journey of figuring it out.
RI:
You co-founded the company Content for Better last year. Tell me about the company's mission and what inspired it.
TS:
It began back in May after the death of George Floyd, when Black Lives Matter came to a big head on social media. That movement has always been a big part of my life but we're starting to see people in the spotlight use their platforms to promote things they should have been showing all along. I was having conversations with my friend Lucy about this and, at the same time, creating content for brands and telling them how, when I flip through a magazine, I don't see myself or anyone with my hair being featured. So we wondered what we could do to help change this and now, with CFB, we're trying to bring more awareness to Black and POC content creators and designers so that there isn't that gap. We need to push Black and people of color to the forefront because even things like the algorithms on these platforms lead to misrepresentation. We don't want to limit it to Instagram, but to start we're focused on reaching out to brands and influential people who didn't really seem to make many changes on the diversity front to ask them if they're up for discussing it.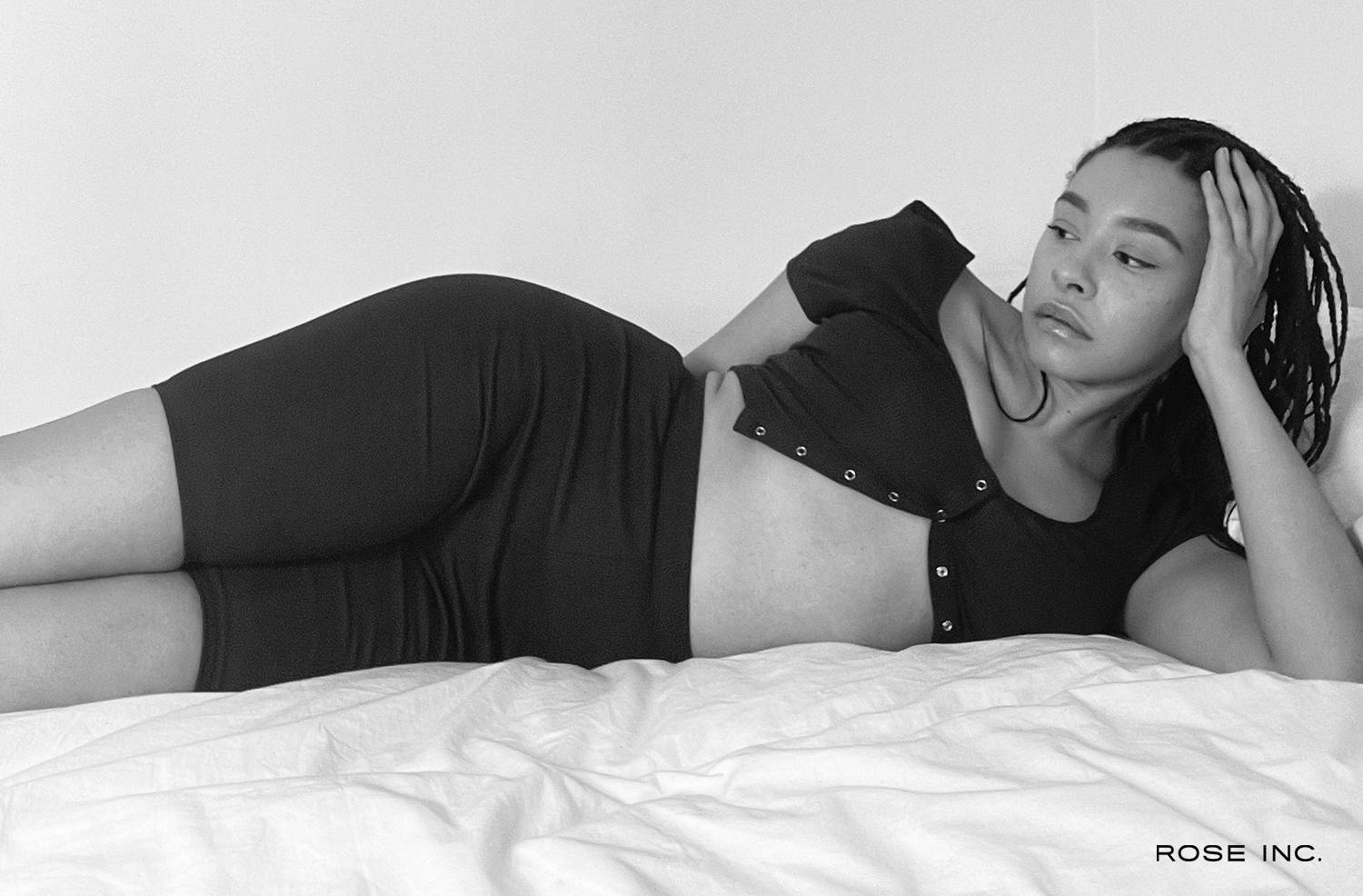 RI:
What have you learned so far from trying to have that conversation?
TS:
We need change and we need people to really push and move things forward, but not in a way that intimidates people or makes them feel bad for not doing anything in the past, because then they just feel shamed or worry that if they make an effort now it will seem like it's just for show. We need to get over that.
RI:
How have your Irish-Jamaican roots impacted your approach to beauty?
TS:
On my dad's side, the Jamaican side, growing up it was all about natural beauty. I have really thick, Afro hair and growing up I just wanted to have straight hair. I was the only Black person in school so all my friends would be curling their hair and letting it air-dry and I always had mine up in a bun because there was nothing else I could do with it at the time. My dad drilled into me that beauty comes from within and that I should embrace my skin and my beauty, without all the stuff I was wanting like makeup. He just always instilled that you are beautiful as you are, which definitely had an effect on me because now I don't wear makeup every day. I just look after myself, my skin, and if I want to dress up and put makeup on, I do it but I do it for me.
On the Irish side, from my mom, I did learn to appreciate makeup and skincare because the Irish love it. My grandma loved skincare and expensive hand creams, for example, and her and my mom always encouraged me to try new things and have fun with products, so I was split between two really different worlds.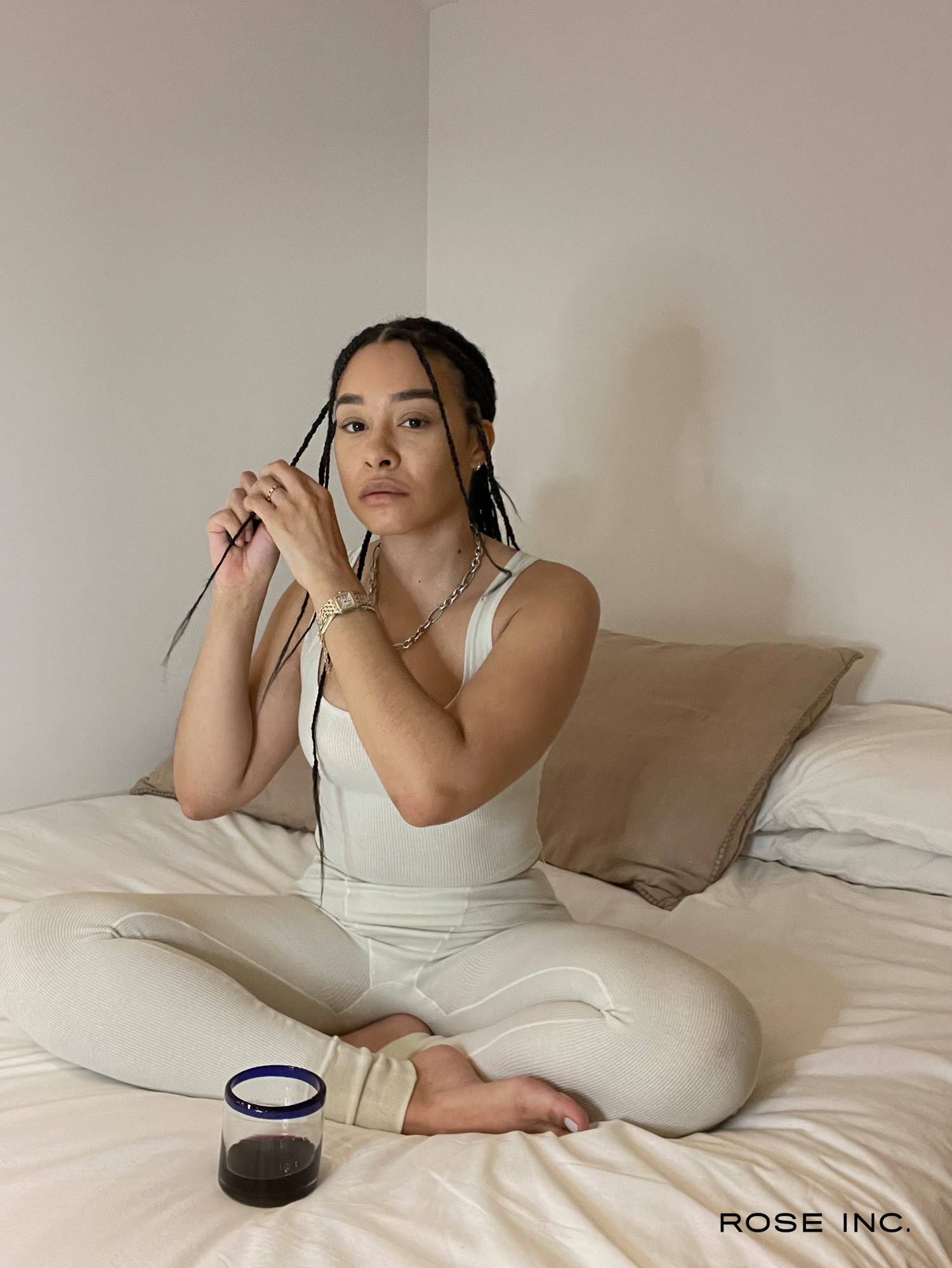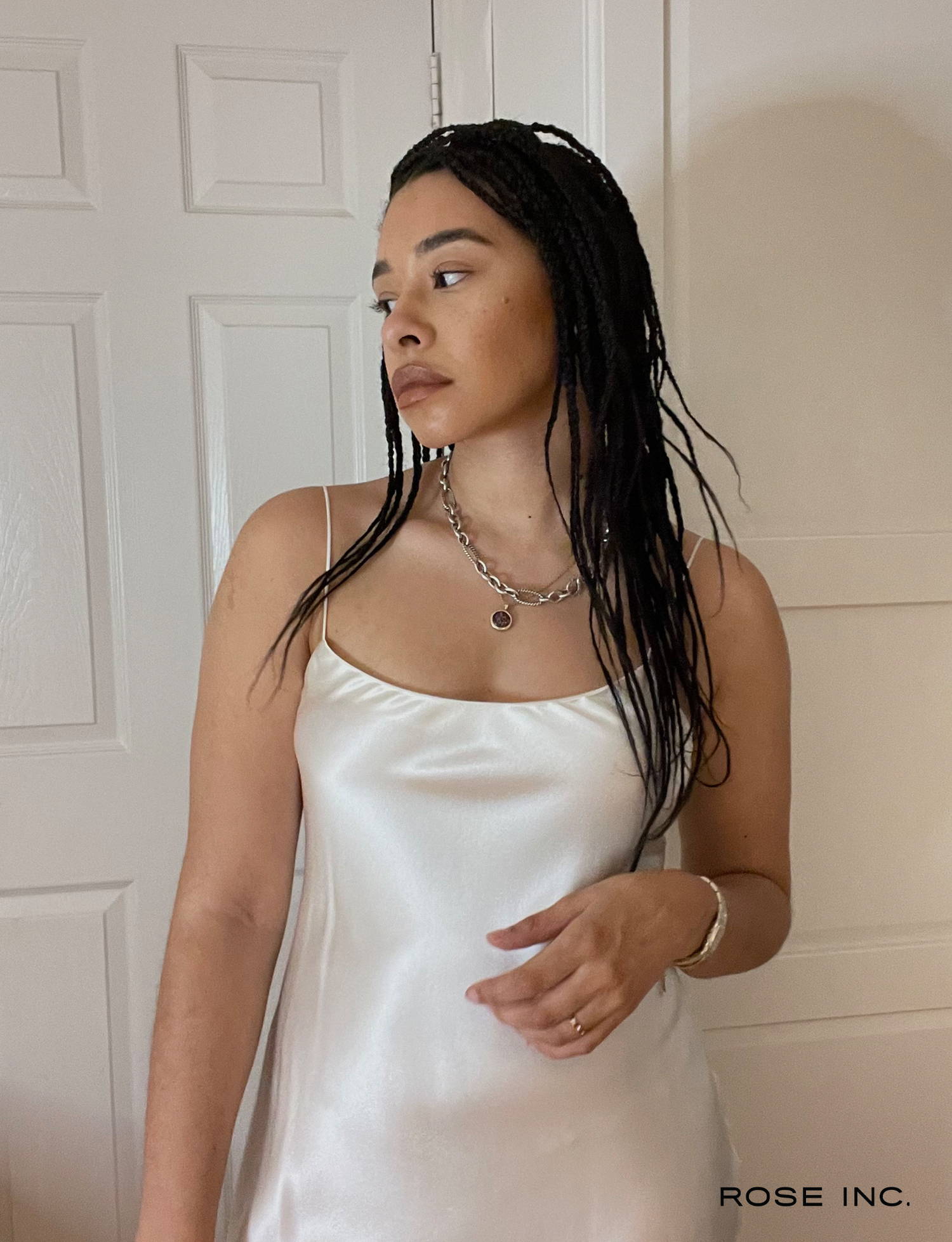 The mistake most people make is thinking that everything can be changed from the outside.
RI:
What is your skin-care routine like today?
RI:
You mentioned not wearing much makeup. What are your go-tos when you do?
TS:
I touch my face a lot when I'm working or with the kids so I actually don't wear it often, but if I have a big meeting or something I will put a little bit on just to feel a bit better. I'll use concealer (either Glossier Stretch Concealer or Nars Radiant Creamy Concealer) and do my eyebrows with Glossier Brow Flick, which feels like a permanent marker because it doesn't smudge, and a little Glossier Boy Brow gel to hold them in place. I don't wear mascara unless I'm going out or taking beauty pictures but I recently started using the Victoria Beckham mascara and it washes off with water so I've actually started using that at times. I just normally hate the fact that you have to scrub your eyes to get mascara off, I really don't think that's good, so I try to stay away from it.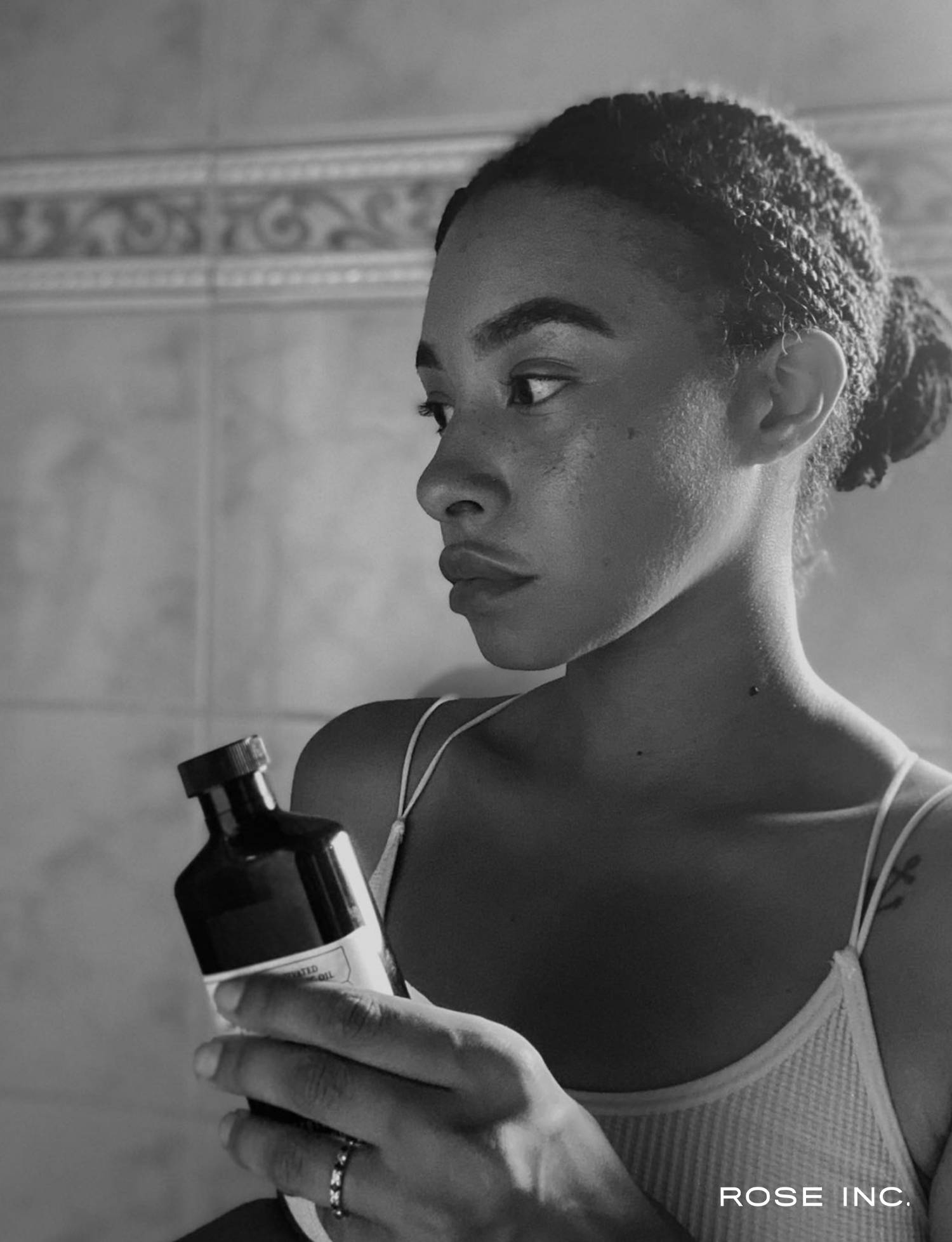 RI:
When do you feel the most confident in your own beauty?
TS:
When I just take some time for myself, like on a Sunday, when I do take a few hours to myself to take a bath, put a face mask on, listen to music, and chill. It's not when I have makeup on and I'm all dressed up, it's kind of the opposite. I know that you don't need makeup to be beautiful and I feel more confident when I'm just me. Right now I'm not properly dressed but I would still run out to the shop to get milk or whatever. I feel more confident like that sometimes, when I've literally just thrown on a hat, a big coat, and I walk out and just feel like me. There's no trying to be anyone else or hide any spots, those moments when you think no one's looking at you.
RI:
Where would you like to be five years from now? 
TS:
Over the past year I've been thinking about that so much. I don't have a definitive answer yet but I hope that in five years time, I'll be self-employed doing something that I can put my heart and soul into and actually care about. I've been a lawyer for so long, but I don't do something like criminal justice work, I work for a bank. In five years I know for sure that I want to be on my own schedule. I don't want to be spending 11-hour days on something that I'm not 100% in love with.