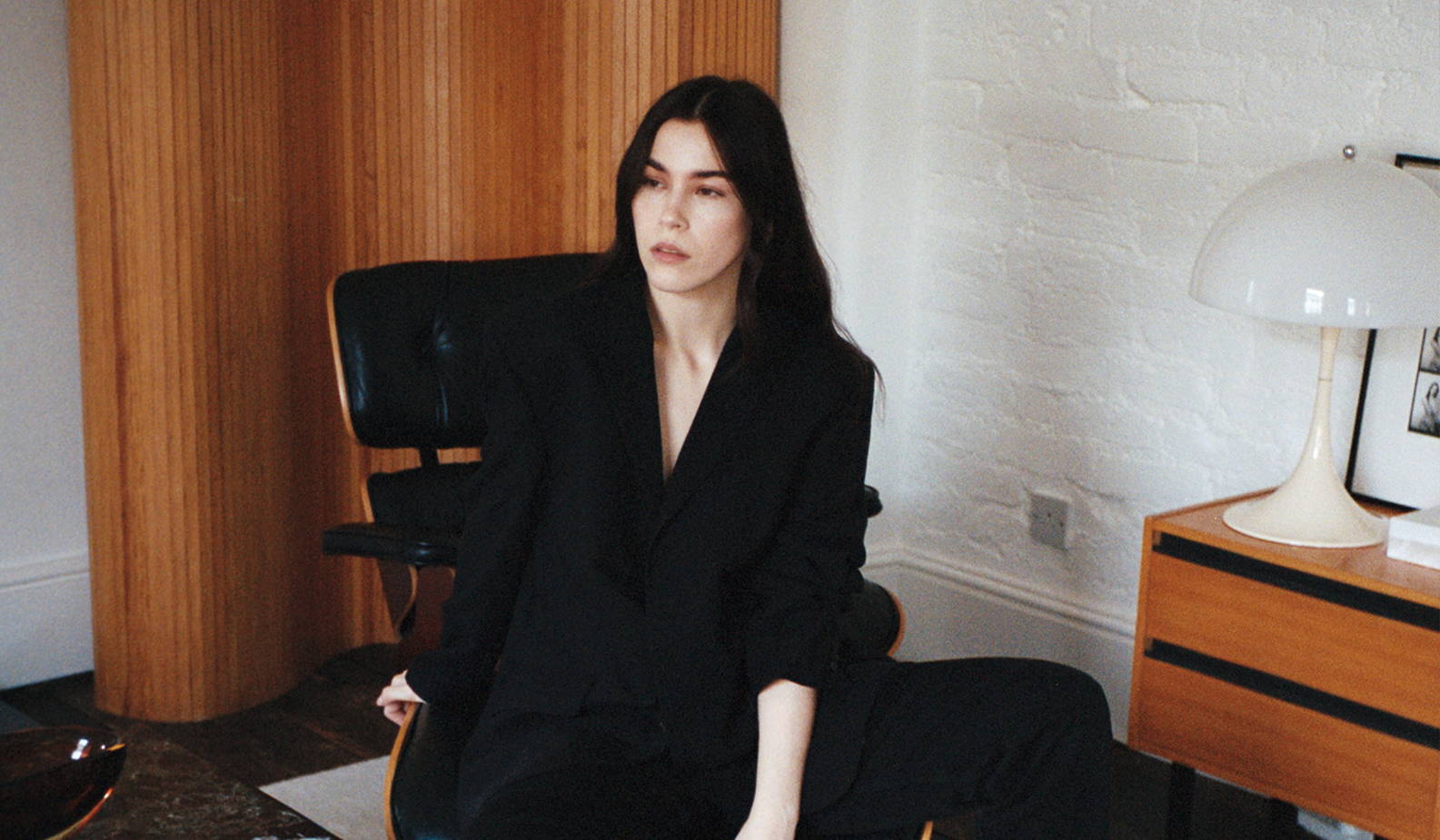 01 / 31
INTERVIEWS
The Go-See: Lena Herrmann
You know the phrase "quarterlife crisis"? Safe to say that Lena Herrmann is having the opposite of that. The German-born content creator and influencer is rapidly gaining attention thanks to her artistic eye—not to mention the sophisticated interiors and quietly chic fashion she shares on Instagram. Here, she speaks with Rose Inc. about her hard-to-define career, appreciation of neutrals, and deep love of fragrance.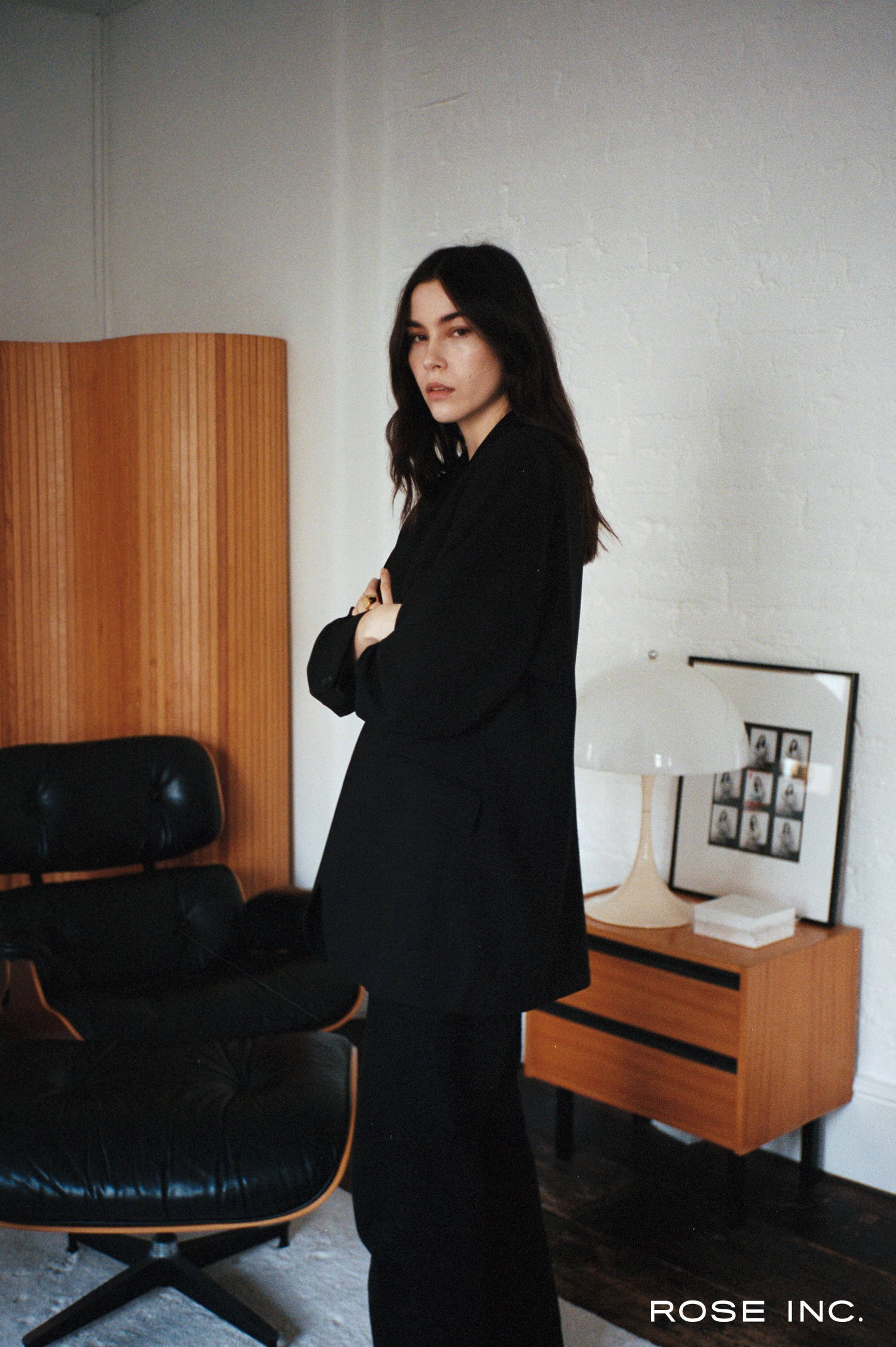 RI:
How do you describe what you do?
LH:
Well, that's a tricky one. I would mainly say I'm a content creator, a digital talent, and a stylist. I basically work with brands to create imagery for them.
RI:
How did you turn your interest in art and design into a career?
LH:
I always knew I wanted to work in fashion. My mom works in fashion, and when I was little, I would steal her clothes and put them on. Later, I started leaning toward a career in photography. I did internships in photo studios, but I also started modeling on the side. I was living in Switzerland, and I came across a digital design apprenticeship that was all about new media, social networks, photography, and videography—all things that I already liked.
I did that for four years, which gave me more knowledge on design and social media. I had a blog, and through that, I discovered Instagram. About one or two years ago, things started taking off; brands started sending me products so I could create images for them. Last summer, my boyfriend and I decided to move to the UK, and I've been working as a freelancer since March 2019. It's all still very new and I'm still trying to figure it out, but it's a lot of fun.
RI:
Did moving to the UK from Switzerland affect your eye and your sense of style?
LH:
Oh, definitely. London is such a big city. You get inspired just walking down the street.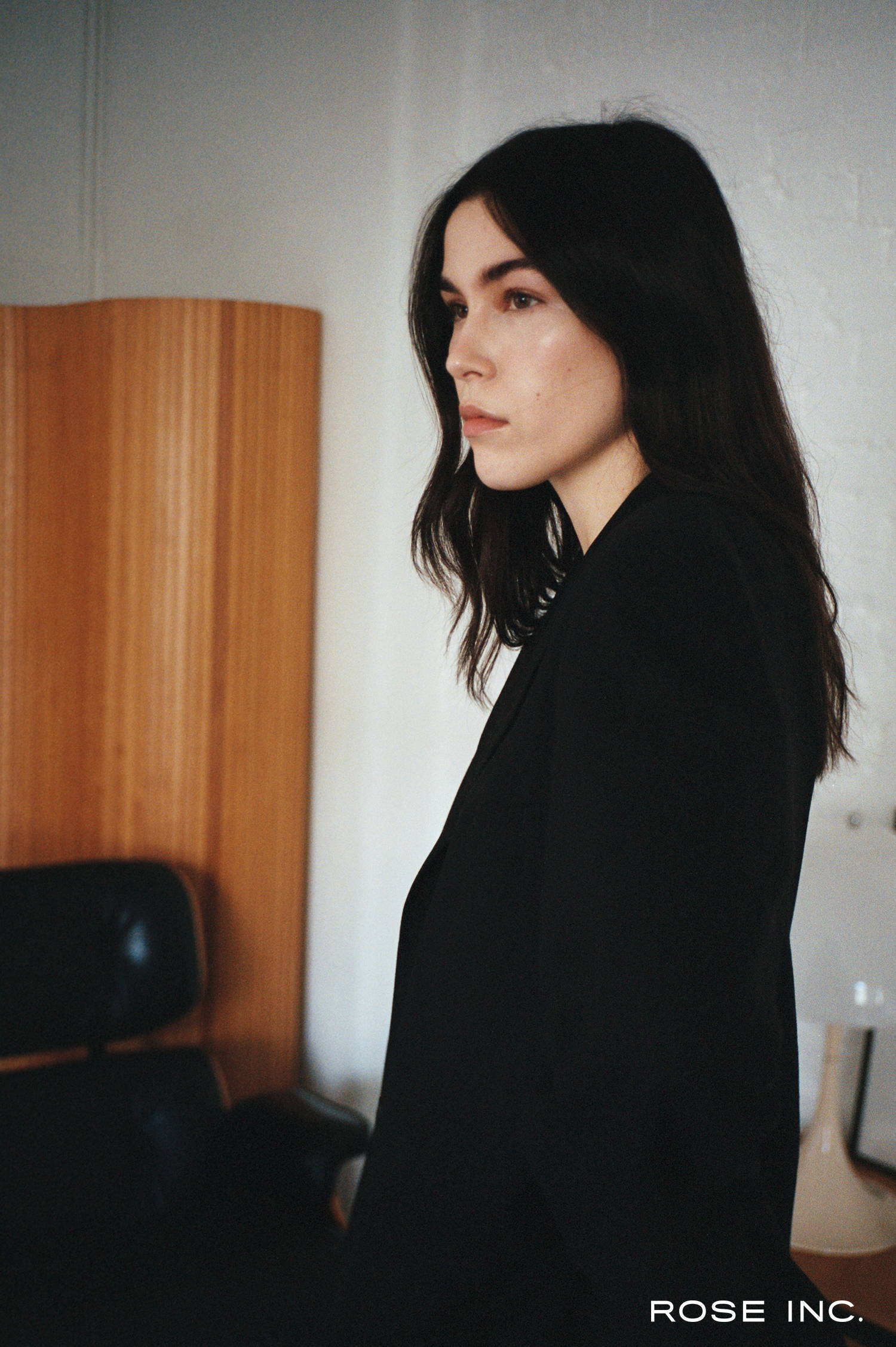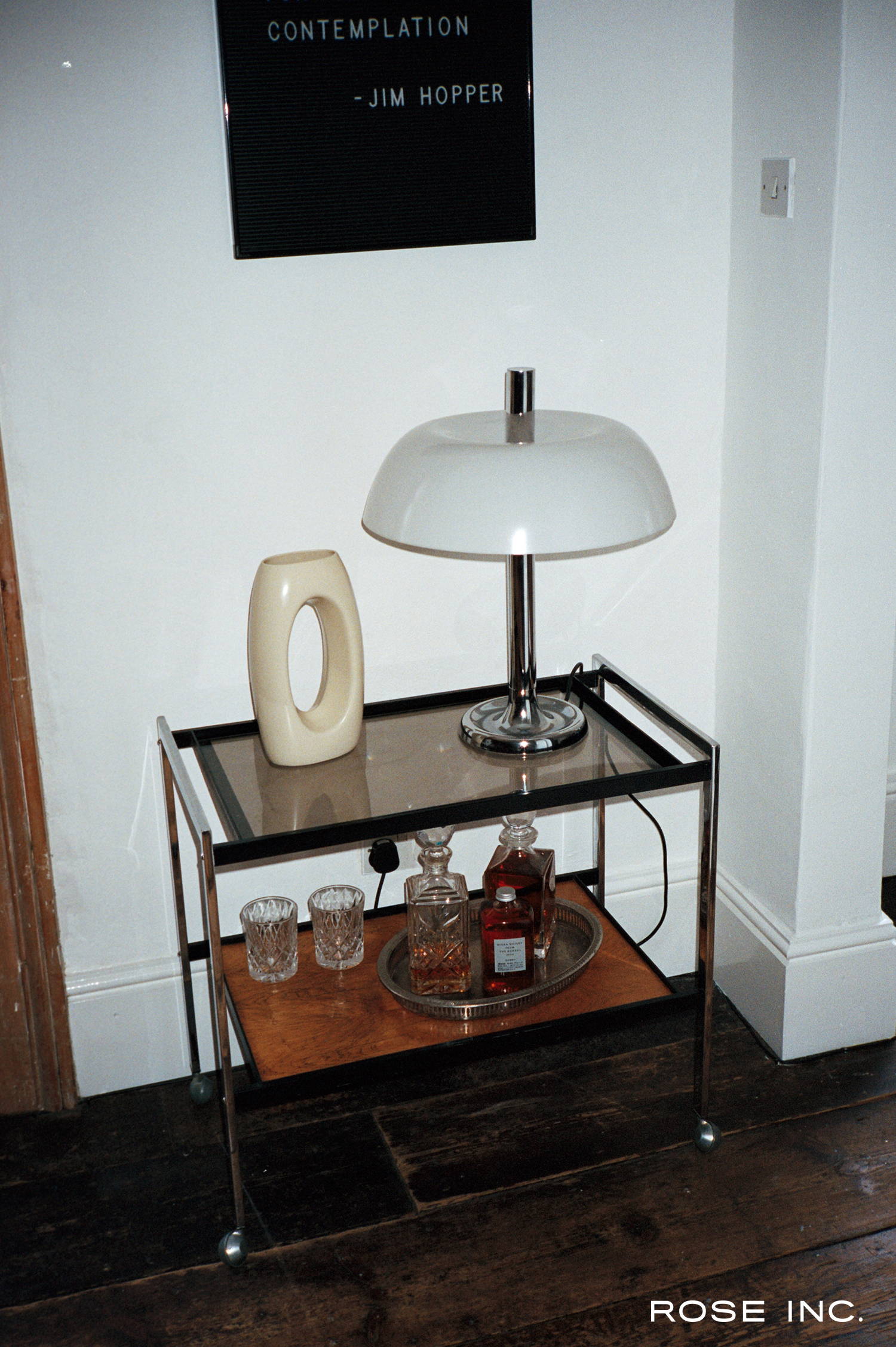 RI:
What feels stylish to you right now?
LH:
I always used to be afraid of what other people would think, or what was in fashion at the moment, but in the last two years, I've found my own sense of style. I love to have more of a boyish look, but still with some femininity. I love to wear oversized clothes with jewelry to find a balance between the feminine and masculine. Obviously, Bottega Veneta is one of the big brands at the moment. Nobody can really deny this. After Phoebe Philo left Céline, there was a gap, and [Bottega Veneta creative director] Daniel Lee filled it very well. The pieces are classic with a twist. On the other hand, I love vintage shopping. There are so many amazing pieces in thrift stores; you can find really great gems that nobody has.
i'm such a perfectionist. it's a blessing and a curse.
RI:
If I were to open your closet, is it all neutrals, black, and white? Or do you secretly have a bunch of purple polka dots hiding somewhere? 
LH:
I'm afraid not! It's very neutral. I feel like it would reflect what you see on my Instagram. There are no bright colors in my closet. Maybe the brightest color would be a muted orange or something. I think neutrals are classic. It always looks put-together.
RI:
How does beauty factor into your personal style?
LH:
It's just one of the things that makes the whole look come together. The same colors you would find in my wardrobe would also be the colors you find in my bathroom, I guess, for makeup. I really like natural makeup. I mean, you might find some red lipstick, but that's the extent of it. 
RI:
Do you invest in skin care?
LH:
I love skin care, I must say. I'm probably also blessed; I never had really bad skin. I feel like it's important to look after your skin; otherwise, no makeup will look nice if the skin underneath is not healthy. I've never had a facial, though. It's trial and error on my own to find the products that work for me.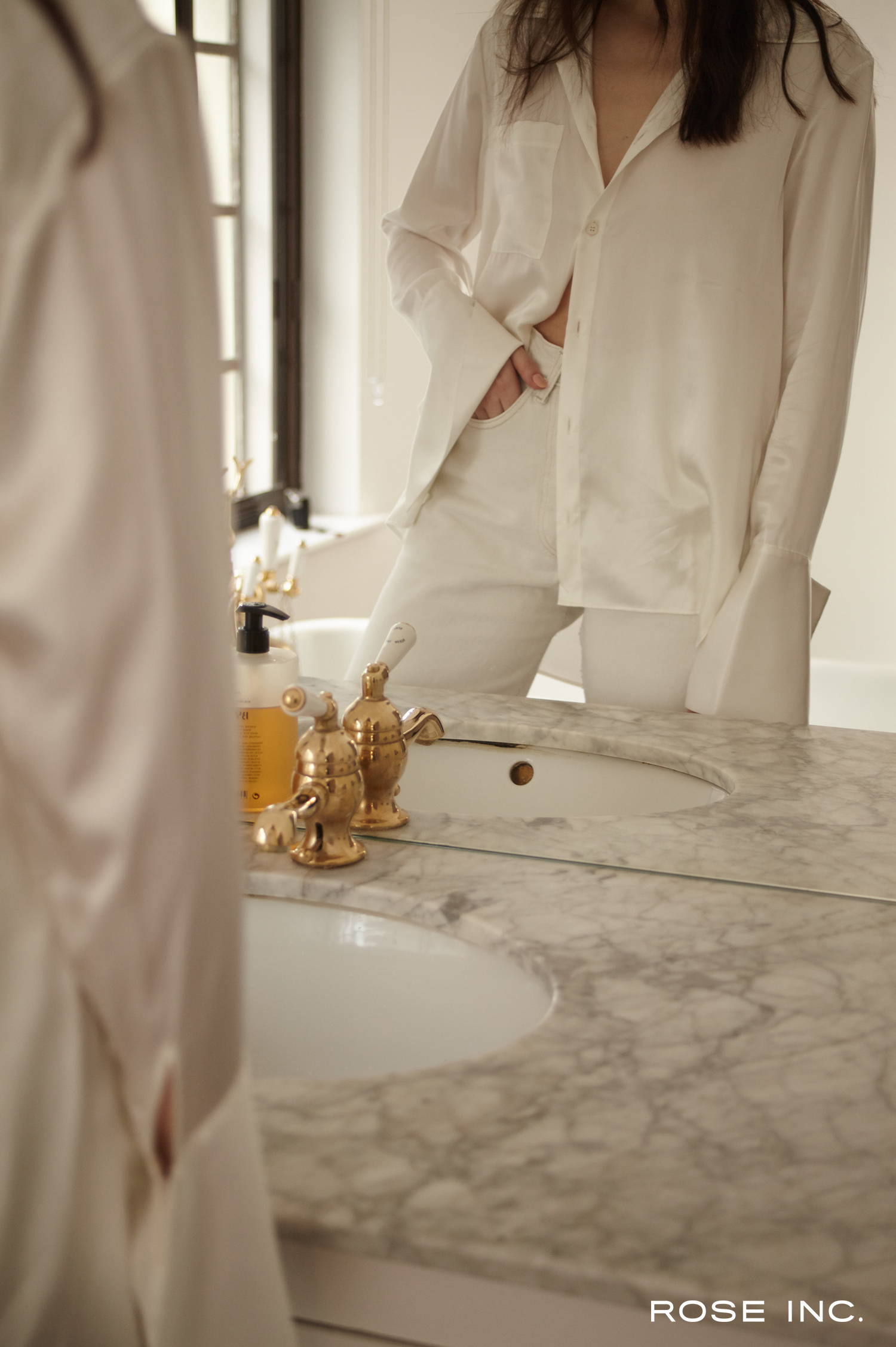 RI:
So what is working for you now?
LH:
I use the Chanel Hydra Beauty line on a daily basis. It's very moisturizing;  it makes a good base underneath makeup as well. I also really like the Augustinus Bader Rich Cream, especially now in winter. It gives a glow to your skin when you apply it, which I love. I'm all about glowy. Sometimes I think people might think I'm too glowy, but there's no such thing.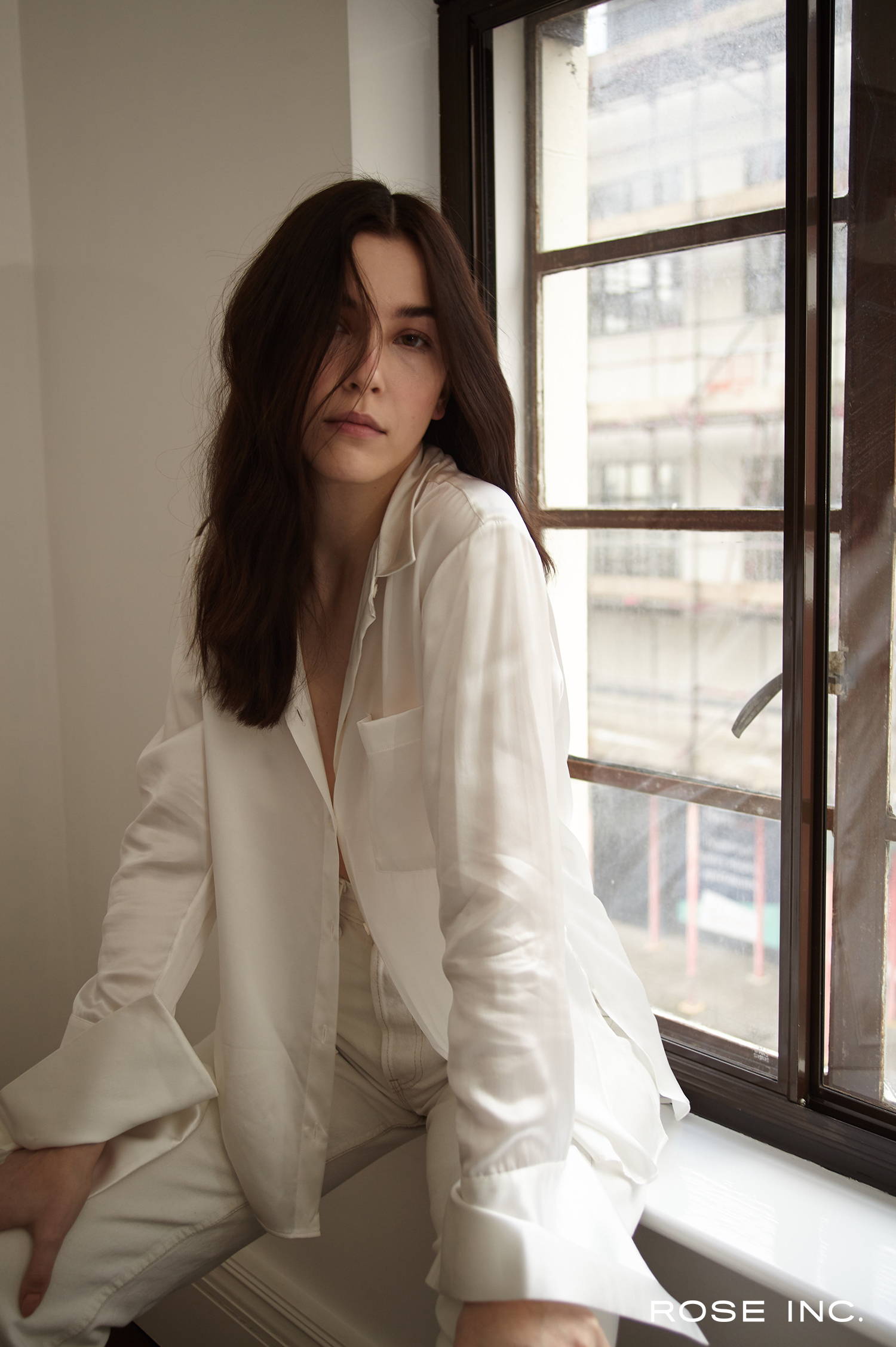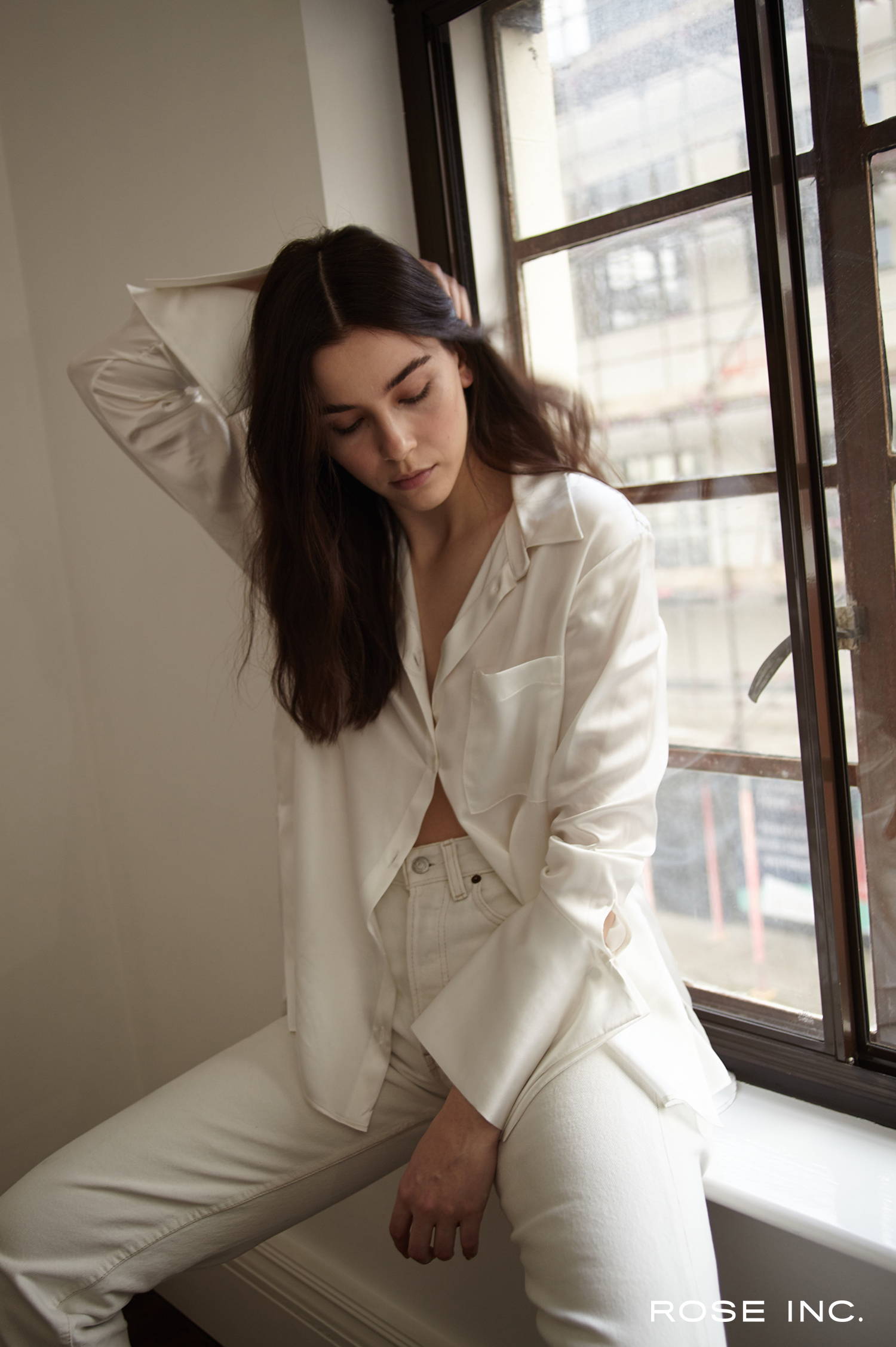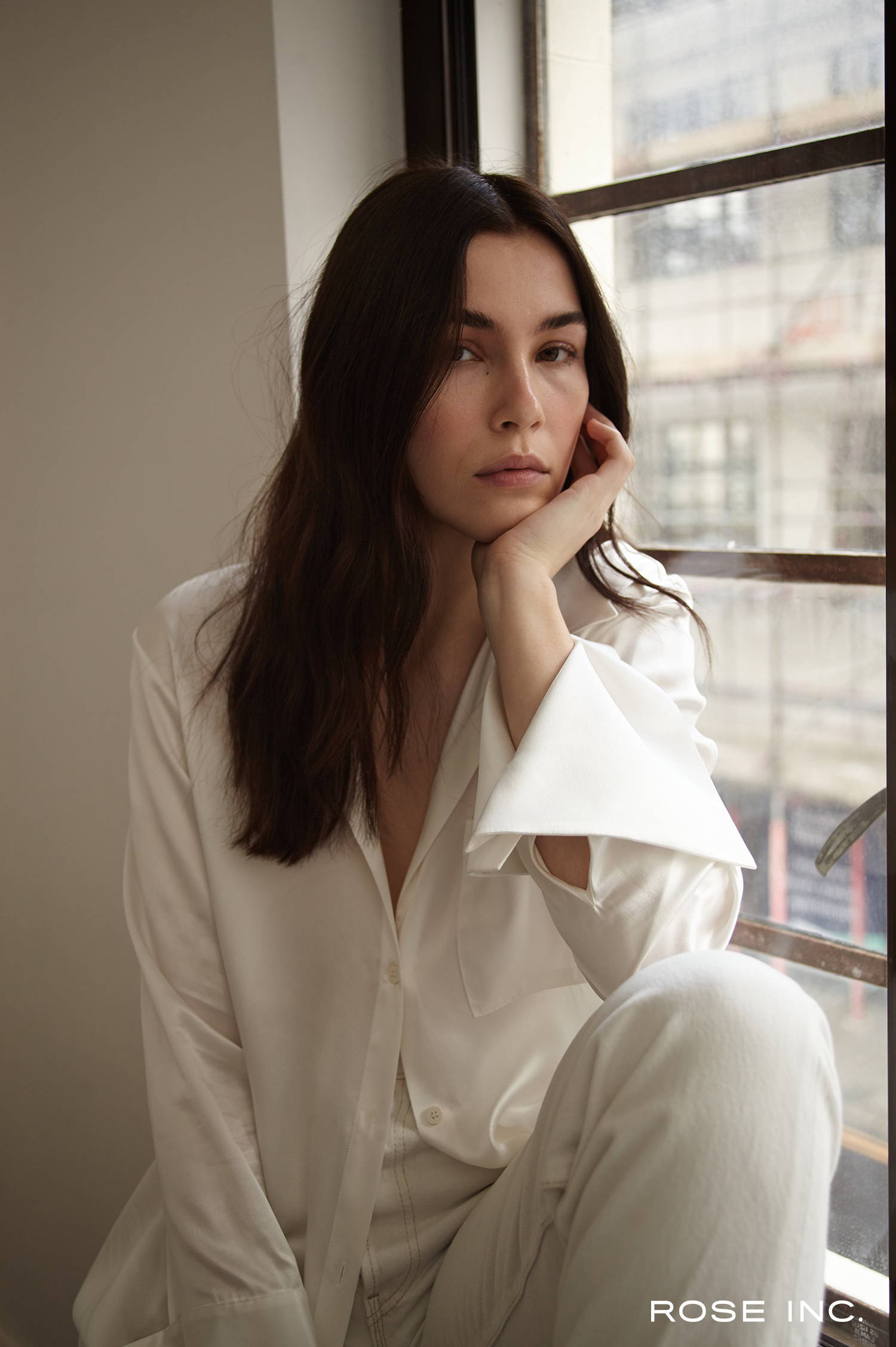 RI:
Are you a perfume girl?
LH:
Yes, totally. I'm obsessed with perfume. I keep buying more and collecting more. Byredo is the number-one brand for me. Every scent is just so good. I also love wearing men's fragrances. One of my top perfumes is Black Afgano by Nasomatto. It's a very heavy scent. Sometimes when I put it on, my boyfriend says I smell like a Turkish bazaar. You have to be gentle when you apply it, but I love it.
RI:
Where do you think your love of fragrance came from?
LH:
I don't really know. When I discovered Byredo, it was through Gypsy Water. It felt so good to put it on, and it always put me in a good mood. Now that I have more perfume, I have one for every occasion and every mood. It's a bit like fashion. You can dress up for an occasion and put the matching scent on.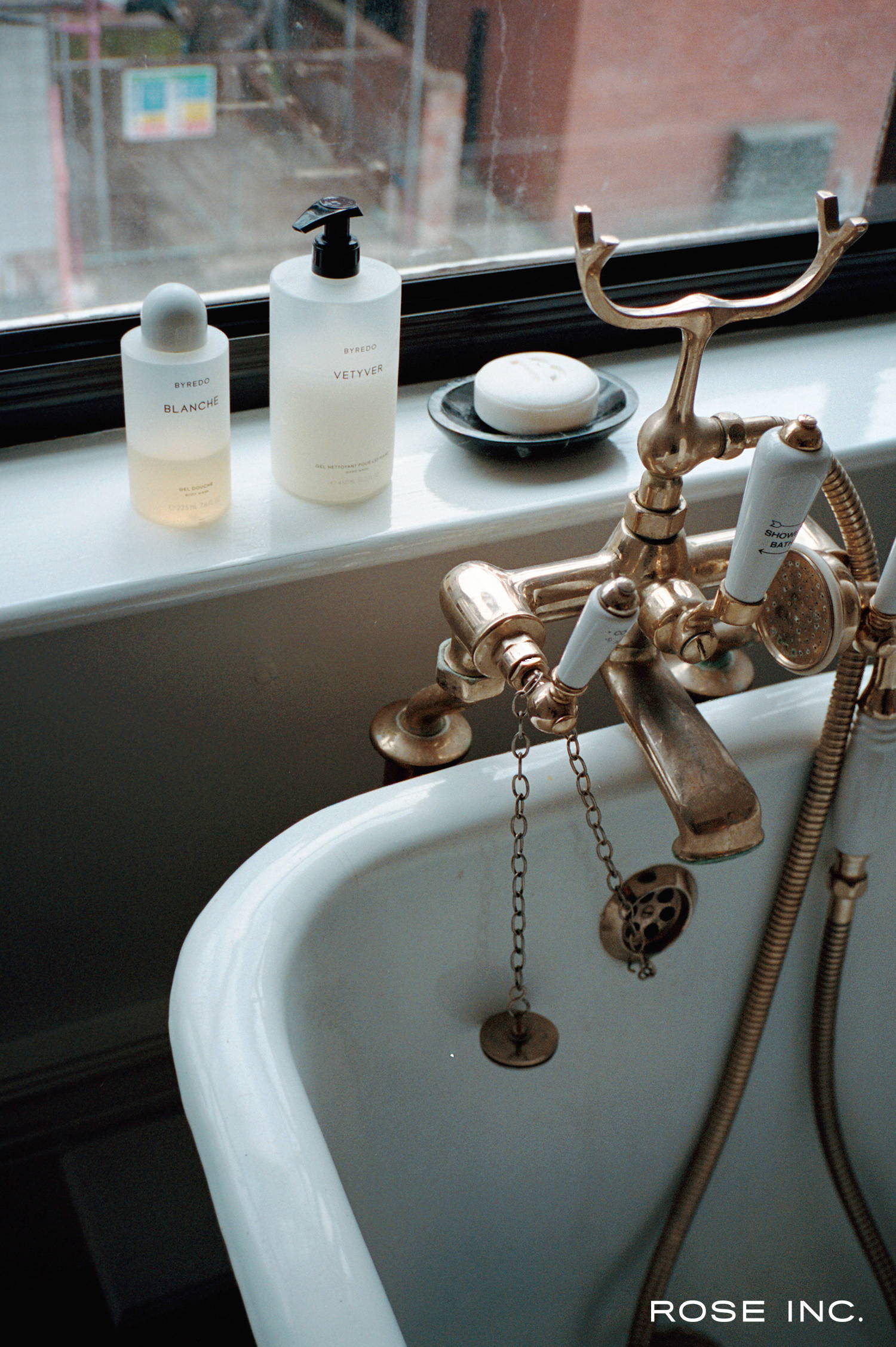 RI:
It used to be that trends would last for a year, but in the age of Instagram, they last for a month. Maybe two. How do you, as someone who works in social media, keep all of these visuals from dominating your creative process?
LH:
Well, you need other inspirational sources besides social media. Obviously, there's so much on social media, but I think it's important that it not be the only source of inspiration. So, for example, I love interior design. I always check out interior stores and vintage markets to look at old design. I go to museums to look at art. This might not sound like it would inspire me for my work with fashion, but it does. I still love to look at old magazines. If you don't use social media as your only inspiration, then it's easy to find a balance.
RI:
I have a few rapid fire questions for you. What are you listening to right now?
LH:
I discovered an artist named AK. He's doing really chill instrumental music.
RI:
What gets you out of bed in the morning?
LH:
My boyfriend. We get up together, and I'm usually looking forward to being creative and getting work done.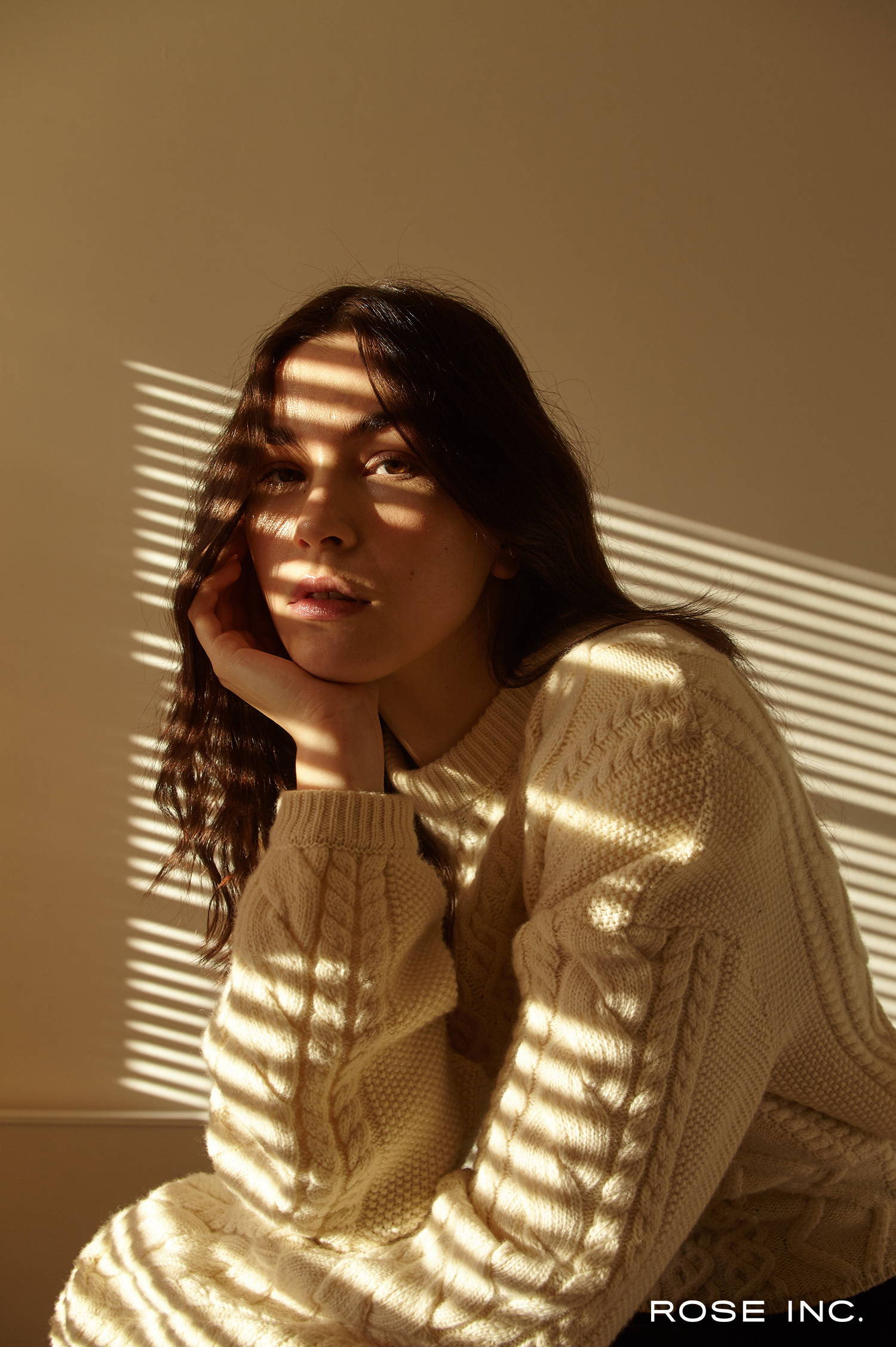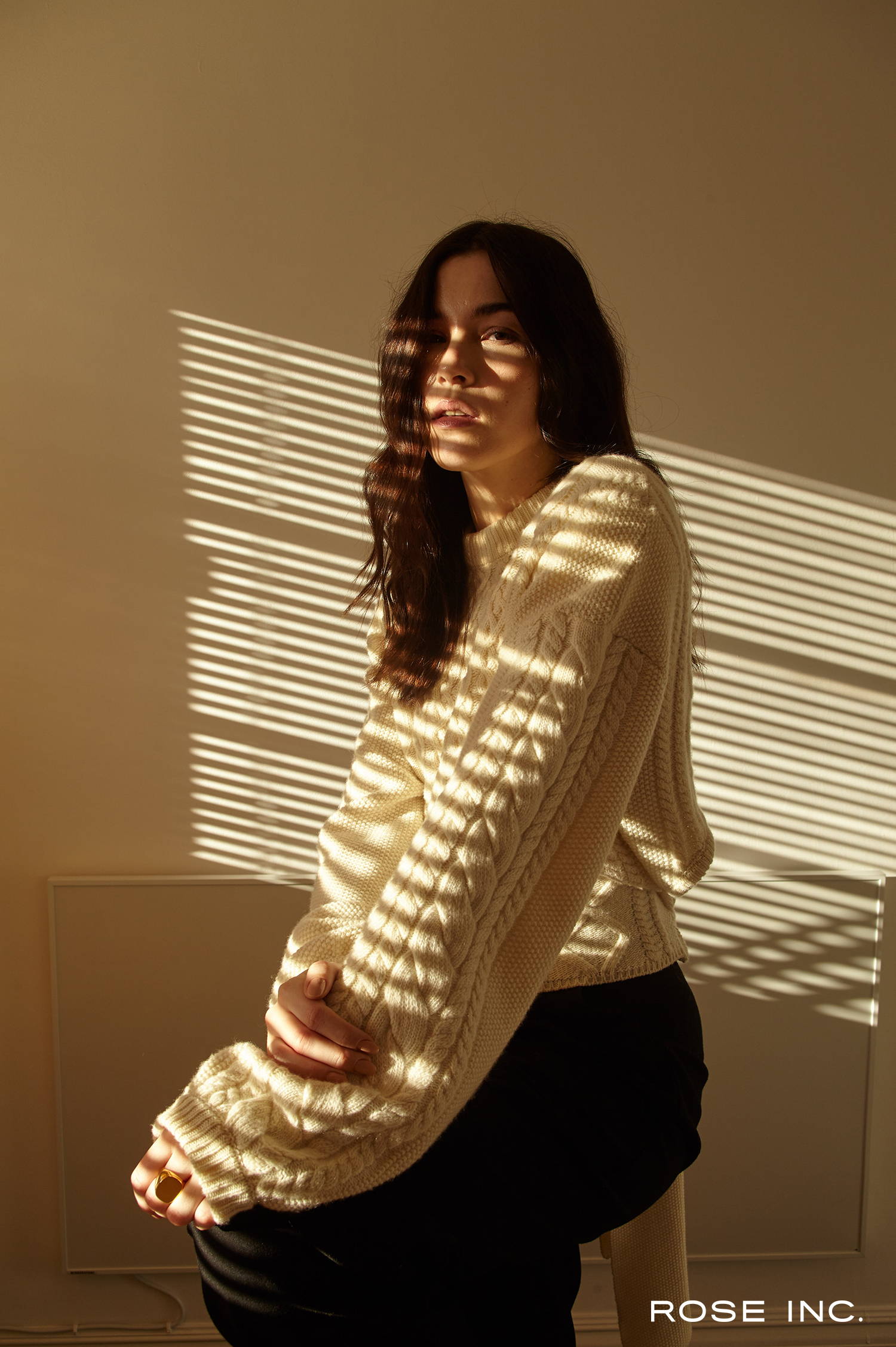 Sometimes I think people might think I'm too glowy, but there's no such thing.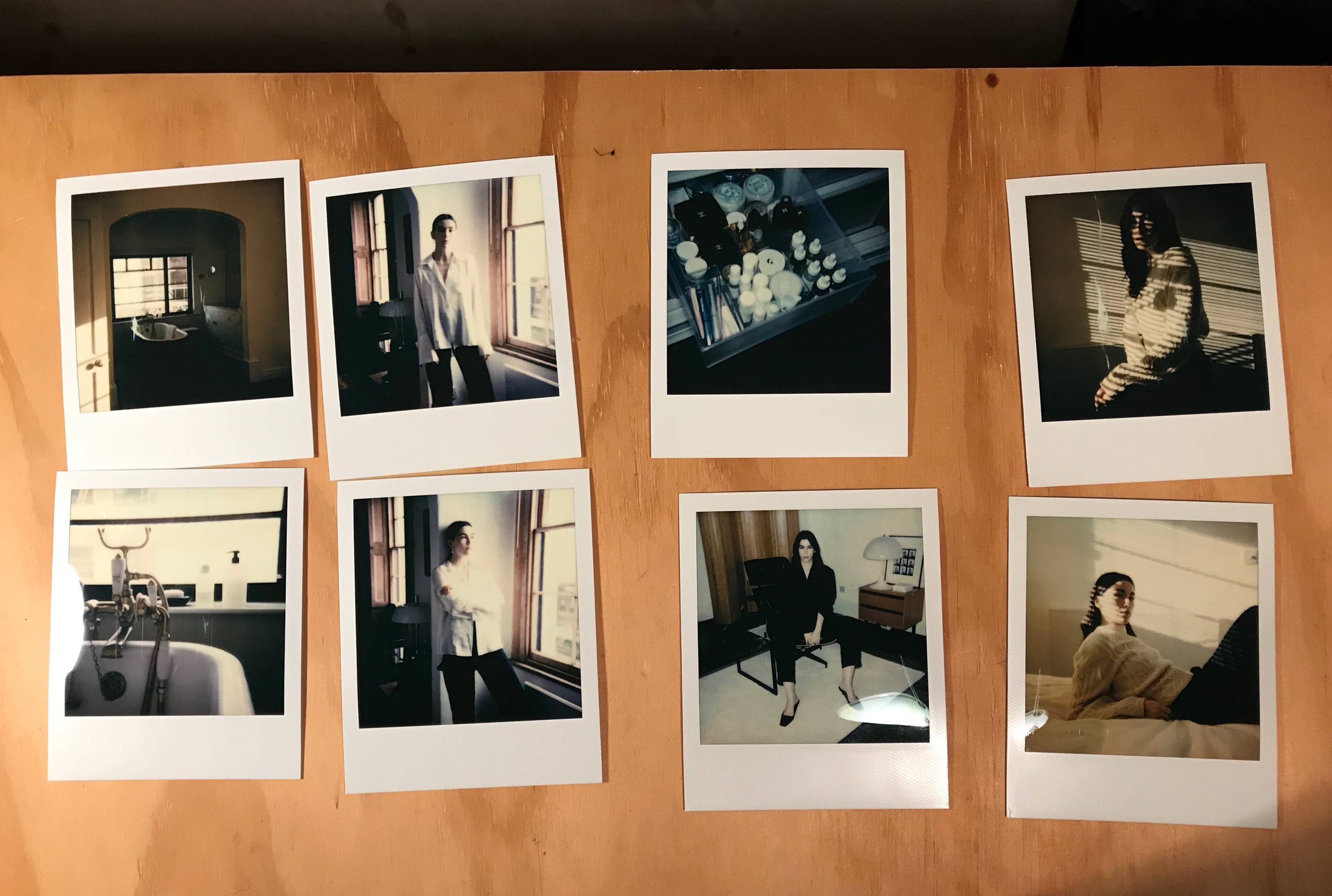 RI:
What keeps you in bed?
LH:
My pillow. Sometimes it's just too cozy in bed to get up, especially on the weekends.
RI:
What do you admire in a man?
LH:
Confidence. Not cockiness—I don't like the whole macho attitude. When a man is confident and he knows what he wants in life, that's very attractive. And if you can make me laugh, that's very important to me.
RI:
What do you admire in a woman?
LH:
Basically the same thing.
RI:
What is something you will always do?
LH:
Probably be creative in some way. I feel like it's been in me since I was little and it will always be there.
RI:
What would you never do?
LH:
Well, never say never.
LH:
I try to be aware of what I will spend money on. I mean, I work in the fashion industry and it's always about having new clothes and stuff, but still, I would never impulsively buy something. I always want to make sure that I get a lot of wear out of my things.
RI:
When are you extravagant?
LH:
Probably never! I'm not a very extravagant person. I'm very minimal.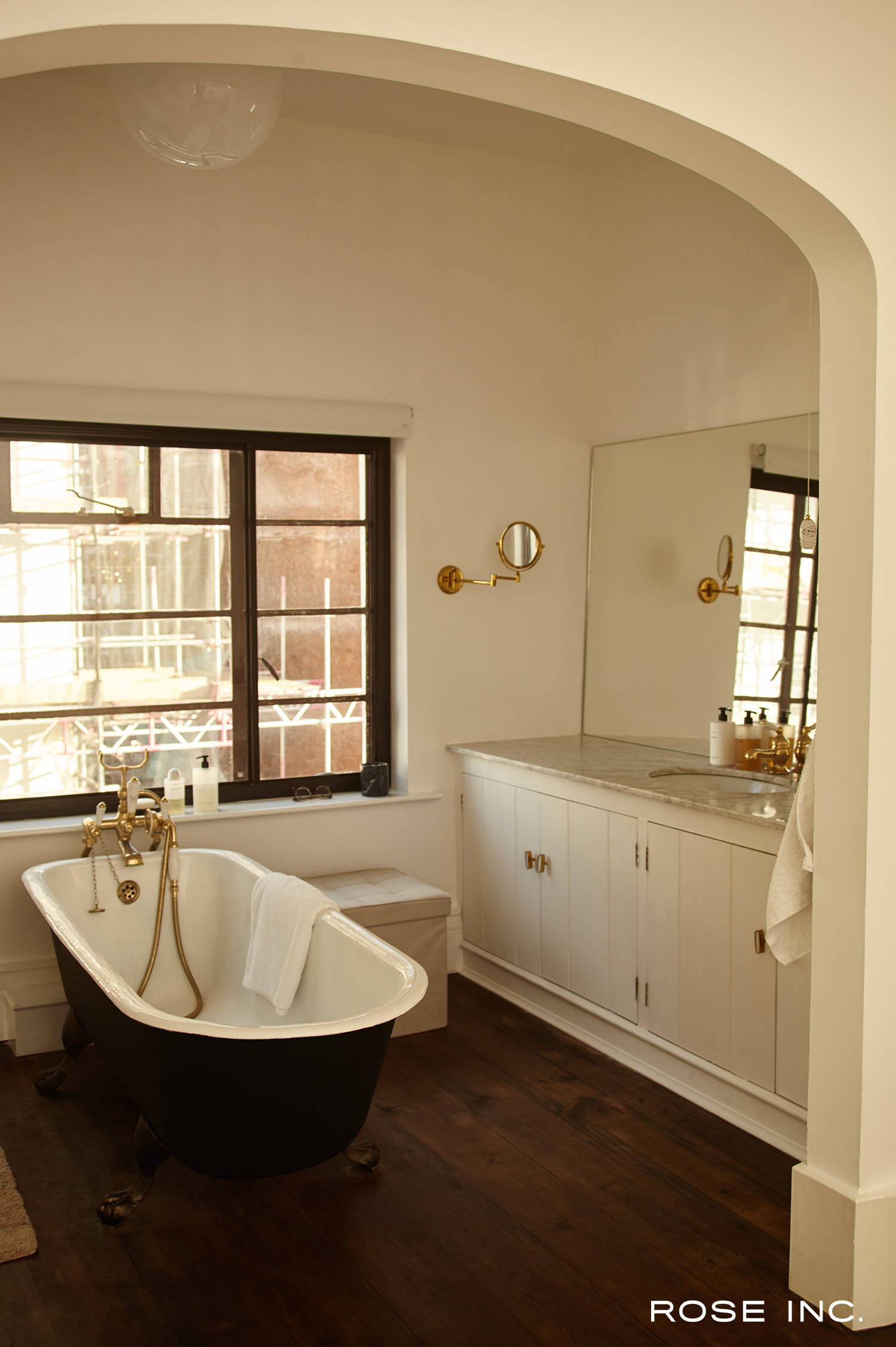 RI:
Who would be at your dream dinner party?
LH:
Karl Lagerfeld. His personality just seems so interesting and he had strong opinions. I would have loved to have a chat with him.
RI:
What will you never apologize for?
LH:
Doing my thing and being a perfectionist. I'm such a perfectionist. It's a blessing and a curse. But I feel like in the end, it's more of a blessing because you have your standards and you just want to live up to them.
RI:
What are your hopes and goals for the year?
LH:
There is something coming up in the beginning of 2020, which I'm not allowed to talk about right now. But I'm excited for that, and I hope that I get a lot of opportunities to grow next year. I'm working in a field I've always dreamed of working in, so I want to make my dreams become reality.