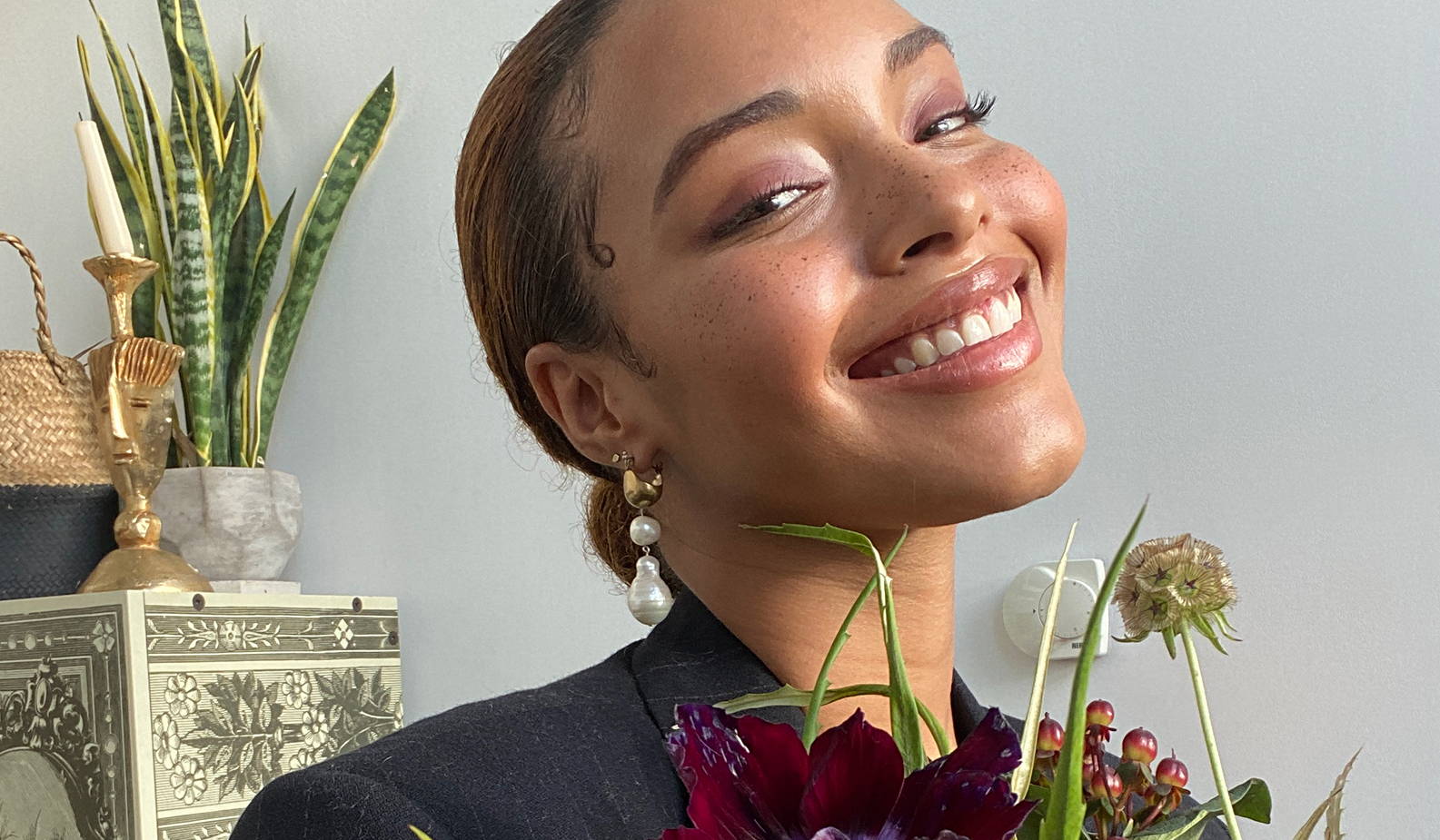 The Profile: Gilly Chan
Profile
Everybody has a story about beauty. In Rose Inc.'s The Profile, some of the world's most intriguing people share theirs. In this intimate interview series, we get (virtually) up close and personal to explore their definitions of beauty, path to self-confidence, and the power of femininity. Featuring imagery shot through their own lens, The Profile presents these compelling personalities in a new light—one that illuminates their own journey, dreams, and desires while highlighting their unique relationship with beauty.

For Gilly Chan, who's been featured in campaigns for brands like Adidas, Covergirl, and Mango, modeling is a pit stop in her career, not the final destination. With a degree in psychology under her belt, the California-born and current New Yorker has made mental health advocacy central to her mission, opening up about her own struggles with depression and anxiety on social media. To wit: When selected to be a Playboy playmate in November 2019, Chan used her interview to offer advice to anyone struggling with their sexual orientation (Chan came out as bisexual when she was in high school) and to unpack the importance of intersectional support in the LGBTQ+ community.

"I make it a point to touch on Black mental health and healing because it's a very taboo subject within the Black community overall," says Chan, who is launching her own digital mental health destination, called The Remedy Platform, later this year. On the heels of a turbulent 2020 that saw widespread outrage over police brutality and a pandemic that disproportionately impacted people of color, the timing couldn't be better.

Rose Inc. caught up with Chan to discuss the importance of mental health advocacy, the self-care rituals that helped her get through 2020, and the best beauty tips she's picked up from her career as a model.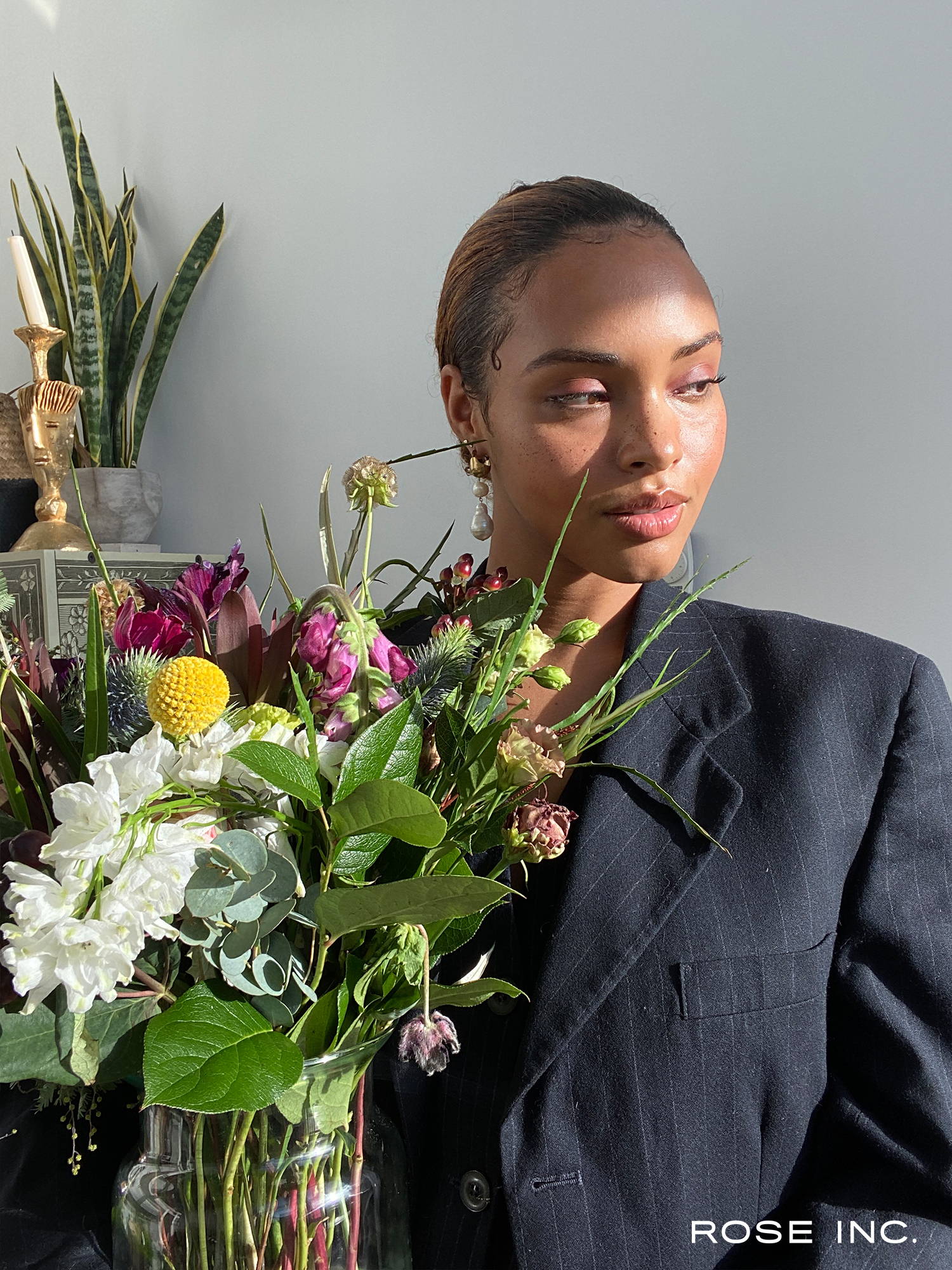 RI:

How are you holding up with everything going on right now?

GC:

It's been such a roller coaster. On top of the pandemic, I lost my best friend and my partner lost their mom, so we felt very tested, especially as a couple that is long distance. I finally feel like I'm coming out the other end. I was forced to start self-care practices and really focus on my mental health. I've learned a lot more about myself during this time as a result.

RI:

You speak out about the need to destigmatize Black mental health a lot on your platform. Do you think that there's been any progress on that front this year?

GC:

Since I'm starting my own mental health platform, I've had to do a lot of research into other platforms and there are so many Black entrepreneurs now starting wellness and mental health platforms for the Black community. It's starting to become a really lucrative and pivotal thing for our community, which is amazing to see.
RI:

What do you think is most misunderstood about Black mental health?

GC:

There are mental health issues that are specific to Black folks and POC that result from racism and discrimination that aren't touched on in the mainstream wellness sphere...I also think that a lot of Black people put their mental health low on their priority list because their first priority is just to survive and have their basic needs met.
"I finally feel like I'm coming out the other end…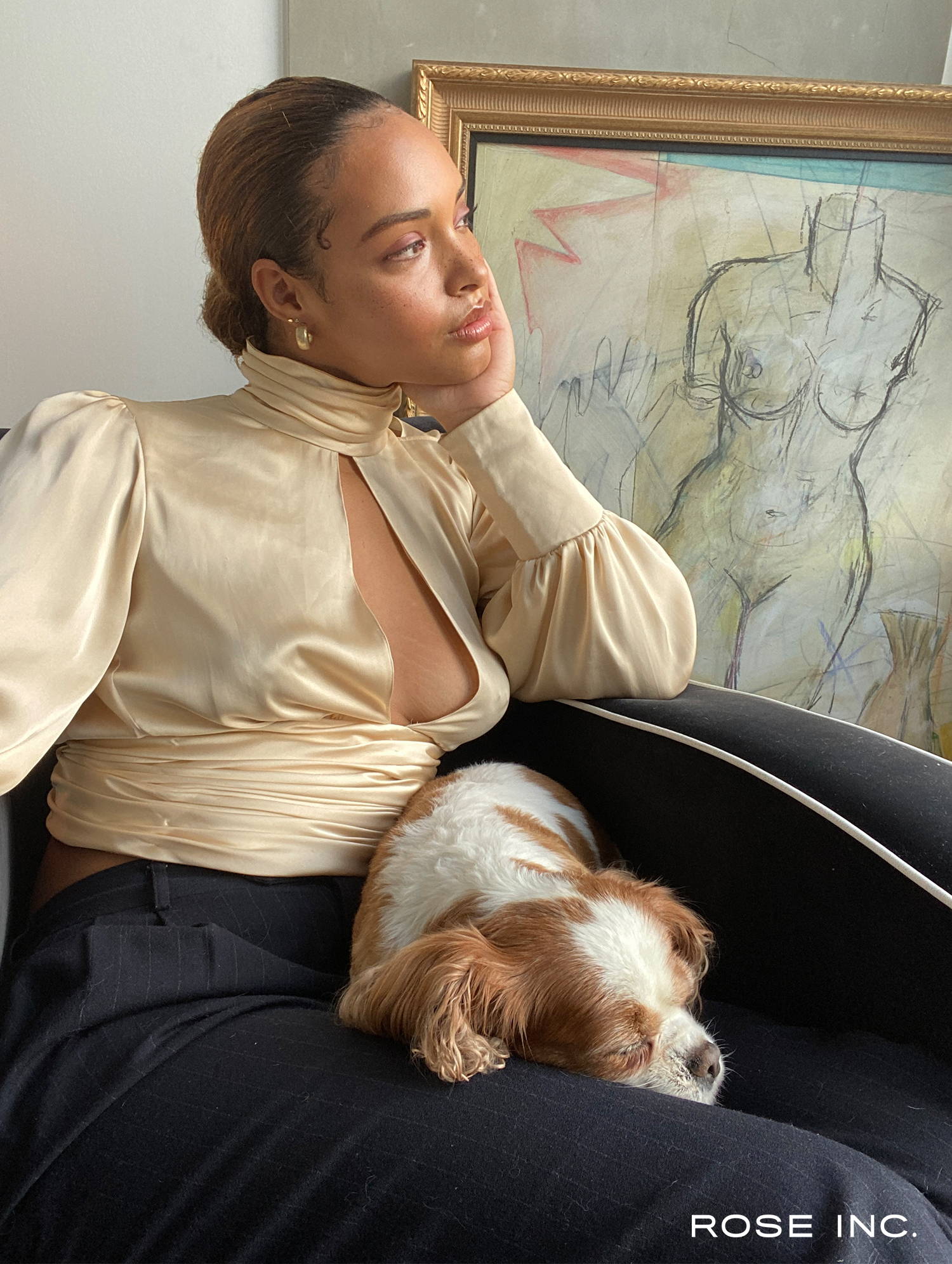 RI:

You talk a lot about how unkind women can be to their bodies. What you have found to be most helpful in learning to be kinder to yourself?

GC:

As a model, I'm constantly under pressure to look a certain way and there's a lot of comparing myself to others, so I understand what it's like to be mean to your body and to not take care of your body in the way that you should. I think the biggest lesson I've learned is that diets will never work and health is more about lifestyle than it is about losing weight or meeting certain beauty standards. You can't judge how healthy someone is based on their physical appearance. I know so many healthy people that are both thin and curvy, and they really understand that wellness and being good to your body comes from within and is an individual thing: learning how your body responds to different foods, learning what nutrients you need, learning your family's medical history, and so on.

RI:

What was it like to be selected as a Playboy playmate in 2019?

GC:

It was such a surprising experience! I never expected to be in Playboy and it was not something I was reaching towards, but it changed my whole career. The Playboy team is so nice and they really want to be collaborative—they let me kind of take the reins which I was so grateful for because a lot of big publications like that have a strict vision for you. They asked me what I wanted the shoot and interview to look like and it came out to be an expression of who I am, which was really beautiful.
RI:

Do you have an earliest beauty memory that you remember?

GC:

I come from a family on my mom's side of very strong, beauty-driven Jamaican women, so my earliest memory of beauty is of my mom, when I was 7 or 8, dressing me up and putting makeup on me. I had glitter eyeshadow on my face and I loved it. My mom is the kind of person who won't walk out of the house without makeup on, even if she's just taking out the trash, so I always remember this sense of pride in putting on makeup and showcasing your features.

My mom's all about skin care, too. She's 52 and looks like she's 30, so I learned early on about the importance of moisturizing and using special serums. She was always experimenting with new products and she introduced me to lactic acid, peptides, hyaluronic acid, kojic acid, and collagen serums over the years.
RI:

What's your daily skin-care routine like today?

GC:

I didn't pay attention to ingredients growing up and I had skin problems in high school as a result, like acne and eczema, so now I mostly use natural ingredients. I use argan oil and the hydrating cleanser and moisturizer from CeraVe, which was recommended by my dermatologist Dr. Elyse Love. I wake up, wash my face, use moisturizer with sunscreen because that's one of the most important things you can do, and then I'll put a tinted moisturizer from Nars which is also SPF 30 on. It looks really natural, which I love.

RI:

If you could only use three products, what would they be?

GC:

I think it would be the Nars tinted moisturizer,  fake freckles from Pseudo Labs which are super cool (you brush them on and they flick all over your face so it looks like you really have freckles), and Milk's mini lip and cheek stick in Werk.

RI:

Are there any beauty rules that you'd like to see forgotten?

GC:

I grew up wearing a full face of foundation and lots of heavy makeup, but I've learned that beauty really starts from the health of your skin. Obviously having good skin or not doesn't determine if you're beautiful, but I think that the concept of having to wear a lot of makeup to look a certain way should be dispelled.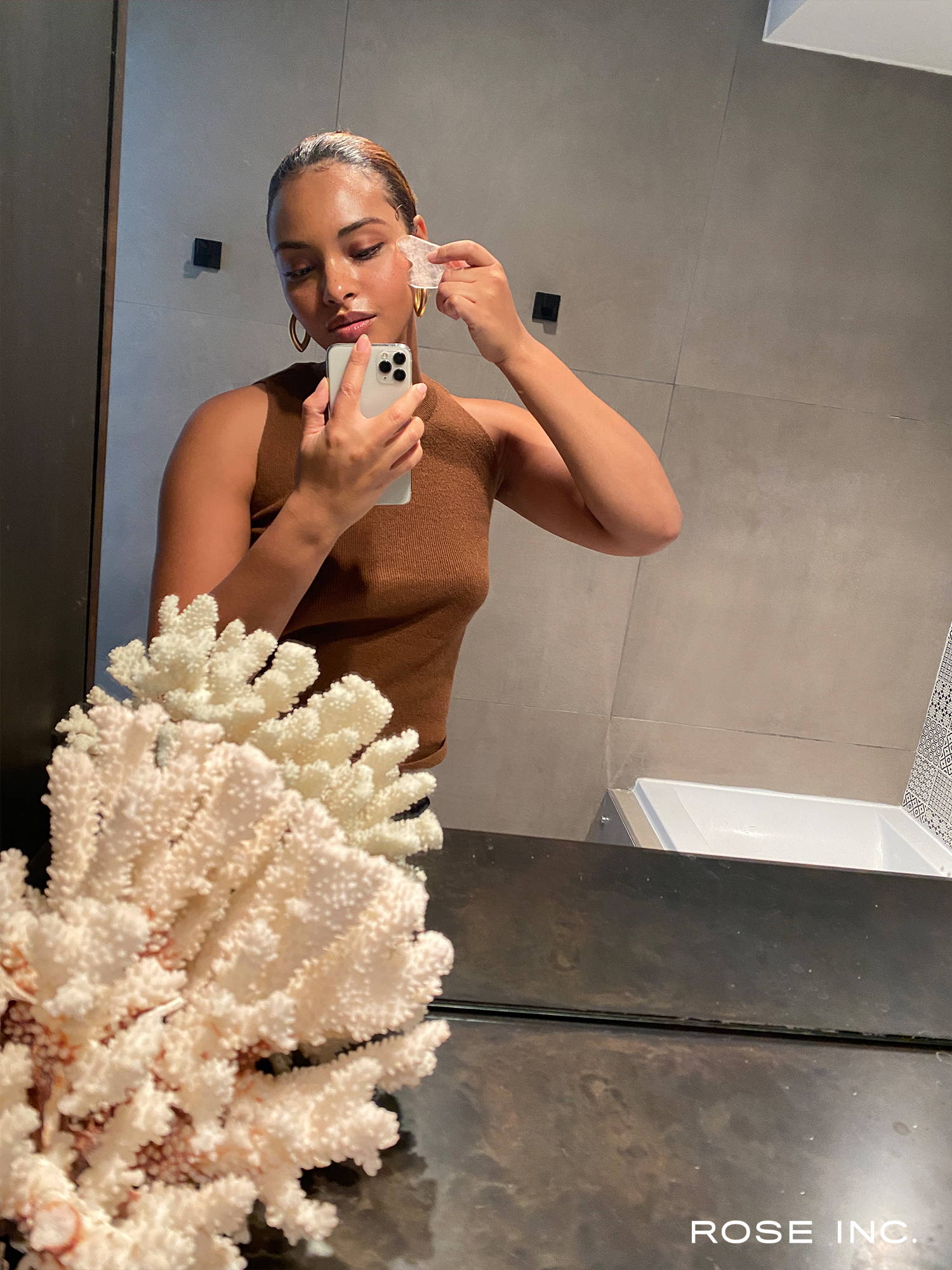 RI:

What's the best beauty tip you've picked up throughout your modeling career?

GC:

Most makeup artists dab concealer where necessary instead of applying foundation, which looks much better overall. There's also this mini face mister that I used on a job once and then bought afterwards. I usually fill it with filtered water or rose water, especially when I travel or during the winter months because it's great for keeping your face hydrated.

RI:

When do you feel the most confident in your own beauty?

GC:

When I have a little bit of sun and my skin is fully clear, perhaps with a little bit of blush on. That's when I feel the most radiant and most like myself.

RI:

Whose approach to beauty do you admire or look up to?

GC:

I love Solange. She can do a very simplistic makeup look and it still looks so fancy, or like something you can go out in, but it's basically just two artful lines on her eyes. I just think her ideas for makeup are so unique.
RI:

What is making you feel hopeful about the future right now?

GC:

Seeing so many new female entrepreneurs pop up. I have seen so many of my friends and people I look up to, particularly Black and brown people, doing big things in their careers and taking advantage of this time. It really makes me feel hopeful that there will be more of us in higher positions, running successful businesses. It makes me feel like I can do anything if I put my mind to it.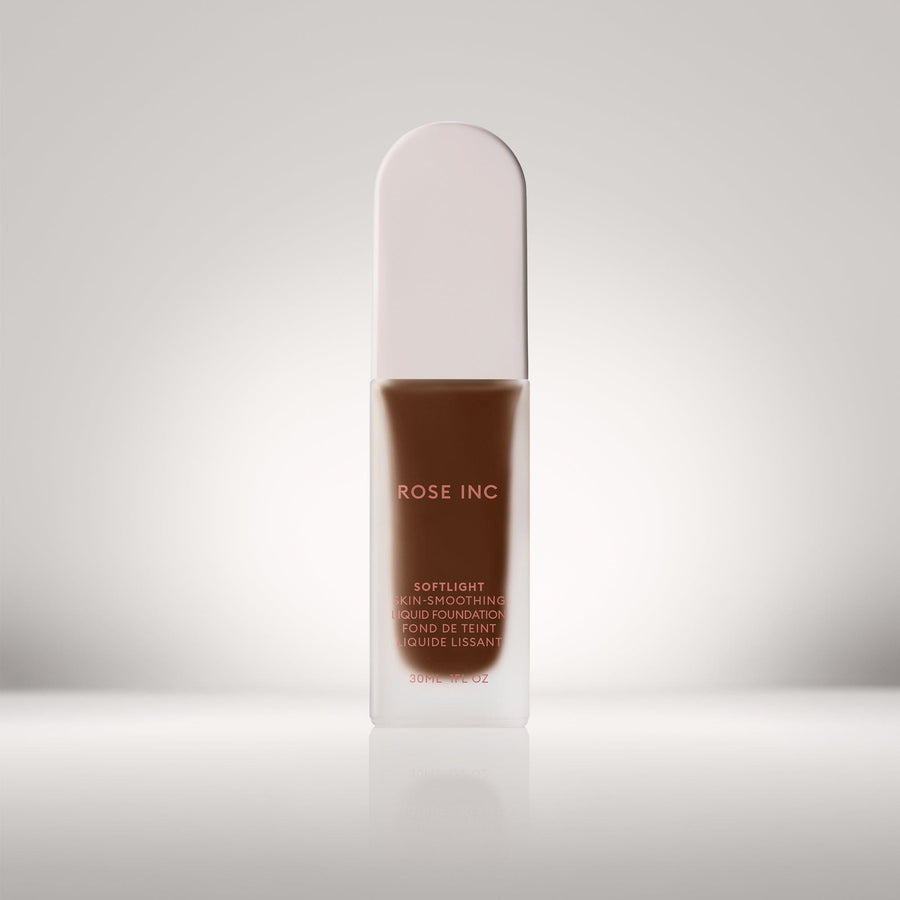 31N
Deep with Neutral Undertone
30W
Deep with Warm Red Undertone
29N
Deep with Neutral Red Undertone
28W
Deep with Warm Golden Undertone
27C
Deep with Cool Red Undertone
26N
Deep with Cool Red Undertone
25W
Deep with Warm Golden Undertone
24W
Medium-Deep with Warm Olive Undertone
23C
Medium-Deep with Cool Pink Undertone
22N
Medium-Deep with Neutral Undertone
21W
Medium-Deep with Neutral Undertone
20N
Medium-Deep with Neutral Golden Undertone
19N
Medium-Deep with Neutral Undertone
18W
Medium-Deep with Warm Golden Undertone
17C
Medium with Cool Pink Undertone
16W
Medium with Warm Olive Undertone
15N
Medium with Neutral Golden Undertone
14W
Medium with Warm Peach Undertone
13N
Medium with Neutral Undertone
12C
Medium with Cool Neutral Undertone
11W
Medium with Warm Golden Undertone
10N
Light-Medium with Neutral Olive Undertone
9W
Light-Medium with Warm Peach Undertone
8N
Light with Neutral Undertone
7C
Light with Cool Pink Undertone
6W
Light with Warm Golden Undertone
5N
Light with Neutral Undertone
4W
Light with Warm Golden Undertone
3N
Fair with Neutral Undertone
2N
Fair with Neutral Olive Undertone
1C
Fair with Cool Pink Undertone
31N
Deep with Neutral Undertone
Softlight Skin-Smoothing Liquid Foundation
Medium Coverage, brightening, balancing
Current price: $54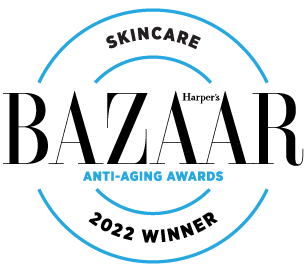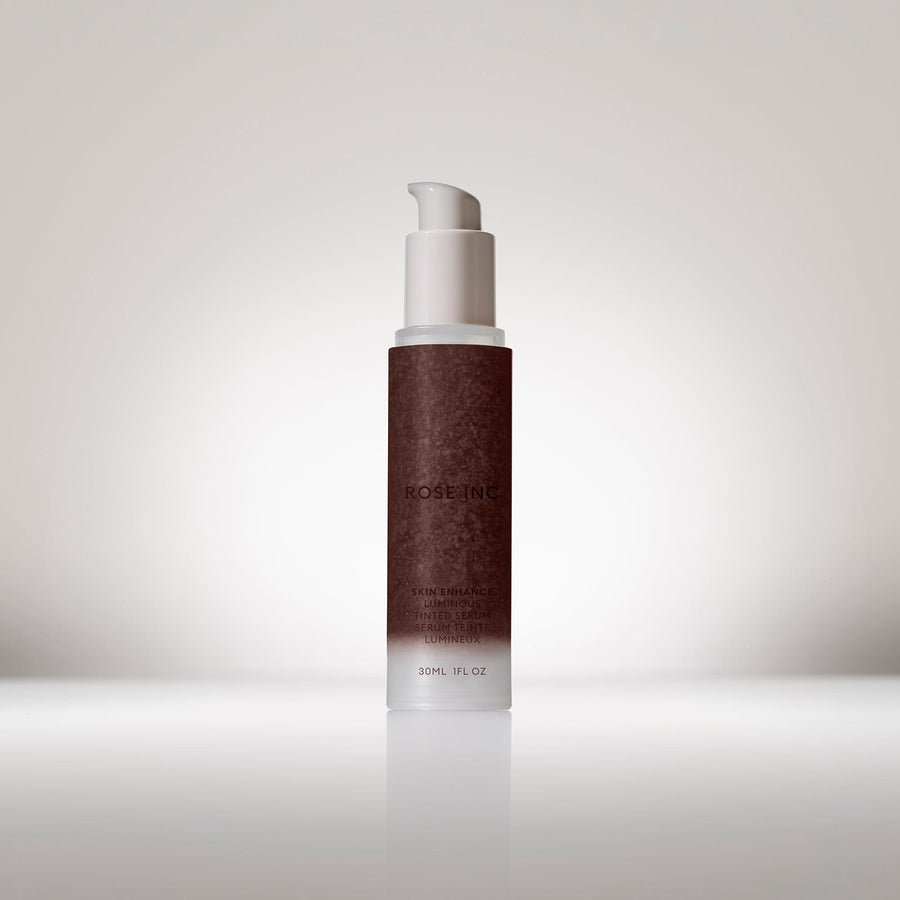 140
Very Deep Skin Tone/Red Undertone
130
Deep Skin Tone/Neutral Undertone
120
Deep Skin Tone/Red Undertone
110
Deep Skin Tone/Golden Undertone
100
Medium Deep Skin Tone/Golden Undertone
090
Medium Deep Skin Tone/Olive Undertone
080
Medium Tan Skin Tone/ Peach Undertone
070
Medium Skin Tone/Peach Undertone
060
Medium Skin Tone/ Neutral Undertone
050
Medium Skin Tone/ Pink Undertone
040
Light to Medium Skin Tone/ Neutral Undertone
030
Light Skin Tone/ Warm Golden Undertone
020
Light Skin Tone/Warm Peach Undertone
010
Fair Skin Tone/ Cool Pink Undertone
140
Very Deep Skin Tone/Red Undertone
Skin Enhance Luminous Tinted Serum
Sheer Coverage, illuminating, hydrating
Current price: $49