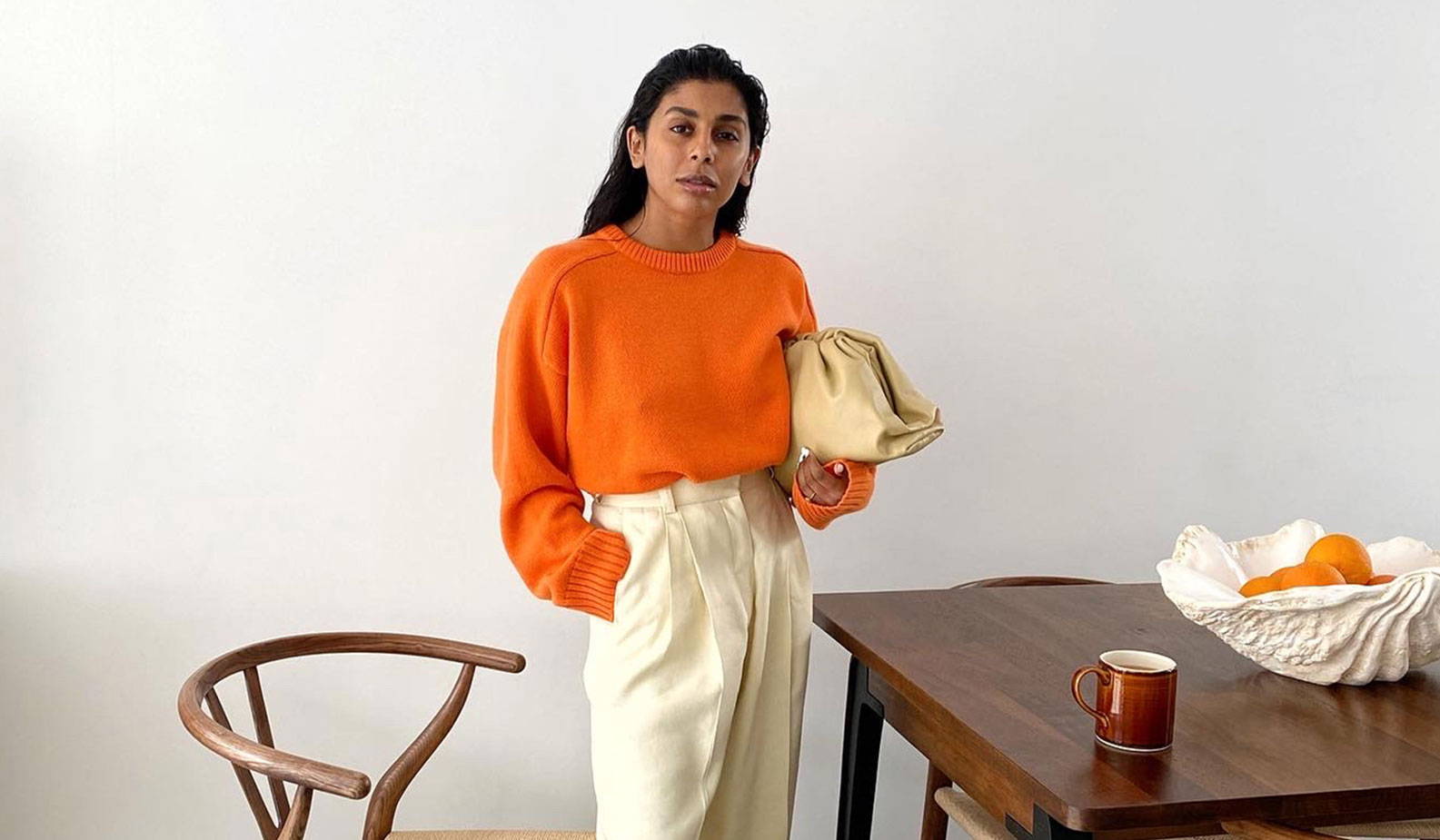 05 / 25
INTERVIEWS
Distancing Diaries: Monikh Dale
In the pantheon of dream shopping companions, Monikh Dale earns a high spot on the list. The London fashion stylist and blogger has an incredible eye for cool-girl simplicity, yet she has a knack for tracking down the just-unusual-enough colors and surprising silhouettes to save minimalist outfits from being boring.
During the pandemic, she hasn't been hitting the high street or boutiques, obviously—but her online styling guides provide plenty of inspiration (and may just inspire you to get out of sweats and into something more structured). Here, via email, she fills Rose Inc. in on what she's doing to stay motivated, fit, and aware while staying at home.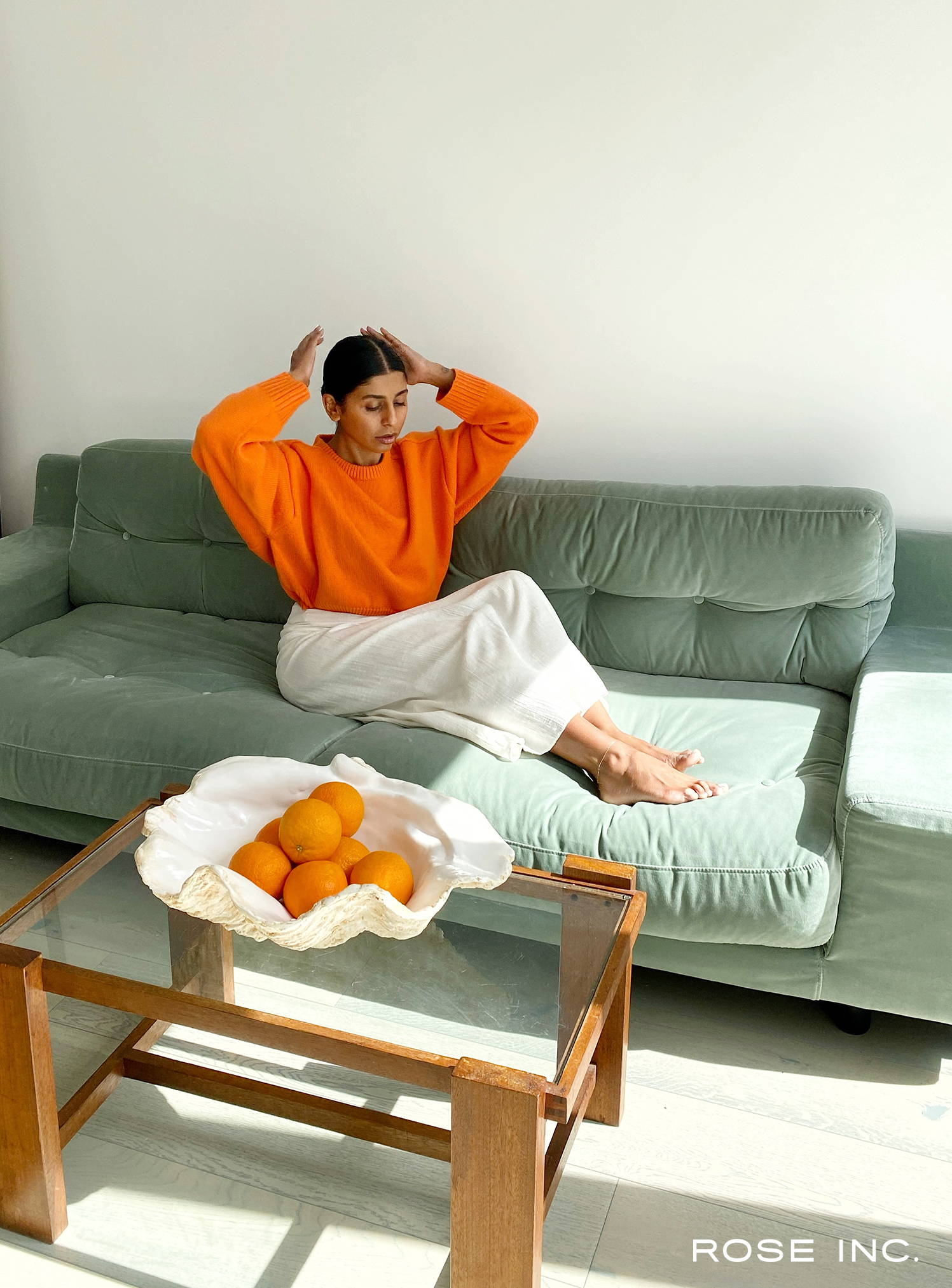 RI:
How are your spirits?
MD:
I'm a pretty positive person. I'm actively doing things to keep my spirits high.
RI:
What does your stay-at-home life look like?
MD:
I've been working from home for the last five years, so it's normal in that way for me. However, having my fiancé at home 24/7 has been different, and I love it! He is the funniest person I know, and we need people like that more than ever right now. We live together in our two-bedroom flat in South London.
RI:
How are you staying informed on what's going on?
MD:
We've been keeping updated with everything, watching the five o'clock news religiously every day to make sure we have the latest information. Which is quickly followed by a glass of wine.
RI:
How are you looking out for the well-being of others?
MD:
My job as a stylist is to give people fashion advice and styling tricks. Now that also leads into a branch of other subjects like beauty, health, and interiors. I have never spoken about personal issues on my sites. I'm quite a private person, and I have always seen it as a business. I like to keep work and personal life very separate. So when things started to happen at the beginning of this year, I made the decision to carry on with how I had been running my site for its entire lifespan. @monikh, Monikh.com, and anywhere else I write for is there to give people a little light relief, some escapism from what is going on in the world right now. Work-wise, that is how I'm helping, and I think it's important to give people flashes of normality. I know I need it. Personally, I'm trying to do my bit, but like I said, I keep it very separate and don't discuss that side.
RI:
Have you introduced any new routines or rituals since staying home?
MD:
If anything, we have the music louder, I am enjoying more food and wine, and when the sun is shining, I move away from the laptop and enjoy the garden for a bit. I have also learnt that Monday through Friday are working hours. The evenings and weekends are for quality/me time. It's made me look closely on my working habits and create a healthier routine.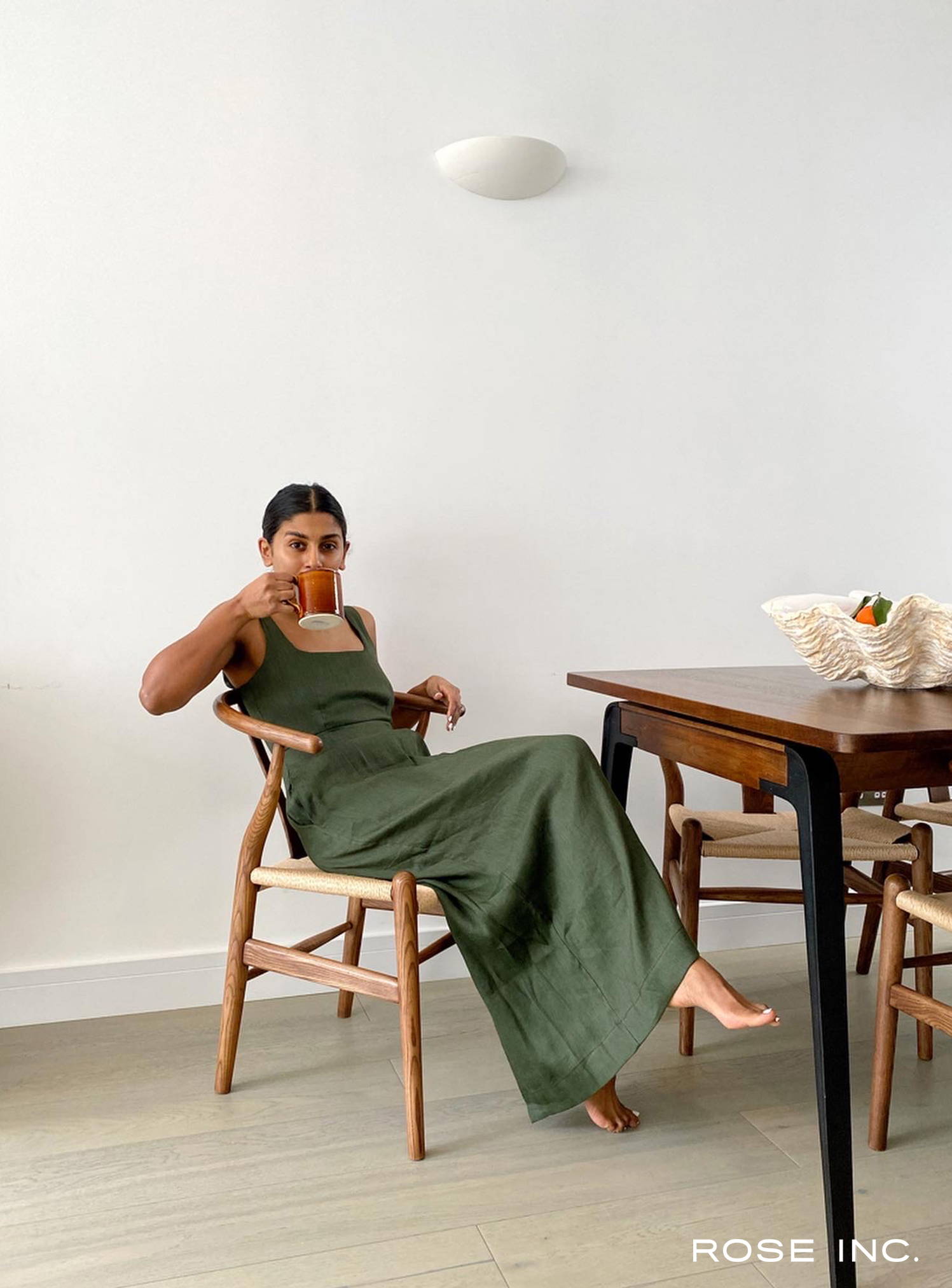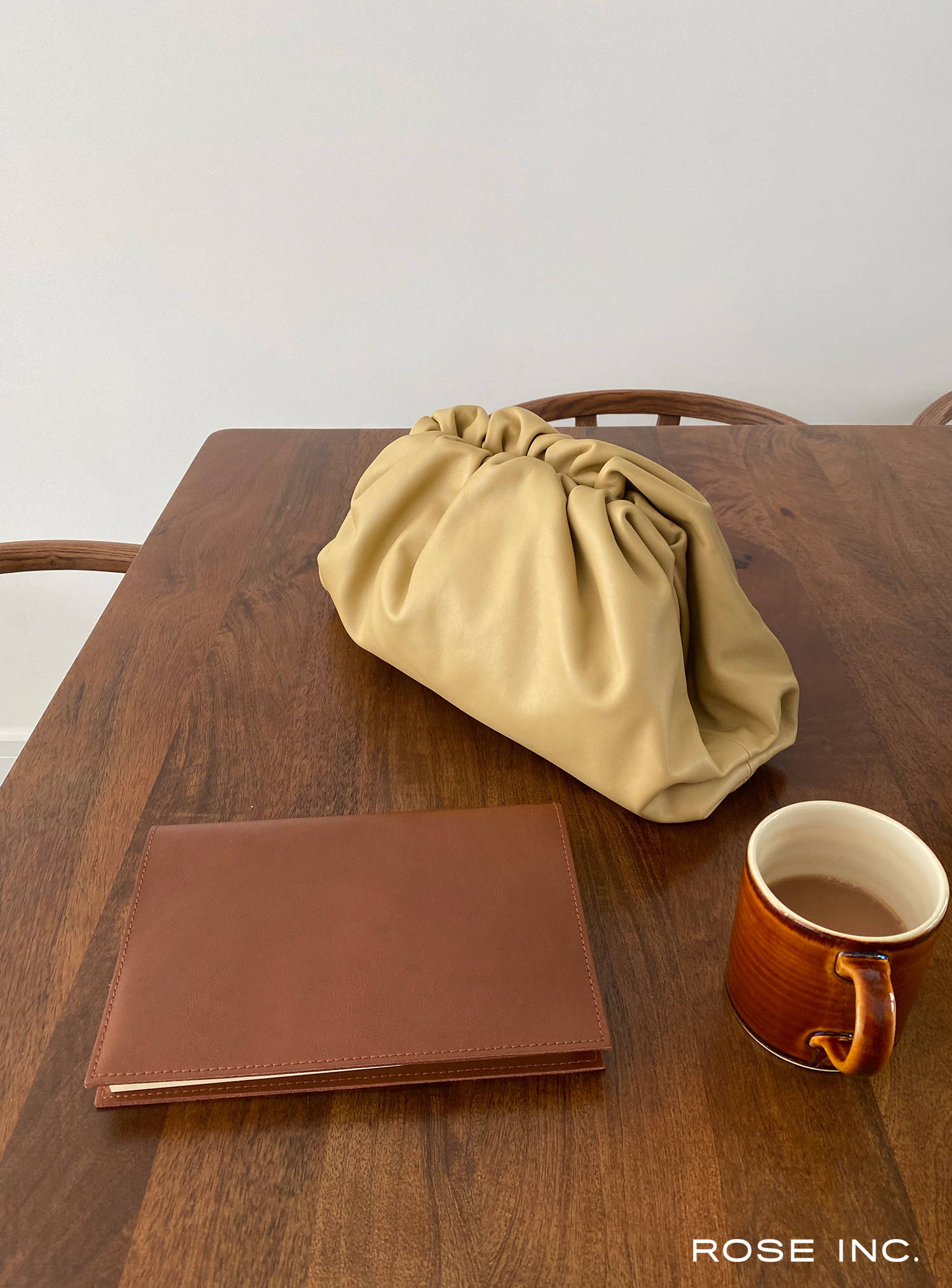 If I'm to use any beauty products, it should just be to enhance what is there.
RI:
What is your beauty routine like these days?
MD:
I am trying so hard! Ha. I love skin care. My dream is to just throw on a little lip balm and eyebrow gel and be ready for life (when we get back to normal). So I'm trying that while being at home and I'm loving it. What has always bothered me the most is scarring, because of the amount of pigment in my skin, so I have been really strict with my morning and night routines. I now wear SPF every day, even when I don't leave the house. My Dr. Dennis Gross LED mask is now my best friend. I'm still getting used to that dermaroller.
RI:
What were some of your favorite makeup staples pre-COVID-19?
MD:
I've always been into a natural looking face, even pre-COVID-19. So my makeup routine has never been too intense, but I did have a few staples I would always use. Estée Lauder Double Wear Light was my choice of foundation, but only used in areas it was needed. Glossier Boy Brow is still one of my must-haves; if I could have only one thing on it would be a big, bushy brow. I used to be conscious of how dark
my lips were, so I wouldn't leave the house without my made-to-order Estée Lauder lipstick. They had a pop-up a few years ago where you could make your own shade and it was a total dream for me! Now I'll be saving the one stick I have left for very, very special occasions only.
RI:
Any new beauty products you've been relying on as of late?
MD:
I'm really into Glossier Cloud Paint in Dawn. I haven't used it since we've been on lockdown, but as soon as we're allowed out, I'll be putting that on again.
RI:
When was the last time you wore makeup?
MD:
Maybe the last time I went back to my mum's for dinner with my family, pre-lockdown. My sisters love to dress up, so I always try to make more of an effort when I go there.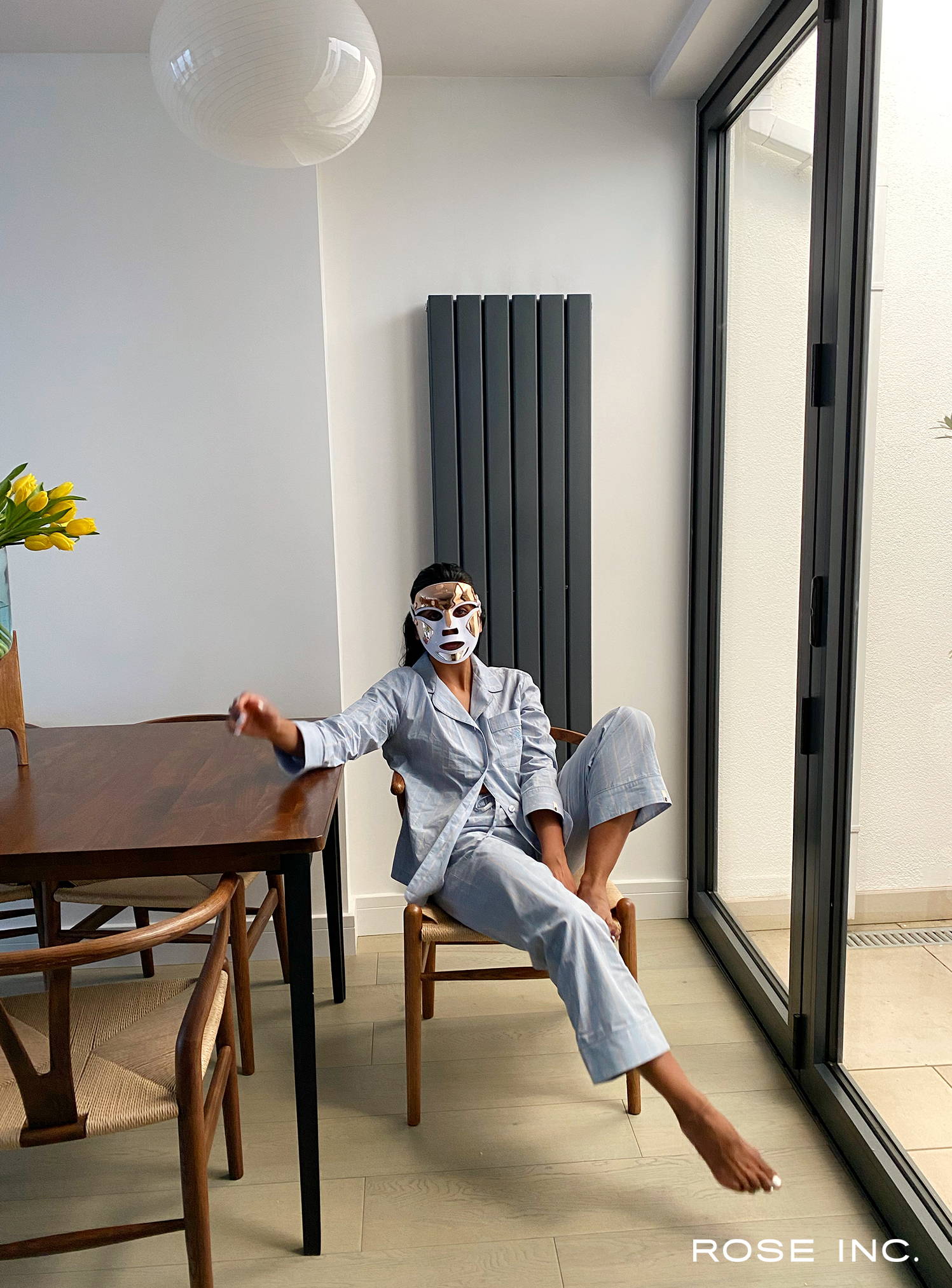 RI:
How has your relationship with your beauty routine changed, if at all, since you began quarantine?
MD:
I've realized that it's less about covering up my face. If I'm to use any beauty products, it should just be to enhance what is there. I think this time at home (and still taking my pictures while being bare-faced) has made me more confident, and I think that's what it comes down to, confidence.
RI:
Have you learned anything surprising about yourself during this time in isolation?
MD:
I've learnt that I am a pretty positive person.
RI:
How are you staying socially connected?
MD:
I'm constantly on FaceTime with my two sisters, but we've always been like that as I don't live near them. Also Friday/Saturday night Zoom quizzes have become my favorite hours.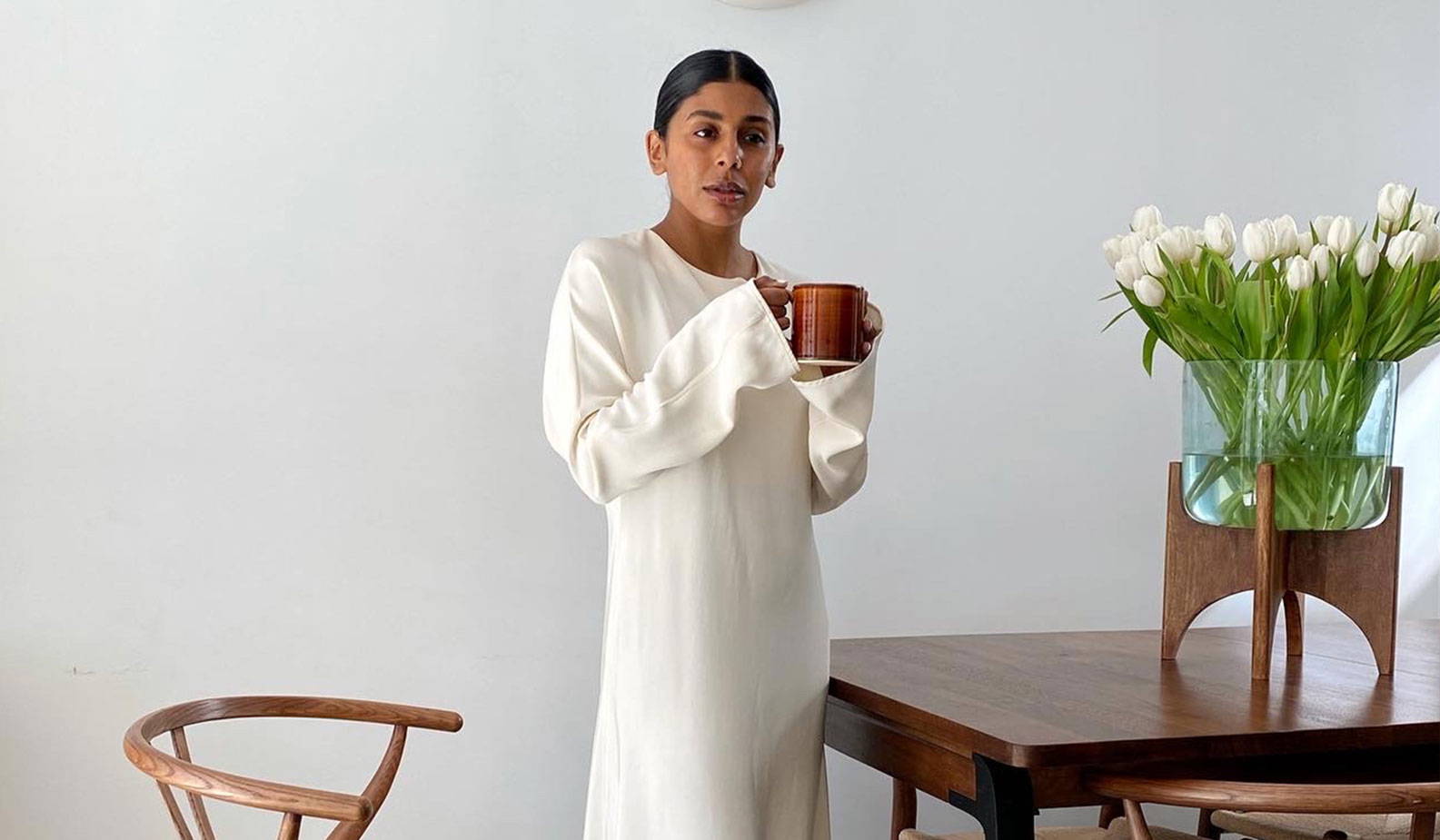 It's okay to not be okay sometimes.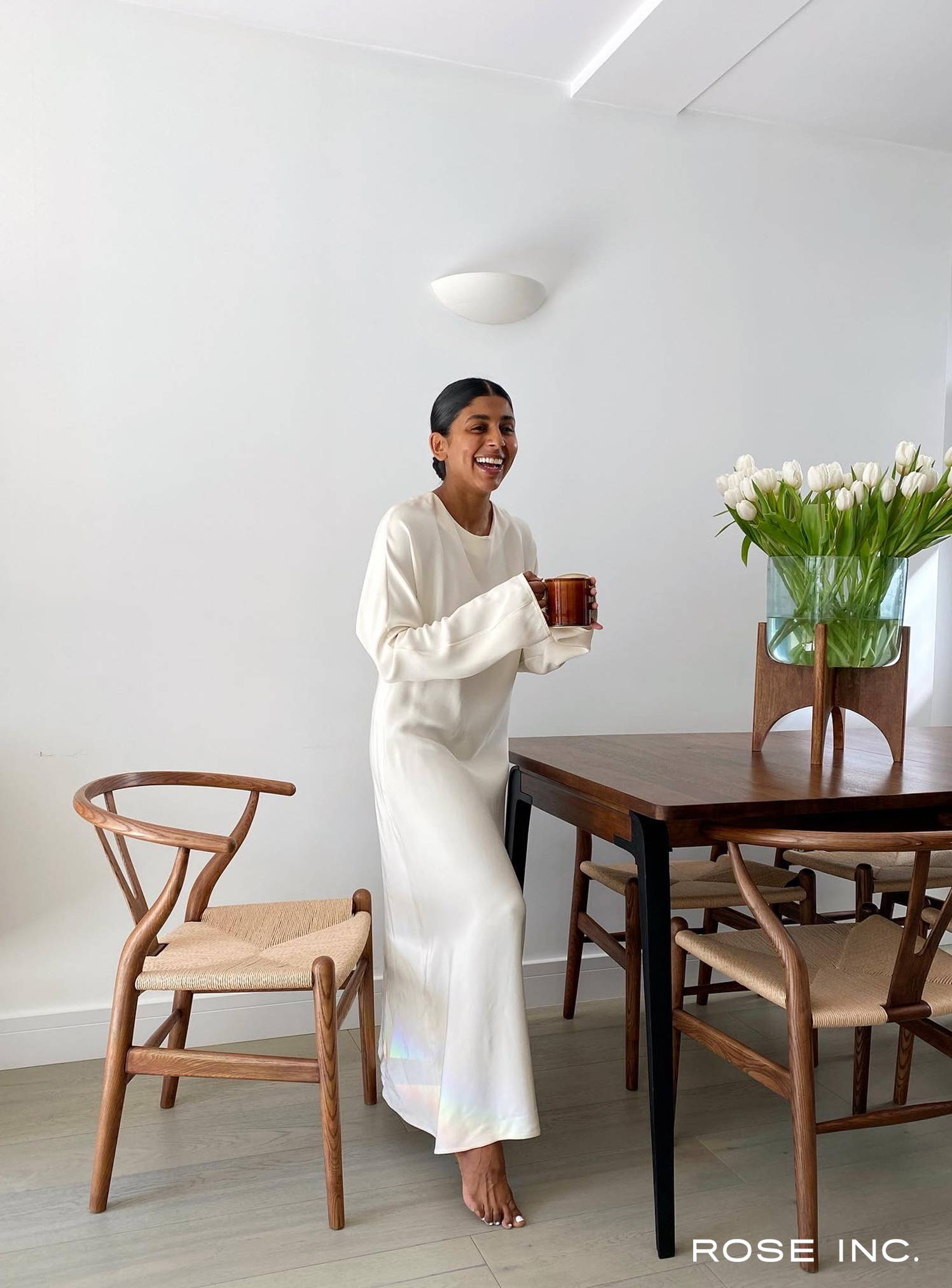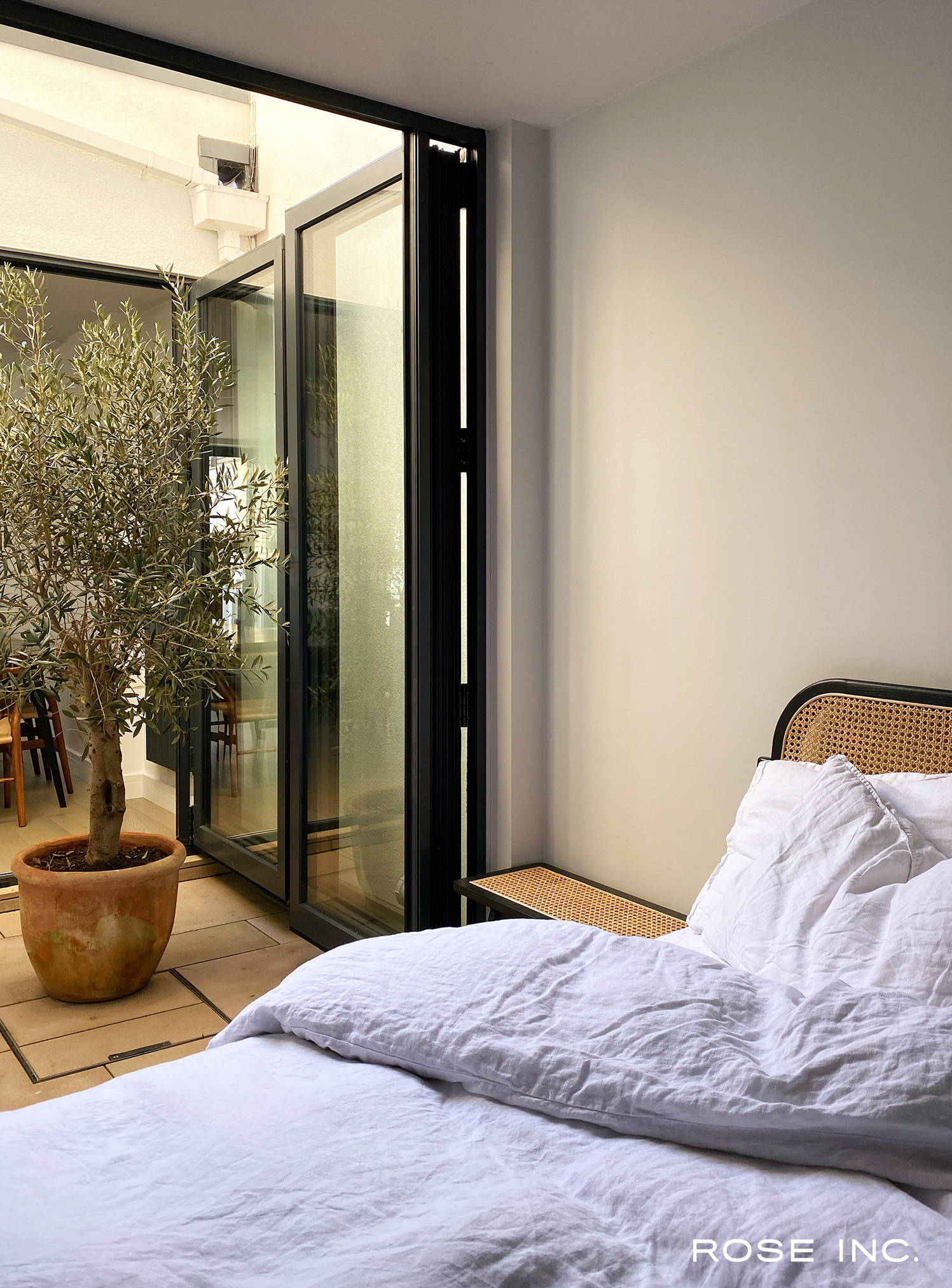 RI:
If you're working from home, what's your best advice for productivity?
MD:
It's key to have a routine. I learnt that after slobbing around the flat for my first year of working from home and it wasn't good! I start the day at 6:30 a.m. I'll put the radio on, make a cup of tea, and get on with emails. Around 10, I'll have a little workout in the living room. And by noon, I'm showered, dressed, ready for photos, and then lunch. The rest of the afternoon, I'll be on my laptop writing, editing, or on calls. It's also important to try and create a work area. At the moment, my kitchen table is my office, and I won't even look at the sofa until 5 p.m. It's really important to try and separate work and home life as much as you can.
RI:
Any advice for battling cabin fever?
MD:
Take a moment out—maybe even the afternoon—and sit yourself by a window, tea in hand, maybe read a few pages of a book. It's okay to not be okay sometimes, and we all need moments to ourselves.
RI:
What is inspiring you right now?
MD:
I love architecture! I always joke to my fiancé that I'm going to go back to school and learn the ropes, and yes, I know it's seven years! I love simple spaces, safe spaces, areas created which have this open but calming vibe. My dream is to make our own home one day. But for the moment I'm finding a lot of inspiration on Instagram of these dreamy wooden houses, with big windows and white linen curtains. We're still decorating our gorgeous new home, so I'm finding the inspo online super helpful and fun.
RI:
Which self-care practices are helping you cope with stress or anxiety?
MD:
Talking is the best tool I've found. My fiancé is my rock, and if I'm feeling a little off, I'll tell him why. It helps to voice my concerns. Often, once they're said out loud, they don't seem that bad. 
RI:
What does your home fitness routine look like?
MD:
I used to love going to my boxing class four or five times a week, so I'm really missing it! But luckily, my favorite trainers have been uploading workouts or been doing live classes, which has kept me active each morning. Also, I've got a few pairs of boxing gloves and pads at home. I bring those out when I really need to let off some steam.
RI:
What do you do when you need to boost your mood?
MD:
I close my laptop, put on some nostalgic music, and pour a glass of wine. Dancing around the kitchen, making a triple-layered chocolate cake, and FaceTiming my friends for our "wine conference" are also great mood boosters.
RI:
What are you watching?
MD:
I'm obsessed with Ozark. We only have one episode left to watch (of three seasons!) and I'm already sad about it.
RI:
What are you reading?
RI:
What are you cooking?
MD:
A triple-layered chocolate fudge cake – every weekend!
RI:
What's your hand soap of choice?
MD:
Whatever we can get our hands on.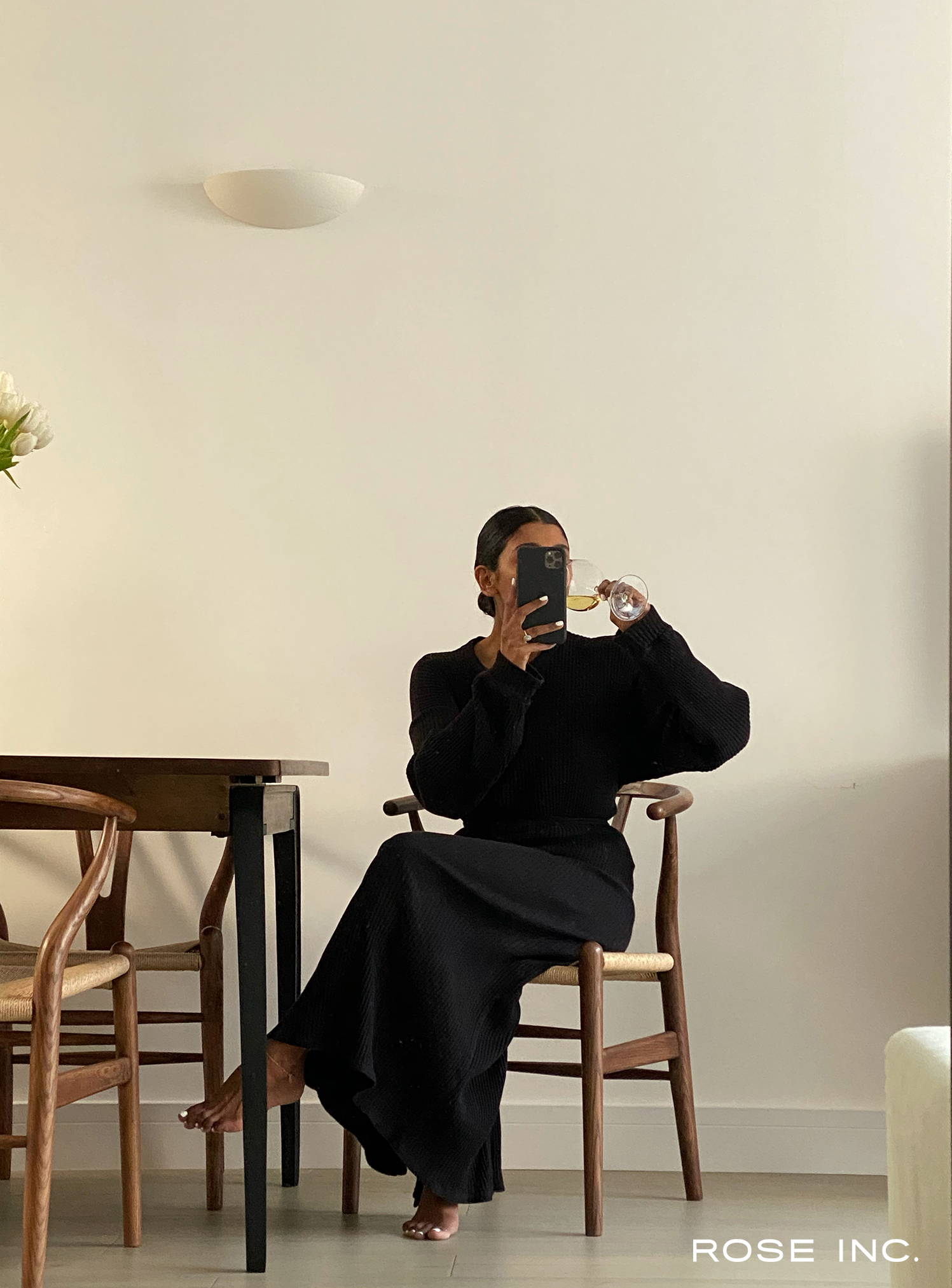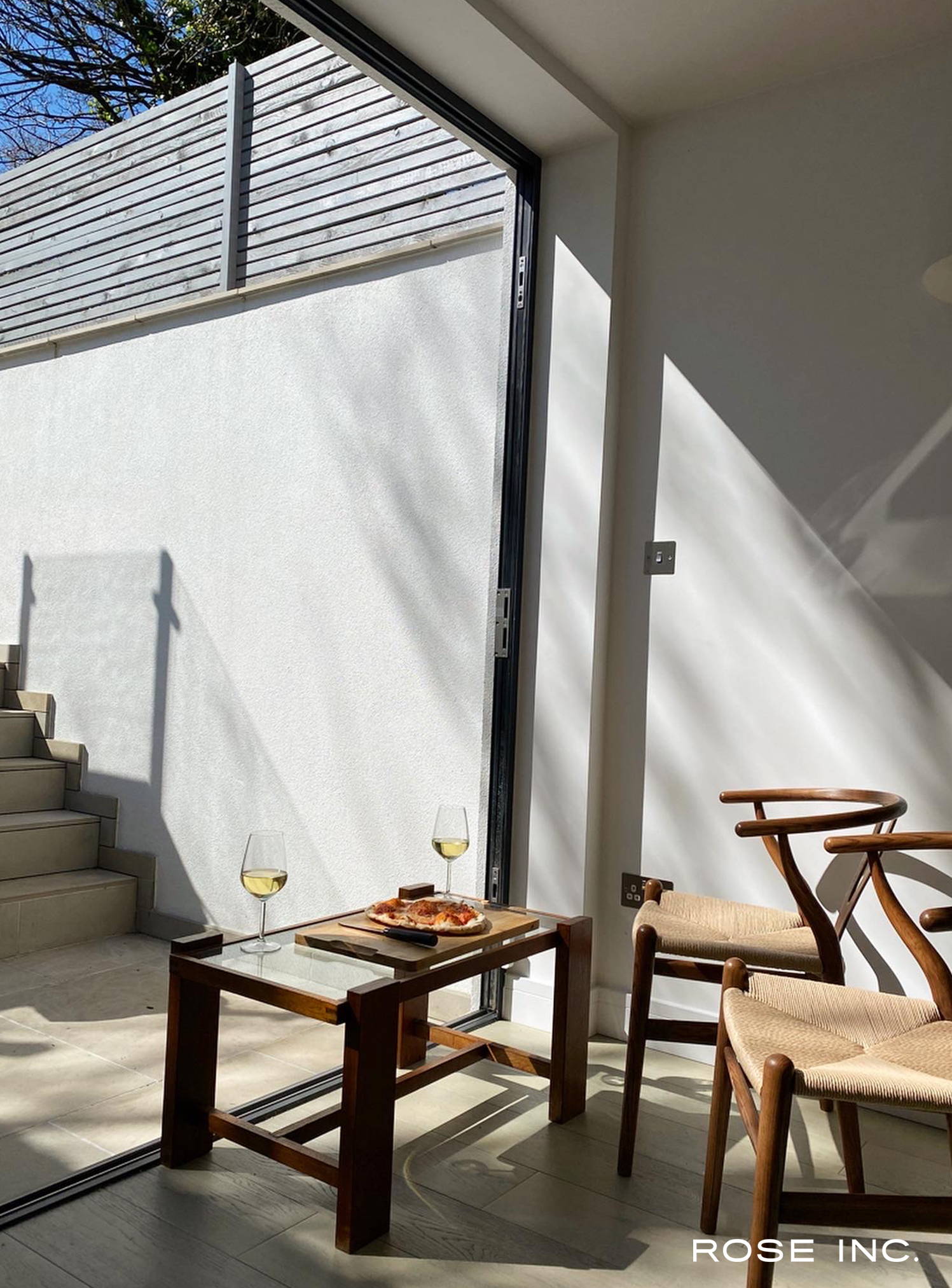 RI:
Which social media accounts brighten your day?
MD:
Family and friends' accounts of how they're keeping busy.
RI:
What is your hope for the future?
MD:
To stay healthy and happy.