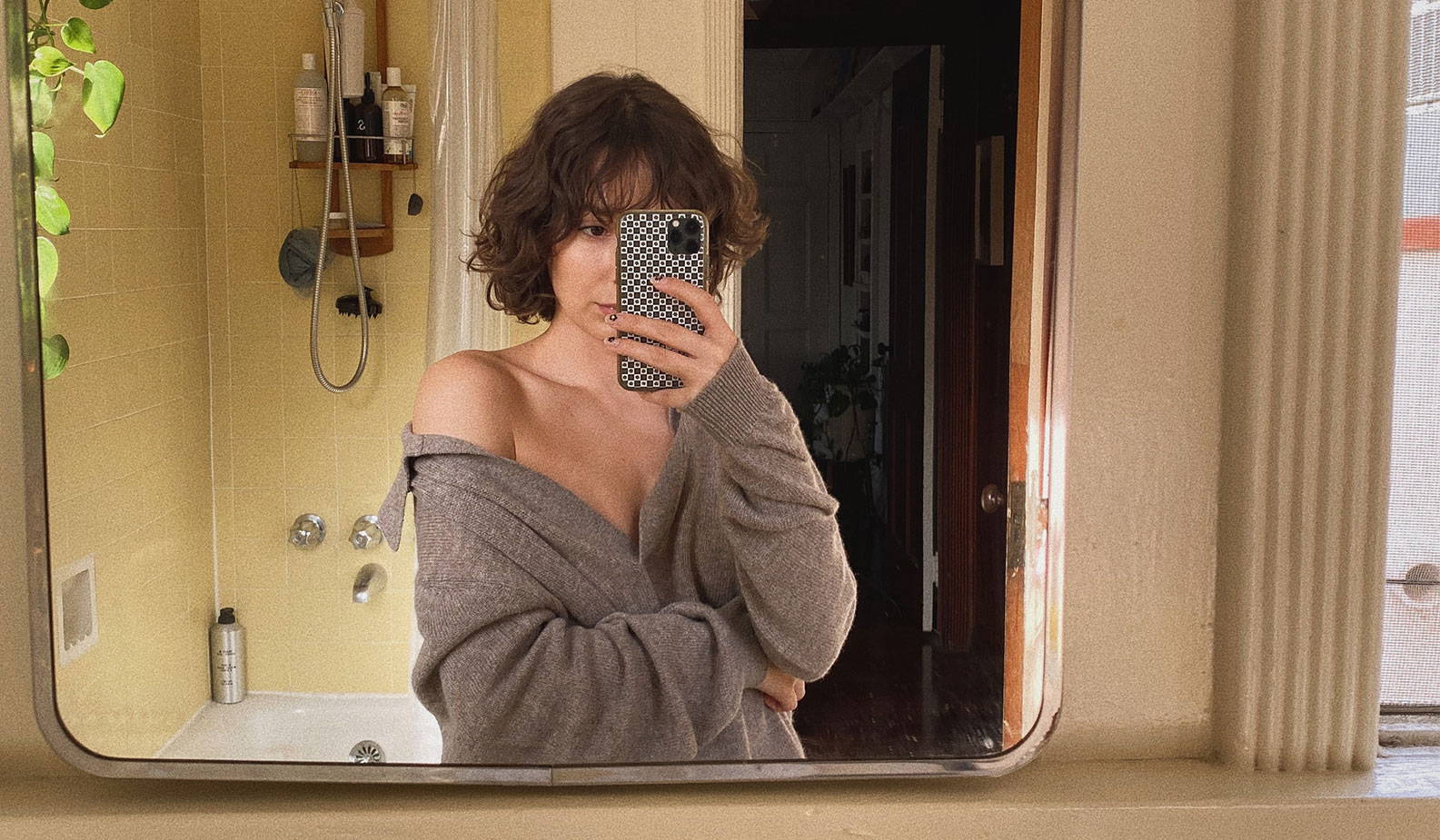 05 / 11
INTERVIEWS
Distancing Diaries: Alyssa Coscarelli
Fashion editor turned influencer Alyssa Coscarelli is perhaps best known by her Instagram handle, @alyssainthecity. Normally, the city in question is New York, where you'll find her decorating her apartment with vintage finds (Milo Baughman, anyone?) and wearing independent designers while running around town.
Lately, though, she's been calling LA "home" as she shelters in place with her longtime boyfriend. Here, via email, she opens up about the challenges and opportunities she's encountering during this moment—and gives up all the details on the makeup looks and products she's been playing with in the meantime.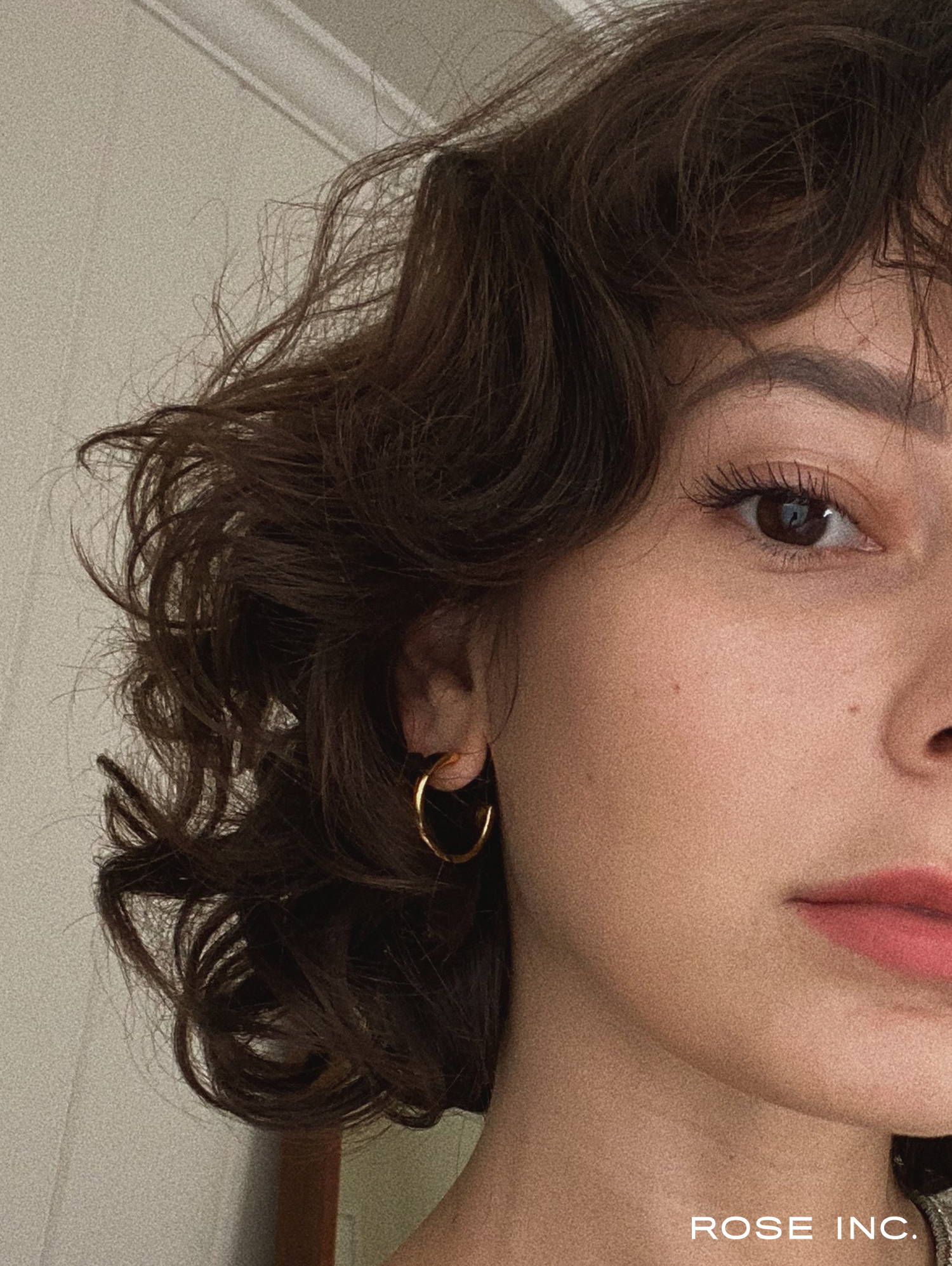 RI:
How are your spirits?
AC:
Honestly, there are good days and bad days. Sometimes, for days at a time, I'll settle into the new normal, find my groove and my little routines and feel okay, considering. Then other days, all I can do is lie in bed face-down and cry. The emotion, anxiety, uncertainty comes in waves and I'm just trying to feel everything as it comes. Overall, I'm extremely lucky: I'm safe and healthy and so are my loved ones. And while that's all that matters right now, I'd be lying if I said there weren't some complex feelings to work through during this time.
RI:
How are you staying informed on what's going on?
AC:
I rely mostly on the New York Times for updates. I also like @JessicaYellin's videos on Instagram. She tries to cut out the noise and just deliver the news you need, in an approachable video format.
RI:
And how are you balancing the need to stay informed with the need to take a break?
AC:
We decided to have no-news weekends. It's a way for us to balance out our news intake and cut the temptation to constantly refresh those news updates, even if just for a few days. Then, during the week, I try to only check everything once a day or twice max, and prefer to sprinkle in op-eds, essays, or different approaches to the news that aren't just straight-up devastating to break it all up a bit.
RI:
How are you looking out for the well-being of others?
AC:
I had a product collaboration launch toward the beginning of the crisis and we decided to donate a portion of proceeds to Food Bank for NYC. It just felt right. Also, checking in on friends. Calling my parents and convincing them to take this seriously (they're stubborn). Washing hands. Wearing masks if we have to leave the house. Supporting the small businesses I care about—that's a big one for me.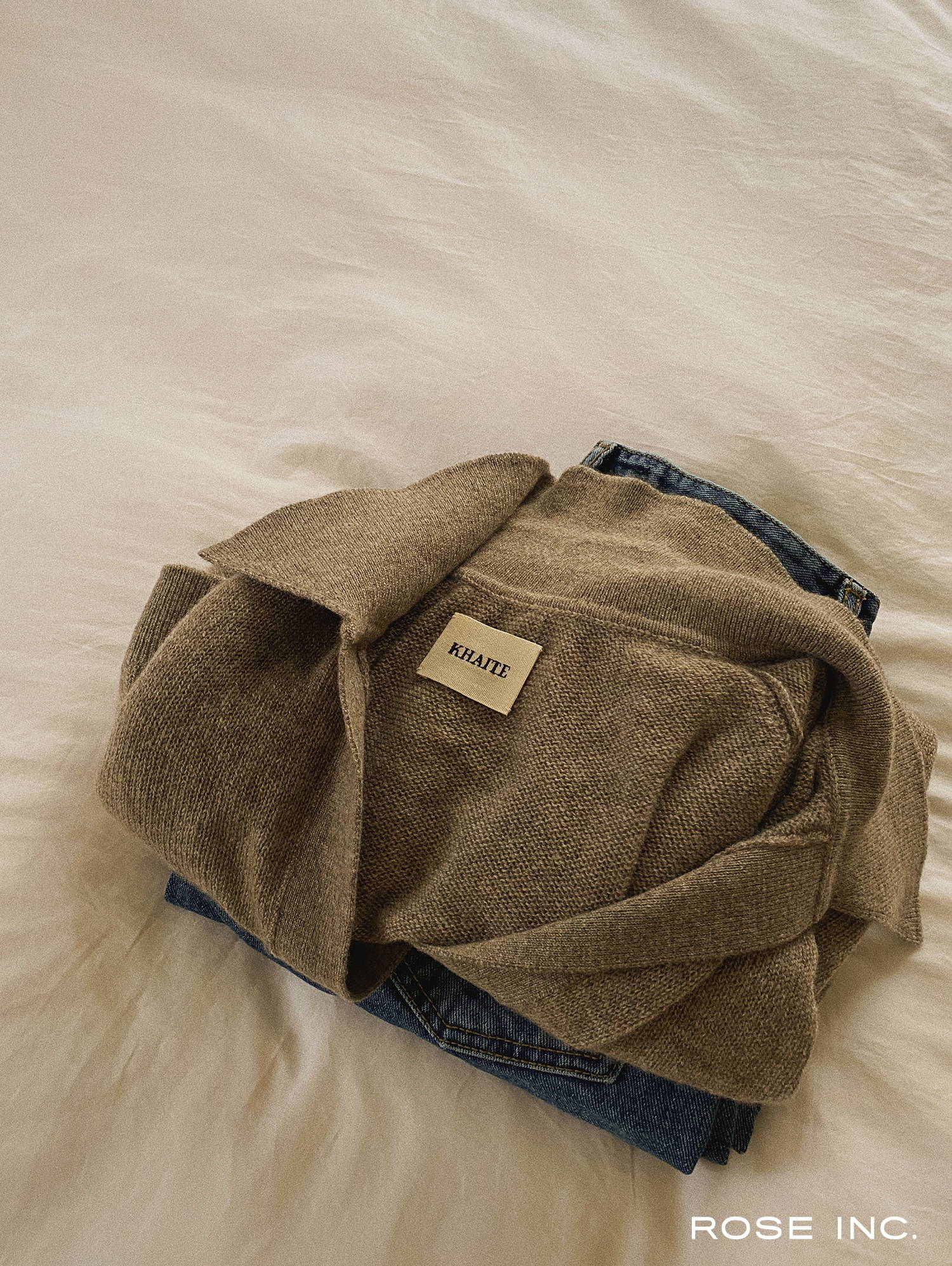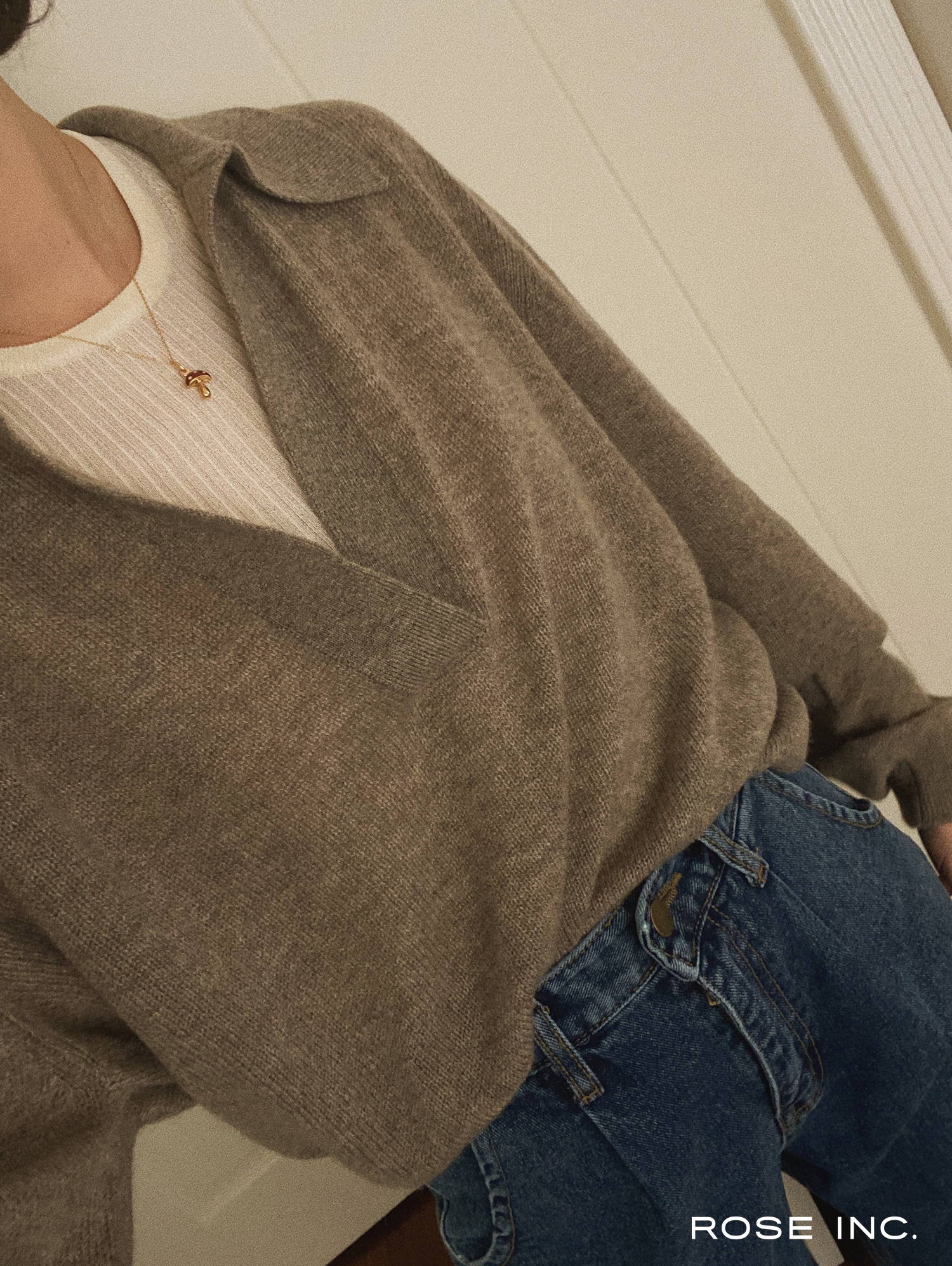 I'd be lying if I said there weren't some complex feelings to work through.
RI:
Have you introduced any new routines or rituals since staying home?
AC:
It's been nice to get creative with my hands again. I baked bread for the first time from scratch, have done plenty of puzzles, and we've also been "playing" with colored pencils, charcoal, and watercolors. I also ordered some sculpting clay online, so I'm looking forward to that too. These kinds of creative activities with my hands are something I always long for in my "normal" life and never make time for, so that's been enjoyable.
RI:
How are you staying socially connected?
AC:
Lots of group texts, Zoom calls, FaceTime hangouts, I still have to get Houseparty though...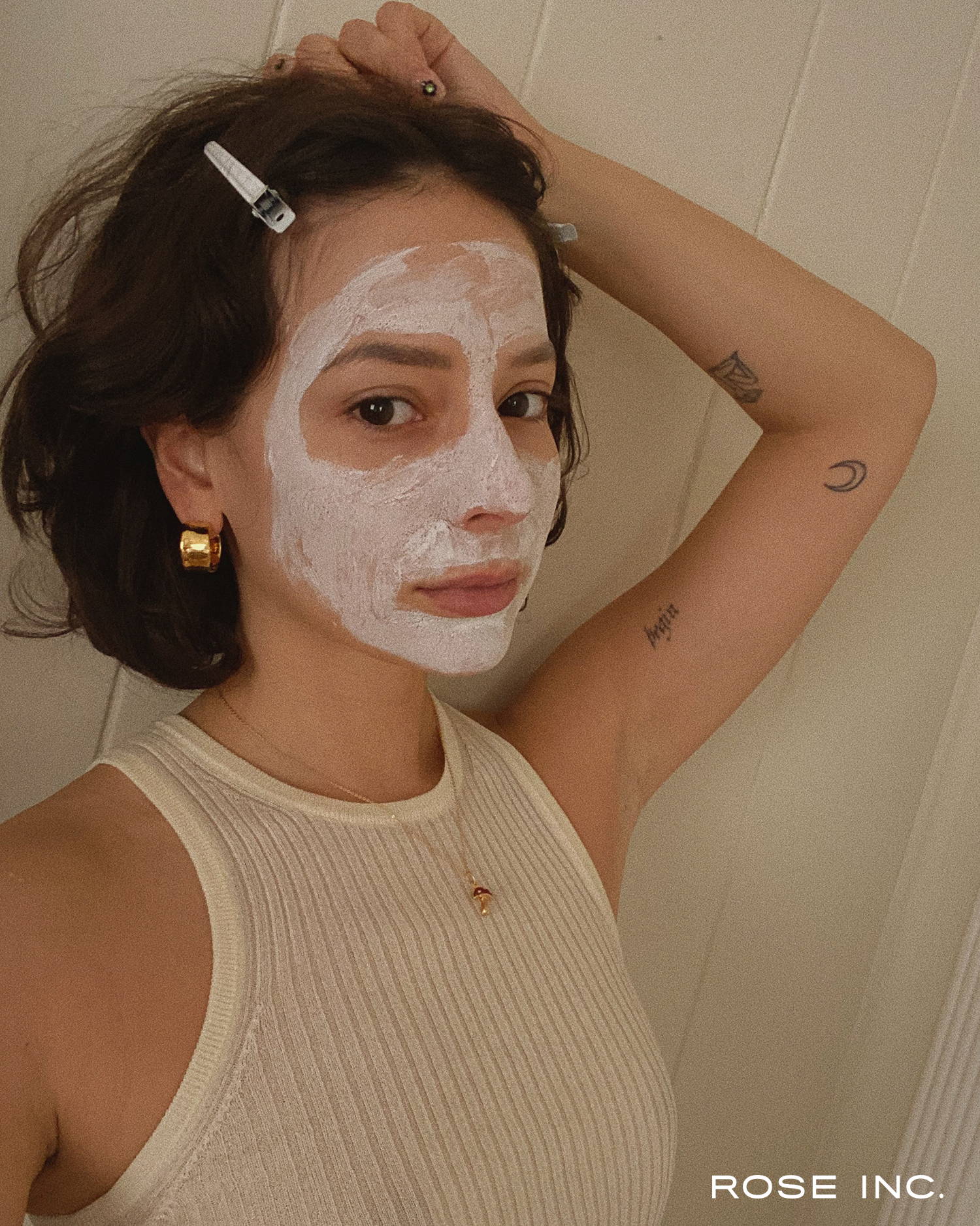 RI:
If you're working from home, what's your best advice for productivity?
AC:
Tackle your bigger, more daunting tasks first to get them out of the way and not procrastinate. Set times to send your emails and stick to them so you're not just answering emails all day. (I'm guilty of that.)
RI:
Any advice for battling cabin fever?
AC:
Burn a little palo santo, open all the doors and windows, get some fresh air however you can without venturing away from home.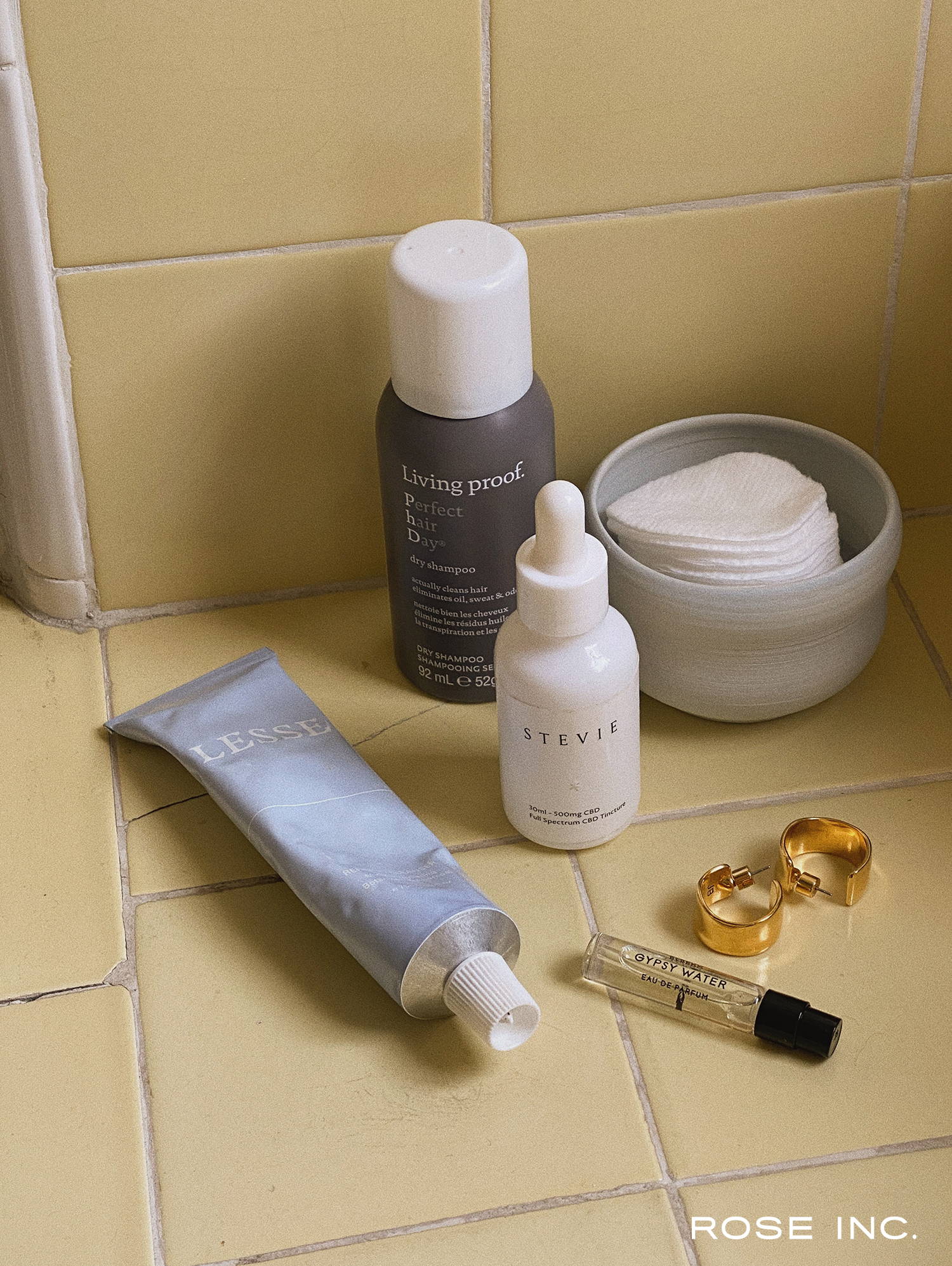 RI:
What (or whom!) is inspiring you right now?
AC:
First and foremost, the healthcare workers on the frontlines. But also: Doina and the way she's used her platform to connect and share ideas during this time; ManRepeller for their thoughtful, honest content and fun hashtags (#goingnowherebutfuckitimgettingdressed), Eny Lee Parker for her encouragement to play with clay, Paloma Wool for how they're virtually partying with their community, Tessa Forest for her amazing quotes and incredible typefaces, Izzy Camelia Rose for fun makeup looks, and small brands everywhere using their resources to make masks (there's a highlight of a few on my feed).
RI:
Which self-care practices are helping you cope with stress and/or anxiety?
AC:
Working out has always been a priority for me ( especially now!) because it directly affects my mental state. I'm also getting lots of sleep (it's what my body is asking for lately), taking hot baths or showers, lots of face masks, stretching and yoga, and a bit of slow, hands-on creativity (drawing, puzzles, baking).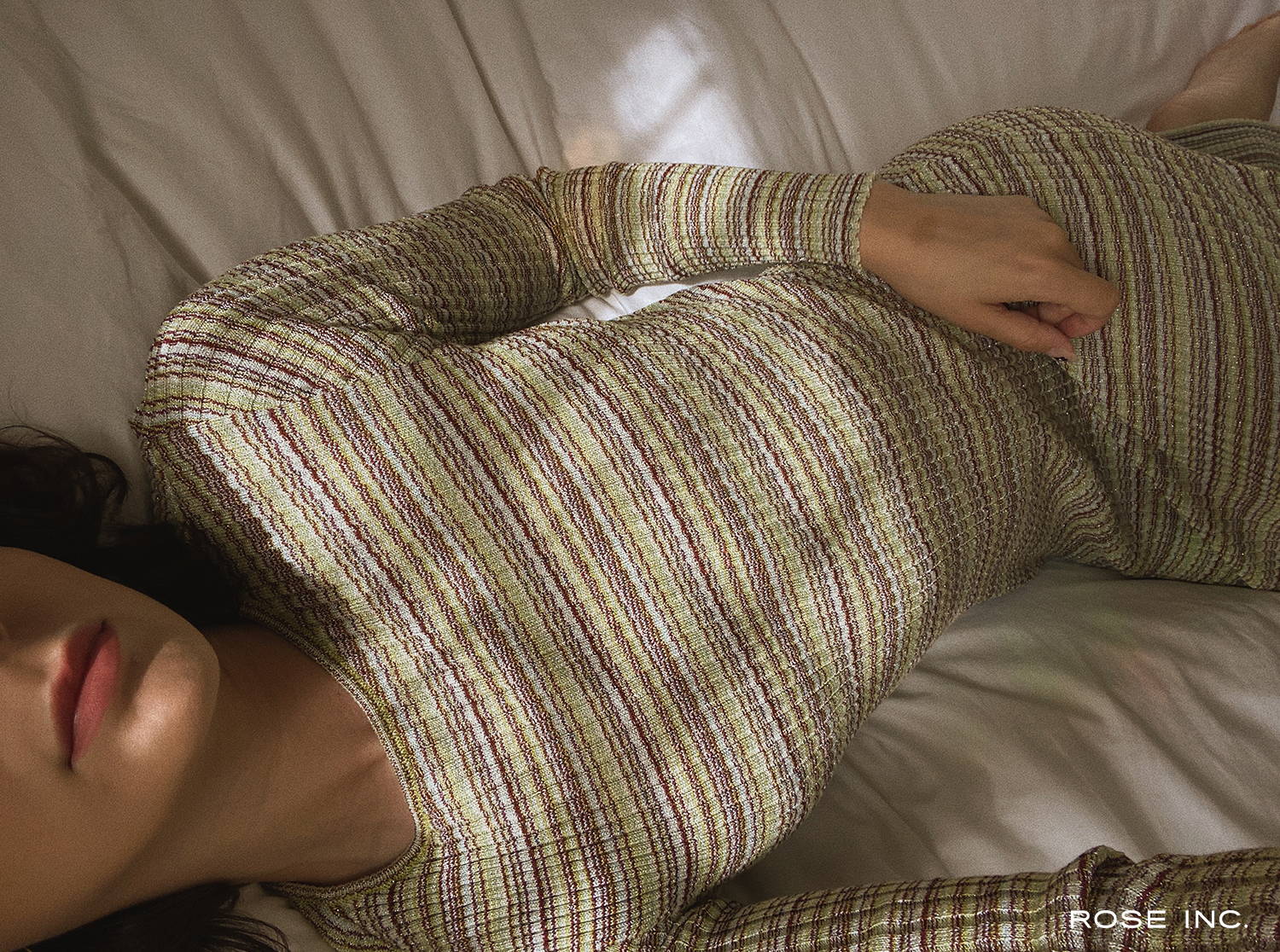 RI:
What does your home fitness routine look like? What do you do when you need a mood boost?
AC:
I'm a big fan of The Class by Taryn Toomey. I've been attending since before they even had a studio of their own and used to host class at dance studios in the city. Now, they have a digital studio where you can live-stream classes with all my favorite instructors. It's always such a mood boost, from the movements to the song choices. It's just as much mental and emotional as it is physical and that's why I love it. I've also recently gotten turned on to Dance Church, which is basically a dance party in your living room.
RI:
What are you watching?
AC:
Euphoria, The Sopranos, (yes, I'm that girl who's usually six months… or years late to every TV show), Tales from the Loop, Lord of The Rings. Anything that feels escapist in one way or another.
RI:
What are you reading?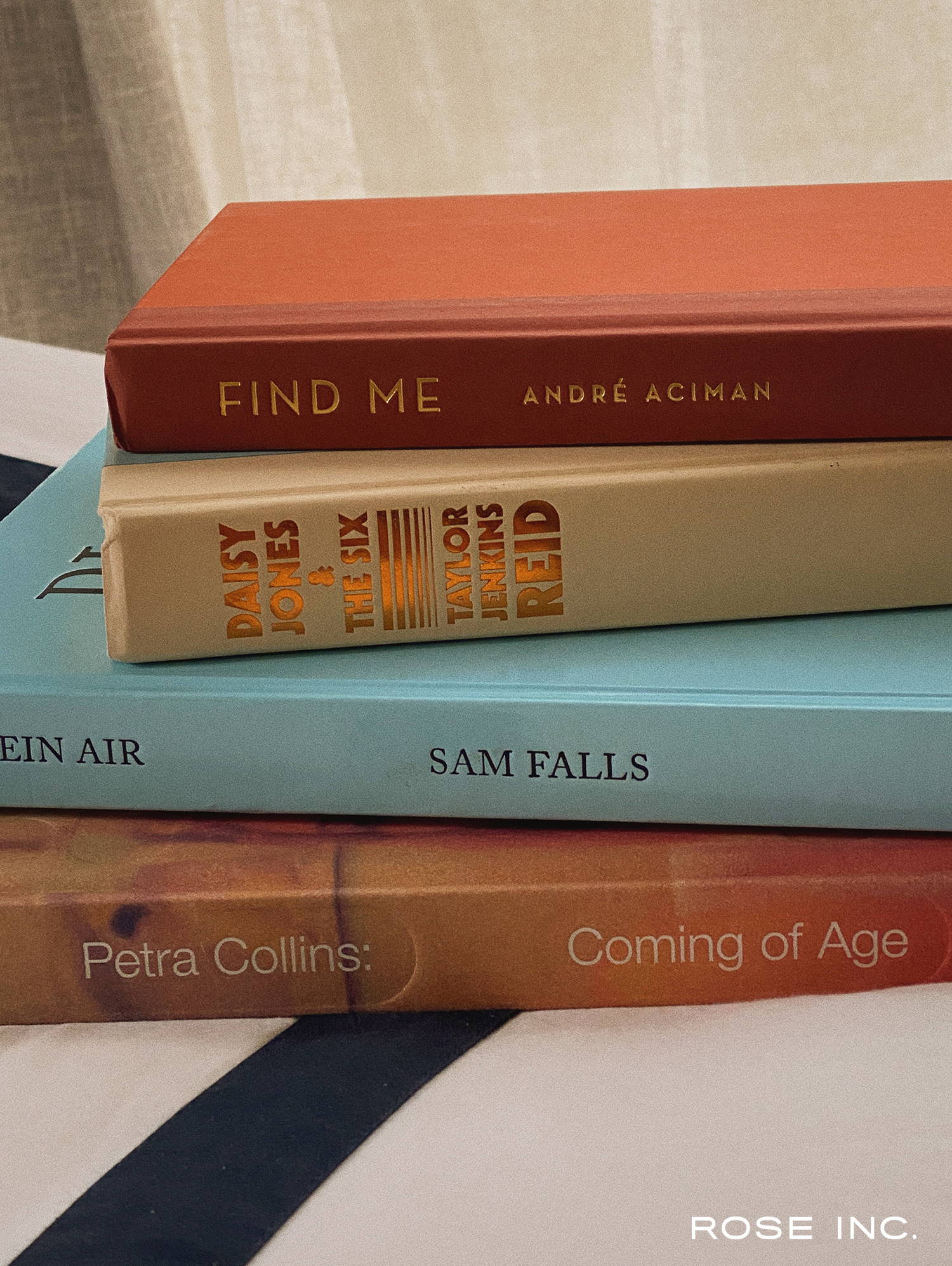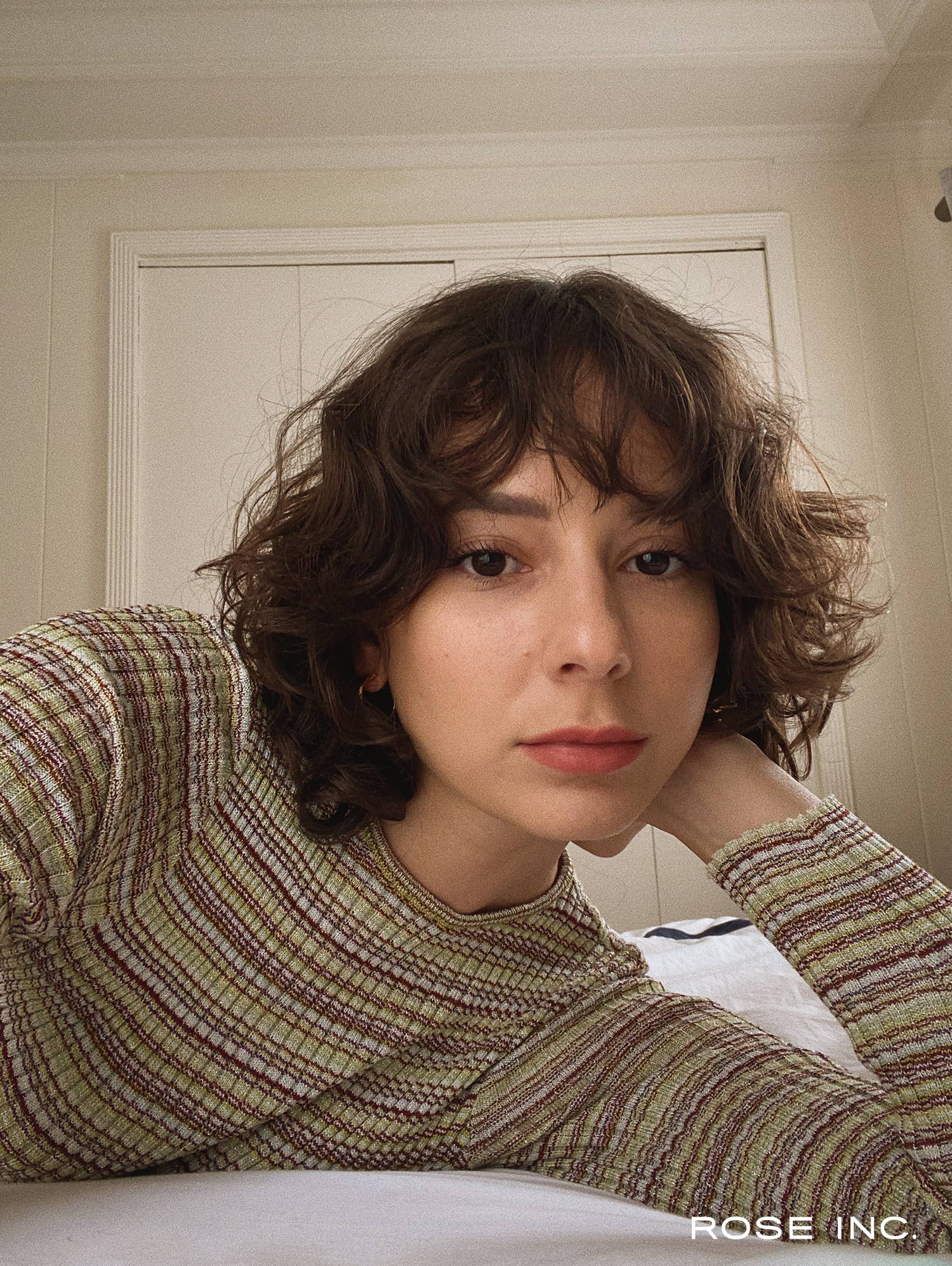 I've found applying makeup oddly satisfying and therapeutic during this time.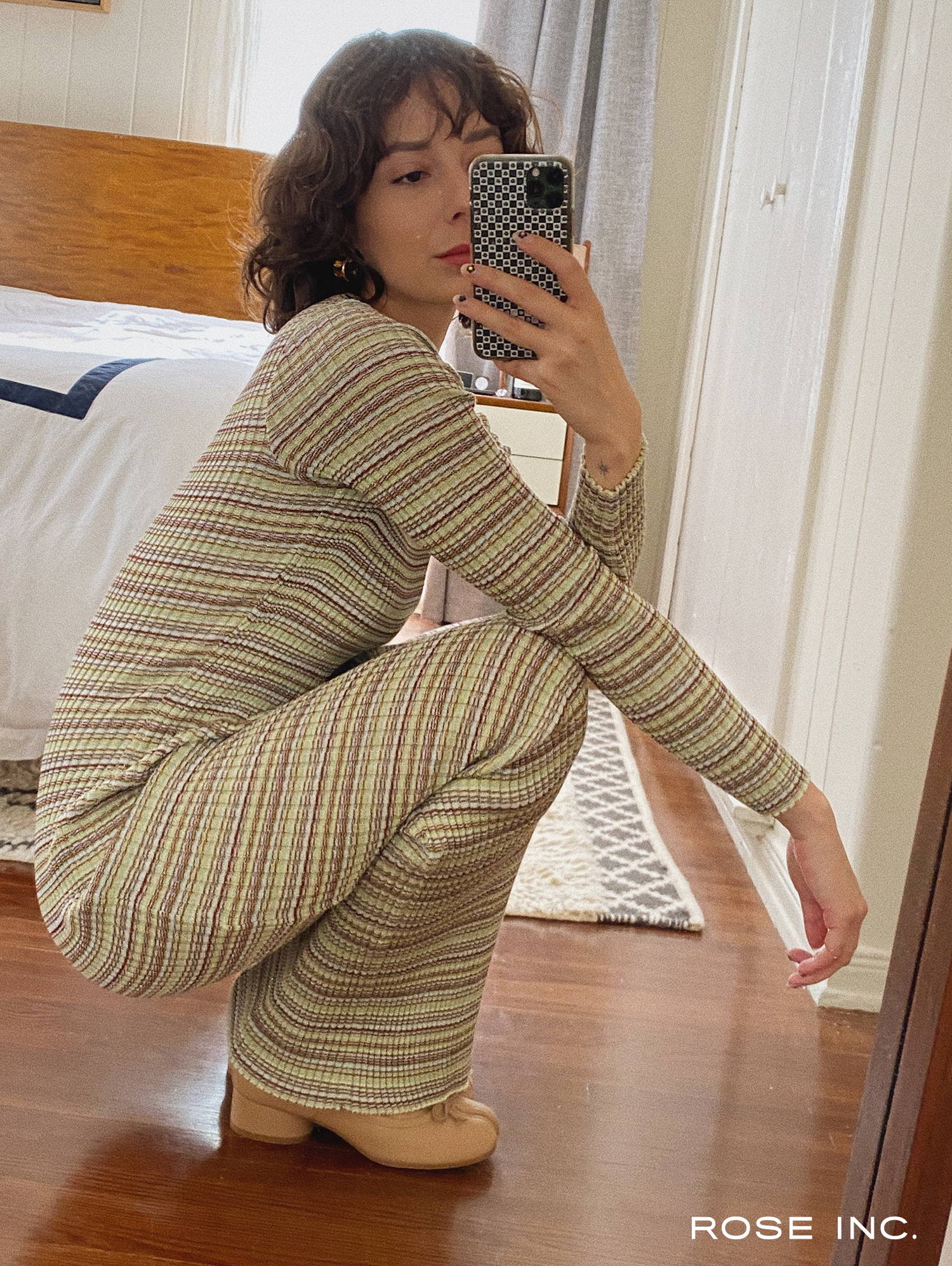 RI:
What are you listening to?
AC:
Mostly old favorites I can find some comfort and nostalgia in: Feist, Florence + The Machine, Bon Iver, Tegan & Sara, Clairo. I'm adding to my playlist of "Quarantunes" almost daily and listening to that on heavy rotation; I'm a creature of habit when it comes to music. It's also been really fun to watch IG Live streams from my favorite musical artists. It's something I look forward to these days. I've already tuned in to Snail Mail, James Blake, Yoke Lore, and more.
RI:
What are you cooking?
AC:
Stir-fry, lots of roasted vegetables, eggs and omelets, banana bread, smoothies, stews and soups, to name a few. I hardly ever cook at home in NYC, so it's been a welcome change of pace.
RI:
What's your hand soap of choice?
RI:
Which social media accounts brighten your day?
AC:
@boobie_billie, @animalcrossingfashionarchive, @aminatou, @haleboyd, @siton.vintage, @nearnessproject, @lailacooks, @outofuseberlin, @homeunion, @palomawool, @bi_rite, @kjplumb, @thecut, @comingsoonny, @tikatheiggy, and Timothée Chalamet fan accounts.
RI:
What does your beauty routine look like these days?
AC:
It's definitely focused on skin care, but I'm using a lot of Ilia Beauty (they just had a rebrand and I've been super impressed with all the products I've tried, especially the skin tint, illuminator, and mascara) along with some other makeup and hair favorites: Kosas, Nars, Benefit Cosmetics, Gucci, Ouai, Bumble and Bumble. I've found a lot of solace in my beauty routine and even playing around with it a bit more than usual; having fun with lipsticks and eyeshadows, etc. even though I'm not leaving the house. It's a fun creative outlet, especially considering the extra "free time" to do it.
RI:
What were some of your favorite makeup staples pre-COVID-19?
RI:
Any new beauty products you've been relying on as of late?
RI:
When was the last time you wore makeup? And why? How has your relationship with your beauty routine changed, if at all, since you began quarantine?
AC:
Today! I know some people are taking this time to give their face a breather from makeup (and I totally get that!), but I've found applying makeup oddly satisfying and therapeutic during this time. It gives me a chunk of time to zen out in the bathroom and not look at my phone. It also makes me feel somewhat normal, even if just for a fleeting moment. Makeup helps me feel my best, and especially since I partly take photos of myself for a living as an influencer, it helps me feel ready to take on the day and capture content. It's also a creative outlet for me, as someone who's always loved drawing and painting and has wanted to explore makeup more but never "had the time." Now is that time!
RI:
What is your hope for the future?
AC:
That we can learn from this current state of affairs and make positive changes to move forward.