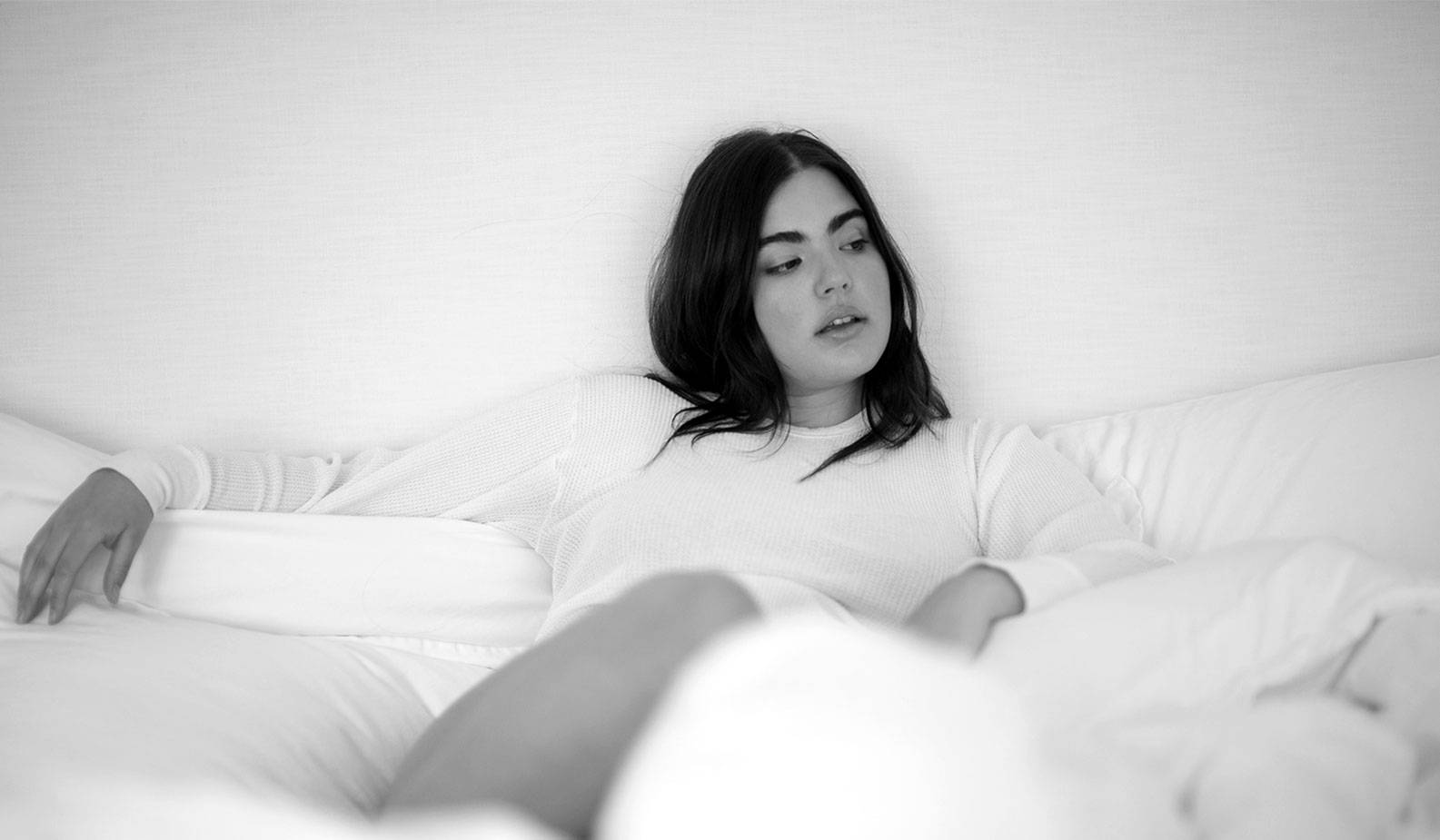 05 / 20
INTERVIEWS
Distancing Diaries: Alessandra Garcia
When you take a look at Alessandra García-Lorido's portfolio of work, you'll find similar highlights to any other working model: high-profile campaigns (hello, Dolce & Gabbana), runway clips, and editorial tearsheets. A while ago, she might have been referred to as a plus-size model or a curve model—but in this inclusive era of body positivity and social media, it seems more accurate to refer to models as simply… models, full stop.
But as the cliché goes, Alessandra is more than a pretty face. In her photos as well as social media, her positive outlook and zest for life come through quickly. Just after she had returned to her family home in Los Angeles to quarantine, Rose Inc. spoke with Alessandra to find out how she's keeping her spirits up, her thoughts on the fashion industry's move toward inclusion, and the best ways to show acne-prone skin some love.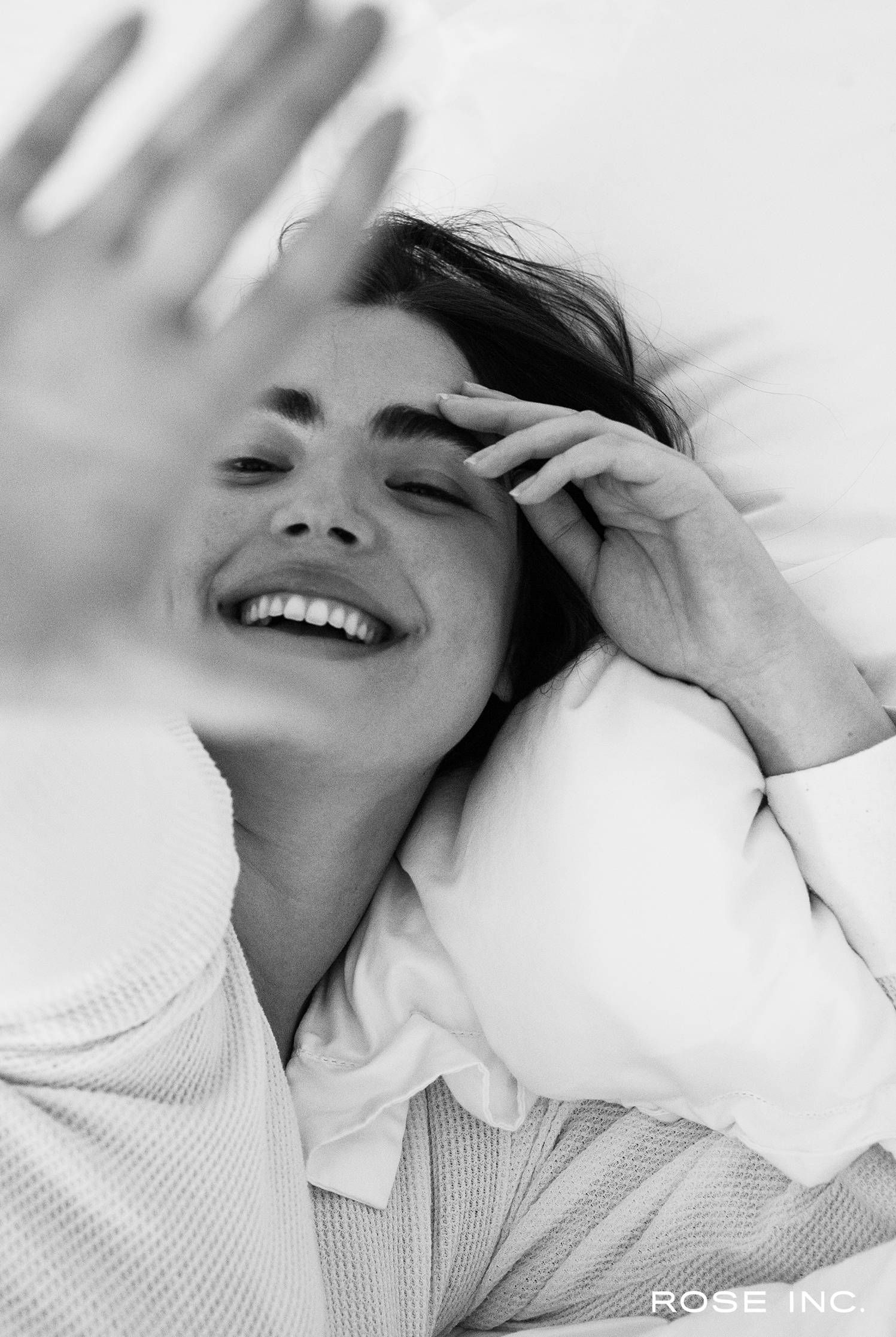 RI:
How are your spirits during this strange time?
AG:
Good. I'm very lucky to be in a house of nine people, so there's a ton of entertainment. My sister and her fiancé had to postpone their wedding, so we've just been trying to make the most of it. Of course, there are some days that I have anxiety about work or the state of the world. But I believe that in this situation, that's out of our control. You have to stay positive.
RI:
What does your stay-at-home life look like?
AG:
I'm at my childhood home with my parents, two sisters, their boyfriends, my brother, two poodles, two dachshunds, and my best friend, Chloe. We wake up, have coffee together, and then usually do our own thing: some laying around, reading, exercising, or sun-bathing.  At the end of the day, we always have dinner together at the table. We take turns saying grace, thanking our essential workers, and taking the moment to be grateful for our health, warm meal, and roof over our head. We have also implemented a happy hour where we make some fun cocktails and hang out. Some of my favorites to make are negronis, martinis, and cosmos.
RI:
Have you introduced any new routines or rituals since staying home?
AG:
Group workouts! We girls in the house have been doing Ryan Heffington's sweat sessions on Instagram Live and outdoor Zumba sessions. It's so much fun to work out together and keep each other motivated. The dance classes are great mood boosters. Next up, we want to learn an old *NSYNC dance routine from the '90s.
RI:
Have you learned anything surprising about yourself during this time in isolation?
AG:
I've learned that I can be more productive with my time off. Whether that's a home workout, reading, or baking some bread, I'm excited to take my new quarantine practices with me.
RI:
If you're working from home, what's your best advice for productivity?
AG:
As a model, it's super hard to work from home, but my friend Chloe is a photographer and we've had a couple opportunities to self-shoot. It's been an interesting adjustment, but we are taking the time to express ourselves creatively.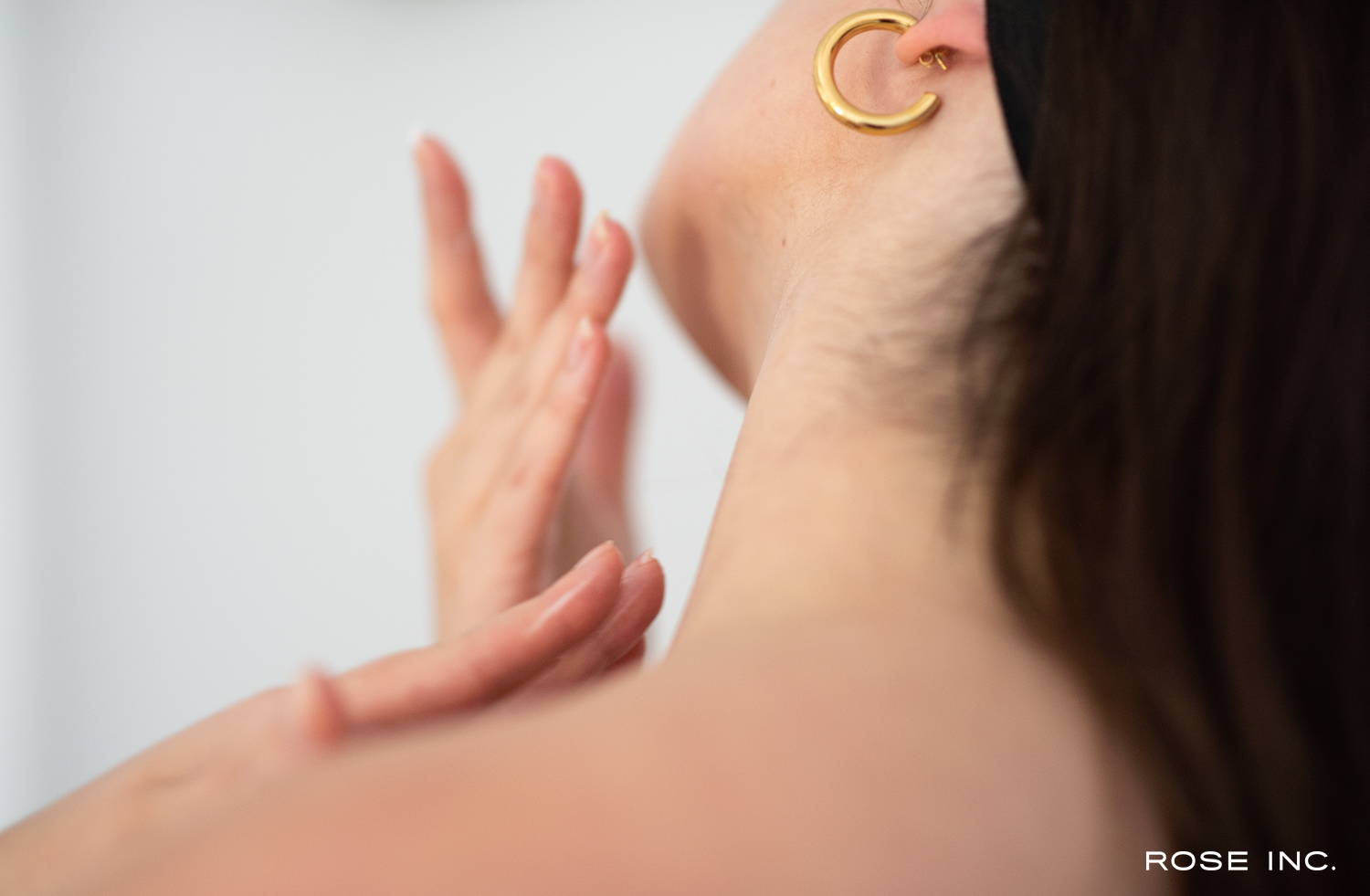 I'm very lucky to be in a house of nine people, so there's a ton of entertainment.
RI:
What (or whom!) is inspiring you right now?
AG:
Essential workers, medical professionals, and small business owners. We would be nothing without the essential workers and medical professionals; I'm so grateful for their hard work.  From restaurant owners to fashion brands, I'm so inspired by the ingenuity during these uncertain times. Take my friends Duda and Christy, who are isolated together and own the jewelry line Éliou. They have a small quarantine collection and all of the proceeds go directly to their employees. I bought some bracelets that say "stay home" for all the girls in the house.   
I'm also super inspired by everyone using their creativity to help out. My friend Emma started From a Friend, a line of custom beaded jewelry to send to someone special in your life. All of the proceeds go to COVID-19 relief and they even come with a custom note. I sent a bunch out to the important women in my life that said juntos, which means "together" in Spanish. It's a great way to brighten someone's day while donating to the crisis. It seems that everyone is doing their part to support each other.
RI:
Which self-care practices are helping you cope with stress and/or anxiety?
AG:
My daily skin-care routine, reading, taking a bath, and cooking. I've recently committed to a 10-step Korean skincare routine. Maintaining that during quarantine has been a great way to start and end my day. Cooking has always been my favorite way to de-stress. I've been using this time to try new things like homemade bread, pizza, and cheese.
RI:
What do you do when you need a mood boost?
AG:
I put on some fun makeup! I haven't been wearing makeup at all, so when I need a mood boost, I throw on my favorite pink glitter eyeshadow and some sparkly lip gloss. Even if I'm in my PJs, I feel a bit more glamorous. I also just bought some amazing hair gems that I'm obsessed with. I pop those on and dream about my future going-out looks.
RI:
Which social media accounts brighten your day?
AG:
I just love to see everyone cooking at home! I've exchanged so many recipes with my friends and I've tuned into a couple of Instagram live cooking demos.
RI:
Let's talk about your career. In the six years since you started modeling, there's been a shift in the industry. We now see more hair types, more skin colors, and more body sizes in campaigns and editorials. What progress have you seen, and where do we still need to go from here?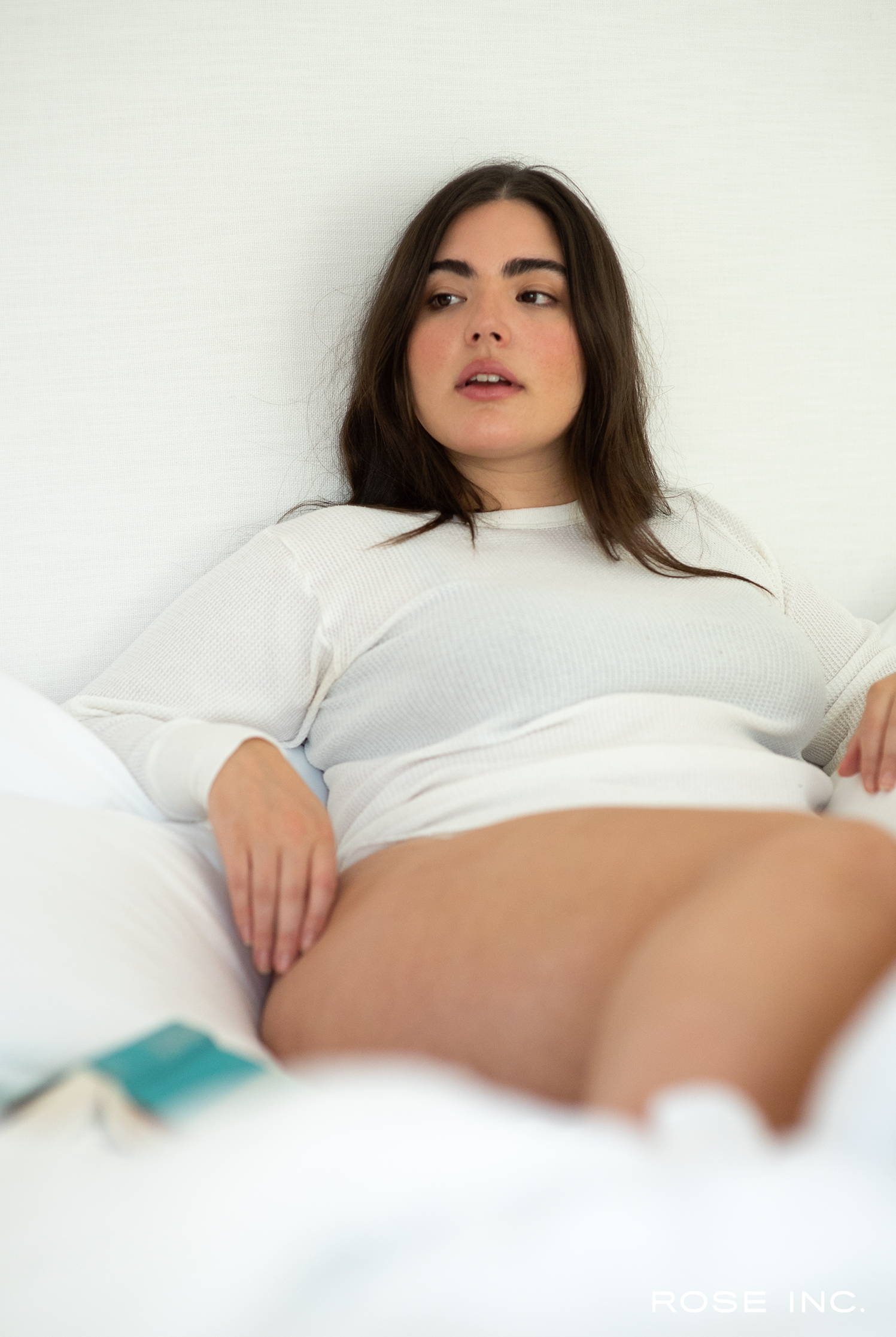 AG:
It's been amazing to see the industry grow more diverse. When I started, plus models and the plus industry were knocking on people's doors, just trying to get in to see casting directors. Now, people are encouraging designers and clients to cast with more diversity. It's a top-down effect. If designers don't cast a diverse runway, they don't make samples in different sizes. And if there aren't samples, then magazines can't use samples to shoot editorials. It's nice to finally see editors for huge publications like Vogue, encouraging designers to be more diverse. It's truly how I think you'll finally see change.
RI:
How does social media fit into your life and your career? Are they siloed or do you keep them together?
AG:
I always saw it as one big thing. Before, models were cast from their book, or their agent would push them for something. Now we have a little bit more agency to put ourselves out there and show people who we are. For me, my social media is 100% tied to my personal life, but also to my career. I want to be known for who I am and what I'm putting out there. I think it's impossible to separate the two.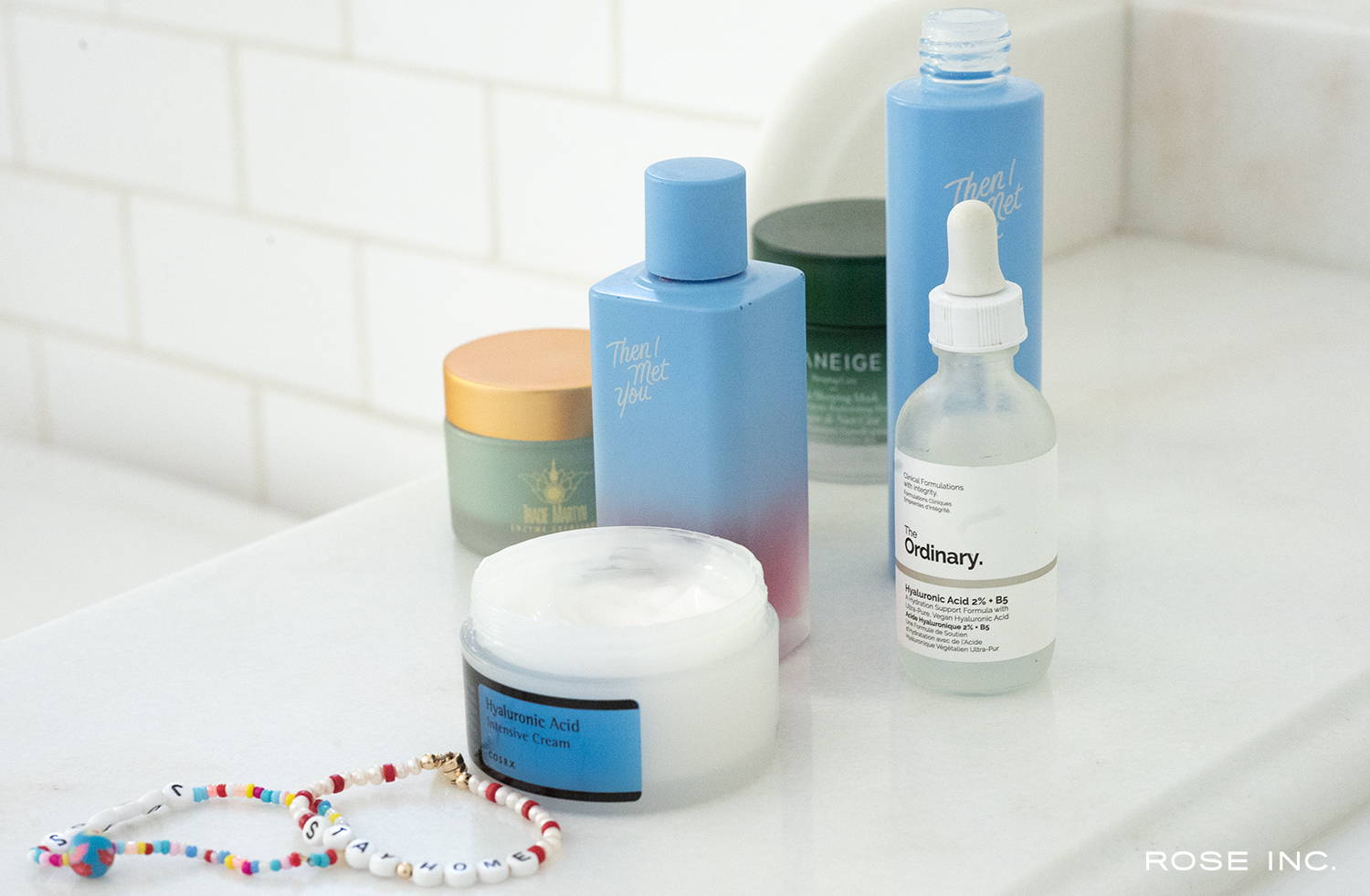 RI:
Don't you think it's challenging to be authentic on social media, though? We don't see a lot of people sharing authentic moments that involve waddling around our homes in need of a shower, for instance.
AG:
Well, we really curate ourselves, and then there's pressure to maintain that. It's definitely unhealthy for people to judge people from their Instagram alone. It's hard to find a balance of showing realness—because we're all people who waddle around in need of a shower sometimes—and the dream. I mean, I try to be as real as possible. I'm not one of the people who highly curates my life. But there's no doubt that those insecurities affect all of us. Hopefully, there's a little bit of authenticity to what I post.
RI:
When you're not on set, what does your personal style look like?
AG:
Some days, I'm excited and incredibly inspired to wear something that's really put together and chic. Other days, if I'm running errands, I go with what's comfortable. I always want to make sure that my clothes reflect my best self, even if it's just like a pair of pants and a casual t-shirt. I want to feel good every day, and I use getting dressed and my beauty routine as a way to do that.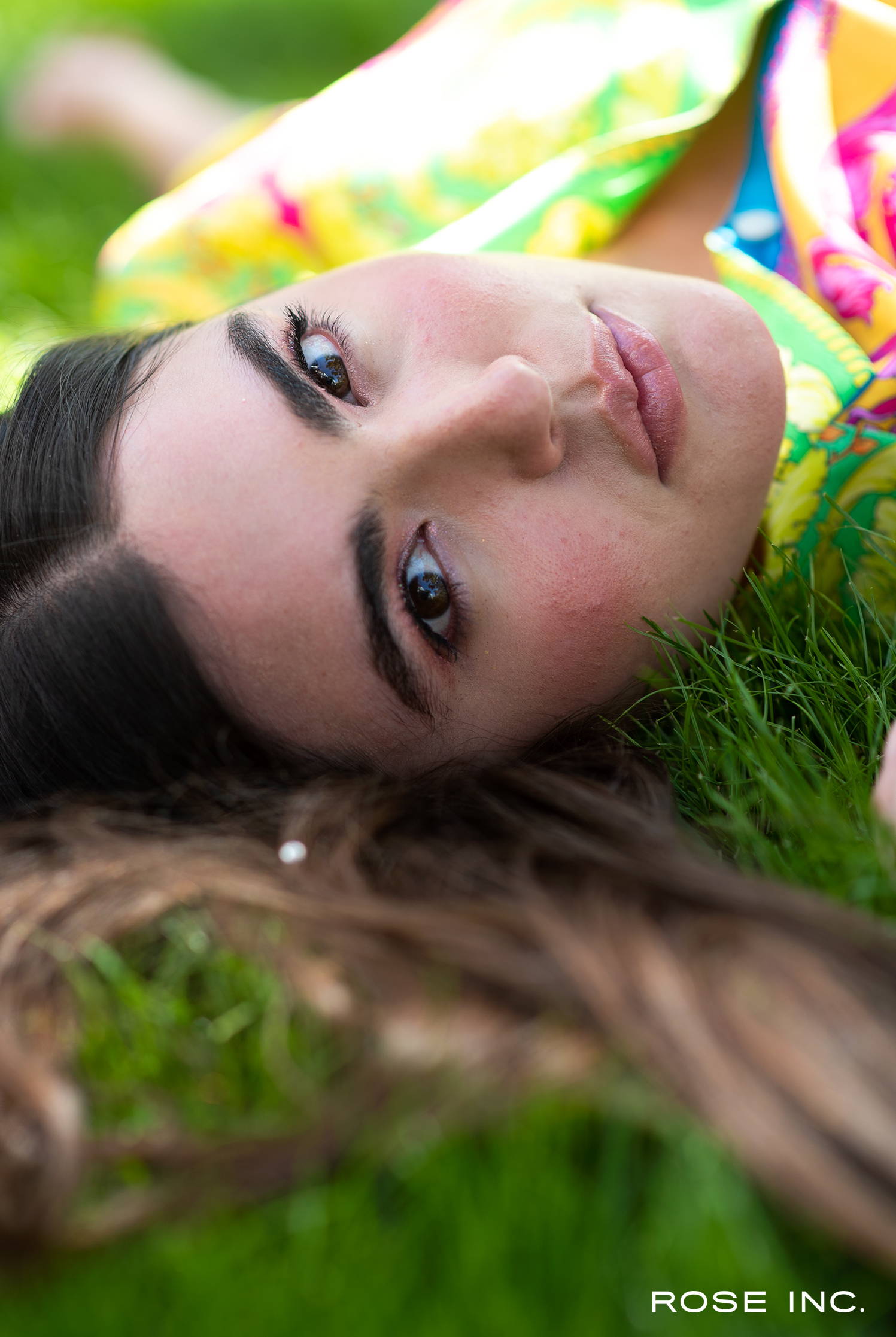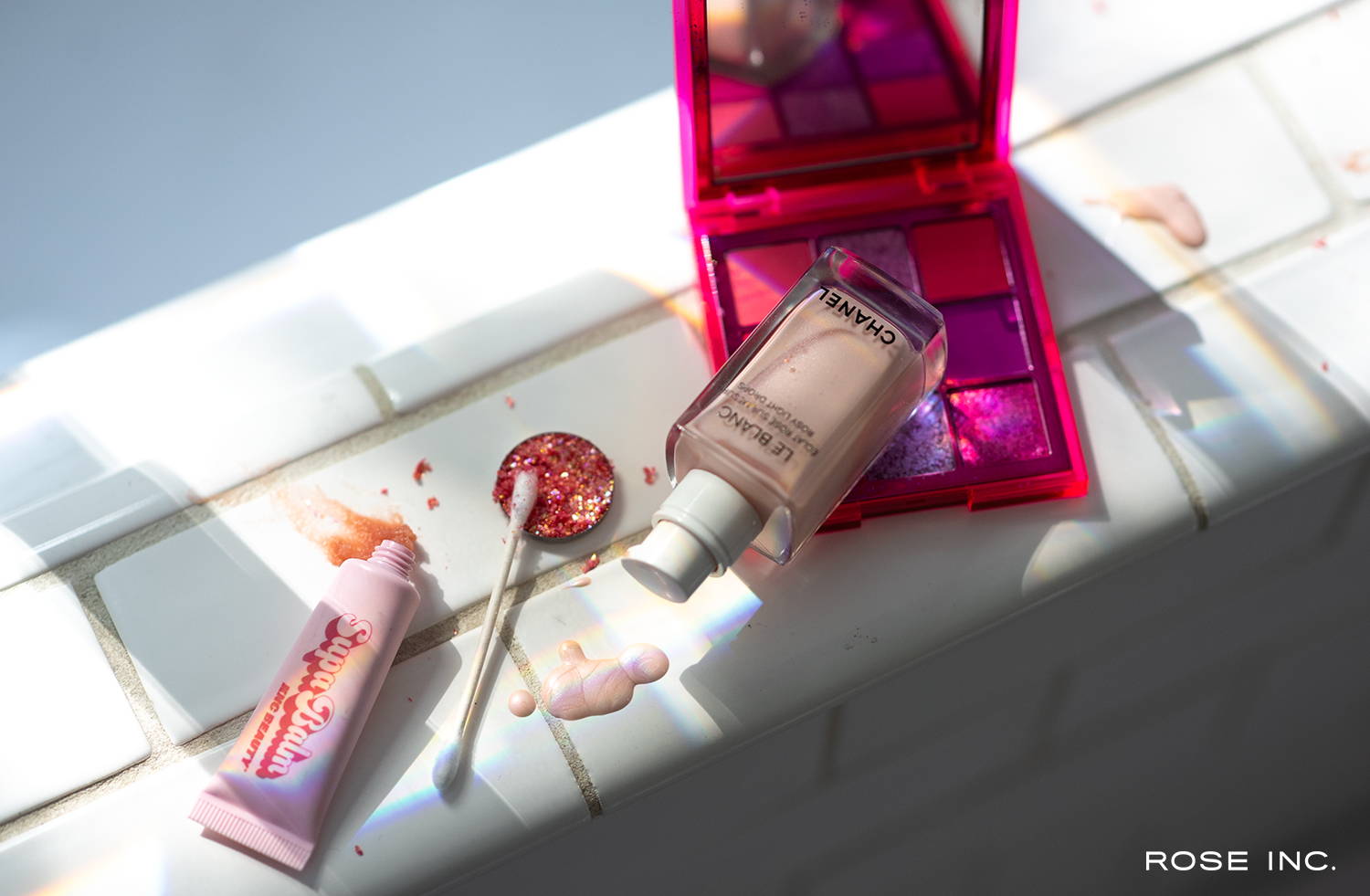 RI:
You brought up beauty. Can we start by talking about your glowy skin? What does it take—or wait, are you one of those people who does nothing?
AG:
No, I wish! I've never been one of those people because I've always struggled with rosacea. And a few years ago, I was struggling a lot with hormonal acne. I was dealing with some really bad breakouts that affected my insecurities. I would show up to set and be "the girl who has acne." Everybody else would get little dabs of concealer and I was getting full-fledged coverage.
RI:
How did you handle that?
AG:
I realized my hormones were out of balance. Once I went to an endocrinologist, my skin completely changed. During my cycle, I might have one or two breakouts, but otherwise, my skin has changed. I'm always advocating for women to check in on your hormones because they're constantly changing depending on the environment, what's in our skin care, and what we eat.
RI:
Do you have any skin care rituals?
AG:
I've been going to a facialist in LA named Biba de Sousa for a few years. She's the first person who told me to check every ingredient in my beauty regimen for comedogenic ingredients. Once we cleared out my beauty routine of those, that totally changed my skin as well.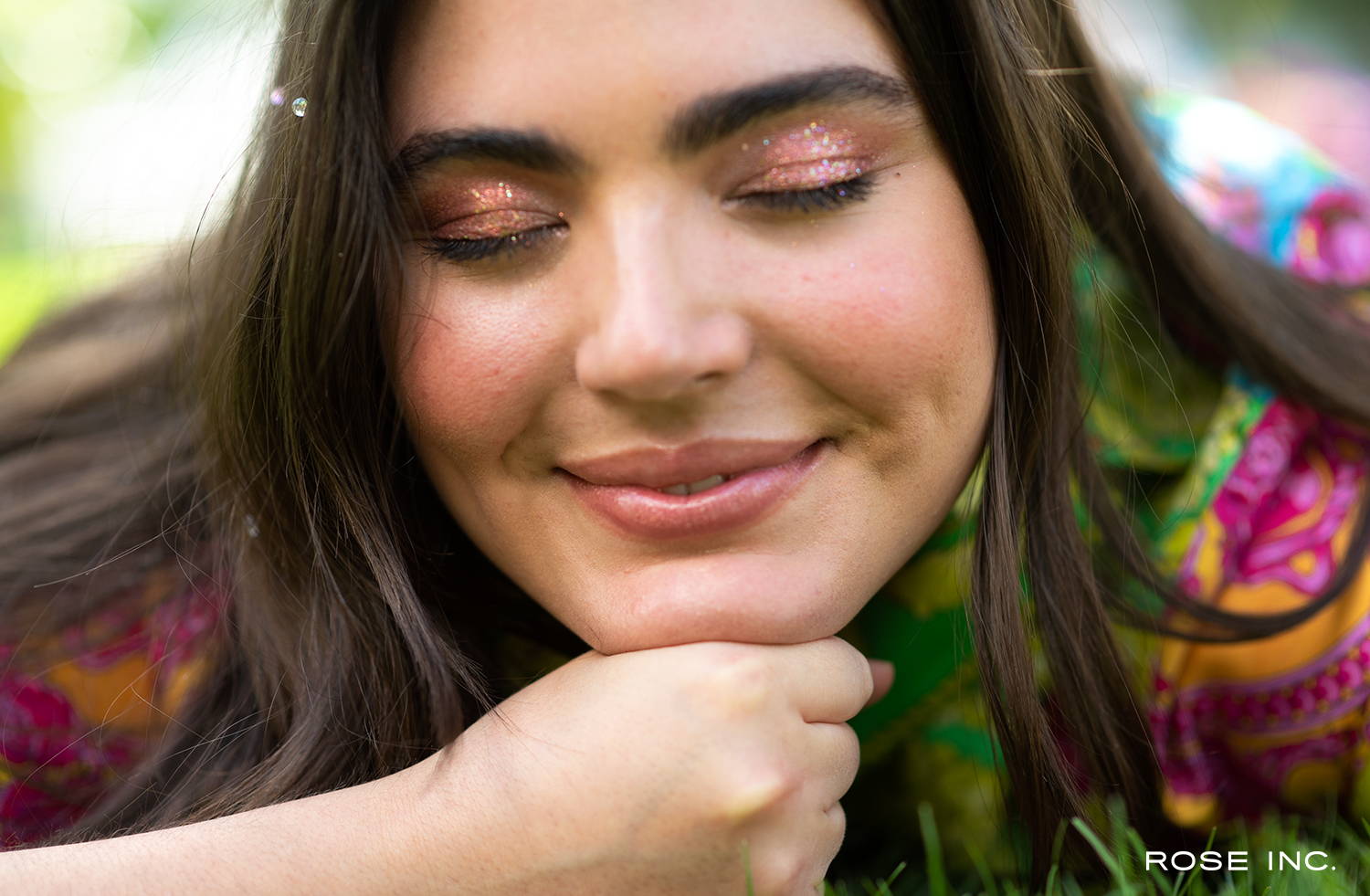 I want to feel good every day, and I use getting dressed and my beauty routine as a way to do that.
RI:
When you're not on set, what is your makeup like?
AG:
I can't carry a lot of makeup like some girls can. Some girls can do that Kardashian beat, but I have a bit of a baby face, so I don't know if it really works on me. On most days when I'm not working, I'm pretty minimal unless I'm going out. Then, I love to play around with pinks and glitters and pigments. Most of the time, especially for plus models, we're working commercially. That means dewy skin with maybe like a light brown smoky eye. It's rare that we get to play around with makeup at work. So when I go out socially, I think it's fun to do a glitter eye or something like that.
RI:
What about your eyebrows? They're so lush.
AG:
I don't really like to use eyebrow gels. I do have some thick eyebrows, and the hair is coarse, so gel always dries and becomes crunchy. I just want something that keeps them fluffy and set. The other day, I asked my dad if I could borrow his hair pomade. It's from Italy and he's used it my whole life—it smells amazing. It's been the most incredible product for my eyebrows. It's soft, but it holds, and it nourishes the hair. I even use it as an eye gloss. It's my new favorite thing. Luckily, my dad had a stockpile of them, so I stole one.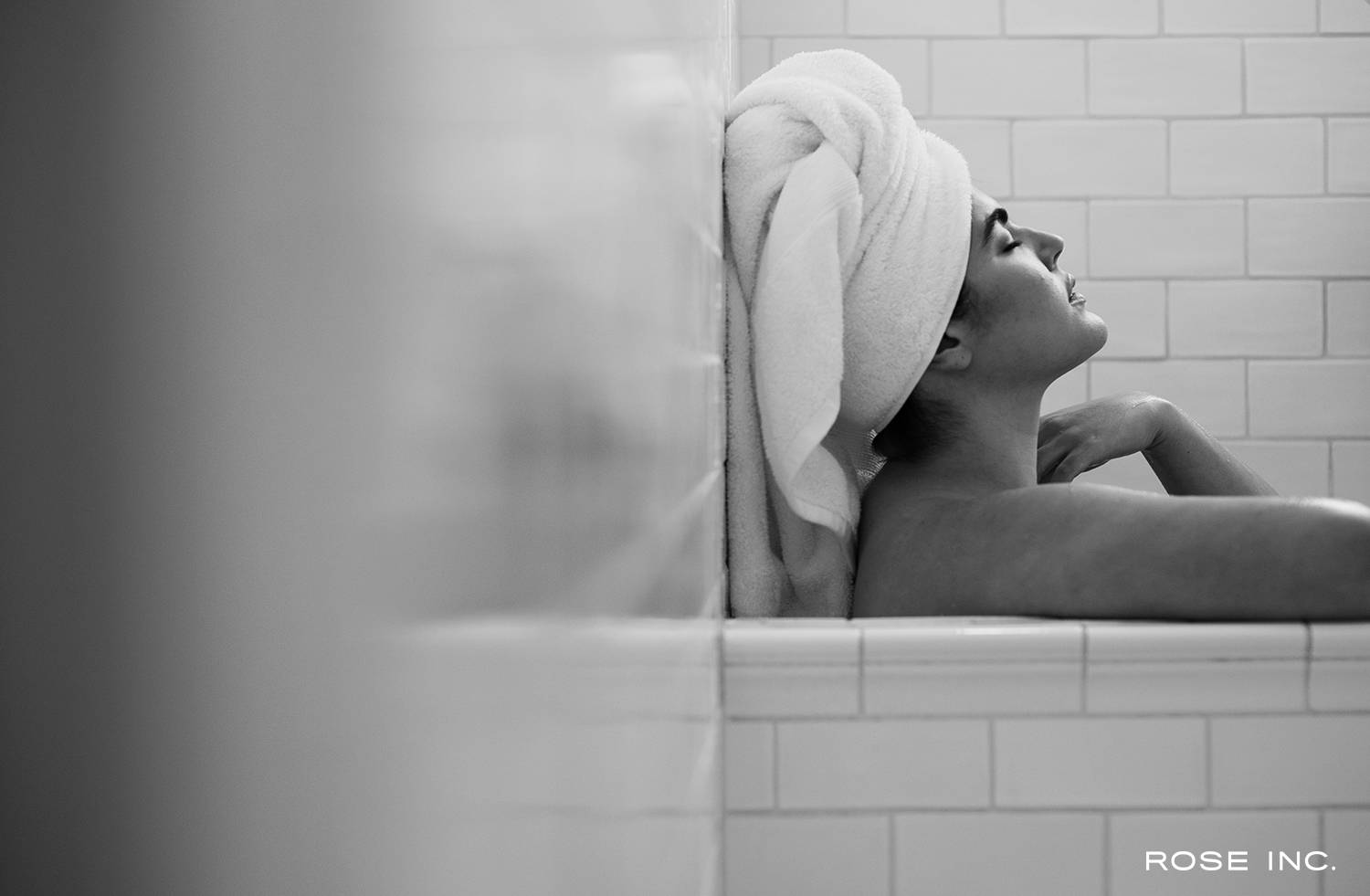 RI:
Before we wrap up, let's do some quickfire questions. What are you streaming right now?
AG:
I'm watching The Sopranos for the first time. I'm halfway through the first season and it's so good. Every single episode is a film within itself.
RI:
What are you reading?
RI:
You studied film. What's a film that everyone should see?
AG:
That's a hard one. This is gonna sound random, but I recently watched Fantasia and I had forgotten how incredible that film is. It's beautiful and it really puts you in a good mood.
RI:
When do you feel most confident?
AG:
When I'm dancing with my friends. I probably don't even look that great—honestly, I'm probably sweating. But that's definitely when I feel most confident.
RI:
When do you feel most desirable?
AG:
Probably when I'm with the people I love.
RI:
What do you think everyone should try once?
RI:
Is there anything that you will never do?
RI:
Is the glass half-full or half-empty?
RI:
What is your hope for the future?
AG:
My hope is that we learn from this collective pause. That we take our positive daily practices and new perspective with us into the future. Valuing our health, family, and friends over material objects. Consuming less and appreciating what we already have more. That we all slow down and take care of ourselves and each other.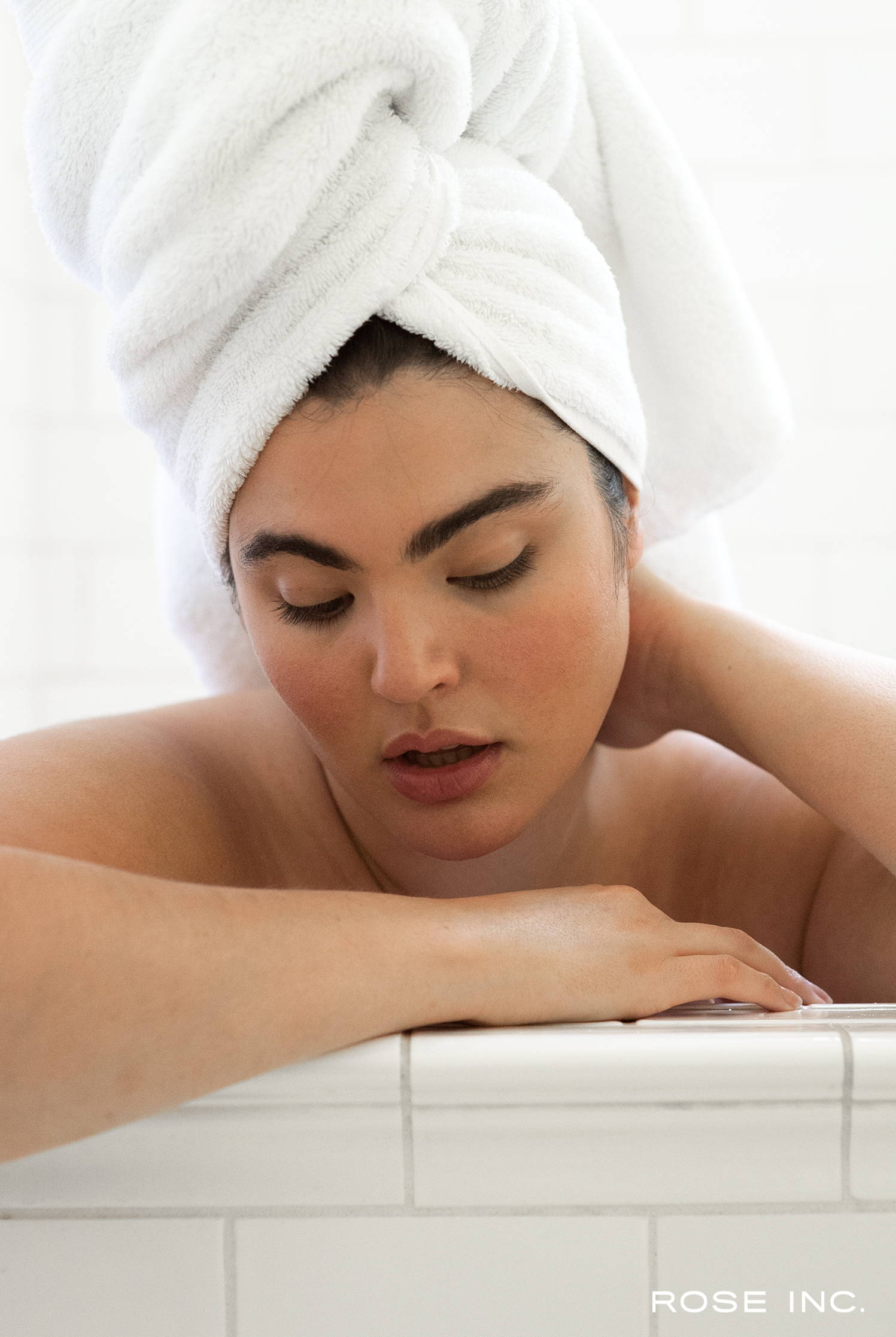 Alessandra Garcia photographed in Los Angeles by Chloe Rosey.