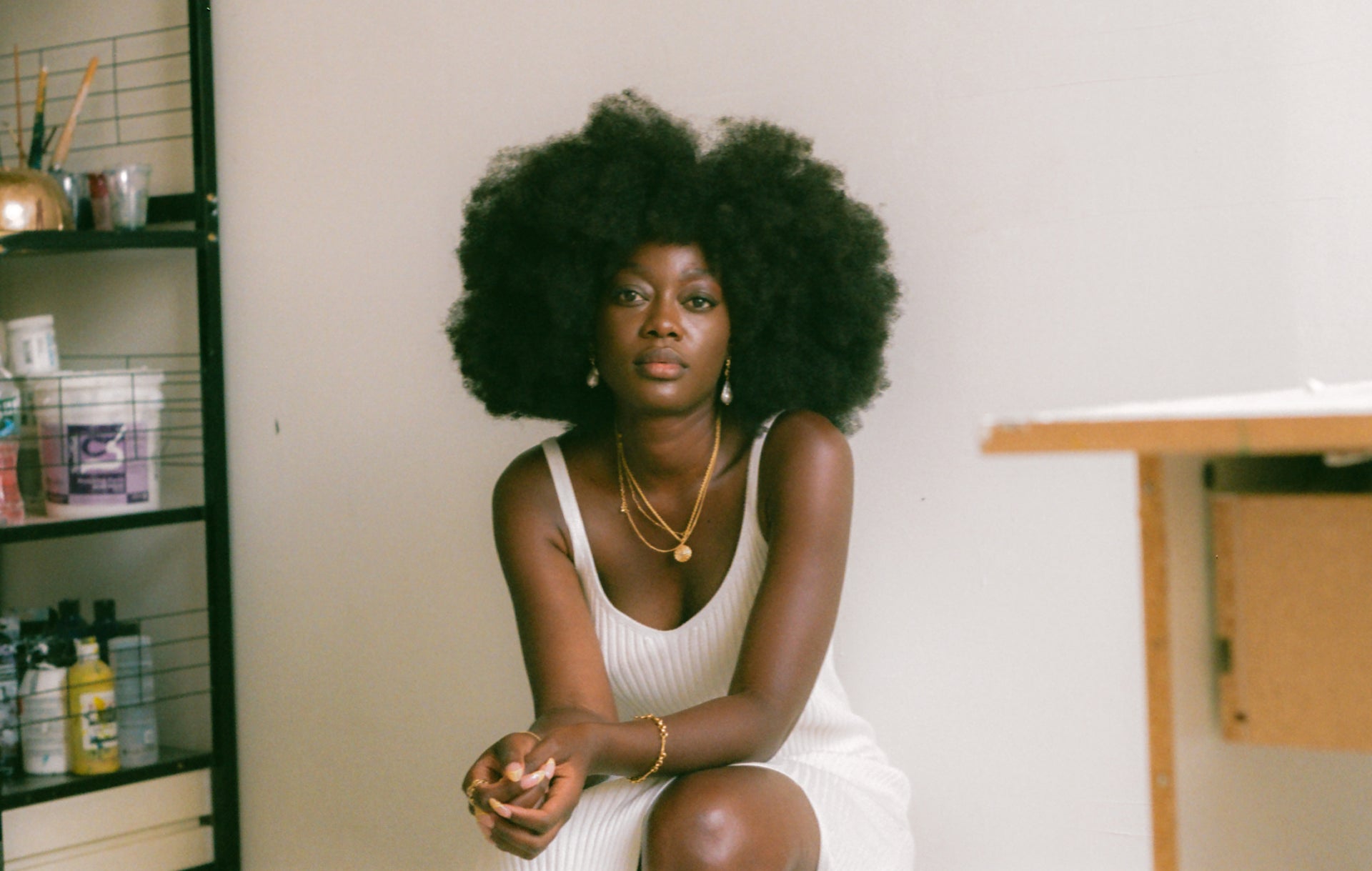 Ghanaian Artist Afro Child on the Beauty of Feeling Comfortable In Her Skin
Profile
From her signature Afro to her elegant sense of style, artist-content creator Chelsea Boatey, also known as Afro Child, is the definition of effortlessly cool. When she isn't painting vibrantly colored works that pay homage to her Ghanaian roots, she works as a content creator and social media consultant for brands like Estée Lauder, Hyundai and more. "I've been drawing and being creative since I was a kid," she says, noting that this is what has carried through all of the major transitions in her life. In 2012, she moved from Ghana and came stateside to attend Minnesota State University. Throughout her studies (she majored in international business and minored in contemporary art and photography, before attending NYU grad school), Afro Child continued to nurture her passion for painting. And it paid off: In 2021, it led her to the AfroChild Solo Showcase at the NYC flagship store of the Brazilian Brand PatBo, curated by rising Brooklyn-based curator Usen Esiet. Today, the Brooklyn-based artist is able to continue being creative as she lives five minutes from her studio. "No matter what I have going on, art and photography will always give me a major sense of release,'' she says. "It will always be a part of me." 
Below, Afro Child elaborates on her journey to confidence and the self-care practices and beauty products that help her feel balanced.
"No matter what I have going on, art and photography will always give me a major sense of release. It will always be a part of me."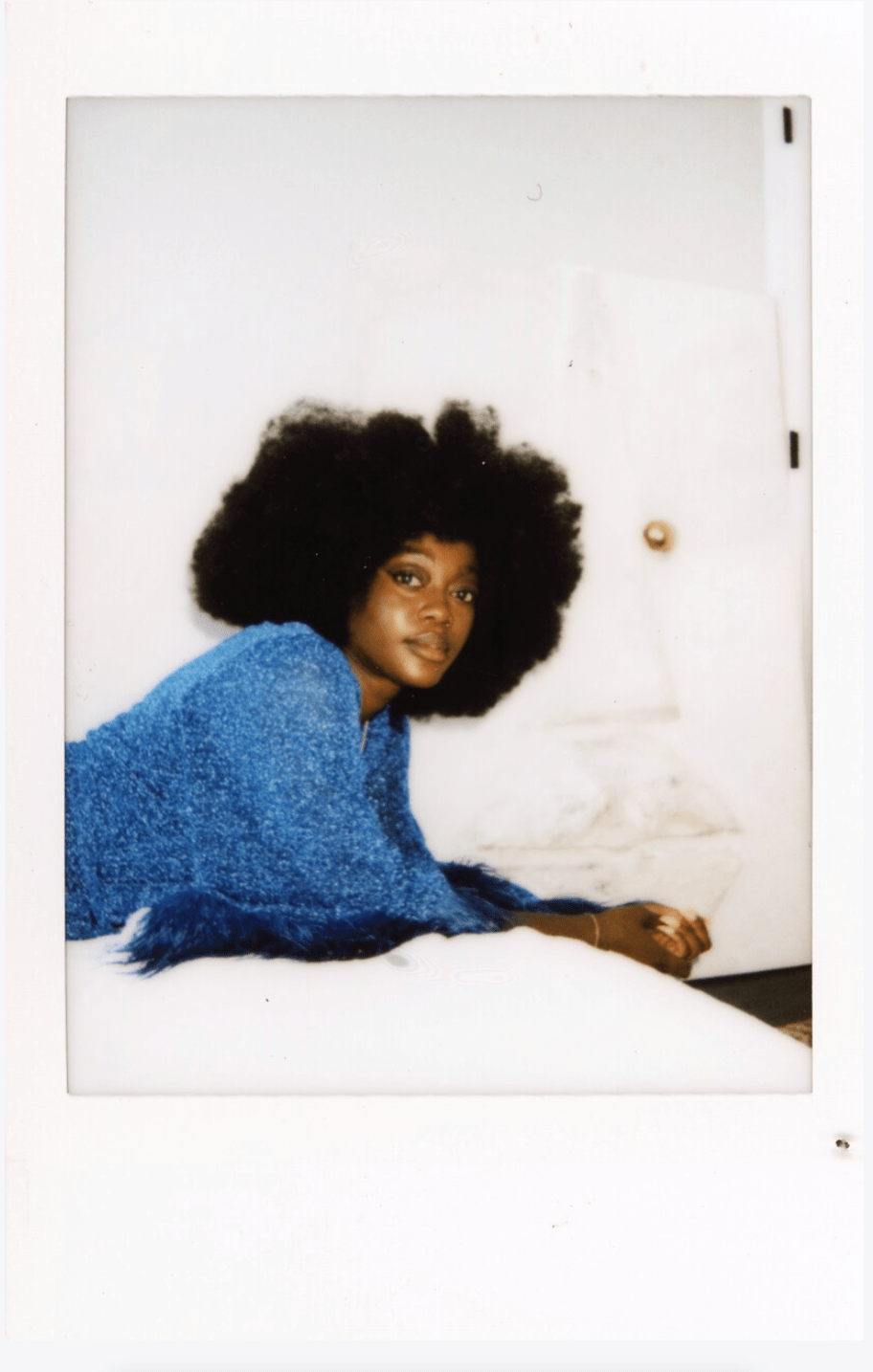 By Akili King
RI:

How has growing up in Ghana shaped your approach to beauty?

CB:

In Ghana, being dark skinned was always celebrated. When I moved to the States in 2012, I realized there was a light-skinned and dark-skinned division within the community, which I was never privy to. My mom and sister are both light skinned and I grew up around a lot of people who were lighter. I was never made to feel bad about having darker skin, and didn't realize how much it was a thing until coming to New York in 2016. But luckily, being from Ghana has made me feel empowered by having dark skin. I embrace my skin. I think it's my power. It's something that makes me stand out. The darker I get, the more beautiful I think that I am. Being from Ghana has truly made me more confident in my skin. I always know that everyone where I come from loves me and accepts me, regardless of what color of my skin is.

RI:

Who was your biggest beauty inspiration growing up?

CB:

I would say my mom. She is the most extroverted person I've met in my life and she always knew she was beautiful. Not because she would say it, but it was just evident in the way that she carried herself. It was a beauty that came from the inside and then makeup and everything was kind of like an added bonus. Watching her while she put on her makeup and got dressed up was inspiring. She carried herself very confidently in crowds. Seeing her made me feel like I was beautiful, too. Anytime that I was down, she would say to me, 'you're beautiful.' She encouraged us to stand in that confidence. She taught me how to be gentle, nurturing. She also taught me kindness through the way she treated other people. Outside of my family, Naomi Campbell and Julia Roberts really inspired me.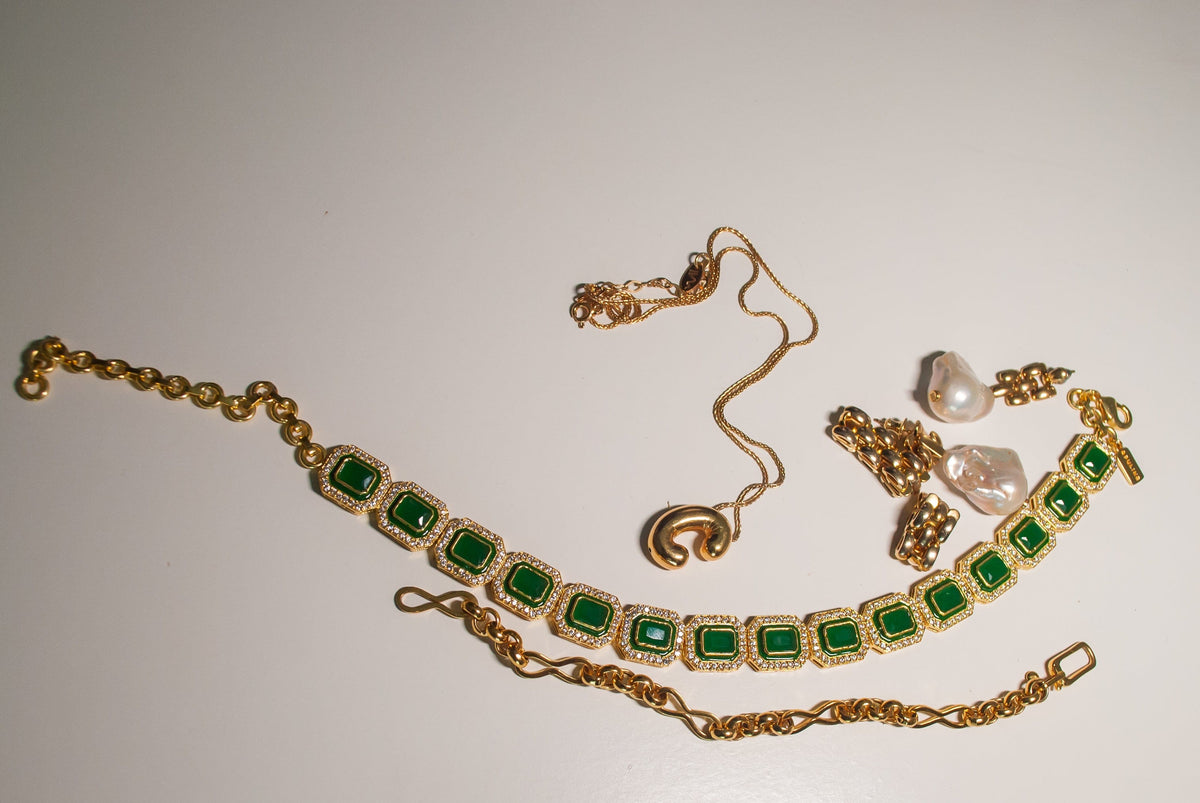 By Aurielle Akerele
RI:

Who is giving you beauty inspiration these days?

CB:

 I would definitely say Jasmine Tookes. She's so elegant. She's always giving effortless beauty.

RI:

Describe one of your earliest beauty memories

CB:

When I was in high school I never wore makeup at all. But I remember when I graduated, I was working with a magazine. I went to interview a renowned photographer friend of mine. And I remember him saying to me, 'Chelsea, you need to put on makeup. You can't be walking around like this. You're beautiful, but you need to put on makeup.' I remember going through my mom's makeup bag trying to figure out my foundation shade. But again, my mom's lighter than me. Once I moved to the States, I started going to the MAC beauty counter because they were the only ones that carried darker shades at the time. I remember going on YouTube and trying to follow tutorials as well.
"The darker I get, the more beautiful I think that I am. Being from Ghana has truly made me more confident in my skin."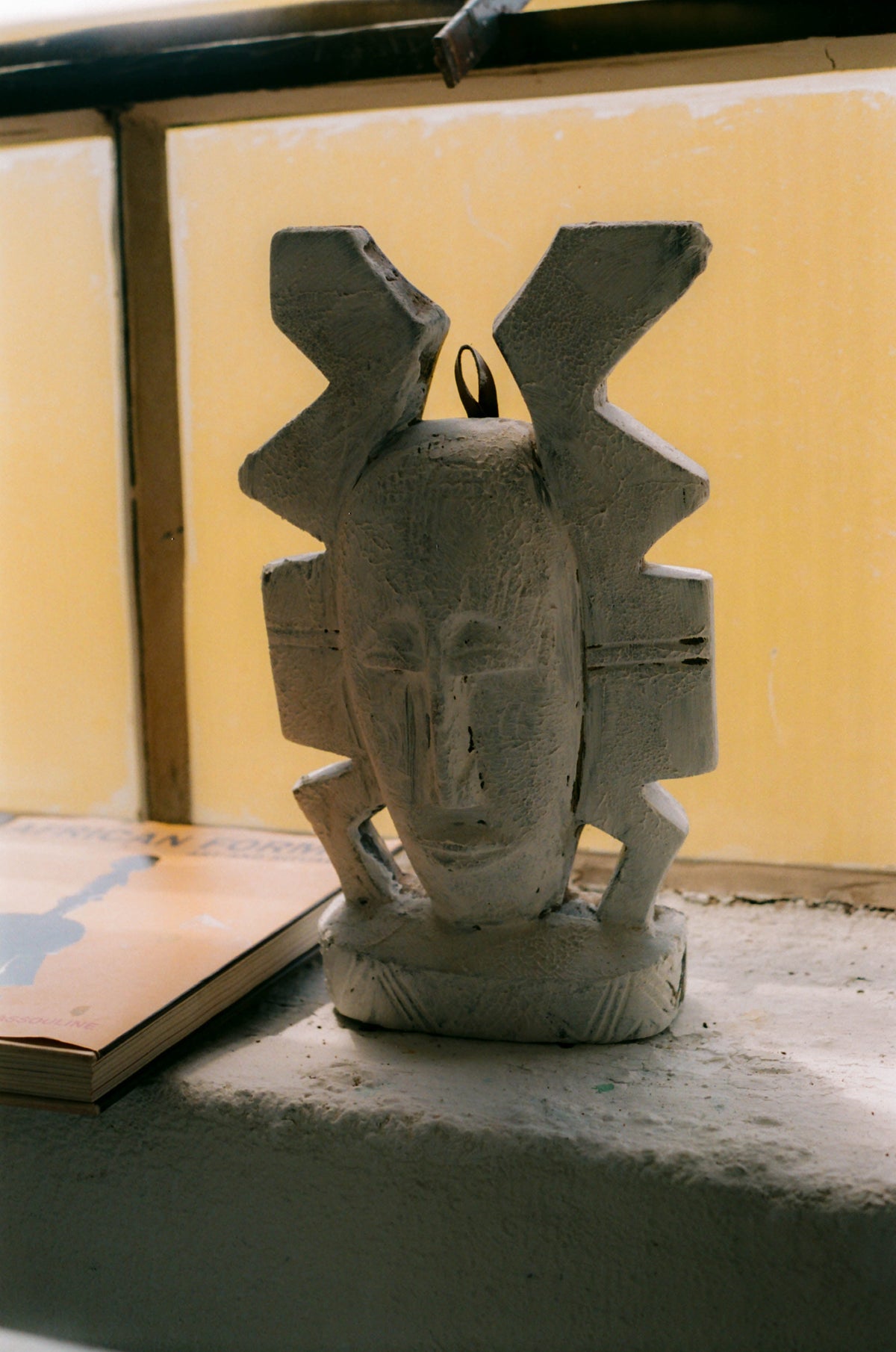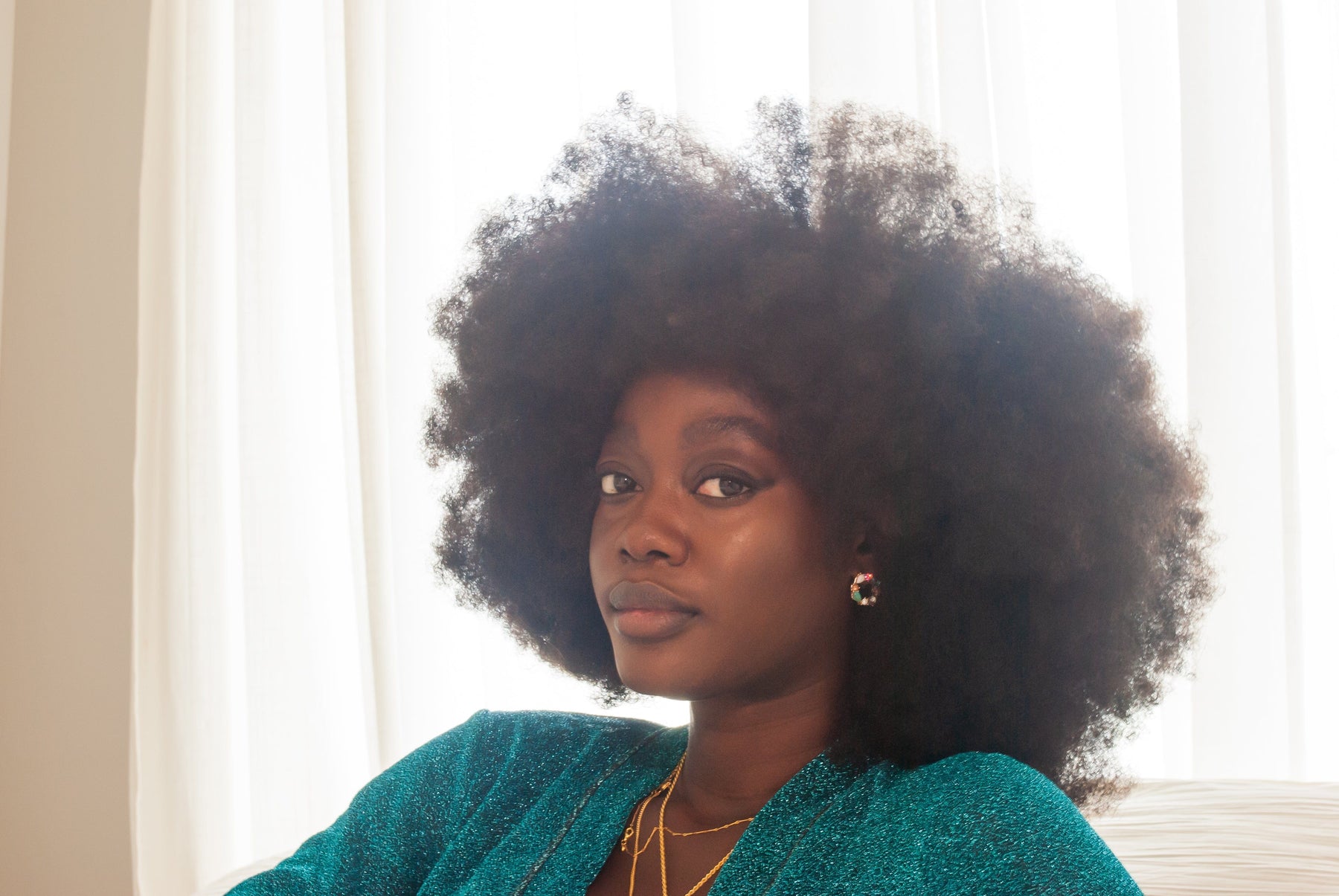 By Aurielle Akerele
RI:

What is your haircare routine?

CB:

Wash days can be an eight-hour day. It includes pre-shampoo, washing, conditioning, protein treatments, etc. Right. That can be tedious though. I've been investing in getting my hair done more often. Once a month I try to go for a wash, blowout and a trim if needed.

RI:

What's your skincare routine?

AJ:

My skin is very sensitive so it's hard to find the right thing. I try to use things that take care of blemishes and make my skin texture look even and smooth, like a vitamin C serum. I use that twice a day. I like using the Rose Inc toner a lot, too. It has pink clay which is cool.

RI:

What about your makeup routine?

CB:

I like products that are very lightweight. I don't like to look like I'm wearing too much makeup. I just like to elevate what my skin already looks like. I definitely love a no makeup-makeup look. But when I need to do a full beat for an event or something, I still try to keep it simple, but I'll definitely use a blush and concealer. The Rose Inc concealer is actually one of my favorites. It's so gentle on my skin. It looks close to my skin color. And a little goes a long way. I really love the Cream Blush as well.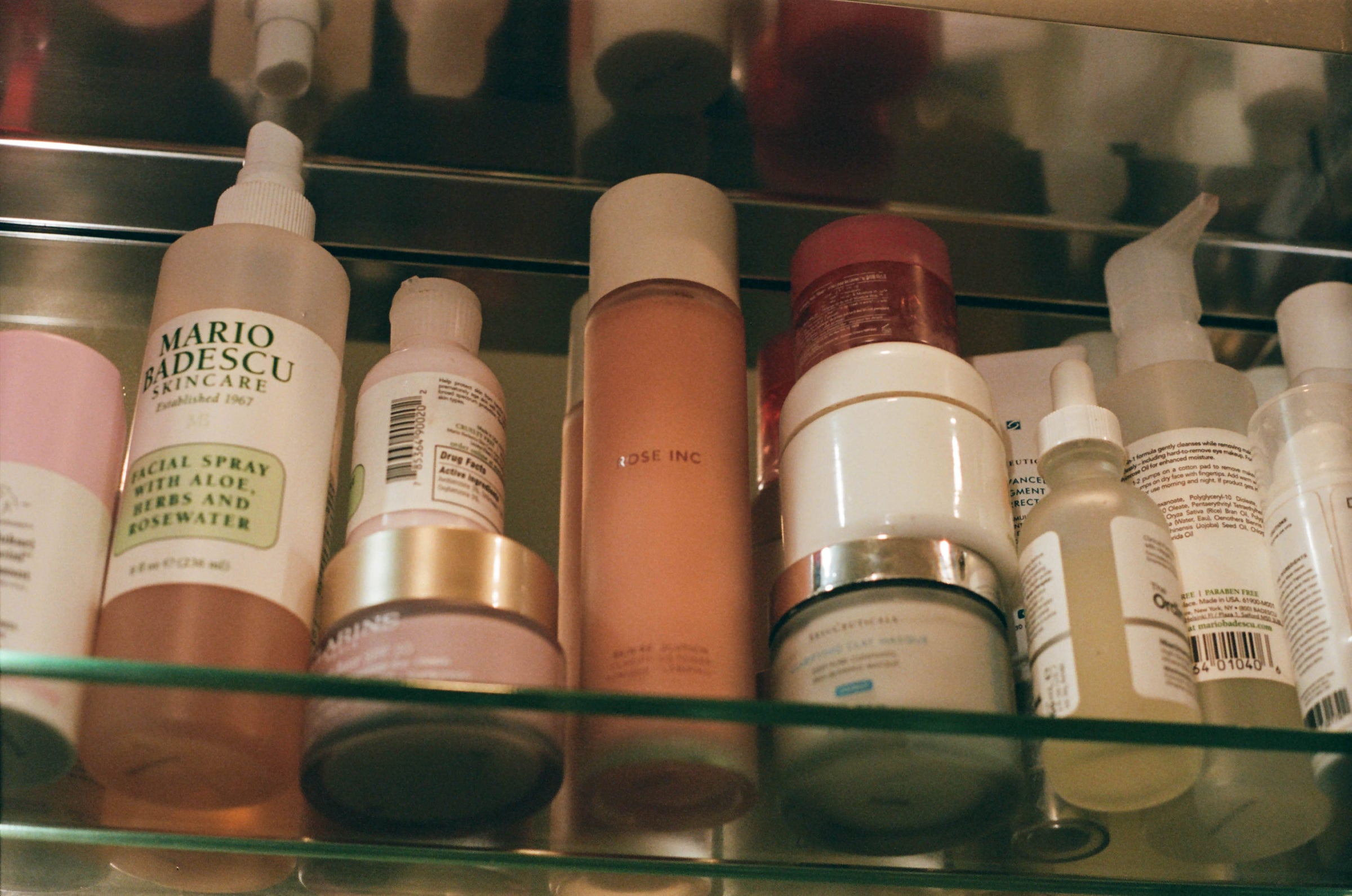 By Aurielle Akerele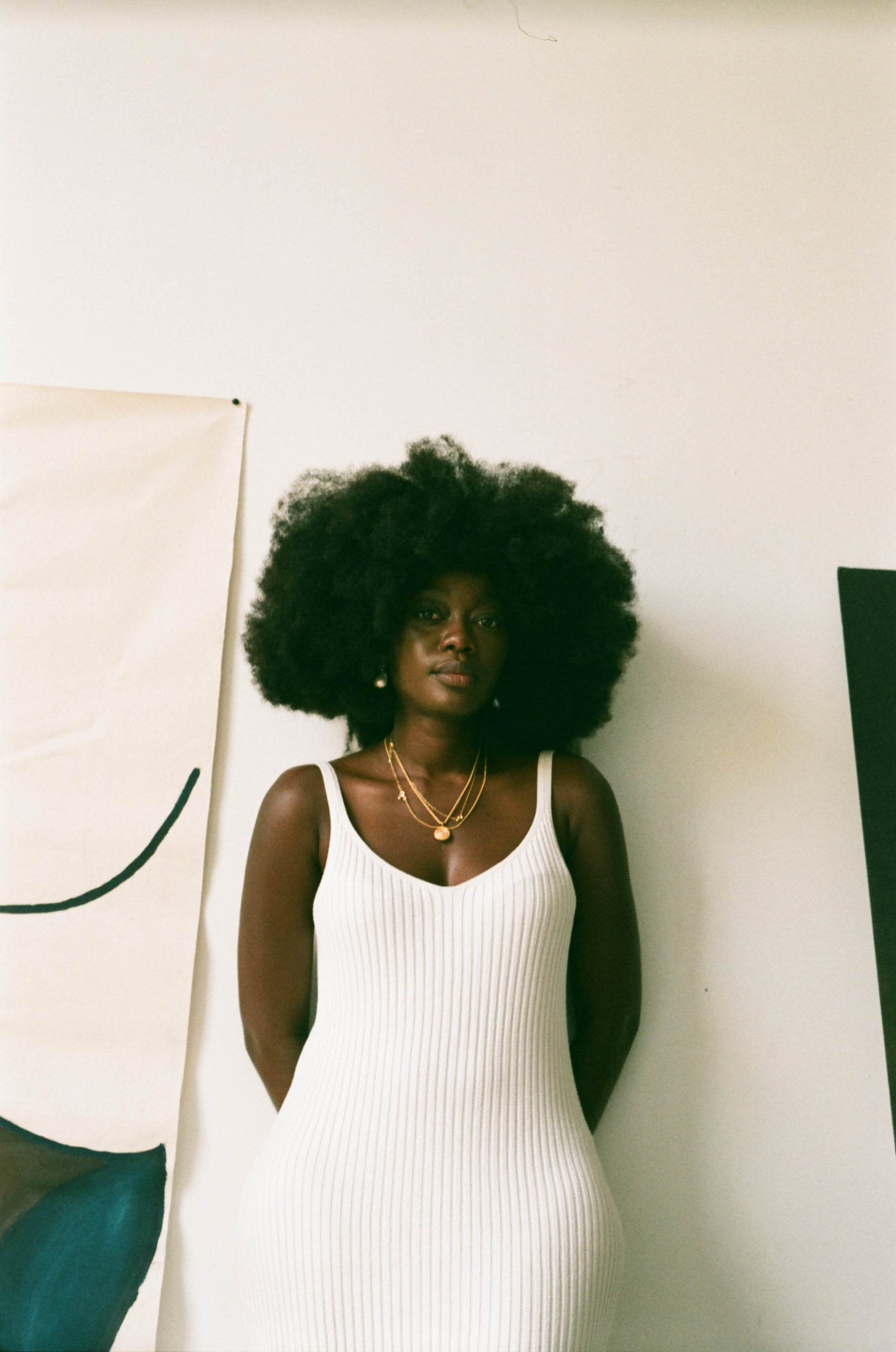 By Aurielle Akerele
RI:

Do you have any favorite fragrances?

CB:

The one I get the most compliments on is the Valentino Born In Roma perfume. I truly love it and wear it out running errands and people always stop me to say I smell good. I also love the Byredo Bal d'Afrique scent. Those are my top two.

RI:

 What does your self-care routine look like?

CB:

My go-to routine would be: get out of bed, wash my face, do a mask. While the mask sets, I usually clean up. After that, I remove the mask and do the rest of my skincare routine. But I love a good mask! In general I love doing them while I'm cleaning or doing chores because it feels like you're doing something for yourself at the same time.

RI:

Did you develop any new self-care habits during the lockdown?

CB:

Now I go for daily walks. I think that's really important. I also love listening to music during my walks. Sometimes I'll also walk through the galleries in Chelsea just to look. I find it's been important for me to go alone. I feel like we spend a lot of time with ourselves at home. It's also good to spend time with yourself in public.

RI:

How would you like to see the beauty industry change?

CB:

Sometimes it feels like the industry picks the same few Black girls to do everything. There needs to be more room for Black women to participate. I also want there to be room for dark-skinned girls to thrive in the industry. Sometimes it feels like favorites are chosen.
"I feel most beautiful when I feel good on the inside."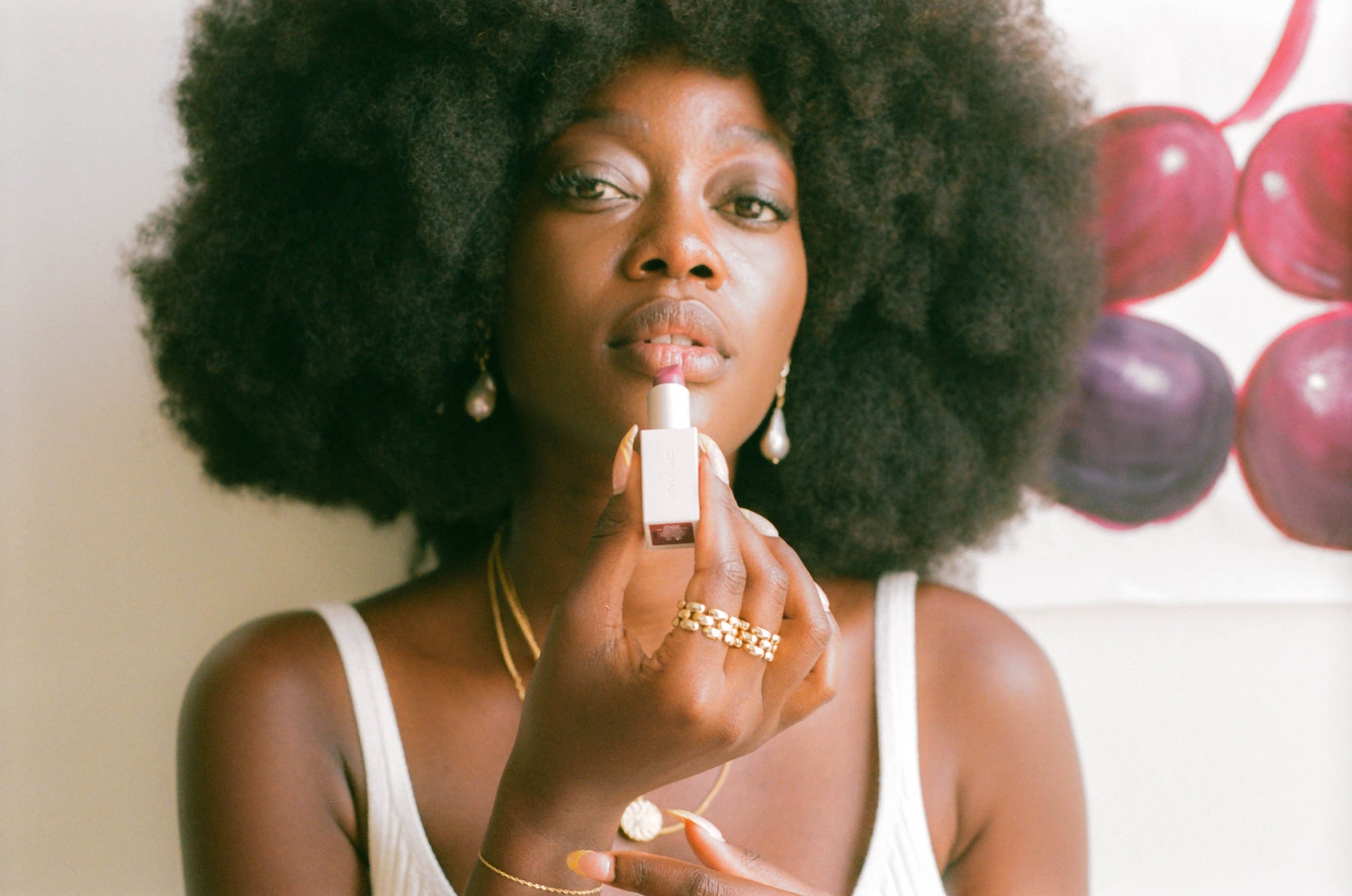 By Aurielle Akerele
RI:

How do you define beauty?

CB:

Beauty is what you feel on the inside, spilling out on the outside. We can buy the products, but are we doing things we need to do internally like therapy? Shadow work? This all goes into making sure we are beautiful people on the outside too.

RI:

When do you feel most beautiful?

CB:

To be honest, I feel most beautiful when I feel good on the inside. Sometimes you can feel good on the outside. But on the inside, you're not happy. But when I feel good on the inside and the outside matches, you can't tell me anything.
GET CREATIVE WITH CHELSEA BOATEY
When Chelsea Boatey isn't busy creating content for major brands, she's paying homage to her Ghanaian roots with a paintbrush and canvas, and layers of vibrant colors. To stay balanced, she enjoys daily walks outside, face masks and an upbeat, Afrobeats-infused playlist to guide her through it all. Read her full interview on roseinc.com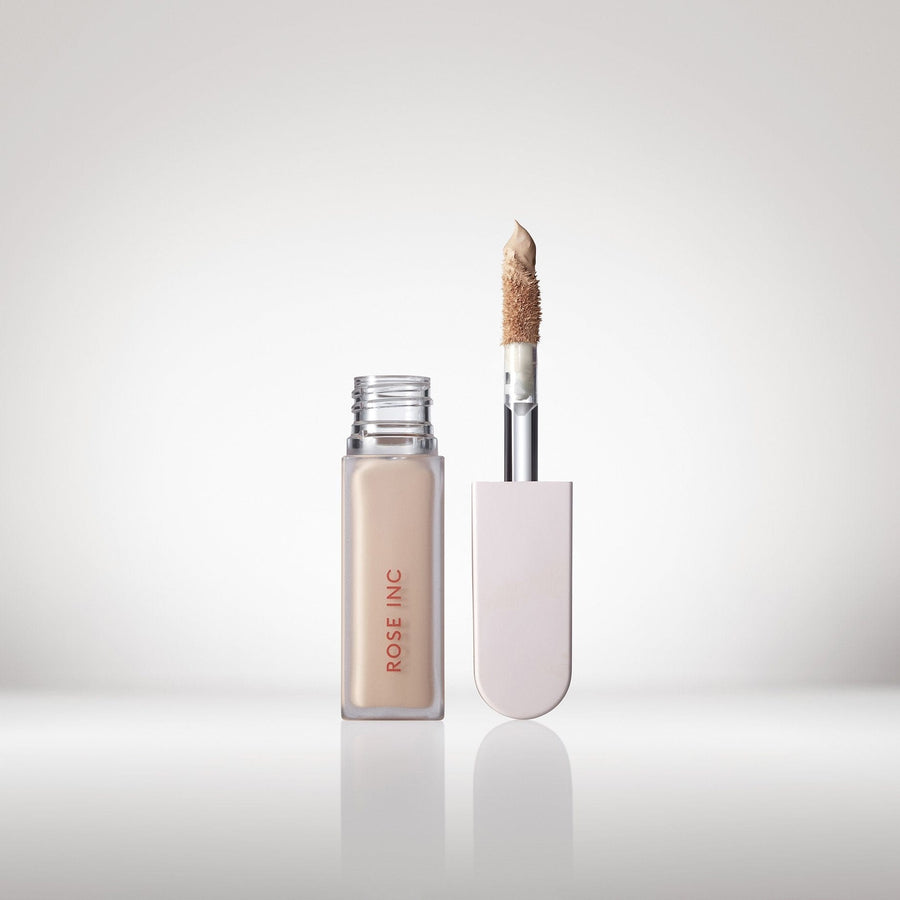 LX 200
Very Deep Skin Tone, Neutral Undertone
LX 190
Very Deep Skin Tone, Cool Red Undertone
LX 180
Deep Skin Tone, Warm Neutral Undertone
LX 170
Deep Skin Tone, Golden Undertone
LX 160
Deep Skin Tone, Red Undertone
LX 150
Deep Skin Tone, Neutral Undertone
LX 140
Medium/Deep Skin Tone, Neutral Undertone
LX 130
Medium/Deep Skin Tone, Warm Golden Undertone
LX 120
Medium/Deep Skin Tone, Pink Undertone
LX 110
Medium/Deep Skin Tone, Golden Undertone
LX 100
Medium/Deep Skin Tone, Peach Undertone
LX 090
Medium Skin Tone, Olive Undertone
LX 080
Medium Skin Tone, Pink Undertone
LX 070
Medium Skin Tone, Golden Undertone
LX 060
Medium Skin Tone, Peach Undertone
LX 050
Light/Medium Skin Tone, Neutral Undertone
LX 040
Light/Medium Skin Tone, Golden Neutral Undertone
LX 030
Light Skin Tone, Pink Undertone
LX 020
Light Skin Tone, Peach Undertone
LX 010
Fair Skin Tone, Neutral Undertone
LX 200
Very Deep Skin Tone, Neutral Undertone
Softlight Luminous Hydrating Concealer
Medium coverage, brightening, blurring
Current price: $30