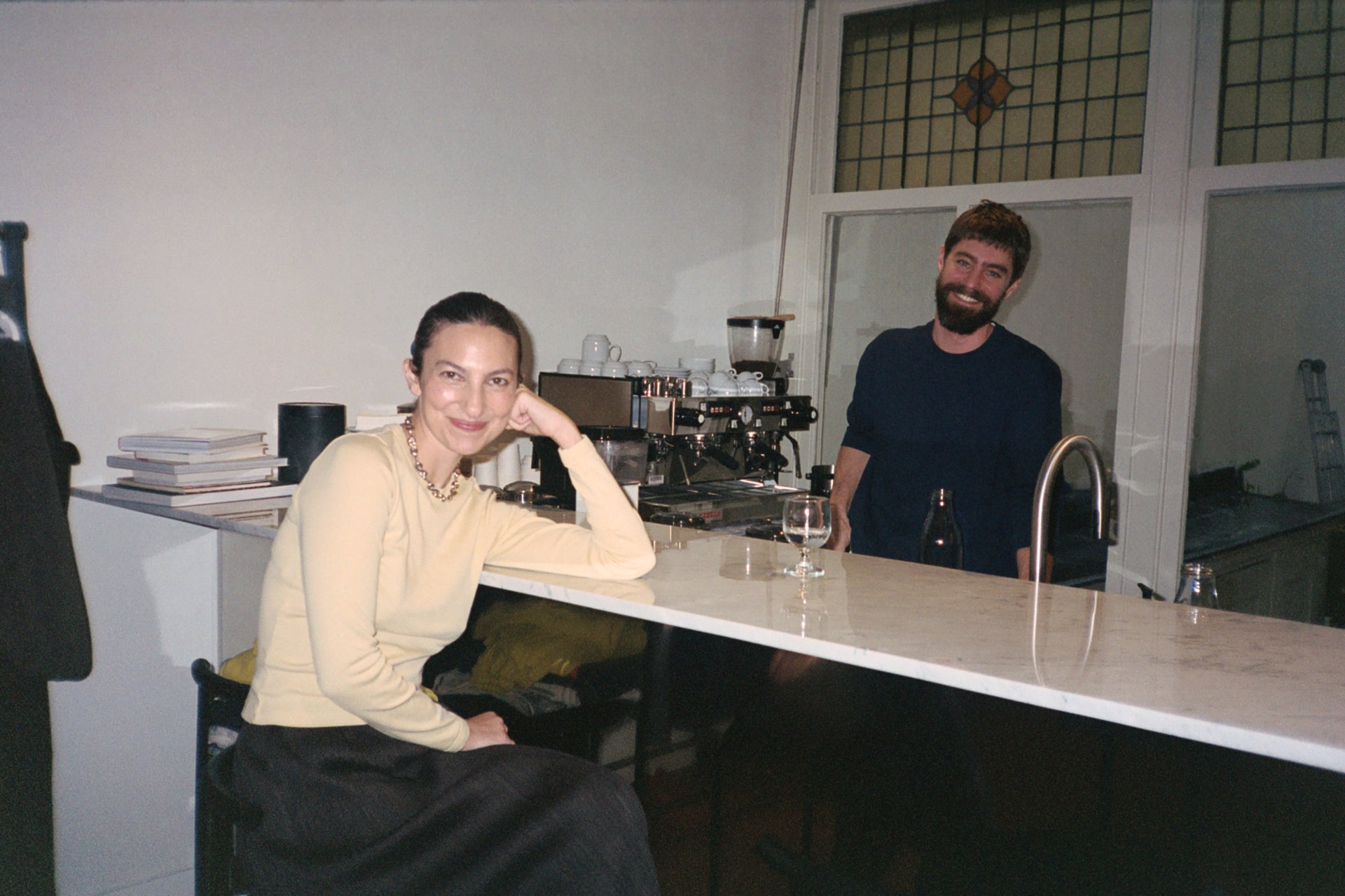 Amsterdam's Carmen Maria Atiyah de Baets on Creating a Sense of Calm In Her Life
Profile
Creative freedom is what keeps Carmen Maria Atiyah de Baets, co-founder of guesthouse, kitchen and shop Carmen Amsterdam inspired. "One day I can be making breakfast for guests, the next day I'll be in Paris buying items for the shop, or hosting a dinner in the garden," the Dutch-Lebanese entrepreneur, who was raised in Holland, says. In 2018 she launched her business alongside her chef husband, Joris ter Meulen Swijtink, after going to SOAS in London to complete a BA in Middle Eastern Studies and later pivoting into creative strategy for fashion agency Karla Otto. "All the while, my husband and I had the idea of moving to Amsterdam and opening a space of our own that merged both our interests — mine in fashion and his in food." 
Today, the chic, light-filled escape is situated in Swijtink's late grandmother's home, in the heart of Spiegelkwartier, Amsterdam. "You can hide out and rest after a day of working or exploring the city," whether that means relaxing in the bath, hiding out to read in the library, or enjoying breakfast each morning. In October 2022, the couple grew the business to include a standalone shop featuring a curation of niche designers such as Maryam Nassir Zadeh, Baserange and Saks Potts, in addition to an array of self-care and homeware items. Soon the shop will include an eatery that serves lunches for guests, in addition to a small collection of artisanal products from Lebanon that de Baets is working on. But most of all, "I feel lucky that all of the roles I play in this involve interacting with people," de Baets says. "Our guests often inspire us."
Below, de Baets opens up about motherhood, her favorite self-care rituals and interior design tips.
"Beauty is all about radiating your natural self whether that be on a good day or a bad day."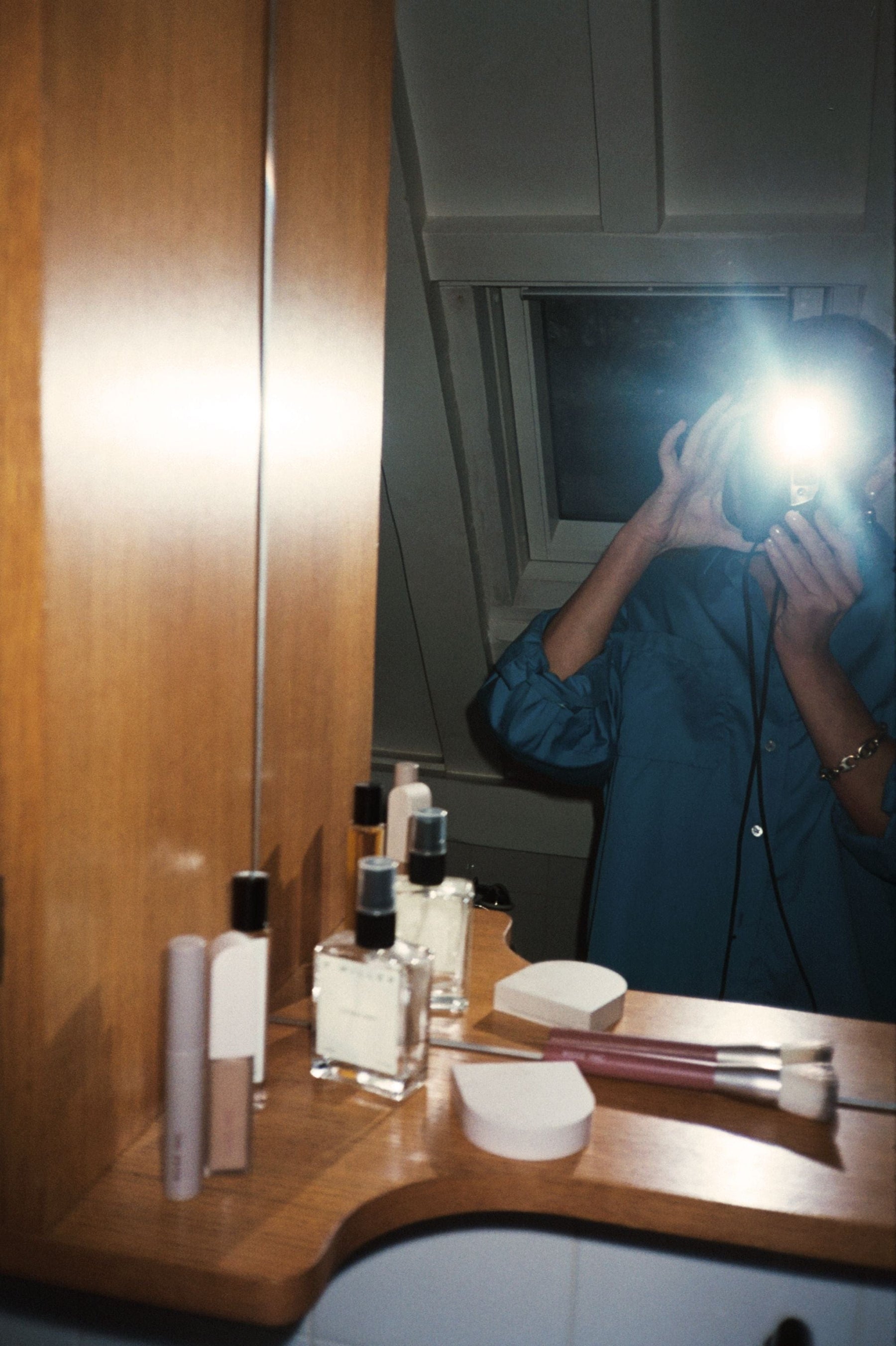 By Verity Pemberton
RI:

How would you describe your approach to beauty and how it has evolved over the years?

CMAB:

I was always a kind of a less-is-more girl. But I would say that I pay more attention to my skin as I'm getting older. I love tanning and being in the sun, but I've realized that's not the best thing for my skin. And if I do choose to be in the sun a lot, I want to take the best care of my skin. So after-sun care is also very important to me at the moment. And since being pregnant, there are a lot of hormonal changes that my body has gone through, which reflects in your skin. So I would definitely say my beauty routines now really focus on the health of my skin rather than makeup. 

RI:

What has your confidence journey been like?

CMAB:

I am half Dutch, half Lebanese and grew up in Holland. Because of the way I look I was always asked where I'm really from, which made me feel like I didn't belong. I guess I was always in search of finding a place where I would feel more at home, where there were more Lebanese kids that I could relate to. I always felt like I had to explain my roots and tell people about the beauty of Lebanon and the wider region. Even though there is a lot of conflict in the Middle East I think it is one of the most beautiful parts of the world because of its rich heritage, its people… I imagined myself becoming a journalist who would share stories from there so I applied to SOAS in London to do a BA in Middle Eastern Studies. 

RI:

What inspired you to pivot careers?

CMAB:

As I was studying, the Arab Spring broke out and Lebanon was booming. A lot of young people were opening hotels, bars and guesthouses... There were a lot of articles naming Beirut as a hotspot destination. It was a very exciting time to be studying the Middle East – it was hopeful. But then the uprisings turned very sour. When I graduated I felt deeply saddened by where the region was at. I'm a very sensitive person and didn't feel like I could handle a career that would be focused on writing article after article on devastation and applied to various different jobs in film and in fashion instead.  Long story short, I always dreamt of creating a space with Joris where we could give a feeling of warmth and inspiration to people. When his grandmother passed we moved to Amsterdam to figure out what to do with her space. And somehow now the story has come full circle because I am able to bring stories (whether it be through fashion or books in the library) from the place I love the most, Lebanon, into this space and share it.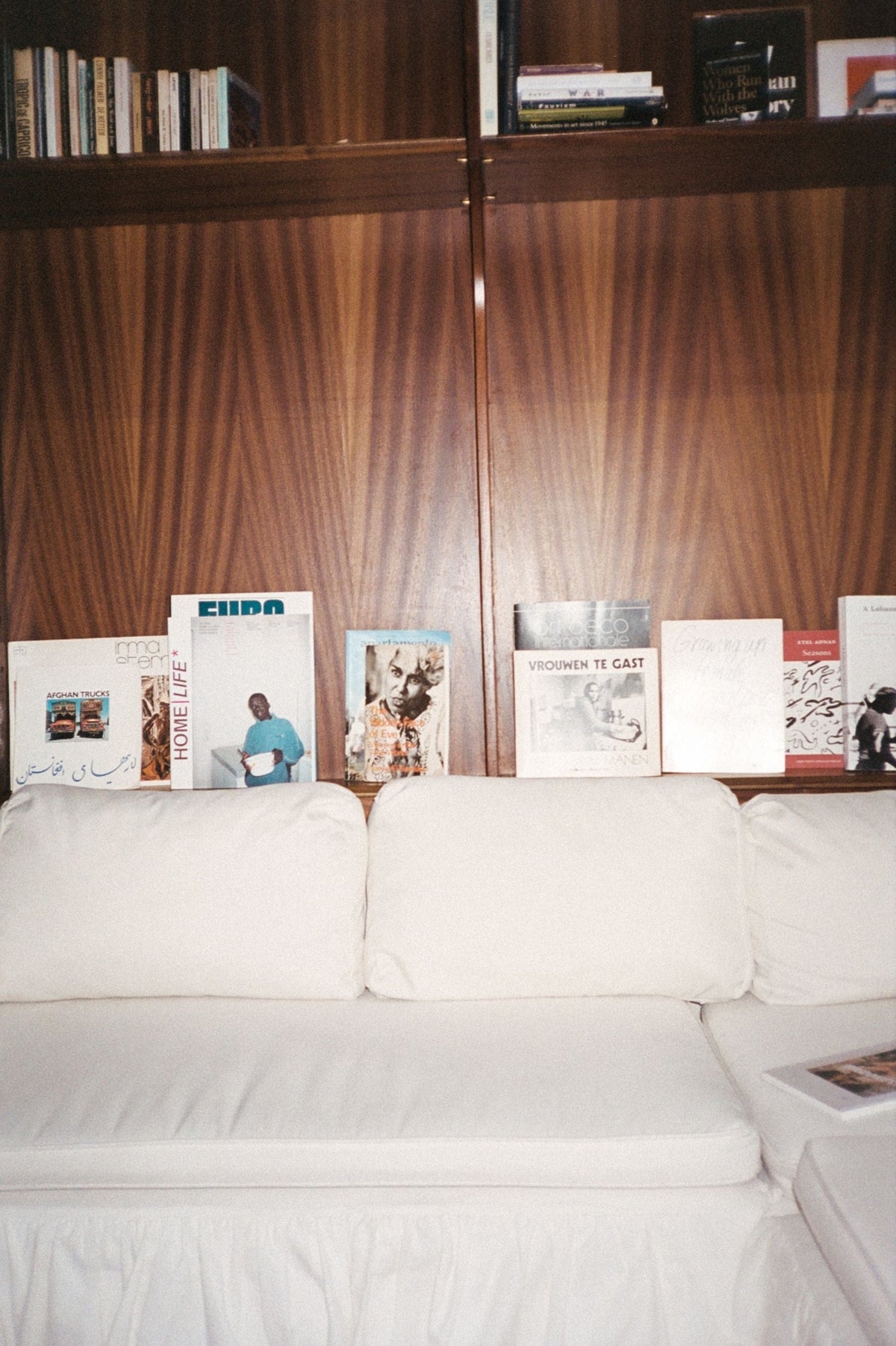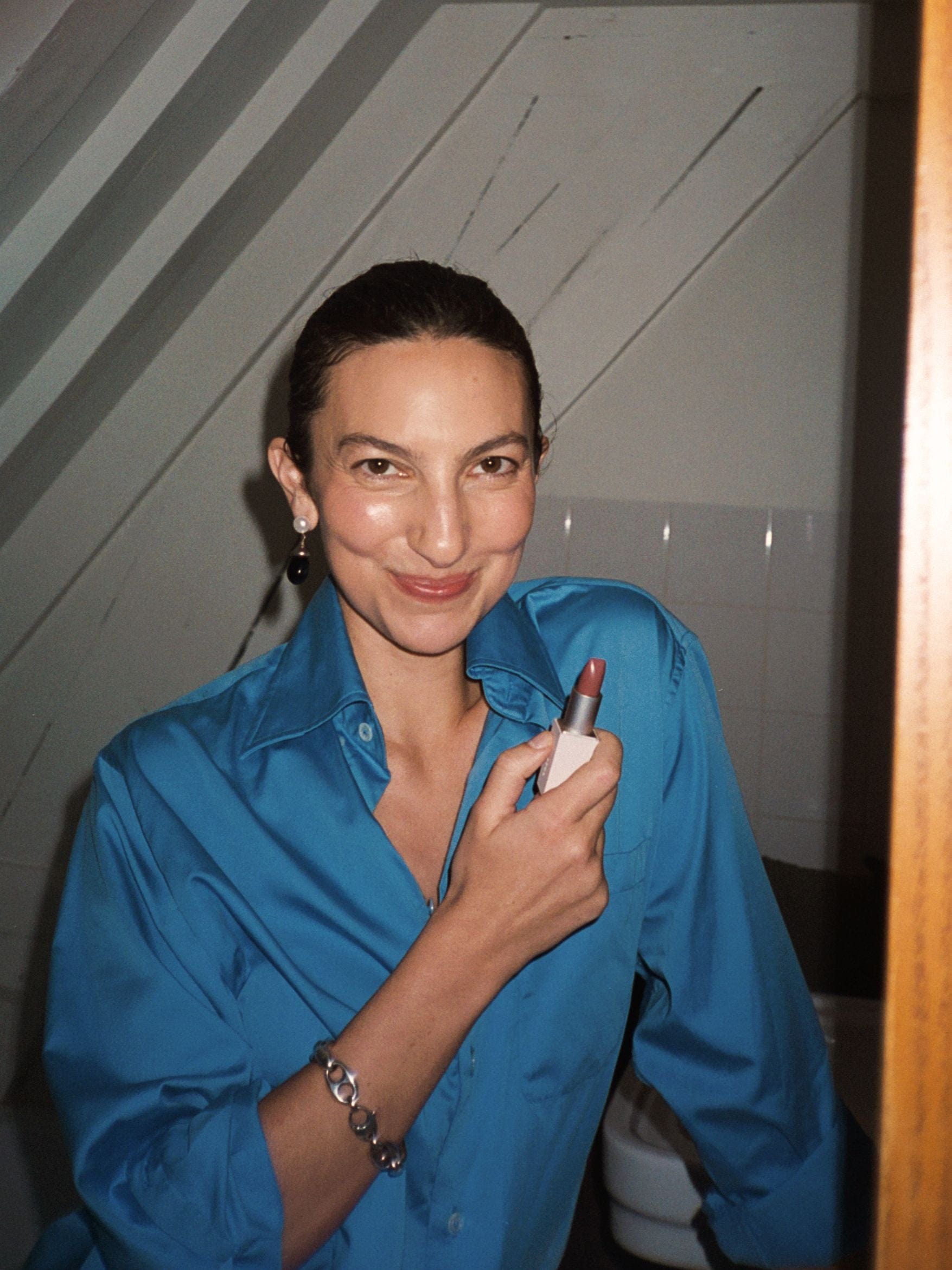 By Verity Pemberton
RI:

How has your approach to beauty evolved since having a baby?

CMAB:

The ingredients in any beauty product are very important to me, especially now that I have a baby, because whatever I wear gets onto her skin because we hug and we cuddle and things like that. And that's why the products from Rose Inc really speak to me, because I don't have to worry about bad ingredients.

RI:

How have you created a sense of calm in your own home?

CMAB:

By not hanging up too much on the walls. We keep the walls very simple and plain because there's a lot to look at outside. The outside kind of flows into the inside in the space. Next to all the windows we've created a lot of sitting nooks and we also have a little corner to make tea or coffee.

RI:

How do you extend that same vibe to the guesthouse?

CMAB:

We have a lot of books that we keep in the space that invite people to sit back and relax and just come back and rest. And then we also often play some music quietly in the background. We also have a lot of incense around that we light in the morning so that there's a nice smell that invites people to get out of their rooms and hang out in the house.
"I feel lucky that all of the roles I play in this involve interacting with people. It's the best."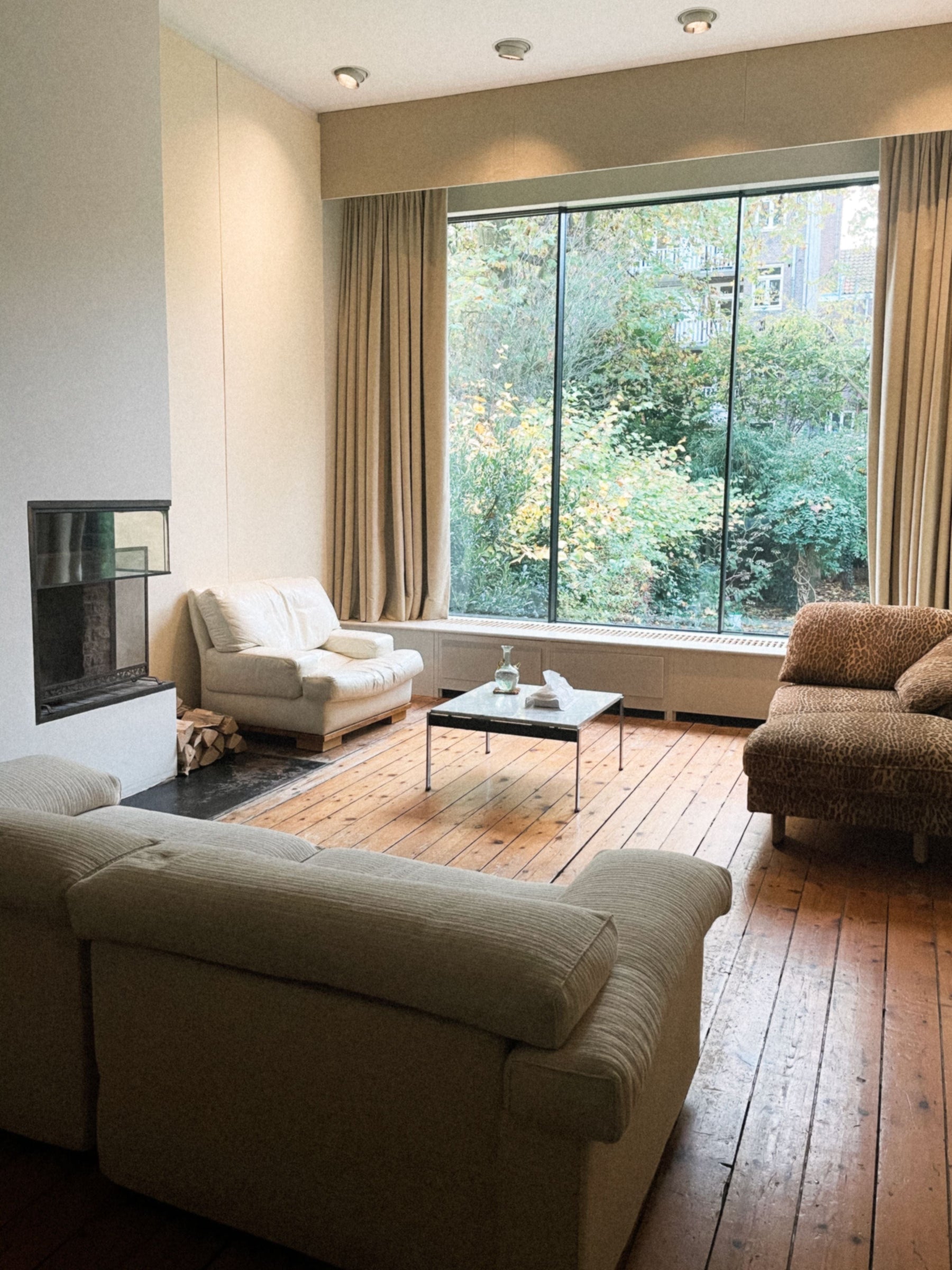 By Verity Pemberton
RI:

What's your biggest interior design tip for beginners?

CMAB:

Always add personal touches to your space. Any books you love, a water canister that you love, or a vase that you are really into at the moment are details that are super important. Also don't be afraid to change things up. If you're sick of something, try to resell it and buy something new that you're loving.

RI:

What is your go-to self-care routine in the morning?

CMAB:

So my day-to-day morning self-care routine starts with waking up to the sound of my baby giggling in the morning. And then I will jump into the shower quite quickly. I'm not one for long showers. Then I'll get out of the shower, wrap myself in a bathrobe, put on toner and my face serum. And then I'll apply a little bit of tinted moisturizer, tie my hair back and pick out which jewelry vibe I'm going for that day. If I'm working in the shop, I'll pay more attention to my face because it's on display. Or if I'm making breakfast for guests in the morning, that's usually quite laid-back, so I usually put on a big t-shirt for that.

RI:

How do you tend to organize your self-care items?

CMAB:

So I've organized my self-care products in a way where all the pretty things are on display. I'm a very visual person, so I like things to look very neat, organized, but also beautiful. I cannot have a messy bathroom. It's just not how I roll.
RI:

As someone who technically lives where they work, what's been the key to staying balanced and finding time for self-care?

CMAB:

I have not found this balance yet!! It's full of pros and cons. I wasn't able to take maternity leave because I was constantly faced with work when it would have been good for me to take time off. But equally, I loved coming downstairs with my newborn and being with people. It made me feel less alone and isolated. I work very hard when I am present in the house and can only switch off when I am really away in another country. I'm hoping to find more balance this year.

RI:

What's your go-to hair routine?

CMAB:

I have tried everything from the Curly Girl method to Olaplex but the best thing so far has been to use absolutely nothing —  not even a brush —  and let my hair dry naturally.

RI:

What's your go-to makeup routine when you do wear makeup?

CMAB:

Post shower I spray some Lesse Regeneration mist on my skin, followed by their serum. After which I apply the Rose Inc Luminous Tinted Serum and highlight with some Cream Blush on my cheekbones. That's it, really!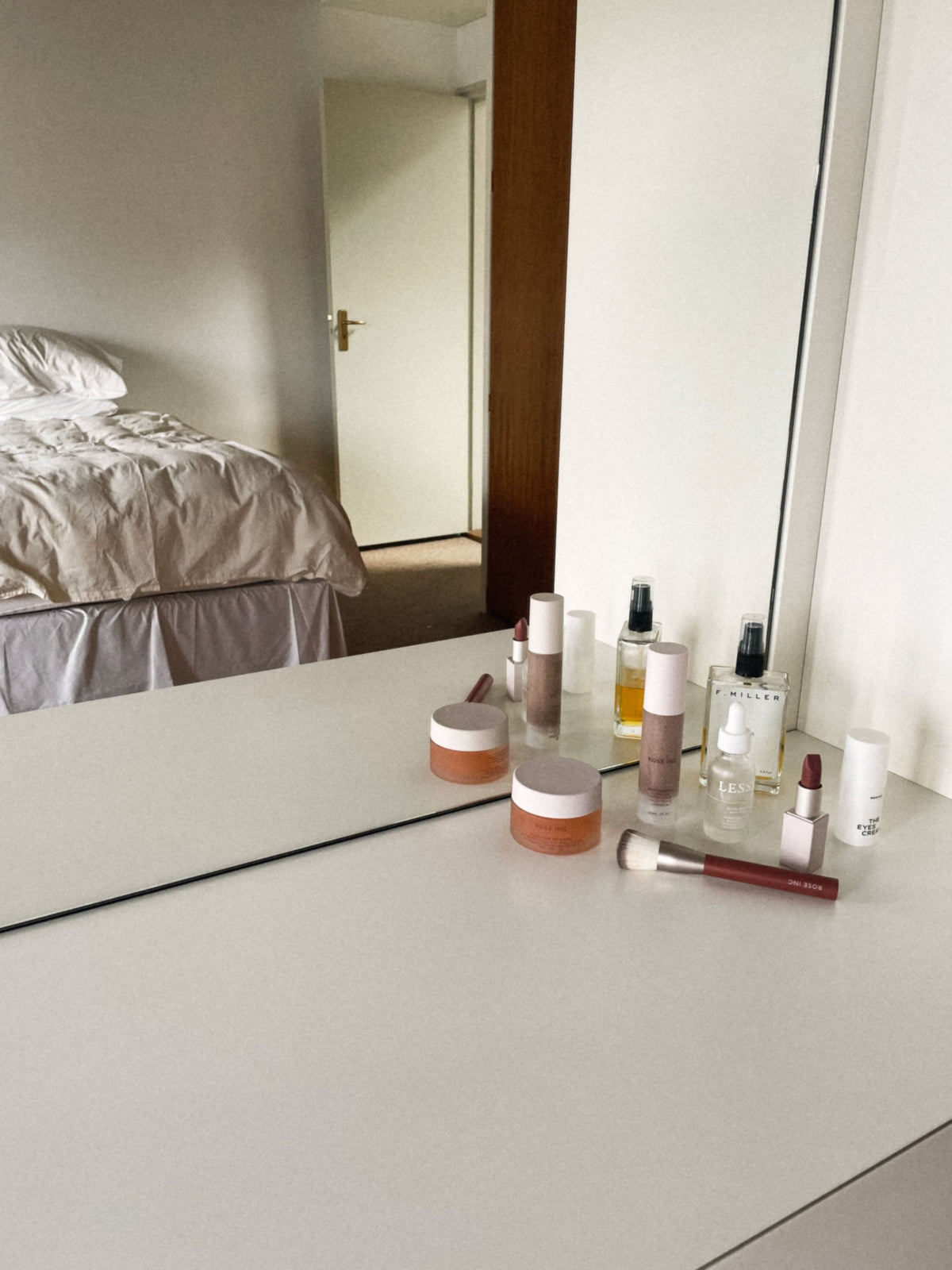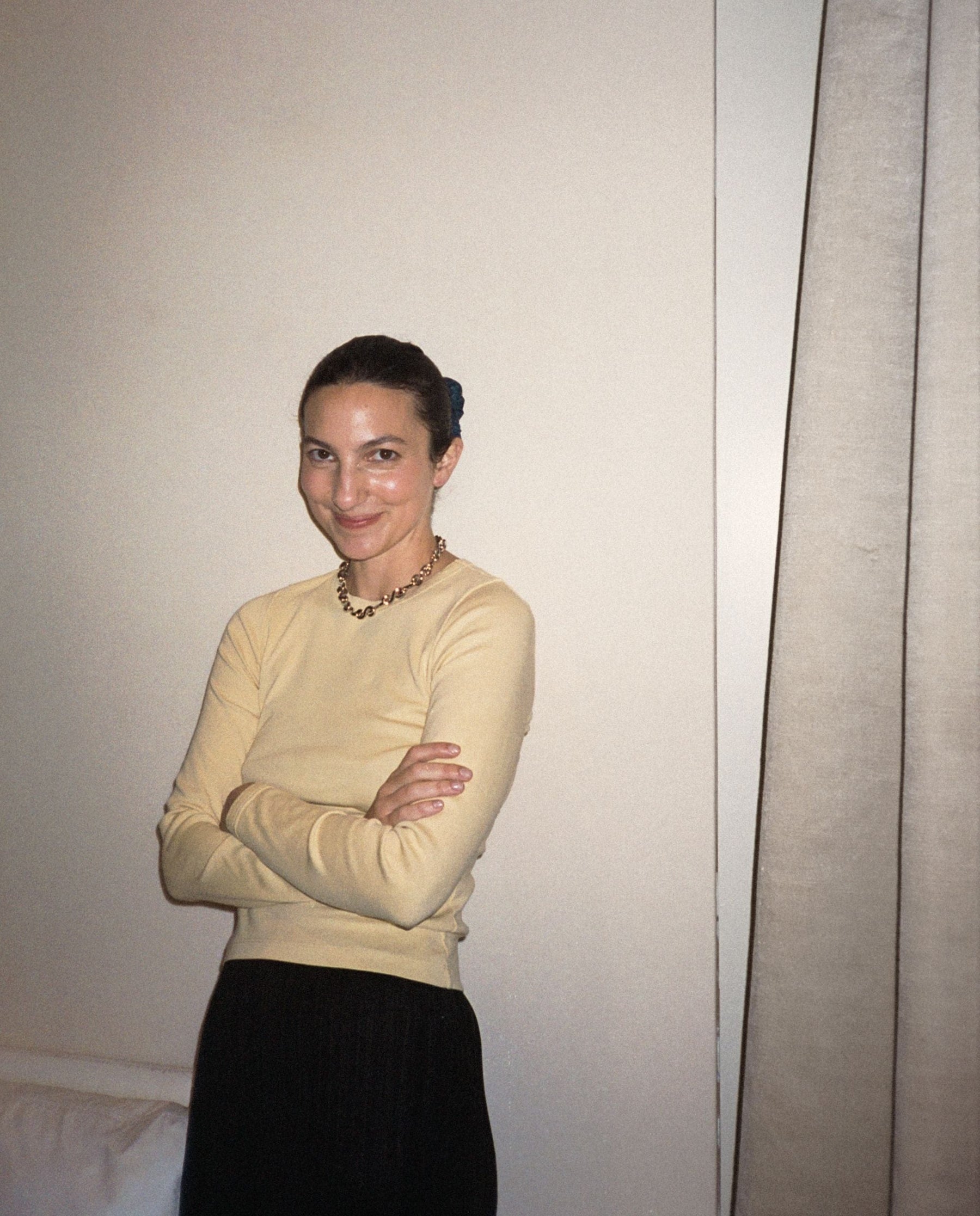 By Verity Pemberton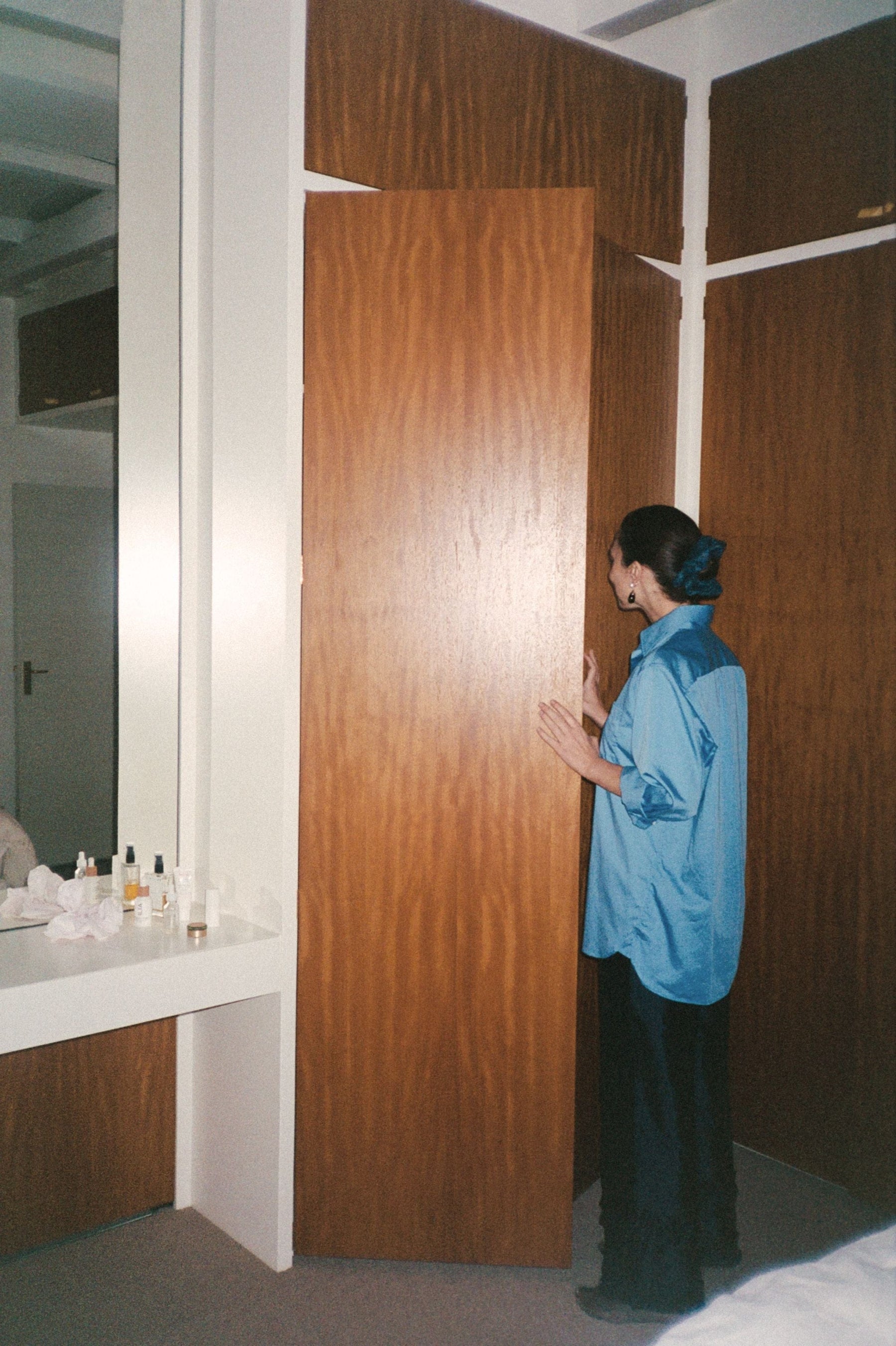 By Verity Pemberton
RI:

Do you have any favorite fragrances?

CMAB:

None at the moment. Since having a baby girl I've been very conscious about what I put on my skin and I've yet to find a good fragrance that is non-toxic.

RI:

How do you define beauty?

CMAB:

Beauty is all about radiating your natural self, whether that be on a good day or a bad day.

RI:

When do you feel most beautiful?

CMAB:

I feel the most beautiful when I'm wearing something that I feel very comfortable in. Usually it's one of the brands that I carry in the shop. It's often a balance between casual and sexy, I would say, but sort of understated, sexy — like an oversized shirt with a nice bra underneath it, or something tight at the top and looser at the bottom. Or something quite fancy, but pairing it with a sneaker. I feel most beautiful when I'm balanced and comfortable.
"I would definitely say my beauty routines now really focus on the health of my skin rather than makeup."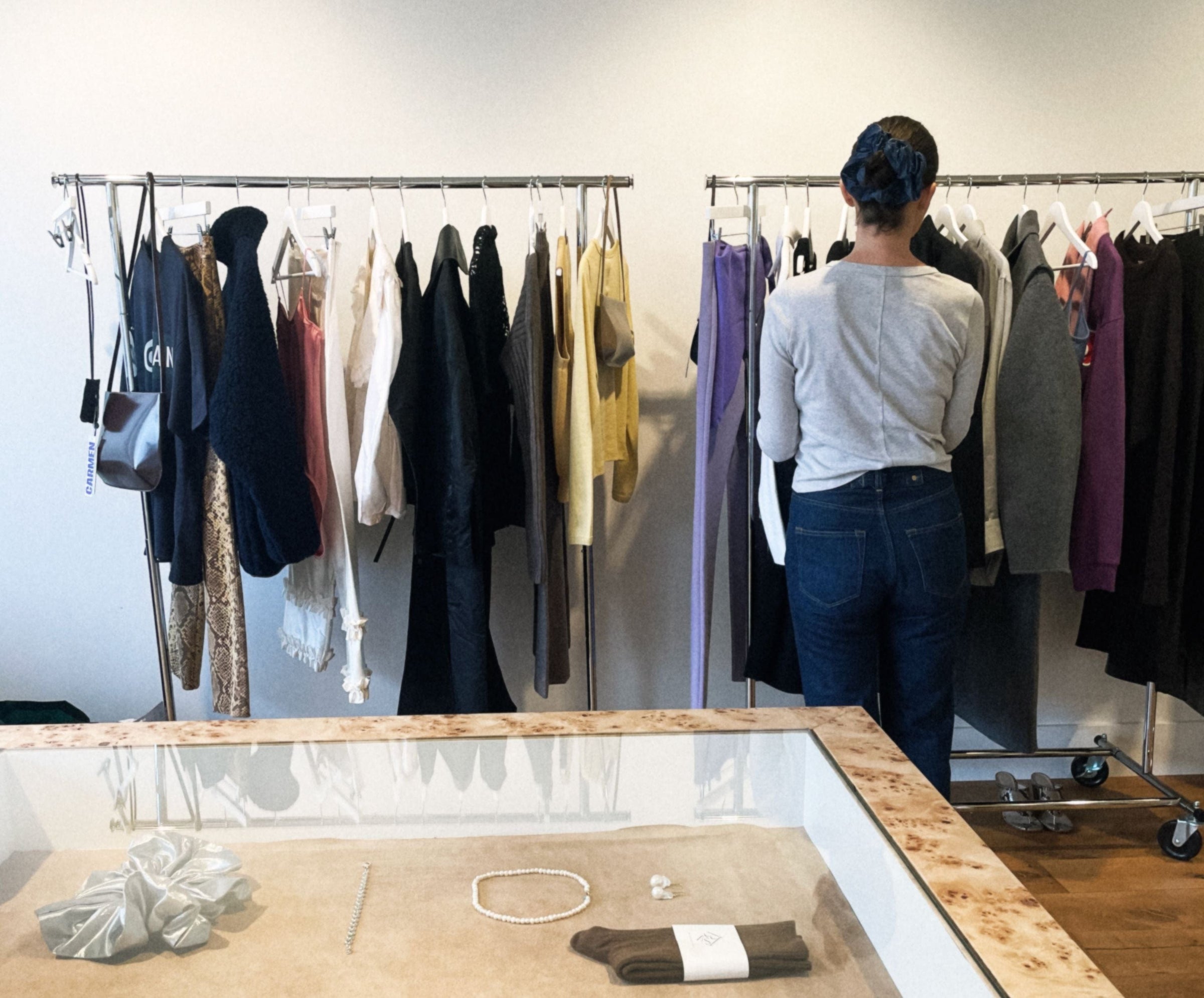 By Verity Pemberton
Host With Carmen de Baets
Creative freedom is what keeps co-founder of guesthouse, Carmen Amsterdam, Carmen Maria Atiyah de Baets inspired. One day she's making breakfast for guests, the next day she's in Paris buying items for the shop or hosting a dinner in the garden. "All of these roles involve interacting with people," she says "It's the best."

Hydrangea
Light cool pink
Hydrangea
Light cool pink
Cream Blush Refillable Cheek & Lip Color
Brightening, blurring and longwearing
Current price: $32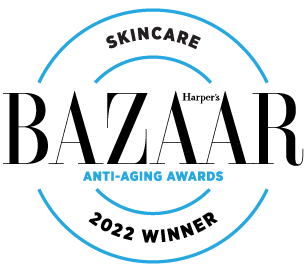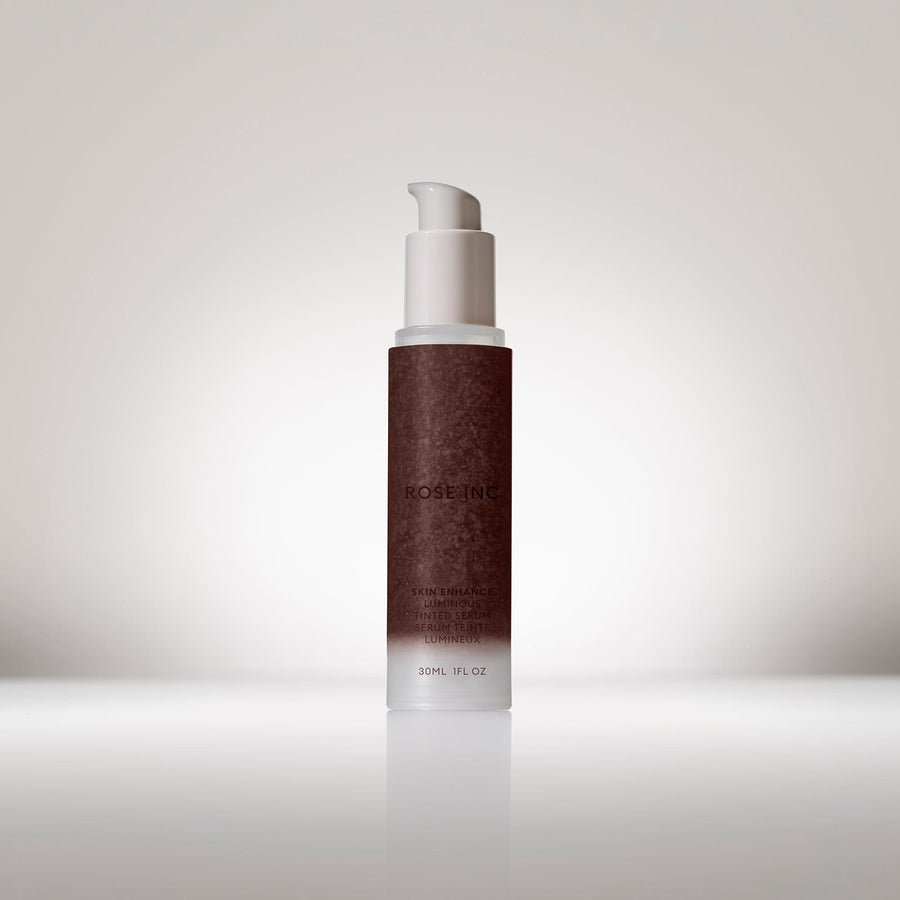 140
Very Deep Skin Tone/Red Undertone
130
Deep Skin Tone/Neutral Undertone
120
Deep Skin Tone/Red Undertone
110
Deep Skin Tone/Golden Undertone
100
Medium Deep Skin Tone/Golden Undertone
090
Medium Deep Skin Tone/Olive Undertone
080
Medium Tan Skin Tone/ Peach Undertone
070
Medium Skin Tone/Peach Undertone
060
Medium Skin Tone/ Neutral Undertone
050
Medium Skin Tone/ Pink Undertone
040
Light to Medium Skin Tone/ Neutral Undertone
030
Light Skin Tone/ Warm Golden Undertone
020
Light Skin Tone/Warm Peach Undertone
010
Fair Skin Tone/ Cool Pink Undertone
140
Very Deep Skin Tone/Red Undertone
Skin Enhance Luminous Tinted Serum
Sheer Coverage, illuminating, hydrating
Current price: $49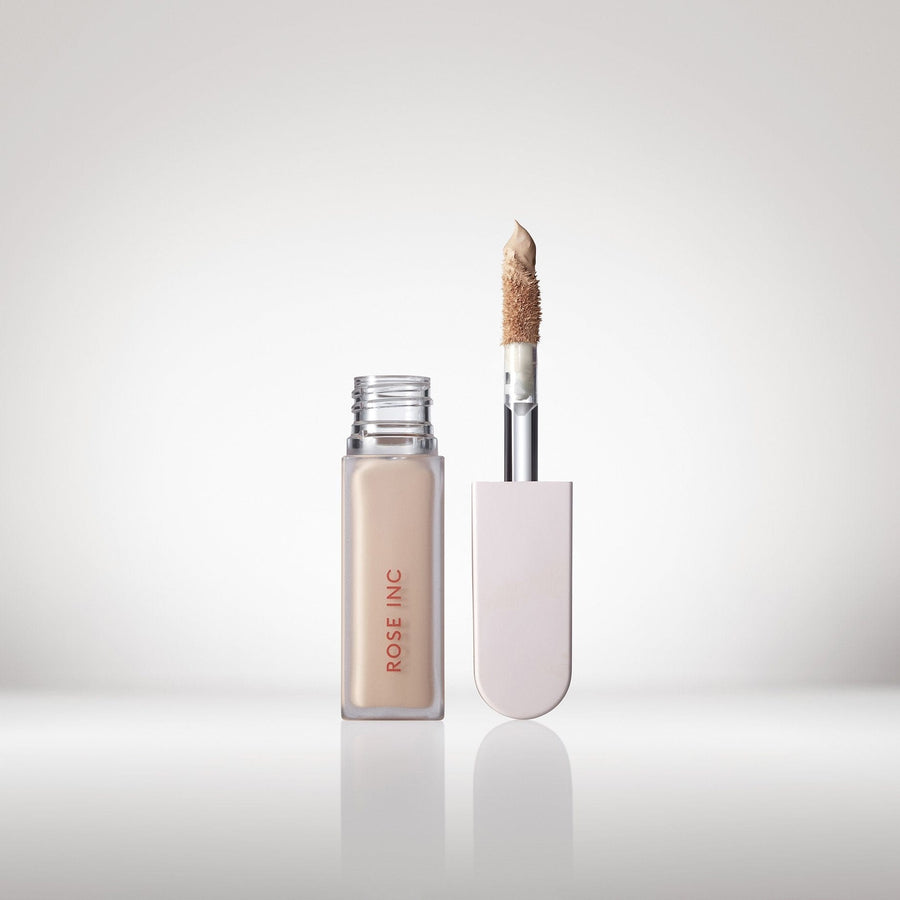 LX 200
Very Deep Skin Tone, Neutral Undertone
LX 190
Very Deep Skin Tone, Cool Red Undertone
LX 180
Deep Skin Tone, Warm Neutral Undertone
LX 170
Deep Skin Tone, Golden Undertone
LX 160
Deep Skin Tone, Red Undertone
LX 150
Deep Skin Tone, Neutral Undertone
LX 140
Medium/Deep Skin Tone, Neutral Undertone
LX 130
Medium/Deep Skin Tone, Warm Golden Undertone
LX 120
Medium/Deep Skin Tone, Pink Undertone
LX 110
Medium/Deep Skin Tone, Golden Undertone
LX 100
Medium/Deep Skin Tone, Peach Undertone
LX 090
Medium Skin Tone, Olive Undertone
LX 080
Medium Skin Tone, Pink Undertone
LX 070
Medium Skin Tone, Golden Undertone
LX 060
Medium Skin Tone, Peach Undertone
LX 050
Light/Medium Skin Tone, Neutral Undertone
LX 040
Light/Medium Skin Tone, Golden Neutral Undertone
LX 030
Light Skin Tone, Pink Undertone
LX 020
Light Skin Tone, Peach Undertone
LX 010
Fair Skin Tone, Neutral Undertone
LX 200
Very Deep Skin Tone, Neutral Undertone
Softlight Luminous Hydrating Concealer
Medium coverage, brightening, blurring
Current price: $30