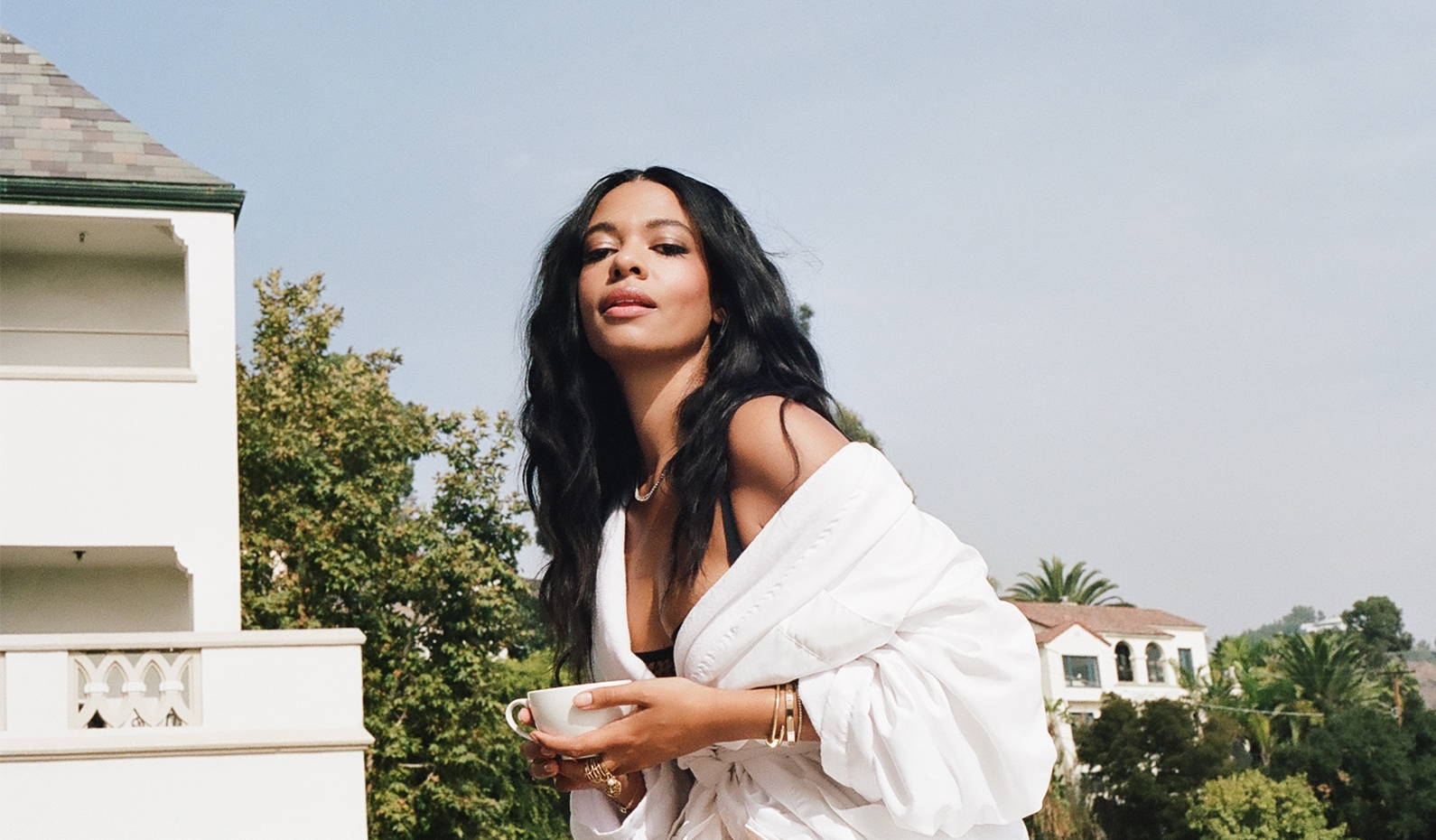 12 / 07
GO-SEES INTERVIEWS
The Profile: Aurora James
In an era when the human and environmental costs of fast fashion are getting more attention, Aurora James's thoughtful approach to style is at once refreshing and necessary. Since unveiling accessories brand Brother Vellies in 2013, James has made sustainability the foundation of her business. Brother Vellies' model of social entrepreneurship revolves around its partnerships with artisans in countries like Namibia, Kenya, and Mexico—all of whom earn fair wages for the craftsmanship they put into the bags and shoes.
James's non-traditional approach—one that favors slow and steady growth over rapid expansion at all costs—is reaping rewards. Brother Vellies has picked up a CFDA/Vogue Fashion Fund award, expanded from footwear into handbags, and won loyal fans among style icons such as Beyoncé and Meghan Markle. When speaking with James, one gets the sense that her ambition is not solely to expand your wardrobe, but to inspire a more thoughtful, more intimate relationship with it.
Here, James talks to Rose Inc. about balancing creativity with entrepreneurship, viewing beauty as self-care, and why she'd rather her clients repair their shoes than buy another pair.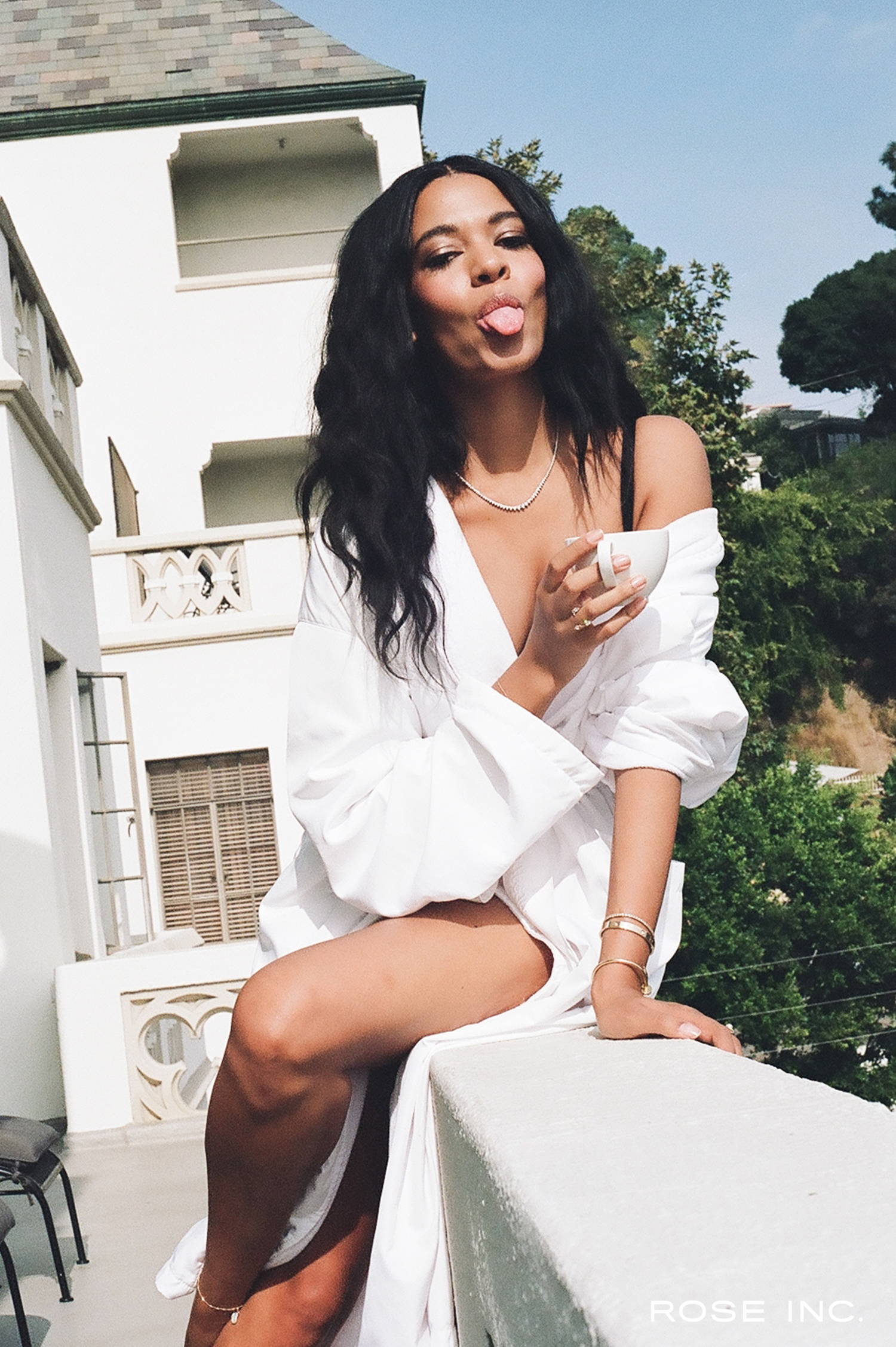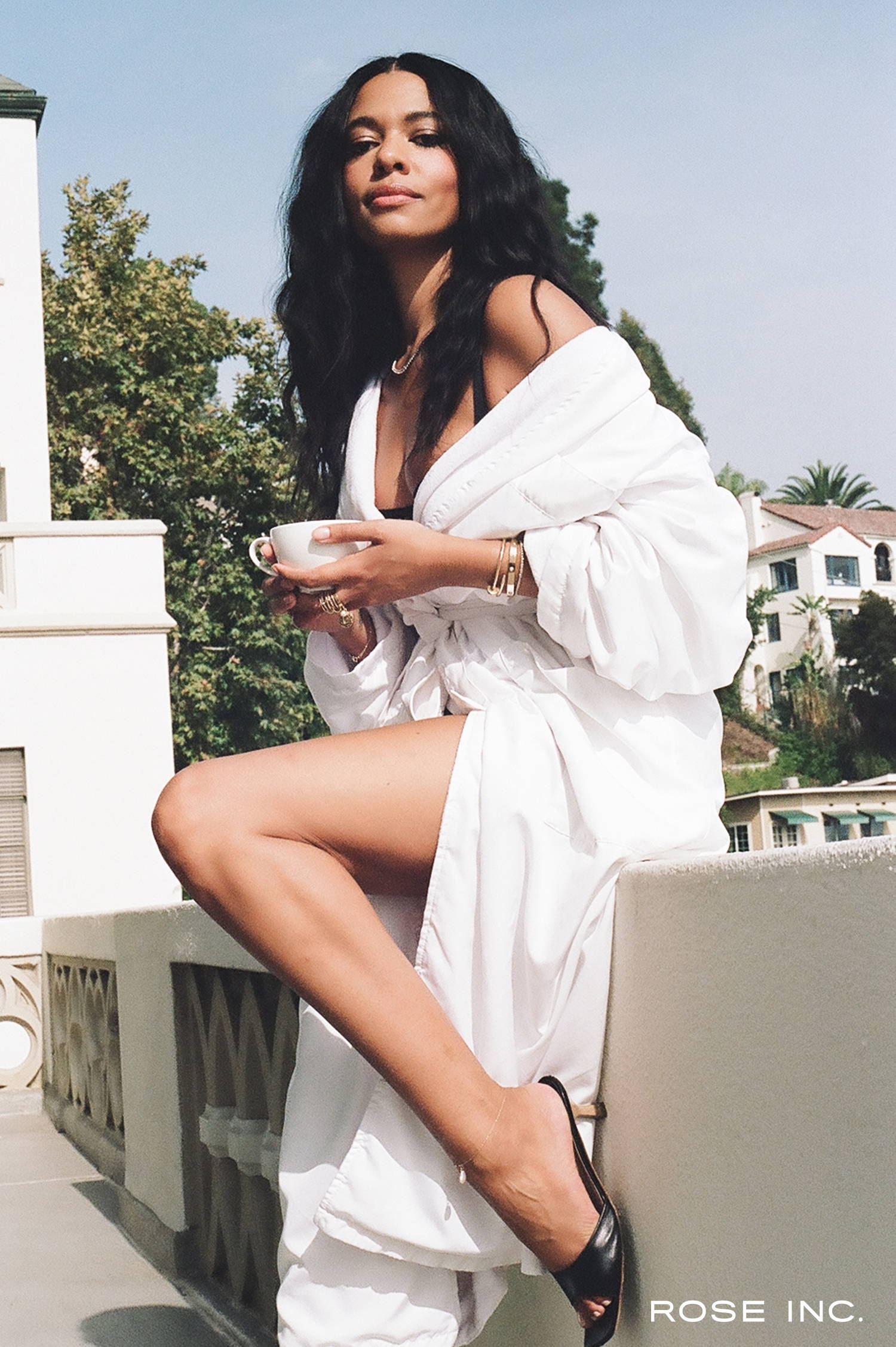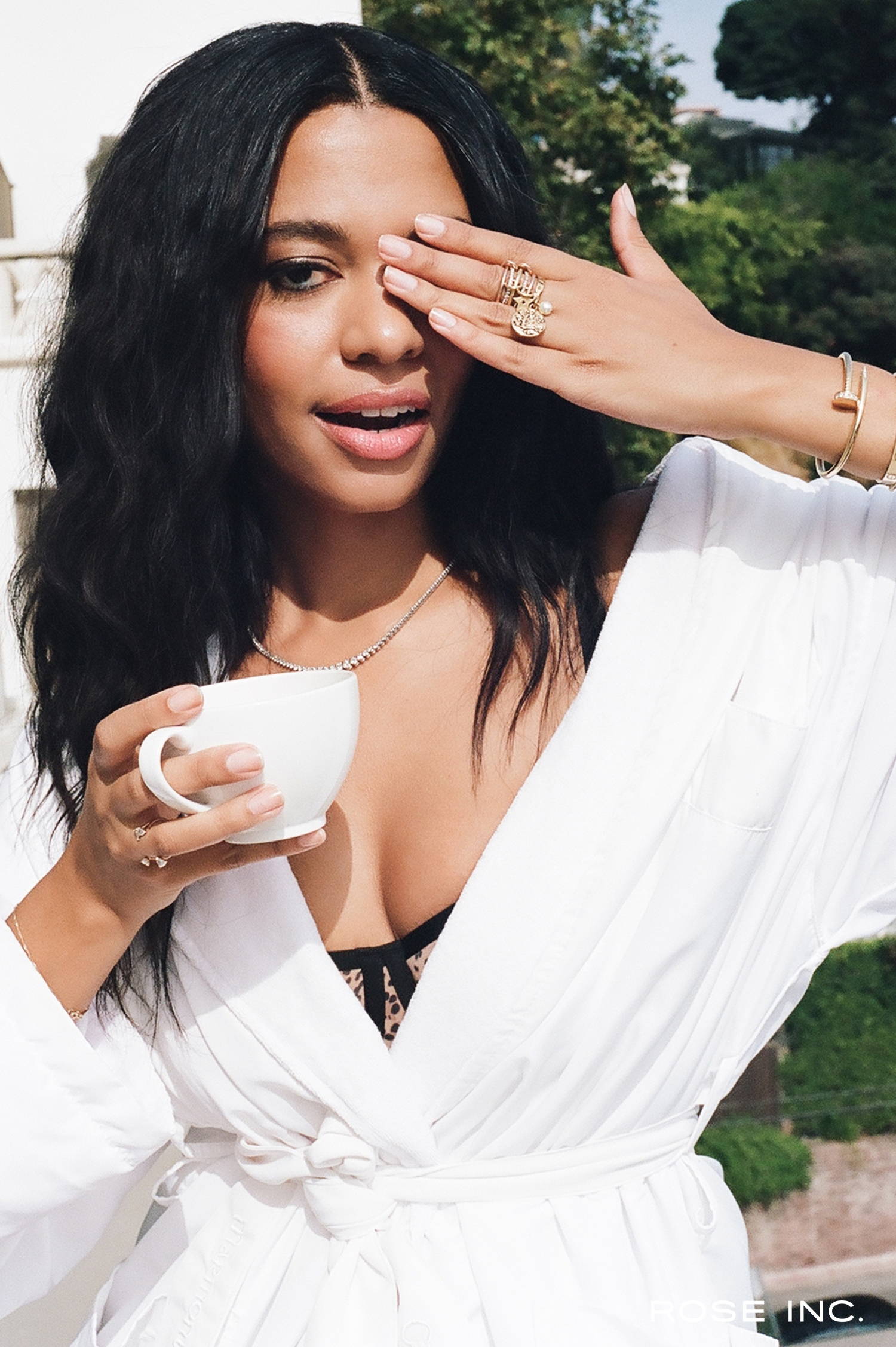 RI:
It's been six years since you launched the first collection. Does it feel like a long time ago, or does it feel like yesterday?
AJ:
It depends on the day. Sometimes it feels like a really long time ago and sometimes it does feel like yesterday. It has come so far. You know, I didn't even really launch a collection when I first started; I was selling them at a small table in the Lower East Side of Manhattan. To go from that to having have four collections a year is really astounding. I am incredibly grateful to all of the amazing women who supported me along the way because, honest to God, I would not be here without them. I have a fantastic group of customers and friends and dedicated followers.
RI:
Yes. Anyone who achieves success has some sort of help along the way.
AJ:
Oh, of course. No woman is an island.
RI:
What do you love about what you do?
AJ:
Seeing the shoes and the bags become a part of these women's lives. Some of my friends and our customers are brilliant humans who are doing so many amazing things in the world. Seeing how those pieces fit into their lives while they're moving through the world in such magical ways—that brings me all the light. Using products as a vehicle to express myself when it comes to how it feels to be a woman in the world right now is also really important to me.
RI:
From the outside, being a designer might seem to involve sketching all day. But the reality of the fashion industry is that it's a lot of hard work. How do you balance the creative and artistic aspects of your job with the responsibilities of running a company?
AJ:
That's definitely the tough part. I think that what most people don't realize is that being an entrepreneur and being a designer are two very separate jobs. You really have to be able to love and excel at both. It's really, truly like having two full-time jobs, so you're  working around the clock. For me, trying to find a balance of personal time is really important. I try not to take too much away from time with friends and family for work stuff. It's taken me six years to really find that balance.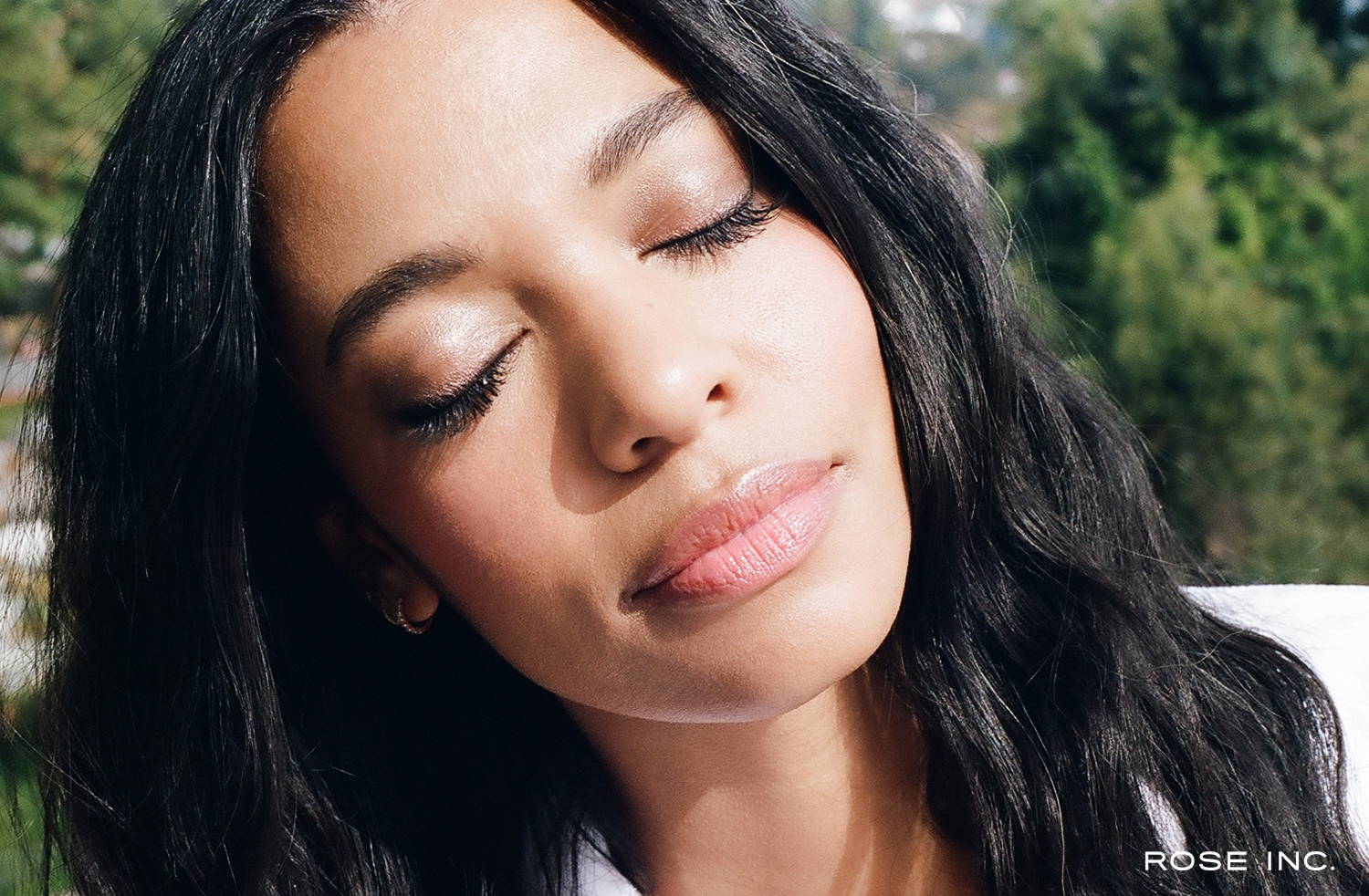 RI:
Your recent presentation in Paris featured women of different colors, shapes, and sizes. It was beautiful. When you're casting for people who represent Brother Vellies, what qualities are you looking for?
AJ:
The number-one thing was really about health. I always want our girl to feel healthy, prosperous, and a little bit ethereal.  It sounds crazy, but I'm always looking for the person who could be Mother Nature's daughter.
RI:
What kind of reception did the casting receive?
AJ:
It was really well-received. In Paris, they're not really used to that kind of casting, so it was probably a little bit hard for some people to digest. But overall, people were really excited about it. For me, it's just about staying authentic to myself, my brand, and what I think is beautiful. Our customers are so varied; I don't even really think about it in terms of skin tones. I always just really think about it in terms of what our goals are, which is to be healthy, happy, energetic, beautiful, and unapologetically ourselves. I feel like all the girls in our show spoke to that.
i'm always looking for the person who could be mother nature's daughter.
RI:
You grew up in Canada and Jamaica, you live in Brooklyn, and you travel frequently. How do you draw from these different places and cultural experiences creatively?
AJ:
We were just talking about that last night, actually, because I spend a lot of time in Kenya and I was just remembering that my mom basically forced me to watch this Meryl Streep movie, Out of Africa, as a child. I will never forget the opening: "I once had a farm in Africa at the foot of the Ngong Hills." I wonder if that was part of my inspiration, subconsciously, between going to Kenya for the first time. I think it's really interesting because all these little things seep into you in different ways, whether it's what you name a shoe or the colors that you gravitate toward. Every single place that I go bleeds into the collection, even if not in a literal sense. 
RI:
Can we talk about sustainability? It's such a big buzzword in fashion right now, but it means different things to different people. When you think about sustainability, what does it mean to you specifically?
AJ:
The number-one word that comes to mind is education. Knowing how to do better is a person-by-person problem and quest that we're all on. As a brand, you have to address a lot of issues. First and foremost is just the consumption. Before we even get into how things are made, it's like, Do we need to make things? And if so, how many things do we need to make? Do we need to be telling people that they need to buy more things? Are we creating something that's going to last a long time? Are we creating something that's only going to last a season because systematically we want our consumers to continue to have to buy something new every season? The average American is buying 68 pieces of clothing a year now, and it used to be something like 14. Do you need to buy 68 new things in a year? I don't know. I personally want to say no. But I don't live in the same shoes as everyone, no pun intended. 
It starts there, and then as a brand, we're even addressing our customers in terms of how often we want them to shop. I don't want our customer to feel like they have to buy things constantly, which is why we are relaunching a boot that we've had since 2016. It's really about designing things that can be part of someone's wardrobe forever. That's also the reason we don't have sales. 
Then you get into really glaring things like human rights. It's cool that you're making something out of organic whatever, but if it's in a sweatshop where the women are grossly mistreated and underpaid, that's not sustainable. And materials play such a huge role. I think a lot of people are using that word, sustainability, when they really don't have the right to use the word, to be honest.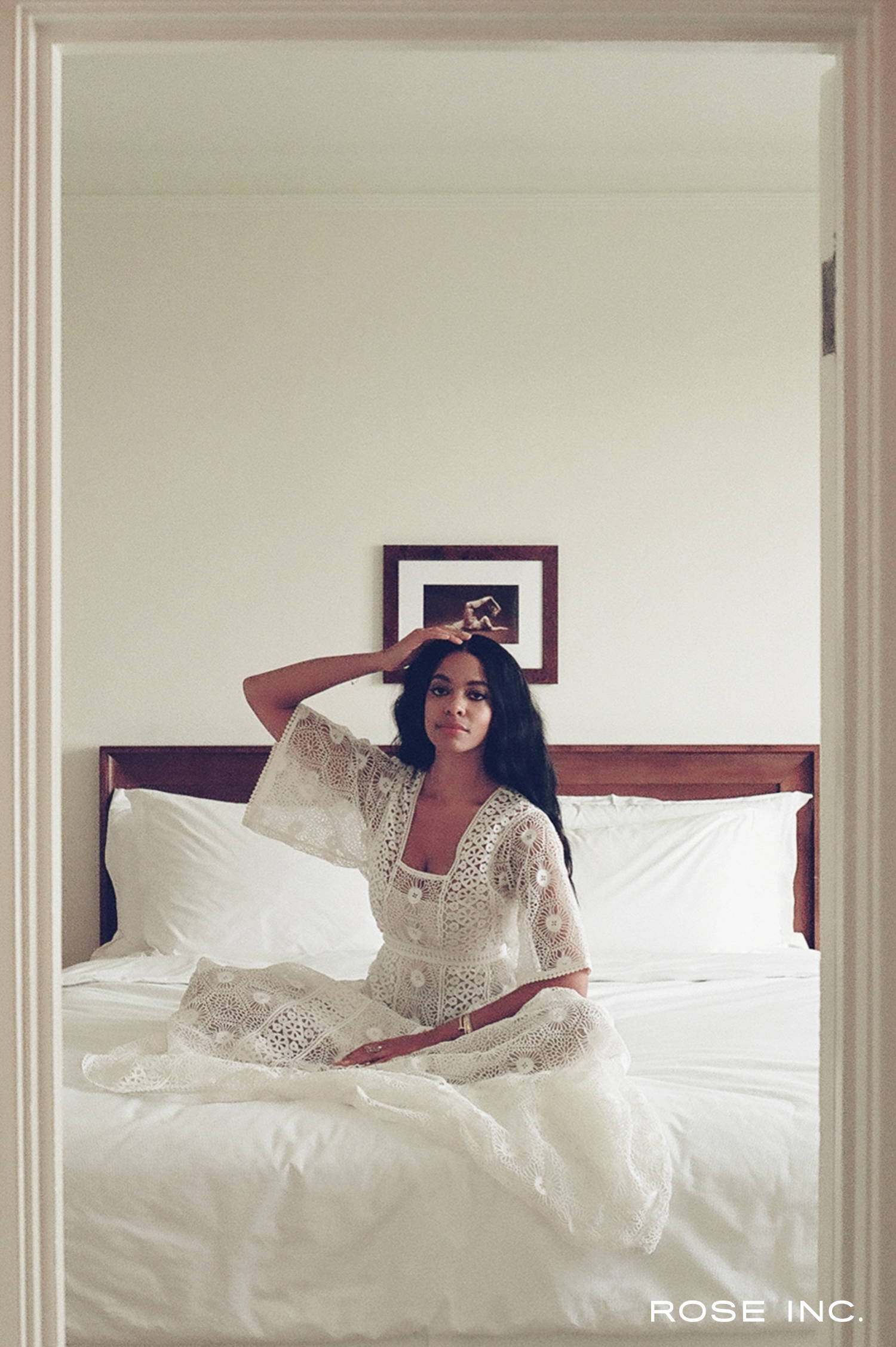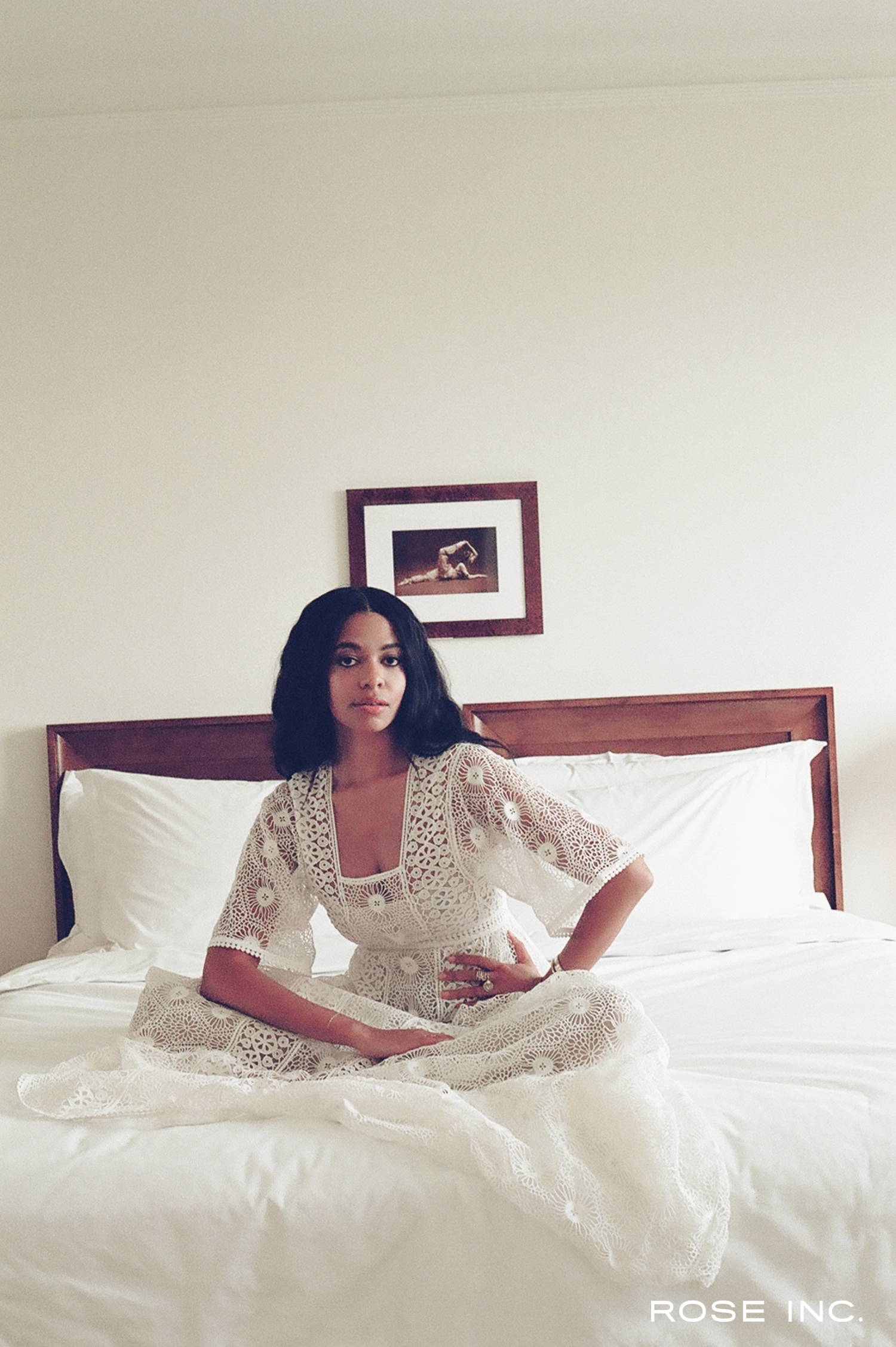 RI:
It's funny—when I was preparing for our call, I saw that you encourage people to repair their Brother Vellies shoes. That's such a rare thing for a designer to suggest.
AJ:
I'm all about that. I make things in the hopes that people are going to have them for a long time, archive them, bring them back, and have them be a treasured thing. So yes, please, by all means, fix your shoes.
RI:
We've been talking about your customers, but how do you approach your own personal style?
AJ:
A lot of what I wear is tied to how I feel about society and certain moments and myself. Obviously, some days you wake up feeling amazing and you love yourself. Other days you wake up and you struggle a little bit more. I think that all women can relate to that. We all have our ups and downs. I've always done a lot of vintage shopping, specifically honing in on different designers that excelled at certain things. For instance, Ungaro had really fantastic suits in the '90s. I'm big on colors and textures and building a wardrobe that I'll have for a long time. Most of my things I keep forever and ever. It's kind of problematic because now I have a very large wardrobe.
RI:
Well, Brooklyn closets are notoriously roomy. Are you ready for some beauty questions?
RI:
What was your relationship to beauty when you were growing up?
AJ:
I was raised by my mom and my grandmother. My grandmother wore makeup every day and never wore jeans a day in her life. I have very vivid memories of her getting a face lift before that was commonplace. I remember my mom wheeling my grandmother in with her whole face bandaged up. My mom was like, "Your grandmother's lost her mind." My grandmother said, "I haven't lost my mind. I've lost 10 years." 
My mom, on the other hand, was like, "Don't shave your legs! Shaving your legs is buying into these systems and norms of beauty." You really couldn't have had two more different viewpoints in one home, so I had to find my own way in that.  I've always been very girly, and I'm very into rituals that have to do with self-care—and it just so happens that a lot of my self-care rituals are beauty-related, but it doesn't have to be like that for everyone. I really got very into skin care in my late 20s and early 30s.
RI:
Are there any products that you swear by?
AJ:
I'm very in love with the hyaluronic acid for darker skin tones from Barbara Sturm. I've known her for a long time and she's been very helpful to me. My dad is African and my mom is Inuit and Irish. So I have a really complex skin type that needs to be treated a certain way, and I'm very thoughtful about it. I'm also psychotic about water. I drink probably three liters of water a day; I drink 800 milliliters as soon as I wake up. I take biotin for my hair and nails, and I take a lot of fish oil for my skin, especially in the winter. I feel like that also helps my mood.
RI:
You mentioned hair, and when you Google your name, "Aurora James hair care" is a suggested search. So, what's your hair care routine? Google searches want to know.
AJ:
It's actually pretty embarrassing because I don't have this solid haircare routine! I've been taking biotin because I know that that is good for my hair. I also drink nettle tea. In terms of shampoos and conditioners, I switch it up. Recently I've been trying Oribe. I've also used Kérastase. But I don't have a hair product that I swear by. I'm really committed to figuring out what hair care routine is best for me in 2020.
I'm very into rituals that have to do with self-care.
RI:
That's a goal you can achieve.
AJ:
Yes, because for example, I'm known for my body skin being super-duper soft. I use LXMI balm on my whole body and that's amazing. I also use Kiehl's body butter. And I tan, which is controversial. If I go outside in the sun, I put coconut oil on. I don't burn with the coconut oil on, but if I don't put anything else on, then I will burn.
RI:
I have some quick-fire questions for you. What are you reading right now?
AJ:
The Hidden Life of Trees by Peter Wohlleben.
RI:
What is the last song you fell in love with?
AJ:
"My Song" by Labi Siffre.
RI:
What gets you out of bed in the morning?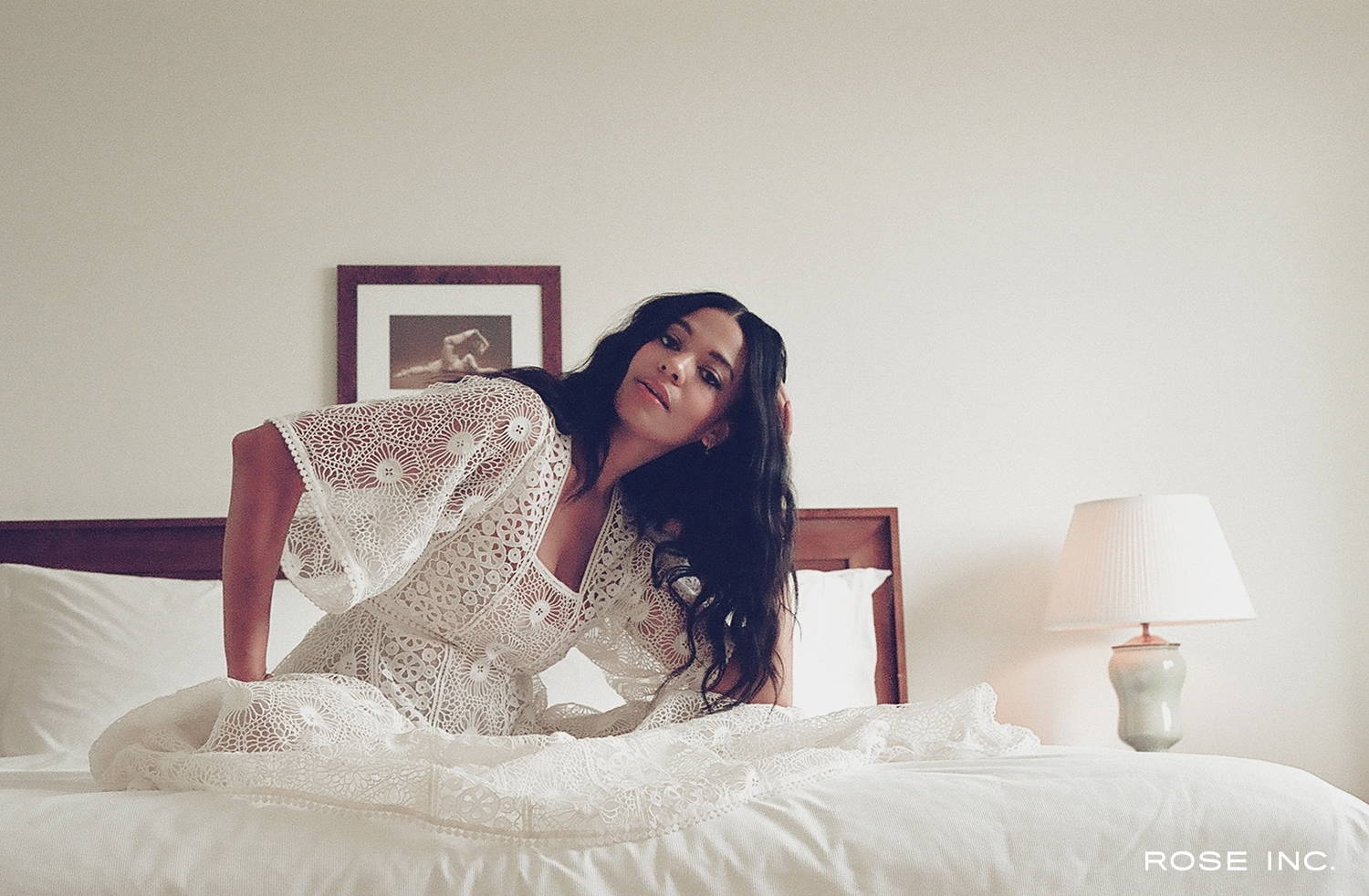 RI:
What keeps you in bed?
AJ:
The sun coming into my window.
RI:
What do you admire in a man?
RI:
What do you admire in a woman?
RI:
What will you always do?
RI:
What would you never do?
AJ:
The first word that came to my mind was die. I know that I'll die, but I've done so much to make sure that my spirit lives on in different ways. So I feel like my entity will be eternal.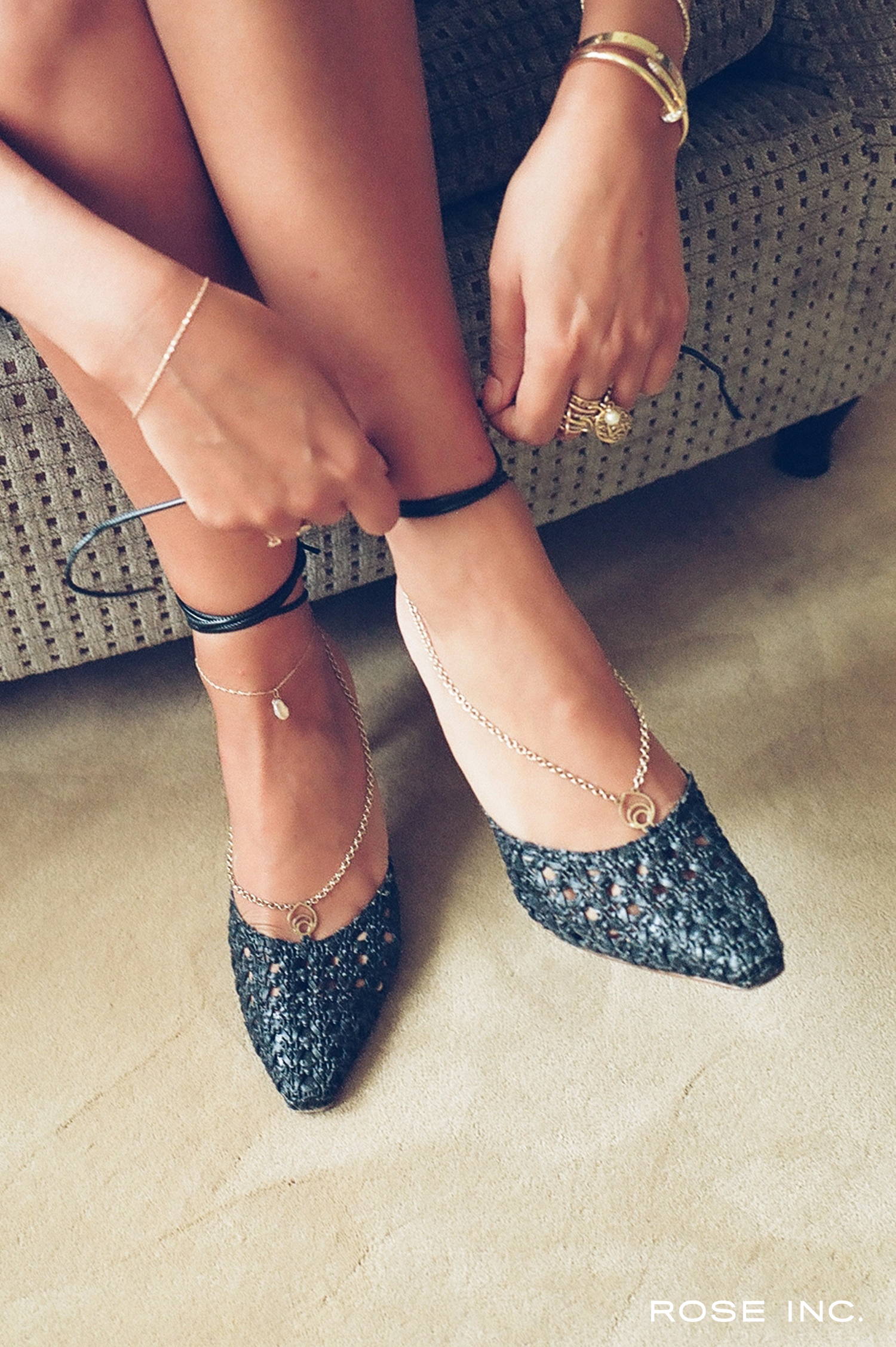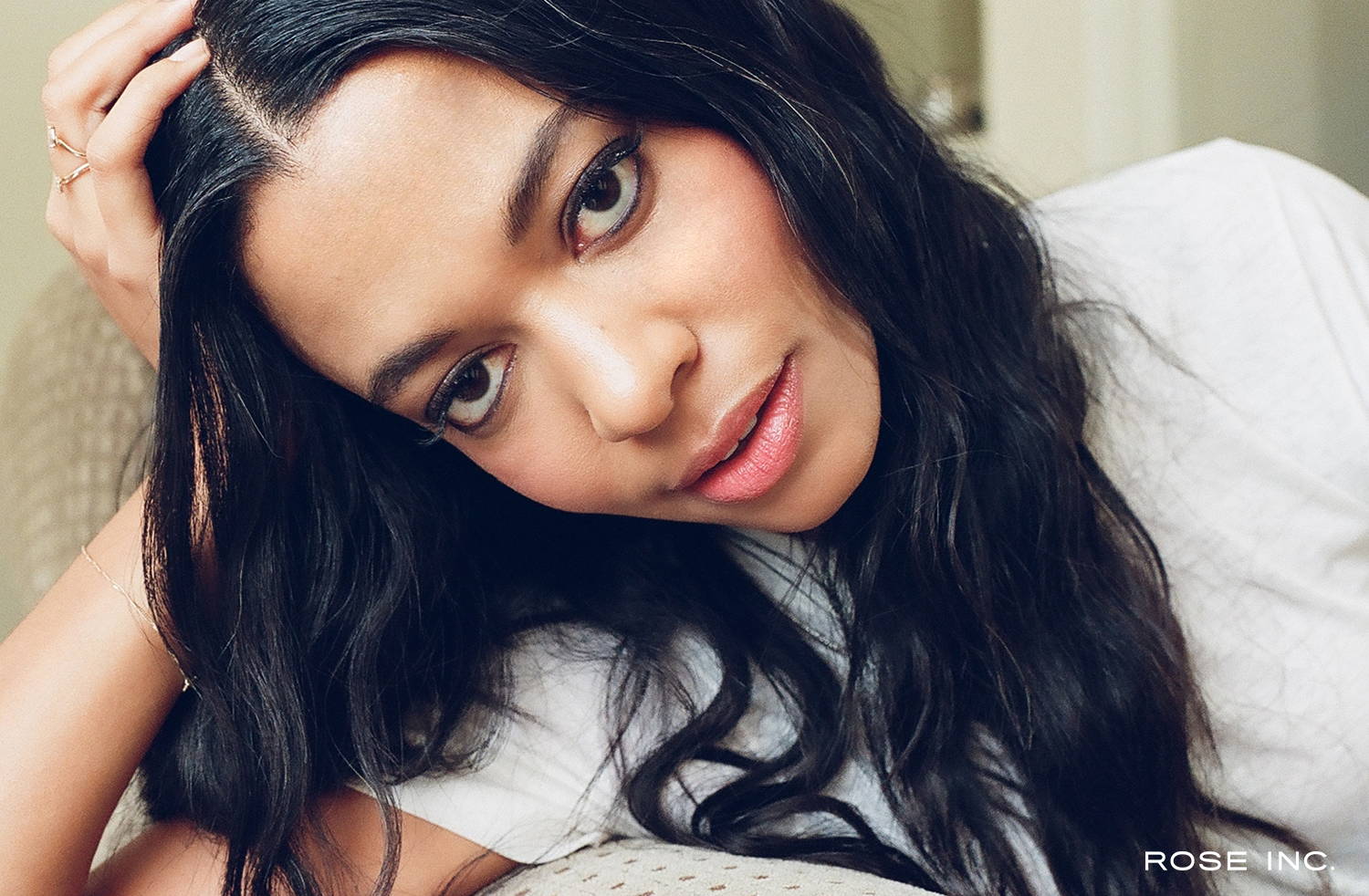 RI:
When are you extravagant?
RI:
Who would be at your dream dinner party?
AJ:
Bob Marley, Lisa Bonet, and Diana Ross.
RI:
That's a good dinner party. What will you never apologize for?
AJ:
Sticking up for human rights.
RI:
Last question. What are your goals for 2020?
AJ:
I really want to bring the spirit of Brother Vellies into as many people's lives as possible. That doesn't necessarily mean product. It means the idea of women investing in, voting for, or empowering things that also empower other women. Any choices that we're making—any time that we're spending money or clicking something on the internet—I hope that we really start thinking about how that impacts the world at large. If you don't like something that you're seeing on the internet, don't click on it. If you love certain things that you want to see grow and succeed, then like and support and share that thing. I really want to focus on making people more cognizant of that.
Watch Aurora share her most glow-giving products:
Aurora James photographed in Los Angeles by Ford. Makeup by Uzo. For more information on Brother Vellies, visit brothervellies.com.