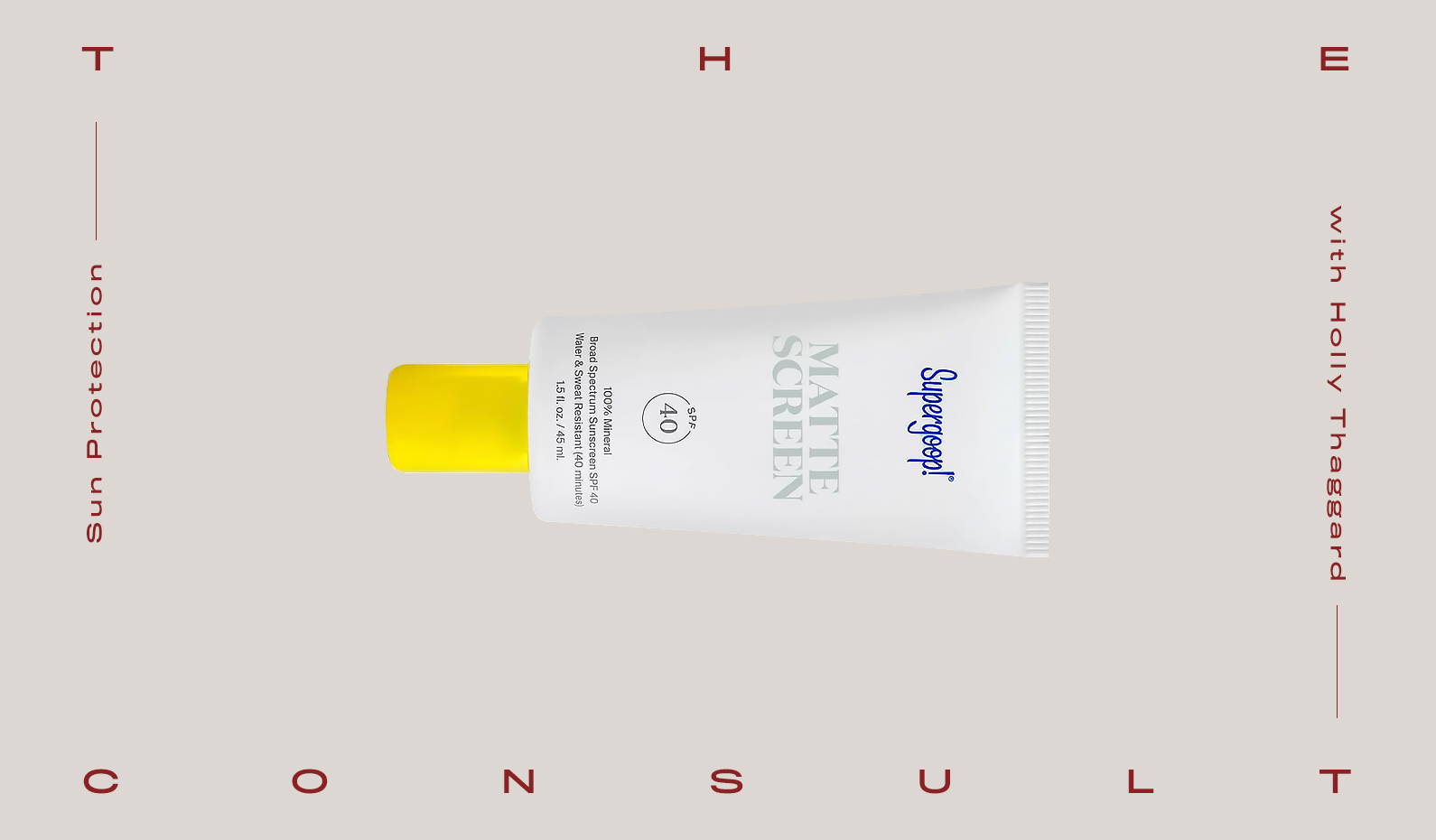 07 / 07
EDUCATION
Holly Thaggard's Foolproof Guide To Sun Protection
Welcome to The Consult, your virtual appointment with the world's most in-demand beauty experts.
Ask any dermatologist for their biggest concern around sun protection and you'll undoubtedly be met with one resounding answer: compliance. Perhaps fueled by memories of sticky, greasy, chalky formulas of the past, making sunscreen part of our everyday routines is one of the biggest hurdles to fight skin cancer, which is steadily rising in the U.S.

That's where Supergoop! founder Holly Thaggard's mission comes in: Create practical formulations that seamlessly blend into skin—and everyday life. Founded in 2007 with one multipurpose product, the school teacher-turned-beauty entrepreneur has since snuck broad-spectrum, high-SPF sunscreen into hydrating sticks, tinted makeup primers, purse-friendly powders and many more innovative offerings. The brand's wares include both mineral and chemical options; dewy and matte finishes; and fresh, thoughtful categories, like powder to protect the often-forgotten hair part. "Sunscreen simply shouldn't be one size fits all," she says.
For this month's The Consult, the Texas-based sun protection expert is sharing her five favorite products, plus tips to shop for SPF-packed products yearound.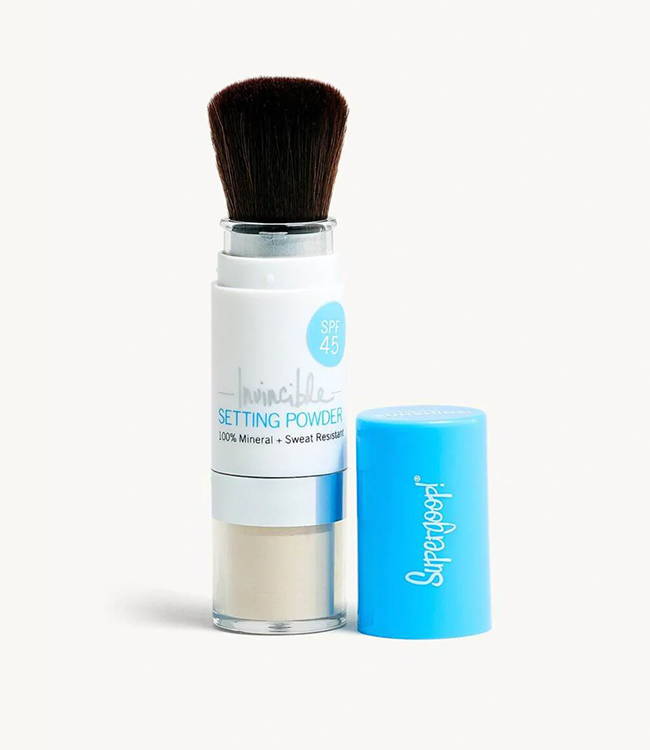 Mineral blockers have increased in popularity as a safer alternative to many common chemical sunscreen ingredients, the safety of which have been called into question for both humans and our environment. Experts say non-nano mineral actives are less damaging to our ocean's vastly-important reefs. It's also the catalyst for legislation against them, already active in Hawaii and pending in Key West, Florida.

Luckily, it's easy to opt for mineral sunscreen: Look for zinc oxide or titanium dioxide, like this clever Setting Powder, or shop the brand's comprehensive 100% mineral line-up, which is also a great option for sensitive skin and children. Thaggard uses it daily. "This is one of the best ways to reapply your SPF on the go and freshen up your makeup look," she says, noting how well it works over makeup. "I'll use this as the very last step of my makeup routine—to set everything perfectly into place—and I'll also throw it in my bag to reapply and touch-up throughout the day."
Another great 100% mineral option, this bestseller pulls double duty. "Mattescreen is a makeup-gripping primer that you can also wear on its own for the perfect 'no-makeup makeup' look," Thaggard says. "It also has a nice, matte finish that's great for oily skin."
Apply before makeup, as the last step in your skin-care routine, or whenever you want a pore-refining tint. "I'll usually wear this instead of makeup on days when I want a more natural look," she says.
Arguably the most important thing to look for on any sunscreen label are the words "broad spectrum," which indicates protection against both UVA (the rays that prematurely age skin) and UVB (the rays that burn skin). "Superscreen is my favorite daily moisturizer, hands down," Thaggard says, noting that she massages any excess into her neck and the tops of hands after covering her face. "The texture is lightweight, yet deeply hydrating, without feeling greasy."
Categorized as "clean chemical sunscreen" by the brand, it does not include chemicals like oxybenzone and octinoxate, which are some of the first to be identified as harmful, but are still widely available.
Another chemical option—and packed with a high SPF—this sport-friendly body sunscreen was the first formula Thaggard created over a decade ago. "Chemical SPF lends itself to more weightless formulas," she explains, adding that it's the best option if you want something totally sheer. "While mineral formulas can be thicker and lend themselves to being a bit more like makeup since they are often tinted."
Eyes, lips, and ears: These are a few of the places that are easy to overlook when planning your skin-protection strategy. To make it easier, Thaggard added SPF 30 into a super-blendable potted eyeshadow. "I'll put this on in place of eyeshadow, before mascara, and I'll also use it as a highlighter on places like my cheeks and Cupid's bow," she says. It features a blend of mineral and chemical actives—zinc oxide and octisalate—and comes in four shimmery shades.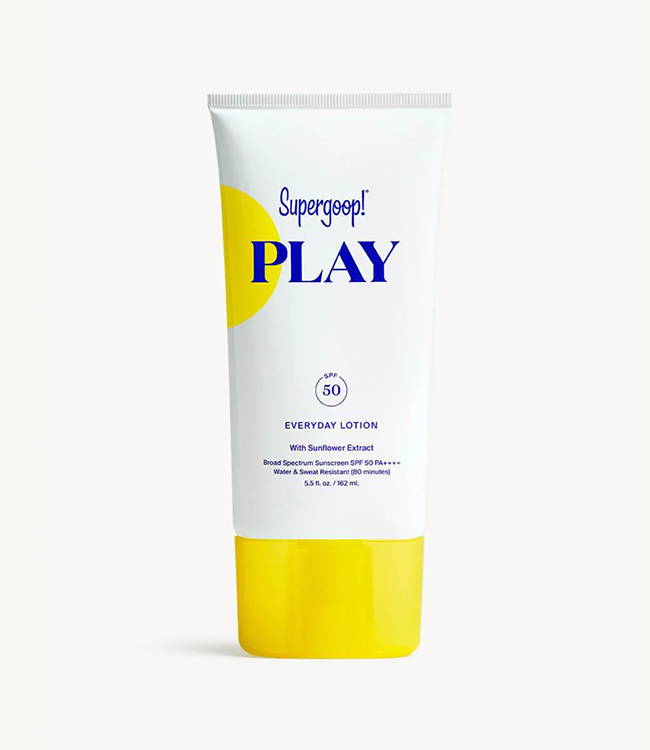 "From day one, I've wanted Supergoop! to be about options," Thaggard says, but notes that regardless of which sunscreen you pick, reapplication is vital. "It may sound crazy, but SPF will fade and degrade over this period of time," Thaggard says. "So reapply every two hours!"