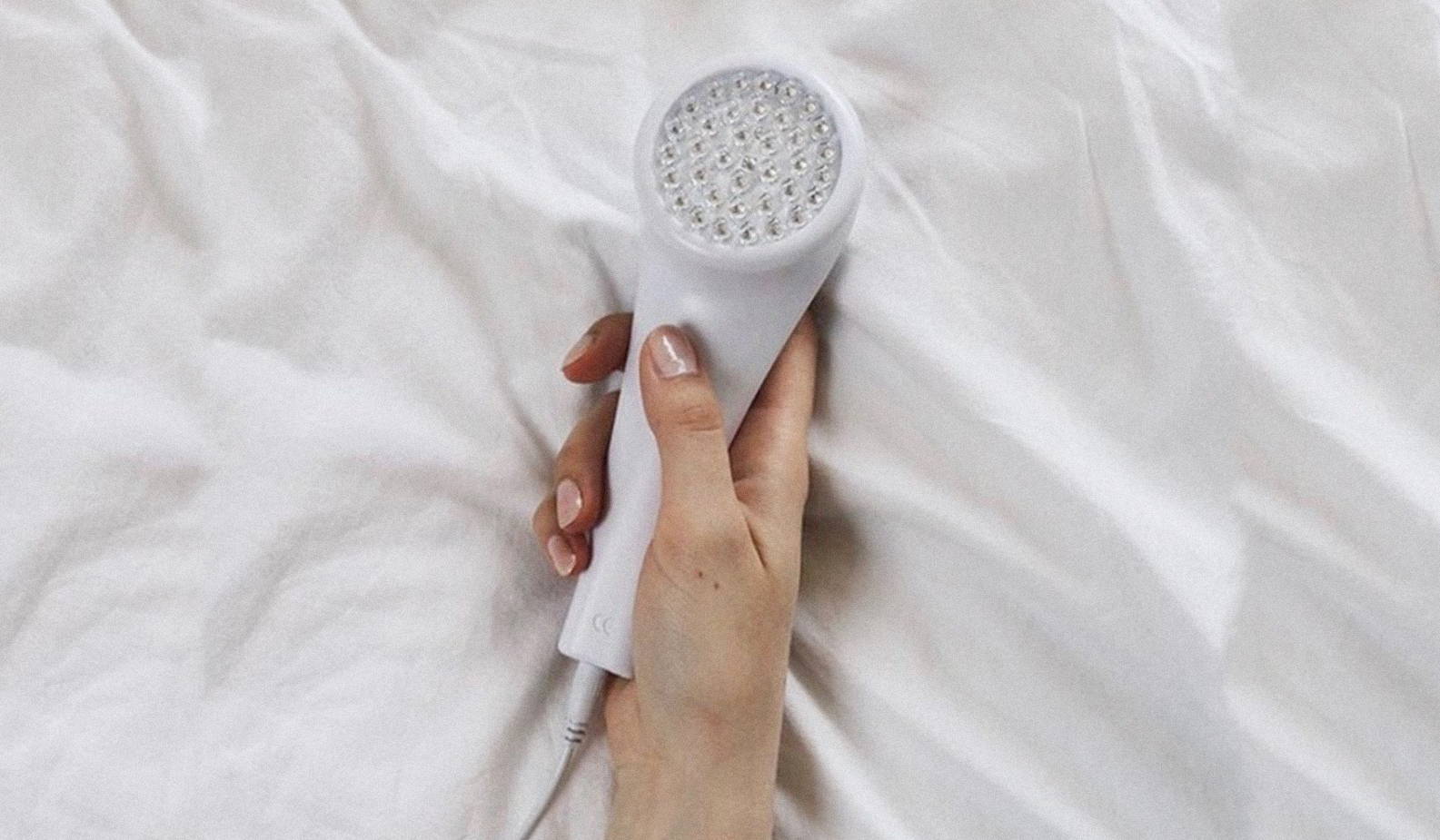 03 / 16
EDUCATION
Everything You Need To Know About At-Home LED Light Therapy Devices
Which LED light therapy devices actually improve skin at home? Rose Inc. investigates.
"I always believed in at-home facial devices, but I never talked about them on my Instagram because I felt like a used car salesman," says Sheila Nazarian, MD, a Beverly Hills-based plastic surgeon with her own Netflix show (Skin Decisions) and more than half a million followers on the social media platform. This changed when COVID-19 hit the States and she found herself publicly sharing how she uses at-home light therapy and other devices to supplement in-office treatments.
"Getting in-office treatments is like working out with your trainer and using at-home devices is like working out by yourself," she explains. "In the office, with stronger devices and numbing cream, we're able to push you a little bit harder, but they're both valuable. The things you do at home can help you reach your skin goals faster."
Partially due to the global pandemic, the category is booming. Tera Peterson, co-owner of at-home microcurrent device company NuFace, reports triple digit growth in sales via the brand's website in 2020. Meanwhile, the in-home light therapy device market is projected to reach some $67 million by 2026, according to Global Market Insights. But as one might expect, the devices do not come cheap. And while some are FDA-cleared and have been clinically studied, it's becoming harder and harder to determine which gadgets deliver on their claims.
Can at-home skin-care devices really replace in-office treatments? Rose Inc. is investigating three of the top technologies this month: microcurrent, nano-misters, and a deep dive into the world of at-home LED light therapy, below.
---
The Tech:
LED Light Therapy
The Benefits:
For decades, LED Light therapy has been used to treat everything from seasonal affective disorder (it's thought to increase serotonin levels) to sports injuries (by speeding muscle recovery) to psoriasis. Melanie Palm, MD, a San Diego-based dermatologist and associate clinical professor at the University of California San Diego says the therapy is "great for controlling inflammation." While Shani Darden, an esthetician whose clients include January Jones and Jessica Alba, loves red light therapy for its ability to boost collagen, which in turn plumps and firms skin. What's more, the skin pro says green light therapy can help reduce hyperpigmentation while near-infrared light can speed up healing and lessen the appearance of scars. Research also supports blue light therapy for treating acne. "Continued usage of blue light devices at home may help slightly with controlling C. acnes, the bacteria associated with acne," says Dr. Palm.
Who It's Good For:
'The technology is generally suitable for all skin types, with a few exceptions. "Patients with melasma, lupus, or other photosensitivity disorders should not use these masks," notes Dr. Palm. "There conditions may be worsened depending on the wavelengths of light emitted from the mask." While Darden calls the in-office treatment one of her favorites for all skin types, calibrating in-home use of LED devices for optimal results isn't as simple as marketers may suggest.
What To Buy:
Dr. Nazarian stands behind the handheld LightStim for Wrinkles and LightStim for Acne wands, because they're made by the only brand she's seen to have FDA-backed clinical studies and significant before and after images. "The company actually has an FDA study showing 100% of participants showed improvement in their fine lines and wrinkles in eight weeks," she says.
Darden says she's seen firsthand the benefits provided by the Deesse Pro LED Mask, something she attributes to its 770 LED lights, "which is much more than most masks on the market that may feature only a quarter or a third of the amount of lights," she says. Those seeking the ease of an LED mask with a more affordable price tag can find options from Omnilux Contour Face and Current Body which are FDA cleared and tout dozens of peer-reviewed and clinical studies. While research hasn't yielded hard-and-fast rules about optimal number of joules, diodes, or distance of the lights from the face, Dr. Nazarian notes that target wavelengths for blue light (near 415 nm) near-infrared light (near 850-940nm) and red light (near 63-660nm) are generally agreed upon in the literature, so it's best to look for a device that fits these specifications.
The company actually has an FDA study...
How To Use:
Consistency is key. To be effective, the device not only needs to be put to regular use, but used as directed. In the case of LightStim wands, holding the device in each section of the face for a full five minutes is needed to see real results.
The In-Office Upgrade:
FDA regulations require at-home devices to emit levels of energy that won't harm the casual user. That means the machines made for in-office use are magnitudes stronger than at-home devices. "There's no comparison," says Dr. Palm. "At home devices may be somewhat helpful, but they are far, far weaker than treatments performed in a dermatologist's office."
The Critics Say:
While Darden and Dr. Nazarian have seen results from in-office use of LED light therapy, Dr. Palm points out other in-office skin treatments deliver "far superior results backed by published clinical studies, often more than a decade or two in the making," such as laser and light treatments, like intense pulsed light, or IPL.