05 / 16
INTERVIEWS
Anna-Christin Haas on Skincare & Designing Evening Wear in a Pandemic
Everybody has a story about beauty. In Rose Inc.'s The Profile, some of the world's most intriguing people share theirs. In this intimate interview series, we get (virtually) up close and personal to explore their definitions of beauty and path to self-confidence. Featuring imagery shot through their own lens, The Profile presents these compelling personalities in a new light—one that illuminates their own journey, dreams, and desires while highlighting their unique relationship with beauty.
With many people having spent most of their free time at home in cozy loungewear over the past year, the coronavirus pandemic might seem like an uninspiring time for an evening wear designer, but for Anna-Christin Haas, a co-founder of London-based line Galvan, the challenges of this period have been "creatively invigorating." From her home in Düsseldorf, where she lives with her husband and young son, Haas has been dreaming up matching sets in jewel-toned velvet and slinky white suits that don't trade glamour for ease of wear.
Her and her three co-founders also launched a new bridal collection in October specifically made for this moment of micro-weddings and civil ceremonies, designing pared-back dresses and suits that can be re-worn over time rather than retired after one use. The UK brand's first knitwear collection is also set to launch in late April. "We've had to pivot as a business and rethink what kind of product we present," says Haas. "We can't just do the same thing on repeat, or use formulas that have worked in the past. Now is the time to be innovative!" Rose Inc. caught up with Haas to talk about what's keeping her inspired these days, the rituals getting her through the pandemic, and the beauty products she swears by for a natural glow, ahead.
RI:
How are you holding up with everything going on right now?
ACH:
This time has certainly been filled with many challenges, but it also holds the promise of a better future and this is what motivates me every day. During this period we have all learned how to adapt to a different life and how to slow down. Far too often, we are made to believe that we should control everything and that it's a weakness if we don't, but I've found beauty in leaning back and taking it all in. There's so much positivity and inspiration that we can draw from the world around us, and there's a balance to be struck in how much we control life and how much we allow life to move us. Let's see where we end up and what lessons we take to the other side.
RI:
How did 2020 impact your creativity?
ACH:
Creativity can come from noise or from silence. I'm accustomed to noise, so I'm excited to see what will come from a calmer and more reflective state of mind. During the past half year, my travel has ground to a halt and I am also designing smaller and more focused collections. This means that I have more time to spend on collection development and the creative process, which has been wonderful.
RI:
Are there any special rituals that have kept you calm throughout the pandemic?
ACH:
A 21-day abundance meditation course from Deepak Chopra, which I do in the morning to set the right tone for my day, and going skating with my 8-year-old son.
RI:
Your line is focused on evening wear, which is being worn less these days. Has that shifted the way you design and the products you're focused on?
ACH:
Definitely. Starting with SS21, the collections have become more versatile and effortless, easy to wear with flats or heels, perfect for entertaining at home. People still want to dress up when seeing friends, but the clothes need to feel easygoing. We are also about to launch a new product line of knitwear, which was in development prior to the pandemic but is especially timely now.
...there's a balance to be struck in how much we control life and how much we allow life to move us.
RI:
What's keeping you inspired at the moment?
ACH:
I usually channel and draw inspiration from everything happening around me. It's like picking wildflowers: every art form, every word, splash of color or song. I store [all of these beautiful things] within me until they burst out again when I design a new collection. Right now I have to pick a little more from within myself, from a quieter and more thoughtful place. I am interested in creating value that goes beyond beauty.
Being physically separated from my business partners and closest friends has oddly been motivating. Now more than ever, it's clear to me that we need to band together, collaborate, and work towards the same goal. I have always believed in women supporting women, and I have always designed my collections to make women feel like the best versions of themselves. This has become even more important today and our next Galvan campaign will be based on this concept of support and togetherness.
RI:
What lessons would you like to see the larger fashion industry take away from the past few months?
ACH:
There has been a lot of talk about taking things slower, designing smaller collections, producing less stock, discounting less, and placing a higher value on what we do produce. I truly hope these words turn into action.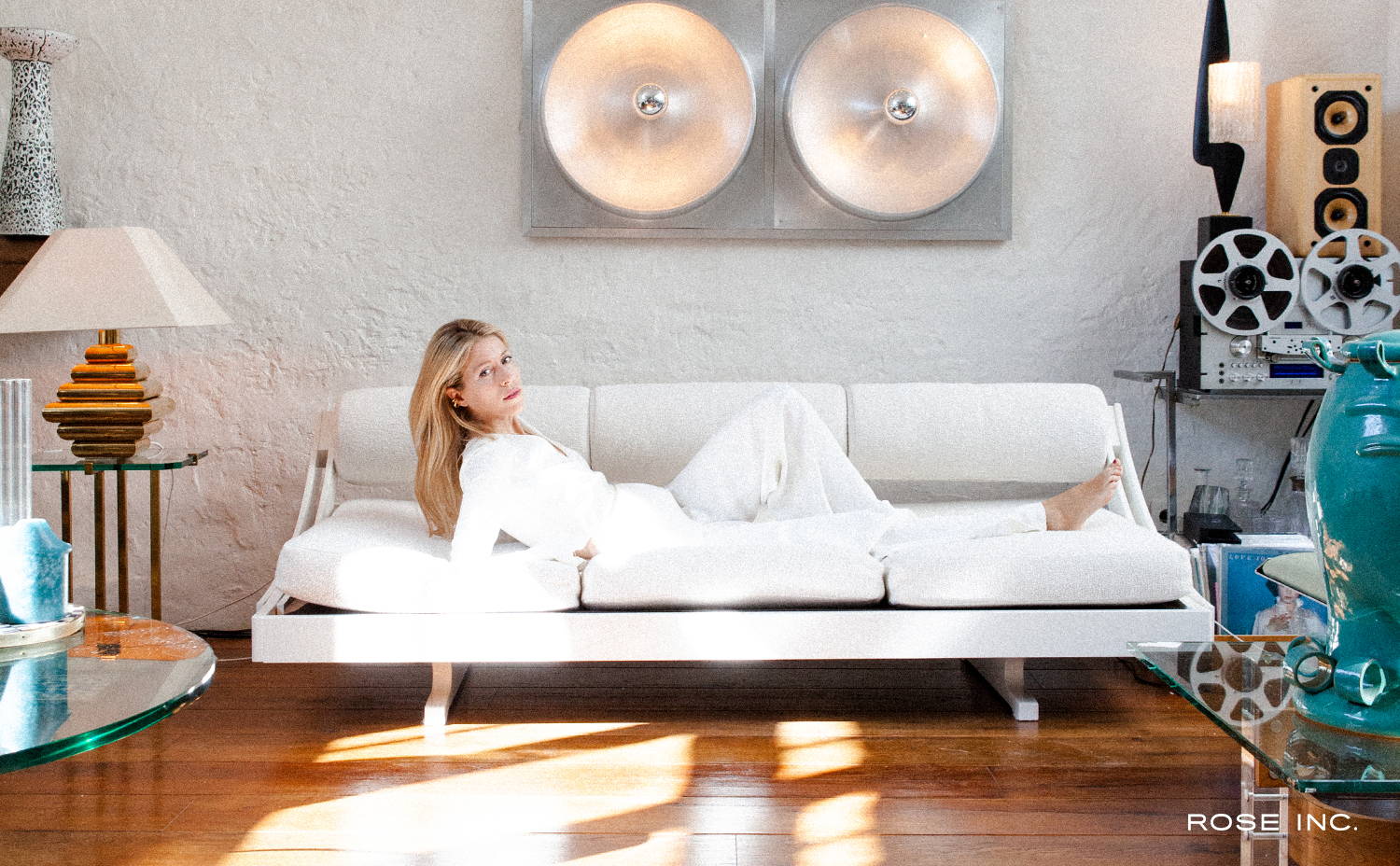 RI:
What is your first beauty memory?
ACH:
Color nail polish! I loved painting my nails bright colors when I was a kid. I also dyed my hair pink for German Carnival.
RI:
How does what you're wearing impact your beauty choices?
ACH:
I generally like a fresh-faced, radiant complexion and a bare-skin look. During the day I wear light eyeliner, a touch of mascara, a little lip balm on my eyebrows to give them a dewy look, and Carmex for my lips. It's important to keep the color story of your look consistent. If I wear white, I generally like a red lip but will leave the eye area bare and vice versa, and if I have a strong eye then I'll leave my lips bare.
RI:
Which three beauty products can you not live without?
RI:
Is there a fragrance you always return to?
RI:
What is your skin-care regimen like?
I think there's a balance between looking natural, authentic, elegant, athletic, and chic. Each is important at different moments in our life.
RI:
When it comes to your beauty regimen, where do you like to splurge and where do you save?
ACH:
I go wild on skincare and save money on makeup products.
RI:
If we were to step into your bathroom, what would we see?
RI:
What do you believe about beauty now that you didn't before?
ACH:
If I stick to a regimen, I see the effects of using good quality products over a period of time. For instance, always using [daily sunscreen] for skin protection is something I do now that I wish I had started doing 10 years ago.
RI:
Are there any beauty "rules" you'd like to see broken, and why?
ACH:
To always look conventionally 'beautiful'. I think there's a balance between looking natural, authentic, elegant, athletic, and chic. Each is important at different moments in our life.
RI:
What's your biggest beauty regret?
ACH:
In my teenage years, I over-plucked my eyebrows and they never grew back 100%! I love a thick and dramatic brow.
RI:
What's something that most people don't know about you?
ACH:
I'm the worst singer in the world!
RI:
When do you feel the most confident in your beauty?
ACH:
I believe that beauty can be improved with great products, but for the most part it really is created from within. From happiness, a positive mindset, generosity, and loving yourself and those around you—I believe that radiates through all layers to the outside.