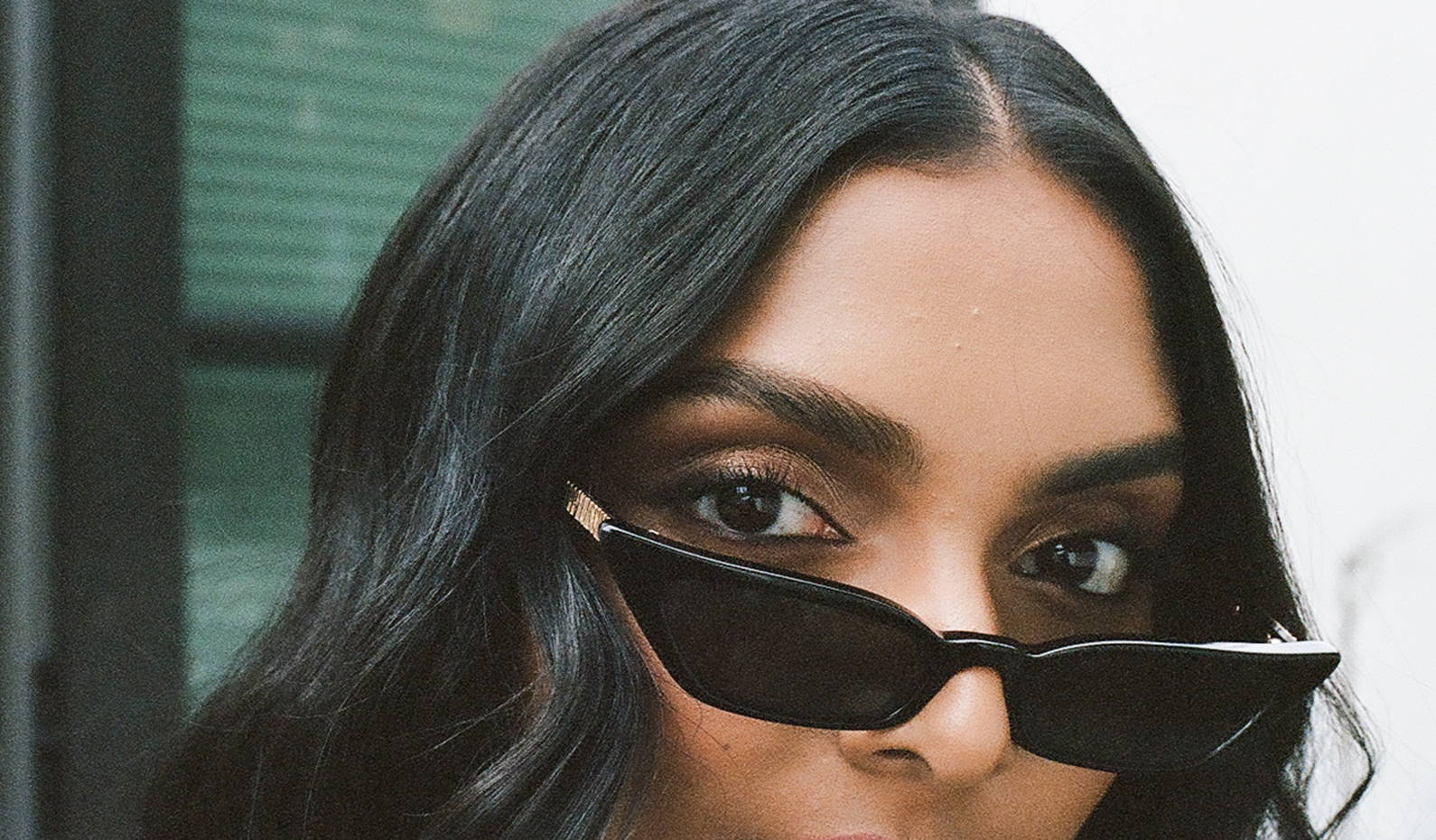 05 / 23
Red lipstick can change your life. Just ask Deepica Mutyala. Four years ago, she uploaded a video demonstrating how to mask under-eye circles using an orangey-red MAC lipstick. It quickly amassed millions of views, inspiring her to quit her job and pursue beauty full-time. Since then, she's founded Live Tinted, a multicultural community dedicated to "every shade in between." (Its first product, a color-correcting stick called The Huestick, is out this month.) Here, the influencer and entrepreneur talks about her history, her hopes, and why she's on a mission to change beauty standards.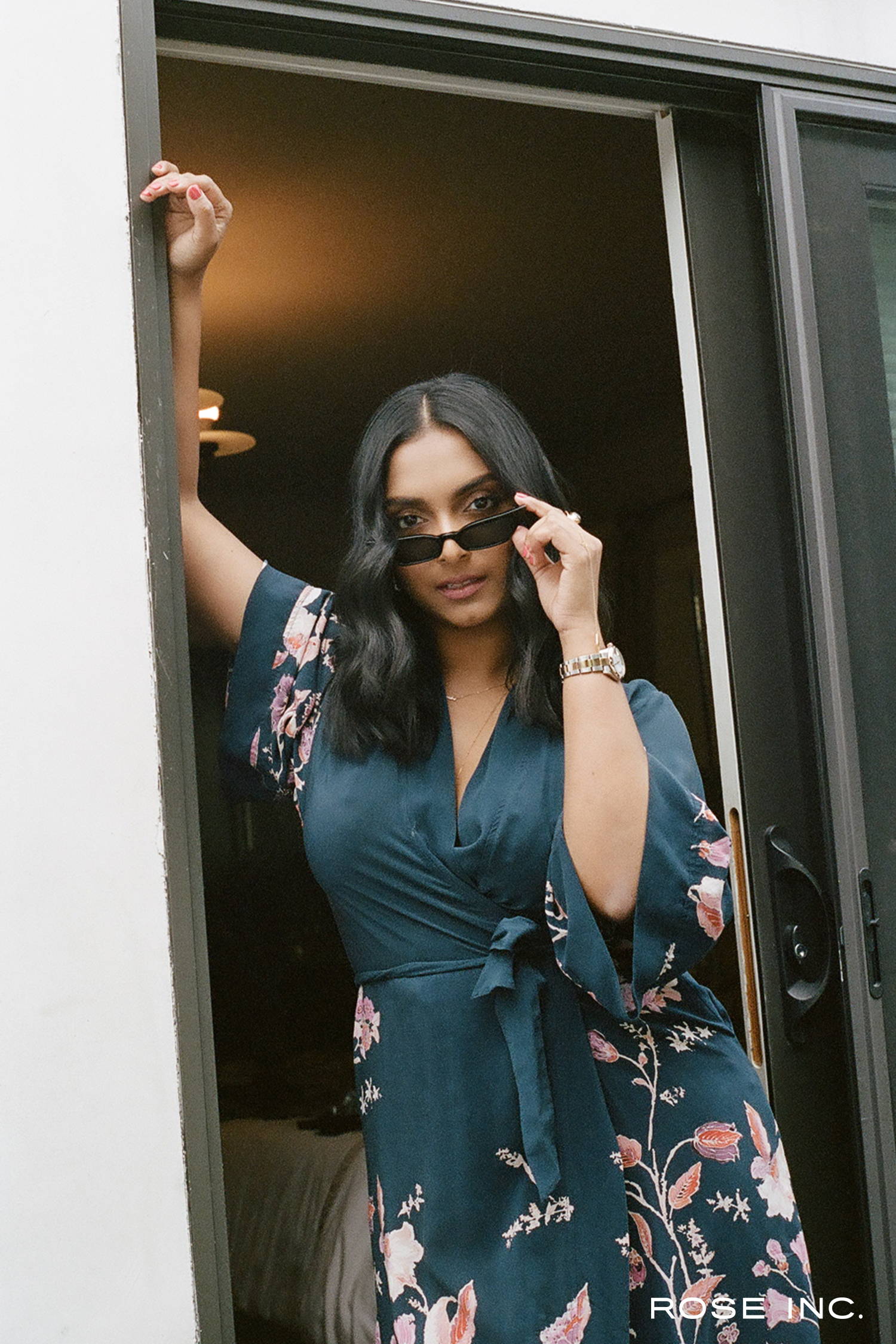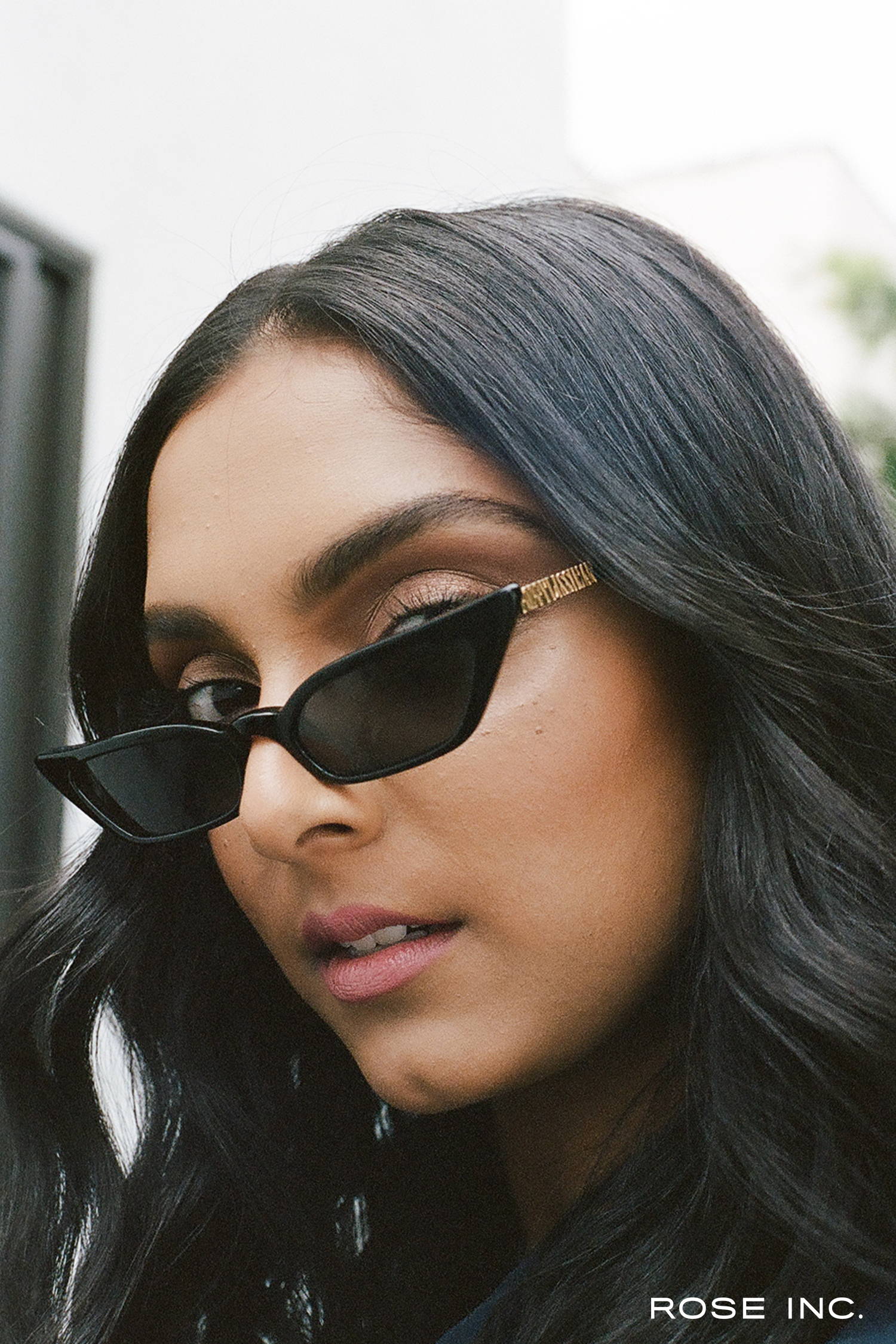 RI:
What sparked you to start Live Tinted? Why was it the right project for you?
DM:
First and foremost, it was building something bigger than myself. I started my career in the corporate side of beauty and then I went to the influencer side of the industry. I've seen the 360 of it all and where the holes in the market are. By building Live Tinted and having it stand for every shade in between, the purpose of it was genuinely to build representation for anyone who hasn't felt like they've had it—and that's beyond women of color.

What I really want Live Tinted to stand for is this idea of being a cross-cultural platform that shows we actually have a lot more in common across beauty standards then we are talking about. And I was craving a place where people felt like they could be themselves without any filter. For example, why don't we see more people laughing on social media and smiling and being happy? I want Live Tinted to be that positive ground—not saying you have to laugh and smile, but truly be who you are and not feel like you have to change anything about yourself because of what the media or social media tells you you have to be.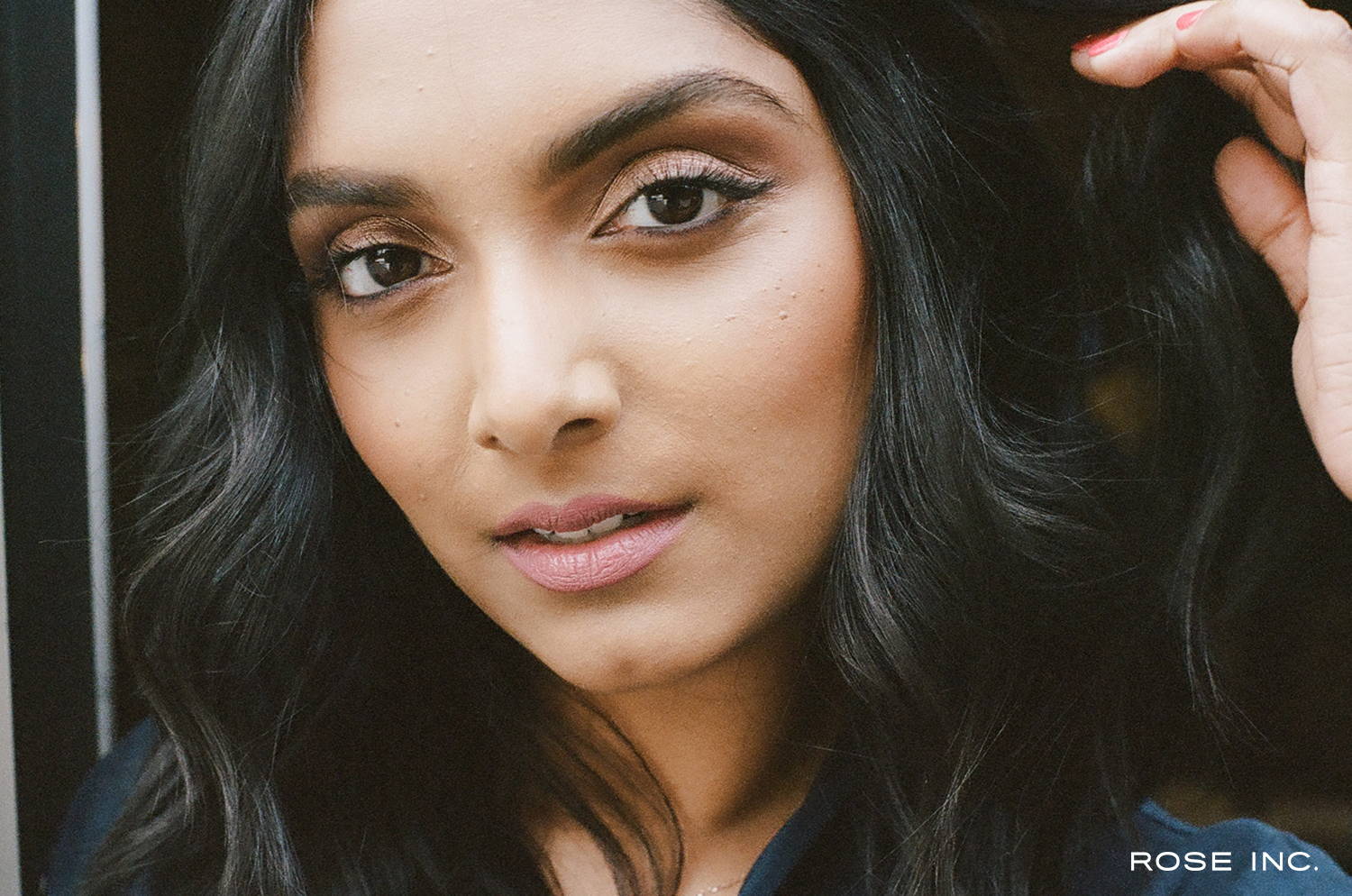 RI:
You're wearing a shirt that says "my skin is not a trend."
DM:
I've seen brands try to capitalize on something that's not true to who they are because they recognize a market opportunity. That feels so icky to me. I think you can sniff out the ones who are doing it from a genuine place and the ones that are doing it from a place of opportunity.
Right now, saying "We created 50 shades of foundation!" is step one. I'm not mad about it because it needs to happen, but it should have happened a long time ago. Fifty shades should be the absolute bare minimum for brands if they want to sustain business in the current beauty climate. For these brands who are hopping on a trend, good luck sustaining it if you're not doing it from a genuine place.  

And you don't have to be a woman of color to be inclusive. I do think that you can be owned by somebody who's Caucasian and care about inclusivity. As women of color, we cannot only be talking to each other and expect to make the stamp that we want to make in this industry to finally be included. We have to be talking to everyone. And that's why brands who stand for being a "woman of color brand"—I am here for it, I support it, and I get the cause. But it's time that everyone gets on board across the whole spectrum of the beauty industry and realizes that all brands should be inclusive.
fifty shades should be the absolute bare minimum.
RI:
Who do you think is getting it right across the board?
DM:
Well, CVS pharmacy just did an initiative where they're not Photoshopping anymore. That is a huge step forward for a retailer. The OG brand that has always done me right is MAC Cosmetics. And Bobbi Brown—this goes back to how you don't have to be a woman of color to support women of color. Since day one, she has made an effort and an initiative to create shades and products that work for all women. I think the recent efforts of Glossier—featuring more happy women and women of color across the spectrum—is incredible.
In terms of influencers, I'm so proud of Jackie Aina. Hands down, Jackie, Angel, Patrick Starr, and Melissa Alatorre—when I met them, I knew they were real. What you see on camera is what you get in real life, and that's a refreshing thing to see in this industry.
RI:
What's your outlook on skin care? What are some of your favorite products at the moment?
DM:
I've become more confident in my skin as I get older. You just start to feel more comfortable with the hyperpigmentation on your face. You start to realize that flaws are the things that make you you. Skin care is my obsession right now. And by the way, this is coming from a girl who used to fall asleep with her makeup on.
My go-to product right when I'm washing my face is the Tatcha Pure One Step Camellia cleansing oil. I'm obsessed. Shiseido has an incredible essence that actually feels like almost like a lotion because it's a little creamier. I use Estée Lauder Advanced Night Repair under my eyes. I love moisturizers. Dr. Jart Ceramidin was my OG favorite five years ago. The Shiseido SPF stick is bomb. It gives you that glow and you're also protecting from the sun. I like sheet masks for traveling, and at home, the Summer Fridays Jet Lag Mask.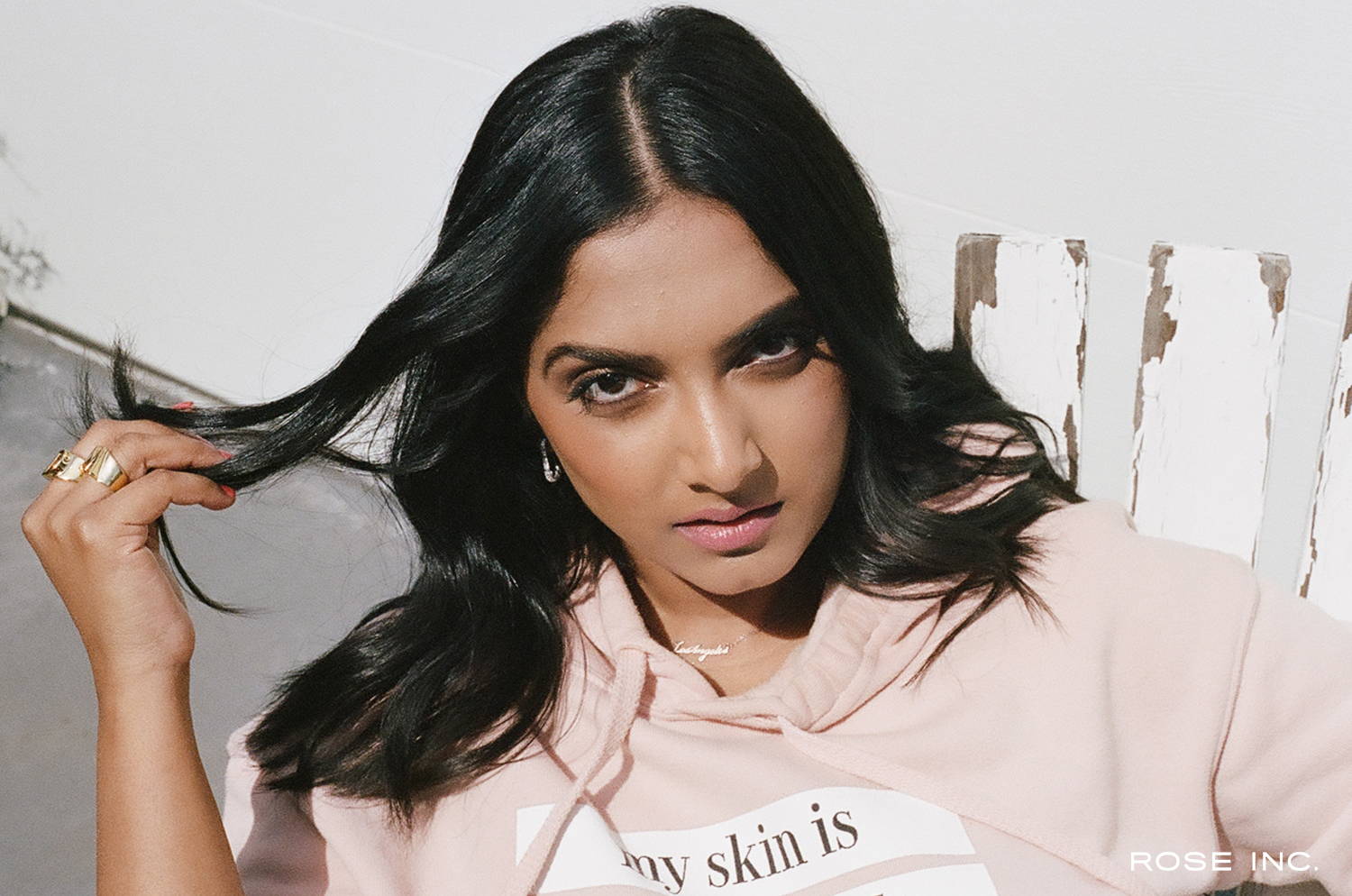 RI:
Is your approach to beauty more low- or high- maintenance?
DM:
Low-maintenance! I have a five-minute face, which is one hundred percent my go-to thing. I'll use Laura Mercier Radiance Primer on my face and no foundation or concealer. I'll fill in my brows with Benefit Brow Setter. Because I already have really full brows, all I need is for them to just be combed out, really. And then I'll put on a mascara; right now, it's Marc Jacobs. I'm always switching them out—and you should be every three months, anyway. Then I use the Huestick on my eye, cheek, and lip. And then Fenty Gloss Balm in Fenty Glow—killing it with that. That's my go-to face whenever I'm running out the door for meetings.
RI:
Growing up, who were your biggest beauty inspirations as women of color?
DM:
I have a very specific memory of Kim Kardashian recommending Nars Turkish Delight. I was like, She's brown and I'm brown! She's the lightest color of brown in the spectrum. I've heard people on social media slaughter me for saying that Kim is brown, but listen, she's Armenian.
If she feels like she is, that's for the person to identify and say for themselves. But point being, since there were so few people in the media that looked like me, I went and got a Nars Turkish Delight—and it looked like a hot mess on me.

That is the narrative that I've had my entire life in the beauty industry. There have not been products that I felt like were made for me until very recently. I do remember looking up to Rachel Roy. It was incredible to see someone who looked like me doing such a glamorous job. And I looked at Beyonce. I was like, She's from H-Town—I'm from H-Town! But that was all I had. There were no South Asians. Now, I am so grateful that South Asian culture is now being infused into Hollywood and in the media. But I still didn't see myself until Mindy Kaling came around, which was great to see.
RI:
That's very interesting to hear—all of those different dynamics. Okay, here's a tough one.
RI:
If you could only have one product in your bag for a day, what would it be?
DM:
That gloss balm by Fenty!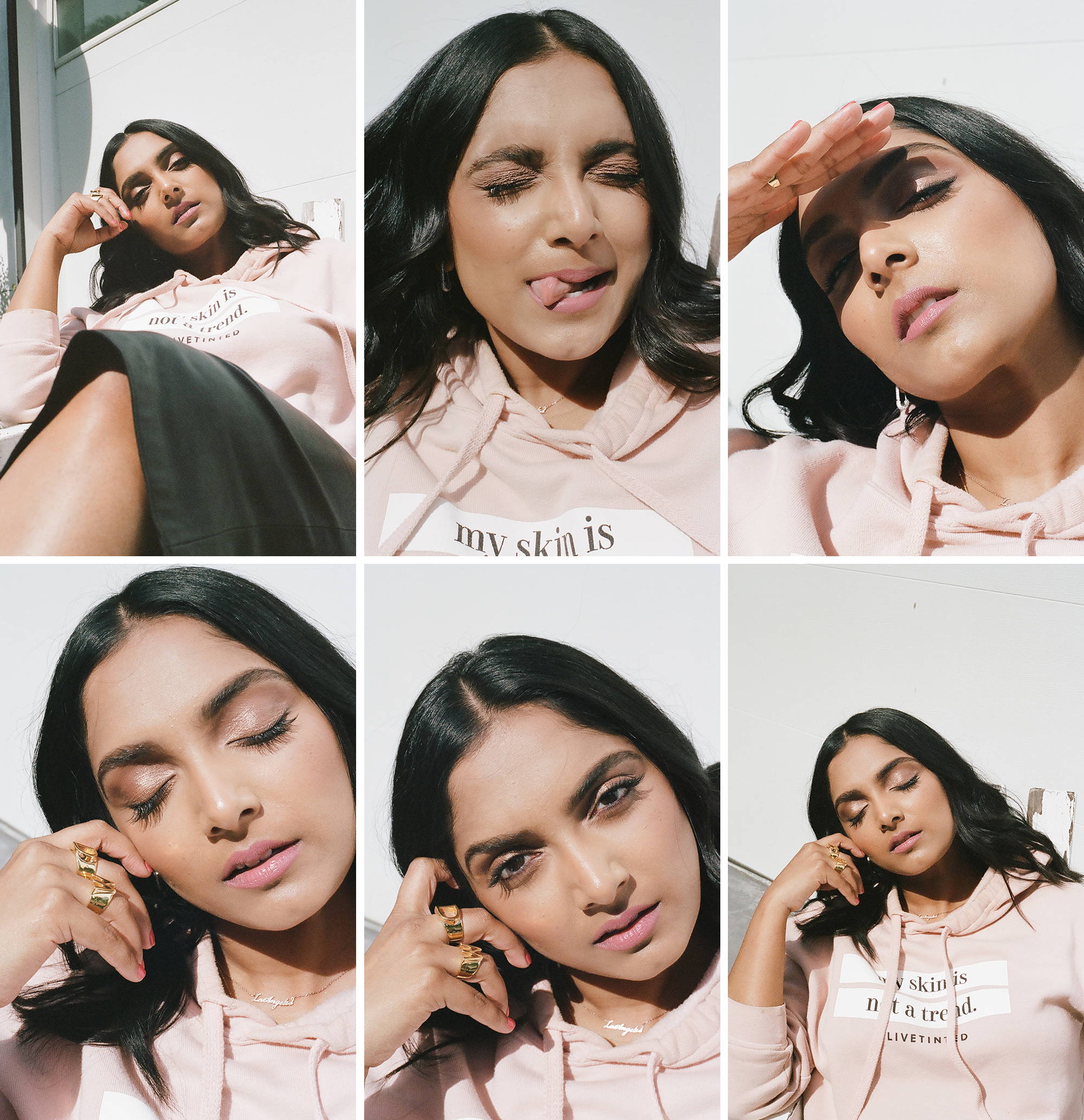 RI:
Oh, so it wasn't tough at all.
DM:
No. Super easy. I have friends who say that it is too brown or warm toned for them, but for me and my skin tone—obsessed.
RI:
If you could go back and tell your 20-year-old self anything, what would it be?
DM:
I feel very fortunate that at a very early age, I knew what I wanted to do. I wanted to work in the beauty industry and I said I wanted my own beauty product line. I'd said that since 16 years old and I wanted to go work at a MAC counter more than anything. My dad was like, "Go study for the SATs." But I always knew I was going to work on the corporate side of the beauty industry, go to Harvard Business School, make my dad happy, and then start my own beauty brand. The path has obviously shifted a little bit because of a crazy viral video and becoming an influencer and all that. But the end goal hasn't changed. When I think about what I would tell my 20-year-old self, I would say, "You were right, and don't let anything distract you. Keep going, because that really is the truth."
RI:
What do you want your legacy to be with Live Tinted?
DM:
This is a blanket way of saying it, but I hope that when people think about Live Tinted, they think that if they are looking at the platform, they're thinking about what it does for them. I hope that they feel like we've helped change the beauty industry and evolve it toward a positive direction. I want us to be remembered for that community. If we can even help one person say, "I love me as me," then I feel like we did our job.