Solar Radiance Hydrating Cream Highlighter Refill
A velvet-soft cream that illuminates the complexion while smoothing the skin.
See more
Solar Radiance Hydrating Cream Highlighter Refill
A velvet-soft cream that illuminates the complexion while smoothing the skin.
See more
---
---
Details
---
Ideal for All skin types
---
A revolutionary highlighting and skin-smoothing hybrid, this velvet-soft cream illuminates the complexion with sheer radiance while nourishing the skin.
The hydrating formula effortlessly glides over the high points of the face to build natural-looking luminosity without settling into pores or fine lines.
Sea holly cells plump the skin's surface, rose extract brightens visibly uneven skin tone and squalane provides weightless hydration.
Buildable and seamless, four flattering shades enhance every skin tone with a lit-from-within glow.
Sustainability
---
---
REDUCE
• No added weights
• No unnecessary plastic or glass
• Caps and cartons will not be made any larger than necessary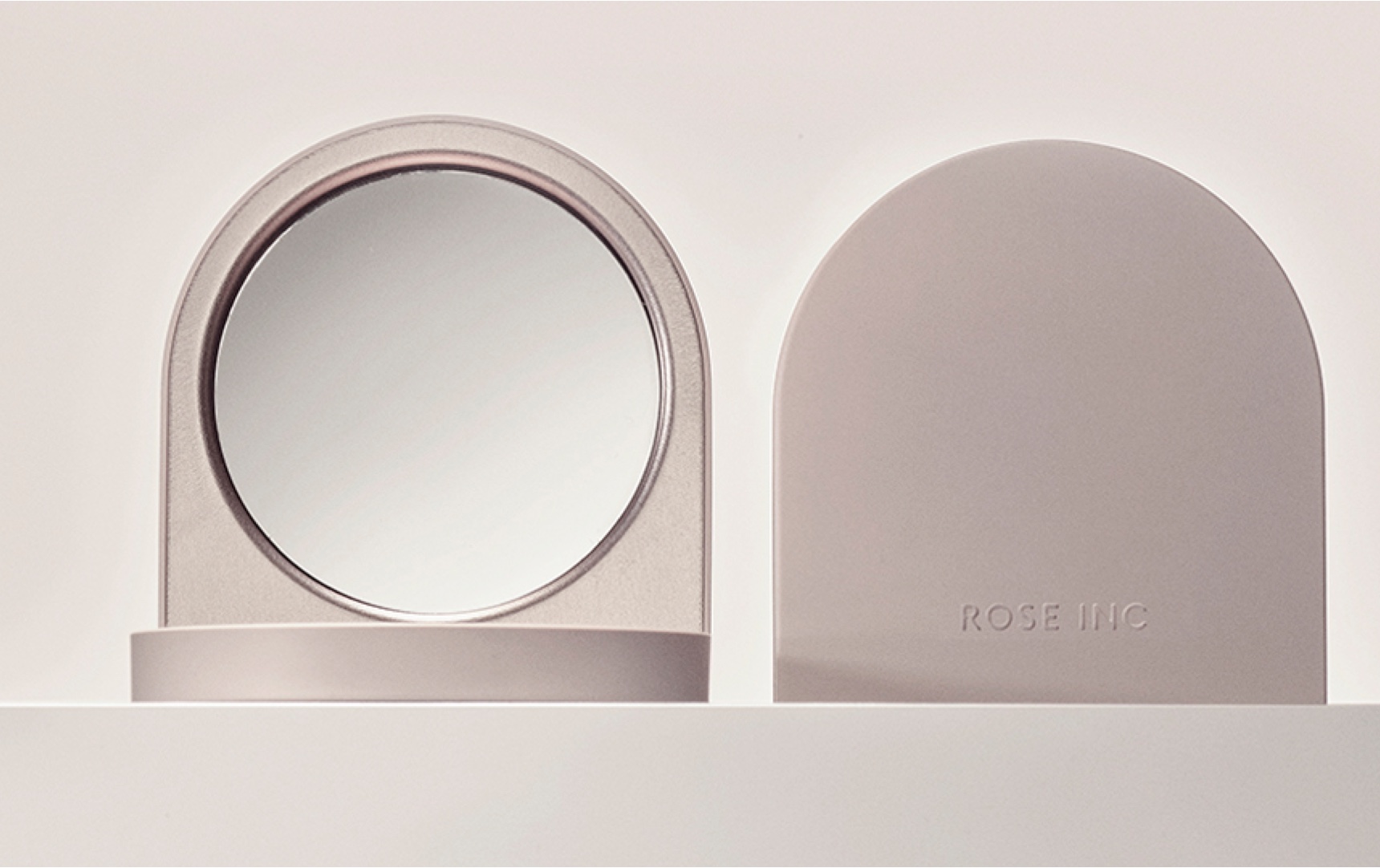 REIMAGINE
• Simple designs made from thoughtful materials
• Reusable or refillable packaging
• All-paperboard is FSC-certified
• Packaging uses at least 25% post-consumer recycled material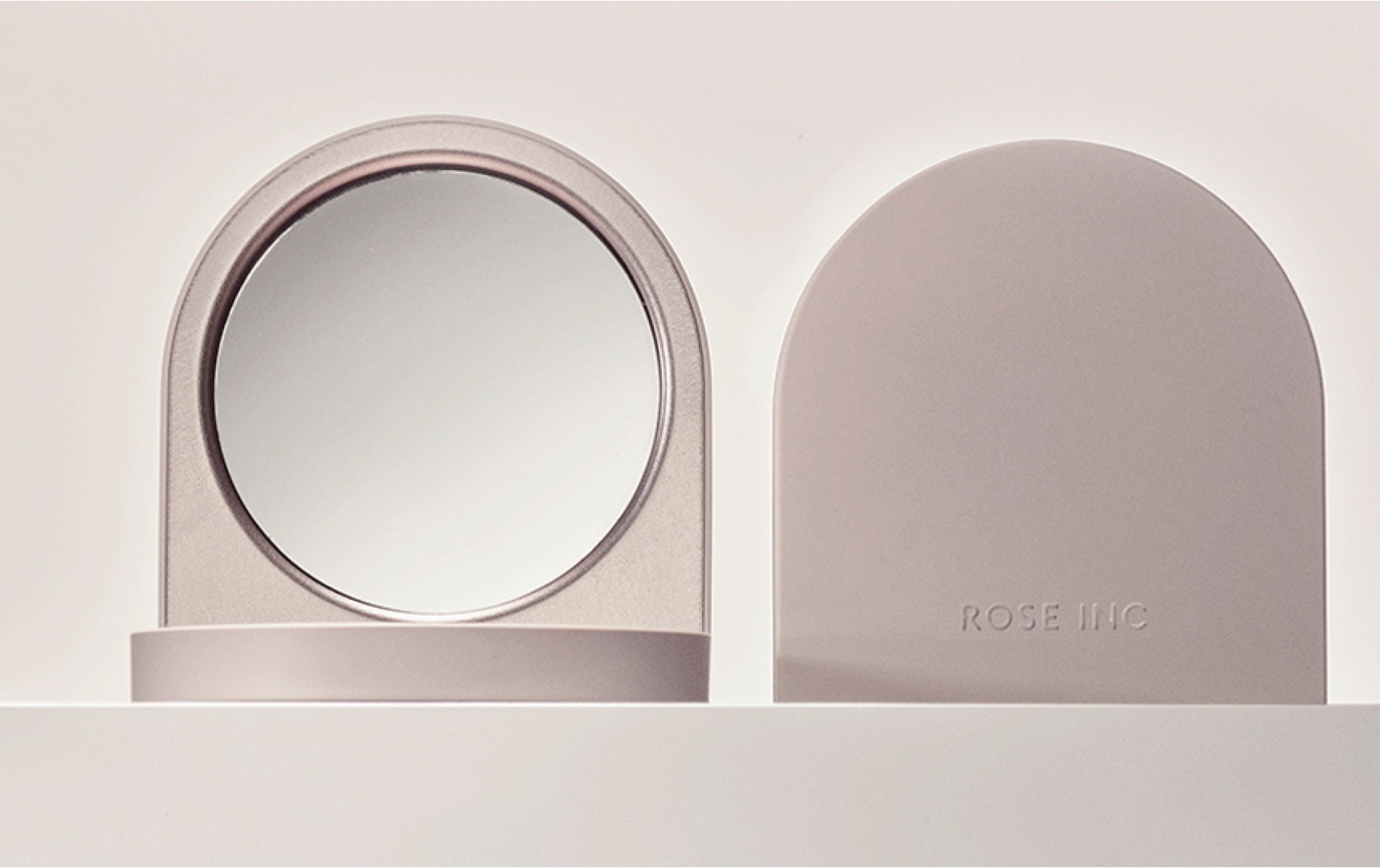 REUSABLE COMPACT
50% post-consumer recycled plastic
PAN
100% tin
CARTON
FSC-certified paper and hemp printed with soy-based ink
HOW TO REFILL
•Using a safety pin, poke through one hole beneath cheek compact to release pan. Use or wash out any remaining product and place pan into recycling bin. Open refill packaging and remove new pan, placing outer package into recycling bin. Center pan in cheek compact, aligning magnets to secure it in place.
HOW TO RECYCLE
•Remove pan from compact and wash away any remaining product. Place pan, clamshell, carton and insert into recycling bin.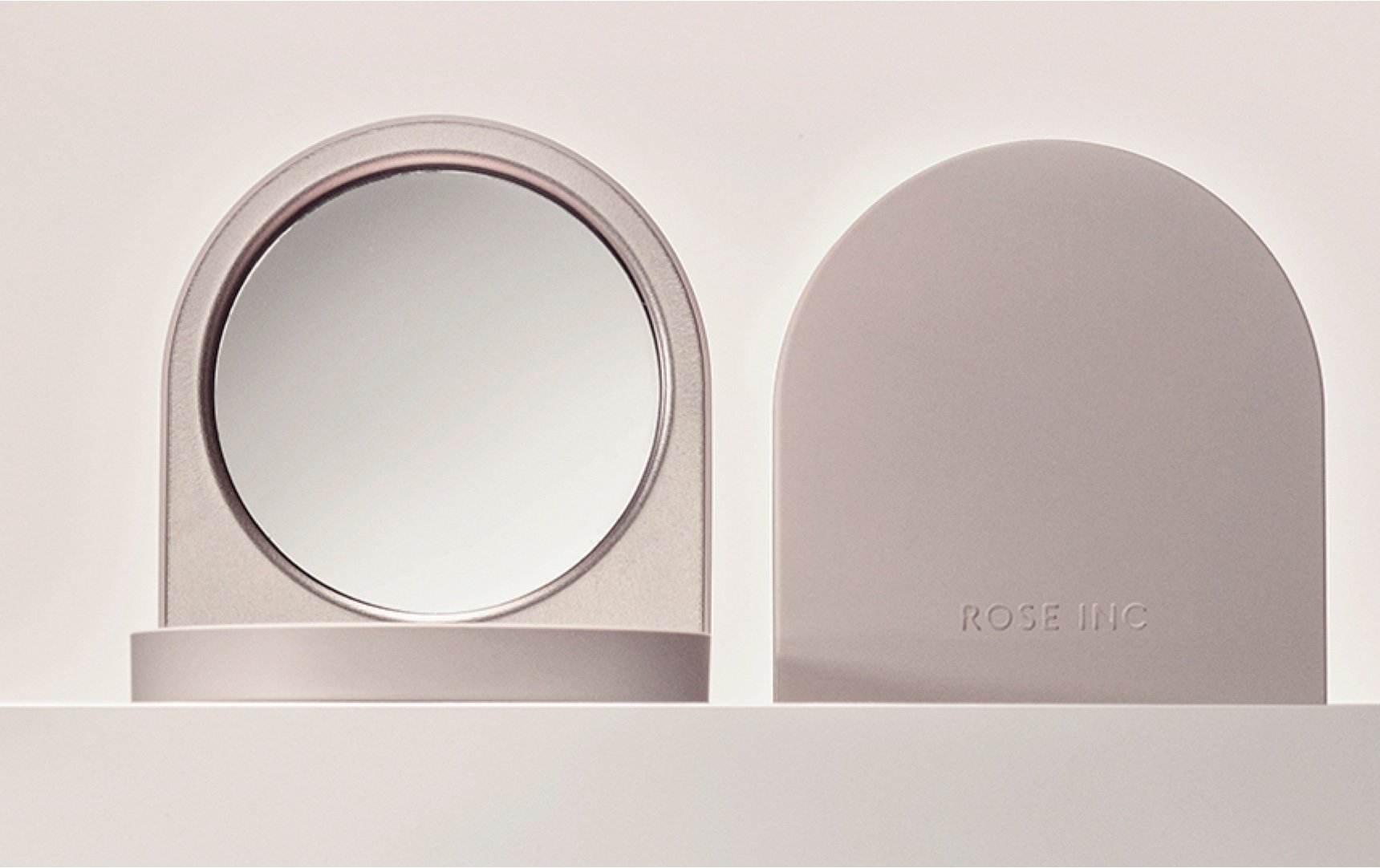 Reviews & Questions
---
Customer Reviews
Write a Review
Ask a Question
Filter Reviews:
highlighter
skin
glow
formula
Rose Inc
color
packaging
look
shade
texture
03 August 2022
Juliette M.
Great texture-love it
I love this highlighter! It's an amazing smooth texture and is very easy to apply. I often swipe some on my eyelids when I'm in a rush and use with the anemone blush divine on my cheeks. Very subtle and pretty! I purchased Glancing but want something a bit darker to go with a tan in summer so I may try Lustrous next!
02 August 2022
Karlla D.

United States
a natural light
I'm really in love with this amazing highlighter!! It's so natural and beautiful!
17 July 2022
Laura

Canada
Makes me feel beautiful! But packaging broke twice
I have never been a big highlighter fan, most products give an unnatural sparkle that has never appealed to me but I am so happy I gave these a try. I have the shades lustrous and glancing and both give me the perfect better than natural looking impact in direct sunlight but a more lit from within glow in other light which is very nice and makes me feel beautiful. I love using the shades on my eyes as well to give a me a light easy summery eye look. The only reason I cannot give the product five stars is because of the packaging. I bought both shades at different times yet both of them have had the mirror fall out. I own several blush shades that come in the same packaging and have never had that happen so I find it odd that it happened twice with the highlighters so soon after purchase. It's even more upsetting because the compact is supposed to be a one time purchase with the refill capabilities and now I will need to replace both. Outside of that I wonderful new find!
15 July 2022
Mariam A.

United States
Neutral glows
I can not even imagine this highlighter could be that much perfect for me.
14 July 2022
Amy R.

United States
Try this, you will love it!
Very natural looking highlighter, no sparkles, it is absolutely gorgeous. Makes your skin look dewy and moisturized. I can't say enough about the products I have tried from Rose Inc, they are absolutely the best I have ever used.
13 July 2022
Vicki R.

United States
Best Highlighter!
Beautiful highlighting cream that looks like your skin has been kissed by morning light. Really easy to blend and build up as needed. Best highlighter I have used.
12 July 2022
Emily

United States
Highlight with Skincare properties
Highlight is probably one of my most used makeup products, so I was really excited to try this! I have dry skin and am always looking for makeup products that do double-duty and have skincare properties in them as well! I love that this highlight is creamy and packs some awesome skincare ingredients like rose extract and squalane. There was some strange oily condensation on the inside of the mirror part upon opening the package, but otherwise, I quite like this! Gifted by Rose Inc.
08 July 2022
Sylvia C.

United States
Best highlighters ever!
I'm already in love with the blushes so I decided to try the highlighters and I'm so happy I did. Each time I wear it I get so many compliments and I feel like a glowing goddess. It's very beginner friendly (found it very easy to blend.) Will definitely buy more when I run out.
07 July 2022
Huamei G.

United States
Very subtle
It's a nice formula and non comedogenic. The color I chose It's too subtle and barely show up. It's not glossy, wet or shiny. It's just a subtle sheen.
07 July 2022
Carly G.

United States
Radiance Highlighter
So far I've really enjoyed this highlighter as its a great formula, smooth, easy to apply and gives a very natural radiant glow!
05 July 2022
Emily C.

United States
Love this!
This highlighter was super hydrating and creamy but natural on the skin. I am typically not someone that likes highlight because it can be too much, but this product gives you that glow from within look that most highlighters don't have. I love the color of it as well. Super natural and glowy! Perfect for summer.
03 July 2022
Chantla I.

United States
Best natural looking highlighter
This highlighter doesn't look like you're wearing makeup. It truly looks like it's your skin giving off its own radiance. This makeup is absolutely gorgeous!!
03 July 2022
Tracy P.

United States
So pretty, doesn't last on me
Love the tone and sheen, but it wears off within two hours.
01 July 2022
Lindsey

United States
Great highlighter!
This is a great highlighter! It made my skin look glowy and radiant without looking greasy. I have sensitive skin and this product did not bother me. Highly recommend this product to give your skin a nice glow!
01 July 2022
Dayana

United States
Stunning
I'm obsessed with this cream highlighter the shade is absolutely stunning and looks fantastic on my skin tone, I like it because in addition to illuminating the skin it also moisturizes it, It is perfect for a natural look, but also for a striking look, the texture is great and the packaging is luxurious I love it!!
01 July 2022
Americandesimom

United States
Sultry vibes
you are looking for J Lo glow, get this. Very wet, sultry, a bit metallic finish highlighter that is insanely pigmented so you only need a touch for the magic. I paired it with their bronzer foe the ultimate sun kissed glow look.
---
---
Rose Inc is committed to sustainability, especially when it comes to packaging. Rose Inc Solar Radiance Hydrating Cream Highlighter Refill makes it easy refill the empty highlighter tin and try multiple cream highlighter shades at a time while using the same reusable compact. Rose Inc Solar Radiance Hydrating Cream Highlighter Refills come in recyclable tins and can also be used with our blush compact for convenience. Whether you want to switch between cream highlighter shades or simply replace your favorite one, Rose Inc highlighter refills are just one of many ways we champion sustainable clean beauty.