04 / 17
EDITORIALS TUTORIALS
Do It Yourself: Katey Denno's Dry Skin Body Scrub
Celebrity makeup artist Katey Denno was 9 years old when her mother taught her how to steam her face over a bowl of hot water in their kitchen. "She would add a little eucalyptus oil to the water for me before mixing up a mask with oats, honey, and yogurt," Denno recalls. "It was such a fun thing to do that I didn't even realize we were doing good things for our skin." As she got older, this curiosity led Denno to learn how to tighten her under-eye area with egg whites, exfoliate with sugar, and eventually to teach DIY beauty workshops at the Bowery Whole Foods in New York City.

Flash forward a few decades from that first DIY with her mother and Denno is one of the most in-demand beauty pros in Los Angeles. Nicknamed "Hollywood's green makeup artist," she's cultivated a loyal following—Olivia Wilde, January Jones, and Olivia Munn are just a few of her A-list clients—for both her artistry and love of natural products and holistic treatments. "You never know what's going to happen on the road with a client," Denno says. "I've whipped up a lot of solutions at the 11th hour on a press junket, from cold spoons on the eyes to a yogurt mask."

This month, Rose Inc. has tapped Denno for something special: A mini series of four at-home beauty treatments. By utilizing natural fruit enzymes for exfoliation, the antibacterial properties of honey and apple cider vinegar, and more ingredient superfoods you probably already have on hand, she created easy weekly indulgences to keep our faces and scalps healthy while self-isolating—and yes, they're great for making memories with family, too.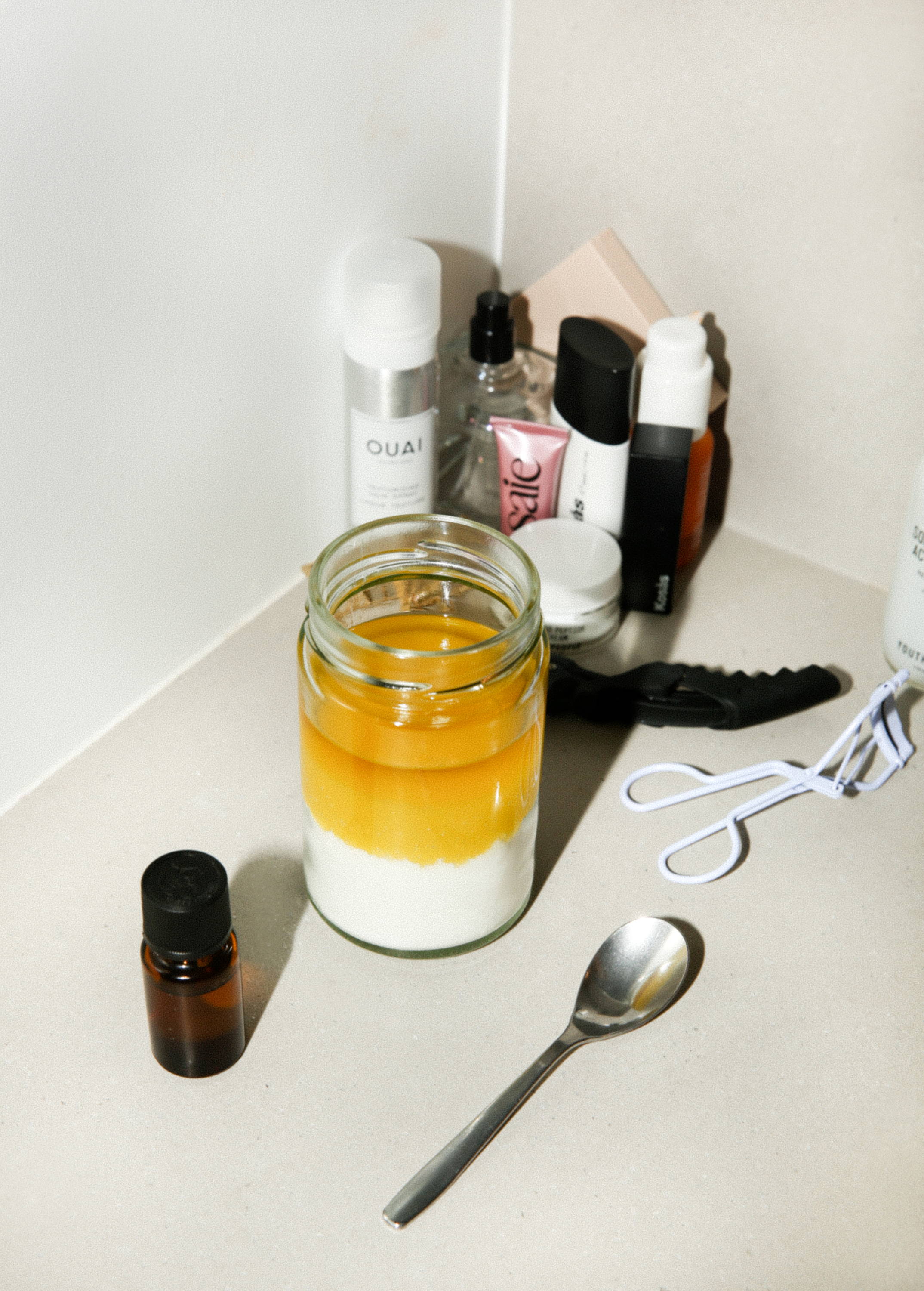 Her DIY Inspiration:
Perhaps the easiest and most common beauty DIY around, creating a skin-smoothing scrub requires only carrier oil and granulated sugar, but can be elevated with a few drops of essential oil. "You can also use fine salt if you prefer," Denno says, but notes that since sugar is a humectant, the hydrating benefits make it the better choice.
What's more, it saves: "Fill a jar in your bathroom with your scrub to exfoliate on repeat," Denno says. The only caveat? Tread lightly. "You might not be experienced with this much oil on your shower floor so be very careful not to slip," she says.
Behind The Mask:
Deciding on your sugar and oil comes first. Denno says that fine-grain, granulated sugar is her top pick, but if you want extra exfoliation you can opt for brown sugar, which has slightly more abrasive granules. Any oil will work, but the artist prefers coconut, jojoba, or olive.

In a cup, mix half a cup of sugar with two to three tablespoons of oil. "If you have any essential oils that make you happy, mix in two or three drops," she says. "I prefer citrus—like bergamot, orange, or grapefruit, but eucalyptus and lemongrass are also great in the shower." Make sure it's properly mixed, then massage over wet or dry skin in the shower using gentle, circular movements. Rinse while being sure to mind your slippery bathtub. "Store the rest in an airtight jar," Denno says.
Be sure to follow @KateyDenno for more.