05 / 19
INTERVIEWS
Founder Taj Alwan Talks Product Must-Haves, Career, & Turning Off
Everybody has a story about beauty. In Rose Inc.'s The Profile, some of the world's most intriguing people share theirs. In this intimate interview series, we get (virtually) up close and personal to explore their definitions of beauty and path to self-confidence. The Profile presents these compelling personalities in a new light—one that illuminates their own journey, dreams, and desires while highlighting their unique relationship with beauty.
True to her Instagram bio, Taj Alwan is, indeed, "alotta tings." From a cultural standpoint, she's an Ethiopian-American-Canadian who's lived in Milan, New York, Vancouver, and London and who currently resides in L.A. She is "a woman of passports," as she puts it. From a professional standpoint, she's the founder of The Hyphen8, a public relations and management company. Prior to that, she worked as a PR director for a number of agencies and held positions at companies such as Dolce & Gabbana, Karla Otto, and Starworks Group.
"I was PR one day, agent another, on any given day I was a stylist, I also was producing my own shoots so that I could have features run on the talent that I represented at the time," she says. "I wore every single kind of hat possible." This was during a time when the industry was shifting and she noticed a need for talent "beyond just a pretty face," which motivated her to step out on her own.
The people Alwan represents are just as varied as she is: From model Salem Mitchell to photographer Zamar Velez to entrepreneurs Devon and Sydney Carlson "I don't like to work with one type of talent, I enjoy working with models, artists, athletes," she says. "You name it, I'm probably into it." Specifically, though, she enjoys working with multi-hyphenates like herself (hence the name). The people who can't be placed comfortably in one box or another and aren't limited to any one thing, she explains.
We caught up with the international entrepreneur about how business and life have been during the pandemic. Fittingly, she's been doing everything from cooking and hiking to getting her hair braided for the first time and recreating beauty looks. Read all about her beauty crushes, the self-imposed breaks she's implemented, her dedication to eyeliner, and more, ahead.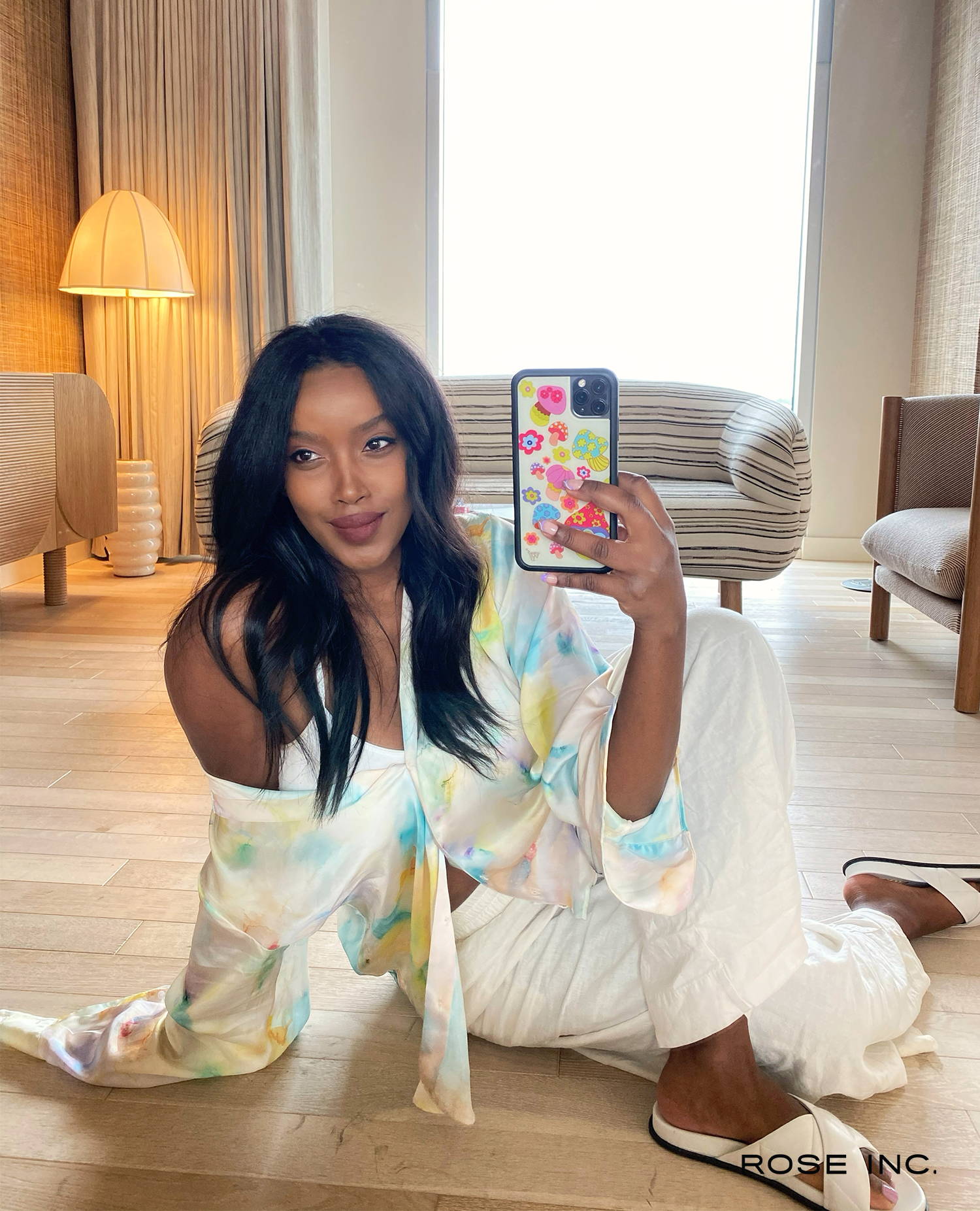 RI:
The global pandemic has changed so much of our everyday lives. How have you been?
TA:
I've learned a lot about myself and probably the main thing would be that it's okay to take a break. I was fortunate enough in the very beginning to have not lost any clients when we first went into quarantine and I think knowing that, and having seen other people really have their business shaken, I added extra pressure on myself because I'm like, 'now I gotta work nonstop to make sure everyone's happy and no one will leave me'.

Working from home has been a blessing and a curse. I love that I don't have to commute or travel but when you're by your computer it's hard to turn off. So I've made it a point to take breaks. I came to the realization that you're no good to anyone if you're not good to yourself at the end of the day.
RI:
How has the adjustment been with your business?
TA:
I think the move to everything being heavily focused on digital made me busier. I tried to balance both the PR and the management side but I found that, because I work with a lot of skilled individuals that already know how to navigate the digital world, they became very quickly in demand. Especially during the earlier times of the pandemic when everyone was training their talent to pay attention to lighting, work with creatives to deliver briefs, and easily follow that kind of instruction. It wasn't new territory, I just found myself playing in that pool a lot longer than usual, which I'm super thankful for.
RI:
You've lived in a number of cities, each with its different approach to beauty. Where do you relate to most?
TA:
I would say the West Coast and that effortless, less-is-more ideal. Depends where on the West Coast, because in some places less is definitely not more, but for the most part…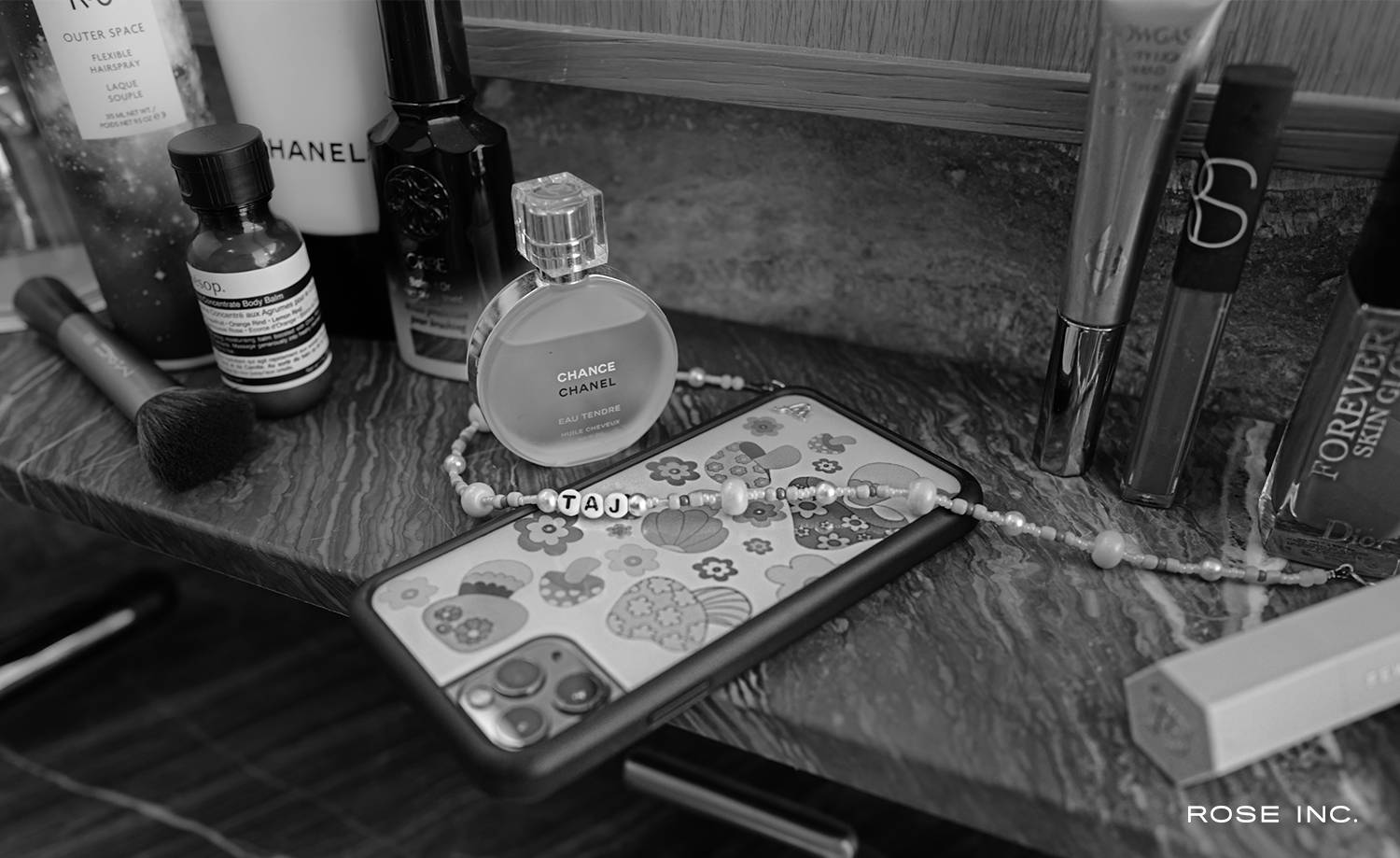 ...you're no good to anyone if you're not good to yourself…
RI:
Do you have an earliest beauty memory?
TA:
Probably when my mom let me use eyeliner for a family wedding. I'm talking about the traditional Middle Eastern kohl pigment that you dip into a pot and swipe on. My last name is Arabic, it translates to colors. My dad's side is part Ethiopian and part Yemeni. It's very small, I don't flex it as much, but I can read and write Arabic from my dad's side.

So, yeah, my mom would let me wear eyeliner and it's totally normal because it's part of the culture even though I probably looked crazy...but also cute. I remember at the end of the wedding having it smudge everywhere because it didn't have the technology of being smudge-proof because it's so traditional… Now [my mom and I] make turmeric masks together.
RI:
Whose approach to beauty do you admire or look up to?
TA:
I have a few beauty crushes. Liya Kebede, she's an Ethiopian supermodel. I love Imaan Hammam, she's forever giving us different looks on the regular. I got braids for the first time funnily enough during the pandemic. I found out my mom knows how to do box braids and I showed her a picture of Iman's braids and she actually did an amazing job. For curls, I could never achieve this, but I'm obsessed with Tina Kunakey's curls. She's a French model, she's stunning. And also my babygirl Salem Mitchell, I love her.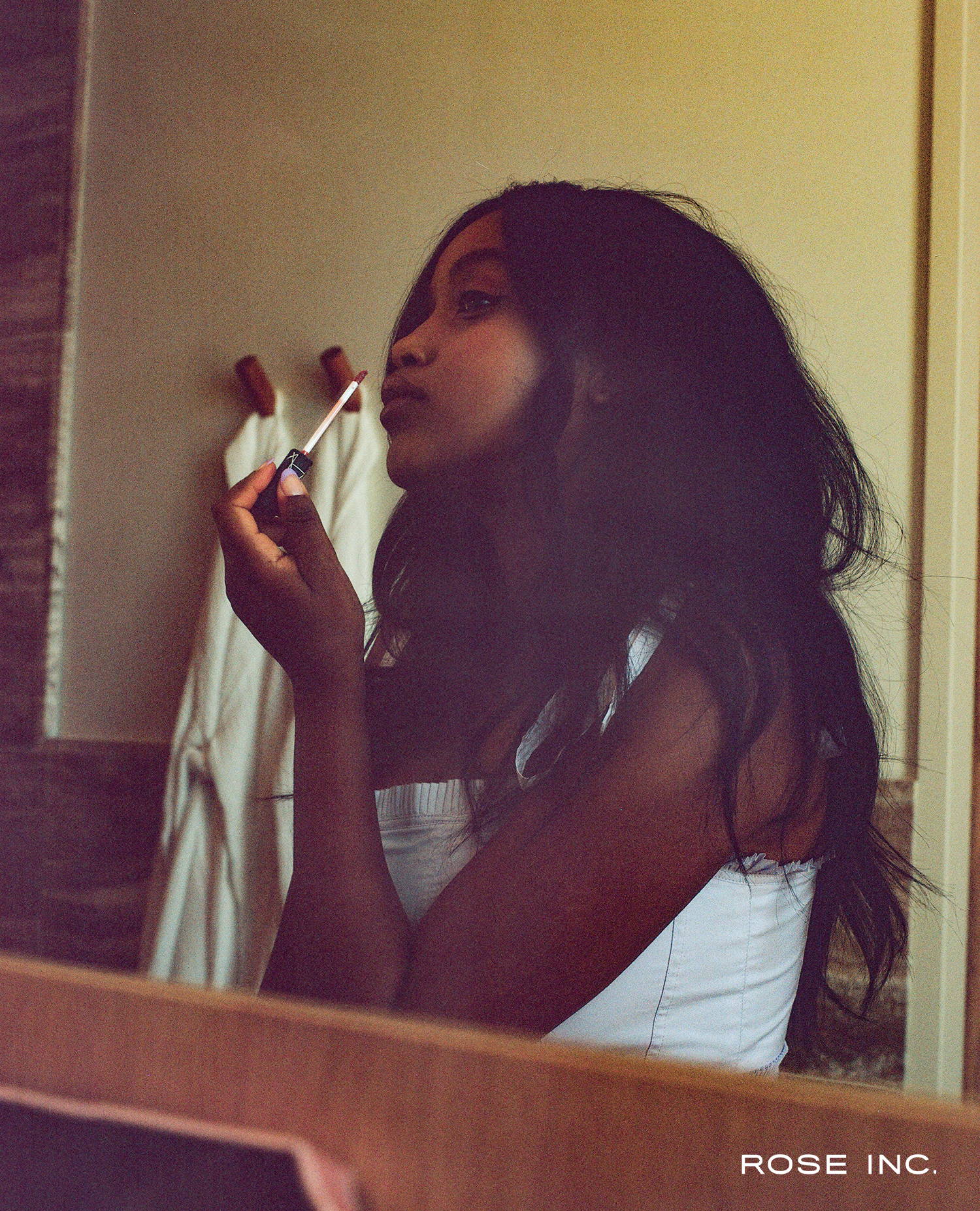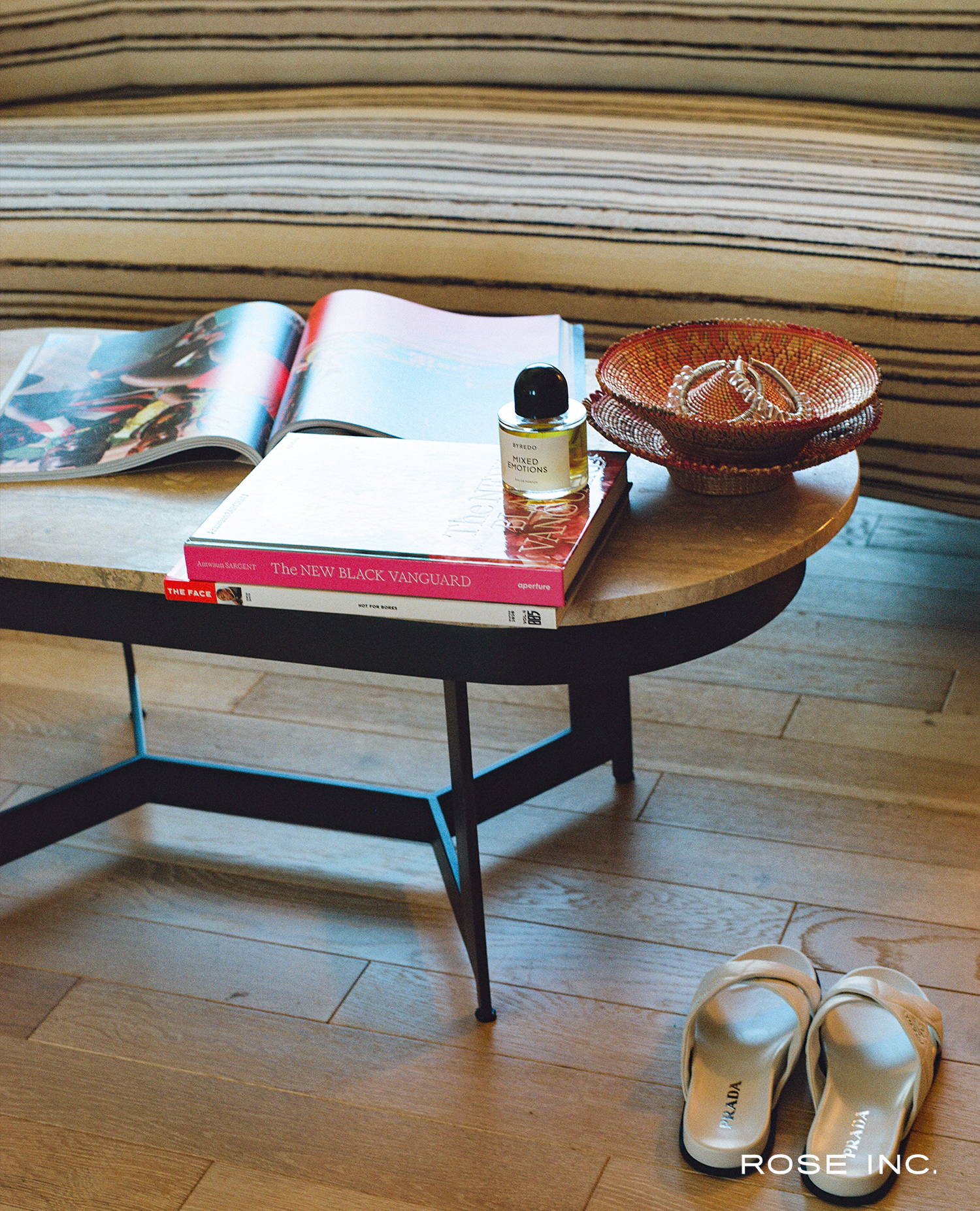 RI:
When do you feel most confident in your beauty?
TA:
Probably in the evening after work when I decide to actually step it up a notch. I'll play some music, light a candle, get in a zone and try to look cute, even if I'm not going anywhere. Sometimes I'll just do it for myself, especially with these quarantine evenings. This is after I have, of course, relaxed and turned off every kind of digital thing. When I'm at peace with myself is when I feel most beautiful; when I have nothing to worry about because there are no stress lines on my face [laughs].
I still love eyeliner, my dedication goes so far back.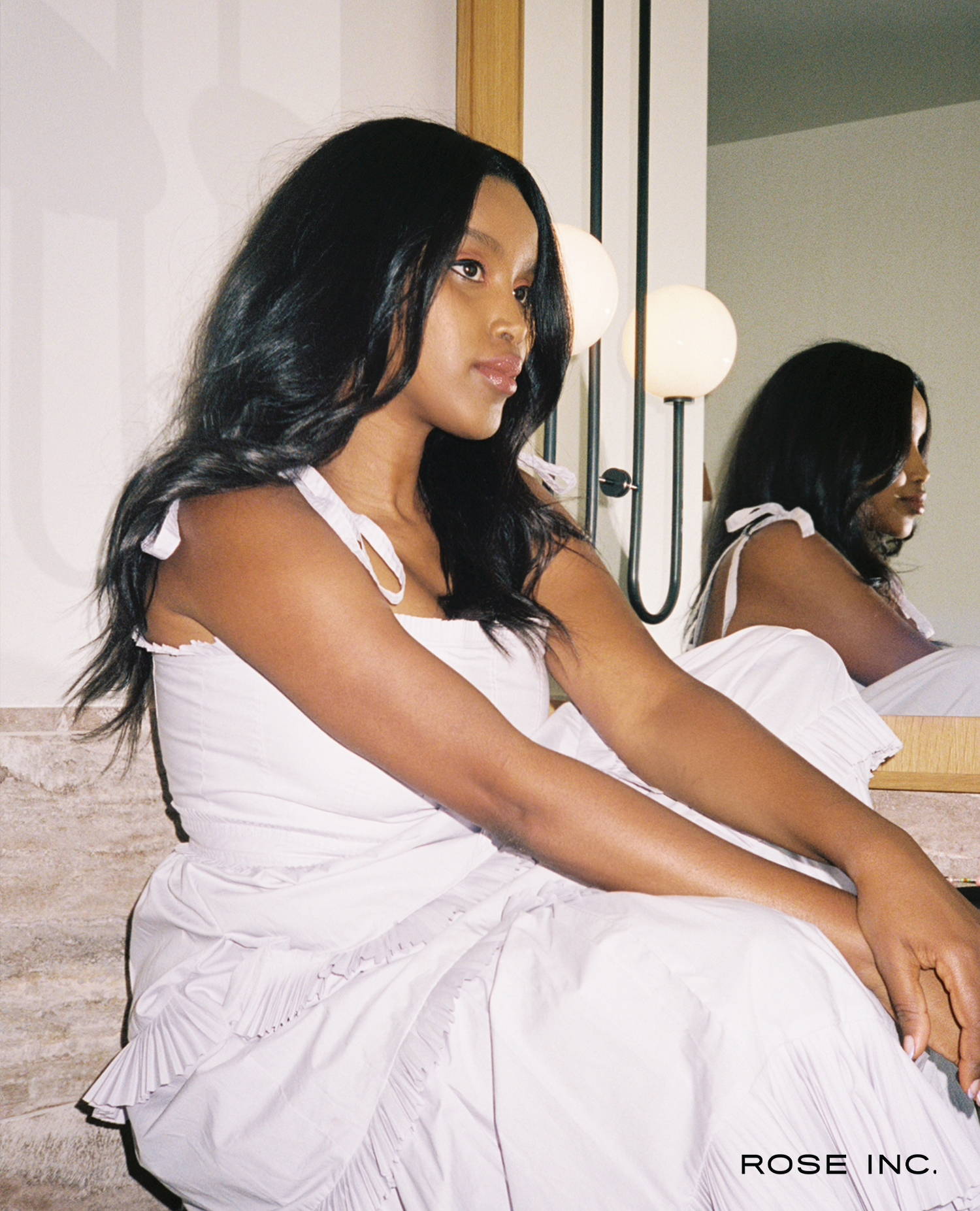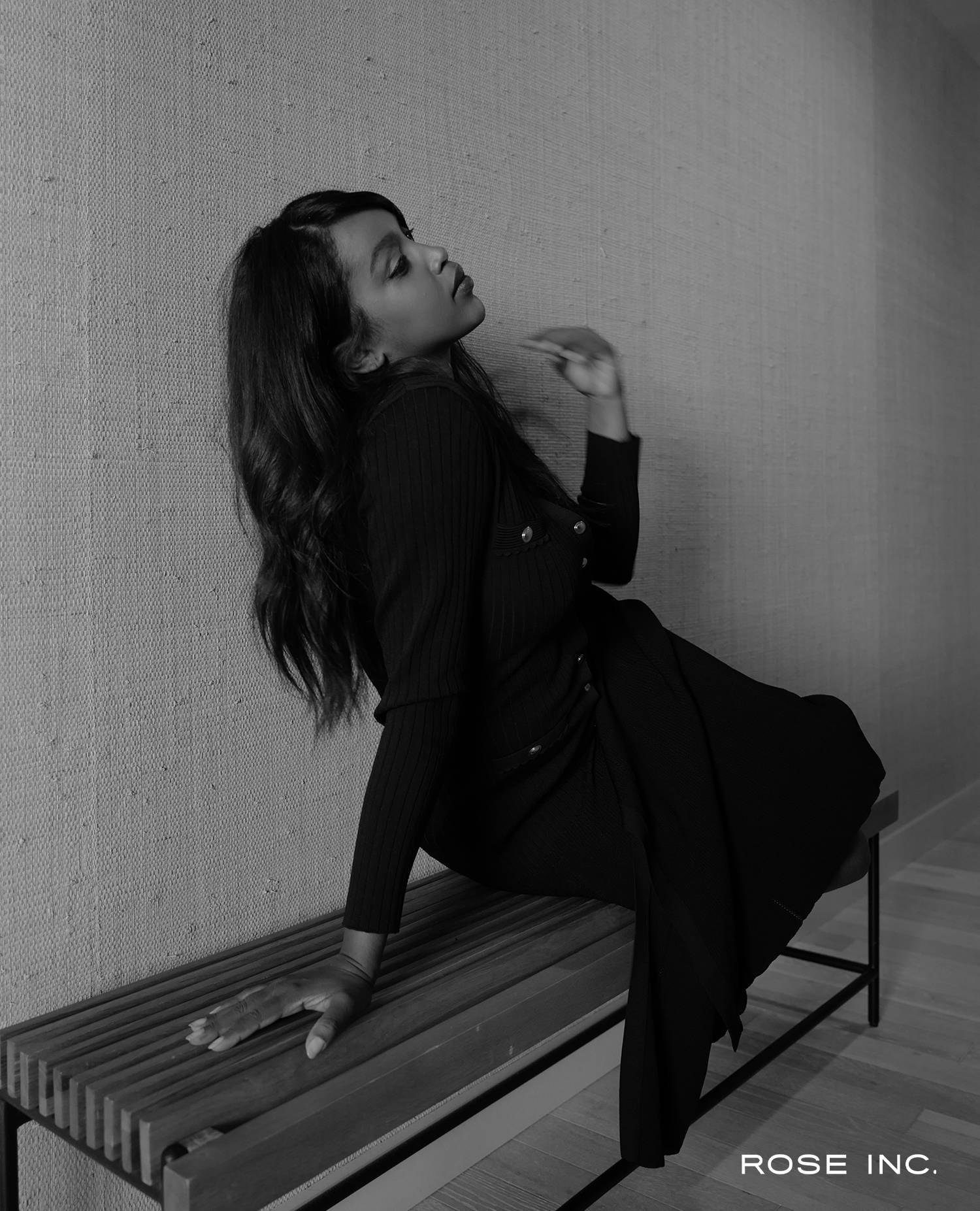 RI:
What does your skin-care routine look like right now?
TA:
I've been loving Dermalogica. They have a Cleansing Gel that my friend recommended which makes my skin feel gentle and smooth. I like it because, instead of a milky emulsion, it foams and when I see foam it tells me it's working. I'll use their PreCleanse if I need a deep clean, I also use the Daily Microfoliant. Some days I have a whole routine and some days I'll keep it light and it's still fine. I think I'm just blessed because my skin doesn't yell at me. I also like Youth To The People, they have a Superberry Hydrate Oil. I'll only use oils on some days and it's usually in the evenings. When I'm really dry, I'm obsessed with Chanel's cream called Sublimage La Creme. It's a super-rich moisturizer that I use at night on my face and down my neck and it feels like butter on my skin. It's also anti-aging and I'm pushing the age where I need to pay attention to all of that.

Being on the West Coast, there's a big emphasis on sunscreen. People need to realize that people of color also burn, I don't know where that misconception came from that we don't. I have this on-again, off-again love of surfing, I start from scratch every few years. The little Canadian girl in me wants to be this Blue Crush character I'm pretty sure [laughs]. I got a really bad burn on my forehead while surfing in high school and pretty much from that point on I've worn products that have sunscreen in them or make sure I have sunscreen applied. I have a new favorite, it's tinted and makeup-y but still sunscreen. It's called Unsun.
I've recently gotten into this website Thirteen Lune, which is great for shopping products from Black- and brown-founded beauty brands. They have everything for your face, hair, and body.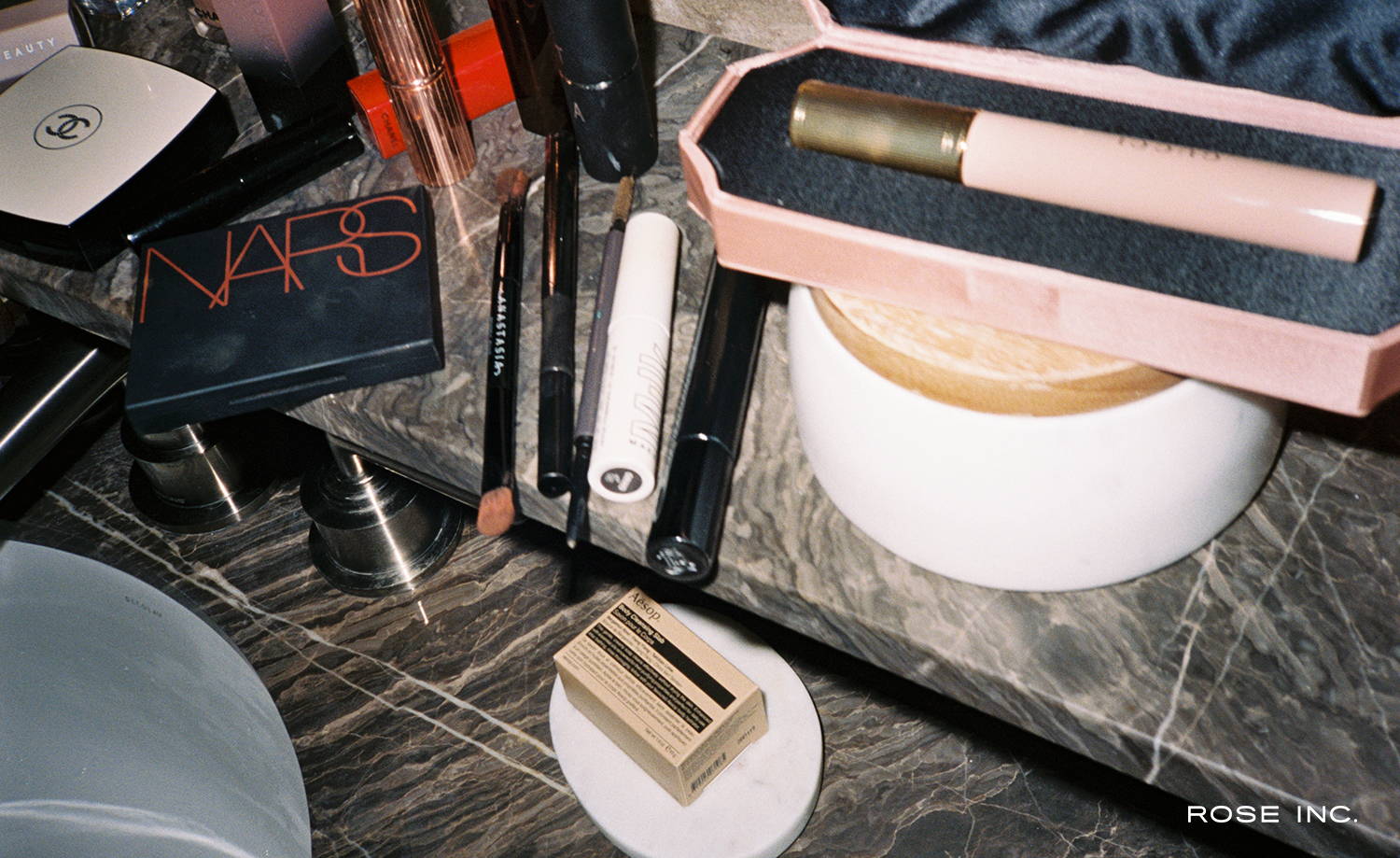 TA:
I still love eyeliner, my dedication goes so far back. I'm an eyeliner aficionado. That's the one thing I can't leave the house without, I'm obsessed. I use this one foundation Vanish Seamless Finish Stick from Hourglass that's the one thing I probably always have to pack if I'm going away somewhere. I use it under my eyes, forehead, underneath my mouth, I use it all over. I love a bronzer, but not too much. I try to be very moderate and do a little down the nose and down the sides of my cheeks. I remember watching an interview with Naomi Campbell and they were like 'what's one makeup trick that you learned backstage?'This was before we wore this trend to the ground, but she was like, 'highlighter in the middle of the bridge of my nose and the side of my cheeks', so I love that. It makes me look alive.
I'm obsessed with Charlotte Tilbury for lips. I love nude and darker lips. The one of theirs I love is So 90s, it's a good muted brown and sometimes I'll use that on my cheeks if I'm lazy. I have thick brows and I know when I fill them in it makes a difference. I love a strong, brushed-up brow. I use Glossier Boy Brow and Benefit Cosmetics products for that.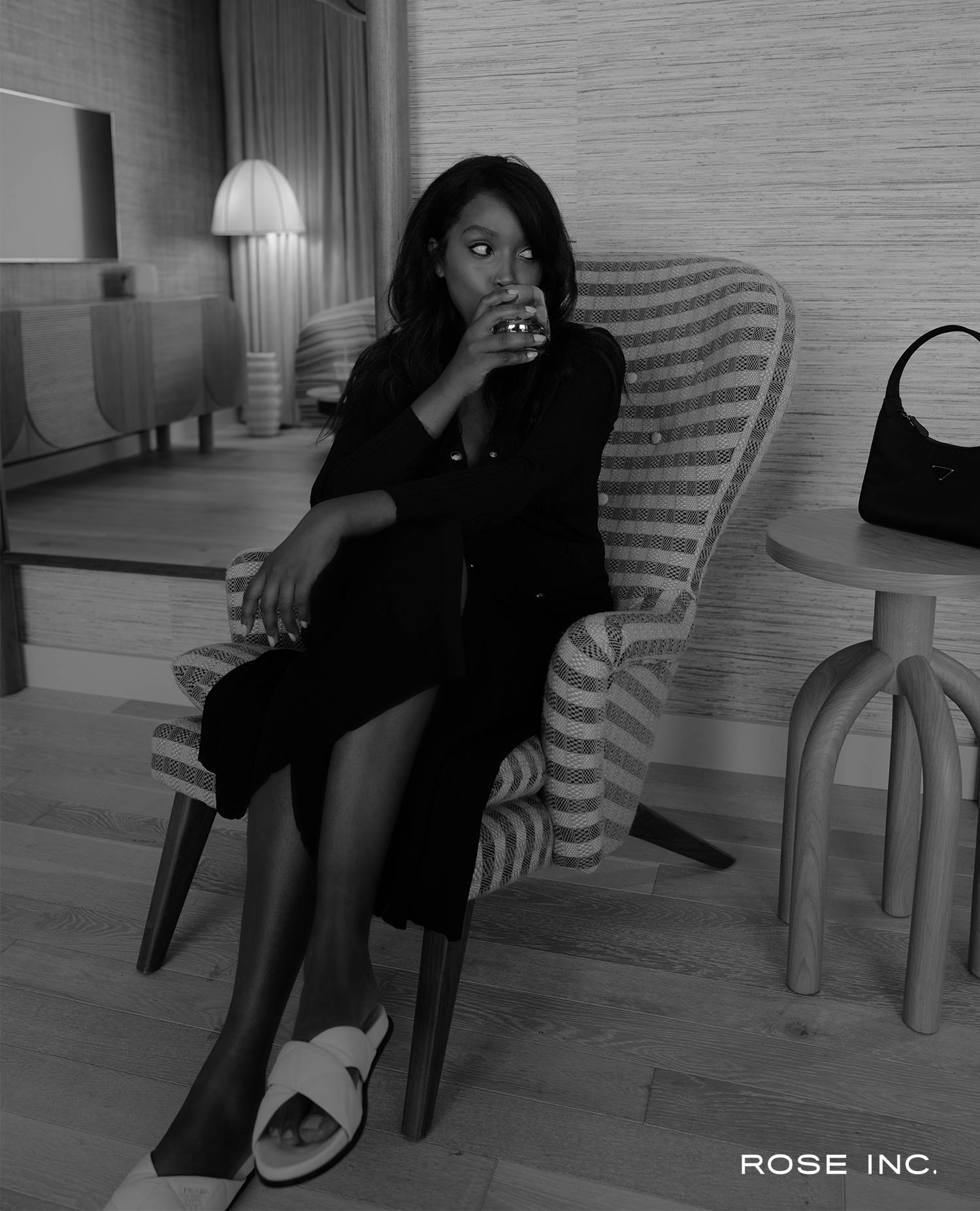 RI:
Any haircare products you love?
TA:
I've been using Pattern Beauty because I'm obsessed with Tracee Ellis Ross. What I use though depends on what I'm going for. If I'm trying to stay with curls, I'll use her products and some restorative brands like Ankh Haircare which is this independent label in L.A. They have this Indra Moisture Mist that I used when I had braids and that helps with dryness on the scalp. I also like Vernon Francois' products.
RI:
What does self-care look like for you right now?
TA:
It can mean so many things to people, it could mean a warm bubble bath to themselves with music and lighting a candle but it also means turning your brain off and taking some time for yourself. Self-care to me has been doing just that, knowing when to stop working and just be at peace with myself and relieve myself of any anxiety or anything I didn't get done. I've been fortunate enough to go on short road trips safely with friends and I've also been spending time with myself, whether it be outside at the park, at the beach, turning my brain off, being in nature, and enjoying the moment.