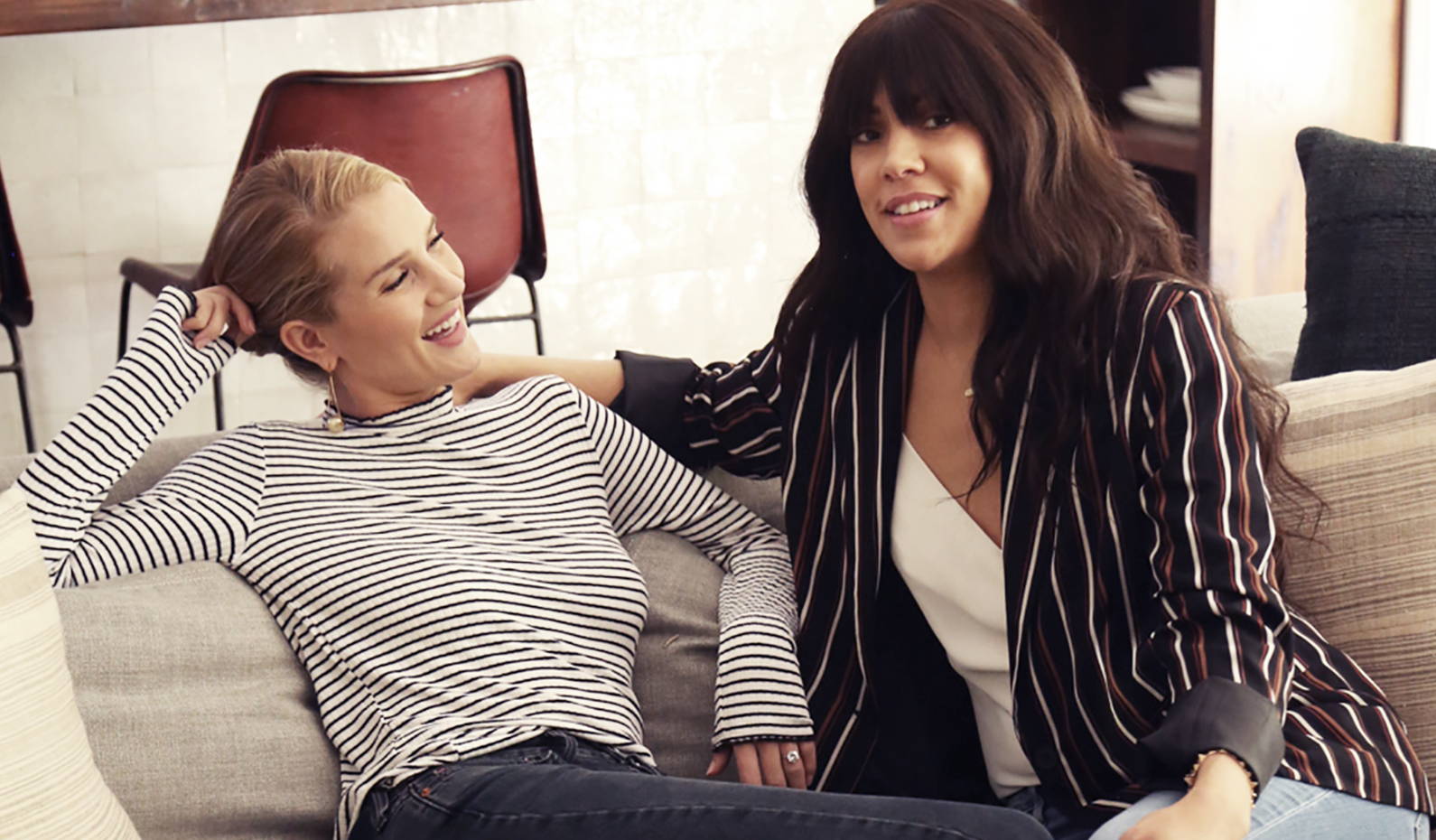 06 / 06
When it comes to skin, expert esthetician Shani Darden is gifted. How gifted, you ask? Well, you could point to her year-long wait list as evidence of how much people want a coveted appointment. Or you might note that some of Hollywood's biggest names trust her with their every pore. Mostly, though, you just have to look at one of Shani's girls (or guys) to see how she transforms even the most troubled complexions. Radiant, healthy skin speaks for itself.
For Rosie, Shani is not just a complexion magician, she's a confidante. Here, the two settle in for a chat about beauty splurges, drugstore steals, and the products that changed RHW's skin for good… actually, make that great. Because when Shani is involved, amazing skin is just what you get.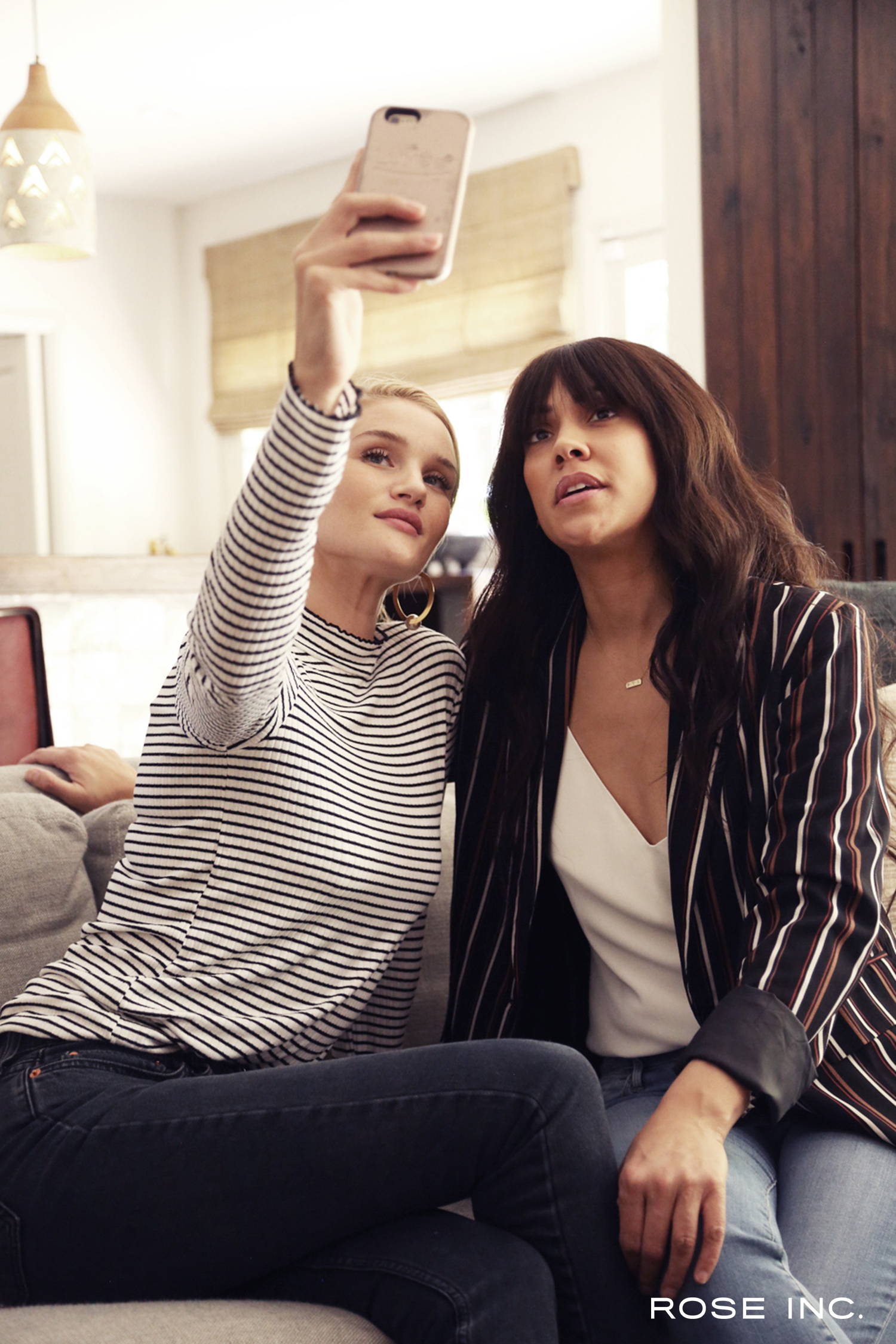 RHW:
So, you have, in my opinion, the best skin of anybody I know.
RHW:
You look fucking 12.
RHW:
Just walk me through your morning and evening routines. What are you using right now?
SD:
Right now, I'm cleansing with Cleansing Complex by iS Clinicals, and I use GeneXC by iS Clinicals. I'm using Supergoop sunscreen. At night, I rotate so much. But let's talk about last night. I cleansed, I used my retinol, and then Dr. Nigma's Serum No. 1. Sometimes I might use a moisturizer, sometimes I use an eye cream, but it depends. With my retinol I don't use an eye cream a lot of the time, because I put it right under my eyes.
RHW:
So I know you don't wear a lot of makeup, but what is your go-to makeup routine? What does it look like, what are your products, what is your inspiration?
RHW:
Okay. So you have five minutes to get out of the door for a really important meeting. What do you do?
SD:
Mascara, blush, undereye concealer. Done.
RHW:
What perfume do you wear?
SD:
Do you know how I found out about it?
SD:
Wasn't it you who said whatever I'd been wearing was so outdated? So I went to Barneys and I said, "What are the cool people wearing?"
RHW:
Frédéric Malle. Carnal Flower by Frédéric Malle.
SD:
So that's what I wear. I love it.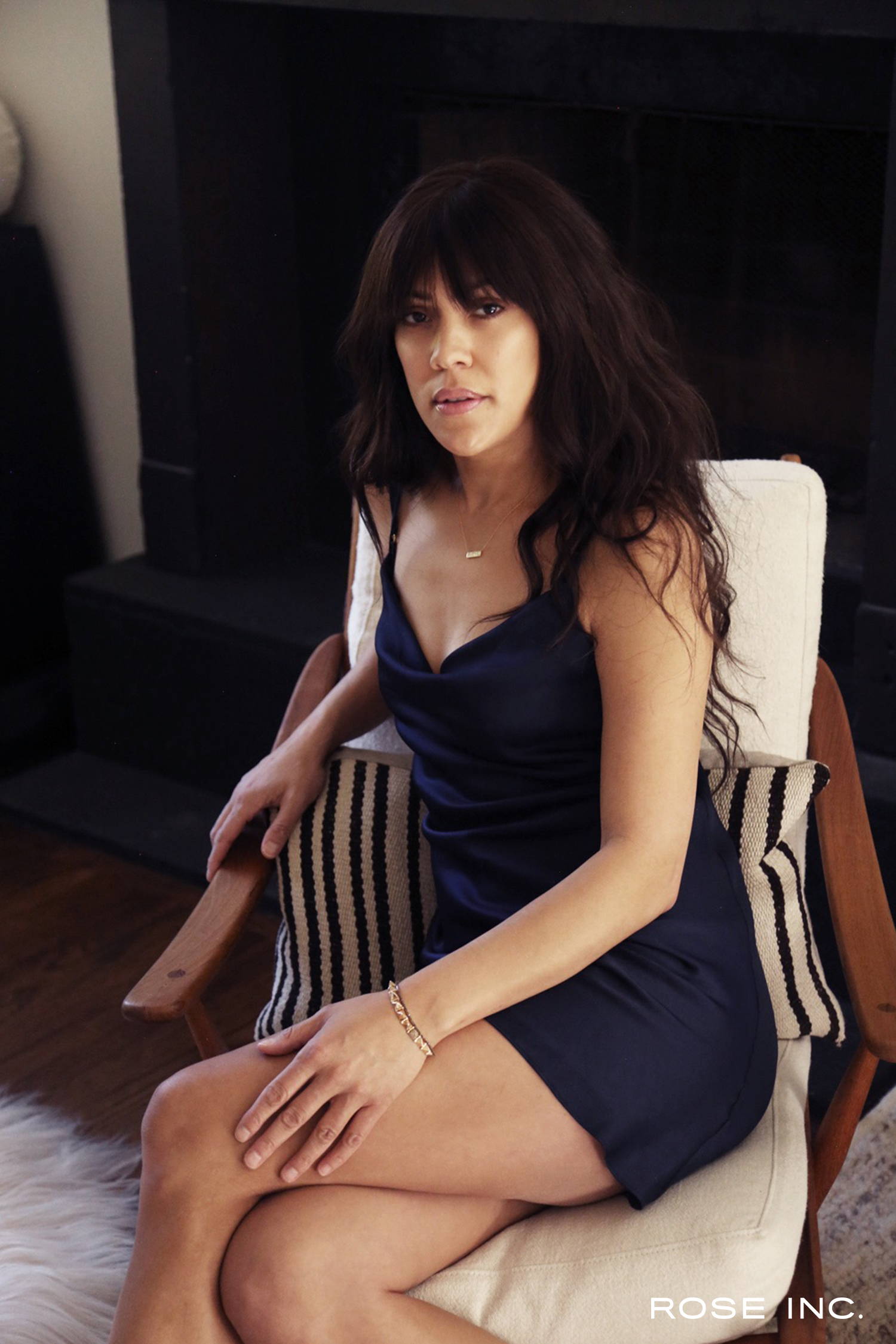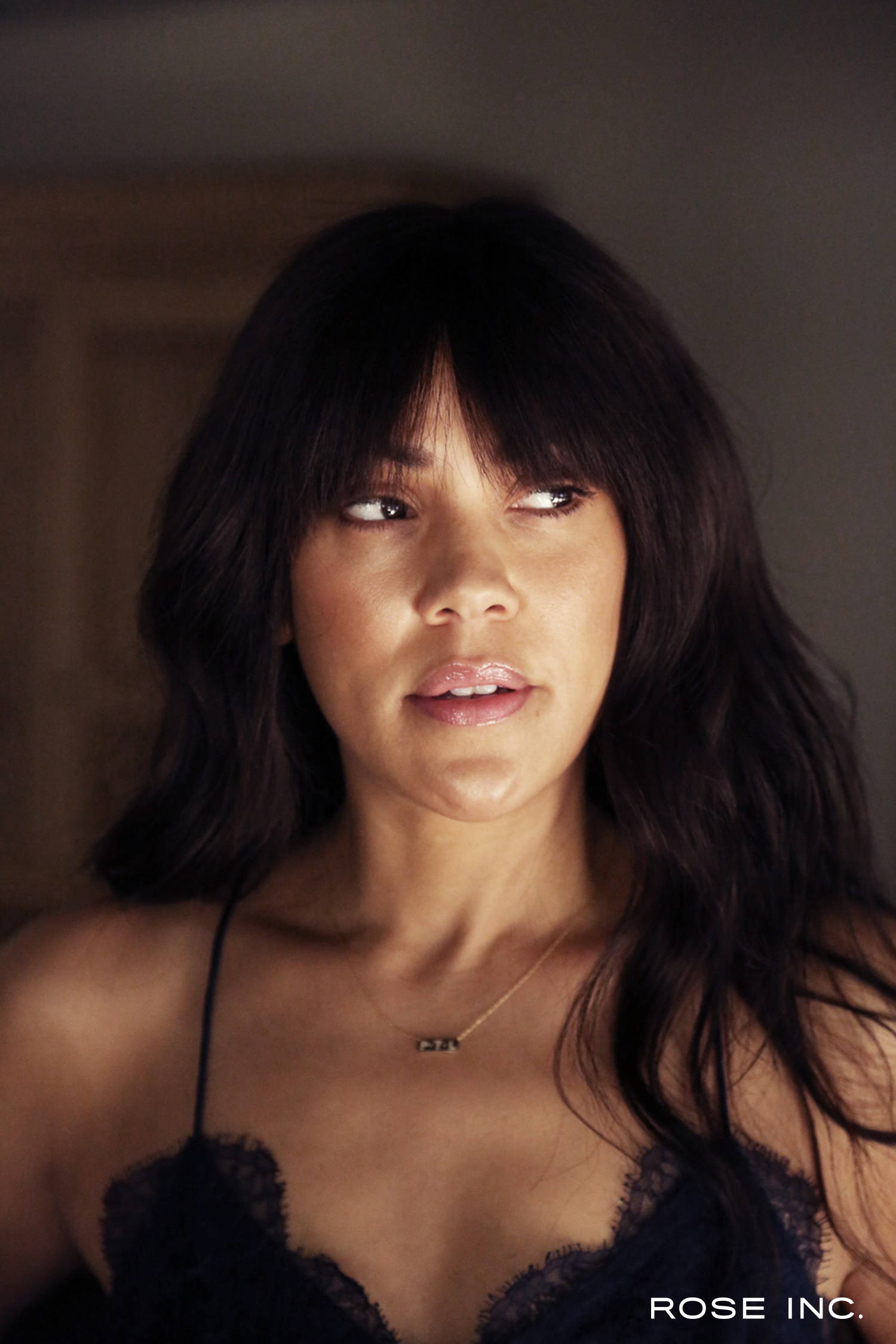 I like simplicity. not overdoing it is my main thing.
RHW:
Which products are always in your bag? Look in your bag right now.
RHW:
Wow, you're so low-maintenance.
SD:
 That's all I need, though.
RHW:
What is your overall philosophy on skin care?
SD:
Keep it simple. Less is more, for sure. Find products that are the most effective. Make sure you're using a serum. They have the highest concentration of ingredients, so serums are better. And, you can keep everything else simple if you're using a couple of good serums.
RHW:
Which beauty rules do you follow and which do you never follow?
SD:
I like simplicity. Not overdoing it is my main thing. I like people to be natural; I think that's the most beautiful.
RHW:
What about in terms of rules for products? What's the one thing that you insist that you do, and you try to get your clients to do?
SD:
Sunscreen and staying out of the sun is the most important thing. And I would love everyone to be on retinol, just because I've been doing this for so long and I see the results.
RHW:
That's one of the beauty rules you've instilled in me: the importance of a great SPF. And you yell at me if I go in the sun.
RHW:
Every time I come back from a Holiday, and I'm brown, you yell at me.
SD:
Well, also because I'm 90, as you said.
SD:
And you're not staying out of the sun, so I know what's going to happen later for you. You're gonna be like, "Oh, my god, I have these crow's feet! What am I gonna do?" That's because of what you're doing at a young age.
RHW:
So what is your go-to sunscreen?
SD:
There are so many different ones. Right now, my kids are using Supergoop, and I love it. It's sort of like a serum. You can wear it under your makeup.
RHW:
And then, which beauty rule or rules do you never follow?
SD:
Layering a million products. I think people are into that. They're like, "Then I use this serum, this serum, and this one, and then where do I put my retinol?"
RHW:
I get that. I want my routine to be a few products that are easy to use. I don't want to layer more than two or three products.
SD:
Yes. I recommend using a great retinol or something else, and another anti-aging serum—a hyaluronic acid serum is amazing for hydration.
RHW:
Which hyaluronic acid serum do you like?
SD:
I mean, I'm obsessed with Dr. Nigma's Serum No. 1. It's one of the best hyaluronic acid serums I've used. It's super hydrating, and so for someone that's oilier, you can use that alone.
SD:
I'm really a big fan of iS Clinicals. They have three vitamin C products. They have GeneXC, which is more of anti-aging, it's a 20% vitamin C. But then they also have Super Serum and Pro-Heal, which are 15% vitamin C. 
RHW:
Pro-heal has been really good to me when i've had acne. When we first started working with each other, my skin was not great. And you put me on active serum for the evening and then pro-heal for the day, and that really, really helped. I've loved their products ever since.
SD:
Yes. And they have a hyaluronic acid serum, Hydra-Cool. A lot of times I'll use Hydra-Cool in the day, because it's lighter, and at night, I use Dr. Nigma.
RHW:
And what do you recommend for a girl on a budget or a girl that doesn't have access to an esthetician?
SD:
Keep everything else basic, and invest in serums. So, even if you were using a good retinol at night, then that would be enough. As long as you have a nice gentle cleanser, and you can get that at the drugstore.
RHW:
Yeah, because cleanser is where you don't have to be crazy. I love Cetaphil—that's my drugstore find. Because with cleanser, you're washing it off.
SD:
Yes—a gentle cleanser, very simple so you don't strip the skin. I also love micellar water to remove makeup. Then after that, it's nice to have an antioxidant in the day, like a vitamin C serum. And then, using something like a retinol or a glycolic or salicylic or a lactic acid serum at night, depending on your skin type.
RHW:
What beauty ritual or treatment does it for you every time?
SD:
A peel. A chemical peel. I die for them.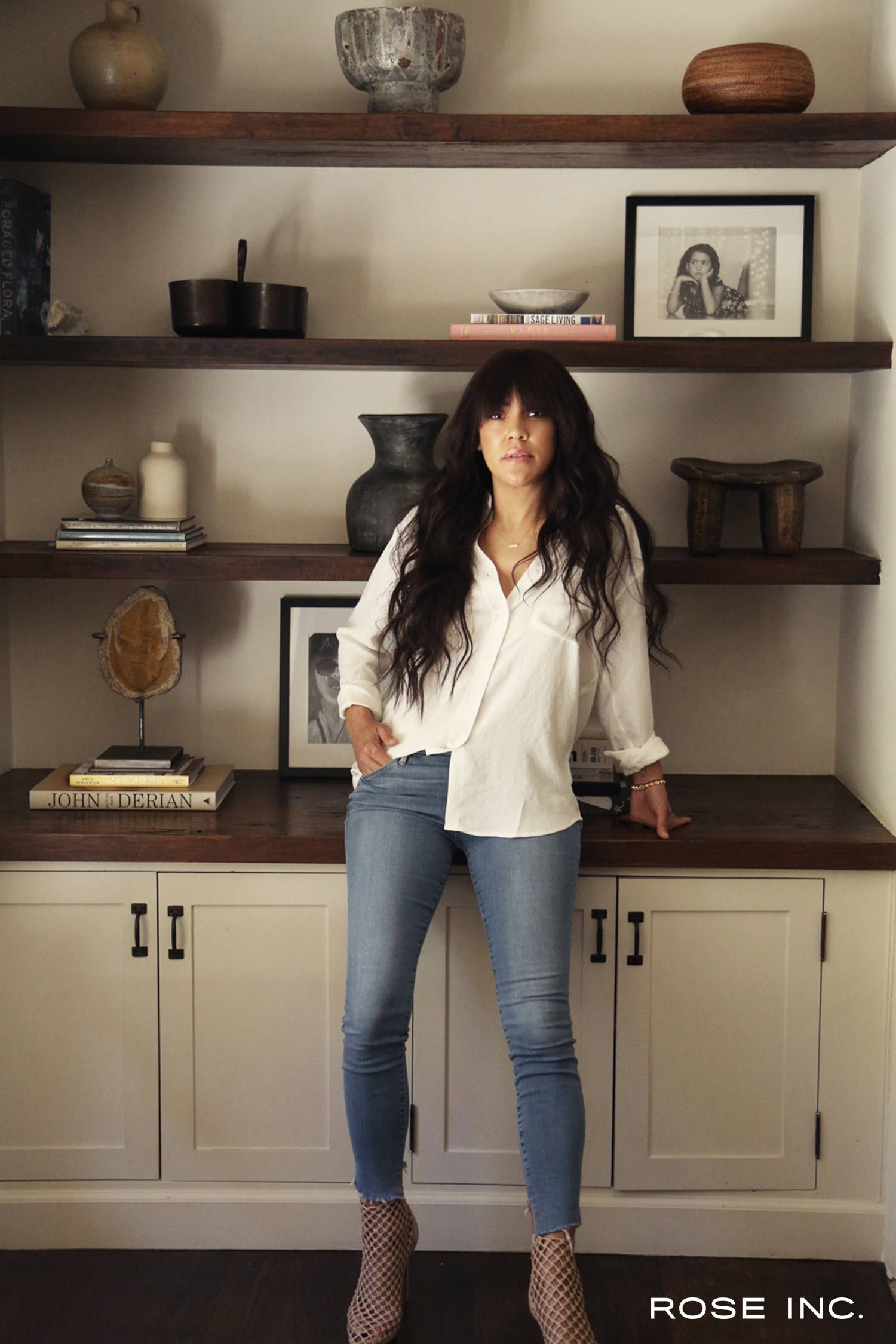 Keep everything else basic, and invest in serums.
RHW:
Your retinol is so famous, and it's one of my favorite products to use. And I know that you're coming out with more.
SD:
I've just released Texture Reform. That product came out because of you, because I was trying to change some ingredients with my retinol, and you were like, "I need this."
RHW:
What sets that apart from the other things that are out there right now? What is that your love about it so much?
SD:
The reason I made a retinol is because I worked for a dermatologist, and I became obsessed with the changes that I saw in people's skin. And I decided that I wanted to make one that wouldn't thin your skin or cause irritation.
RHW:
Some retinols I find are really abrasive. They're too harsh; They strip the skin. And I can use your retinols almost every day or every other night. I feel like I wake up and i've got new skin every morning.
SD:
Right. So, that was Retinol Reform, which I love. And then, I didn't see it a lot, but some people were saying that had sensitive skin, and they couldn't use it. So now, Texture Reform is a retinyl palmitate, probably the most gentle form of a retinol. So what that means is that it's not as strong. You're not going to get the result as soon, but you're not going to go through the irritation.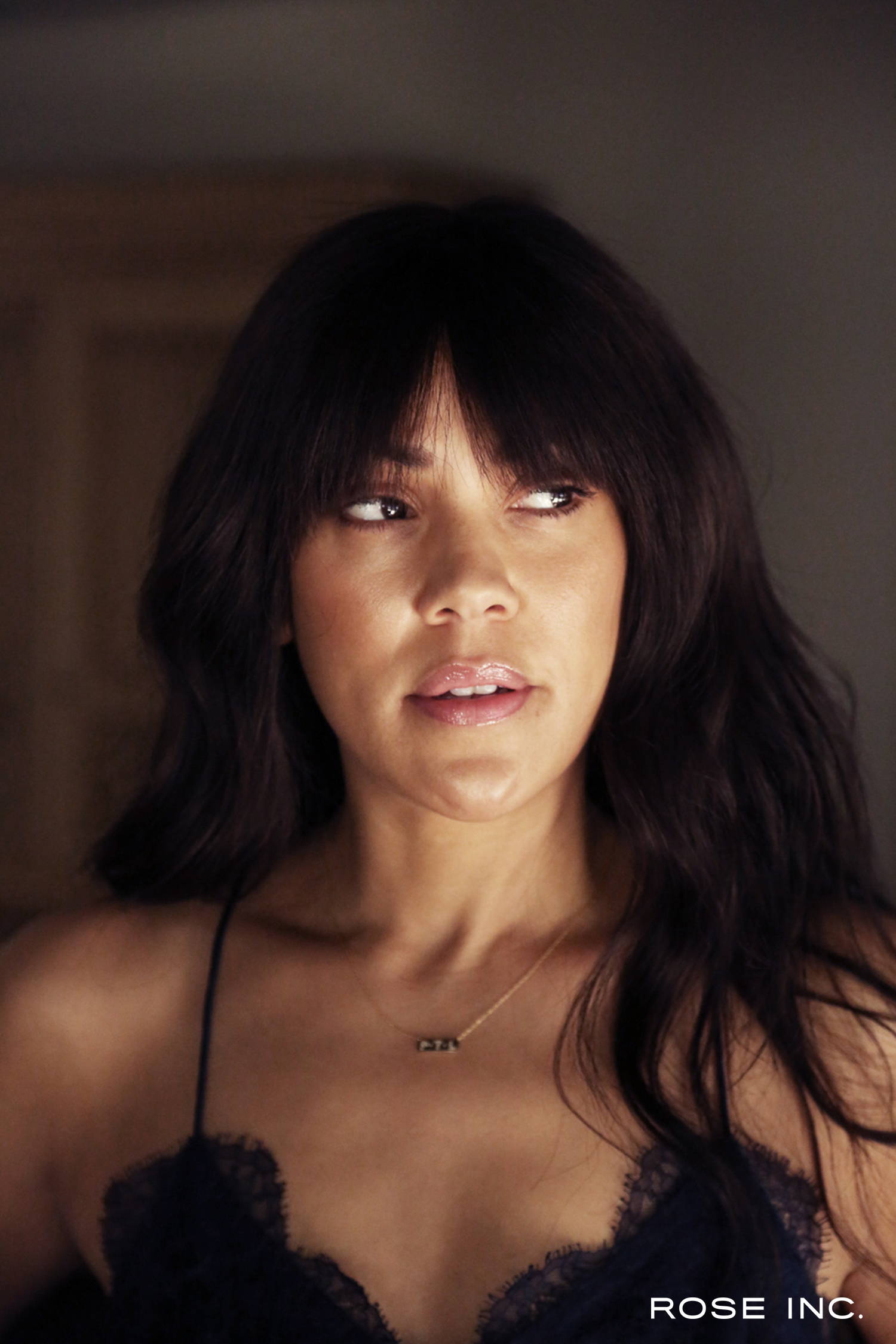 RHW:
So when can people use retinol and when should they avoid it? This was a big conversation that we had when I was pregnant.
SD:
You can't use it pregnant or breastfeeding. You do not want to use it if you're someone who wants to be in the sun, because you'll become sun-sensitive, so that's out. And, you use it at night, and you want to start, you always want to go into it gradually. Start with once a week and then build up.
RHW:
What would you say you invest most in with beauty?
RHW:
Your hair is very extravagant. You have the best hair.
SD:
I mean, what are you talking about? There couldn't be much more weave. I'm big on my face as far as peeling and extractions, but my hair is all that matters. I just want my face to be young forever and to have good hair!
RHW:
Well, who doesn't want that? So your biggest extravagance is your hair. What is your biggest steal?
SD:
Cleansers. I use the iS Clinicals cleanser, but I can also use Garnier Sulfate-Free Cleanser. And moisturizers don't mean as much to me as a serum or a retinol. I think that you can have a very basic moisturizer because the most potent things that you're going to get are in a serum. So I'd rather have that in a serum, and then my moisturizer could be from a drugstore. Garnier Moisture Bomb is a good one.
RHW:
What do you consider healthy skin? And how can people make their skin healthier?
SD:
I'm not a big fan of makeup. I don't want to say not to use it, because it also can protect you in a lot of ways from the sun, but overdoing it is always going to cause congestion. And in finding the right products for your skin type, and having that natural look, you're always the most beautiful.
RHW:
Which skin care ingredients do you think everyone should be using?
SD:
Retinol. By the way, this all depends on the skin type. Someone with acne, I think you have to have something with salicylic acid in it. I think, for sure, retinol. I love azulene, it's super calming, it's great for acne. Hyaluronic acid.
Beauty is really in your personality.
RHW:
So for somebody with acne, what would you recommend?
SD:
It depends on how bad their acne was, but I love a retinol for that. However, it might not be my product, it could be a prescription brand. I love Tazorac, it's one of my favorites. It just depends. I love sulfur, I love azulene.
RHW:
Here's one big question: how do you define beauty?
SD:
I would say beauty is really in your personality. I think it's about being kind, and confident, and just being nice. I feel those are the most beautiful people. Especially someone who is just confident—someone not hiding.
RHW:
Last question. What is the biggest lesson you learnt so far in life?
SD:
To be kind. To try to just be nice to everyone—that's my biggest lesson. Lift people up.
RHW:
Nice. That's it. We're done. Wheeeee! Thank you, babe.