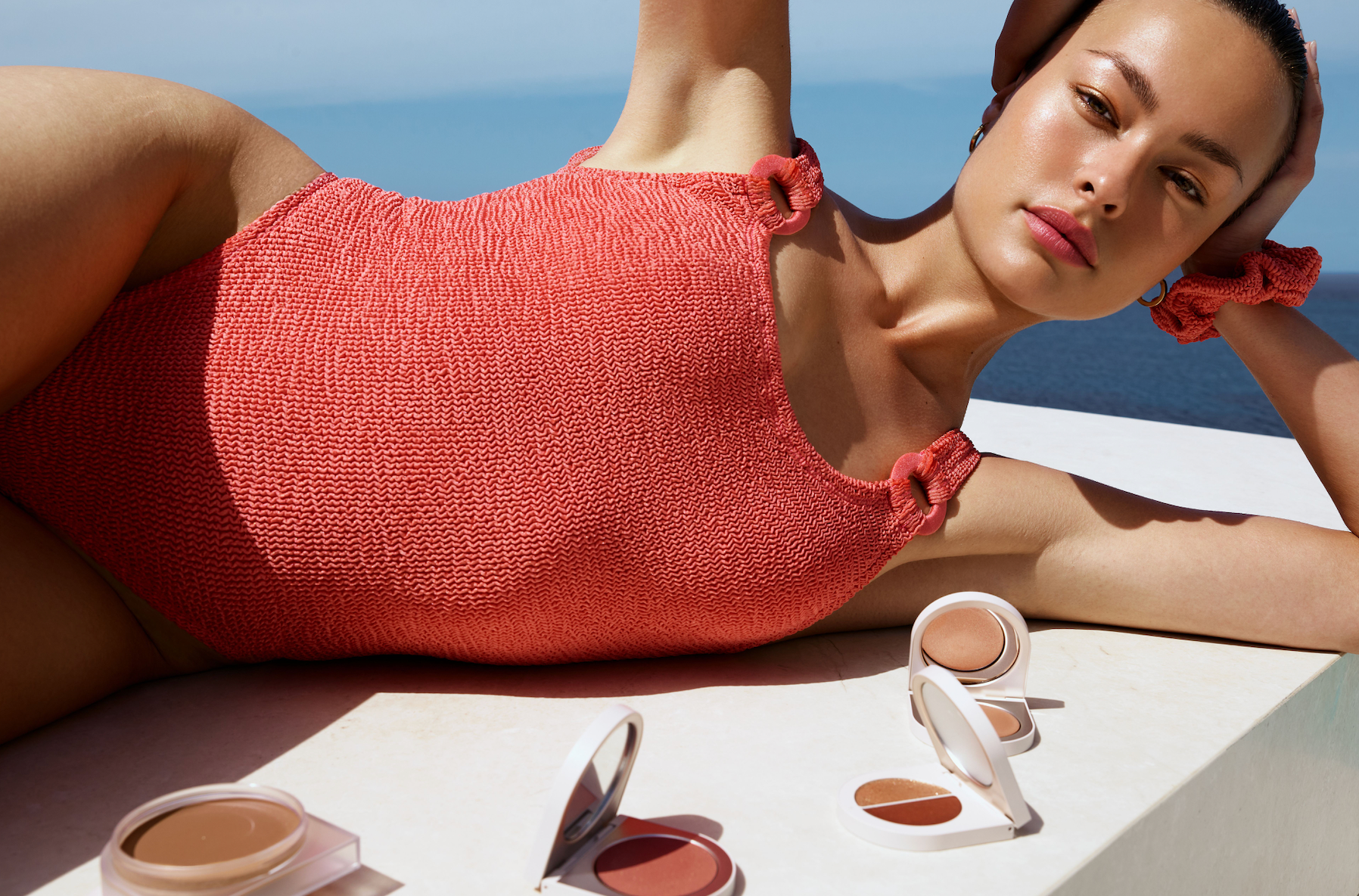 The Secret Behind The Glowing Makeup At Rose Inc's Summer Shoot
Profile
It's been nearly five years since Rosie Huntington-Whiteley broke the Hunza G site after she shared selfies in their Domino one-piece style swimsuit in Blush from a beach in Italy. Rosie has been a fan of the swimsuits long before the viral moment in 2019, so it's only natural that Rose Inc is now collaborating with the elegant, heritage swimwear brand known for their use of top-of-the-line lycra. 
For this exciting collaboration, Rosie worked closely with Hunza G's Georgina Huddart to design limited edition suits, with matching scrunchies, that come in three colors–Metallic Pearl, Rosewood and Spice– and three styles– "Christy," a classic one-piece, "Iman," a bikini, and "Yasmeen," a single shoulder one-piece. Each piece is inspired by Rose Inc's color palette and pairs nicely with our made-for-the-summer products, such as our pigment-rich Solar Bronzers & Highlighters. 
In honor of this collaboration launching June 6, we are taking a behind the scenes look into the campaign shoot, shot in Ibiza, with makeup artist Bea Sweet. Sweet breaks down the key products used, application techniques and more, below, to help you achieve a next level glow– while wearing your Hunza G x Rose Inc suit– just in time for summer.
RI:

What was the inspiration behind the makeup looks for this shoot?

BS:

We were in such a beautiful location it was really hard to not get swept up in the ambiance of that, which is exactly what happened… guilty!  I wanted the models to look and feel amazing. So much of this brand is about how you feel as well as how you look.  The ocean air there was fresh and the sun warmed the skin. I wanted the girls to look like they were sun kissed, glowing and wearing colors that emphasized their natural beauty.

RI:

What were the key products used?

BS:

Solar Highlighter on the cheekbones. This product is such a hero because of its radiance, glow-from-within shine and ability to make the high points of the face "pop."  I also used Solar Bronzer across the forehead and nose. It's definitely now a go-to product because of its buildable capacity and sheer radiance. It's perfect to get that "10 days in St. Tropez" tan without looking like you're wearing any makeup. I wanted to emphasize these items on places where the sun would naturally hit– especially the cheekbones and noses.
"I wanted the girls to look like they were sun kissed, glowing and wearing colors that emphasized their natural beauty."
RI:

What was your favorite application technique of the day?

BS:

Using the Number 6 Highlighter Brush I swept the Solar Highlighter over cheekbones and used my finger to dab it onto eyelids for a more direct application.

RI:

If the shoot day could be a playlist, what would it be and why?

BS:

We were in a villa overlooking the ocean and beaches, the kind of place dreams are made of.  Everyone was happy to be in the sun and we had good music all day with speakers. The songs, which I'll also be listening to all summer long, would be a lot of throwbacks like "Summer Breeze" by Type O Negative, "Mesa Rendonda" by Hermanos Gutiérrez and "The Rat" by The Walkmen.  I just discovered a Queer Indie band called Boyish who were supporting my friend Rachel Chinouriri on tour and I fell in love with a song of theirs called "July," too.
SHOP SOLAR x HUNZA COLLECTION
---
---