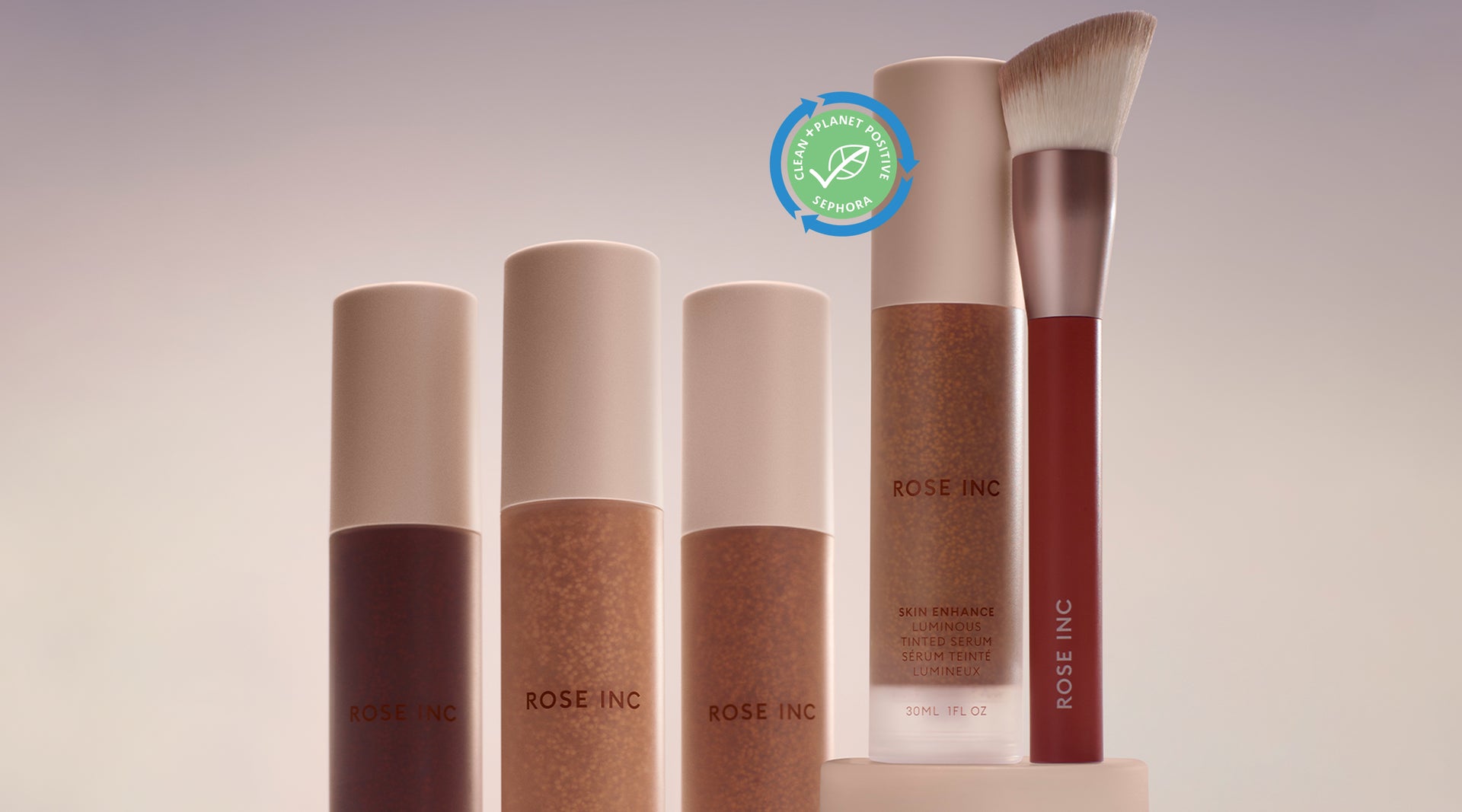 Our Editors Pick Sephora's Best Clean & Sustainable Beauty Buys
Education
"Is it clean?" This is the beauty question on all of our minds as of late. You're more likely to run across buzzwords like non-toxic, clean and green while perusing beauty products now than ever before, but what do any of these terms actually mean? It has as much to do with the lack of regulation around these popular words as it does the ever-evolving list of potentially dangerous ingredients. Further, new developments on the true impact of certain ingredients — both on our bodies and the planet — pose yet another hurdle to truly enjoying the products we buy without guilt. How does one navigate the confusing waters? Sephora has a fail-proof system.
Thanks to Sephora's "Clean" and "Clean + Planet Positive" shopping categories, it's easier than ever to decipher exactly which products align with their values. Qualifying items are identified with impossible-to-miss green emblems signifying they adhere to the Clean at Sephora criteria. Seeing these seals means the product is formulated without ingredients that are known, or suspected to, cause harm to human health or the environment. There are more than three dozen ingredients that are restricted or prohibited altogether — things like parabens, plastic microbeads and oxybenzone, for example, are banned.

A step above that is the retailer's newer "Clean + Planet Positive" accolade, which identifies brands and products that not only pledge to stay away from the aforementioned no-no ingredients, but also have climate commitments, sustainable and cruelty-free sourcing, responsible packaging and prioritize other important initiatives. Among the stellar brands that have earned both of the emblems? Rose Inc. Every last product the brand offers was created with clean and sustainable ingredients in addition to being non-comedogenic - an absolute must for founder Rosie Huntington-Whiteley. Not to mention the pioneering micro-encapsulation technology utilized in the brand new complexion staple, Skin Enhance Luminous Tinted Serum.
Shop Our Editors' Clean Sephora Picks
Whether you're new to clean and sustainable beauty or just looking to refresh your routine with some new products, we've got you covered with even more picks readily available at Sephora. Keep scrolling for team Rose Inc's eco-conscious favorites.
Courtney Higgs, Managing Editor
Farmacy Green Clean Makeup Removing Cleansing Balm ($34)

"This is my go-to cleansing balm. It melts everything from waterproof mascara to sunscreen with ease."

Rose Inc Modern Essentials Clean Color Gift Set ($35)

"Blush, brow gel and a subtle lip color are all I need on a low-maintenance makeup day."

Dr. Dennis Gross Alpha Beta Universal Daily Peels ($88)

"I've been devoted to these gentle, acid-soaked sheets ever since I learned years ago that skincare guru Shani Darden recommends them to all her celebrity clients."
Connie Cheng, Social Media Manager
Rose Inc Brow Renew Clean Tinted Eyebrow-Growth Gel ($26)

"This is my new favorite everyday must-have since I have realized the importance of conditioning my brow hairs. It's buildable, smudge-proof and sets my brows in place all day."

Summer Fridays Heavenly Sixteen All-In-One Face Oil ($54)

"I have acne-prone skin and this is the only oil that doesn't break me out. I love how it's packed with fatty acids, vitamins and antioxidants."

Tatcha The Kissu Lip Mask ($28)

"I live in NY and with winter approaching, this lip mask is the only product that deeply hydrates my lips. I love the non-sticky gel texture and anything that is formulated with peach."
Lexy Lebsack, Director Of Editorial
Biossance 100% Sugarcane Squalane Oil ($32)

"The ultimate after-shower moisturizer, I spike any boring 'ol body lotion with this oil to supercharge its hydration or just apply it straight to damp skin."

Rose Inc Skin Enhance Luminous Tinted Serum ($49)

"Nothing like the greasy tinted moisturizers I've tried in the past, this tinted serum is sheer and lightweight with the perfect amount of coverage. I buff a few pumps over my face using a dense foundation brush in under 30 seconds — and that's really it! It's the perfect no-makeup makeup base."

Rose Inc Softlight Concealer ($30)

"A few dots patted over my tinted sunscreen is my perfect minimal makeup day. It blends well and never gets cakey or dry by evening."
Akili King, Associate Manager of Digital
Rose Inc Blush Divine ($30)

"I love a dewy glow — especially in the winter! The Blush Divine definitely delivers this for me. I love that I can use it on both my cheeks and lips, perfect for when I'm on the go or carrying a small purse. It's great for touch-ups throughout the evening on a night out. I have very sensitive skin and this product doesn't break me out! "

Tower 28 Beauty SunnyDays SPF 30 Tinted Sunscreen Foundation ($30)

"I have sensitive, eczema-prone skin and so I don't like wearing a ton of makeup every day. I love Tower 28 because it's designed for those with eczema! I'm also a lover of mineral sunscreen because it's better for your skin and the environment. It's hard to find one that really works without leaving a white cast, but since these are tinted, it really helps and it's much more lightweight than a normal sunscreen and foundation, both of which can sometimes clog pores."

Olaplex Bond no. 3 Hair Protector ($28)

"I like to do deep treatments before I shampoo my hair so that I protect it from drying out are getting stripped of its moisture. Olaplex really helps with that while also repairing any damage. I also love that it has jojoba oil in it!"
Marielle Sales, Photo Editor
Necessaire The Body Wash With Niacinamide ($25)

"I love the fresh smell and how a little bit goes a long way! Definitely worth trying out if you're looking for a new moisturizing body wash."

Topicals Like Butter Mask ($32)

"This has been recommended to me by so many people that I knew I had to try it. As someone who suffers from psoriasis and overall dry skin during the winter, I'm excited to have this hydrating cream in my routine this season."

Rose Inc Brow Renew Clean Clear Eyebrow-Growth Gel ($26)

"I love this clear brow gel and how the soft brush grooms brow hairs perfectly. Even without tint, the squalene and vitamin E adds volume and conditioning to my brows naturally."
Each product featured on Rose Inc is independently selected by our editors. When you buy something through our retail links, we may earn an affiliate commission.