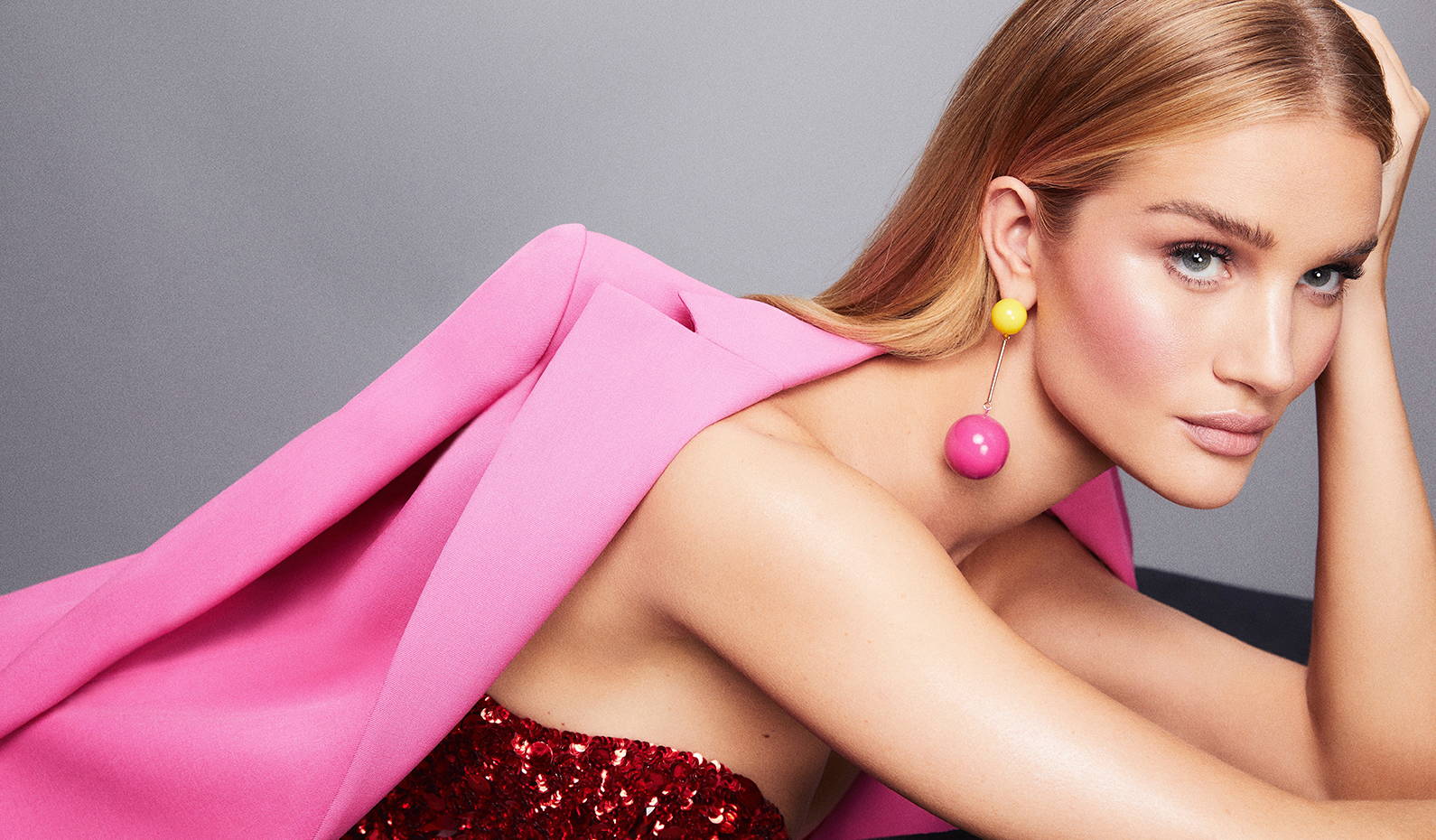 06 / 22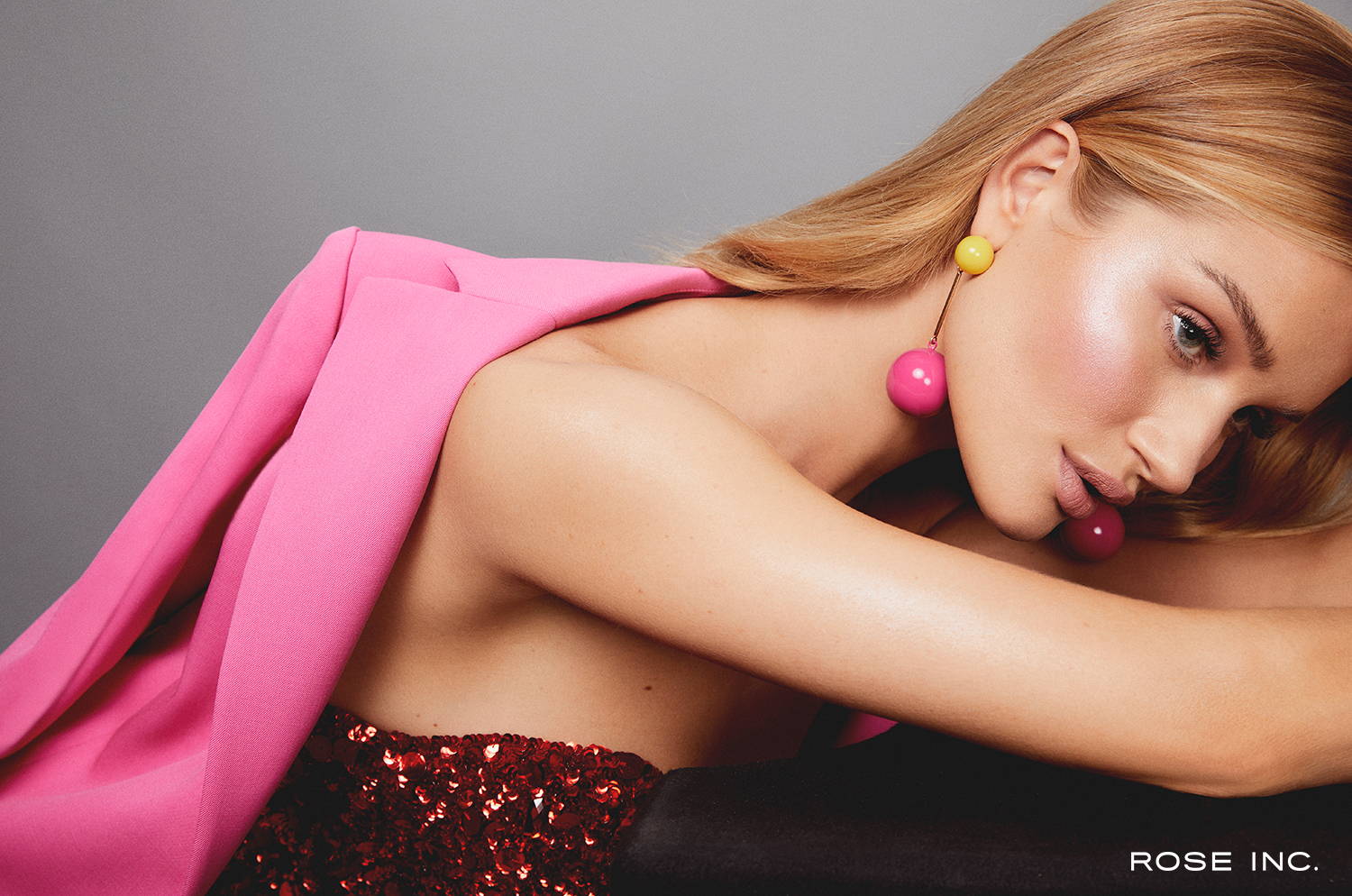 It's 8 a.m. on an uncharacteristically drizzly morning in Los Angeles. Inside Milk Studios, there's a palpable energy as the team comes together for Rose Inc.'s first-ever photo shoot. Makeup artist Katie Jane Hughes and hairstylist Christian Wood sit at a table, poring over folders stuffed with ideas and visual inspiration. Photographer Kai Z Feng pulls up a chair to discuss the overall feel he's aiming to capture—a more personal view of Rosie. RHW, too, has come prepared: her iPhone's camera roll is brimming with everything from vintage Vogue beauty shots to color combinations plucked from Ed Ruscha paintings.
After a quick bit of discussion (and a second round of matcha lattes) the team settles on the day's first look: a peaches-and-cream face with a modern twist. "I love this trend of wearing blush high on the cheekbones," RHW says. With that, she's off to the hair and makeup chair, where Millie Machado paints a glossy red manicure (Essie Gel Couture in Drop The Gown) as Wood and Hughes get to work. RHW snaps a few Polaroids, swiftly changes into a killer Oscar de la Renta bustier and pink blazer/trouser combo, then steps in front of the camera. Feng brings it all into focus. And that's when the magic really begins. Here's how to re-create a little bit of it for yourself.
It's kind of an undone lip, to look like she hasn't really don't anything.
CHEEKS
Here, Hughes used two shades of Surratt blush—Cherubique and Barbe à Papa—and Nars The Brightener brush to buff color from the apples of RHW's cheeks upward into her hairline. "Take it a little bit into the hairline, near the forehead, over the eyelids, and a little bit on the shoulders and collar bone," Hughes says. "If you see color, you've gone too far. You should literally just see tone—like a hue shift." For extra radiance, she dusted cheekbones with the highlighter from Col-Lab Contour and Glow Cream Sculpting Palette. "Use a fan brush to sweep it over with the lightest, featheriest of touches," she says. "It will look amazing."
LIPS
"It's kind of an undone lip, to look like she hasn't really done anything," Hughes says. But of course, Hughes did do a little something. First, she shaded the corners of RHW's lips with Lorac Pro Matte Lip Color in Greige. Next, she pressed Tom Ford lipstick in First Time into the center of the lip, diffusing outward. And on to hair…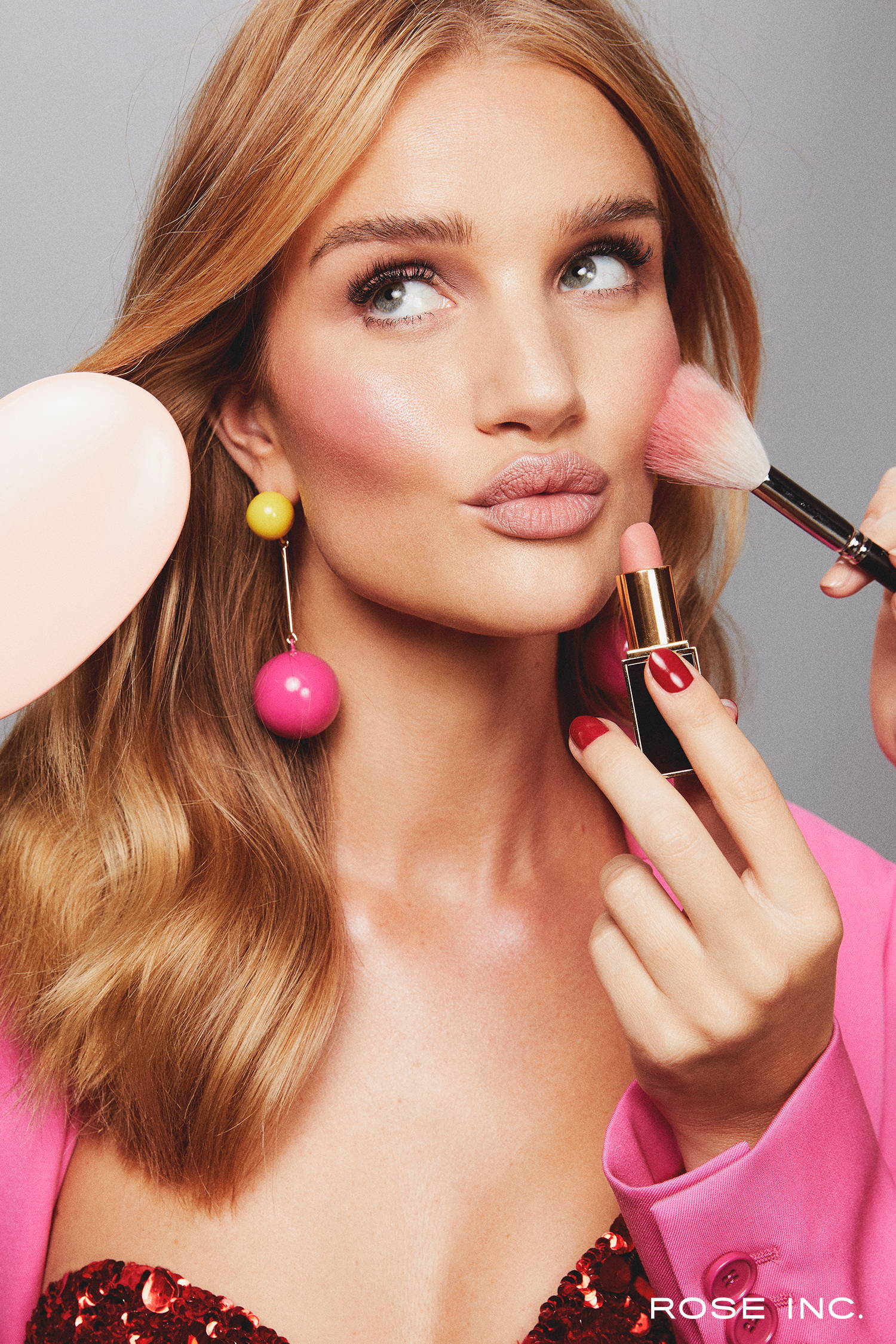 HAIR
"This hairstyle has a modern Brigitte Bardot vibe," Wood says. The foundation of the style: a good blowdry. That entailed applying Wella EIMI Sugar Lift Root Spray to damp roots, followed by a splash of Wella Light Luminous Reflective Oil. "Put a drop or two in your hand, warm it up, and run it through all of the hair for a bit of texture and luster," Wood says.
Then, using an Ibiza round brush, he began to dry RHW's hair smoothly, moving from the nape of the neck up to the crown. When Wood reached the crown, he directed hair upward while drying. ("That's to add a bit of volume—or a sex bump, as I like to call it," he quips.) To create a "sleepy-looking" bang, he sectioned the front of the hair and dried it forward and downward.
After the blowdry, Wood reached for his GHD Curve Soft Curl Iron. Starting at the nape of Rosie's neck, he gently wrapped hair around the wand and held it for five seconds before releasing. "This gives a loose, soft bend to the hair," he says. Toward the front, he curled sections away from RHW's face to give movement and fullness. Using a Mason Pearson bristle brush, he softened and shaped the curls. The finishing touch: Wella EIMI Dry Me dry shampoo on the roots for volume, plus a quick misting of Wella EIMI Stay Firm hairspray to lock down flyaways. A couple of Polaroids later, the day's first shots were ready to begin.