09 / 10
EDUCATION
An Expert Technique To Find Your Skin's Undertone At Home
Are you warm, cool, or neutral? Determine
your skin's undertone with these simple and easy tips to make online shopping far easier.
Choosing the most flattering makeup shades for your complexion is a personal experience that goes beyond determining your favorite colors or shade matching your old foundation. Even the most captivating hues can look misplaced on the skin if one's undertone isn't considered, and given the rise of online shopping since the beginning of the global COVID-19 pandemic, purchasing complexion products remotely is the new normal.
While there are definitely benefits to buying makeup from home, it requires a new strategy. In-store swatching has been usurped by virtual try-ons, like the brand new
Rose Inc shade finder
, which utilizes AI technology to identify your undertone and help you select the perfect concealer shade for your complexion. These technological advances are impressive, but the fact still remains that adding the wrong shade to your cart negates any and all convenience. One vital piece of the 2021 shopping puzzle is to first determine your skin's undertone, so we checked in with three leading experts for a tried-and-true strategy, below.
What exactly is an undertone? "Undertone is the hidden color underneath your skin that makes your overall complexion appear cool, warm, or neutral," says celebrity makeup artist Melissa Hernandez. "Unlike your skin tone, which often changes according to the season, your undertone never changes." That means you might share the same undertone as a friend but wear totally different shades. Understanding one's undertone allows for easy, stress-free shopping from home, which saves time, money, and disappointment.
There are three types of skin undertones: warm, cool, and neutral. Each can be found on people of all skin tones and types and play a major role in how beauty products look on you. Regardless of how well a foundation or concealer shade matches your skin color, it's what's underneath that counts. Selecting the wrong undertone can result in one's complexion looking dull, flat, or unbalanced.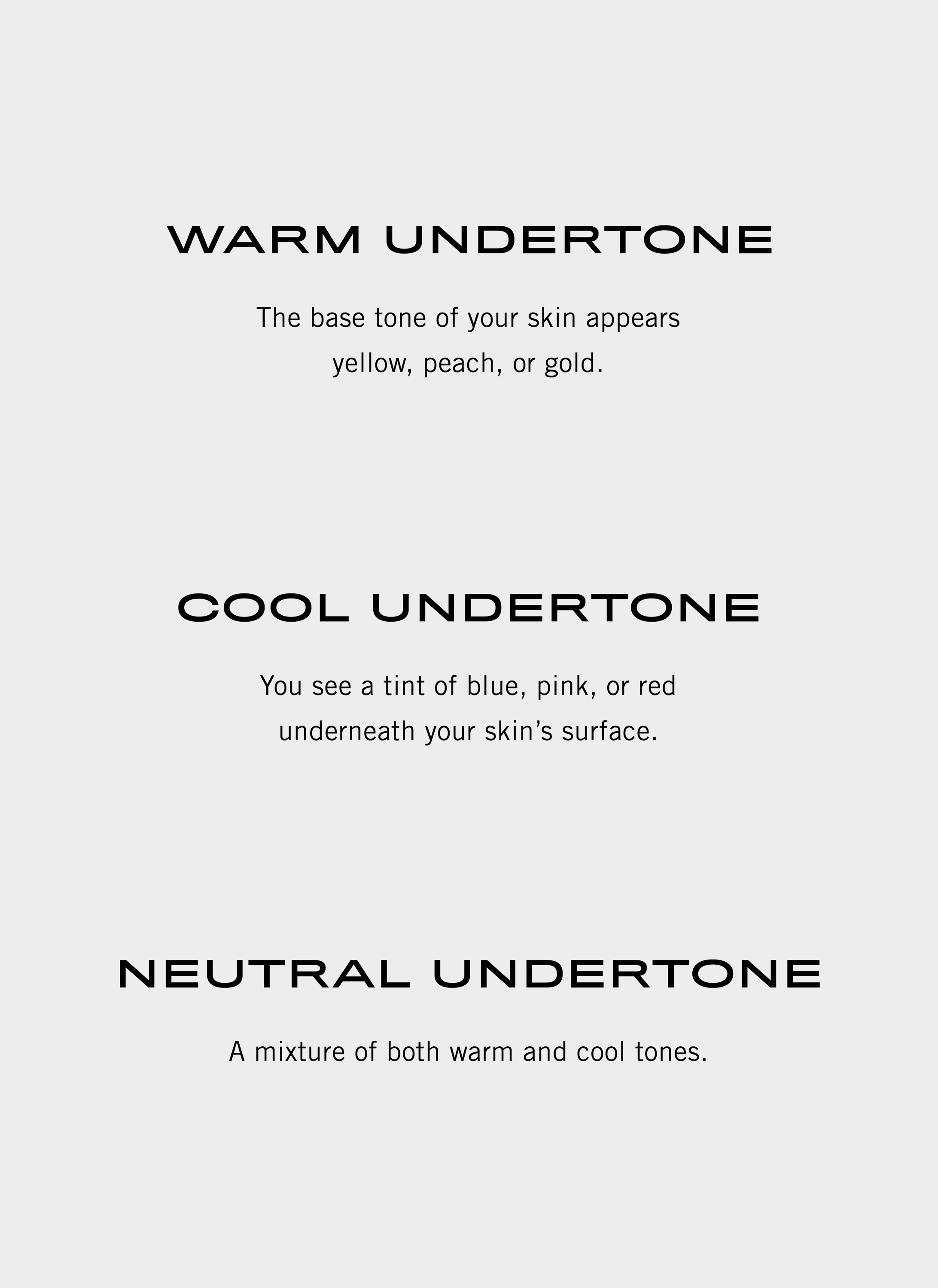 Finding Your Undertone From Home
1. Study Your Veins
"The easiest way to identify your skin's undertone is by looking at the inside of your wrist and observing the color of your veins in natural light," says Hernandez, who works with stars like Hailee Steinfeld and Dove Cameron. "Blue or purple veins tend to indicate cool; green veins tend to indicate warm; and if they appear teal (a mixture of blue and green) you're likely neutral." This simple and straightforward strategy is used by celebrity makeup artists around the world and remains one of the most effective for finding your undertone from home.
2. Wear White Clothing
"My favorite way to find your undertone from home is to stand in the best lighting, preferably daylight, and put on something white or hold up a white sheet of paper," says Los Angeles-based makeup artist Cherish Brooke Hill, noting that framing one's clean, makeup-free face with white helps to unveil the truest undertone. "I always try to look at someone's jawline, where artists always try to color match." If you notice that you're looking pink or rosy-cheeked, you're probably cool toned… while those who appear more yellow or gold are warm toned. If you don't see a major difference in your skin's appearance, you're likely neutral toned.
Makeup artist Emily Cheng, who works with Yara Shahidi and Janelle Monáe, seconds this statement. "In natural light, check multiple spots like your neck, arms, forehead, and cheeks," she says. "Most of the time, the face and the rest of the body are a few different shades off. I like to match my neck and chest as you don't want to look like you have a floating head! I also personally like to have a bit more color, and my chest is usually darker so that is where I match."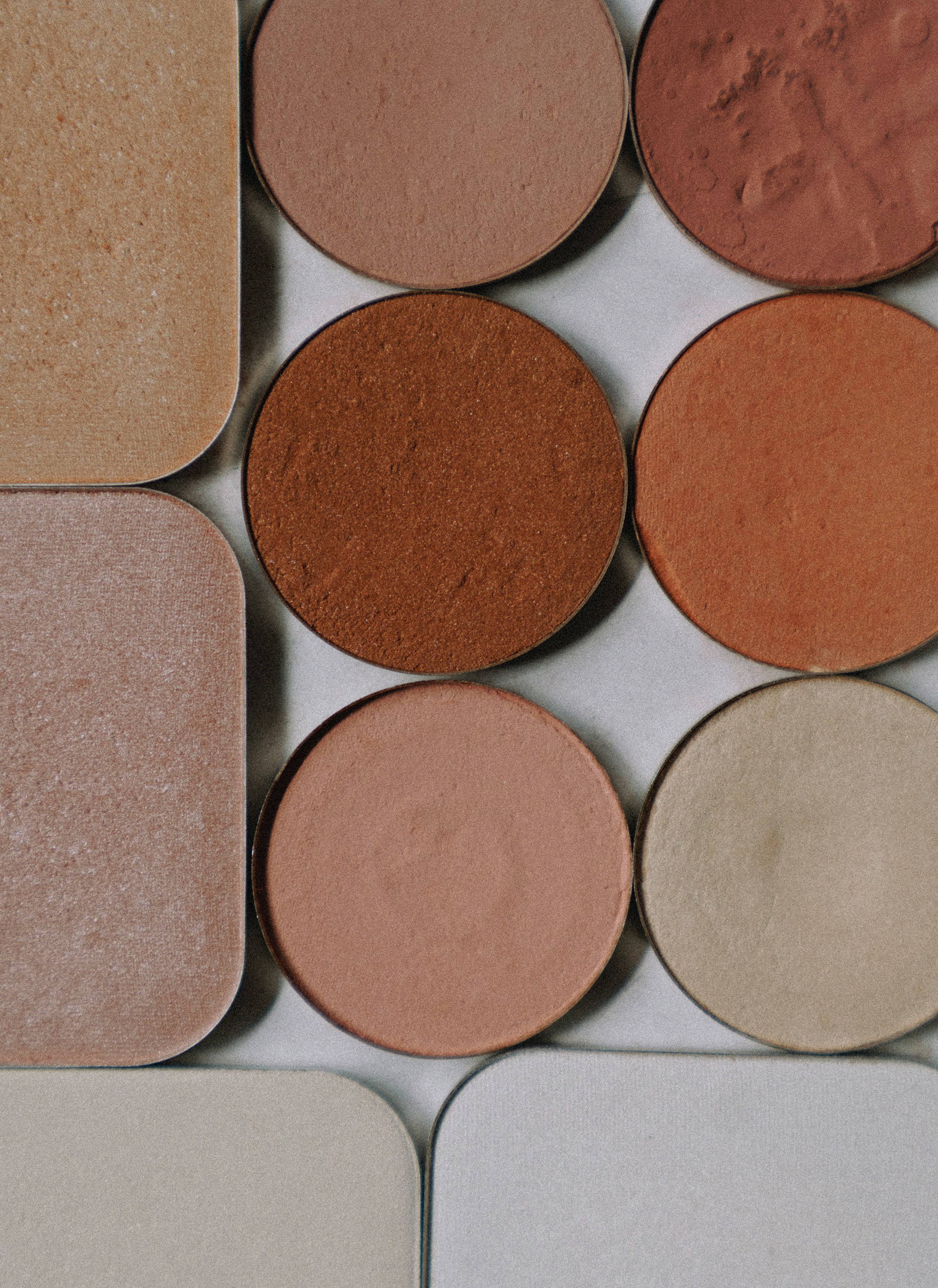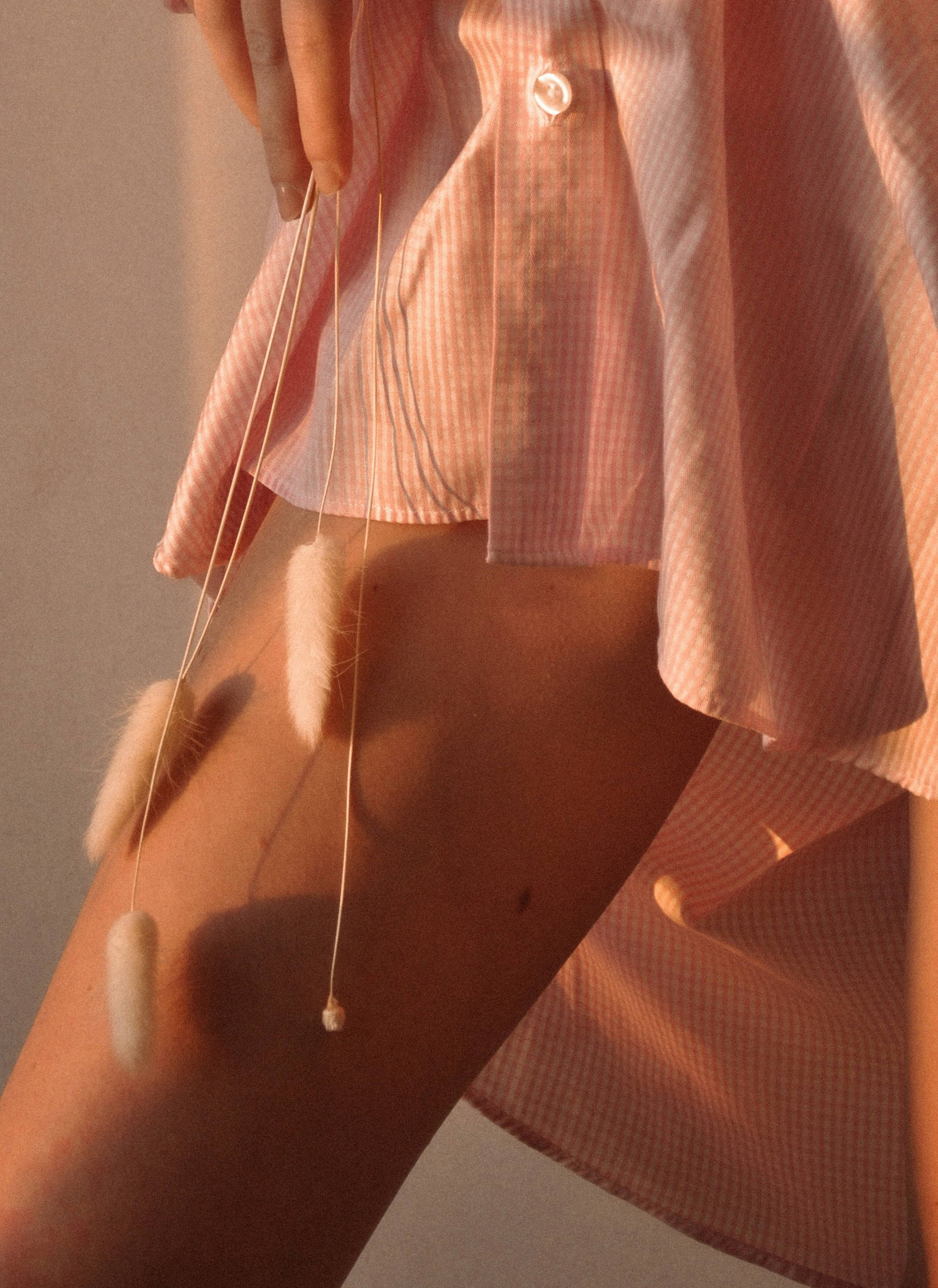 3. Assess Your Jewelry
Your skin's undertones are very relevant when accessorizing. Those with cool tones are said to look better wearing a silver necklace, while gold jewelry tends to feel right on those with warm undertones. Neutral-toned individuals tend to look beautiful in both. One's undertone need not dictate accessories, but assessing one's jewelry preferences is a clue to determining your best makeup shades.
4. Think About How Your Skin Responds To Sun Exposure
If you're somebody who easily burns in the sun, it may just be a hint that you're cool-toned. Those who tan quickly and rarely burn are generally warm-toned.
Unlike your skin tone, which often changes according to the season, your undertone never changes
— Melissa Hernandez, makeup artist
5. Visit You Closet
Color preferences in your wardrobe can be a clue to find your undertone as well. Those with warm undertones look beautiful in earthy hues like yellow, brown, ivory, and orange-red. For cool tones, you're likely fond of bolder colors like blue, green, purple, and red.
6. Take a Flash Photo
Objects in the mirror are not always as they appear, which includes your undertone. That's why Cheng suggests taking a flash photo of yourself. "Sometimes it's hard to tell when just looking in a mirror, especially a small one, so taking a photo will be an immediate indicator if you've got the wrong shade or undertone," she explains.
The easiest way to identify your skin's undertone is by looking at the inside of your wrist and observing the color of your veins in natural light.
— Melissa Hernandez, makeup artist