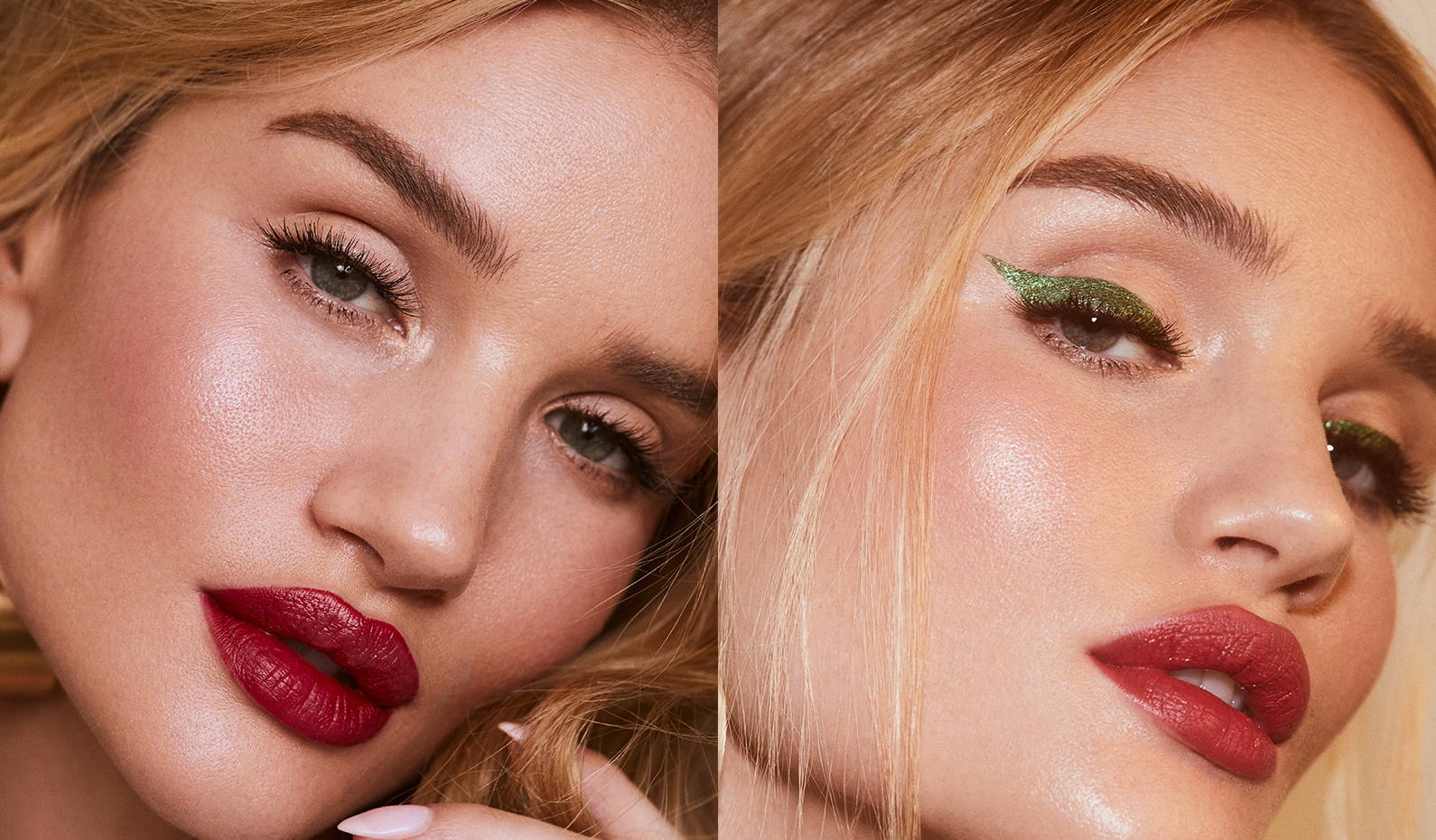 12 / 28
Makeup for staying in—or going out
Whatever your holiday destination may be, a ruby-red lip can take you there. For laid-back gatherings, it's the focal point of a fresh, natural face. And when it's time to stand under the mistletoe, the same shade is all the more alluring when paired with a metallic evergreen cat-eye. Here, makeup artist Patrick Ta creates two festive looks on our founder, Rosie Huntington-Whiteley—with makeup inspiration that advances the case for staying in and going out.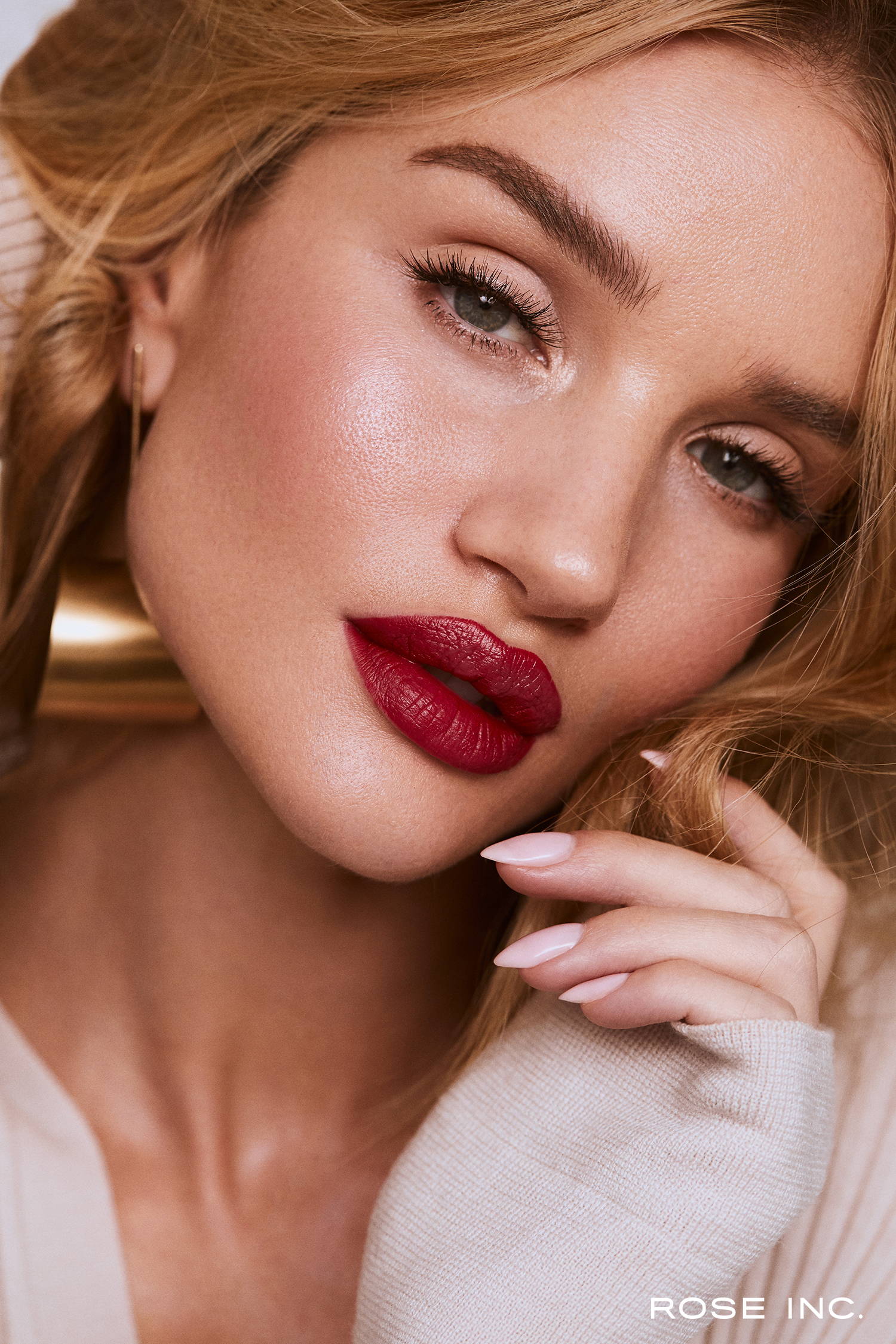 OFF DUTY
Quietly romantic makeup is easy like Sunday morning. Here, the lip color is echoed by a touch of pink on cheeks. This look starts with gentle application of oils and creams to leave skin dewy, hydrated, and plumped.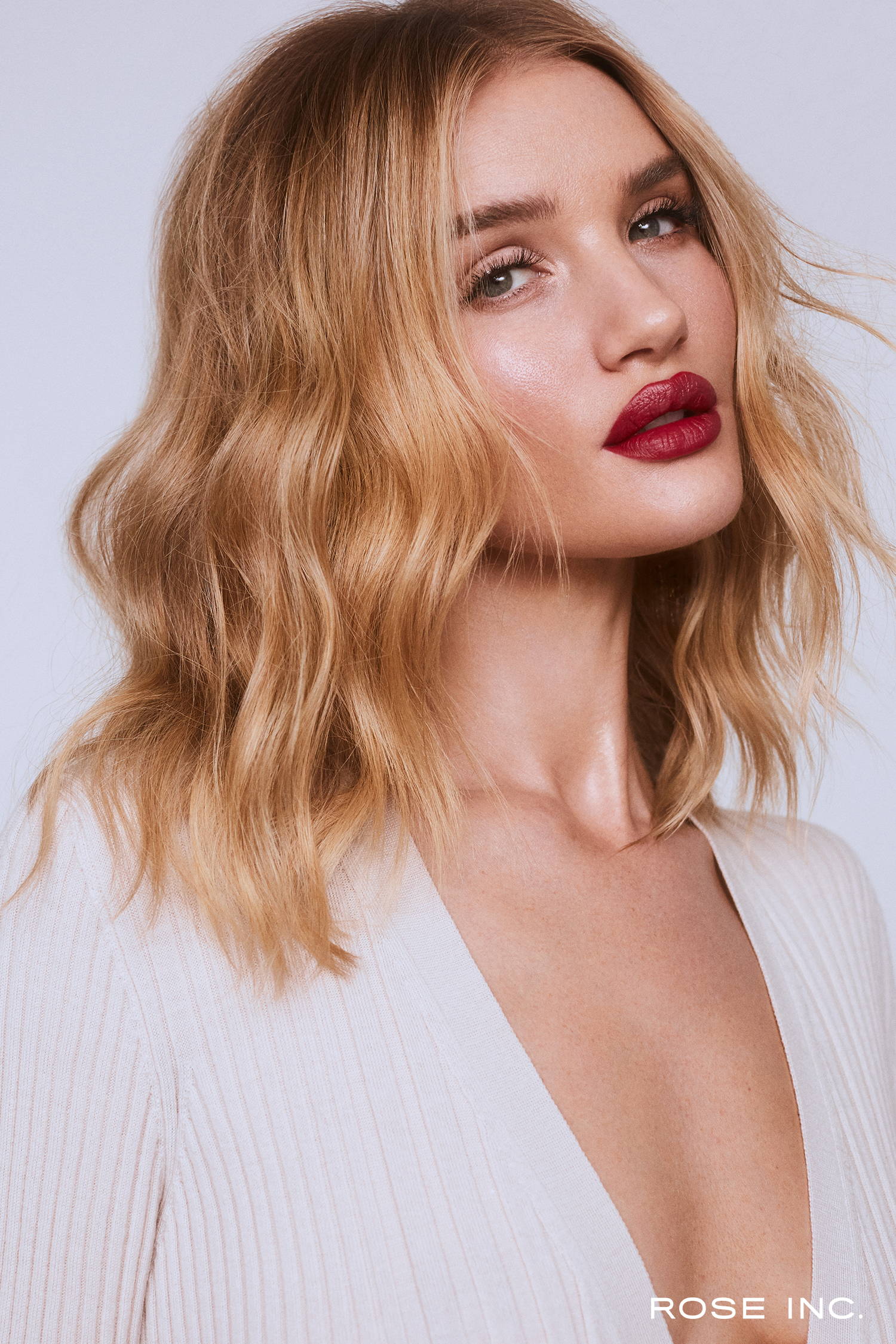 MAKEUP
EYES
Ta groomed RHW's brows, but otherwise left the eyes bare. Simple.
SKIN
For a glow like this, begin with skincare. Ta applied La Mer The Renewal Oil followed by The Moisturizing Soft Cream. ("Make sure you apply all over the skin to add intense hydration," he notes.) He then applied La Mer The Eye Balm Intense under the eyes. Next, for a fresh and dewy look, Ta applied La Mer The Soft Fluid foundation (in shade Buff 23) using a dense brush. "I then went in with a damp Beautyblender to ensure full, blended coverage for a nice, natural finish," he says.
Next, he applied La Mer The Concealer (go two shades lighter than the foundation!) under eyes. Then, using a fluffy blending brush as well as a Beautyblender, he gently pressed the product into RHW's skin. A light, strategic dusting of La Mer The Powder minimized the risk of shine while allowing skin to remain dewy.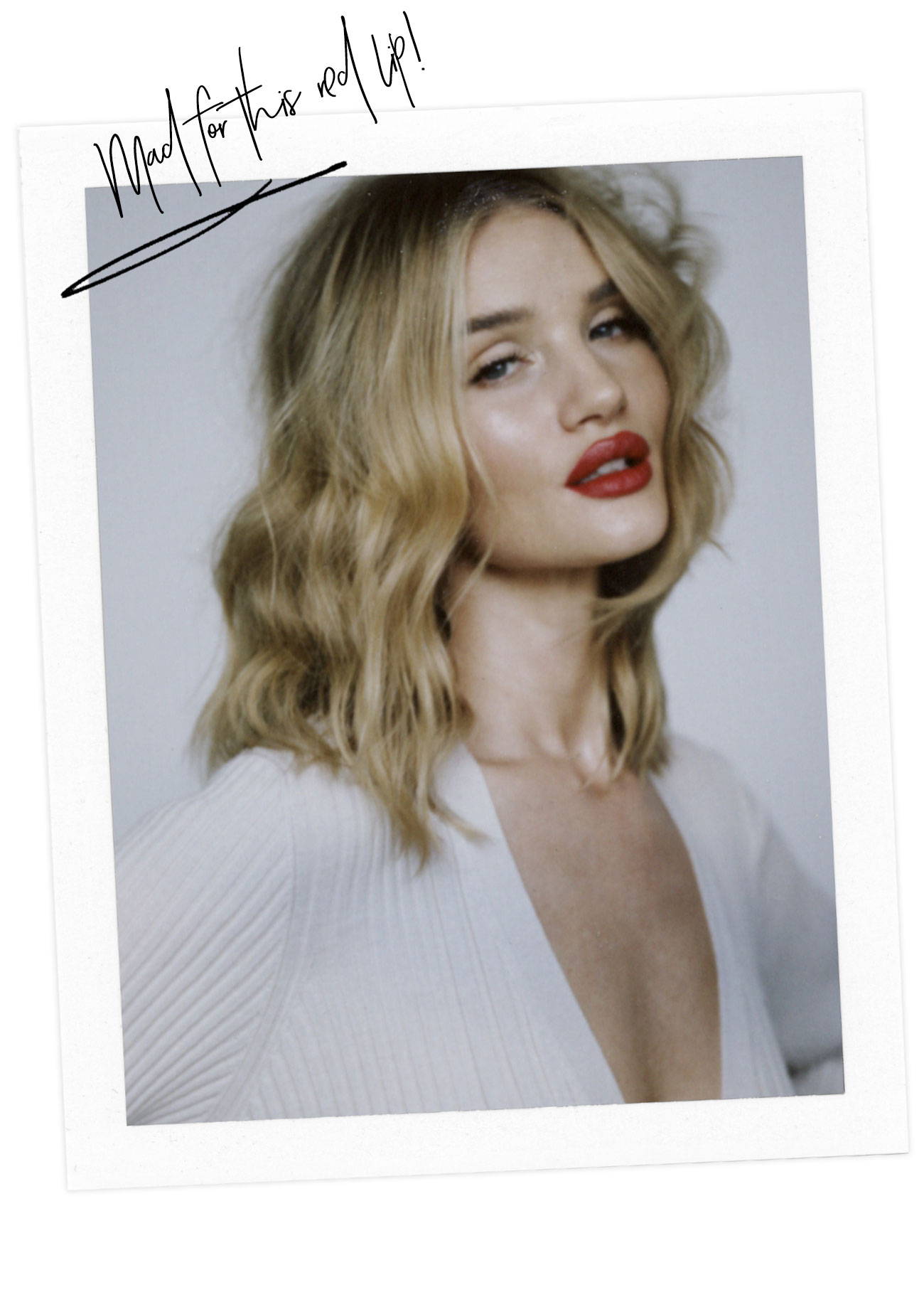 ON DUTY
A classic cat-eye is more playful when it's slightly exaggerated… and painted on in a mossy metallic shade. Here, Ta's sole makeup changes are this statement eye and a toned-down version of the original lip. Try it for yourself, then create some masculine/feminine sartorial tension with wide-leg trousers and a big blazer. Camisole optional.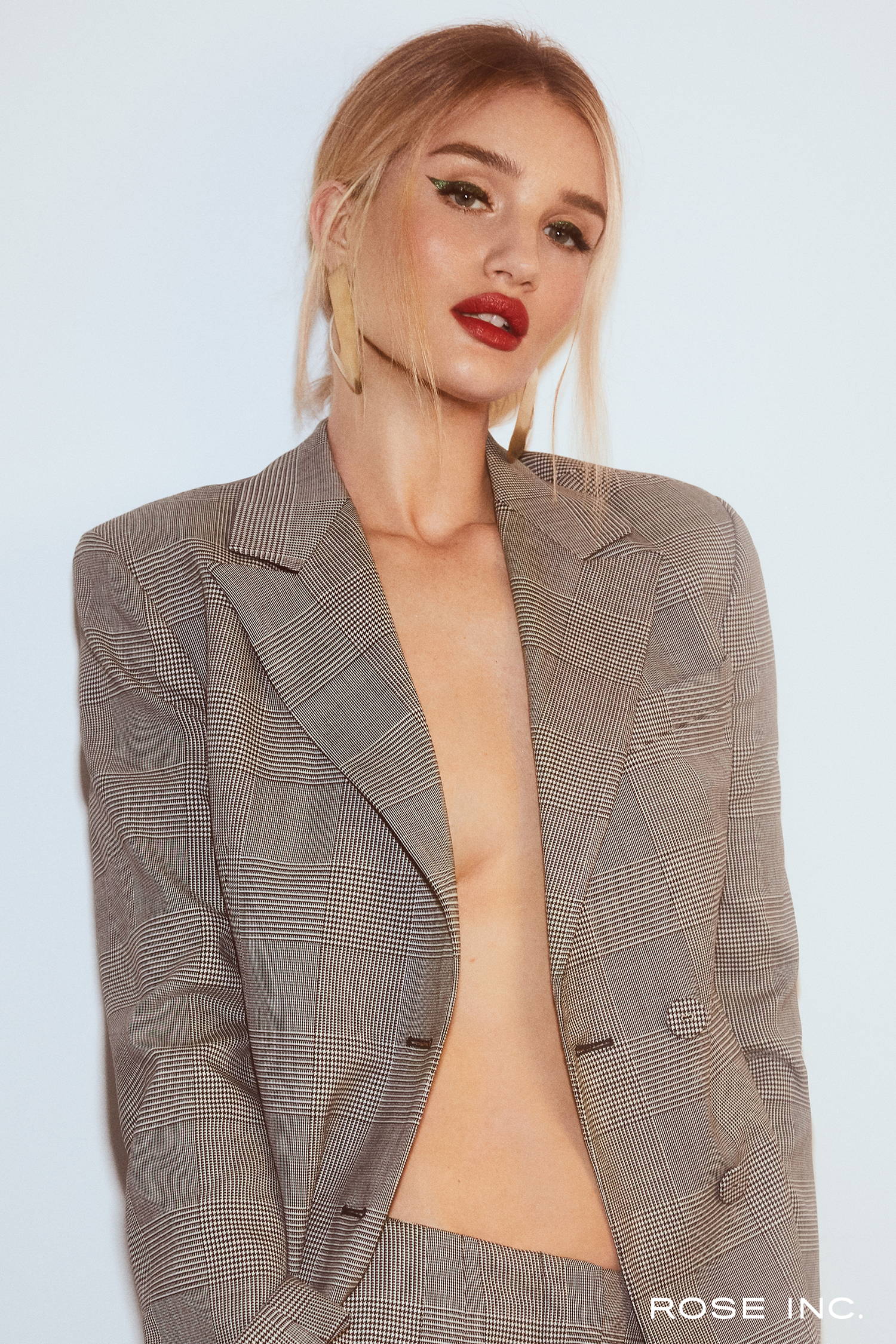 MAKEUP
EYES
Ta began by combining Pat McGrath Labs shadow in Blitz Emerald, part of the Mothership II palette, with Inglot Duraline mixing medium.
Using a small angled liner brush—try MAC 266 for a reliable option—he then created the wings by painting precisely from the outer eye outward. (To clean up any mistakes, dip a pointed cotton swab in makeup remover, then gently swipe the errant pigment away.)
LIPS
Again, Ta used Shiseido Visionary Gel Lipstick in Ginza Red—but gave it a more muted vibe. "I used a dense duo fiber brush to begin blurring and blotting the color off for a just-bitten look," he says.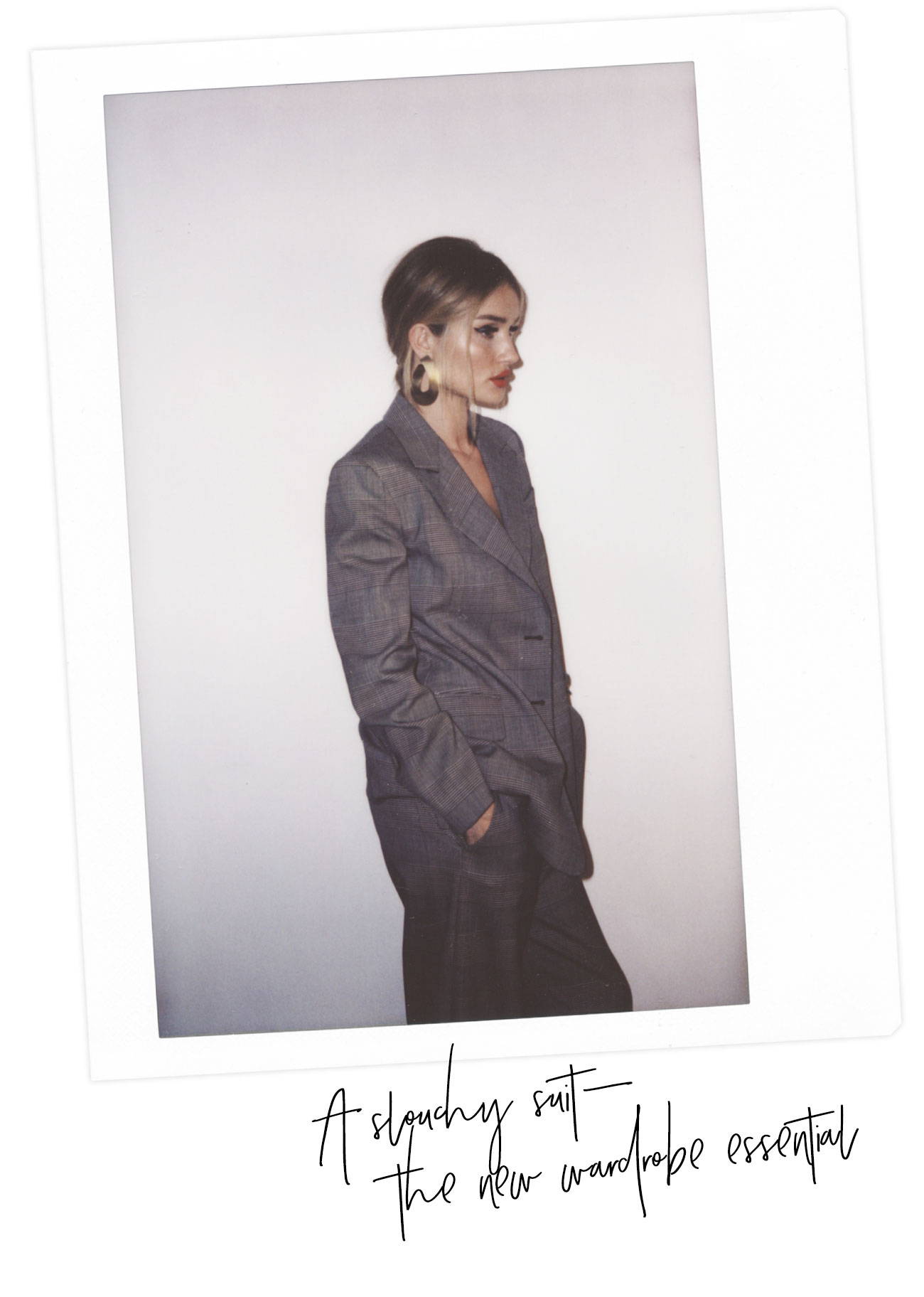 Photographed by Zoey Grossman. Makeup: Patrick Ta. Hair: Bryce Scarlett. Stylist: Melissa Espinoza.